Baby Clothing: What does a newborn wear?
Picking out baby clothes is definitely one of my favorite tasks on the to-do list to prepare for baby. But it turned out, it's also one of the trickiest. First of all, what does a newborn wear? How many clothes do you need for a baby? And last but not least, which size is the right one?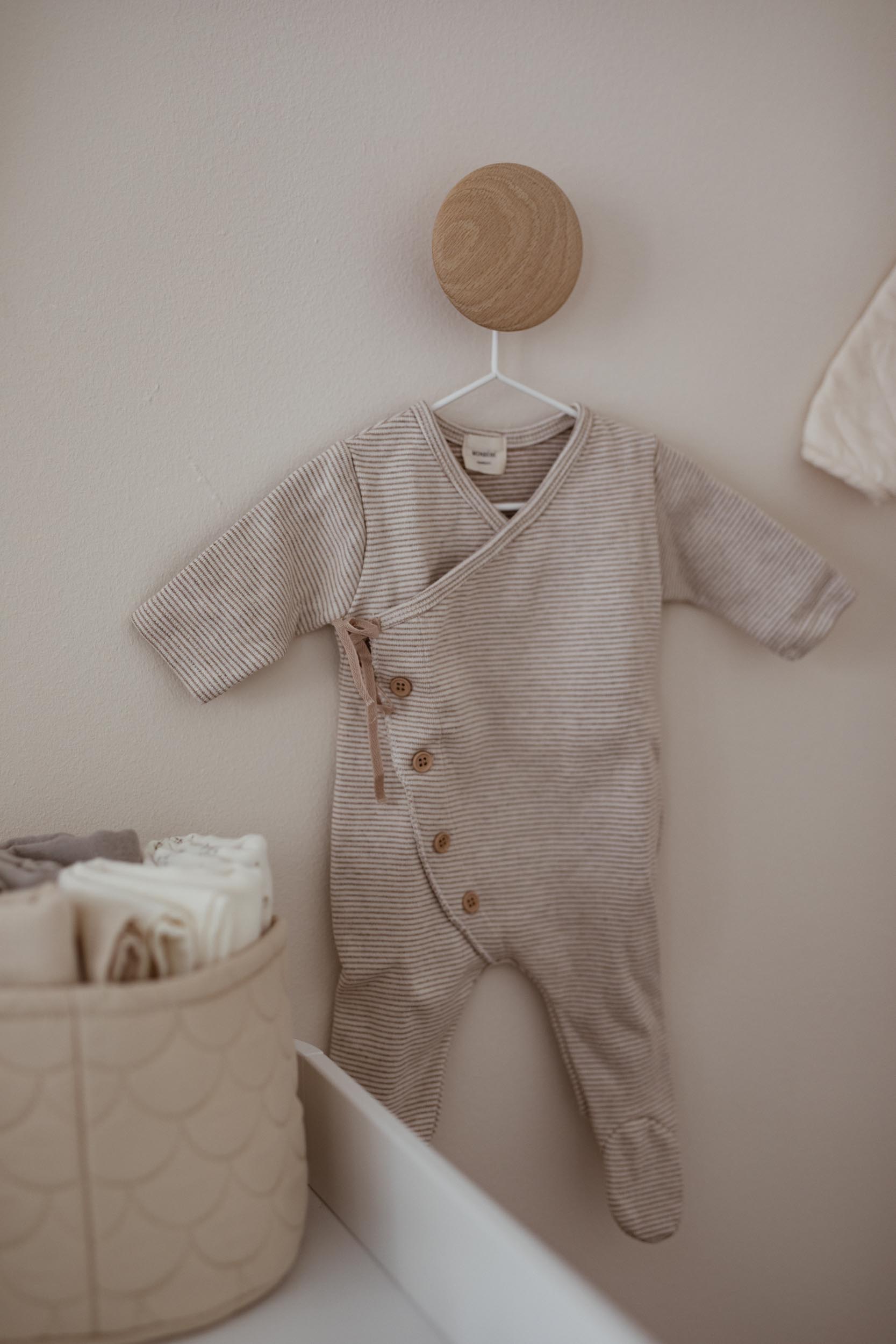 I've done some research on this topic and asked all my Mommy-friends for their advice. So today, I'm sharing all infos I've gathered for a better overview when it comes to baby clothing for the first few weeks.
A note on sizing
Let's start with the part that's probably the trickiest about baby clothes: Sizing. The thought behind sizing of baby clothes is quite simple, because the size corresponds to the body length in centimeters. However, there are two problems with that. First of all, the sizes are not standardized and vary greatly depending on the manufacturer and secondly, it's hard to predict how big your baby will be at birth.
Clothing sizes for babies usually start at 50, which means it would fit babies up to a body length of 50cm. Now, it's good to know that 95% of all newborns are between 48 and 53 centimeters tall at birth. When you know this, it becomes clear that most of them actually need no or very little clothing in size 50.
The tip I got from my Mommy-friends is to only get 2 or 3 pieces in 50, and rather focus on the next bigger size, which is 56. This way, you can roll up the clothes and they will fit longer. If your baby is born at a length of 50cm or less, you can still get additional clothing after birth, if you like (send out your partner to buy it, or order it online.)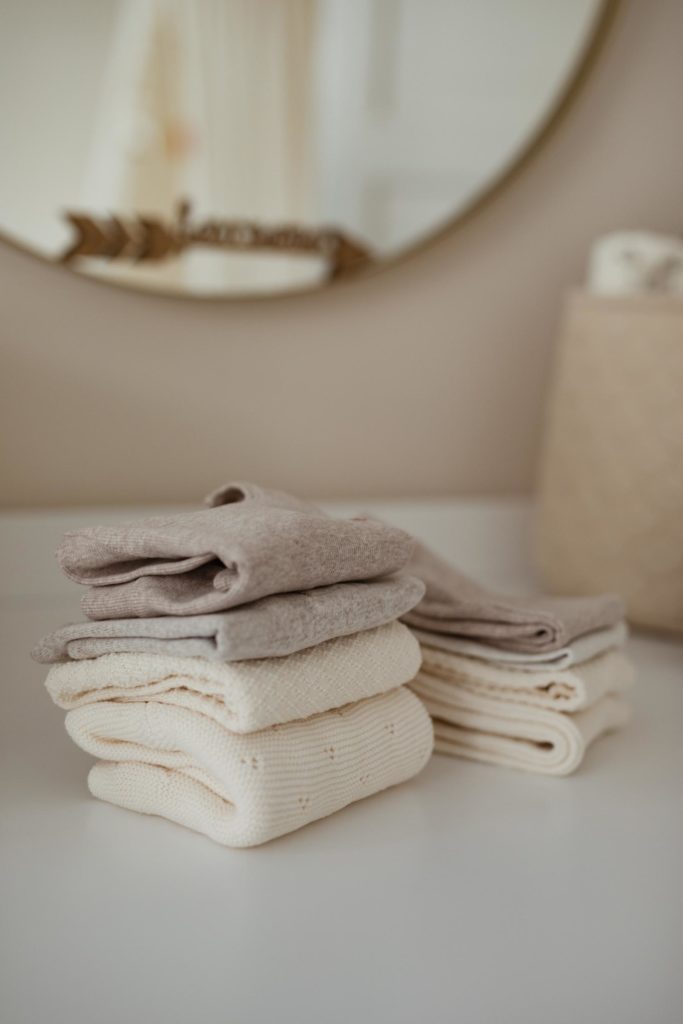 Size 50 isn't size 50 for all brands
Unfortunately, the sizing of baby clothes varies from brand to brand. You'll soon realize how much of a difference there can be if you just put three bodies of different brands on top of each other. In general (and what I can say from my experience so far), Scandinavian brands tend to be larger and more narrowly cut. The French, Spaniards and Italians, on the other hand, tailor clothes much smaller.
Good to know
Babies don't like having things pulled over their head. Make sure you choose clothing that opens in the front or on the side, or that has a wide neck opening.
Clothing with buttons on the back are not ideal, because babies mainly sleep on their back and the buttons can be very uncomfortable.
Choose clothes made of natural and breathable materials such as organic cotton and silk, and are not made with chemicals, pesticides and flame retardants. You may want to look for companies certified by OEKO-TEX Standard 100 to further ensure the fabric protects against skin irritation.
Research shows that blankets and other bedding raise the risk of sudden infant death syndrome (SIDS), so experts advise dressing your baby in layers at night for warmth, rather than using a blanket. A sleeveless sack or wearable blanket that zips up the front and can be worn over a sleeper makes a great blanket alternative.
Clothing you need for a newborn
How many of each item you need will depend on how often you plan to do laundry, and depending whether your baby will be born in summer or winter, you will need some extra items.
Essentials
Body suits (5-7)
The basis for every baby outfit: Especially Wrap-Bodies are highly recommended for the beginning because you don't have to pull them over baby's head. Usually, long sleeves are best. But you could add some short-sleeved ones for very hot days.
One-piece outfits with legs (4-5)
Bonus points if they have a snap-crotch – this simplifies dressing and frequent diaper changes.
Stretchy pull-on pants (4-5)
Pair with a snap-crotch body for an instant outfit. Separates allow you to change one piece of dirty clothing without assembling a whole new outfit, so they're useful to have. Look for stretchy waistbands that fit easily over your baby's diaper and belly. They come with or without feet. The benefit of those without feet is that you can roll them up if they are still too big. The advantage of those with feet is that you don't have to worry about socks (or your baby losing them).
T-shirts with side snaps (4-5)
A warm layer that doesn't have to be pulled over the head. Available with short- and long sleeves.
Sweater or jacket (2-3)
For extra layering outside. Look for sweaters or jackets that button down the front.
Footed sleepers (4-5)
Warm, soft, and comfortable baby sleepwear for the night. No matter how cute it looks, avoid sleepwear that has complicated snaps or requires lots of effort to get on or off for diaper changes during the night.
Hats (2-3)
For warmth and sun protection.
Socks or booties (4-6)
To keep your baby's feet warm and protected.
Sleeping bag (2)
As mentioned before, you should avoid blankets for babies at night and rather put them into a sleeping bag. There are lighter sleeping bags for summer available, and warmer versions for winter. Make sure they are easy to open for nighttime diaper changes.
Nice extras
Dress-up outfit
To go home from the hospital, for photos and other special occasions.
Baby bunting bag
Keeps your baby warm outside without the hassle of loose blankets and bulky jackets.
Fleecewear or snowsuits
If you have a winter baby, you may want a one-piece fleece suit to keep them warm on outings. They're often hooded and come in many styles.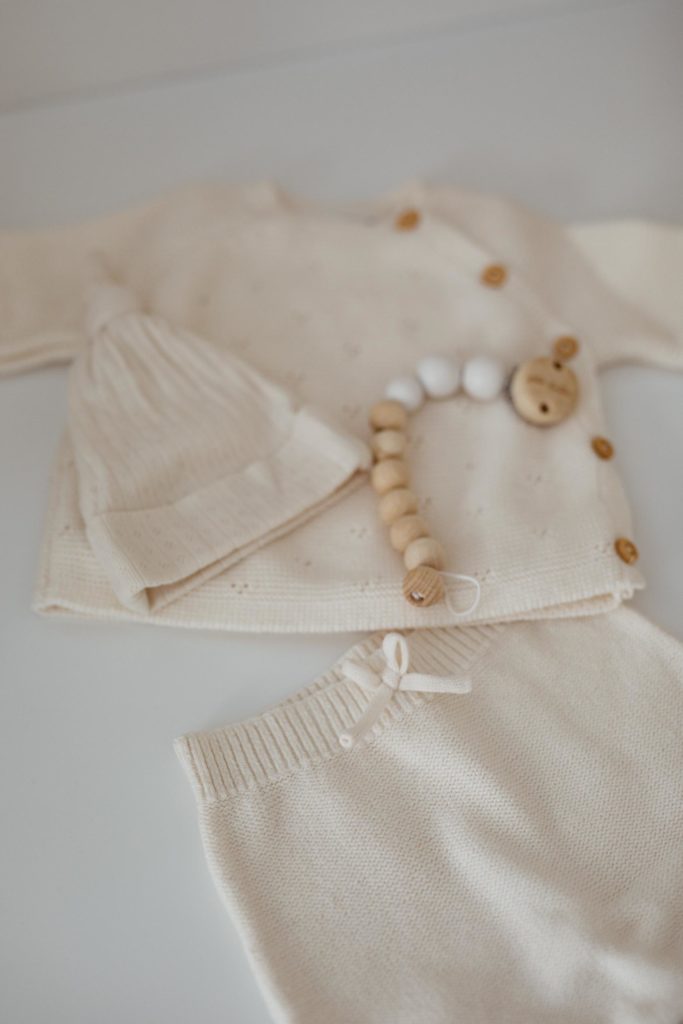 My favorite baby clothing brands
There are so many different baby clothing brands out there – it can be quite overwhelming! Almost all big high-street brands carry baby and children collections. It has been one of my guilty pleasures these past couple of months to dive deep into the world of baby brands and some of my favorites for clothing so far are Petit Bateau (especially their body suits!) , Konges Slojd, Gray Label, +1 in the Family, Moumout, Quincy Mae, Jamie Kay and MarMar. I also found some really cute pieces at Zara and I'm quite positively surprised about the quality of H&M's baby clothes. Their Conscious Collection is especially great and the clothes come in a multitude of colors including gender-neutrals. Another favorite is Arket Baby – their baby collection includes great basics, lots of uni-colored but also colorful pieces, and does not cost a fortune.
I especially love all kinds of whites, beige, cream, grays and pastels for newborns, which is why our baby's wardrobe is quite monochrome at the moment. Most of the pieces I bought for our baby are gender-neutral, which means I will be able to keep them for a second baby, if there will ever be a sibling. I'm also a big fan of clothing that is quite plain – so no bold prints, or unnecessary applications and collars. The simpler, the better.
I added a selection of some of my favorite baby clothes to the shop for you to browse, if you like!

What are your must-have pieces of clothing for a newborn and where do you source your baby's clothes? Leave your recommendations in the comments for other mamas, if you like!