5 tips for healthy summer skin
You've probably heard me say this already, and I've even had an extensive talk about this topic with Clinique on Facebook, but I can't emphasis this enough: Sun protection is the key for healthy skin.
In the past, I've never experienced pigment spots, but during the past year I discovered some dark spots on my face which have not been there before. I got curious and really interested in the effects sun has on our skin and was eager to learn more about it. To get to know all the details from a medical point of view as well, I scheduled an appointment with skin doctor Nora Eiler, who is practicing at Dr. Fiebinger's doctors office in Salzburg.
Our skin is the largest organ of our body. But unfortunately, its importance is often forgotten. During my annual skin check-up I had the chance to ask Dr. Eiler all the questions I've been dying to know about the impact of sun on our skin, and I thought since it's such an important topic, I share my insights with you.
Here are five tips for a healthier skin in summer:

1) Take extra good care of your skin in the sun when you have impurities.
Even if you want to work on that nice tan on the beach and by the pool, make sure your skin is healthy before you do. The reason is that pimples and impurities are super sensitive to the sun, and your skin might end up getting worse. I myself have some red spots from healing skin that are prone to turn very dark when you go into the sun. This means your red spots will turn into dark brown spots that will last a very long time. So make sure you apply some extra protection to your face, and maybe even consider staying in the shade with your face.

2) Book a skin doctor appointment once a year.
No matter if you have fair or dark skin, a lot of moles or none, love sun bathing or are an indoorsy person – get a check up once a year. Your skin doctor will check everything from beauty marks to dark moles and make sure your skin is healthy and you don't have to be afraid of melanoma. In the case of Dr. Eiler, she did my check up with a super macro photography machine that scans your skin perfectly. Any mole that might need special attention is saved, and will be reevaluated during your next check up.

3) If you suffer from acne or are prone to oily skin, make sure your skin protection is oil-free.
You should be looking for skin care products that are completely oil-free or in medical terms: noncomedogenic.
Those sun lotions can be found in pharmacies and your skin doctor can direct you to the best skin protection that meets your needs.
There is a thing called Mallorca acne which appears when you use oily sun screen in combination with the application by dirty hands. You're on the beach all day, your hands might be dirty, your skin is sweaty, and the little sand grains are almost like a peeling. The combination of these factors can cause horrible pimples and leave serious marks and scars on your face and body. Dr. Eiler's advice is to prepare your body with sunscreen before you leave the house, and not just when you arrive at the beach.
Also, you should book an appointment at your cosmetician every 4-6 weeks when you have acne or suffer from impurities.

4) More is more: Use enough sun screen.
When putting on sun screen you should make sure to use a minimum of 30 milliliters for your entire body. In summer I use sun screen as part of my daily routine in the morning, even if I know I'll just be at the office all day. Even when the sun doesn't appear to be shining brightly, its rays are there, working their damage. Hence, applying sun screen (especially on your face) is a must for every day. Always make sure to apply physical sun screen – not chemical. Physical sunscreens contain active mineral ingredients, such as titanium dioxide or zinc oxide, which work by sitting on top of the skin to deflect and scatter damaging UV rays away from the skin. They are often referred to as physical blockers. Long story short:  A physical sun screen will work like a barrier for those harmful rays – and that is what we're aiming for!

5) Know what SPF really means.
SPF or Sun Protection Factor is an indicator of the amount of time you can spend in the sun. Usually, your skin can take around 10 minutes of sunlight before it reacts. Of course, it is different from person to person but those 10 minutes are a good rule of thumb. The SPF of the sun screen you use multiples those 10 minutes by it's factor. So a SPF 15 means you have (15 x 10 min = 150 minutes) 2,5 hours of protection, SPF 50 means you get (50 x 10 minutes = 500 minutes) a good 8 hours you can spend in the sun.
What I didn't know is if the time of your SPF is over, you have to get out of the sun. It doesn't help to re-apply the sunscreen. So if you know you're having a whole day of fun in the sun ahead of you, it's the best option to pick a sunscreen with SPF 50 and you'll be good to go for eight hours.

6) Make sun screen part of your make up routine.
As a matter of fact, sun screen is the key to healthy and glowing skin – and by glowing I mean glowing because it's healthy, and not because you've been in the sun for too long. (pun intended).
By adding the application of sun screen to your bathroom routine in the morning, you'll be safe the whole day and your future self with thank you for taking such good care of your skin when you were young.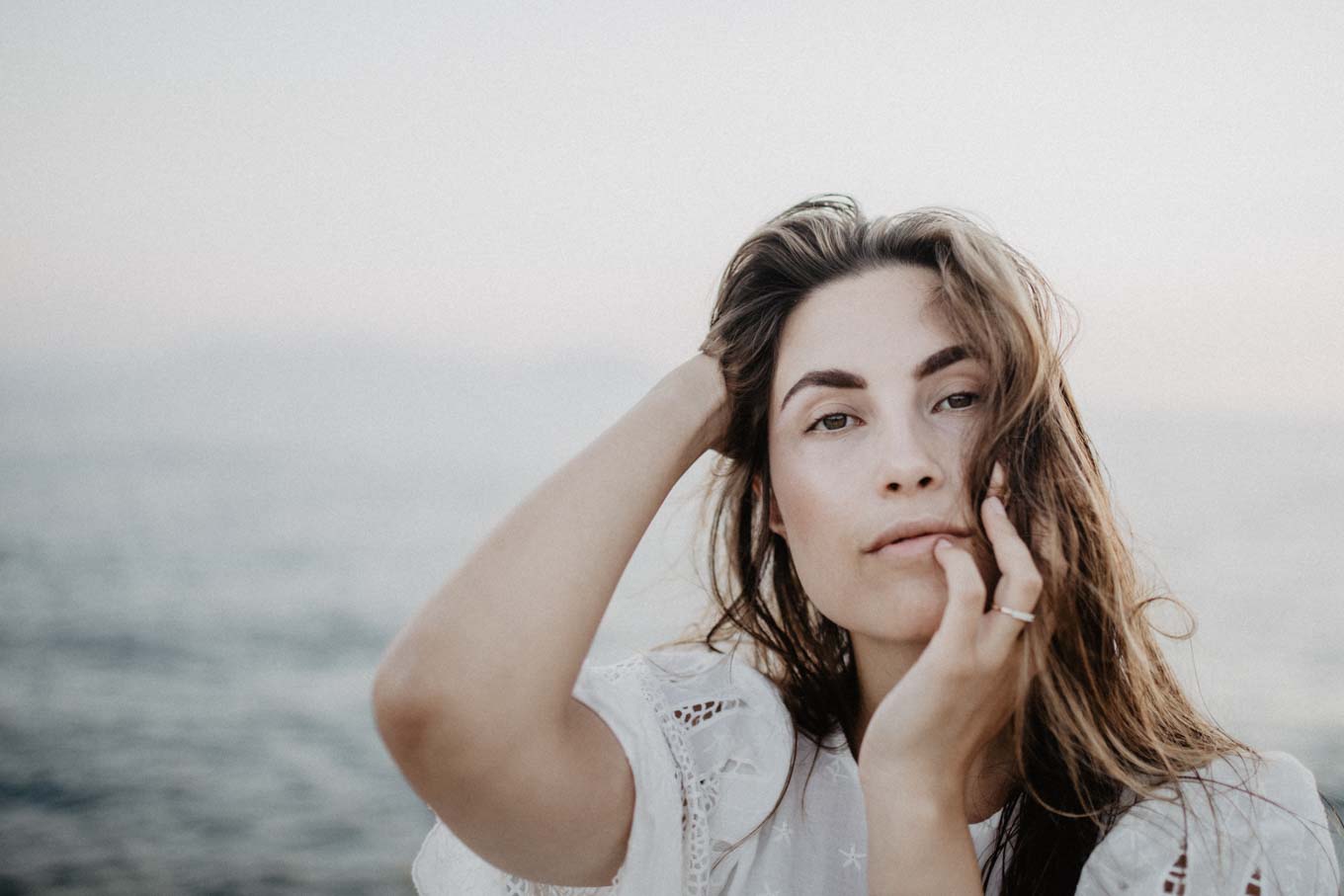 Of course I also asked Dr. Eiler what I could do to get rid of the annoying dark pigment spots on my skin. Despite taking care that they don't increase by using sun protection every day, she recommended to treat my skin to a fruit acid peeling. However, since the skin is even more sensitive to sunlight after such a peeling, it's crucial to wait for this treatment until fall.
I'll definitely try out a chemical peeling with fruit acid in fall, and will of course share my experience here with you guys.
In case you have any further questions about this topic, feel free to ask anything in the comment section.
---
Dr. Fiebiger
dermatologist & cosmetic institute
Linzer Gasse 4
5020 Salzburg
+43 662 876960
*in friendly collaboration with Dr. Fiebiger