Beauty FAQ: How to get that glow with Highlighter & Co.
It's winter outside and we're still quite far away from sunnier and warmer days. Yet, we're craving that summer glow more than ever, don't we? If you feel like your skin is in desperate need for some glow, look no further: I've got your back!
Which brings us to Beauty FAQ No. 3: How to get that glow. Let's talk highlighter and Co! (Here's Beauty FAQ No. 1 and No. 2, in case you missed it.) I'm by no means a make-up artist; I'm just a girl with a thing for beauty products. Over the years I've learned how to do my own make-up in a way that I feel comfortable, and how the magic of the right products can make a tremendous difference. To my personal taste, there is nothing more beautiful than slightly sun kissed skin with a touch of shimmer that just screams "my life is a holiday and I've got that radiant glow all the time".  The bad news: I personally have that skin only a few weeks a year when I'm on vacation (if I'm lucky). The good news: This dewy look is super easy to fake back at home.
With the right products it's very easy to achieve the perfect highlight which will give your skin a natural gleam and will make it shine just right.
The number of highlighting products lining the beauty aisle is mesmerizing and confusing AF. So before we start with project glow, let's dive into the depths of my make up bag and see what we've got there. Due to various photo shootings for which I've had my make-up done by amazing make up artists, I got the chance to try out lots of highlighting products. At to a recent shooting with Bobbi Brown, I was introduced to a few of their new products which I absolutely fell in love with right away. Some other products which I'll show you have been favorites of mine for the past years.
BENEFIT Dandelion Twinkle Highlighter
The first highlighter I ever had, before I even knew what highlighting really was: Benefit's Dandelion Twinkle Highlighter. I think back in the days I totally misused it as a blush (talking about looking like a disco ball…), but it's really a very gentle highlighter. If you're new to the highlighting game and not too sure if highlighting is actually for you, this one is a safe number to start with.
BOBBI BROWN Shimmer Brick Pink Quartz
The Shimmer Brick has been one of my go-to favorites for years now. To me it's the perfect mix between a highlighter, bronzer and blush – and that's also exactly what I use it for. I usually swipe it quite generously over my cheek bones, which is perfect for an easy daytime look. Another plus: When traveling light I often use the golden color of the brick as an eyeshadow, too. It's very versatile and if you're not too sure about the color, the Shimmer Brick is available in 4 different colors so you can match it perfectly to your complexion and needs.
PS: I hardly cry over beauty products, but when I accidentally dropped the Shimmer Brick on my bathroom floor and it crashed into a gazillion pieces, I might have shed a tear (or two).
Another one of my all time favorites, and also the highlighter I use mostly when taking photos. With highlighter you always have to take care that you're not overdoing it, because if you're taking it too far you'll end up looking more disco than dewy. To me, this MAC Highlighter has just the right amount of shimmer and glow. The very soft peachy tone works very well in winter and summer, and regardless of your skill level, you can't really do anything wrong with it.
HOURGLASS Ambient Metallic Strobe Lighting Palette
The newest addition to my highlight team is this beautiful Hourglass palette. It was recommended to me by my friend Nina Akalin who is a super talented Make Up Artist; she told me about it when we had a coffee last week and I could not resist ordering it right away. I love how there are three different shades in one palette, perfectly fitting to different occasions. This highlighter is almost like a finishing powder that conceals imperfections and gives you an extra radiant look.
BOBBI BROWN Highlighting Powder Bronze Glow
This one is one of my discoveries from the recent shooting I did with Bobbi Brown: It's a highlighting powder / bronzer that gives you a very natural bronze finish and just makes you look fresher instantly. It's a product to sweep over your cheekbones, along the brow line and along the back of your nose – the luminous sheer gold hue will make you look like you've just returned from a tropical holiday.
BOBBI BROWN Illuminating Moisture Balm
Another one of my recent discoveries is the Bobbi Brown Illuminating Moisture Balm.  My skin is very dry at the moment (thanks, dear Winter!), so it soaks up all the moisture and hydration it can get. If you layer the Illuminating Moisture Balm over your normal skin cream it will give you a hint of glow right away. If you'd like to have an all over shimmering complexion and your skin is rather dry, this product might become your new superhero.
The right products can only work if you're also using the right tools: Although I don't mind splurging on expensive products, I'm always rather resistent when it comes to brushes. However, they really do make a difference, so it's worth it to invest in them. Of course you don't need to go for a 60€ brush, though! There are really good alternatives for a friction of the costs. If you're into make up you have probably heart about the Zoeva brushes already: Awesome quality for a very decent price. For all powdery highlighting products, look for a small, fluffy brush that allows you to focus on smaller areas like your cheekbones.
Another that I love using since I received it almost two years ago is the Estée Lauder x Victoria Beckham Modern Mercury Highlighter. It's a very warm, almost copper colored powder and definitely the strongest highlighter in my make up bag. For me it's perfect in summer when I'm a bit more tan; in Winter I feel like it's a bit too red for me. However, if you're lucky and find it somewhere, I can highly recommend it! Unfortunately, it seems to be sold out everywhere since it was only part of a limited collection, but keep your eyes open for it!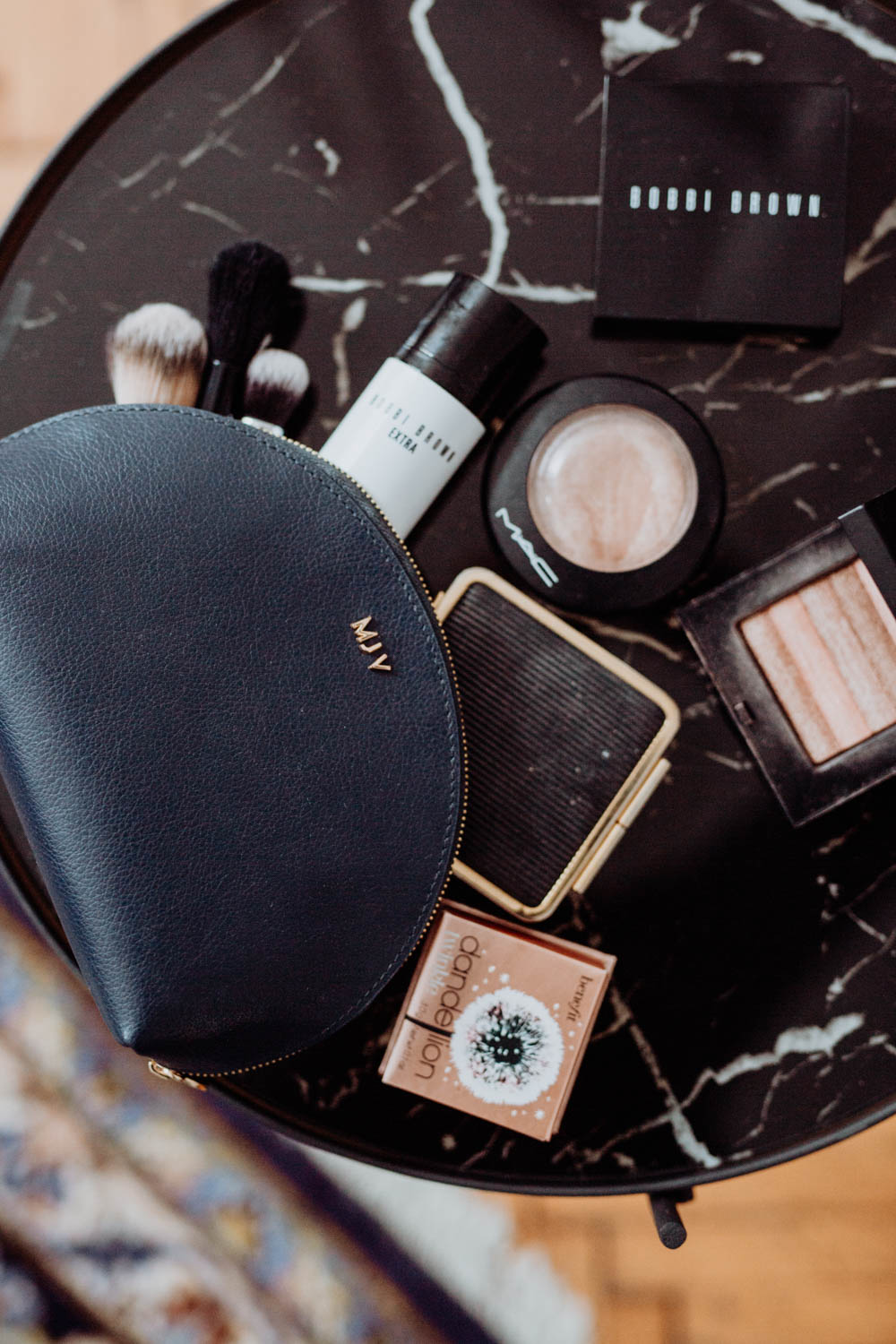 Now comes the practical part:
Alright, so now we know the right products and tools, but where should we apply them? The answer is quite straight forward: Just imagine the highest planes of your face – this is where the light would naturally fall. Cheeks, back of your nose, brow bones and Cupid's bow are the spots you want to highlight. If you feel like that's a bit too much highlighting going on, you can simply work with this trick: Swipe your highlighter in a sideways V formation that goes from the temple to the cheekbone. This is an easy and quick way to highlight your cheeks and to get that extra glow instantly.
Advice from a make up artist I met: In case you overdid it with the sparkle, don't worry! You can tone down too much highlighter simply by dusting a fluffy brush with no product over the areas that got too much shine. If all else fails, you can also gently dust compact powder over the highlighted areas to minimize the glow.
And if you're over all this product talk, just use an oil to get a natural glow.
If you don't feel like adding yet another product to your make up bag, but still want that glow, there is a super quick fix to that problem: You can use a face oil or serum you already own to get that perfect dewy looking face, too. If you have rather dry skin like me, your skin will love face oils! I often apply them at night as a mask so my skin can soak them up completely. However, if applied as part of your morning routine, you'll look fresh and glowing without adding any shimmer or sparkle. Just be careful: If you apply too much oil you might run the risk of looking greasy and rather blowsy.
I know that most of the products shown are rather expensive, but I just love splurging on those kind of things. In the products' defense: They really last FOREVER (except for when you're clumsy as me and drop them on the floor #fail). For example, I bought the MAC Soft & Gentle Highlighter over 3 years ago – I'm using it regularly and there's still plenty of it left. As far as I am concerned, I think that's really worth the investment.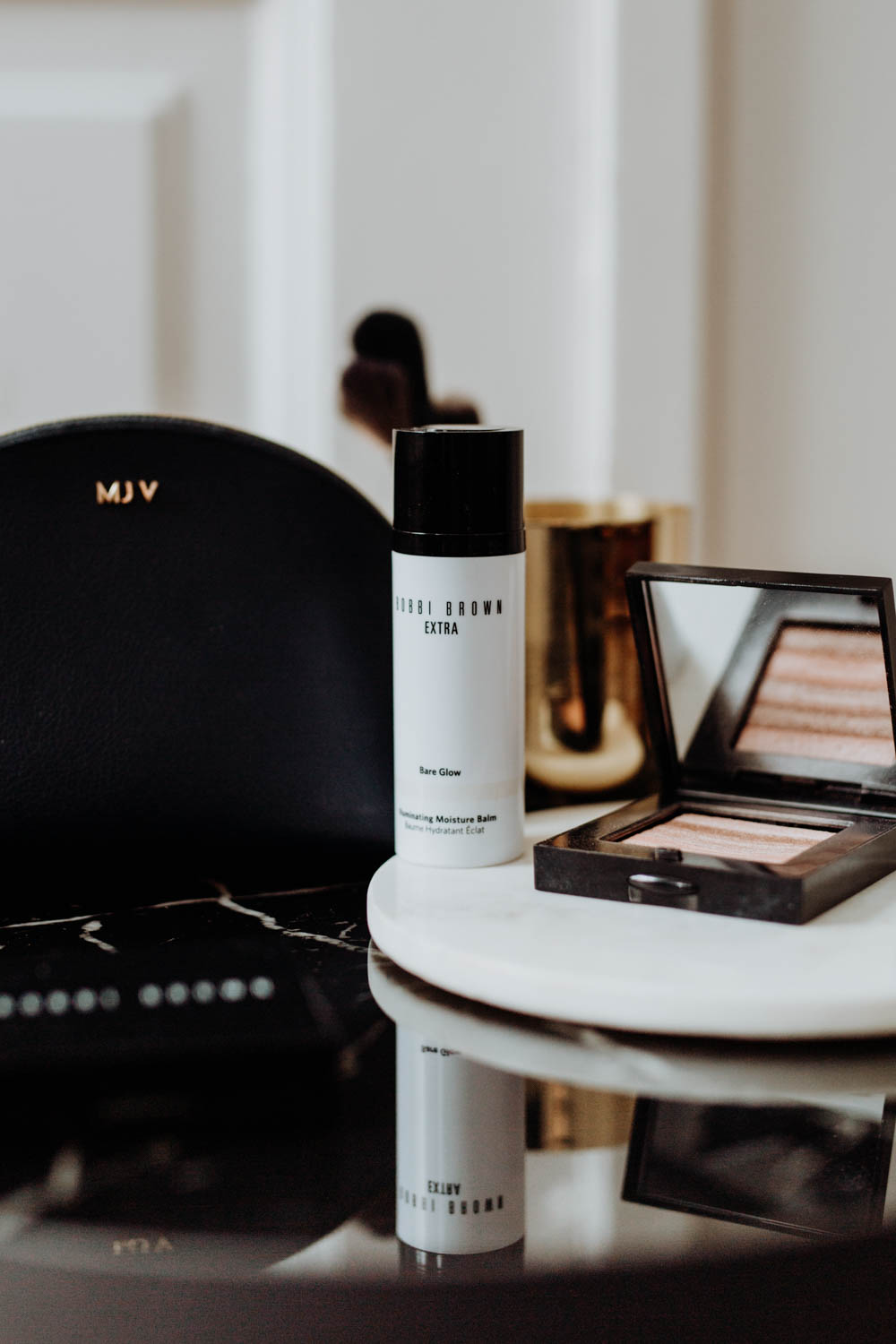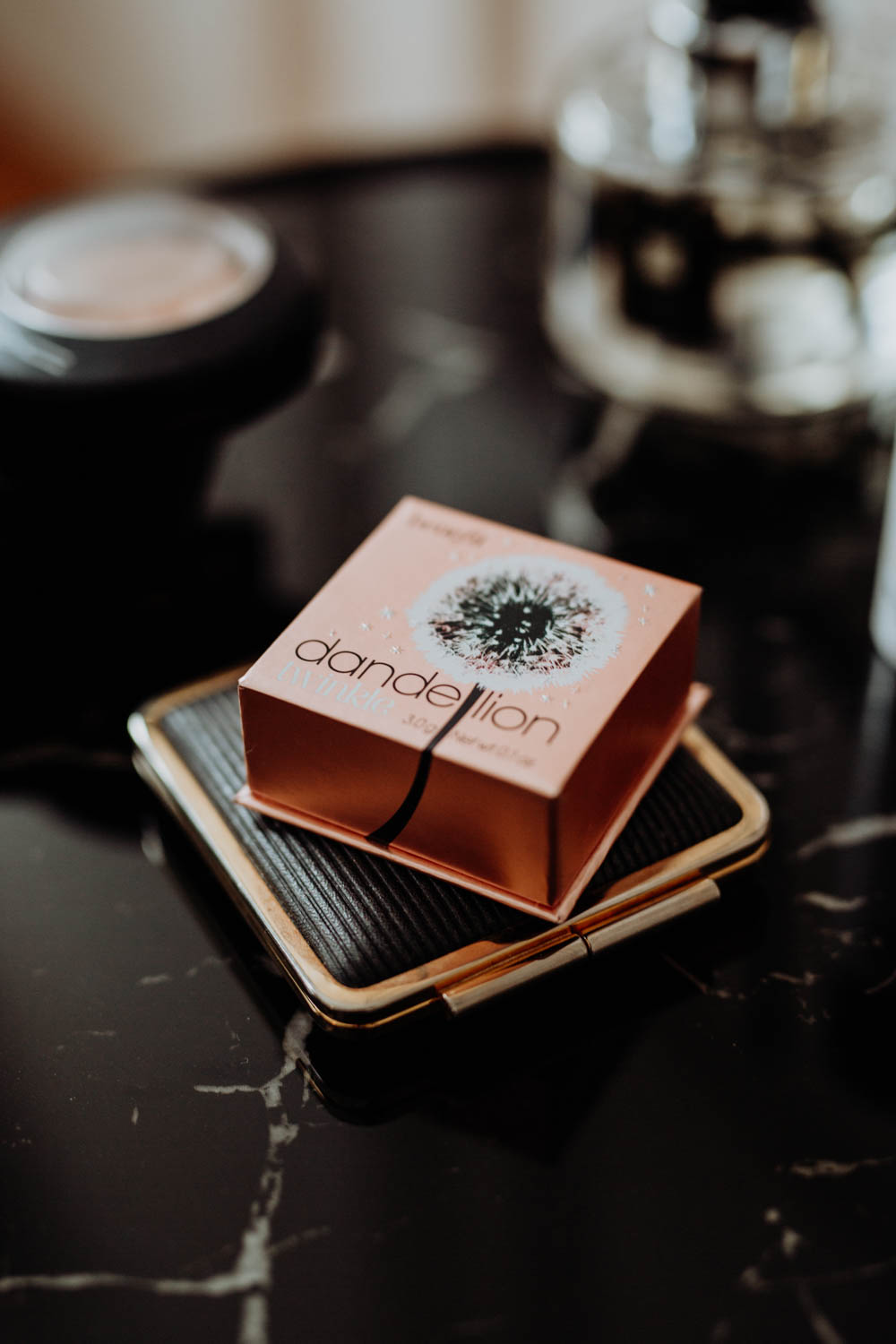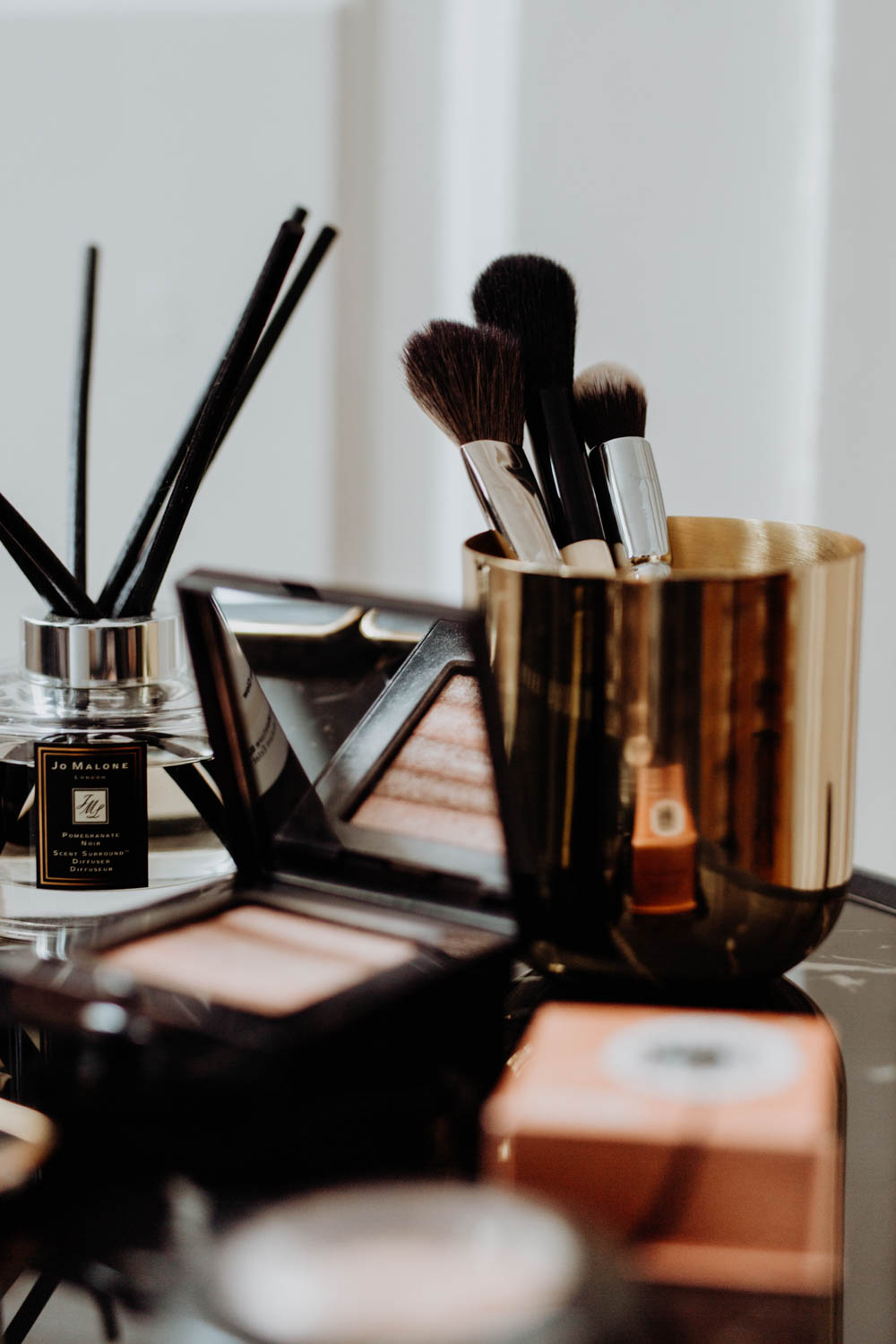 ---
Make Up Bag – Majavia