Tried & Tested: Microneedling with Reviderm
If you remember this post I shared with you exactly one year ago, you probably also remember that I've been dealing with acne breakouts the past two years and strictly sticked to those beauty routines to make it better. It's been a rollercoaster ride with my skin and I've tried almost every treatment under the sun to get rid of the acne and the scars they left on my skin. By now I thankfully know what causes those breakouts (in my case mainly food intolerance & hormones), so the past year was mainly dedicated to sustaining the clear status quo of my skin and diminish all the blemishes that were caused by acne.
I've been seeing the team of Dr. Fiebiger & Dr. Eiler dermatologists and their skin spa on a regular basis ever since I first went there to have my acne treated. This past year I've become a regular there and tried out facials and other treatments every month. Of course my upcoming wedding played a big role in the frequency of visits I had there. If there's one day in your life that you want clear, smooth, glowing skin, it's your wedding day, right? But apart from that, I wish to have clear skin all year around, so for me it was important to set measures that would affect my skin longterm, and not just for that one specific day. As far as I am concerned, for me it's of utmost importance to work with specialists when it comes to my skin. I've learned my lesson the hard way when I tried to be my own esthetician in my bathroom as a teenager. Rule no. 1 since then: Don't ever squeeze and pick your face. Especially when it comes to treatments that require special knowledge, such as chemical peelings or micro needling, I would never dare to do this at home by myself simply because I'm too afraid I could cause more damage.
One of the treatments I've tried that are offered at Kosmetikinstitut Fiebiger is the so called Micro Needling. It is considered a secret weapon among anti-aging methods for the treatment of aesthetic skin problems for over a decade.
To give you an introduction to the procedure of Micro Needling and all it's benefits I've compiled a little Q&A for you: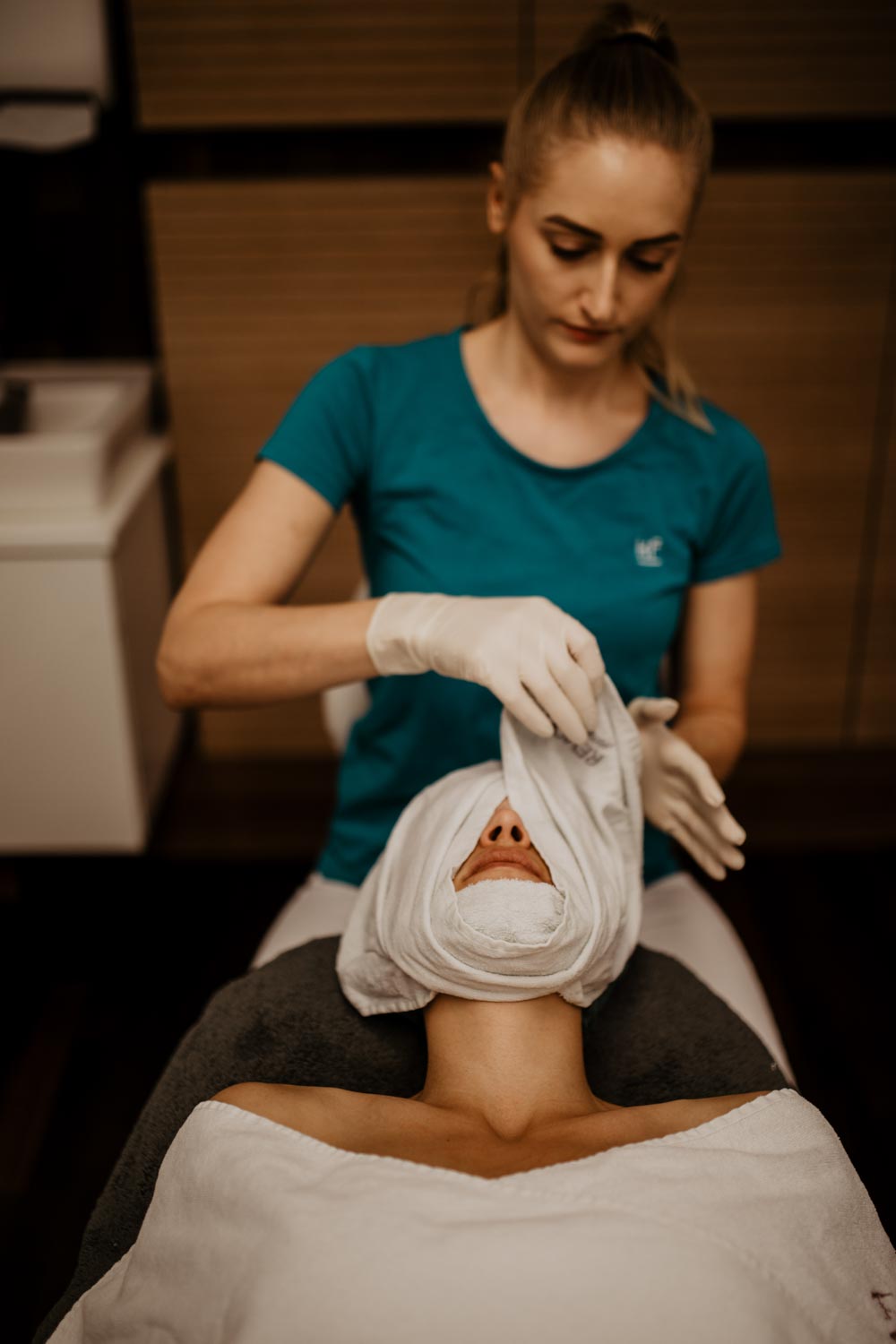 What is micro-needling?
It's a treatment whereby a device with small needles is pushed or rolled over your face and neck area to create controlled punctures, which force your skin into repair mode. Those with a fear of needles shouldn't discard this technique straight away as the needles are incredibly tiny compared to a traditional needle.
What are the benefits of micro-needling?
With micro-needling you benefit from the natural protective functions of your skin: the method uses the principle that your tissue immediately regenerates itself due to the smallest injuries caused to your skin. Kosmetikinstitut Fiebiger is working with REVIDERM's state-of-the-art SkinNeedler micro-needling device which treats your skin on the surface with 10 ultra-fine needles aligned in a row without stressing it.  The targeted application stimulates cell division and sustainably strengthens the resistance of your skin. The outcome: A rosy, fine-pored, smooth appearance. Micro-needling optimizes the collagen tissue in depth. It's particularly beneficial if you want to diminish those fine lines beginning to appear on your forehead and cheeks, and around your eyes and mouth especially when you smile. It's also an effective treatment for enlarged pores and in my case, acne-scarring.
What should you expect from a professional micro-needling treatment?
When I first heard the concept of micro-needling, I thought the idea of rolling small needles over my face sounds like torture. But since the needles are so fine, it's not that brutal. I'd be lying if I said you barely feel it. It does hurt. At some parts of the face more than on others, but it's totally doable! As a reference: I'm very ticklish and when the SkinNeedler is going over my throat I can't help laughing because it's more like tickling and not painful at all. Furthermore, the treatment is tailored your specific needs and the length of the needles can be adapted individually. You can expect your face to be red for a couple of hours, also mild swelling can occur. I've read in reviews that some women experienced bleeding and bruising (you might know the famous photo of Kim Kardashian after her "vampire facial"), but this didn't happen to me at all.
How many times and how often will you need to have a micro-needling treatment?
The number of sessions depends on the skin condition, but typically you'd book 4-6 treatments in 3-6 week intervals. I've had 4 micro-needling sessions so far and was able to see results right after the first session.
How much does professional micro-needling cost?
One session of professional micro-needling roughly costs 200€. At Kosmetikinstitut Fiebiger you can book a set of 6 treatments for 150€ per session.
My personal conclusion about micro-needling:
I definitely think micro-needling has helped my skin a lot, especially because I really did see results and an improvement in my skin right away. As far as I am concerned, I think it's a great procedure to be combined with other facial treatments. For example, I booked a micro-needling session and alternating a normal facial at intervals of 2-3 weeks. The fine lines on my forehead and around my mouth (= laugh lines) are noticeably diminished, but what's even better: The tiny acne scars and spots on my cheeks got a lot less visible and after each micro-needling treatment my skin just felt amazingly plump and dewy. If you're considering micro-needling for yourself, I can highly advise you to consult a specialist and ask them whether they suggest this treatment for you. I'm very glad I tried this treatment and will definitely continue with it also after the wedding on a regular basis every other month.
If you have any further questions about micro-needling, or even tried it out yourself and would like to add something to this post, simply leave a comment below. I'm always happy when you share your experiences with me and everyone else who reads along here!