It's been quite a while since I have last shown you some of my favorite beauty products worth buying. So it's definitely time to show you what's on my bathroom shelf at the moment, which products have totally stolen my heart and which products I'm currently using most.
With Winter approaching, it's time to prepare our skin for colder days and dry air. Because let's face it – winter is not the best season for our skin.  Harsh winds, cold temperatures, and dry air tend to sap skin of its natural oils, leaving it dry and stressed. As the seasons change, so should your skin care habits. In my case, this means my skin is craving an extra portion of moisture and very rich products. Below are some of my current favorites: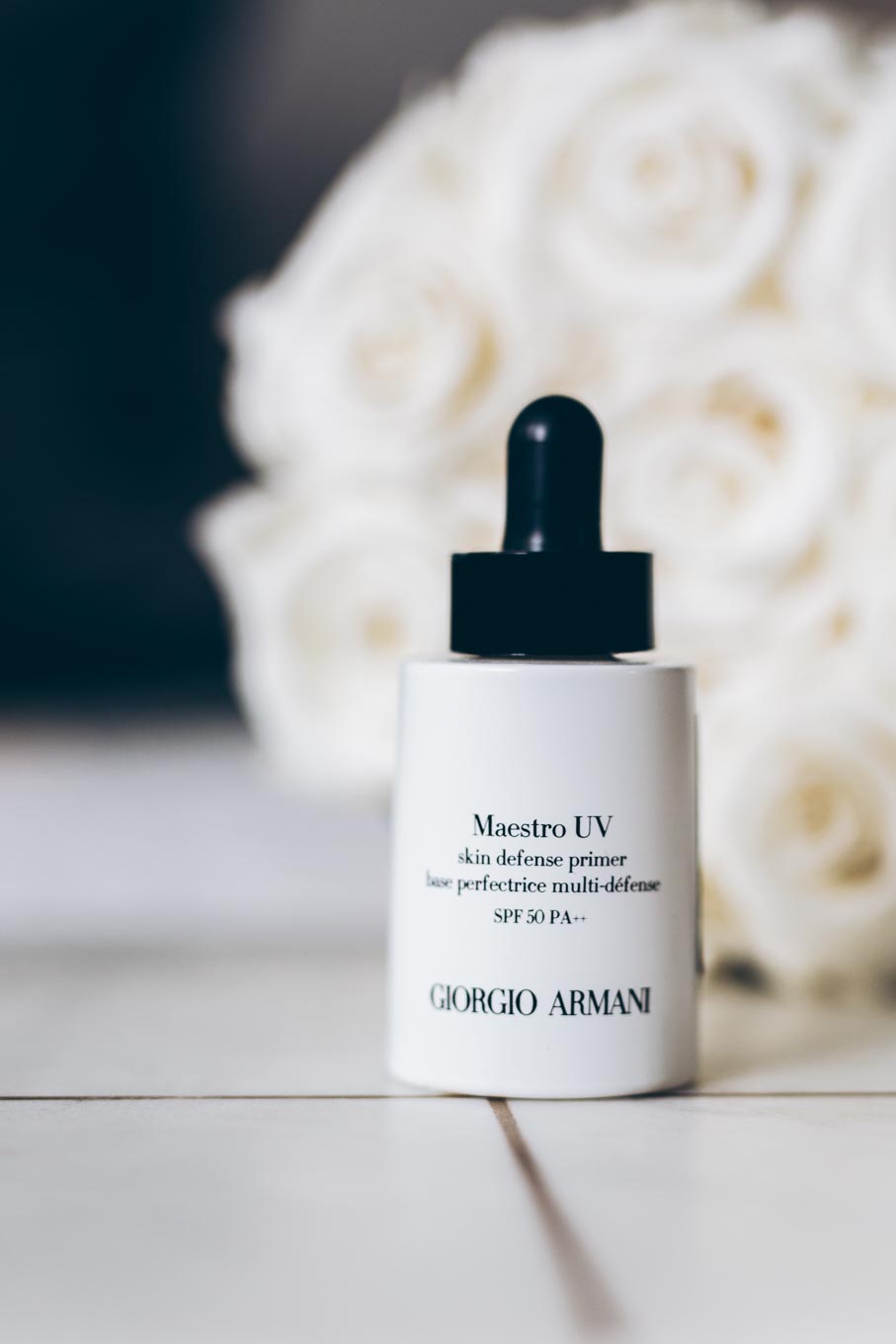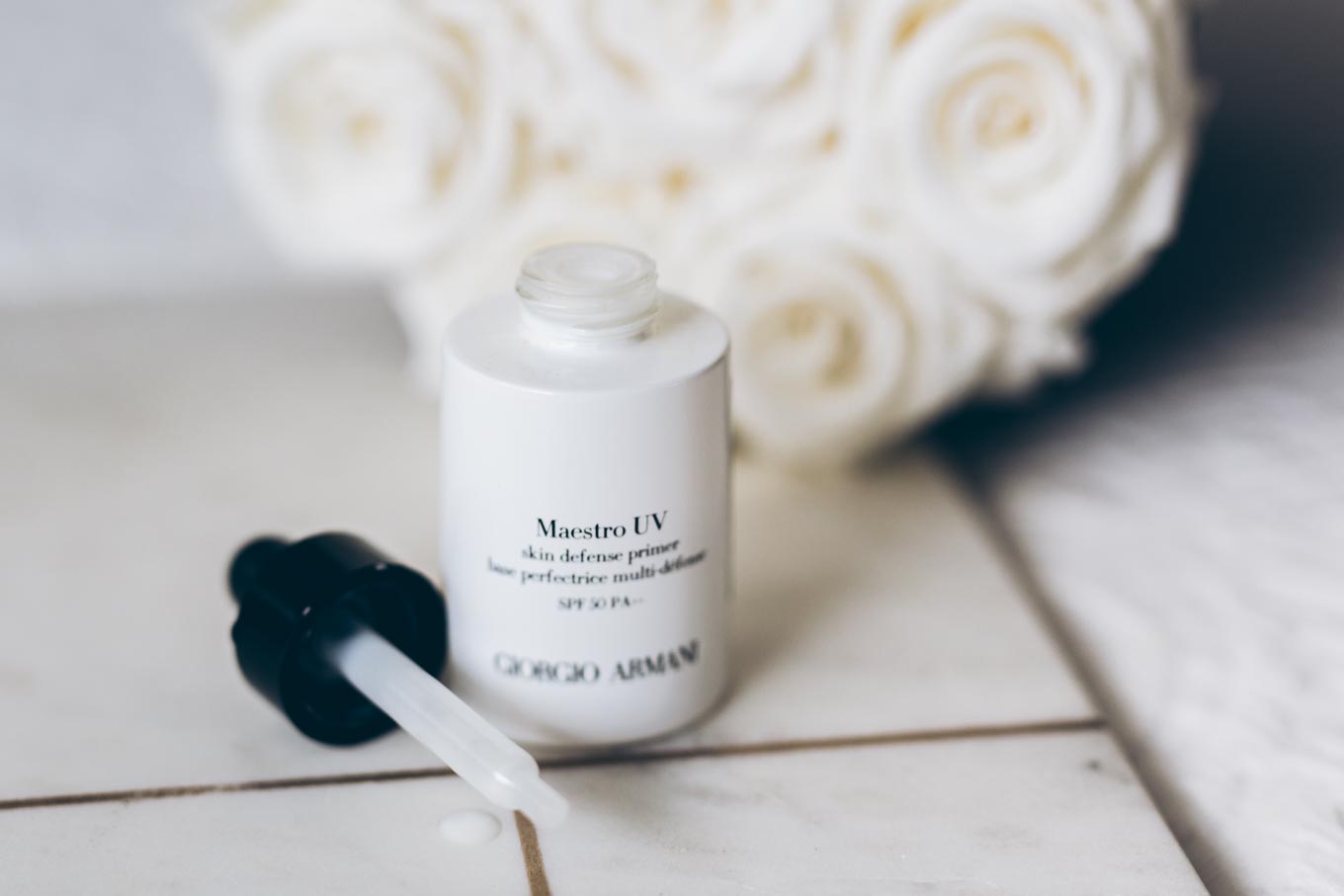 What it claims:
Giorgio Armani Beauty has reinvented uv protection with the Maestro UV makeup primer. A protective wonder for your skin, the broad spectrum SPF 50 face primer defends against sundamage for a softer, more youthful-looking complexion. Using antioxidants and targeted fillers that mimic the behavior of collagen, your appearance will be impeccably smooth. Thanks to its fluidity, Maestro UV instantly becomes one with the skin. Worn alone or under makeup, this foundation primer provides completely transparent anti-UVA/UVB filters that penetrate the skin, absorbing sun rays and combating pollution. Suitable for even the most sensitive skin types, Maestro UV is great for use outdoors.
What I think about it:
This product seriously is a masterpiece. If you've read this blogpost, you probably already know that sunlight is one of the most dangerous things our skin is exposed to. Plus, it's one of the main reasons responsible for skin aging. So, as we all know, sun protection is key. You maybe wouldn't expect it, but sunlight is still very powerful in fall and winter. That's why we should protect our skin from the dangerous UV rays even then. If you're anything like me, you might not want to apply your sunscreen in winter, because – let's be honest – it's not the best foundation for your make up. That's why the Giorgio Armani UV Primer is the best thing I've discovered this year: Its formula is very light and it works just like a primer. I use it after my moisturizer, just before I apply my make up. It stays in place all day and you can enjoy those sunny hours during your lunch break without a guilty conscience about your skin. The price is a bit heavy, but I've made the experience that it lasts very long. I'm still at my first bottle, and have been using it since summer almost every day.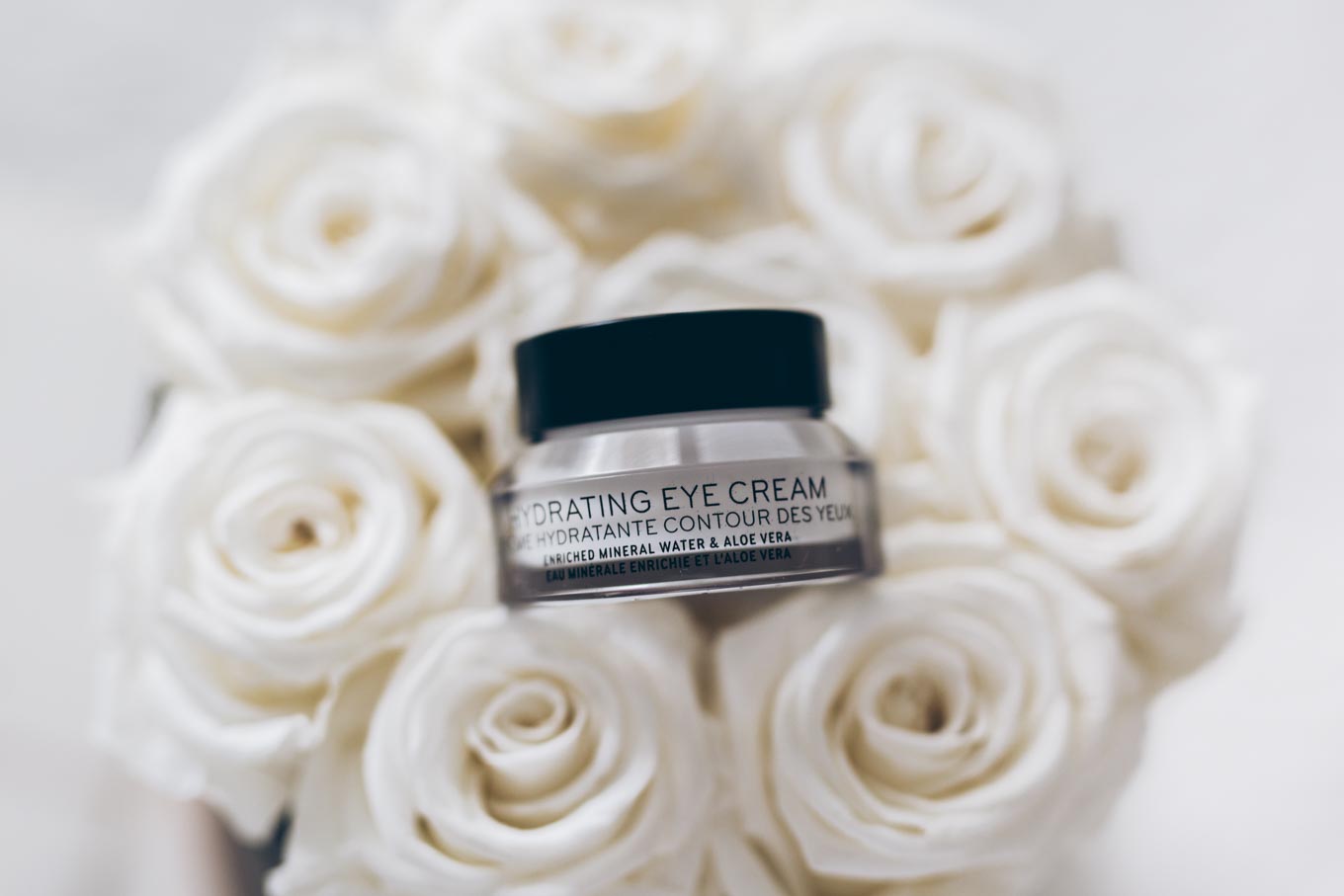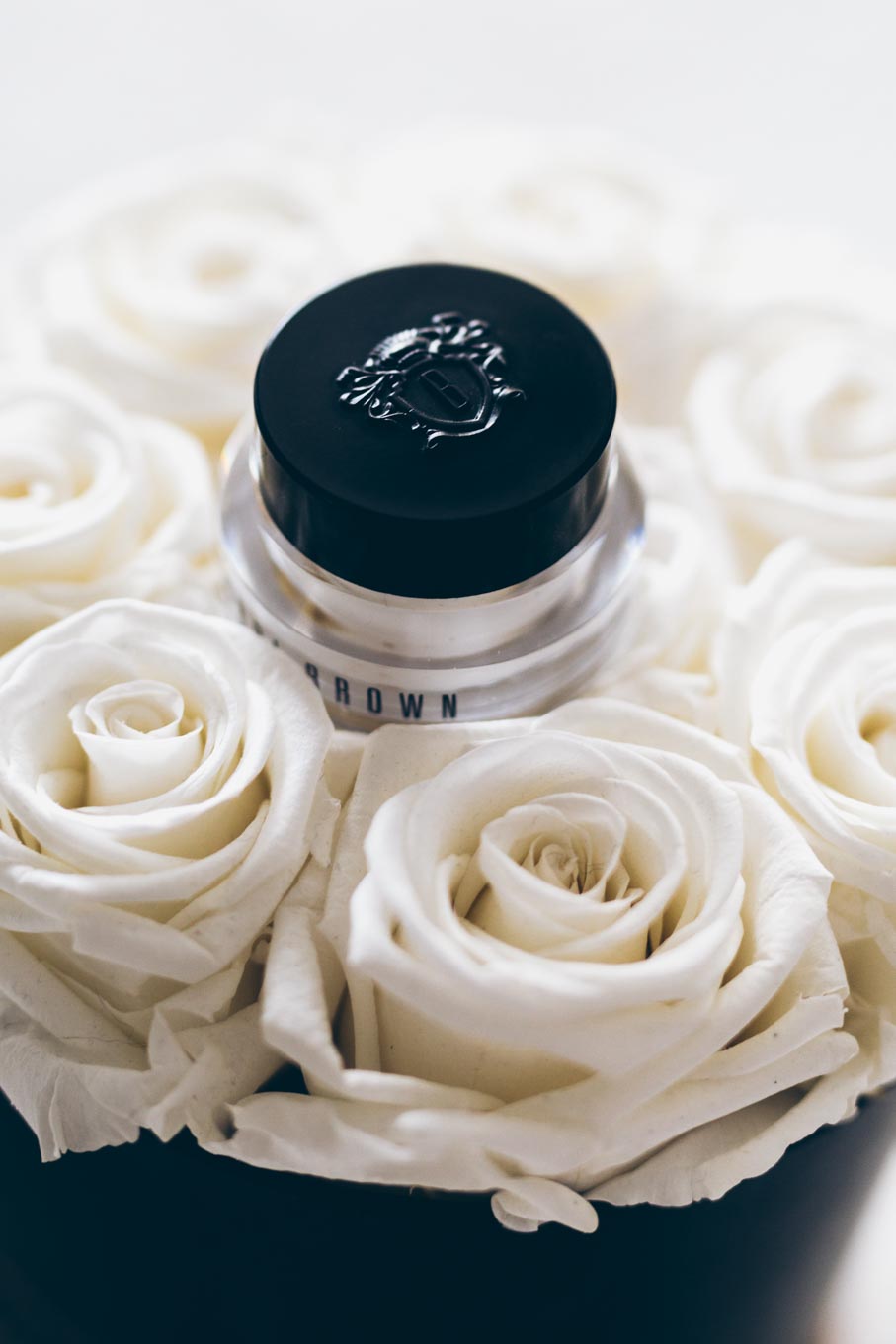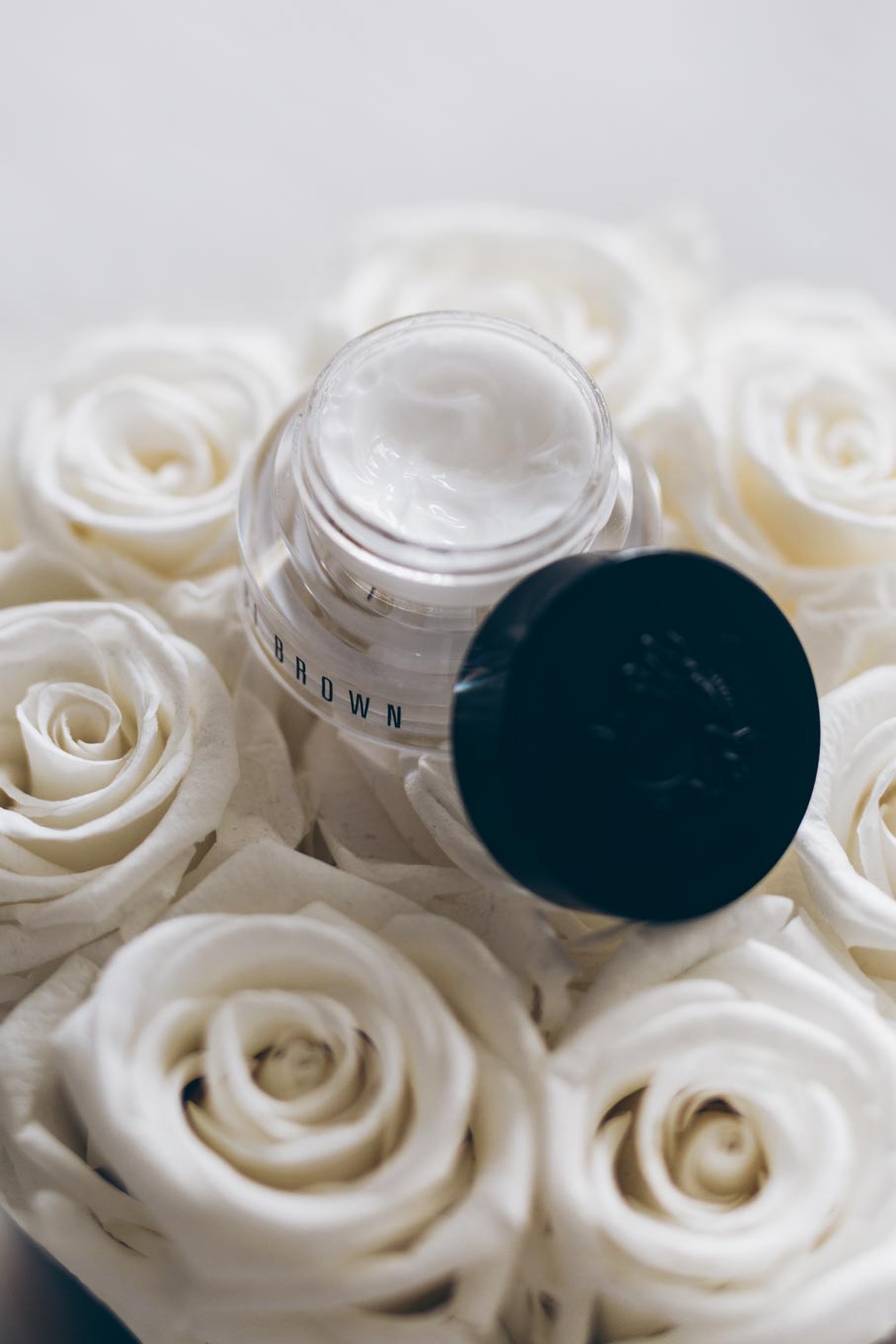 What it claims:
A quick-absorbing eye cream with moisturisers that melt onto the skin. This cult-favourite cream leaves the eye area soft, smooth, and refreshed for up to 24 hours. Formulated with Bobbi's signature Enriched Mineral Water Blend to hydrate, balance and revive skin. Aloe Vera and Witch Hazel extract comfort, while Jojoba Seed, Avocado Oil, and Squalane condition. It's for anyone looking for a lightweight, soothing eye cream to wear on its own or layered under concealer for a flawless finish.
What I think about it:
When I was invited to a Bobbi Brown event a couple of weeks ago, I had the privilege of meeting international, world renowned make up artist, Eduardo Ferreira. He is incredibly fabulous and passionate about what he does – a true make-up genius! He showed us how to use the new Bobbi Brown Instant Full Cover Concealer (it's fantastic, btw). Eduardo explained, the best primer  always is the right moisturizer. This rule applies for make up, as well as concealer. Ever since trying the Bobbi Brown Hydrating Eye Cream at this event, I've been hooked and use it on a daily  basis during my morning routine. My concealer stays in place all day long and doesn't set. Also, I love the simple black and white Bobbi Brown packaging, but you guys probably know I have a big thing for beautiful design.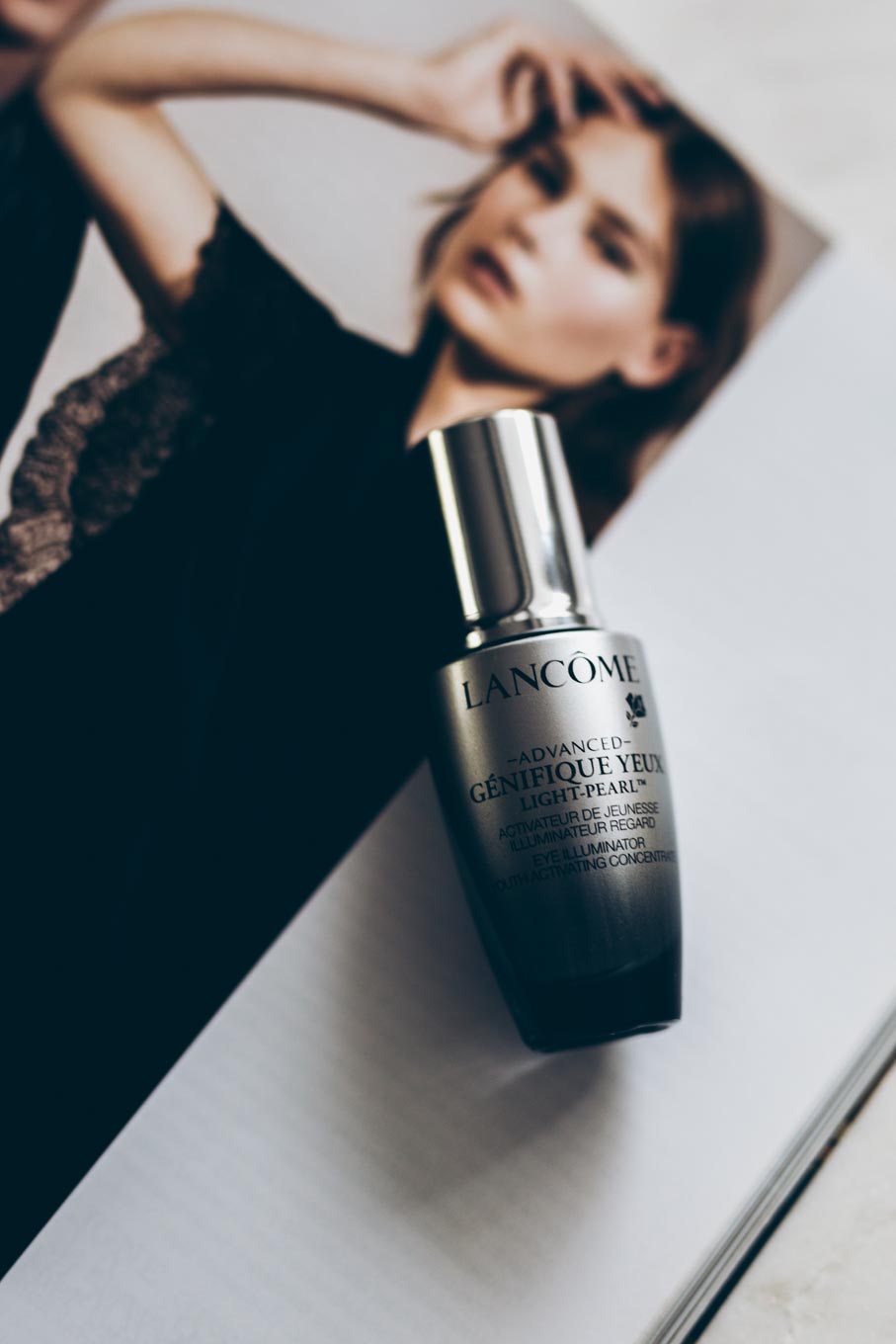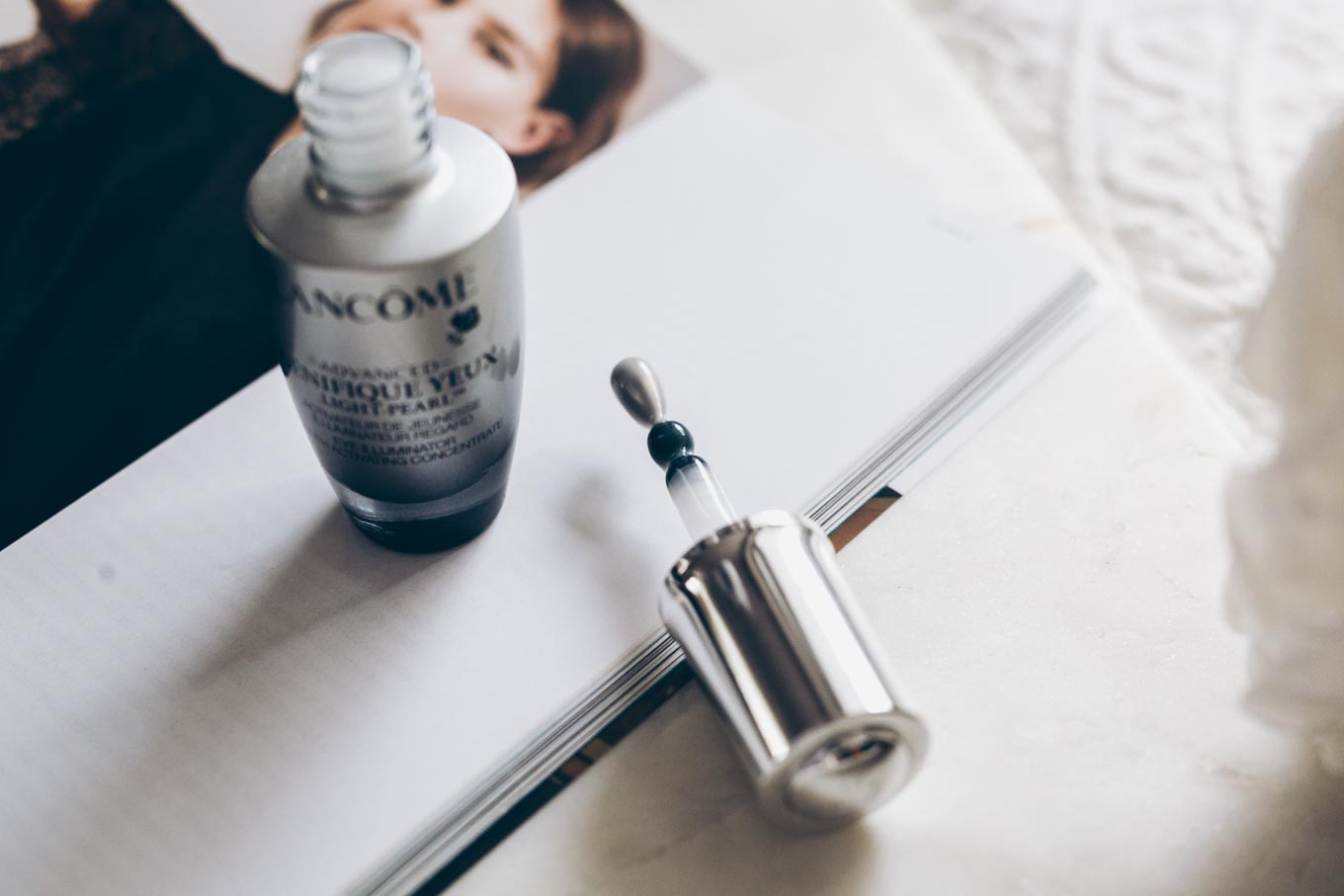 What it claims:
Génifique Yeux Light-Pearl contours your eyes for younger-looking and brighter appearance. With the unique massaging 360° Light Pearl™ applicator, our multitasking skincare eye serum refreshes eyes by smoothing the appearance of fine lines and wrinkles, reducing dark circles and under eye bags. 
What I think about it:
I showed you this product already on Instagram stories, and you seemed super curious about it! Legitimately – because it's awesome! I love using it when I wake up with puffy eyes (which happens a lot lately). The cold metal applicator is super soothing for the eyebags and you can literally massage your dark circles away.
Editor's tip: Store it in your fridge for an even better result! The 360° Light Pearl applicator will be even colder, and your eyes will thank you later.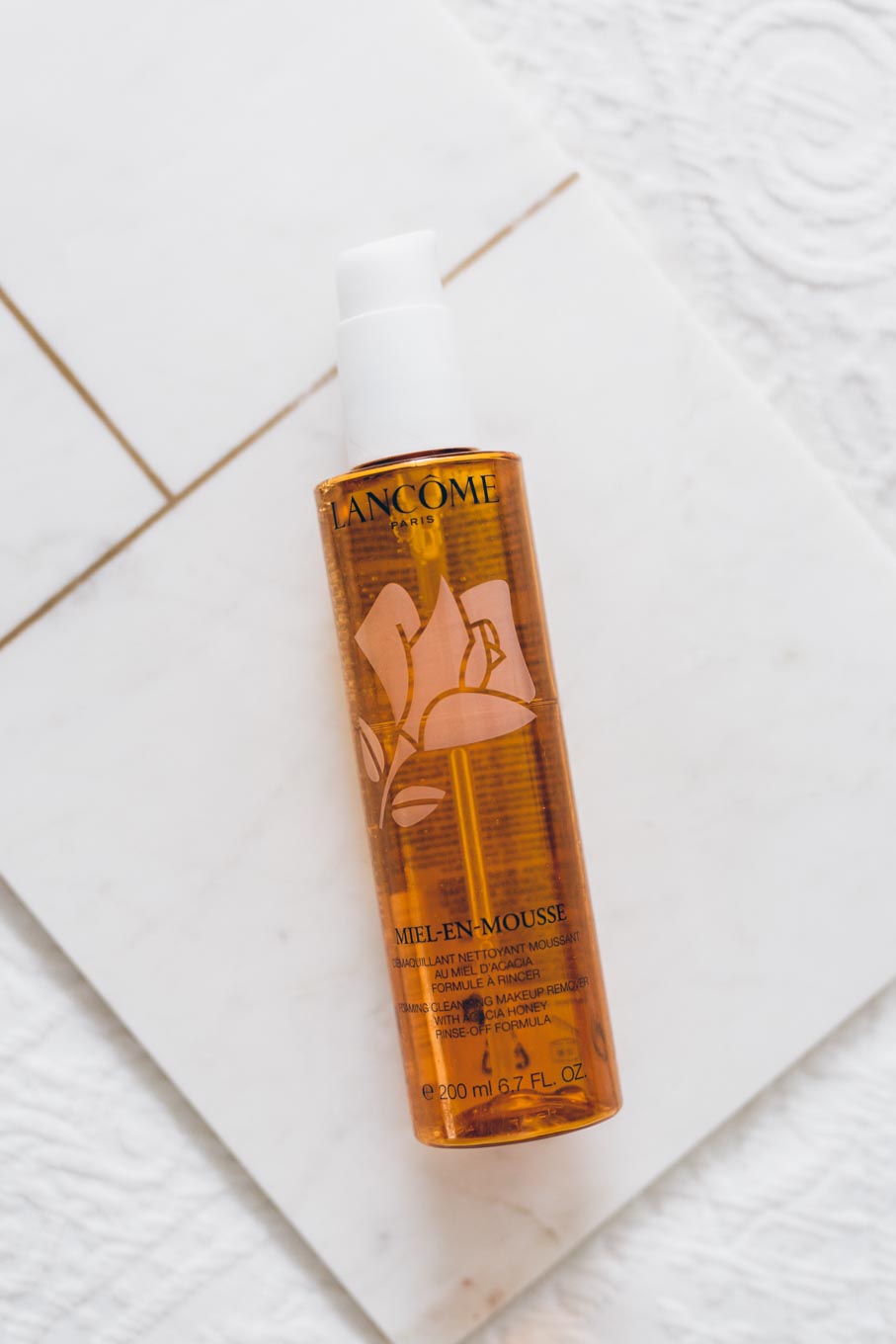 What it claims:
Start your cleansing routine with Miel-En-Mousse Foaming Cleansing Makeup Remover. Dissolve make up and gently cleanse skin to leave it feeling clean, soft and comfortable. A foaming cleansing makeup remover with a rinse-off formula. 
What I think about it:
As I've already told you in this post, I've been struggling with my skin again during the past months. Hence, I've been experimenting with various products to find what works best for me. One of the products to take off my make up that worked very well for me was the Lancôme Miel-En-Mousse Makeup Remover. Its honey like formula is very mild and smells heavenly (as in: you'll want to eat it), and prepares the skin very well for the following beauty routine. Another fact: The mousse will warm slightly will you massage it onto your face – it's a very pleasant feeling!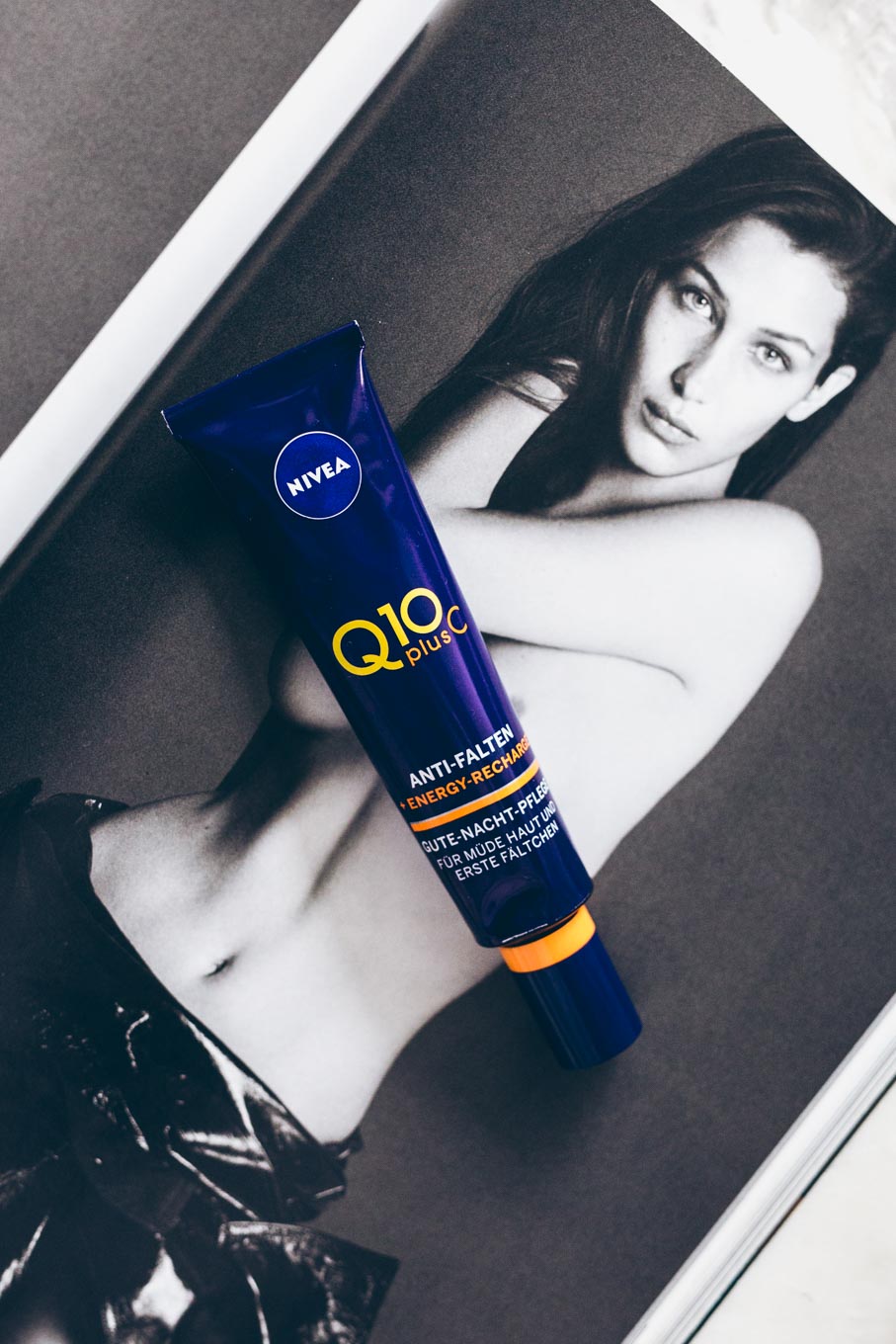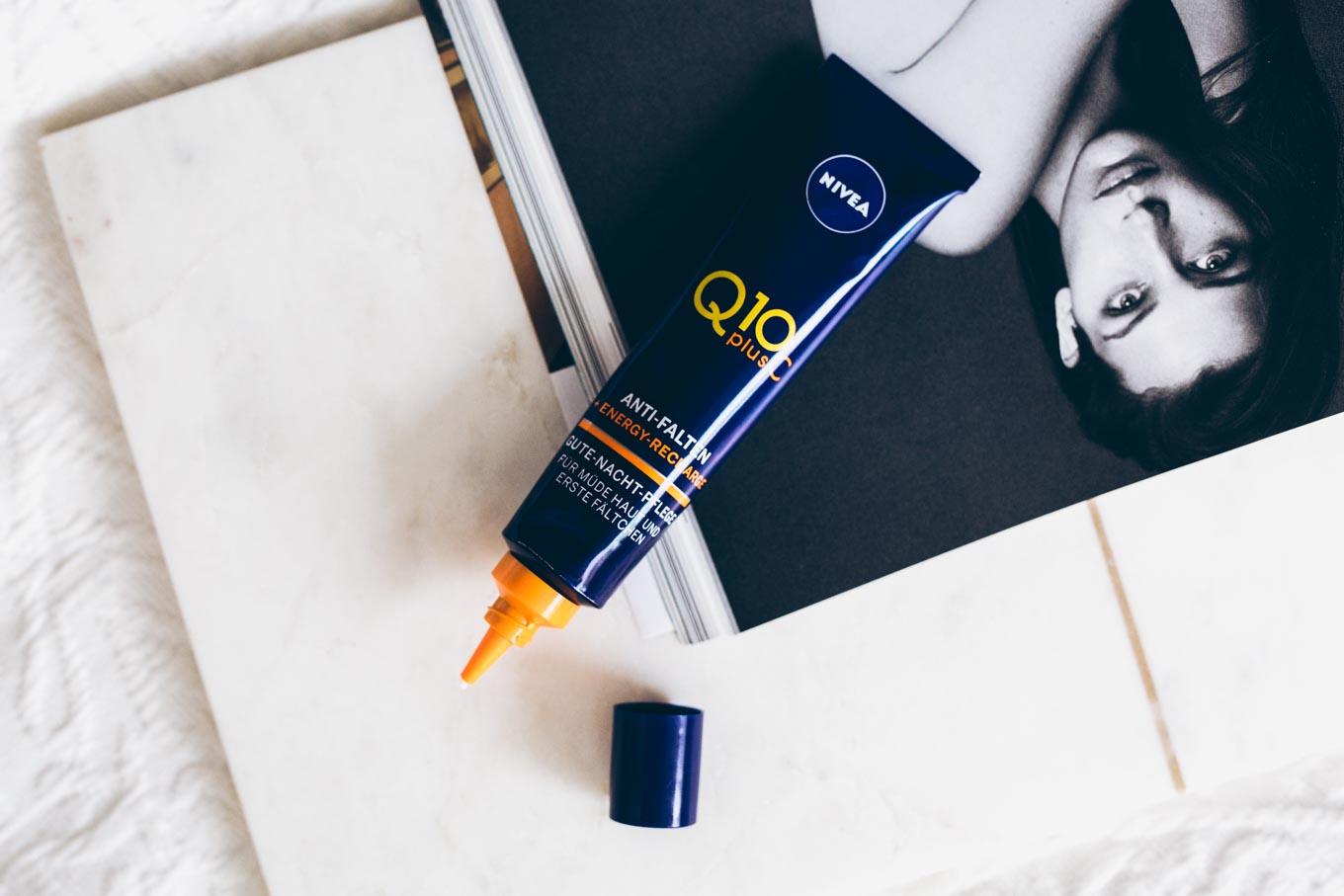 What it claims:
For the first time ever, NIVEA is combining two powerful ingredients: energizer coenzyme Q10 and highly potent, pure Vitamin C. The skin has a much better capacity to take up moisture overnight; this recharges the skin's own anti-oxidant capacities and replenishes its energy reservoirs. NIVEA Q10plusC Energy Skin Sleep Cream with Q10 and pure Vitamin C is specially formulated to help support the skin's regenerative process overnight; leaving your skin looking healthy,  smooth  and energised in the morning. A highly effective antioxidant, pure Vitamin C is a pick-me-up for the skin and a strong ally against free radicals. Because free radicals – which are generated through UV radiation and environmental pollutants – are one of the main causes of skin ageing.  Coenzyme Q10, which occurs naturally in skin, functions as an energy provider for the skin. Q10 supports cell regeneration and collagen synthesis, helping the skin stay smooth and fight wrinkles.
What I think about it:
The sad truth my dermatologist told me during my last appointment: In your late 20s, your skin is ready for some light anti-aging products. Although you shouldn't go full force yet, it's totally legit to slowly start with it. The NIVEA Q10plusC cream works very well for me at night. Its rather rich texture supplies the skin with nourishing elements which are best being soaked up while you sleep, because the skin has a much better capacity to take up moisture overnight. When I use the cream before going to bed, I wake up in the morning and my skin feels very plump, healthy and smooth. Plus: The price tag it comes with is very fair!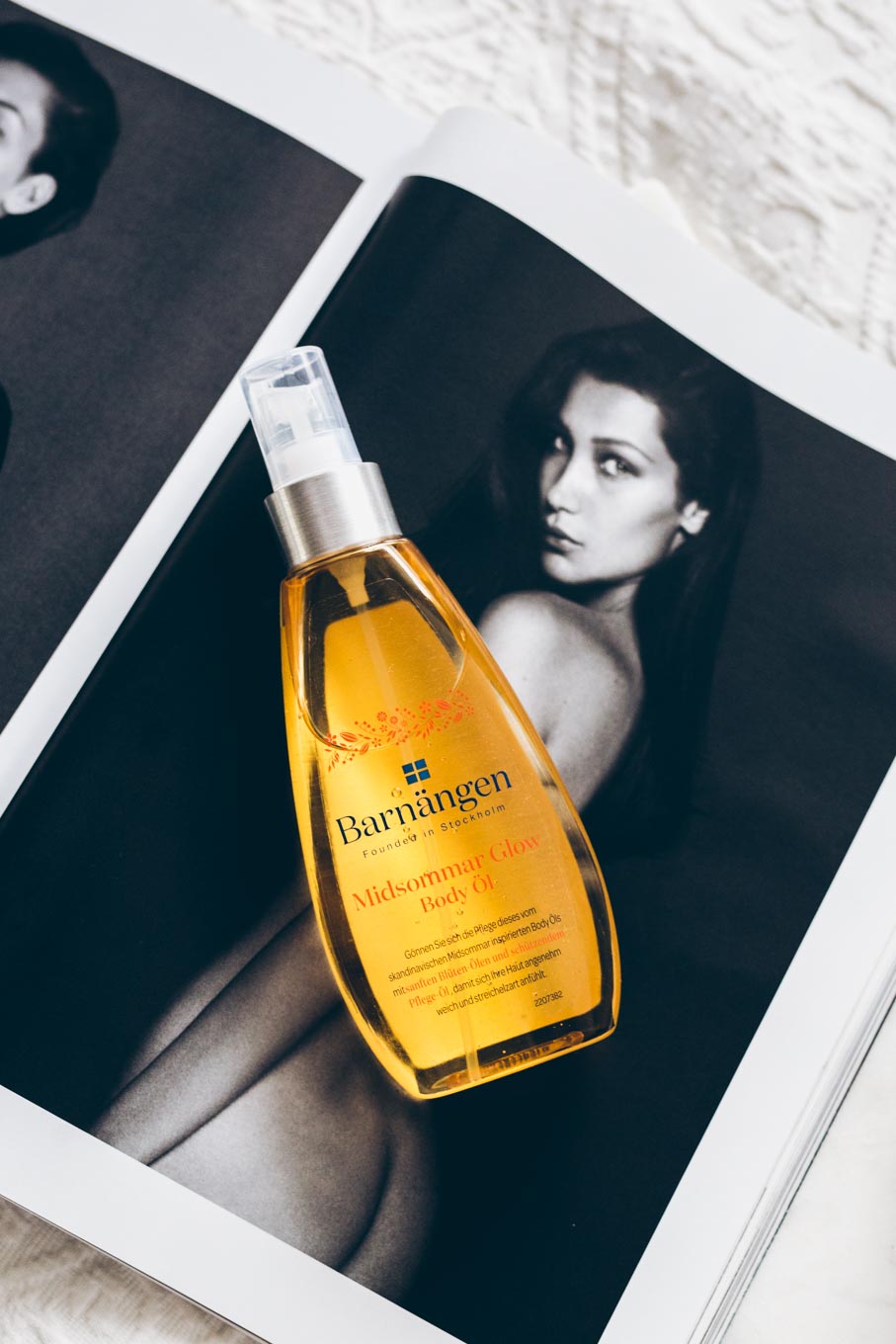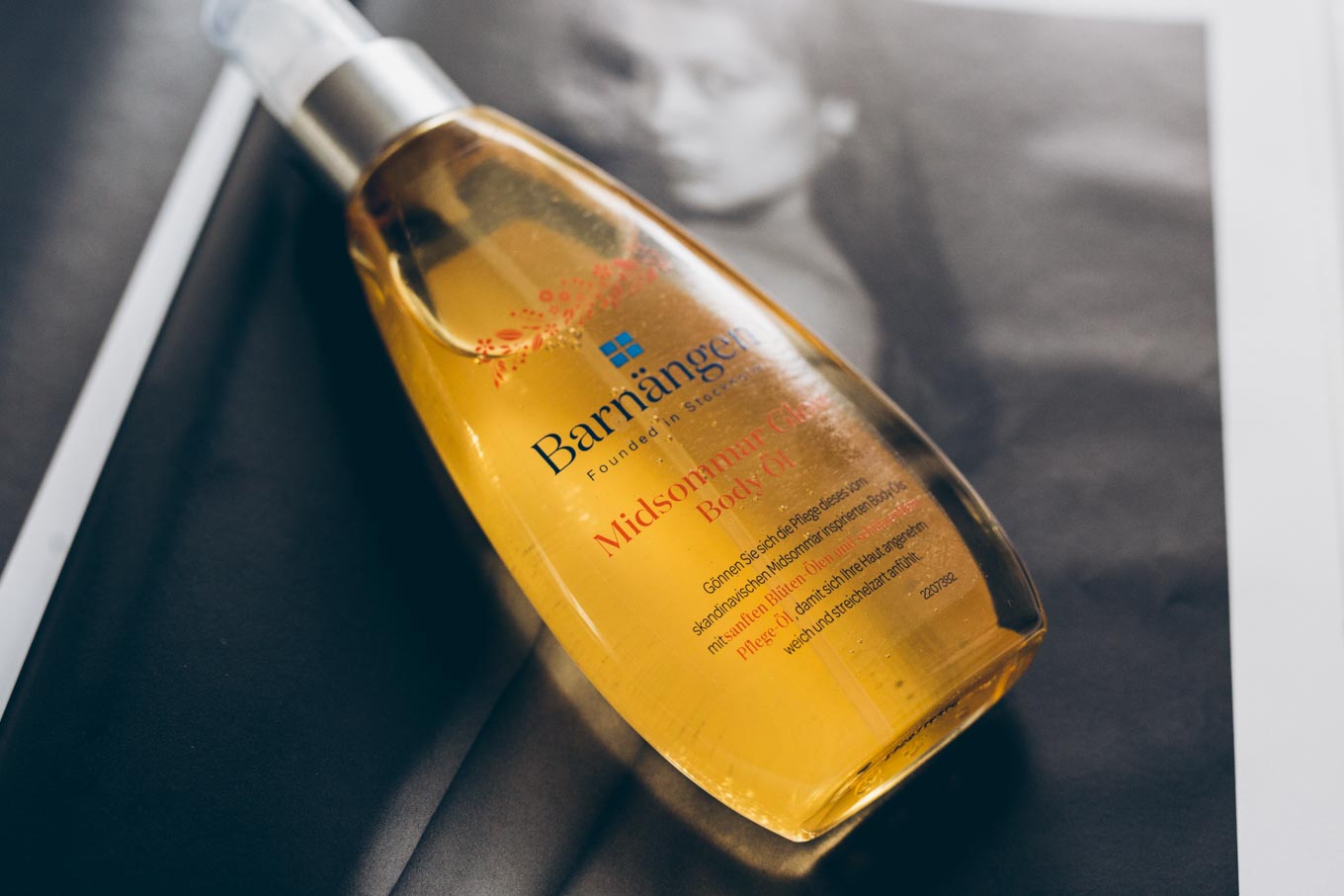 What it claims:
The Barnängen Body Oil Midsommar Glow contains a harmonious interplay of flower oils and protective oils, which was inspired by the long golden sundays of the Swedish Midsommar. It makes the natural beauty of your skin flourish, leaves a super soft and nourished finish and makes your skin glow.
What I think about it:
It's not just our face that needs some extra TLC during winter, but also our body. I'm a big fan of oils (no matter if it's for the face, hair, or body), so the Barnängen Midsommar Glow Body Oil is one of my favorites at the moment. The spray pump makes it very easy and precise to apply, and the smell reminds me of summer – which is an extra plus!
Editor's tip: Don't immediately get dressed after applying the oil, but wrap yourself in a bathrobe so it can be absorbed by your skin completely.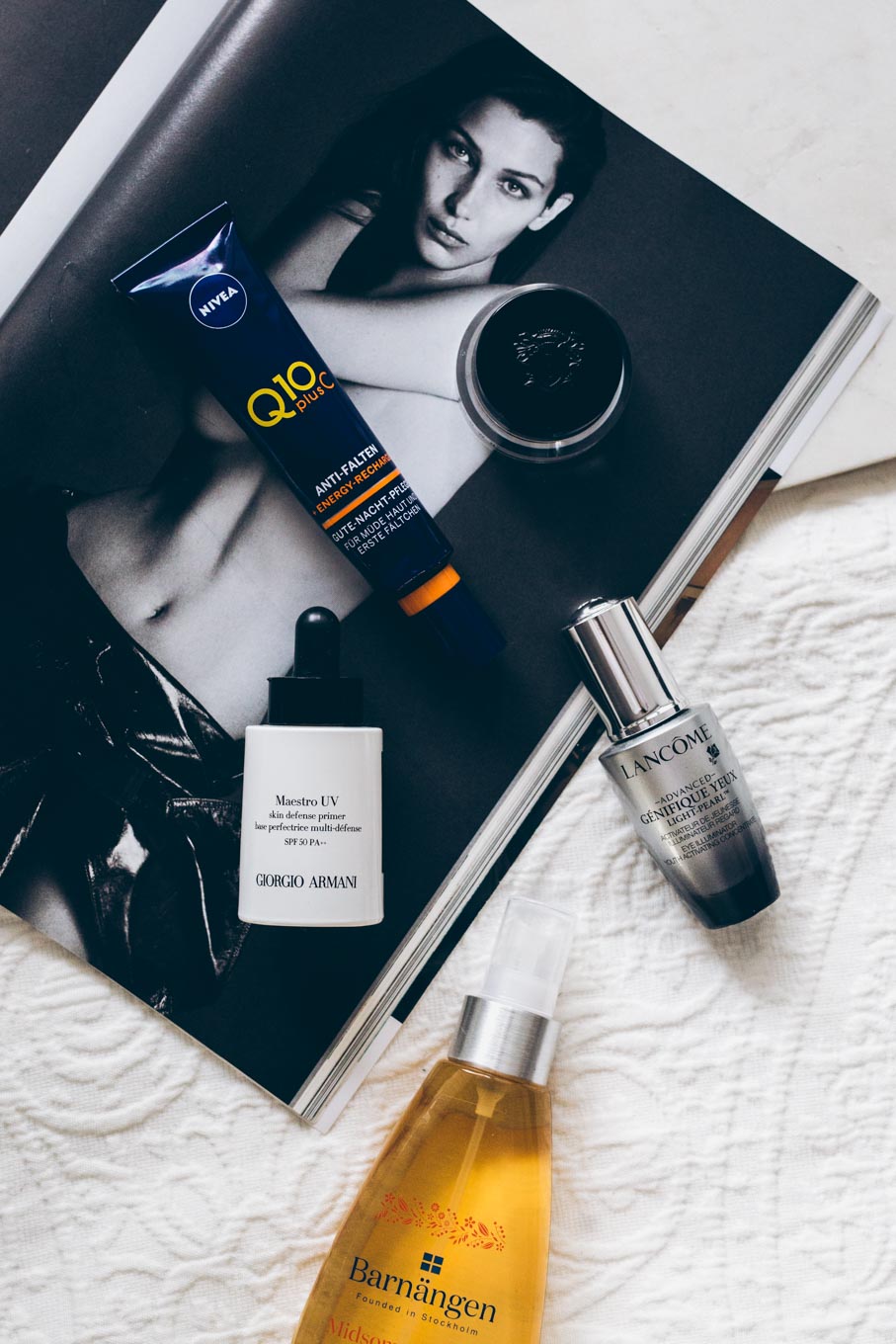 ---
*this post includes product placements and PR samples
Shop the post: