Driving Home For Christmas 2017
The time has come. I am done packing all the presents (carefully stacked in a big fat blue IKEA bag, classy – I know) and am currently typing these lines while sipping on Punsch at the office, Christmas music as background noise, of course. The past few weeks have been packed with never ending to-do lists (which I don't want to complain about, because I got to work with awesome clients on really cool projects) but still: This Christmas break is really needed this year – and oh so appreciated! Being self-employed definitely comes with lots of benefits, but there are downsides too. When I started off this year "working for myself" I used to think how amazing it was that I can just take a regular Monday off and don't have to ask anyone for permission. Well, nice thought. But truth is: I've done that exactly once – and that was only because Patrick and me worked the whole weekend through.
Long story short: Being your own boss is really cool, and I wouldn't want to have it any other way anymore. But it also requires lots of discipline and determination, obviously. One of my goals for next is to schedule dedicated me-time, which involves spending more time with my family. I have barely been to Carinthia (where my parents live) this year, so I am extra thankful to be going home in just a few hours (my Dad will pick me up, it's our tradition and I love it!). The next few days are dedicated for quality time and TLC with my family and closest friends, and I can't wait for it. You know how they say there's something about Christmas that makes you wish it was Christmas every day? I think it's the enormous amount of love and happiness I feel in my heart these days, that makes me wish it was Christmas more often. Some things will never change: The pyjama my Mom has already prepared on my bed for me, the hot bathtub that's waiting for me as soon as I get home, the annual Christmas tree shopping with my Dad on the 23rd, or the traditional coffee at my Bestie's house on the 24th.  All these moments make me feel like a child again, and I wouldn't want to trade those feelings for the world.
Talking about packing: I packed my bags yesterday night and tried to think of the things I'll need for the holidays. I decided to keep it super casual this year, so the things that were allowed to go into my suitcase mainly consist of wide velvet pants, comfy knits and a big coat (which I'm currently living in, anyway). With an added touch of red and a few holiday sparkles (aka earrings) it counts as Christmas outfit, right? Close enough, I'd say. And now excuse me while I'm driving home for Christmas. K. Thx. Bye.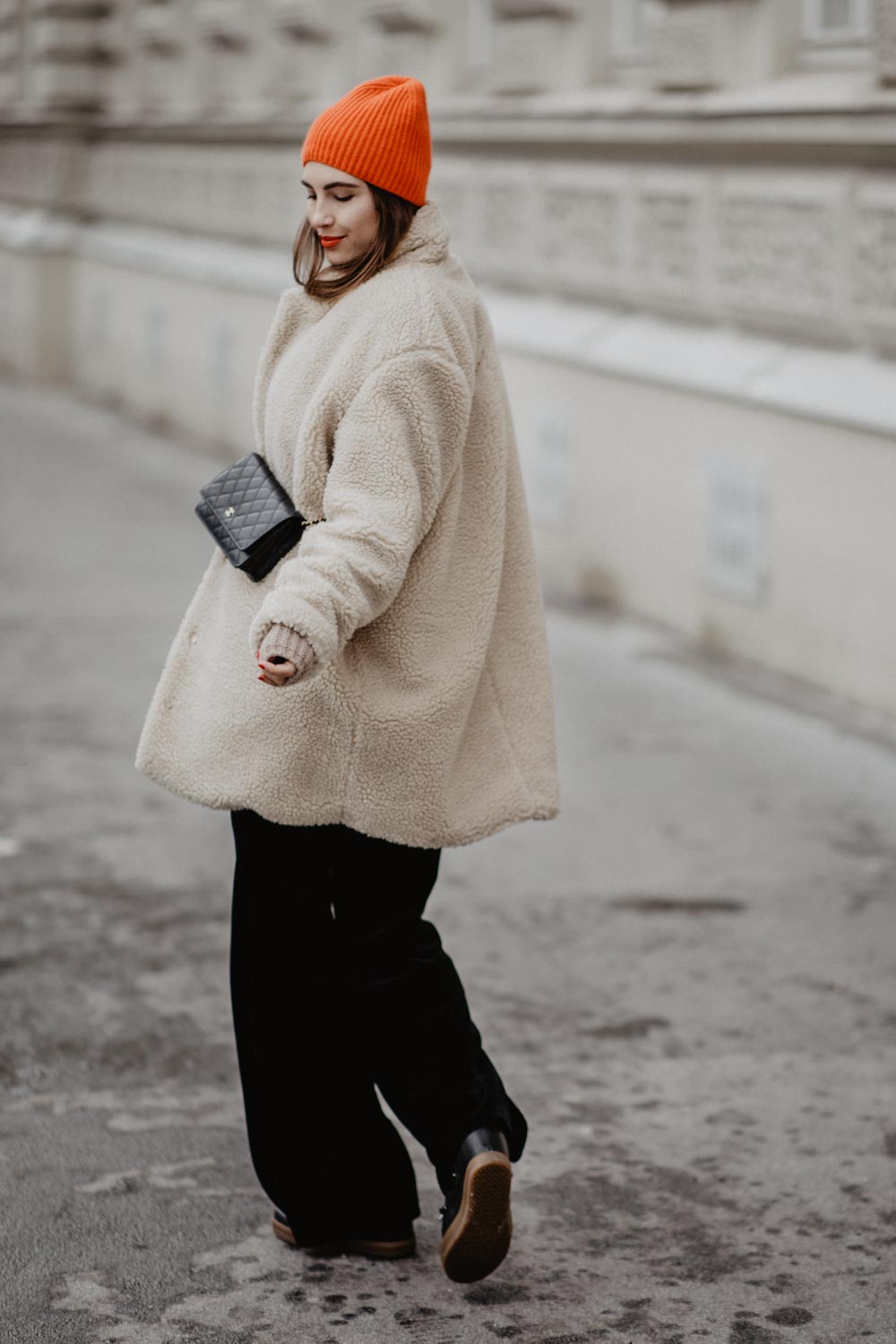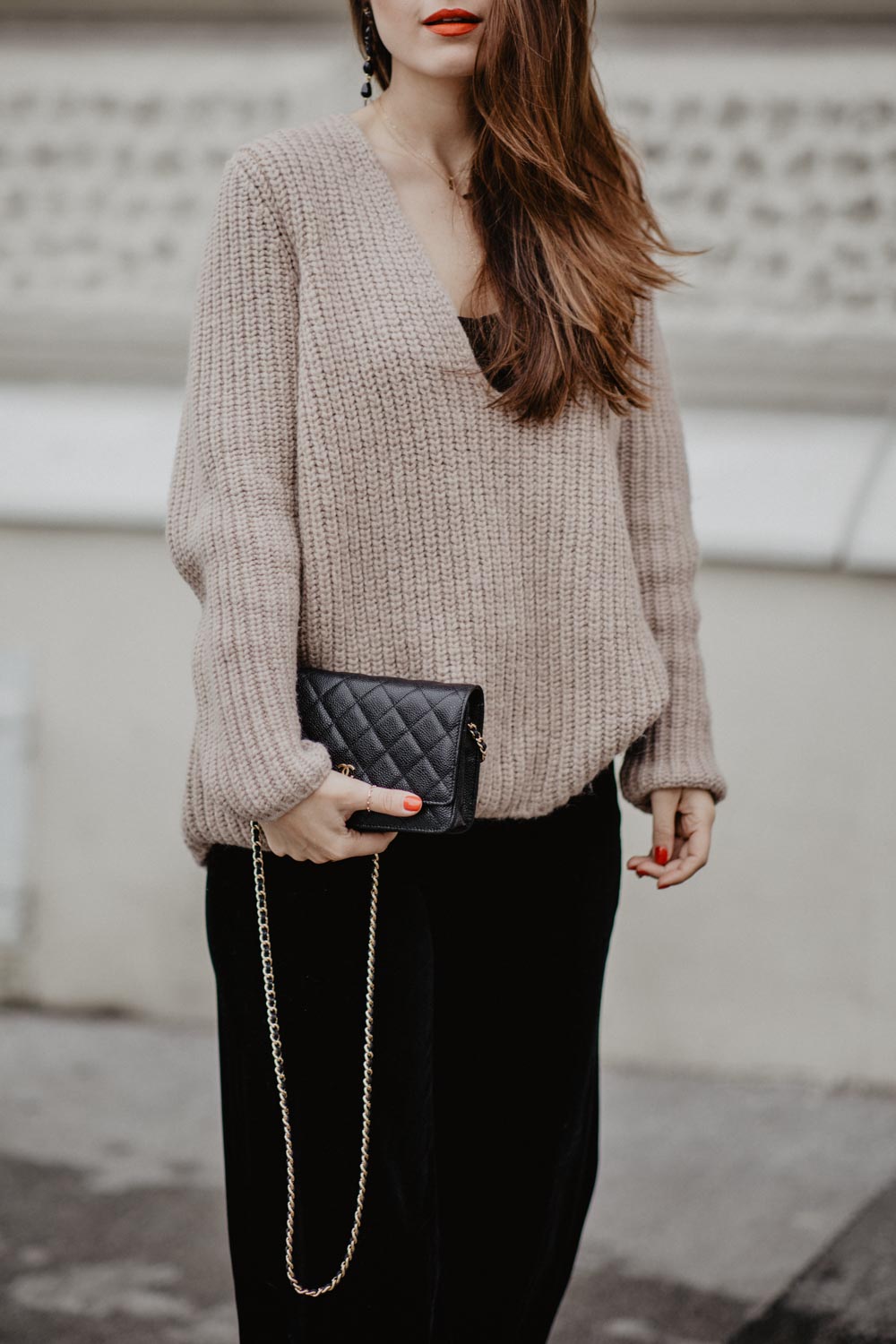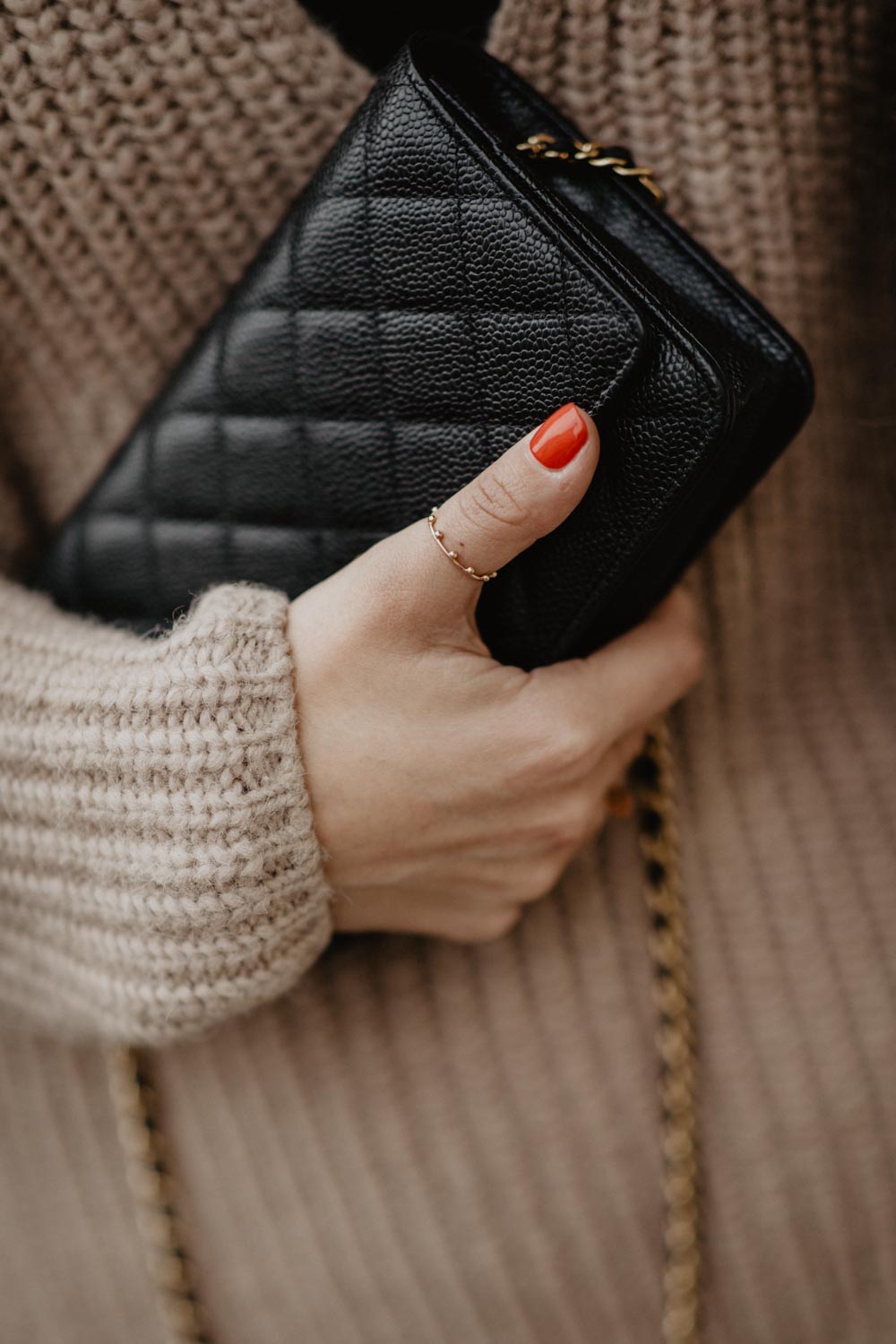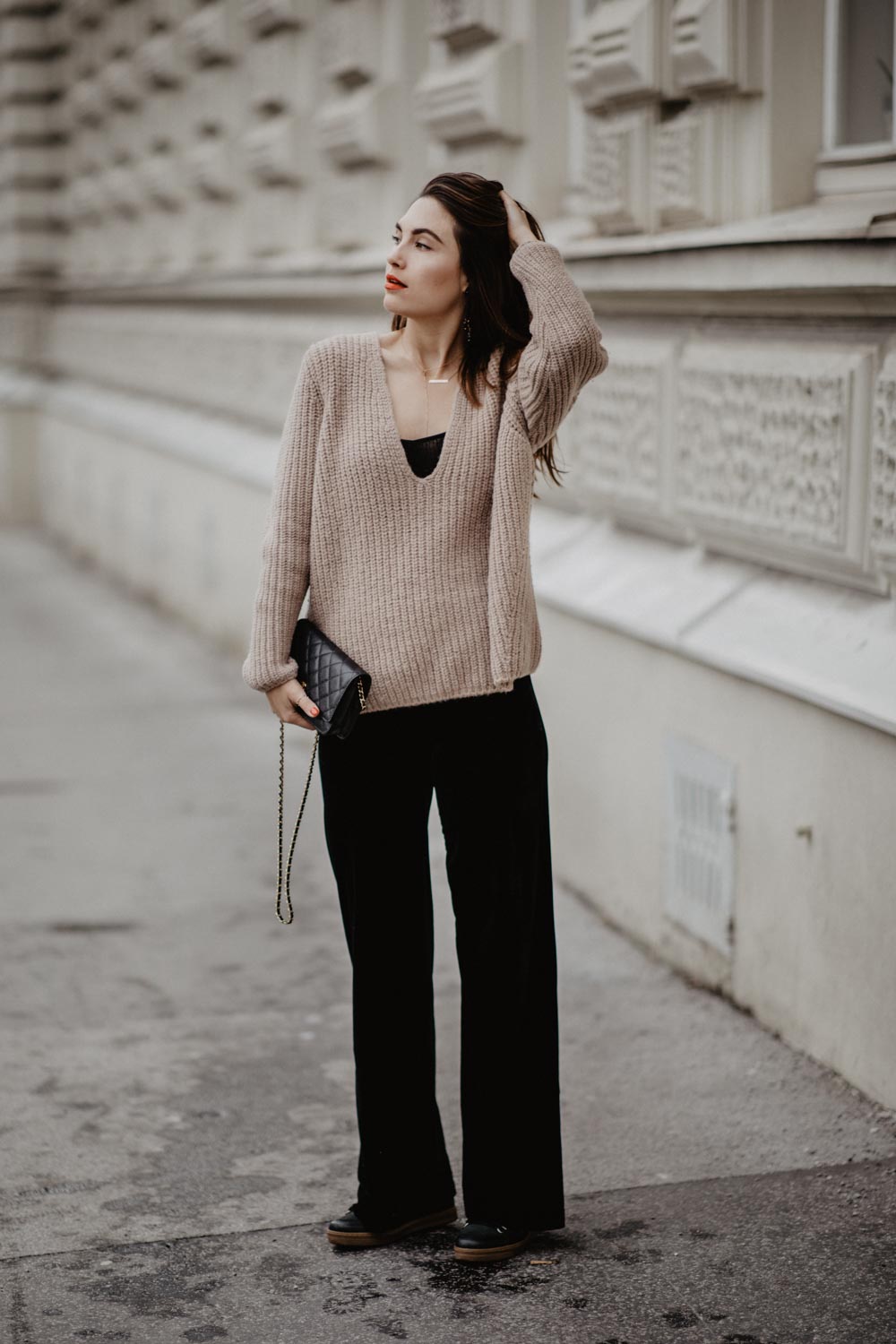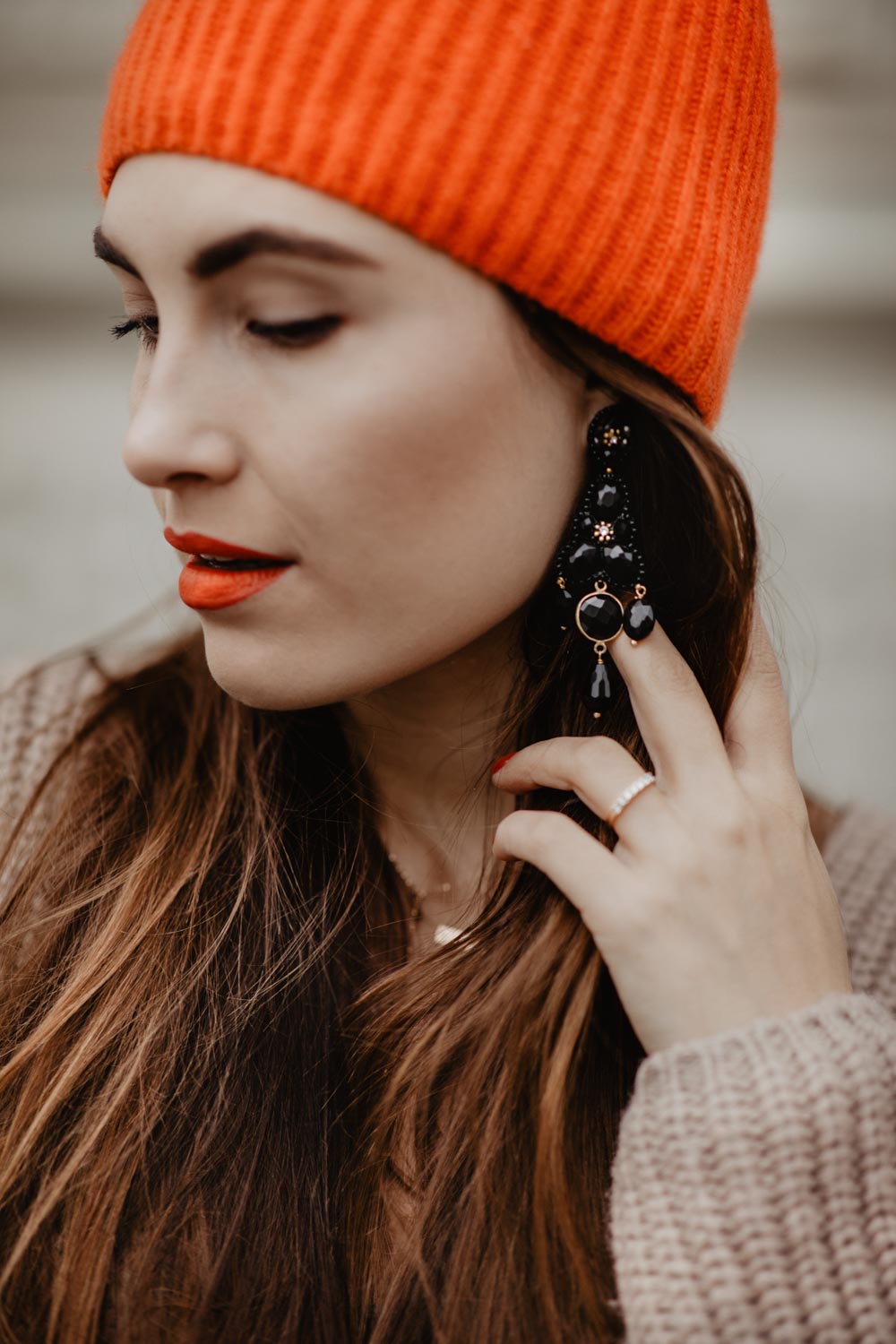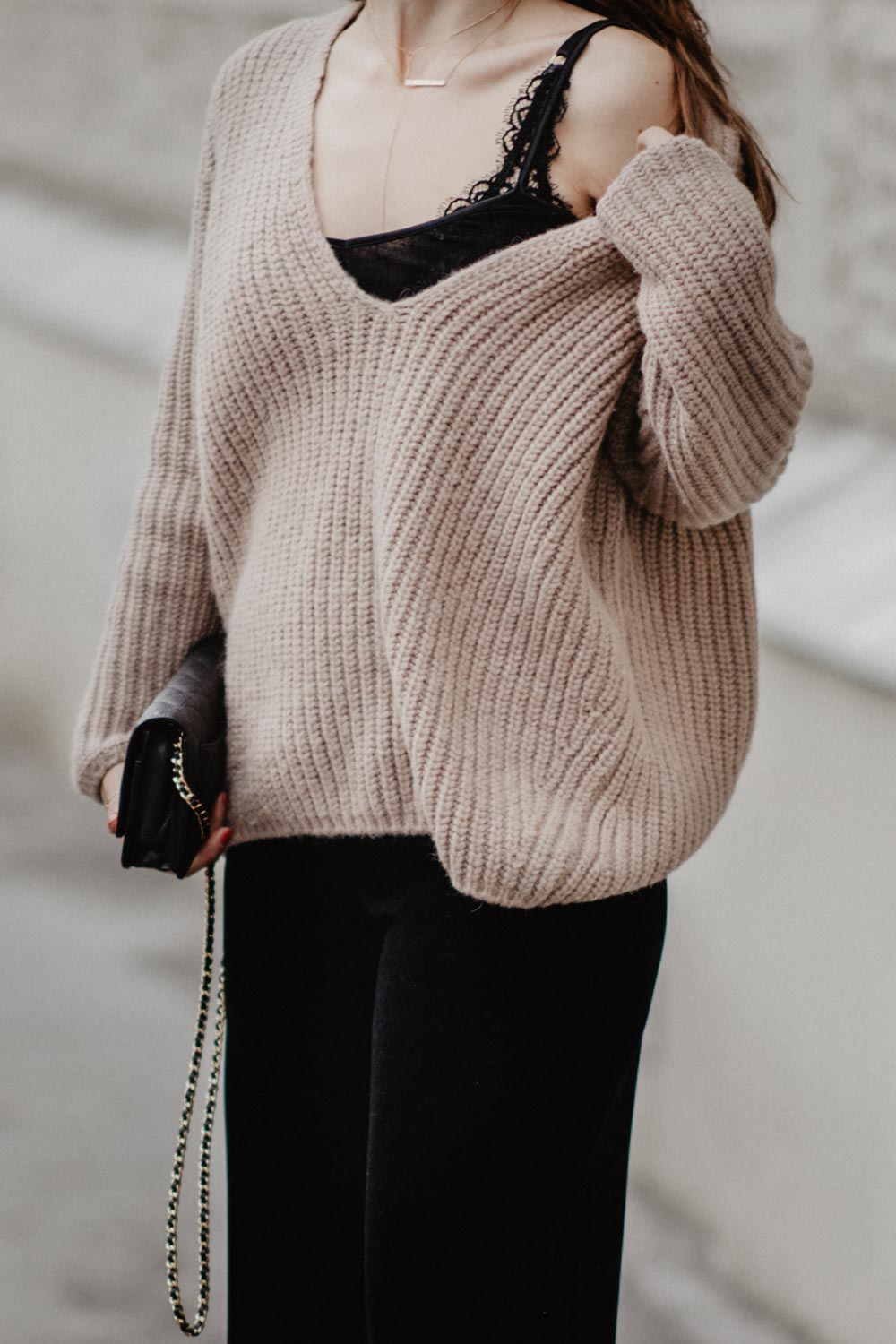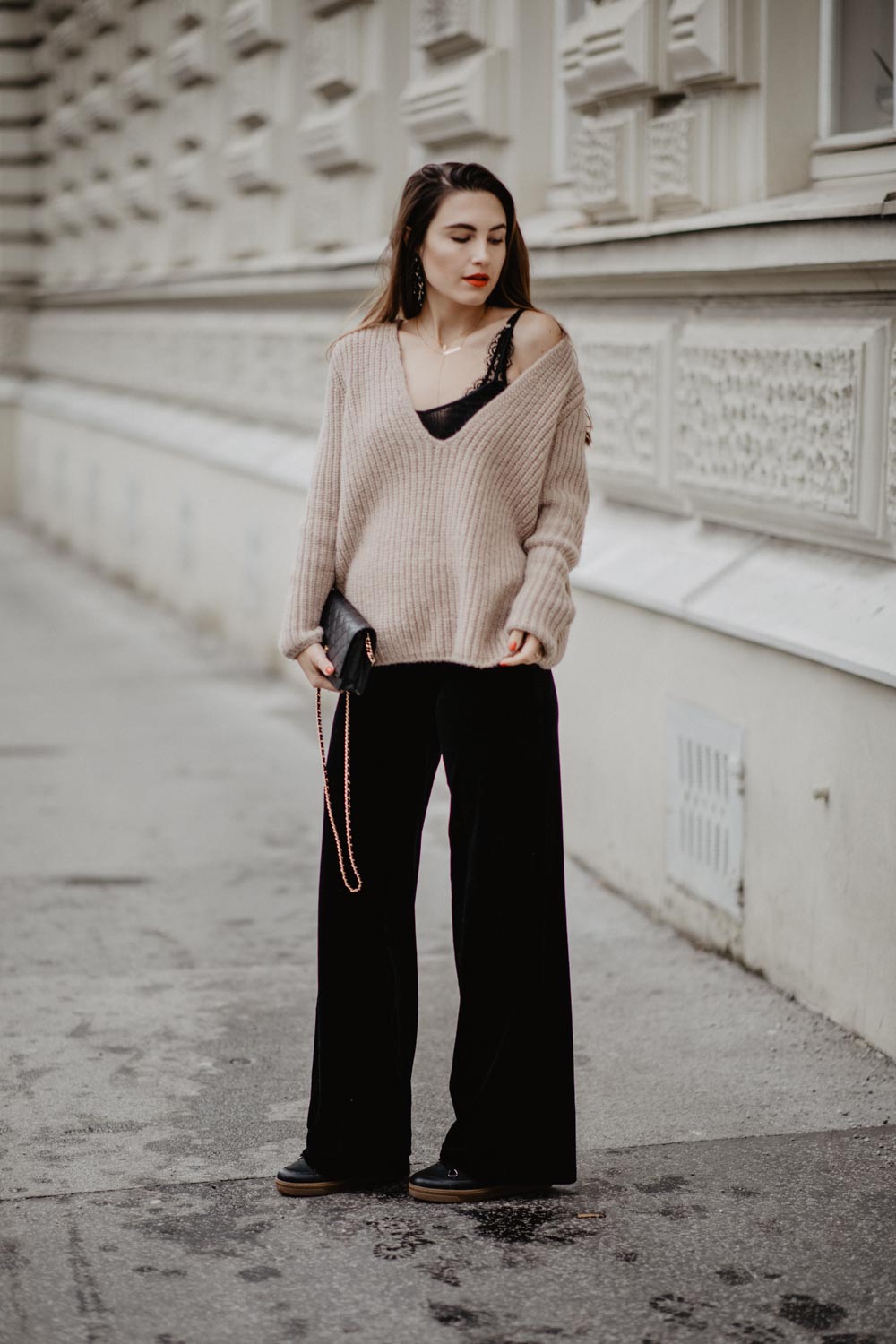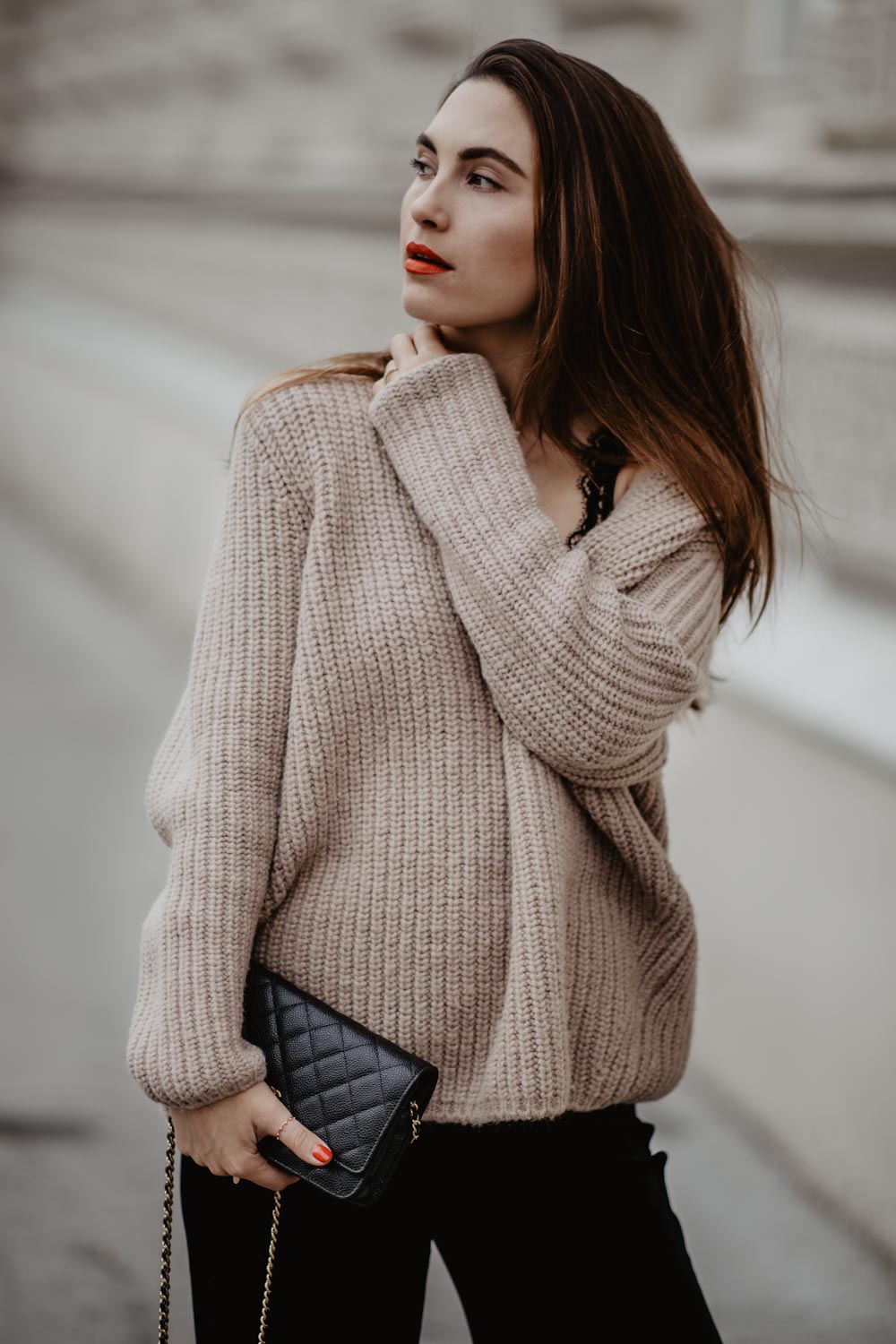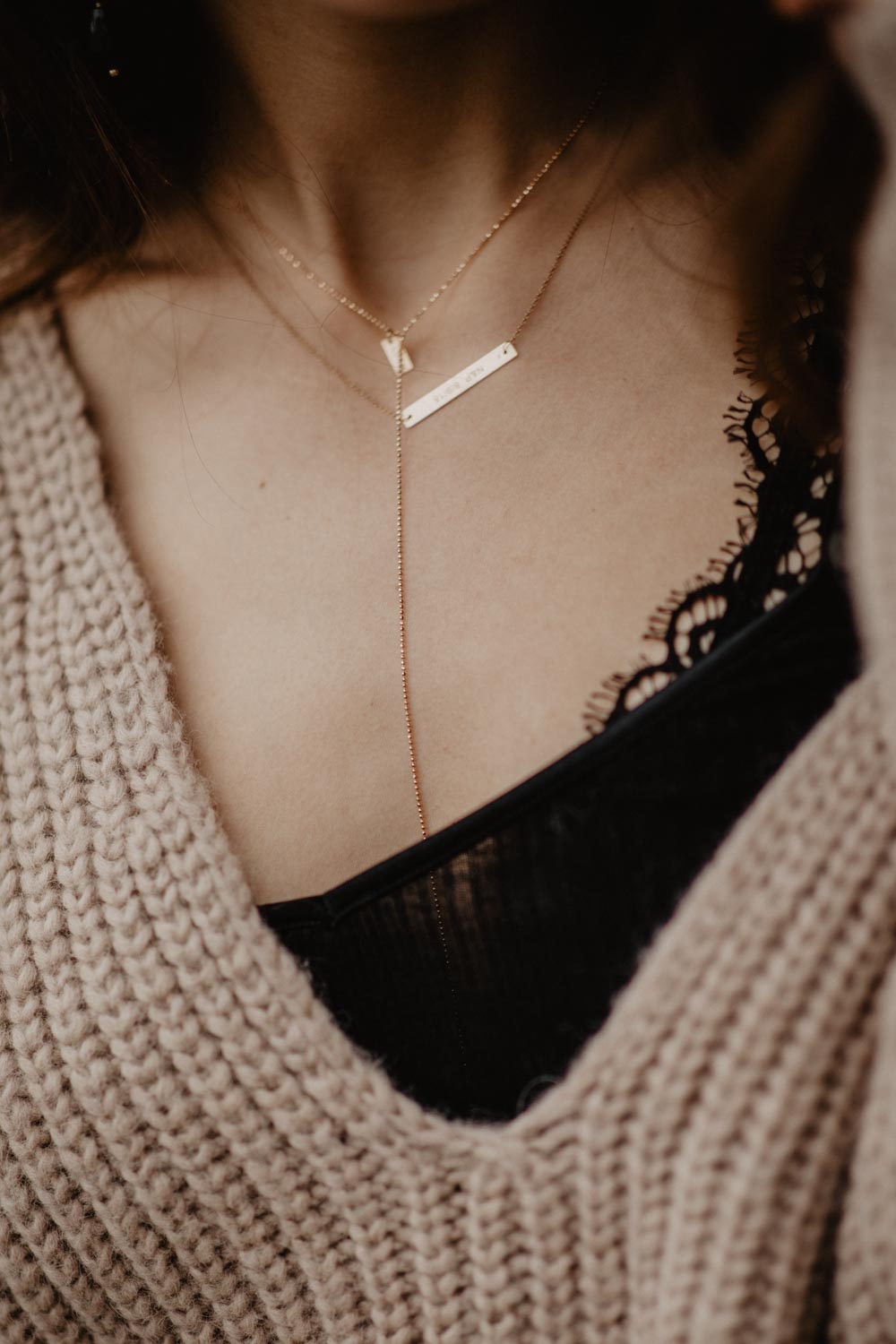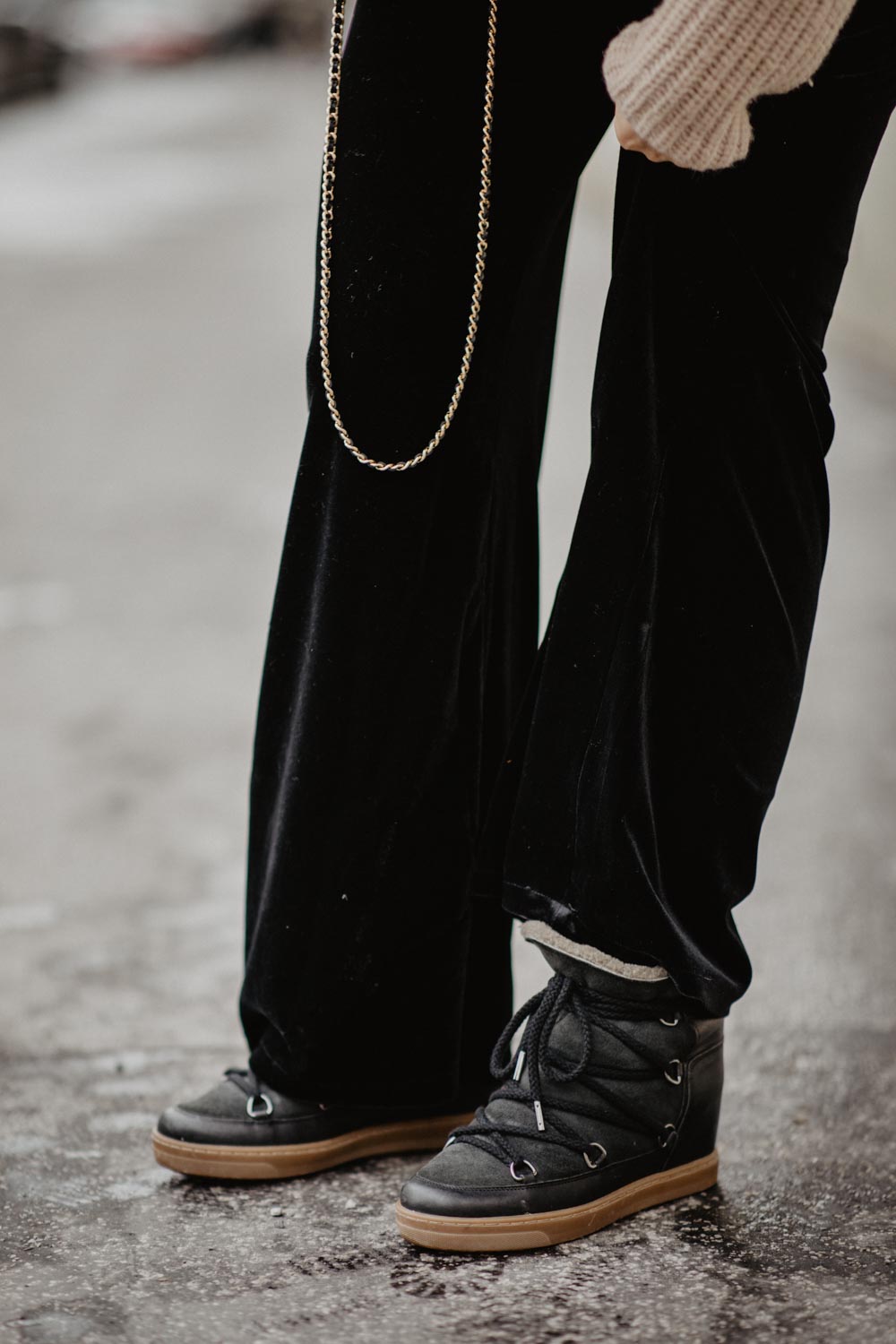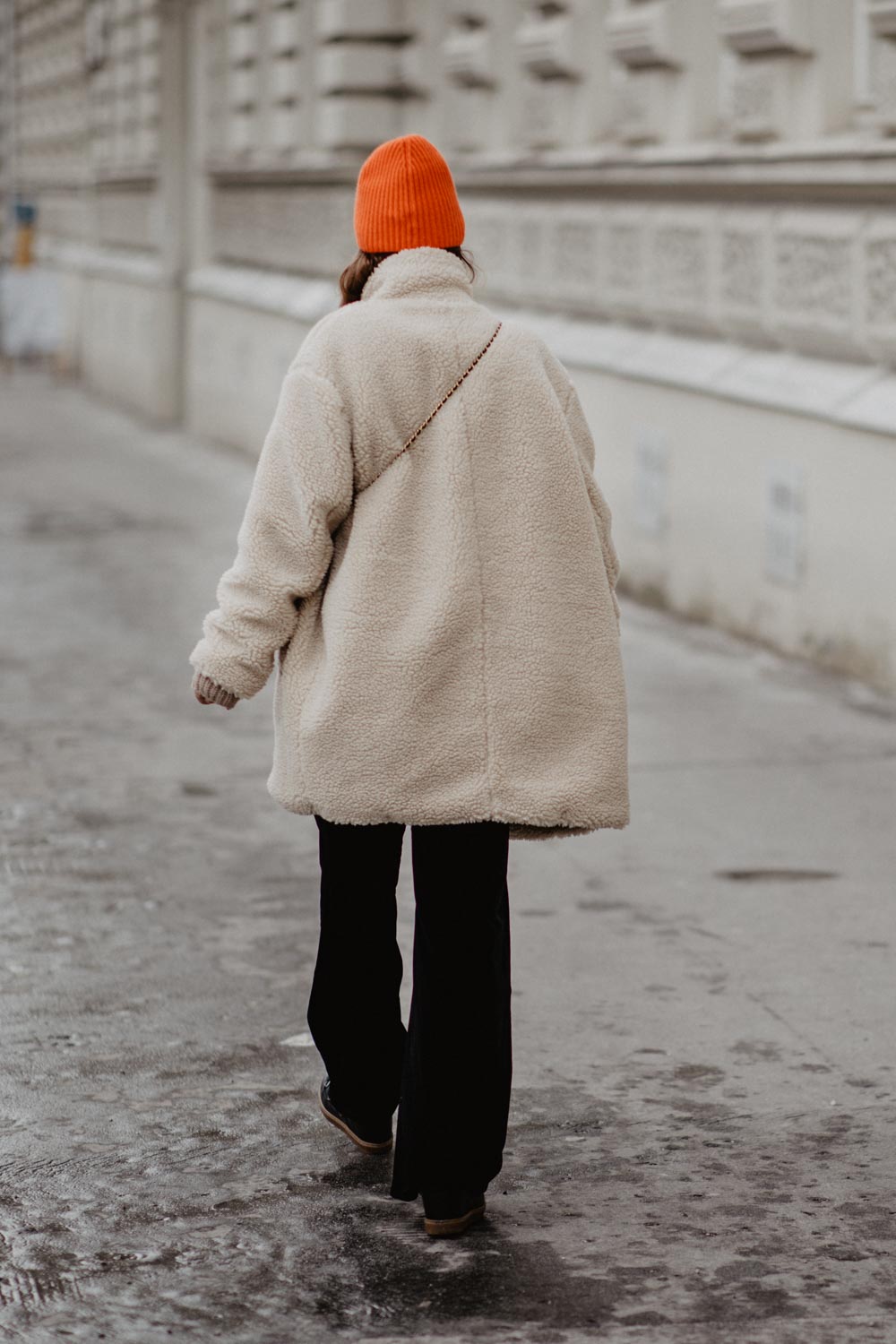 ---
H&M Teddy Coat // Mango velvet pants (similar here) // Closed sweater // Leah Zoe lace bra // COS beanie (similar here)// Isabel Marant boots // Maschalina earrings // ANNA ring // Chanel Wallet On Chain
Shop my Christmas outfit here: