Everything You Need To Know About The Wiesn
For the second time, Marc O'Polo invited us to spend an evening at the Rosenheimer Herbstfest with them last week. Since I have been a big fan of MOP ever since and truly love any good excuse to wear my Dirndl, I was very excited for the event.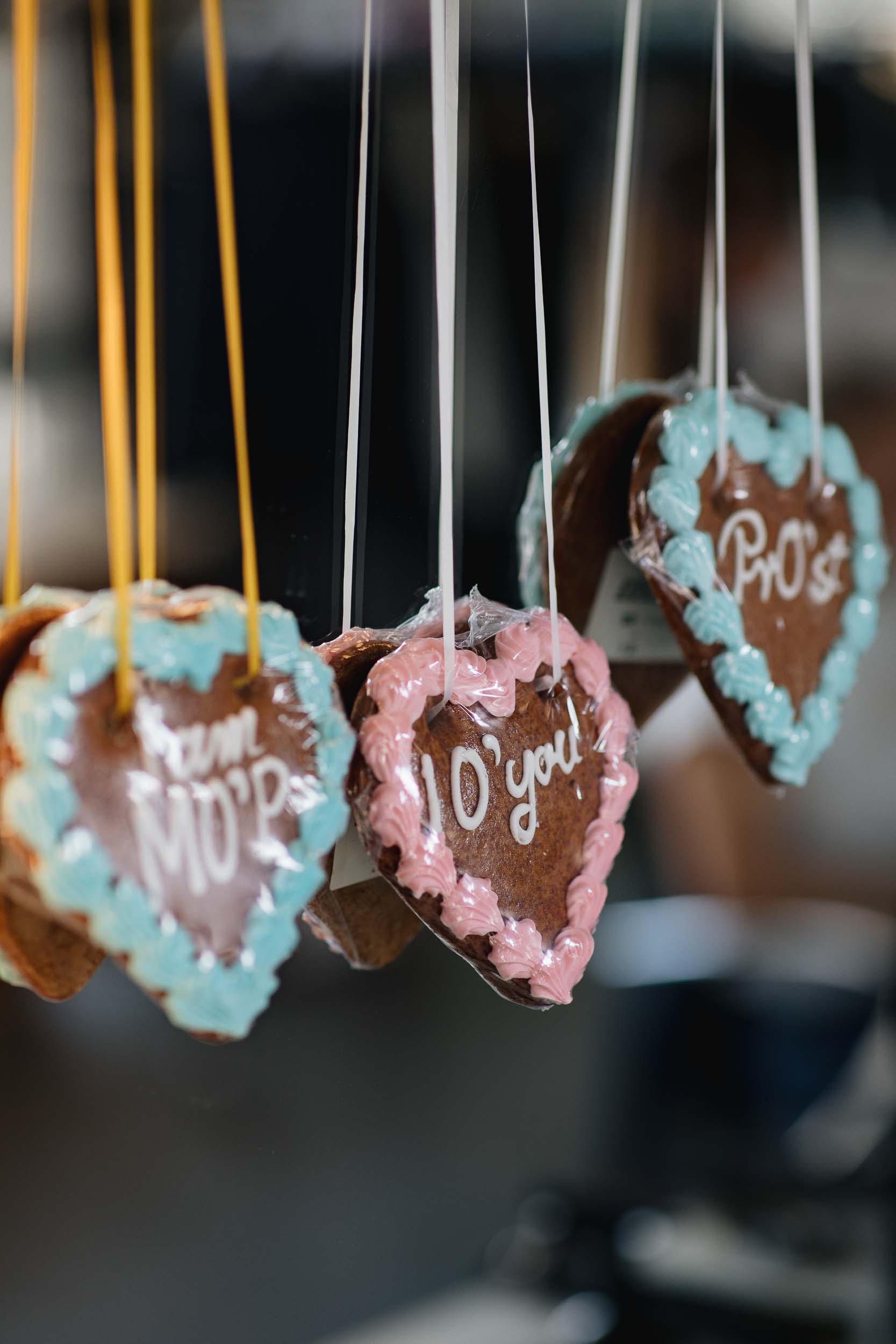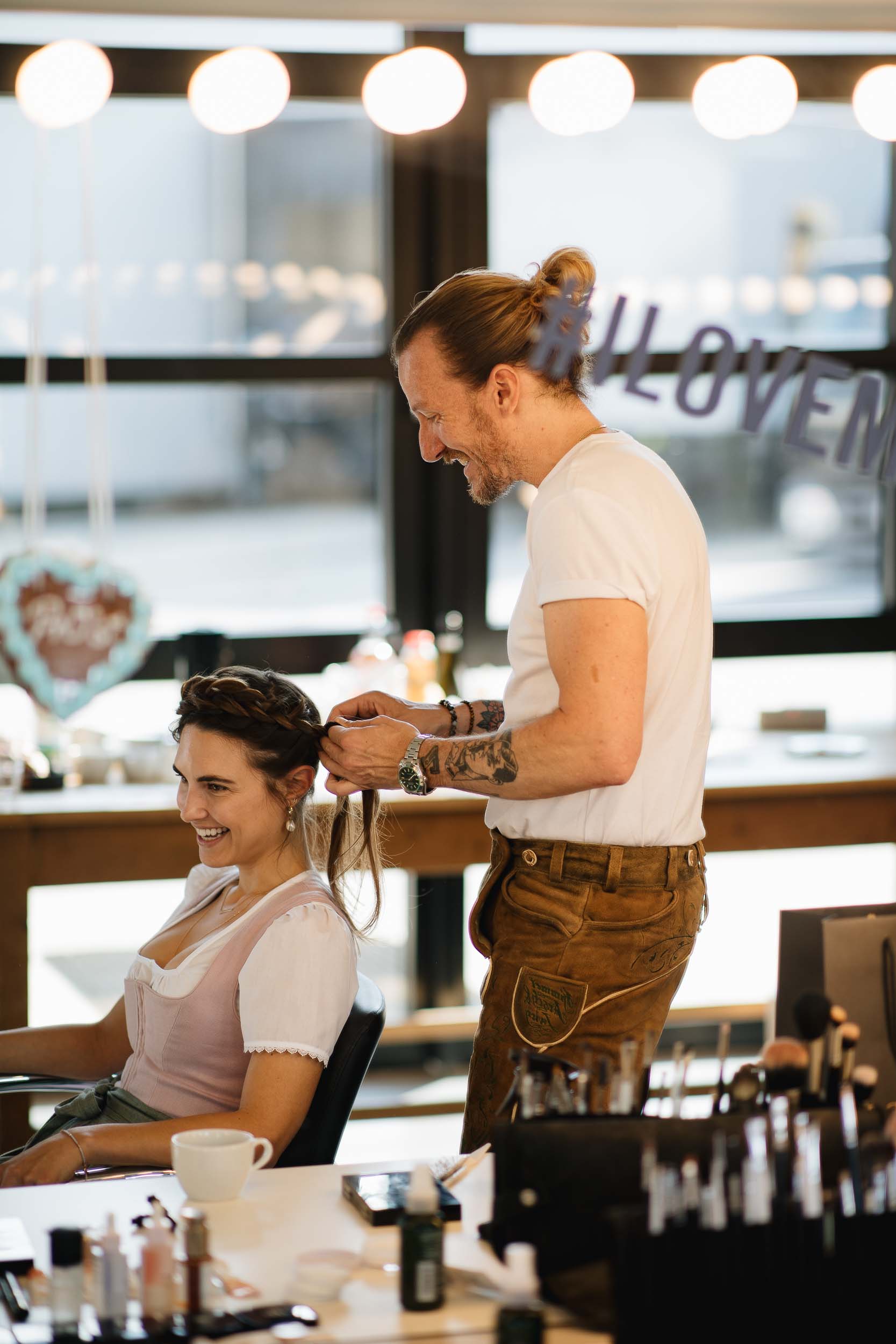 Before we went for dinner and dance at "Tatzlwurm", Marc O'Polo invited us to their Wiesn Styling Lounge where I got my hair braided and my make-up done.
The Rosenheimer Herbstfest is a very popular annual Autumn Festival in Rosenheim, also referred to as "Wiesn" by the locals. It's like the little brother of the big Oktoberfest in Munich, just a little less hectic and wild.
To honor the 5th season of the year – this is what Austrians and Bavarians refer to as the Oktoberfest season (or Wiesn Season) – Marc O'Polo created a modern capsule collection dedicated to "The Wiesn" in collaboration with Kera Till.
Around this time of the year, I receive lots of questions regarding Oktoberfest in Munich or Rupertikirtag in Salzburg. If you grew up here. you probably know all the dos and donts already, but if you're a first time visitor, there are some things you should know beforehand.
So I thought I'll equip you with everything you need to know about Oktoberfest before you'll hear the words "O'zapft is!" at 12 am this Saturday.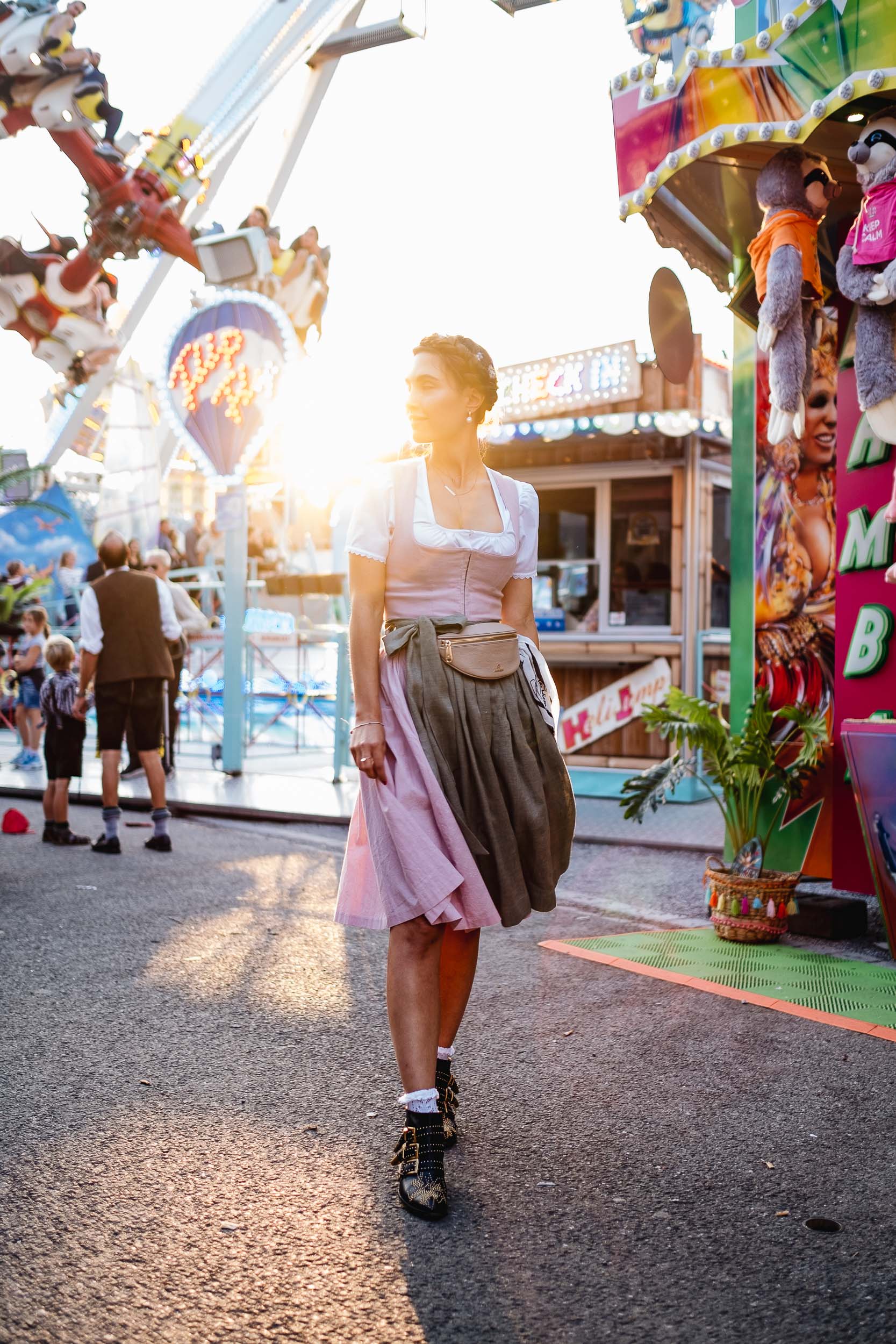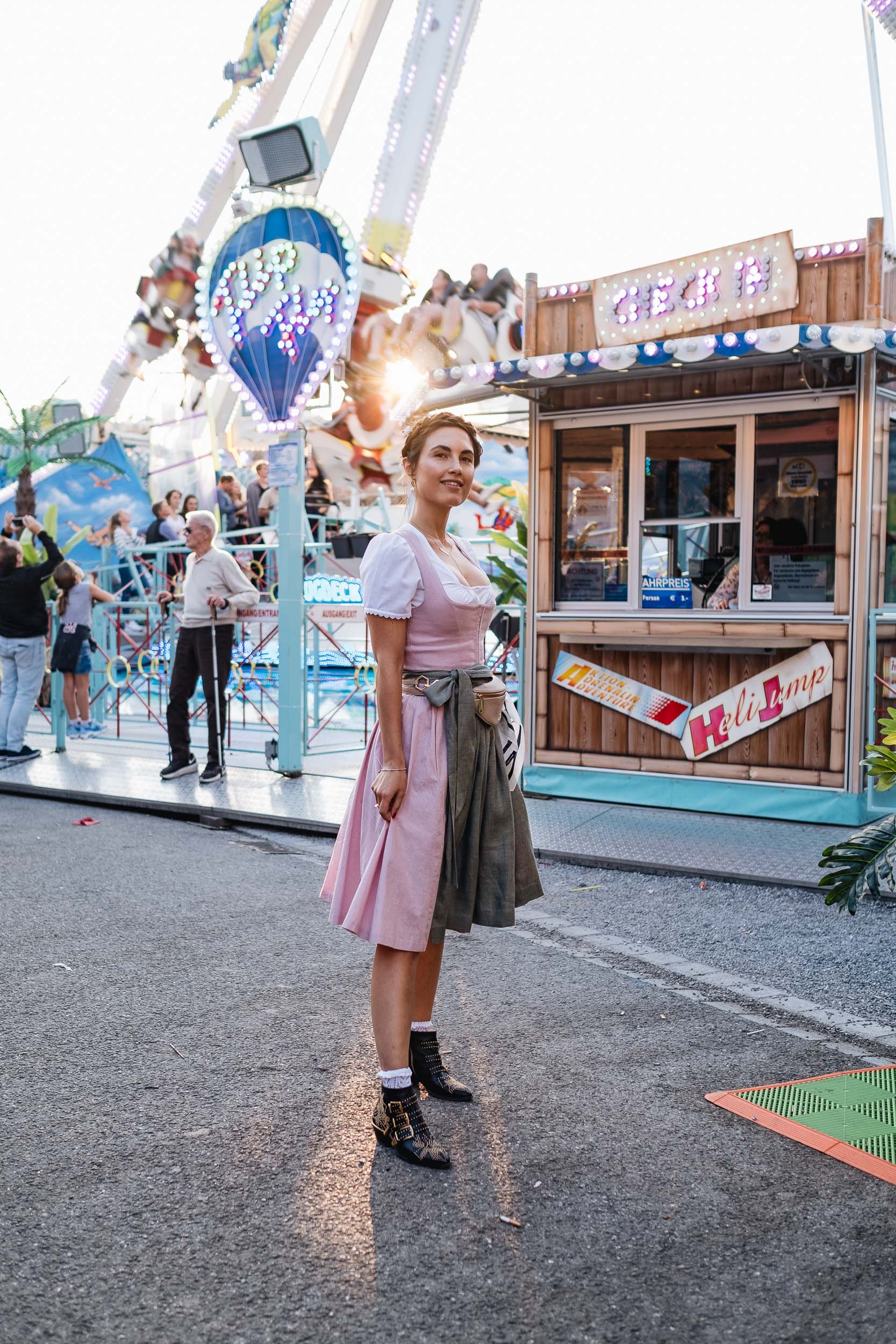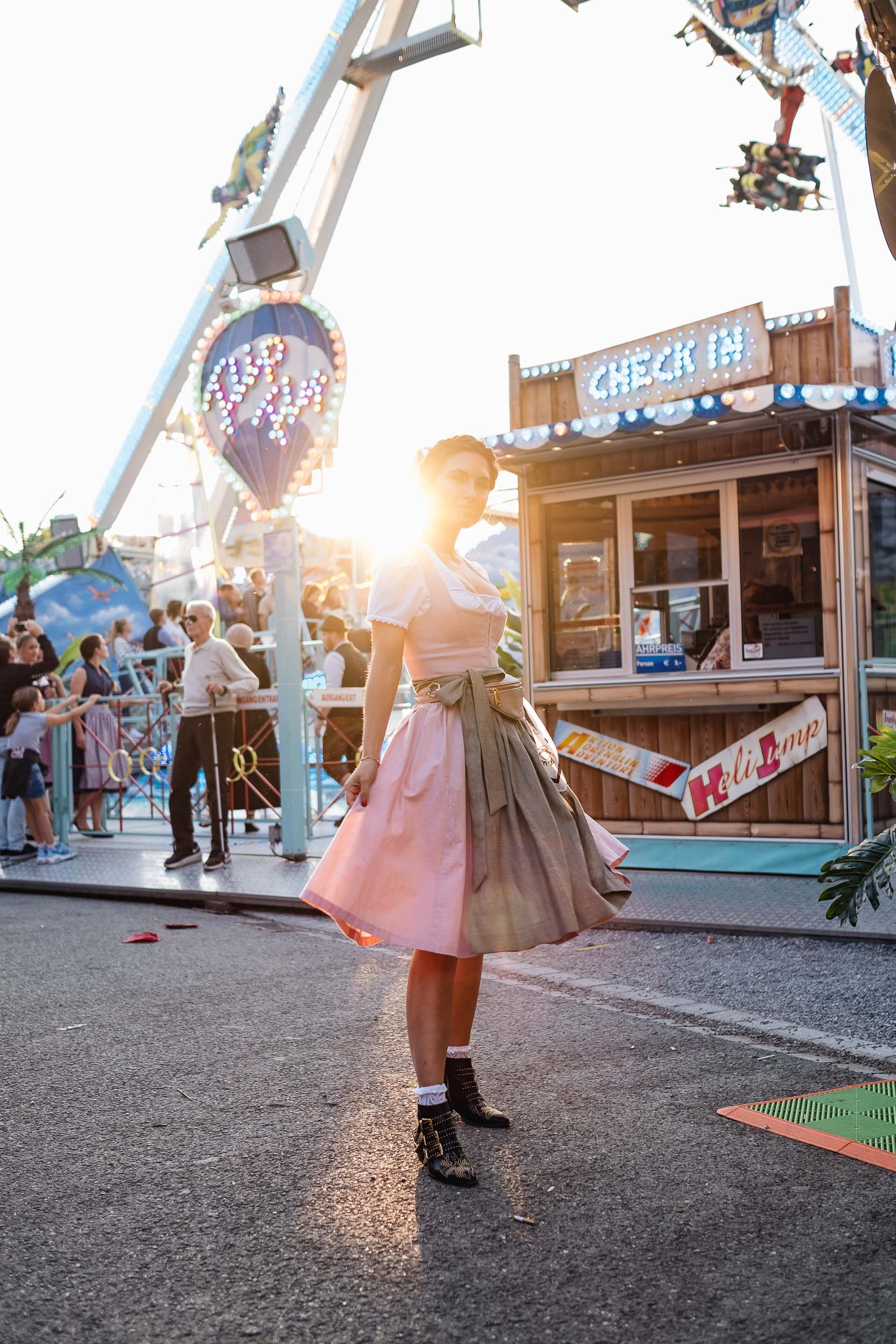 10 Things You Need To Know About Oktoberfest:
Oktoberfest is not really in October:It starts in September (this year on the 21st of September) and goes on for 15 days. The reason why it's called Oktoberfest goes back to 1810, when it was held as wedding celebration of Bavarian Crown Prince Ludwig and Princess Therese. It became a yearly celebration, but to make use of the good weather they moved it to September.
Don't call it Oktoberfest, call it Wiesn:Oktoberfest is the touristic name, locals call it Wiesn. The word describes the area where Oktoberfest takes place – Theresienwiese. You'll see signs all around Munich leading to "Theresienwiese". Just follow along.
Better be there early: On weekends, the admission to the festival area starts at 09:00, during the week at 10:00. Especially on weekends and in the evening you'll need a reservation to get into a tent, however, if you go there early enough you might have a chance to score a table during the day. The tents close at 11:30pm and the last round of beer can be ordered until 10:30pm. The only exception: The Käferzelt is open 01:00pm. No worries if you don't want to go home just yet: Many clubs are hosting Wiesn Afterparties.
Don't expect an outdoor music festival:There definitely is music, but it's all taking place inside tents. This year, you'll be able to eat, drink and party in 17 big and 21 smaller tents.
Beer is served as 1 liter, which called Maß.There is no possibility to get a smaller beer. So what you order is "ein Maß". The last sip is called "Noagerl" and is usually not that tasty anymore. It can stay in the glass
You better like beer when going to the Wiesn:There are only a few tents (as far as I know Käfer Wiesnschänke and Kuffler Weinzelt) that also serve wine.
Don't count calories:The Wiesn isn't exactly the right place to watch your diet, but don't worry if you're not into roasted chicken and the like. There are lots of vegetarian (some even vegan) options available. PS. A pretzel (Brezn) is a must!!
Bring cash:And better bring lots of it… Although there is no entrance fee, visiting Oktoberfest is not cheap. One beer costs around 12€ and also water or soft drinks aren't much cheaper. You can only pay by cash. There at ATMs at the Wiesn, but you'll want to avoid queuing there.
Avoid the "Rauschhügel": There is a little hill at the back entrance of Oktoberfest, which you should avoid at all times. People misuse it as toilet (although strictly forbidden!), to take a little nap, or for (not so) romantic encounters. Don't go there. Just don't.
Dress code "Dirndl & Lederhose":Dressing accordingly is part of the whole Wiesn fun. For girls, this usually means wearing a Dirndl. If you want to do it right, get a midi-length Dirndl that covers your knees. Short Dirndls are embarrassing. Good to know:The place of the Dirndl's apron indicates whether you are single or in firm hands. If the apron is tied on the left side, you are single – and flirting is allowed. If the bow is on the right side, you are in a relationship. Read more about it here.
In case you are still looking for some Dirndl Styling inspiration, make sure to check out my Dirndl category on the blog.
Happy Wiesn season to all of you!