Five Things To Do This Summer
Living in a country where others go on holidays, Patrick and me decided not to take too many bigger trips this summer, but make the most of it staying at home. Although it's already my third year in Salzburg, there are still so many things on my list I have not done yet. So in order to tick some things off, we came up with our top five things we would love to do during our summer in Salzburg:
Take the cable car up to Untersberg
Go to lake Fuschl to watch the sunrise
Visit Europe's largest waterfalls in Krimml
Hike up Schober to watch the sunset
Have a picnic in nature
Unfortunately the weather has crashed our plans multiple times already, but last weekend we were finally able to go on one of the adventures on our list: The little outdoor picnic. We sometimes like to just picnic in our living room to change things up, but of course that doesn't compare to a picnic in nature.
In general, Patrick and me love to be outdoors but sometimes work just gets in our way and at the end of the day we would realize we hardly made it in front of the door. That's also one big reason why we're so glad to have Maxi in our life, because she is responsible for our daily dose of fresh air, no matter the weather.
Especially in summer when it's very hot and humid outside, we love having a little Jause (= Austrian word for snack) at night. So on Saturday evening we packed our basket and filled it with lots of good stuff to eat and decided we would just have dinner outdoors. A typical Jause for us usually consists of bread with spreads, lots of fresh vegetables, cheese (for Patrick), ham (mostly for Maxi), olives, pickles and hard boiled eggs. Since I'm lactose intolerant I can't eat bread with butter, which is an essential part of an Austrian Jause, so that's why I was super excited when I found out Rama launched new vegan alternatives to normal butter. The 100% plant-based Rama is usually always in stock in our fridge, so I was super excited to try out the additional new varieties. The new flavors are avocado & lime, walnut, and coconut & almond. My favorite was the one that tasted like walnuts – so delicious with slices of tomato and a tiny bit of salt on it. Patrick went for avocado & lime and put some fresh avo on top of it. We were in picnic heaven and almost couldn't stop eating – thank god we ran out of bread at some point…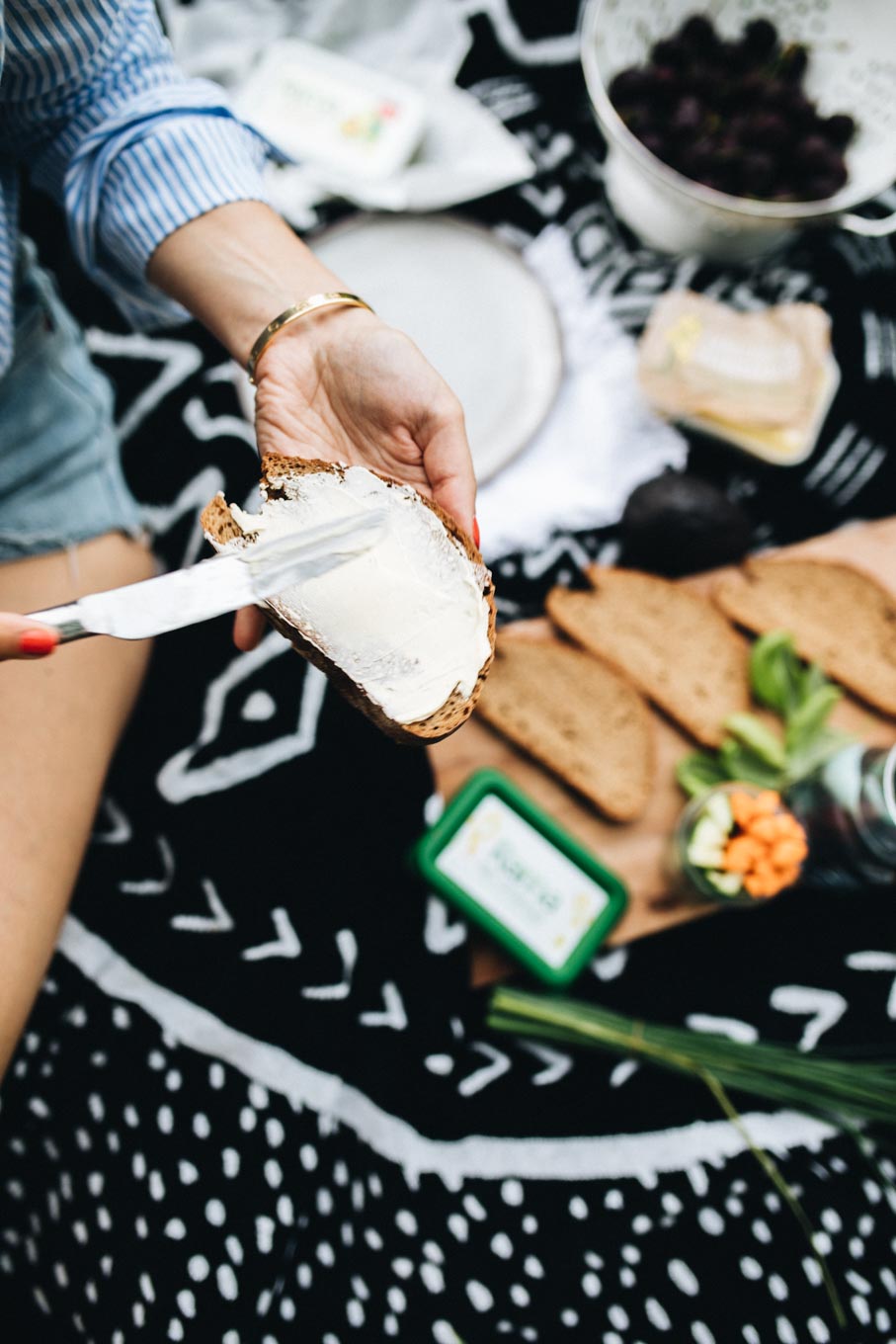 Of course it started raining at some point during our picnic – classic Salzburg! But we didn't care – we simply packed up our things and moved our little picnic to the car, where we sat for another while and watched the raindrops run down the windshield while listening to good music.
Summer, I love you.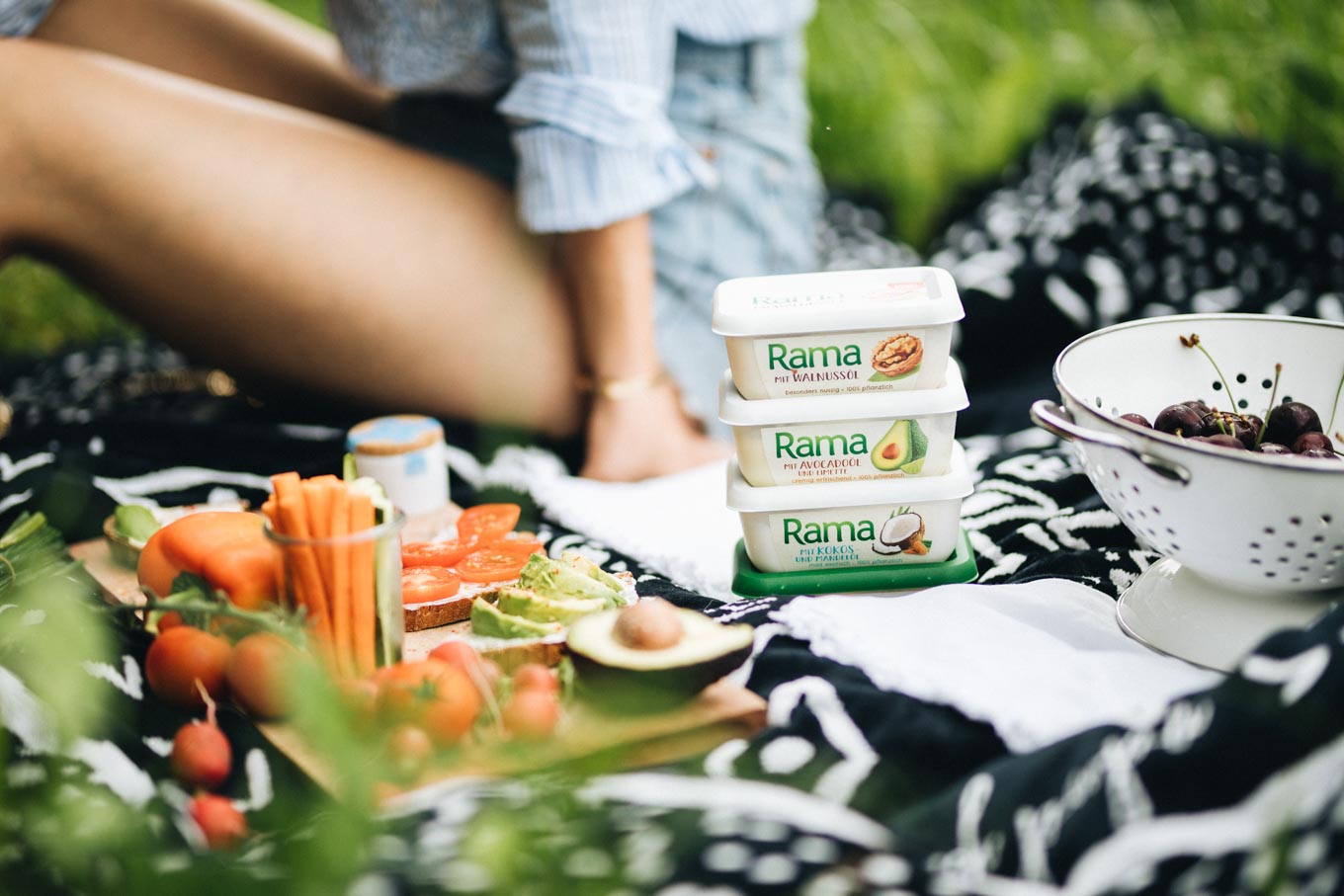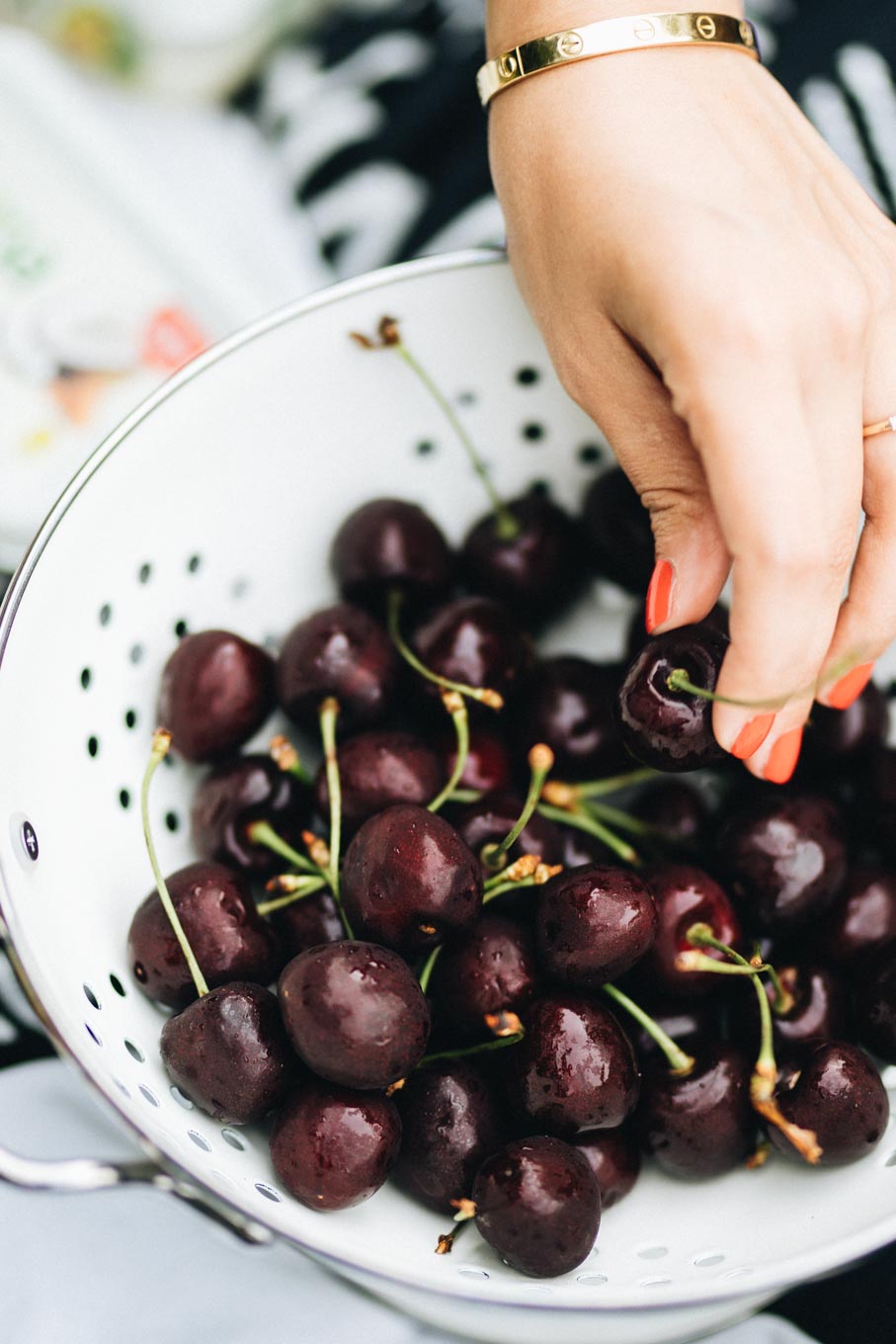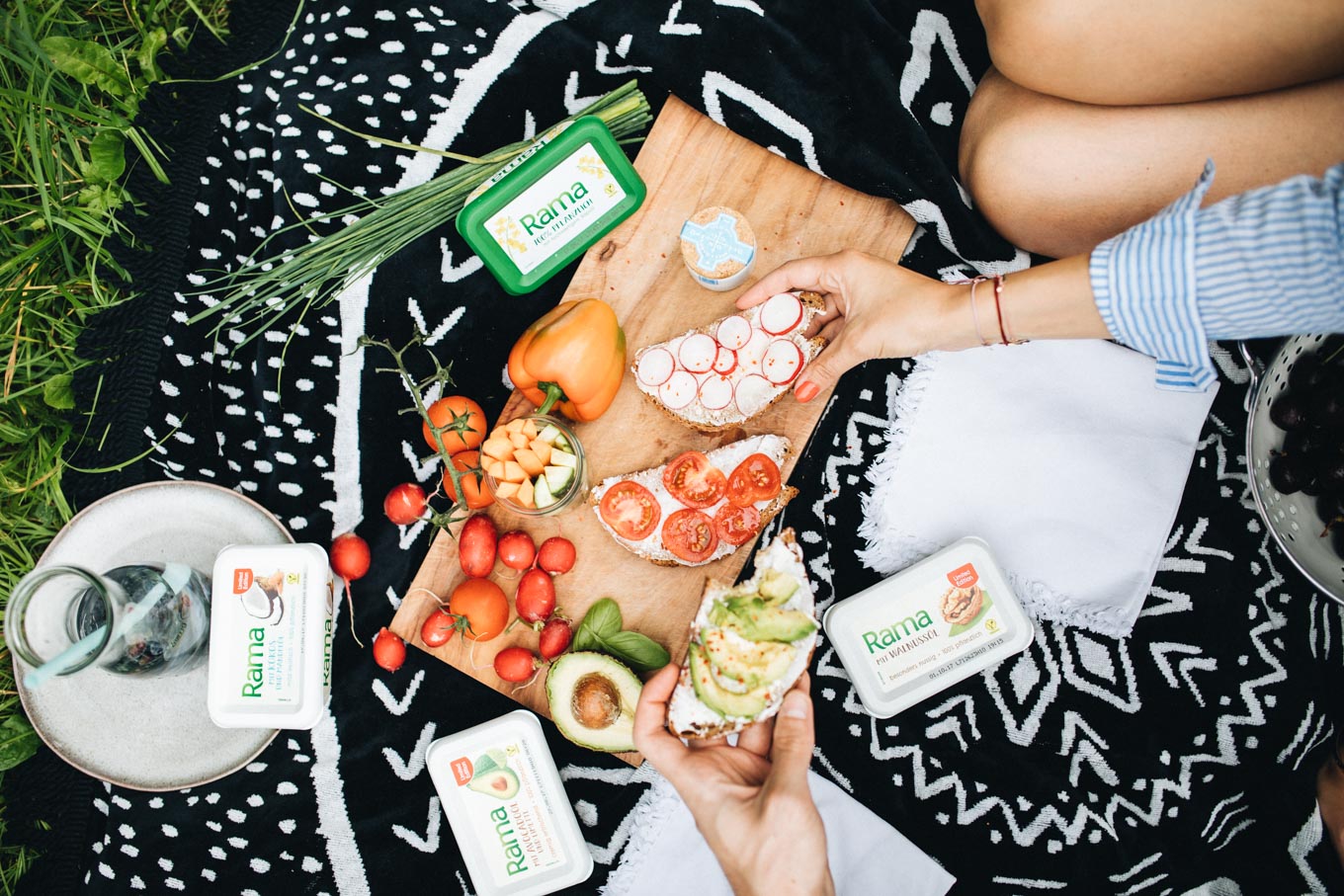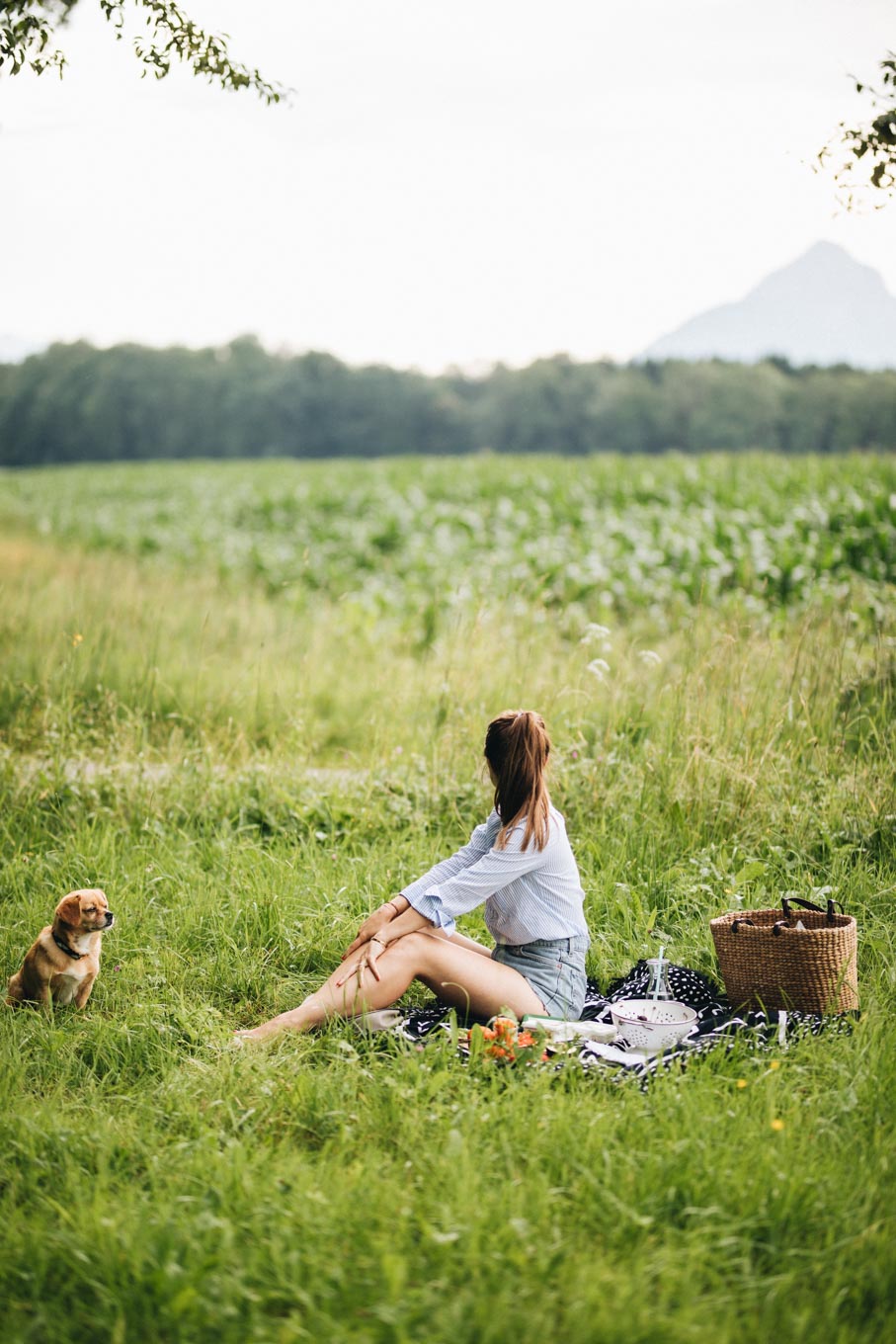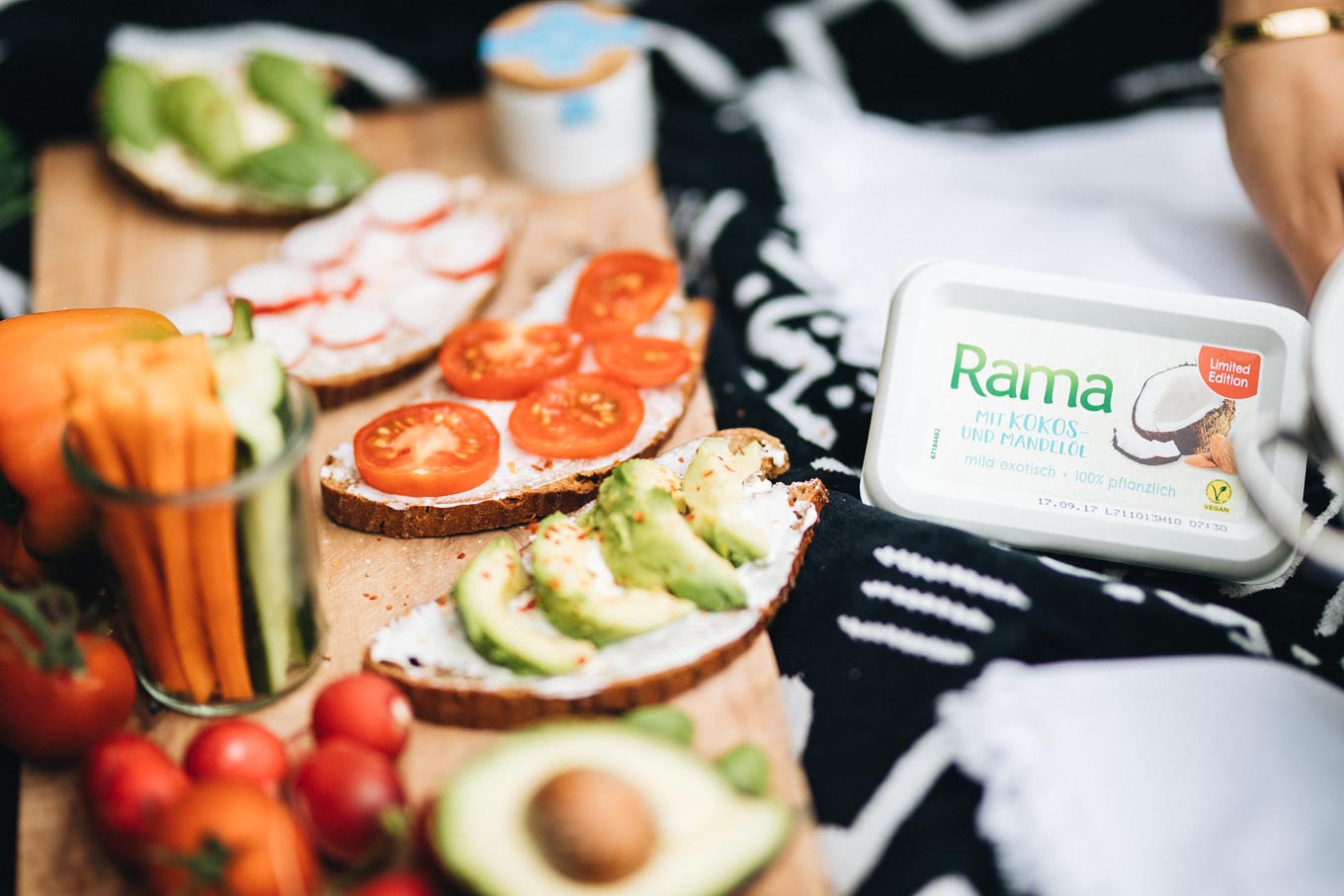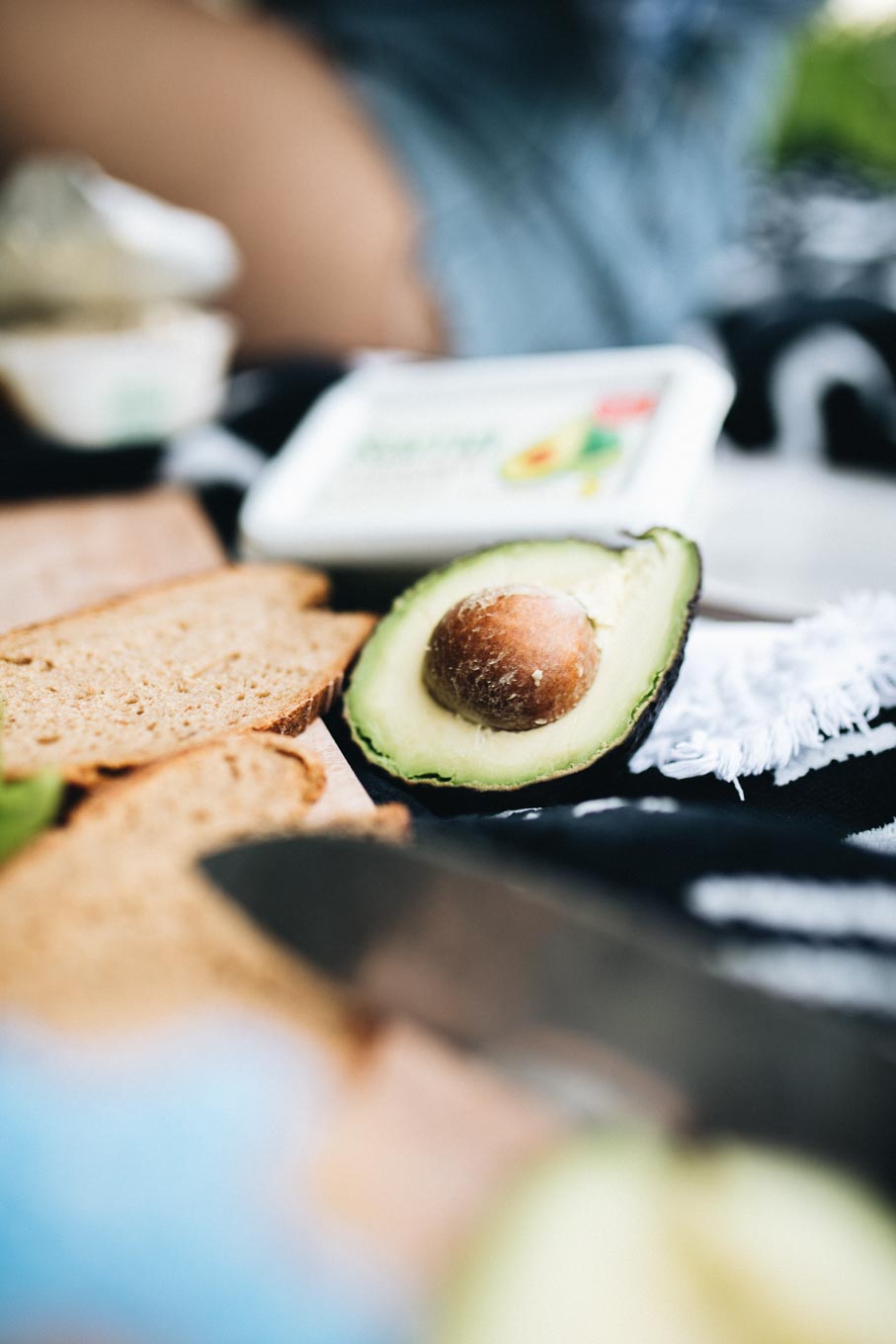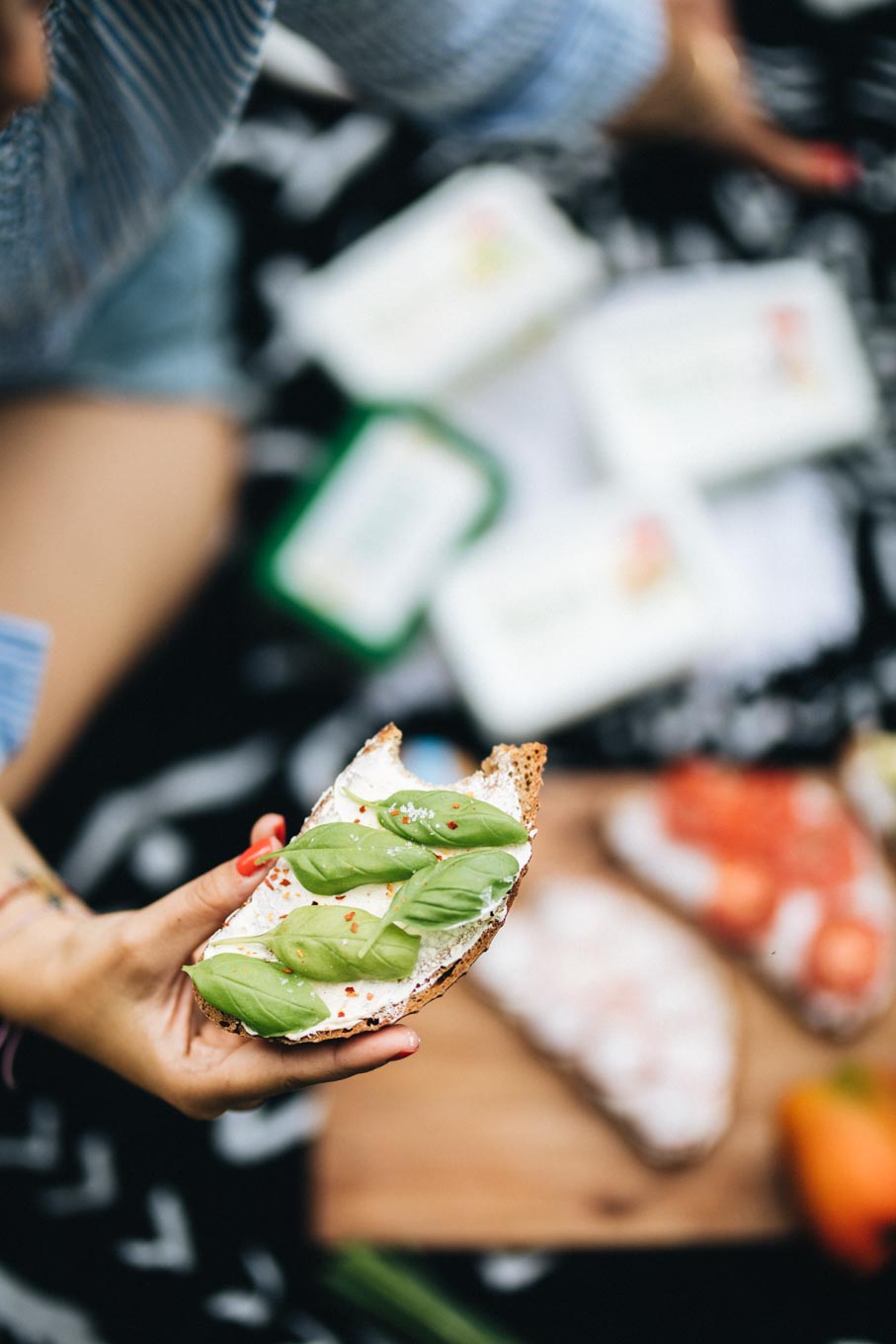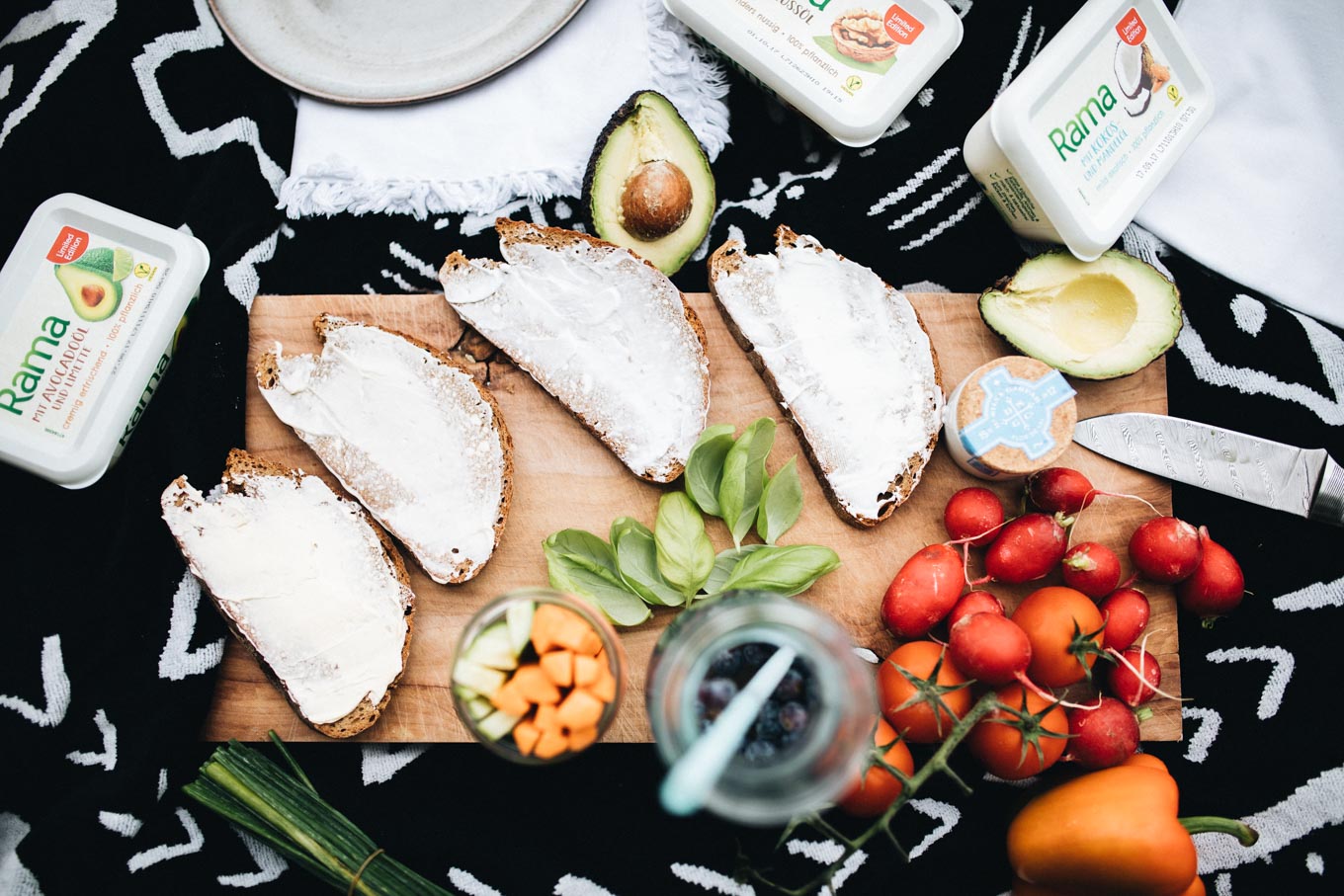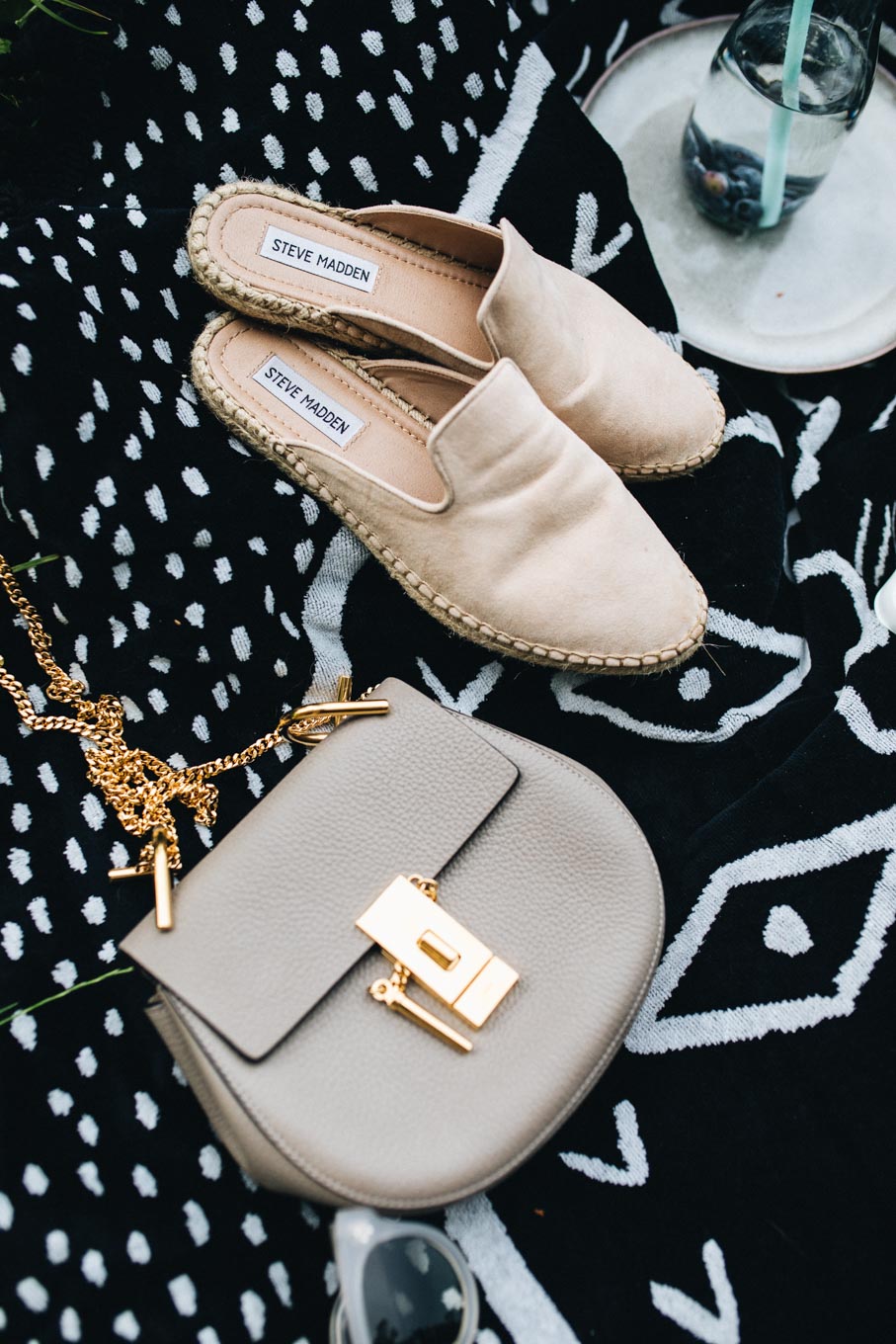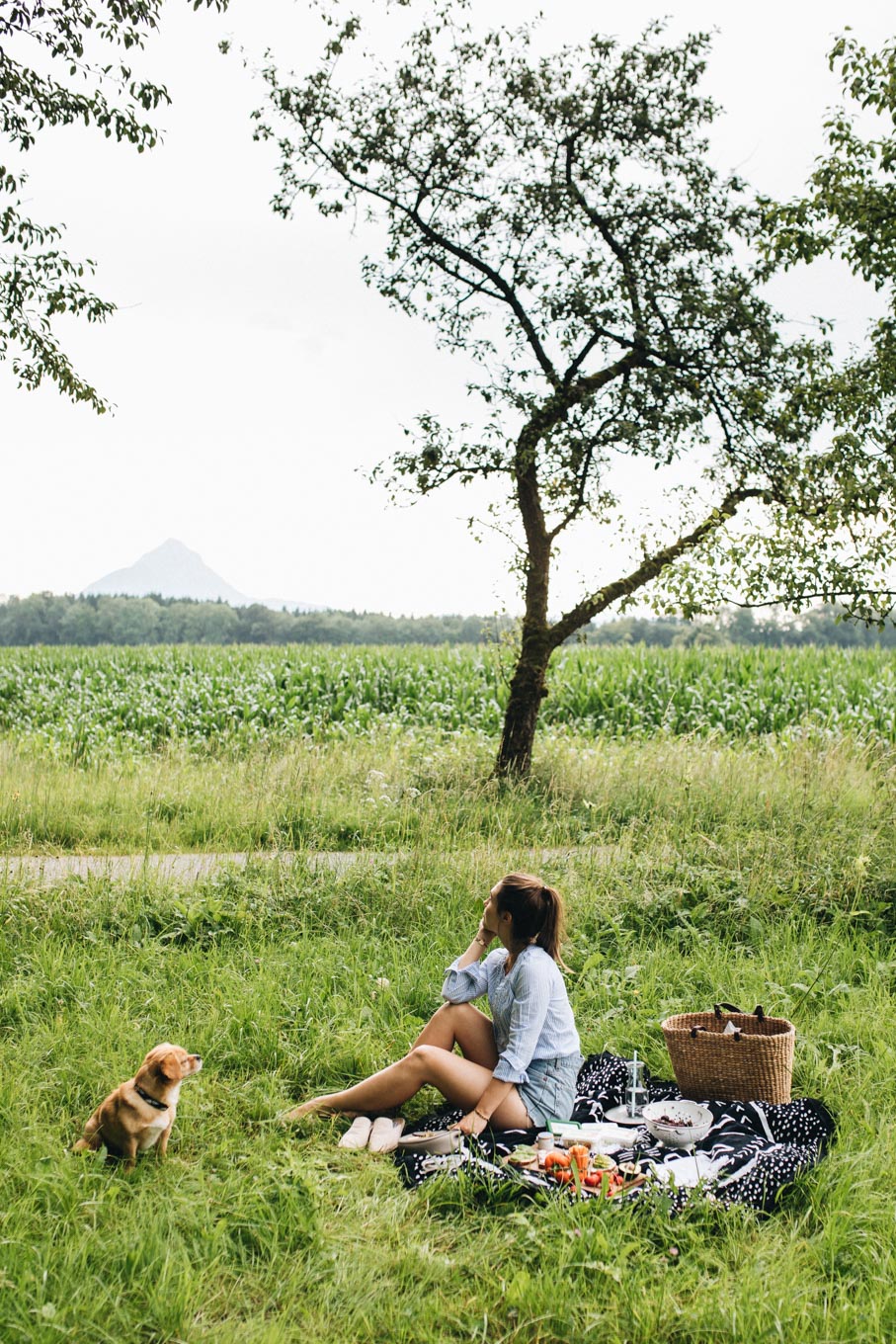 Editor's note: The new Rama flavors avocado & lime, and coconut & almond are only available in Germany. The new 100% plant-based Rama and Rama walnut are available in Austrian stores, too.
---

*in friendly collaboration with Rama