Travel Diary:
Girls' Spa Getaway at Sonnenalp Resort
There are not many people in my life who I call best friends. In fact, it's just a handful of people. But just as in many other aspects of my life, I always prefer quality over quantity. And one thing is for sure: Those few best friends I have are solid gold to me.
Lucky enough, Gabi – one of my oldest friends from back at school – actually moved to Salzburg as well, which is probably one of the luckiest coincidences of my life. Although we do have our regular coffee dates, with both of our lives being busy, we don't get to spend as much time with each other as we'd like.
Needless to say, the invitation for a spa weekend with La Biosthétique at Sonnenalp Resort in Bavaria was the best excuse to ask Gabi if she'd like to take some time off for a little girls' getaway with me.
The invitation led us to Sonnenalp Resort, which is located in a village called Ofterschwang, just right in the middle of beautiful Bavaria. From Salzburg it takes about 3 hours by car to get there and it's quite the scenic drive. Since Gabi and me are both Christmas lovers through and through, we were very excited for the car ride already because we decided to listen to Christmas music all the way. I had my favorite Christmas playlist prepared, made us some tea to go and off we went.
Fast forward 3 hours and two coffee stops on the way, we arrived at Sonnenalp Resort and were warmly welcomed. The beautiful entry hall of the 5-star hotel looked like Christmas Wonderland already and perfectly fit to our mood. Sonnenalp Resort is one of those places that make you feel at home right away, the staff is always friendly, the atmosphere is warm and welcoming and you're not treated like a guest, but like family. Speaking about family: Sonnenalp Resort is a family run hotel in 4th generation and will soon celebrate its 100th anniversary. Family Fäßler continued the legacy of the third generation and gives Sonnenalp a new, young face. Inside and outside, everything has been and is being renovated and renewed and especially the spa which stretches over 10.000 sqm is one of a kind. Our spa loving hearts skipped a beat when we saw the huge pools, various saunas, steam bath, whirlpools and quiet relaxing zones.
After arrival and checking in, we were brought to our beautiful suite with garden access, overlooking the spa area. We just dropped our bags and immediately headed for a little afternoon snack at Anna's Pool Restaurant, which is located right in the middle of the spa area. Guests can either enter in their bathing robes and slippers, or you can also go there in your normal clothes. To my pleasant surprise, lactose-free snacks and even deserts are no problem at all. My order was sweet potato fries with avo dip and some coconut chia pudding plus a huge cup of coffee. Heaven in my books!
Although the weather wasn't too sunny, we decided to explore the area of the hotel and headed for a little walk outside. The good thing about a spa weekend is that you don't necessarily need sunshine to have a perfect weekend. In fact, I prefer cloudy and cold weather because it's just the perfect excuse to spend an entire day at the spa! However, the little dose of fresh air was really nice and the walk through the beautiful garden with its natural ponds was the best idea after three hours in the car.
Back at our room we realized that La Biosthétique spoiled us with so many of their products to try during our stay. Like little girls we started to unpack all the products and got ready for dinner. A huge buffet with cold and warm starters was waiting for us, as well as an à la carte menu to choose various dishes from.
Fun Fact: As you might know, I'm very sensitive to scents and always associate places or even events with certain smells. One of my favorite hotels in Austria – Hotel Zürserhof in beautiful Zürs – also offers La Biosthétique SPA products, so showering with this specific shower gel reminded me of our trip to the mountains last year.
The next morning – first things first: Of course breakfast! Although we did contemplate whether we should go for a dip in the pool before breakfast, our lust for coffee simply was too big. So we headed to the huge breakfast buffet and started our day right with an omelette, fresh fruit, freshly squeezed orange juice, muesli and coffee served in the cutest little cups ever.
Afterwards, we had an appointment at the in-house hair dresser to discover the broad range of La Biosthétique hair products. After consolation with the hairdresser and an analysis of my scalp, she suggested to treat my hear with the Cheveux Longs products to calm my scalp and for some extra care for the tips of my hair.
After the treatment I got loose waves – I particularly love this hairstyle but I'm always just too lazy to do it myself, so this definitely felt like a very special treat and my hair felt like re-born.
Next on the agenda was a spa treatment called "Wanderung durch das Allgäu" (meaning: hike through Allgäu). It's a treatment that consists of a hot foot bath, followed by a foot and hand massage, and last but not least a hot stamp massage on your back and neck. Even just typing those lines and thinking back of this amazing treatment makes me sleepy – it was pure bliss!
The only thing I didn't consider: I should have booked the hair appointment after the massage, because of course my beautiful beach waves didn't survive the oil that was used for the back and neck massage.
We spent the rest of the afternoon hopping from Sauna to steam bath, to the cold pool, and back to the sauna with a little napping in one of the relaxation rooms in-between. The spa area at Sonnenalp is so big, it's easy to get lost and hard to try out each and every sauna and pool it has to offer. You definitely won't get bored there!
Something I particularly liked: Sonnenalp Resort is a true family vacation destination. Kids are more than welcome – they offer a kids' club with non-stop care for the little ones, as well as a teen-club for bigger kids. There's also a whole pool area dedicated to kids & teens, where they can swim, play and have fun without being disturbed by adults who want to enjoy silence.
After the extensive spa day, we went back to our beautiful suite and got ready for dinner again. This time, we had a table booked at Fäßler's Grillstube, which is right in the hotel as well, but serves a different menu. Gabi enjoyed a steak and I went for the fish. We had a lovely dinner and totally forgot about the time, because we were talking about everything and nothing. Before going back to our room, we sat down at the bar in front of the fire place and listened to the piano player for a while. It was the perfect ending to a lovely day!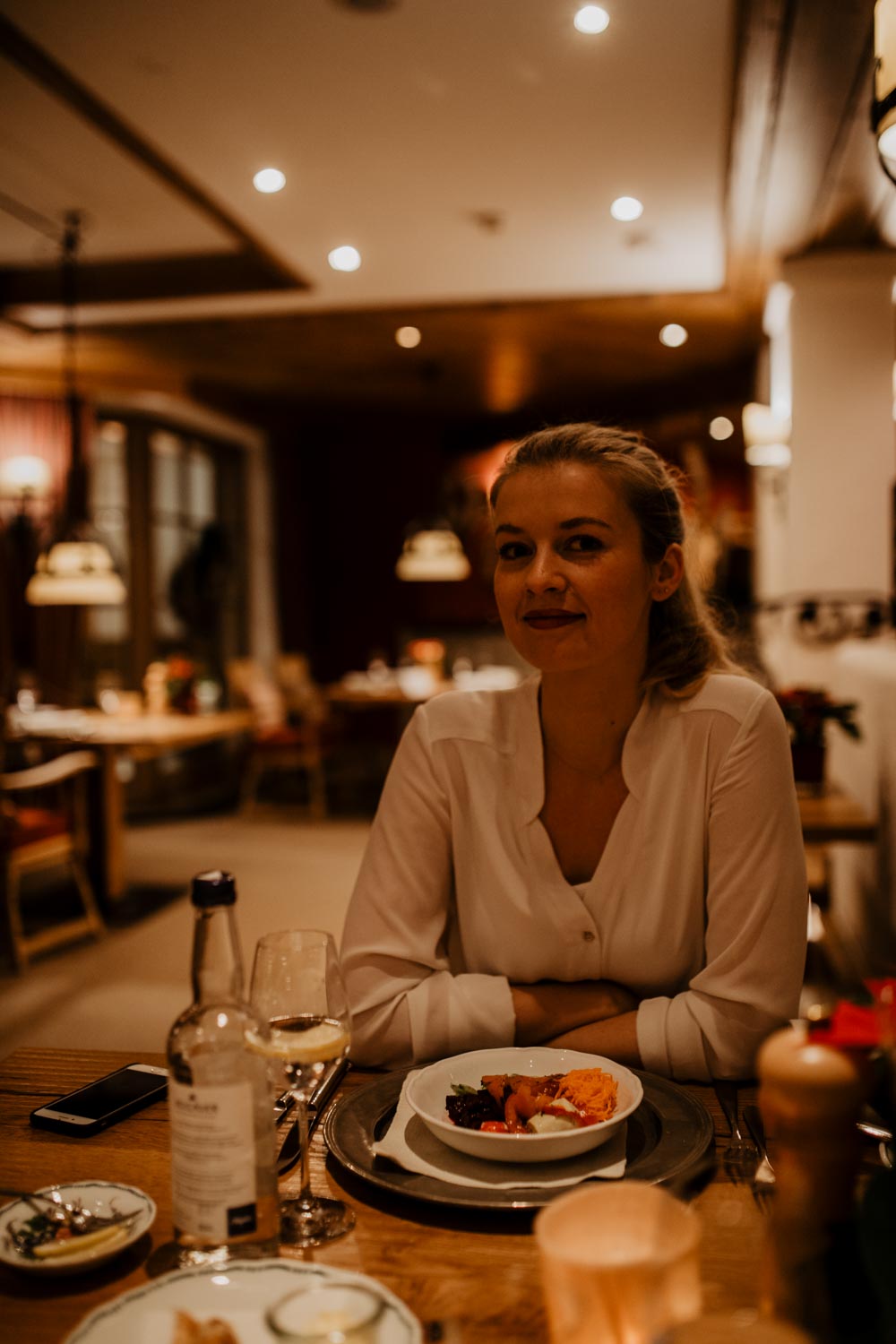 On the day of our departure, we initially wanted to take advantage of one of the complementary sports classes, but then we decided to snooze for an extra hour and took it slow. I only squeezed in a mini workout at the gym, which – to my absolute  positive surprise – also offers a Pilates reformer!
We got to try many different La Biosthétique products during those two days at Sonnenalp Resort, but my favorite discovery definitely were the "Patch Gel Liftant" Eye Patches. You just place them under your eyes and leave them on while you get ready… they are very cooling and have a lifting effect. Also, my eyes were a lot less puffy once I took off the patches (and let's be honest, who doesn't that in the morning!?)
After packing our bags and calling the Concierge for help with our luggage, we headed straight to breakfast. While enjoying all the delicious breakfast options (I couldn't even eat everything I wanted because there were too many good things), the sun came out for the first time this weekend and we just had to sneak out for another little walk before our car ride home.
No matter if the skies are blue or grey, staying at Sonnenalp Resort is always a special treat and you'll find plenty of things to do indoors as well as outdoors. We could have easily stayed another week, but I'm pretty sure it wasn't the last time we've been there. Hopefully the next girls' getaway will take place very soon again!
---
*advertisemennt: In friendly collaboration with La Biosthétique & Sonnenalp Resort.