How To Do Easy Waves
I'm currently trying to tackle some of the most recently asked questions I receive from you via Instagram and the blog. So I'm super happy to finally answer one of those today! Very often you ask me how I style my hair, especially the easy and loose waves I love wearing.
Your wish is my command – so here's a litte tutorial on how I style my hair and achieve those easy waves. You'll be happy to hear it doesn't take a pro to do it; it's actually pretty easy and I'm sure if I can do it, so can you. It's all just a matter of the right products, tools and bit of training.
What you need for the easy waves hairstyle:
Get the right tools & products:
The right curling wand:
In an ocean of curling wands and it can be quite tricky to find one you like. I've been testing quite a few already, and have finally found THE ONE. I'm using the GHD creative curl wand, which is super easy to handle, and its ceramic technology makes sure the hair doesn't get damaged by the heat. Also, it's ready to use in literally 3 seconds.
Brush it baby:
A good brush is key to make sure your hair is prepared to be twisted around the curling wand. I use the Goldwell Paddle Brush  or the Parsa Detangling Brush.
Creative Texture:
Before drying my hair with the blow dryer, I apply the Goldwell StyleSign Creative Texture Texturizer in my hair when it's damp. This makes sure the hair gets a good grip and volume.
Pro Tip:
To make sure your hairstyle lasts as long as possible, I apply a bit of Goldwell StyleSign Ultra Volume Dry Shampoo on my roots right after blow drying my hair. This way, my hair will look fresh for longer and it gives the hair some extra texture, which I personally like a lot.
Make it last:
When I'm done curling my hair, I fix the waves with Goldwell StyleSign Ultra Volume Naturally Full Spray before I run my fingers through the waves to loosen them up.
Last but not least:
Especially in Winter my hair is very dry and due to the big temperature difference there a lots of flyaways. Adding a bit of Goldwell Elixir Oil tames the annoying baby hair and gives the waves an extra shiny and soft finish.

Tip: If you don't have a Goldwell Salon nearby, but would still like to try out the products: They are all available online here.

And here is how it's done: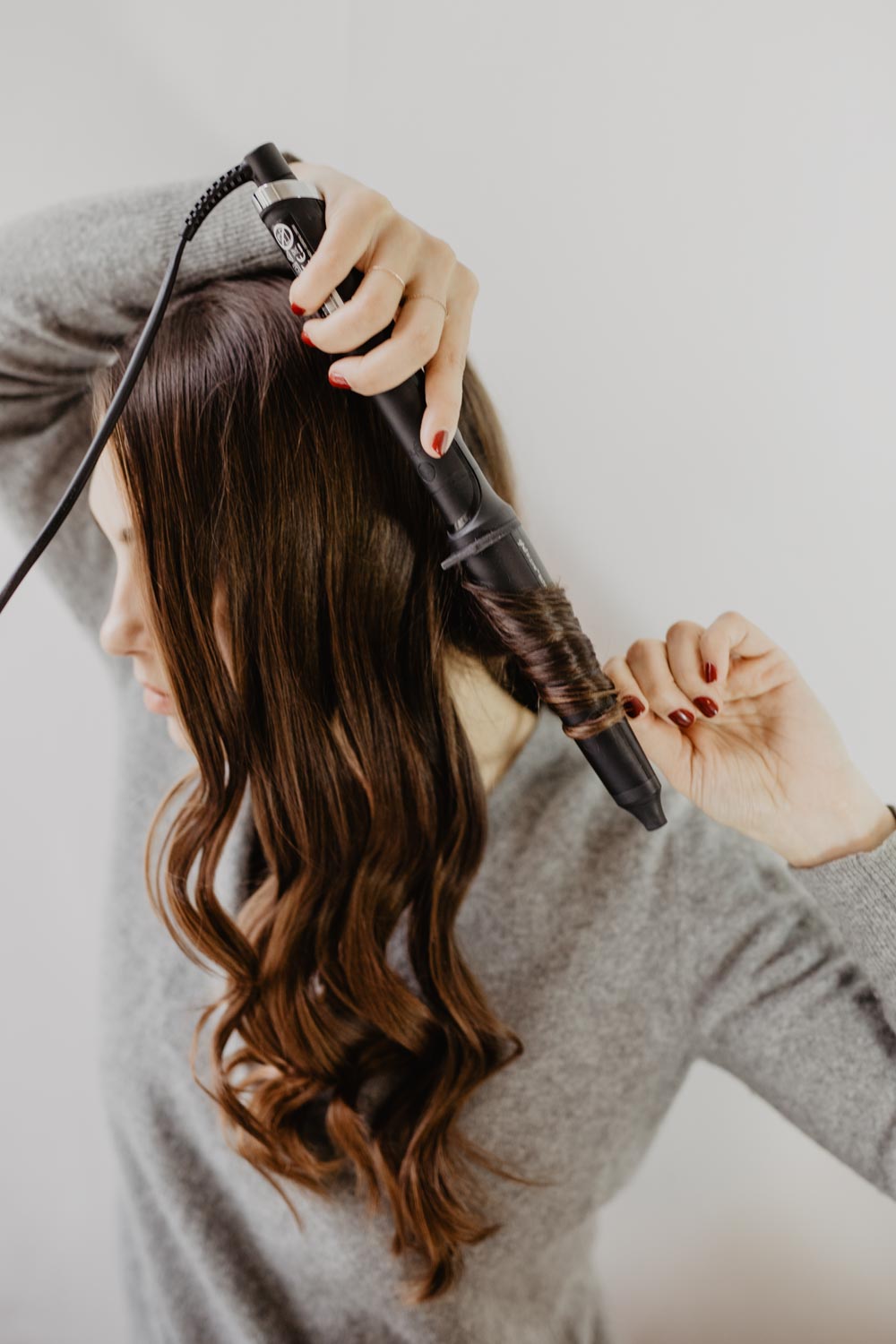 ---
*advertisement: in friendly collaboration with Goldwell