Homemade Açaí Bowl
Hawaii Style
One of my fondest memories of our honeymoon in Hawaii is connected to the delicious açaí bowls we had for breakfast (almost) every morning. Next to the Four Seasons hotel in Ko'Olina on Oahu were we stayed for a week was a place called Island Vintage Coffee. I kid you not – people were queuing there every morning to get one of their smoothie bowls. After a class of sunrise yoga next to the ocean, an ice-cold smoothie bowl is the most amazing food you can imagine…
Unfortunately, I have not found a place in Salzburg yet that offers açaí bowls (do tell me if you know where to get them here please!!), so I decided to take matters into my own hands. A friend of mine told me she's ordering her açaí puree online. The sustainability of ordering food online is open to dispute, but I was curious and tried it out. I ordered 48 packs of açaí puree and 48 packs of dragon fruit puree to make it pay off. After two days, an isolated box with the puree neatly packed in 100g packs arrived at my doorstep. Now our freezer is now full with almost 100 servings of smoothie bowls (yes, I'm addicted to that stuff).
When I made these bowls for Patrick and me the other day, it immediately put us in a better mood and brought back all the Hawaii feelings. I looked up some açaí bowl recipes online but tried to make it just as the one we had in Hawaii, so I came up with my own recipe:
Homemade Açaí Bowl Hawaii Style
makes 2 bowls
for the açaí bowl:
2 packs of frozen açaí puree (100 g each)
2 frozen bananas (peel, chop and put in freezer over night)
1 handful of frozen blueberries
1 handful of frozen raspberries
1 handful of frozen strawberries
4 tbsp rolled oats
2 tbsp agave syrup
200 ml unsweetened almond milk
toppings:
fresh blueberries
fresh banana
fresh raspberries
coconut shavings
raw cacao nibs
almond butter
homemade granola (I used vegan oat crunchy bought at the organic supermarket)
instructions:
Add all frozen ingredients, açaí puree and almond milk to a blender. Starting on low, mix the fruit and almond milk until smooth. Add oats and blend until everything is incorporated. Taste for sweetness and add agave syrup if necessary.
When I made the açaí bowl for the first time (which was also when those photos were taken) I used a frozen berries mix. However, I realized the red currant that's part of the mix is quite sour. So I adapted the recipe and would advice to only use blueberries, raspberries and strawberries. However, of course also any other berries work just fine!
Prepare two bowls and put 2 tbsp of granola on the bottom of each bowl, pour the açaí mix over the granola until the bowl is full and start decorating with sliced banana, blueberries, raspberries (or any fruit you like). I personally love coconut shavings and raw cacao nibs, and almond butter is a must if you ask me! Enjoy <3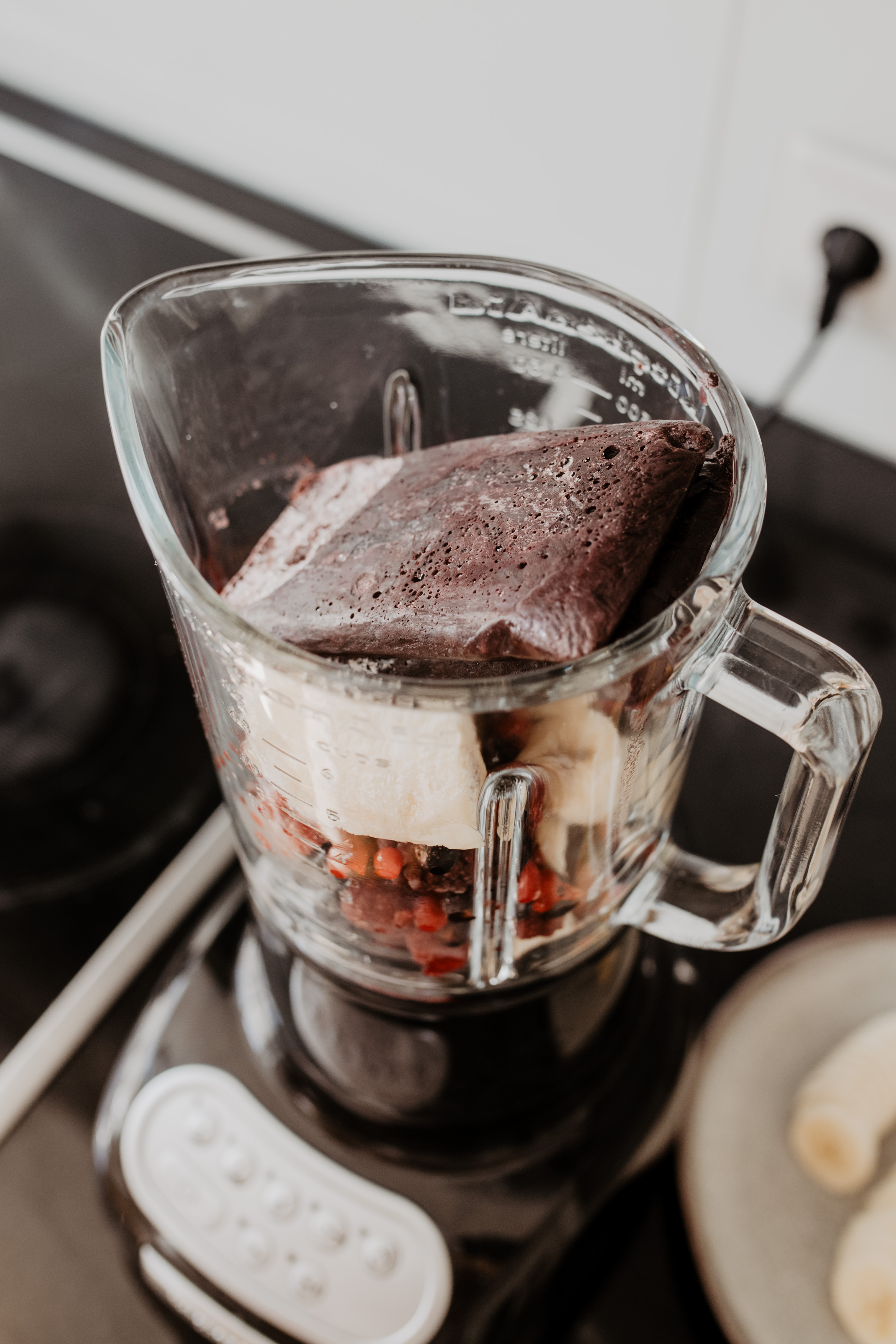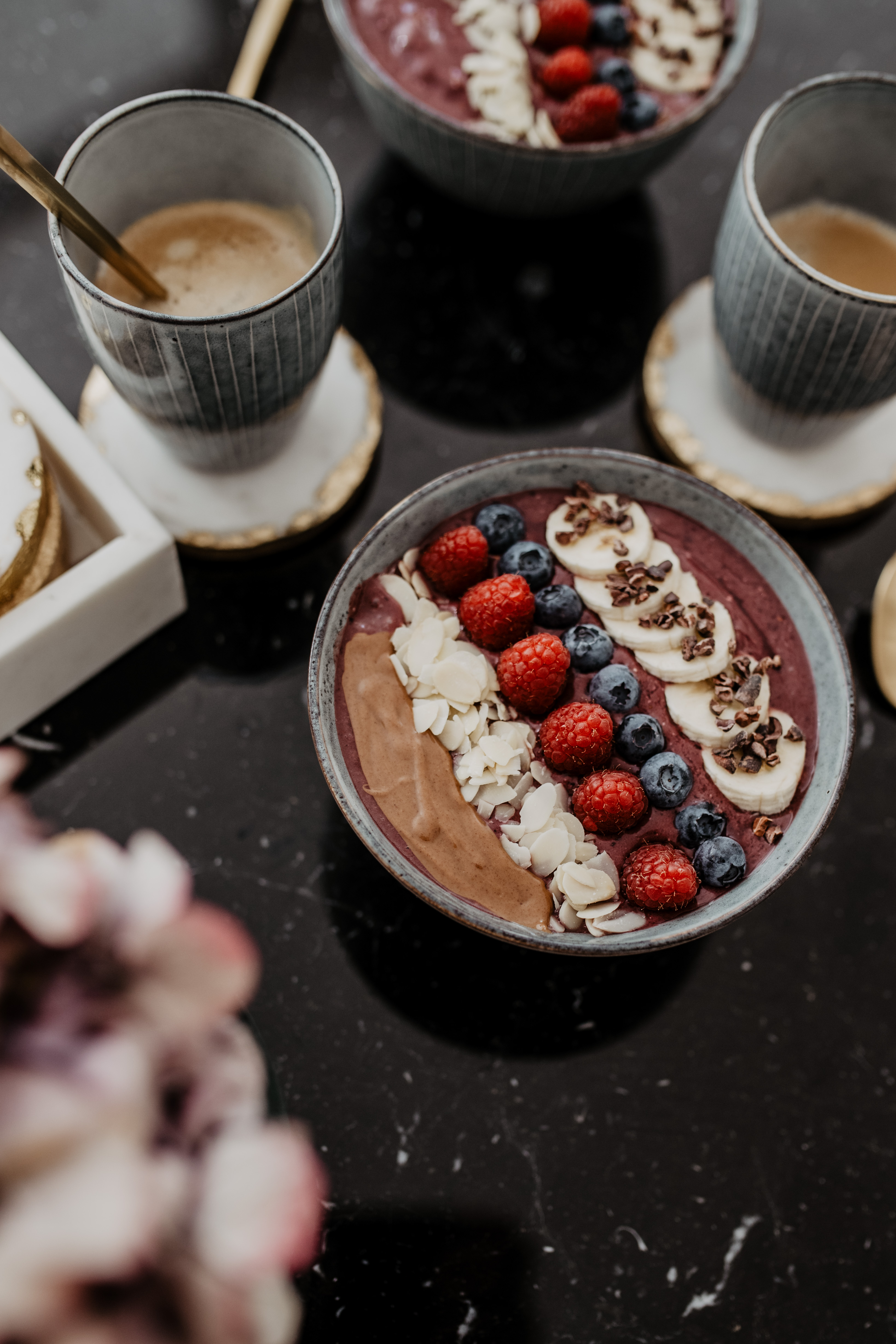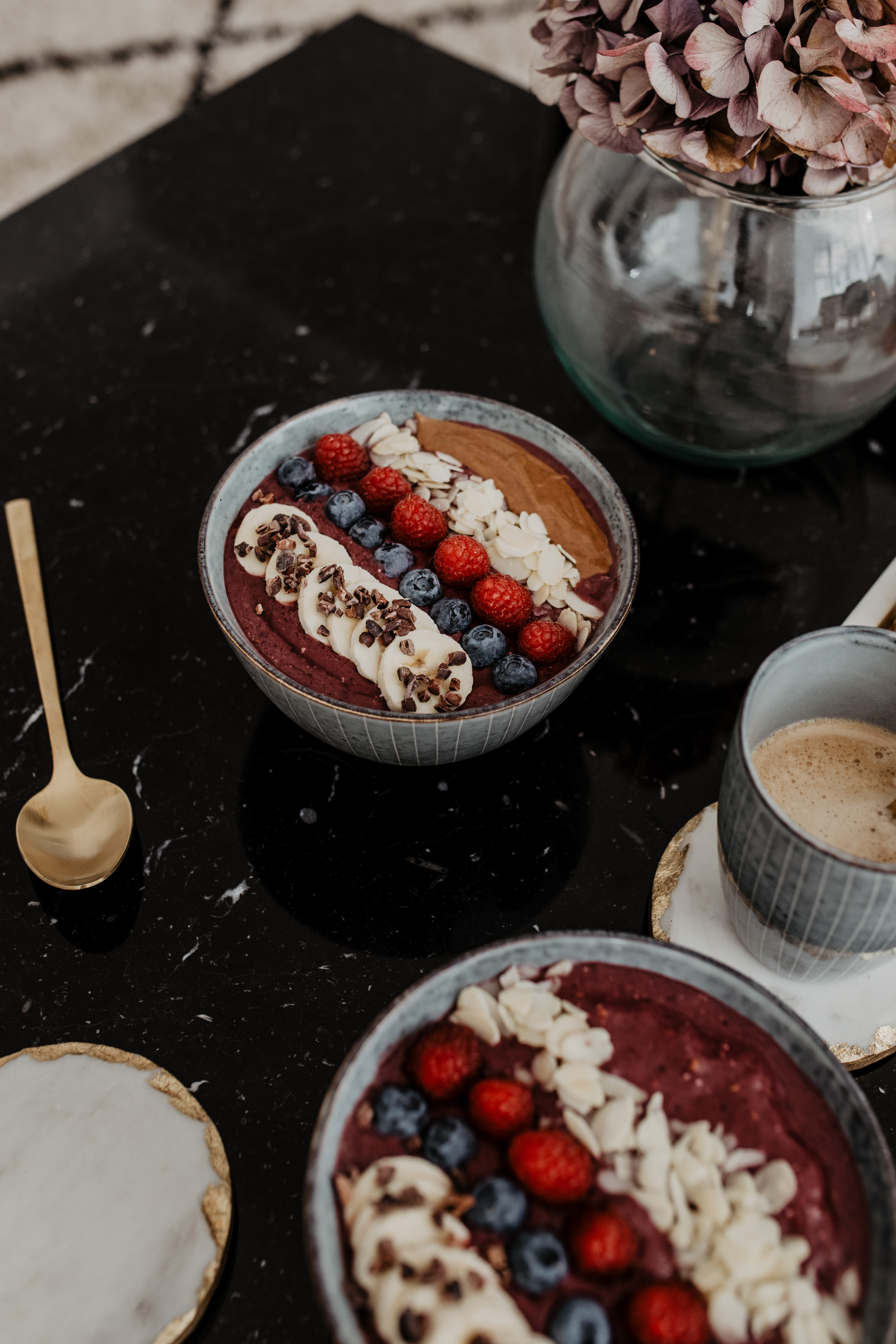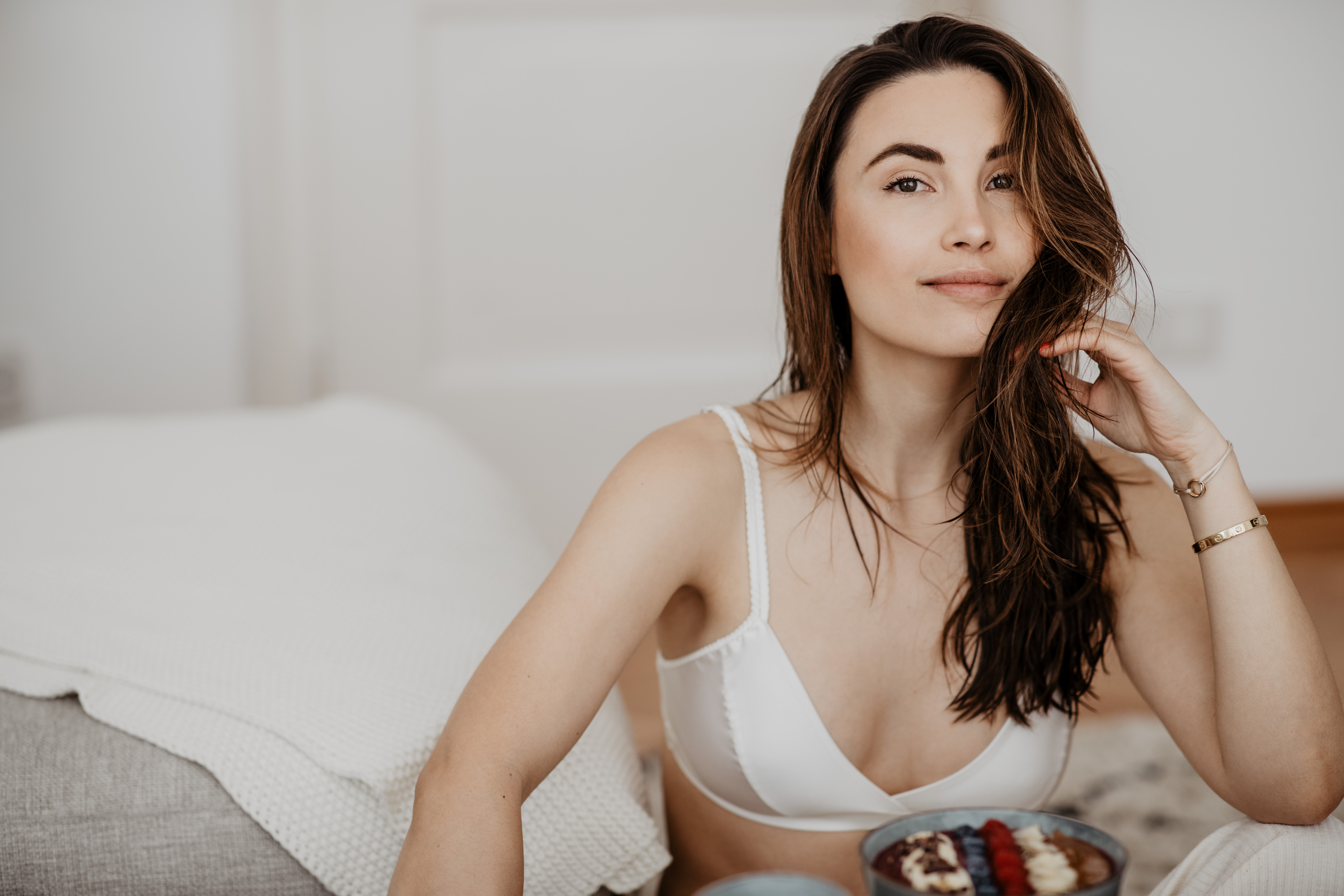 ---