How To Wear: Glamorous, yet casual holiday attire
Falalala-let the festive season begin! With Christmas parties and dinner invitations in full swing, we are all facing the same question again when staring into our closet: What to wear?! Trust me, even the most sophisticated and ambitious fashionistas are having this issue. Because dressing for festive occasions that involve way too much food (and of course drinks), which ends up in partying and dancing all night isn't one of the easiest tasks. Especially taking into consideration temperatures below zero.
For this year I'll dress after this theory: Half casual, half glamorous. Meaning: Casually glamourous. The concept is quite easy. All you need to do is take your most favorite comfortable piece of clothing (in my case: a basic grey cashmere sweater) and pair it with an eye catching piece of clothing (in my case: a black lace high waist pencil skirt) – et voilá: Your sparkling holiday outfit is sorted, and you'll neither be over- nor underdressed.
Tip: Of course this looks also works the other way around. For example: Take some super comfortable wide leg pants (maybe like this velvet version here) and pair it with a daring black lace blouse (like this one).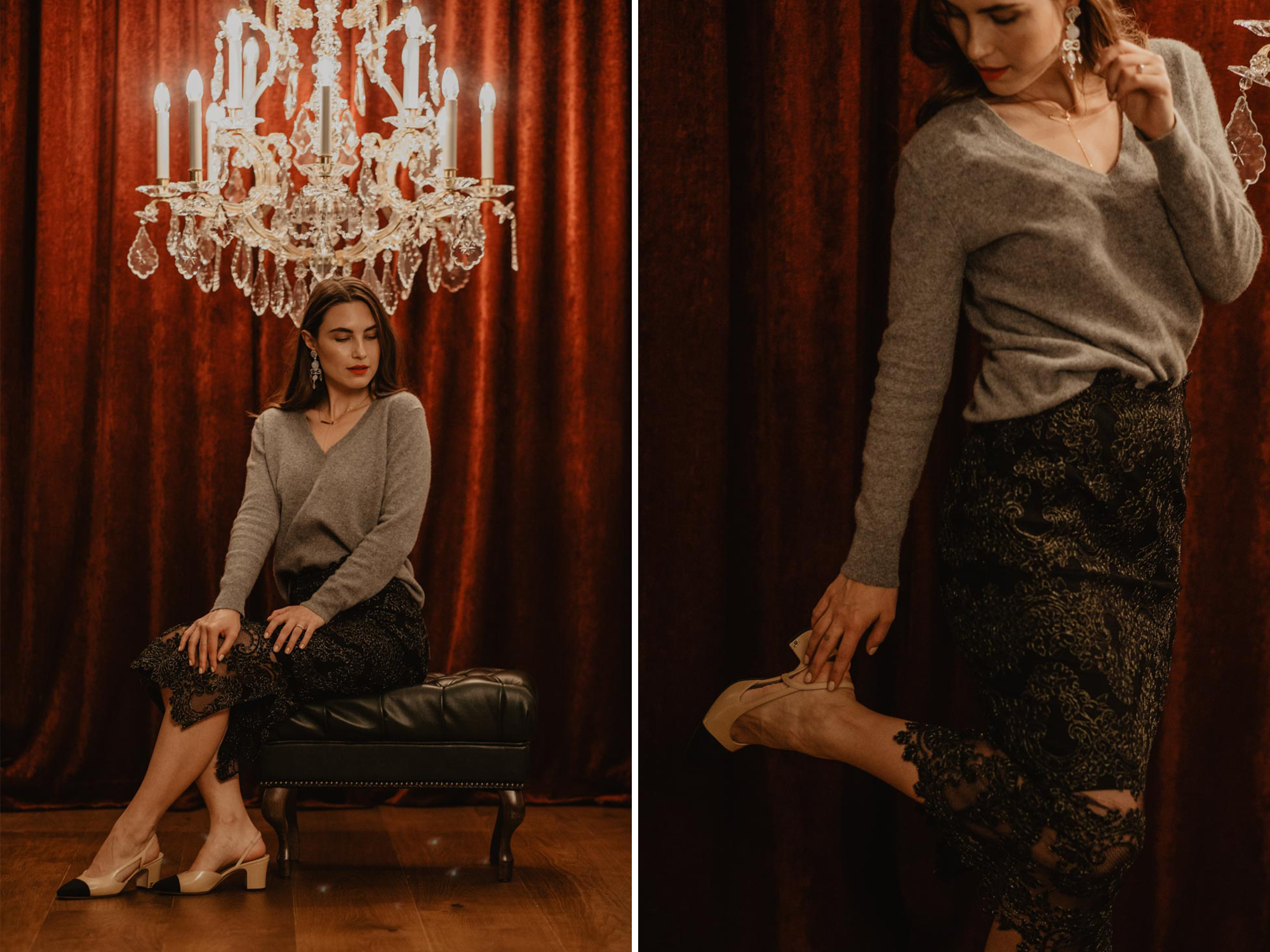 By the way, remember how I was hunting for the classic Chanel slingbacks in Munich, Cannes, Nice and Barcelona? I got lucky a couple of weeks ago in Vienna, where I was looking for them in the first place. Back then, they were sold out, but Emilia (THE nicest sales assistant at Chanel ever!) wrote down my phone number and called me right away when a pair of the shoes in my size came into the boutique. She was so kind and put them on the side for me until I was in Vienna the next time. The slingbacks fit like Cinderella's shoe and my birthday present was sorted with a two months delay. So worth the wait! The Chanellos will have their first big appearance for Christmas this year, and I have a feeling they'll be around a lot in the future (That is, if I ever manage to overcome my fear of ruining them. Until then, I'll just wear them inside. My kind of slippers, so to say.)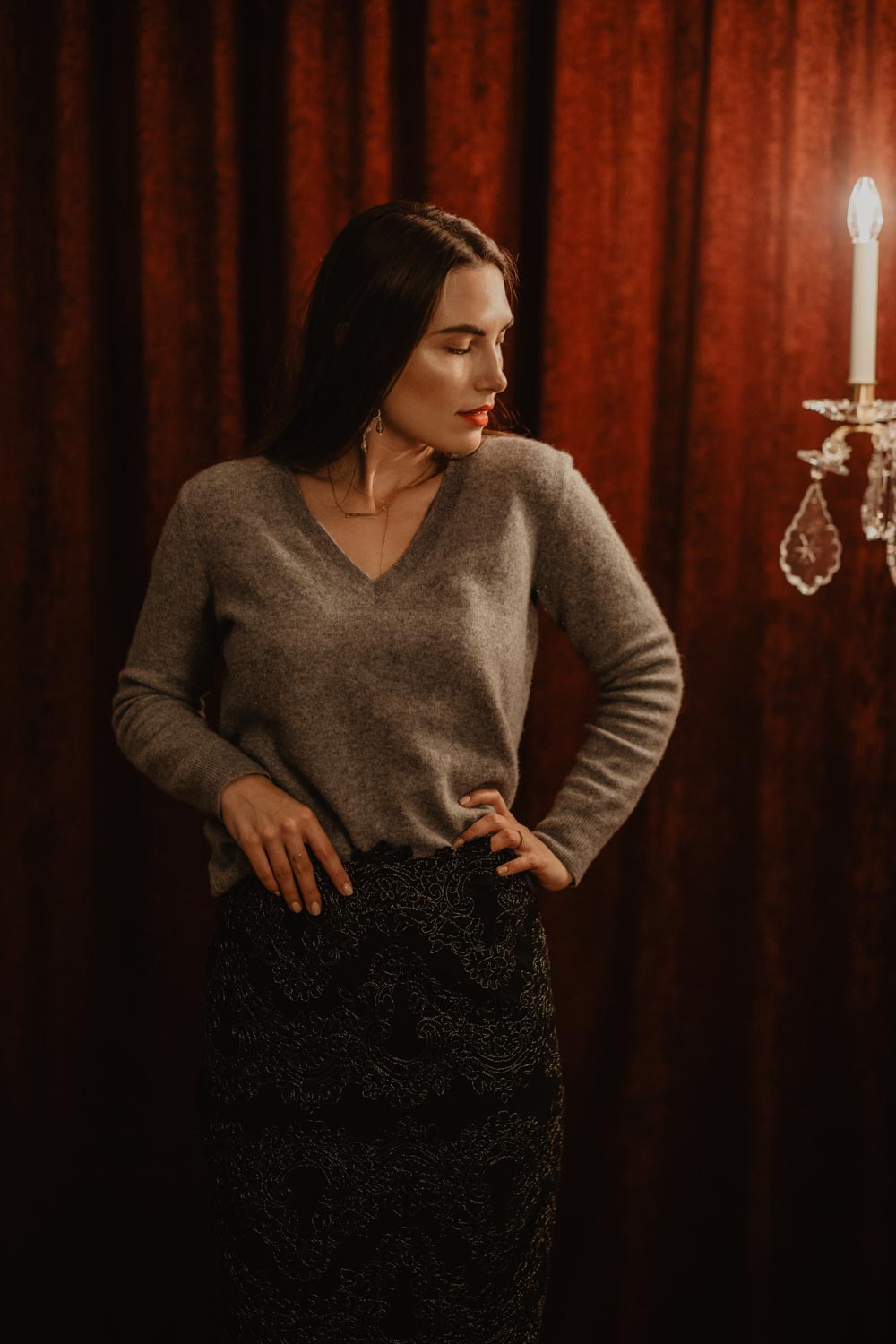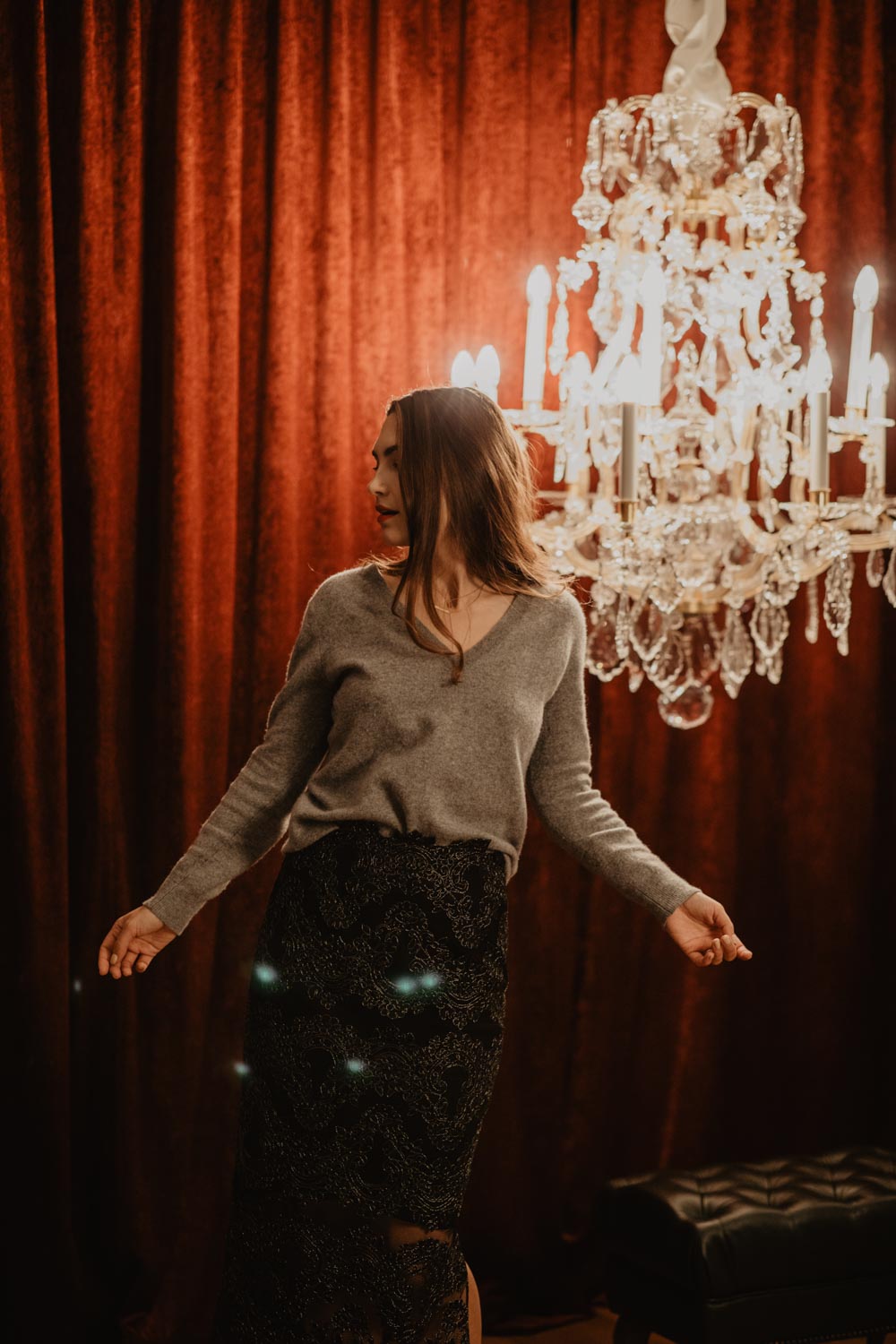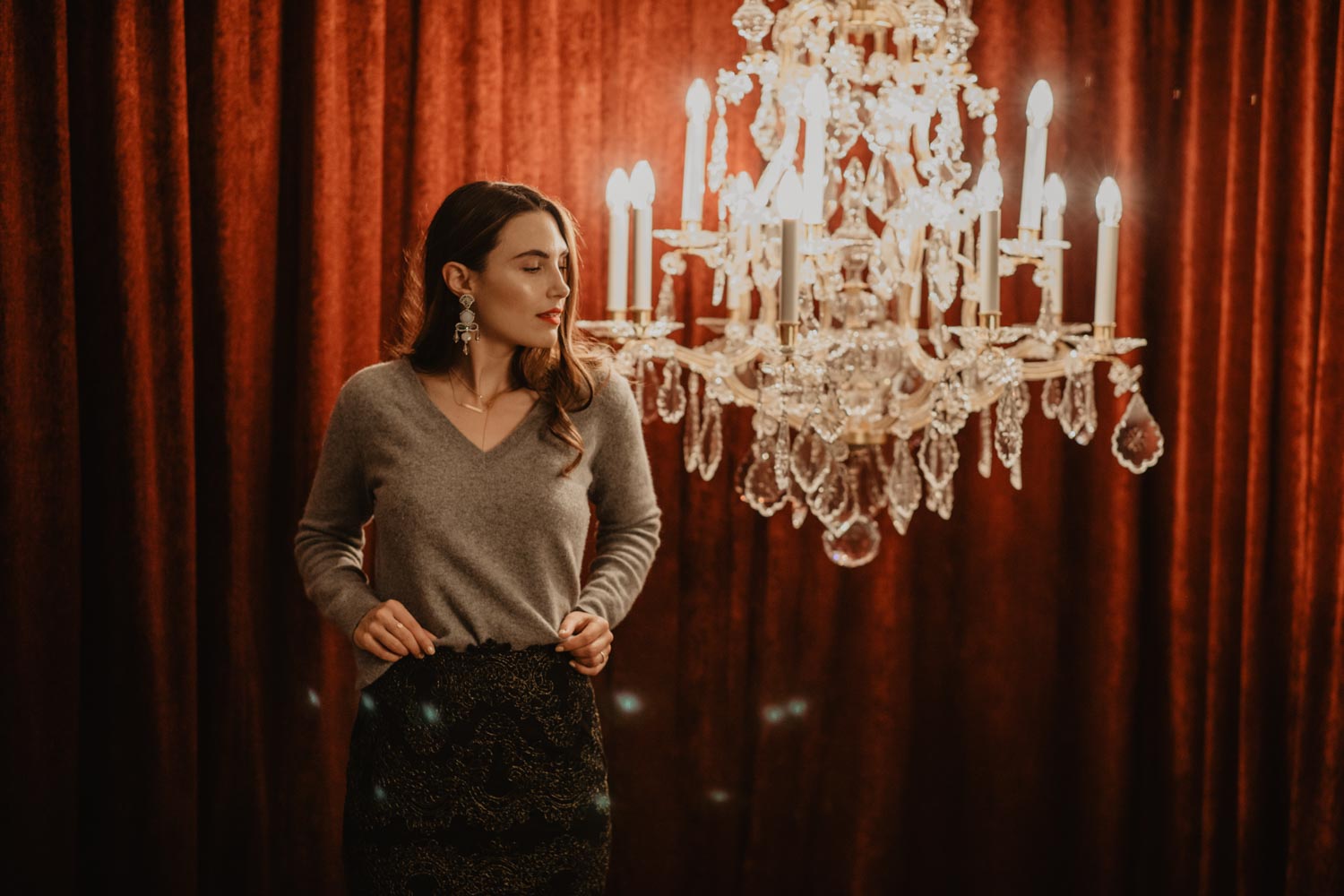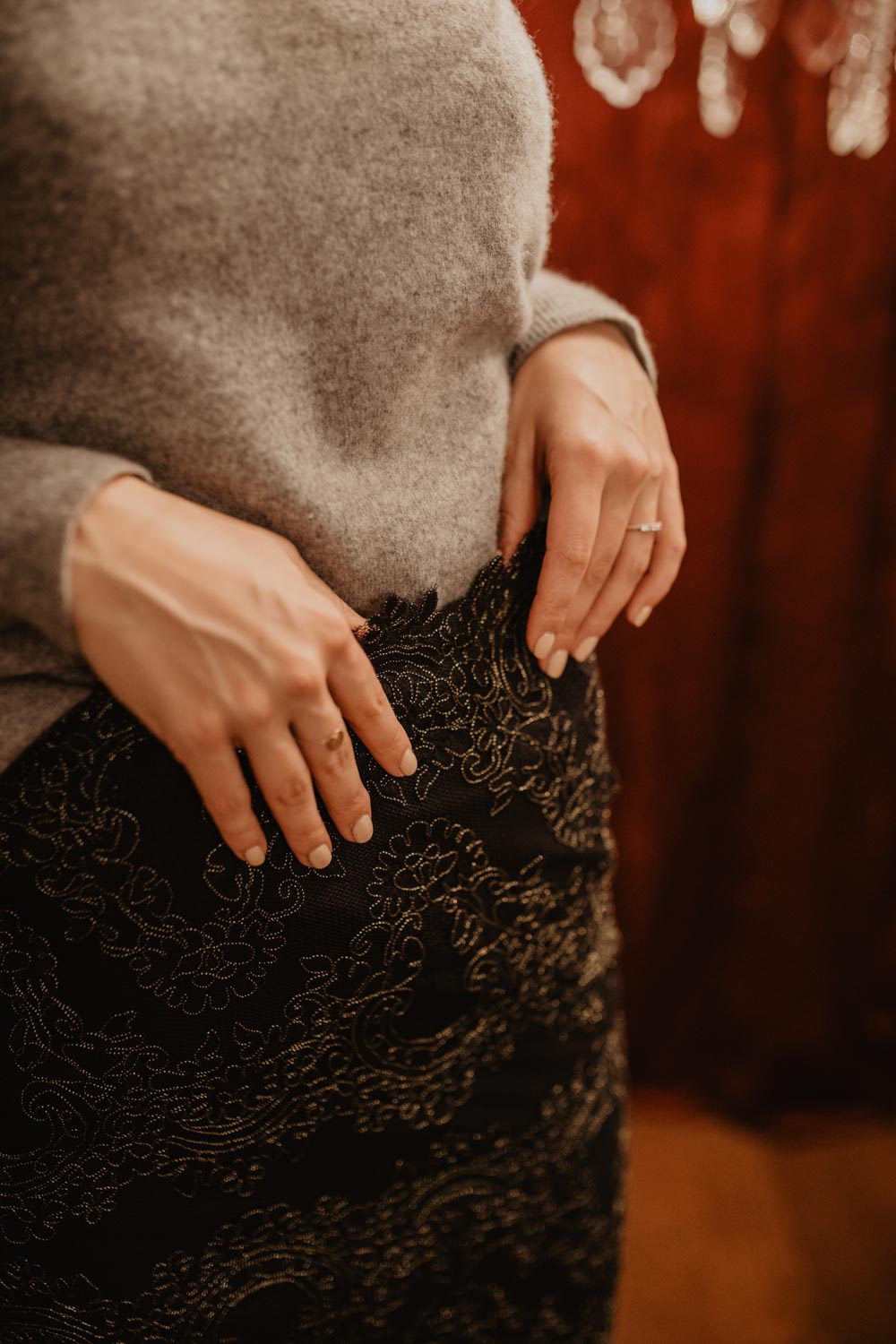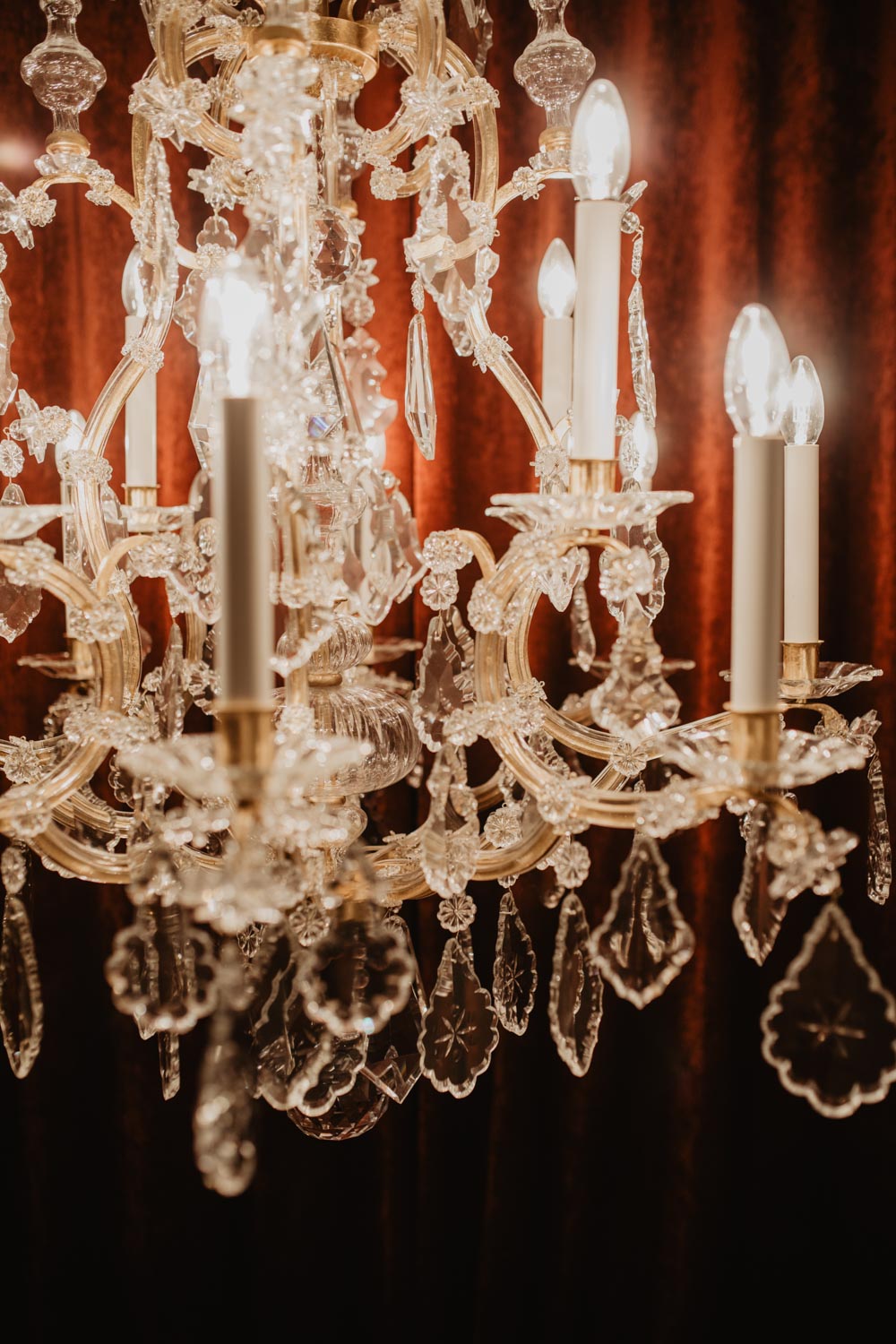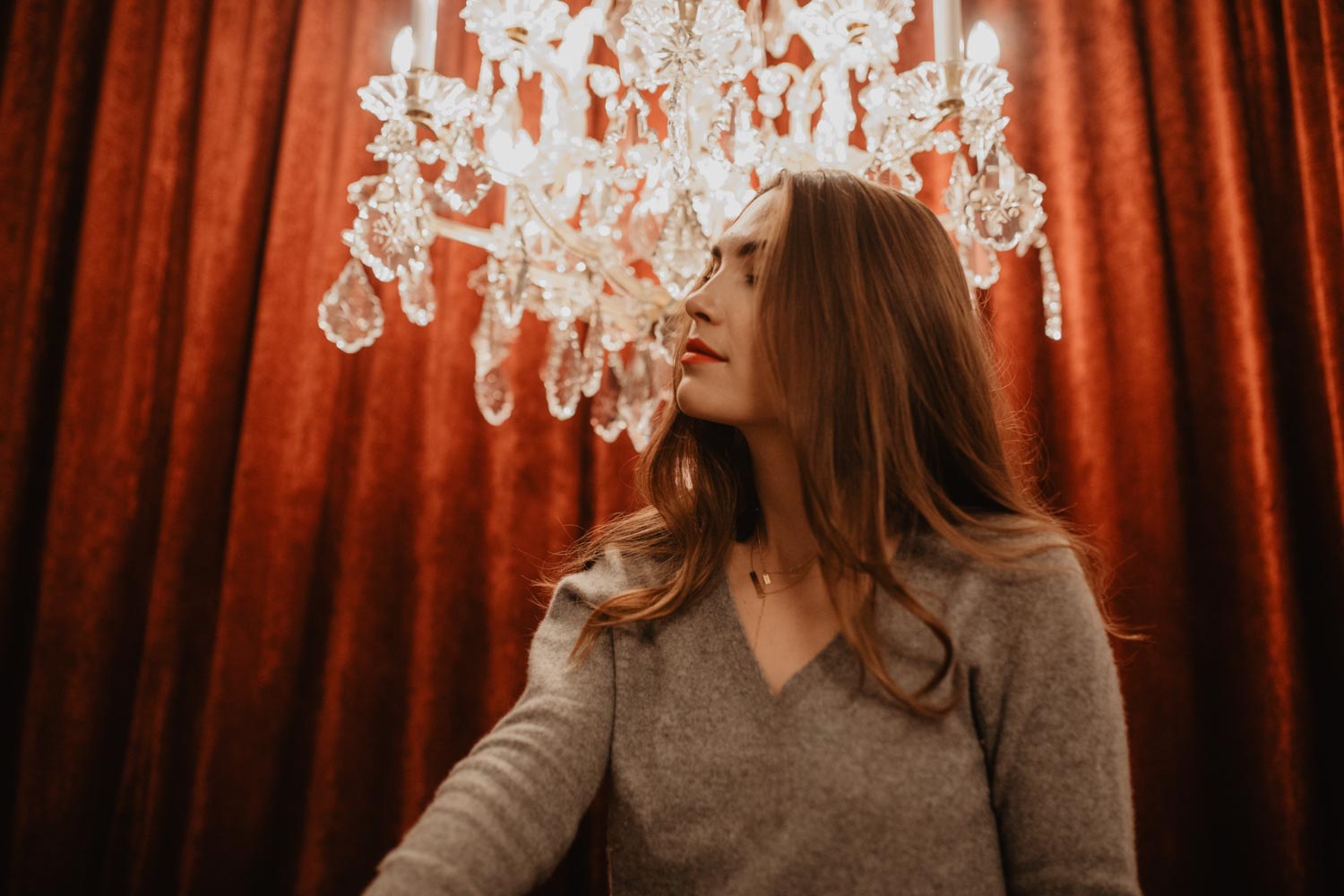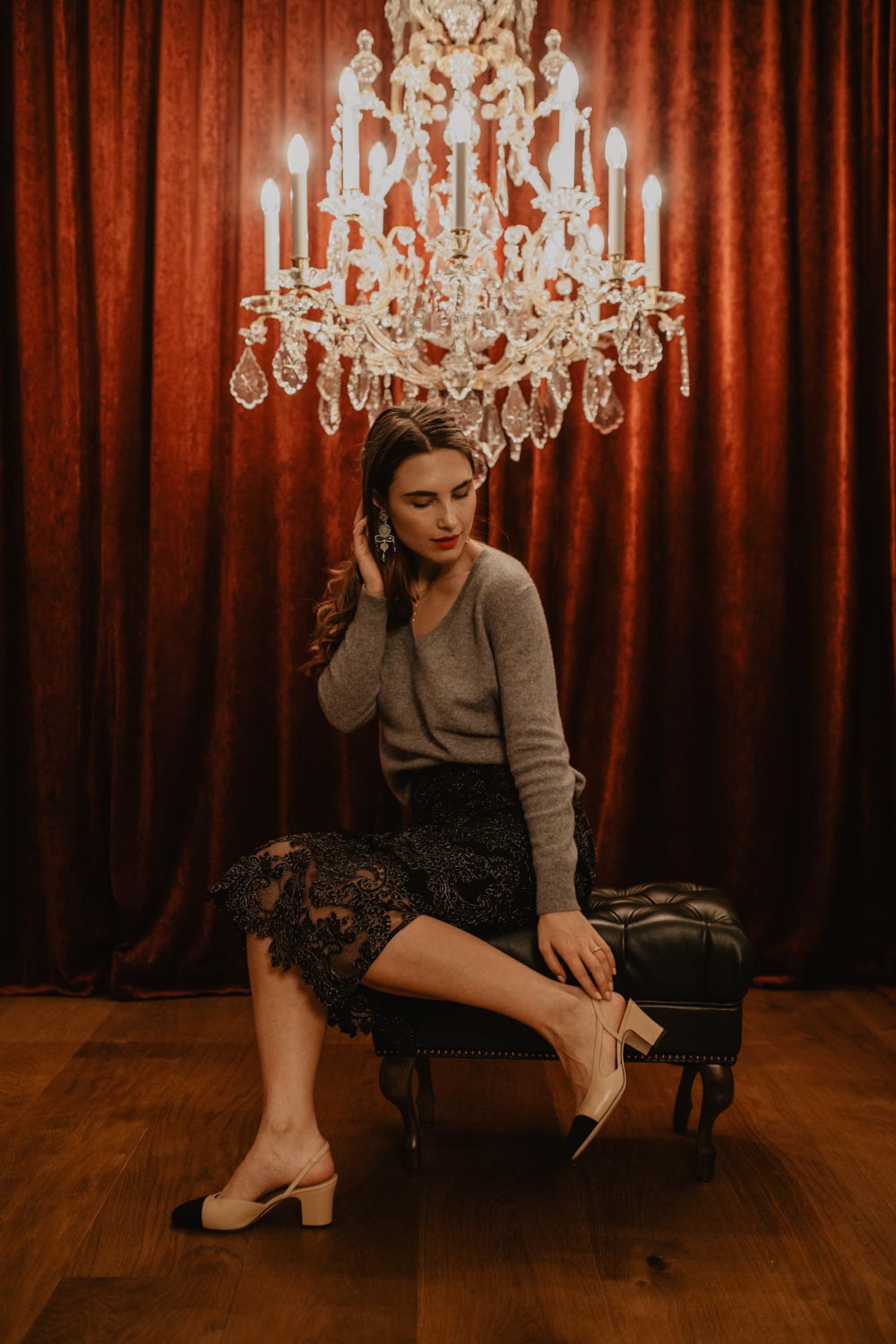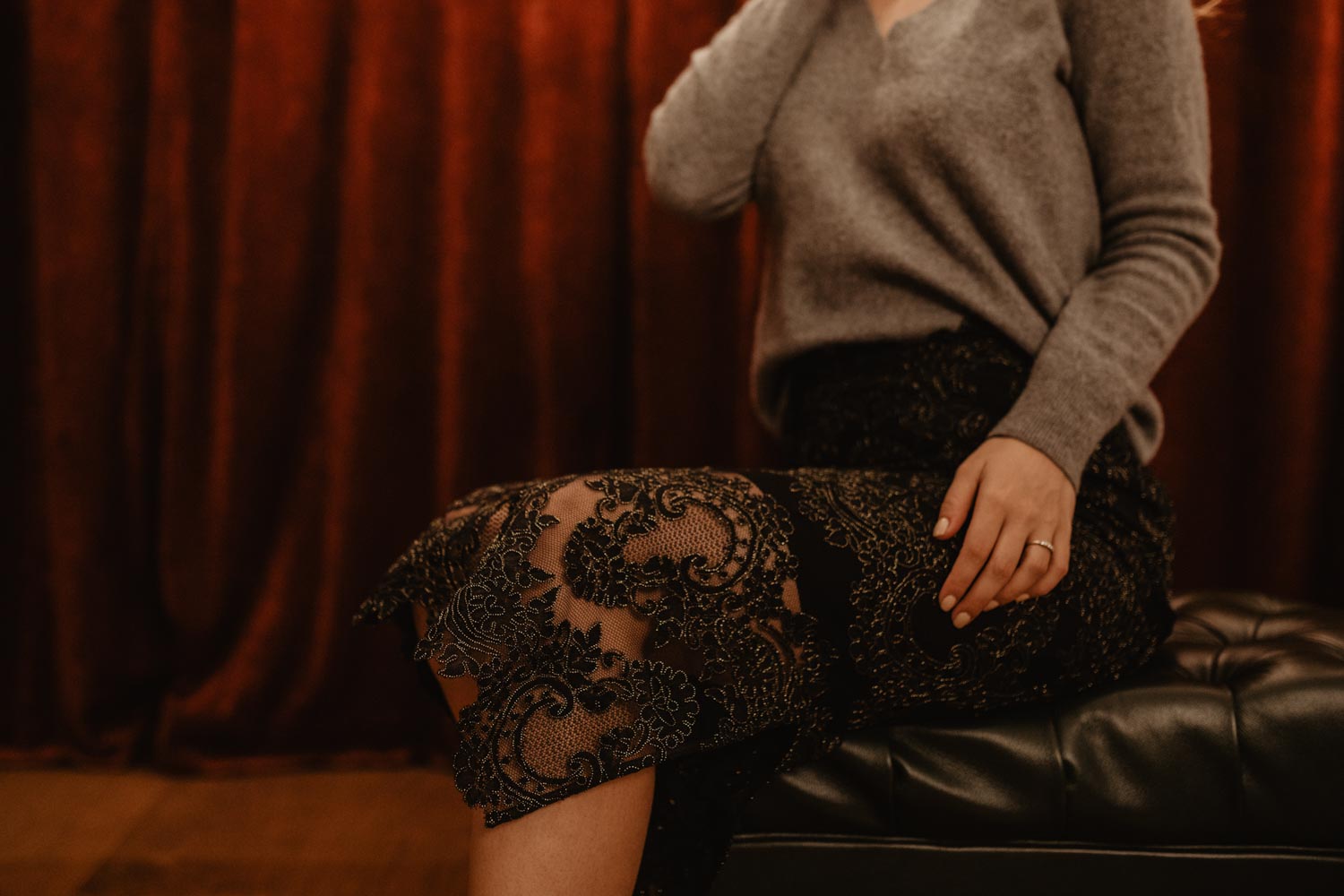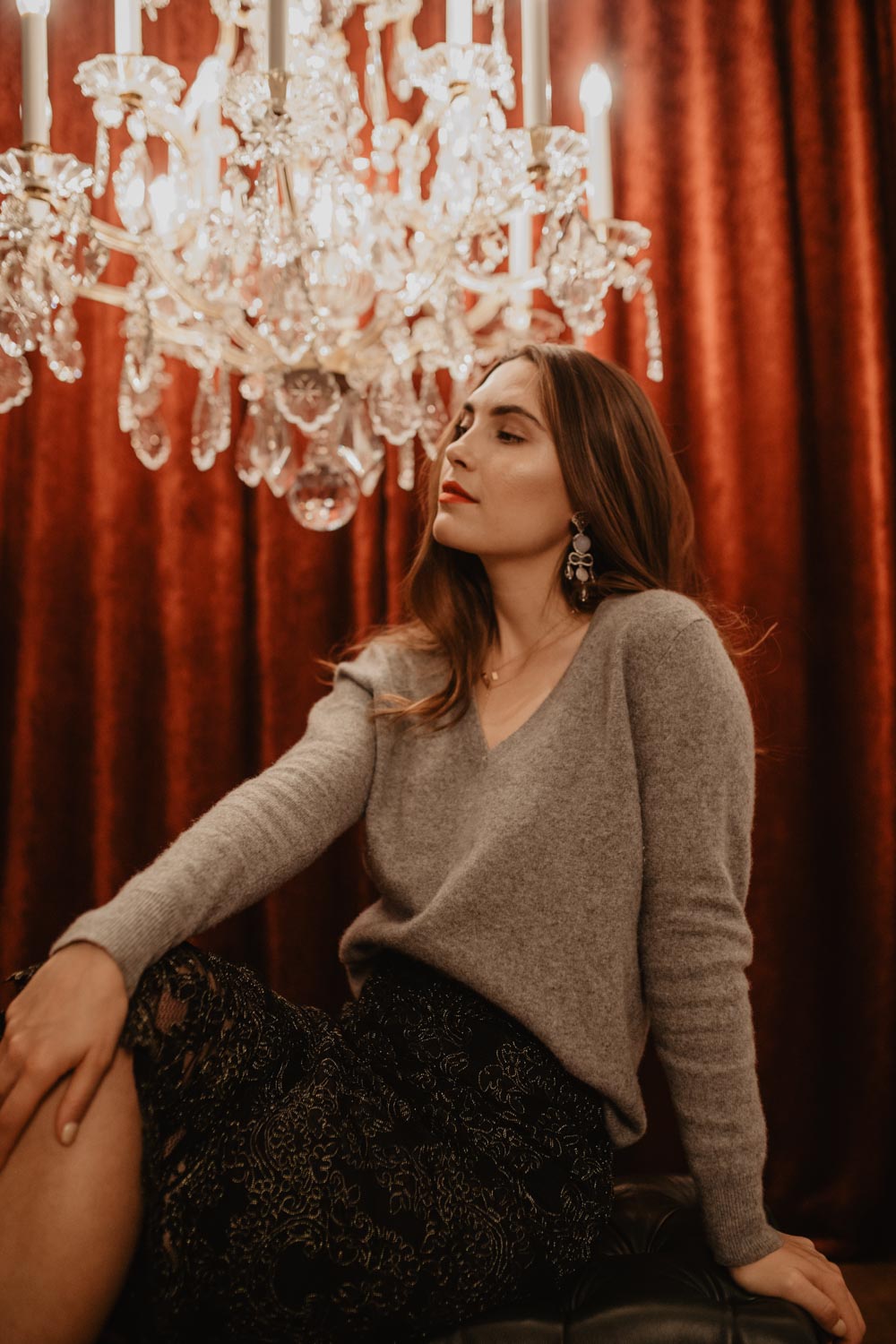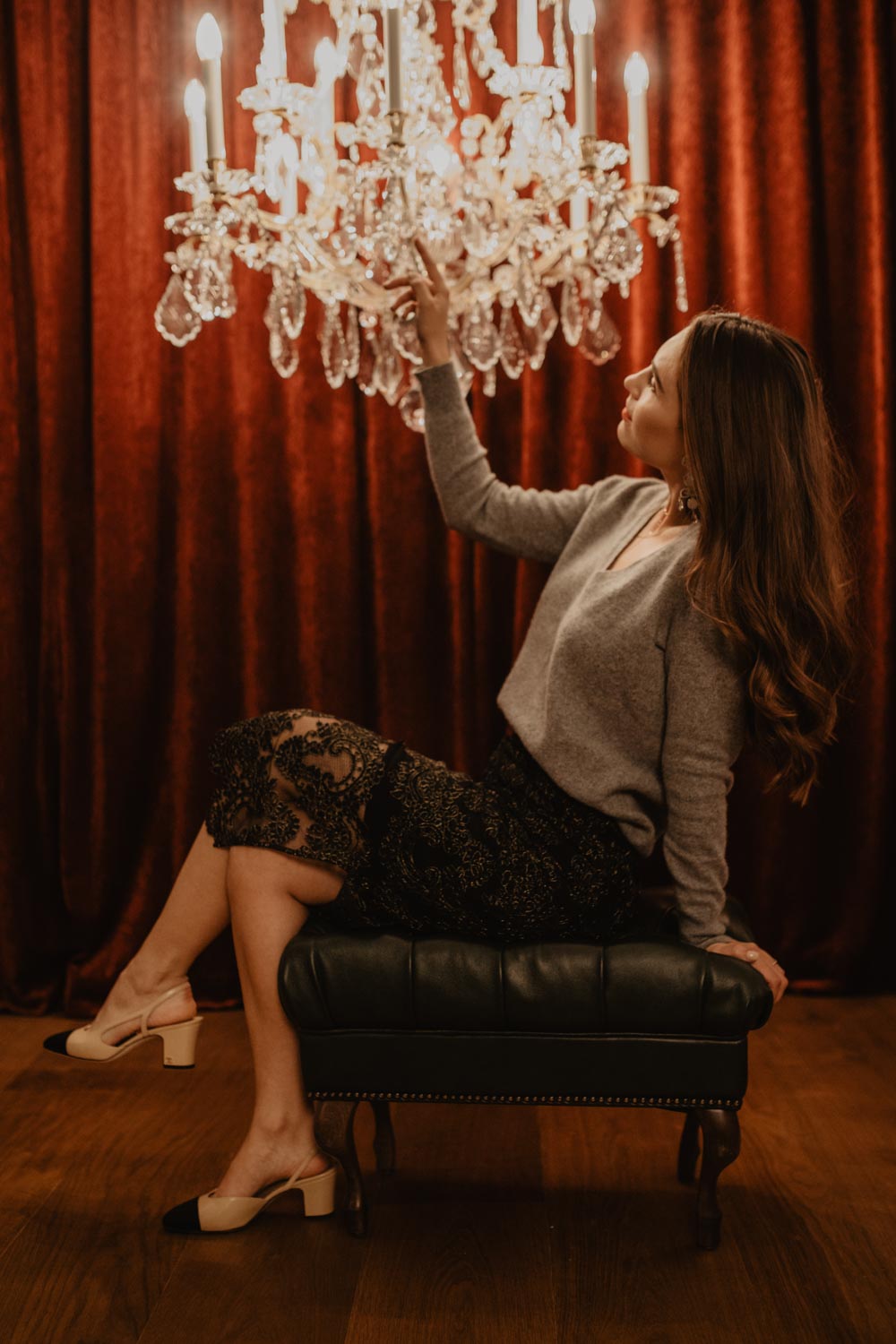 And, on a fashion unrelated note: In case you've had enough of the standard Christmas music by now, I've compiled a playlist with my favorite "not so average" Christmas songs. Worth listening, I swear.
---
SANDRO PARIS lace skirt (similar here for AT, for DE) // MANGO cashmere sweater (dark grey version here for AT, for DE) // CHANEL slingbacks (preloved ones here) // MASCHALINA earrings // MAC Ruby Woo lipstick (tutorial here)