Tried & Tested: Juice Cleanse with Urban Monkey
Ok. First things first – those who follow me on Instagram and saw my Instagram Story on the weekend probably know already what I'm going to tell you now: I did a juice cleanse with Urban Monkey the past weekend and failed miserably.
But let's start from the beginning:
Juice cleansing has become a big thing over the past two years. What started way before overseas, has now also swapped over to Europe and you could definitely say it's kind of trendy to "detox". When Die Lieferei reached out to me and asked me whether I'd like to test one of their new Detox boxes, I was super curious right away. Although I've done some other sorts of detoxing already, I've never tried a juice cleanse before. I've always been interested in juice cleanses and wanted to try one out, and see what all the hype was about.
So a few days later, the Detox box arrived perfectly on time right in front of my door. Since there's a partner detox box available (= detoxing for two days, for two people) Patrick and me decided to share the experience of our very first juice cleanse. No sooner said than done…
Since we were both very busy during the week and invited to numerous events at night (= lots of potential occasions that involve food & drinks) we agreed on doing our two day cleanse on the weekend. So we had our first juice on Saturday morning and it tasted amazing. Number one on our detox plan was "Iron Man", which is a mix of apple, pineapple, spinach, kale and mint – and which turned out to be our favorite juice of the whole box. We often only have a homemade smoothie as breakfast, so up until then this was no big change in our routine. We left the house because we had some appointments, and took 2×2 juices with us for on the go. During the juice cleanse, you're supposed to drink one juice every 2-3 hours. Since we knew we would be out and about for most of the day, we basically packed our liquid "meal" – which is very convenient.
For the first appointment we had to drive in the car for almost one hour – and that's when I started to feel nauseous. I'm usually not the kind of person who gets motion sickness easily. Whether it's on a plane or on a boat – I'm always totally fine. That is, as long as I've had a little bite of something before. Apparently the 330 ml juice (+ some lemon infused water) wasn't enough. I had my second juice in the car with the hope of eliminating the weird feeling in my tummy, but it didn't really help.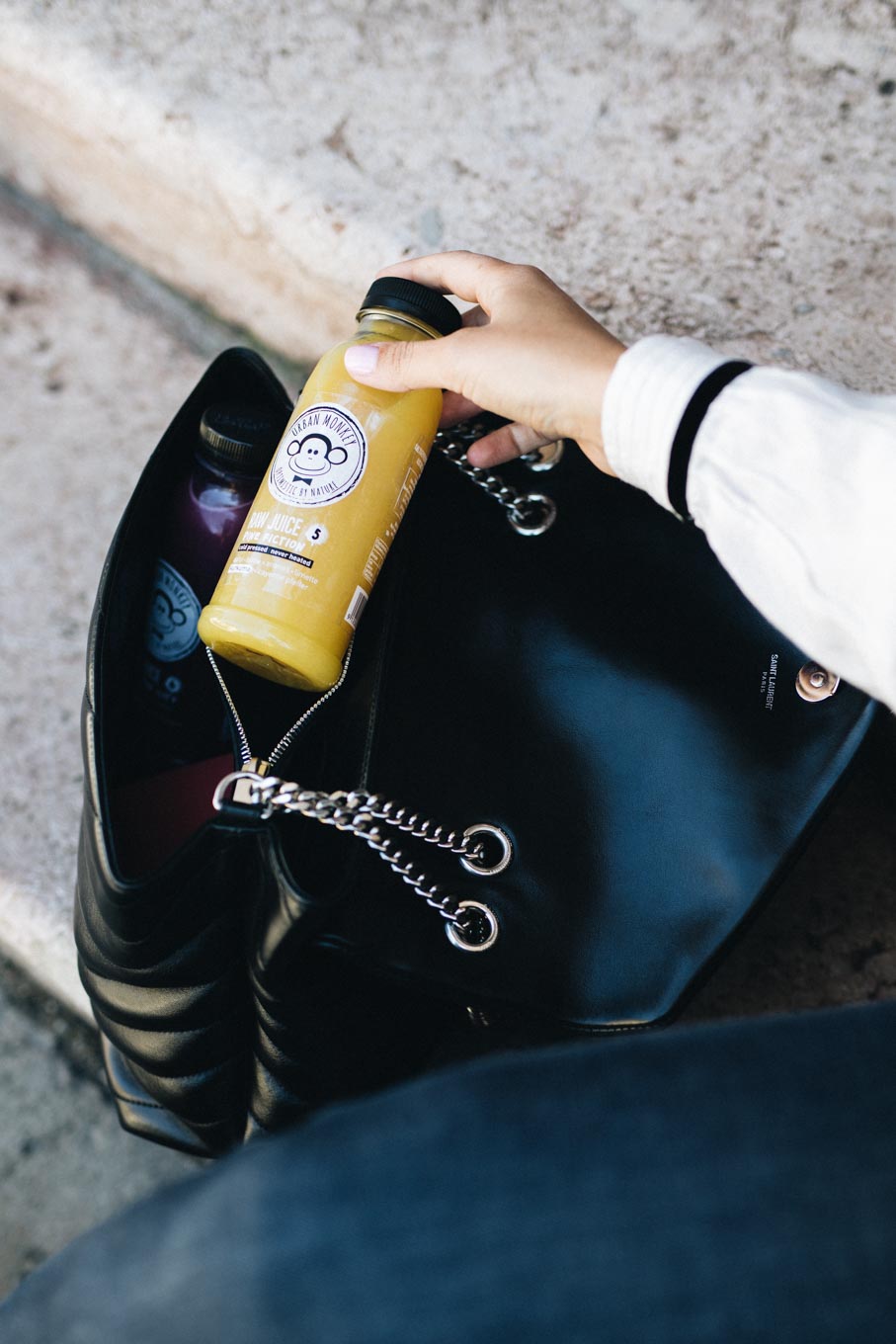 On the drive back from our appointment, a slight headache joined the nauseous feeling, and my energy level reached a low point. The funny thing is however, contrary to my expectations I didn't feel hungry at all. My stomach basically felt full the whole time, but I just had the feeling there's nothing proper in it.
The day went by quite quickly, but so did our energy. We met our friends in the afternoon who we're usually having coffee & cake dates with, so this time it was a juice and tea date, which was totally fine – but somehow something was missing, of course. We actually wanted to go for a stroll in the city later on, but both Patrick and me were so tired, that we decided to go home for a nap.
If our friends would not have called and asked whether we'd like to BBQ with them, we would have probably slept through until the next morning. We sadly declined the BBQ invitation and went to bed grumpily. Somehow it felt like someone stole our Saturday, and we were sad that we couldn't do the things we usually enjoy so much on weekends: As par example having coffee with friends in the sun, strolling around while enjoying a gelato, or BBQing with our friends.
By bed time my nauseous feeling and headache turned into a proper feeling of sickness, and Patrick and me simultaneously said: Let's go for brunch tomorrow morning!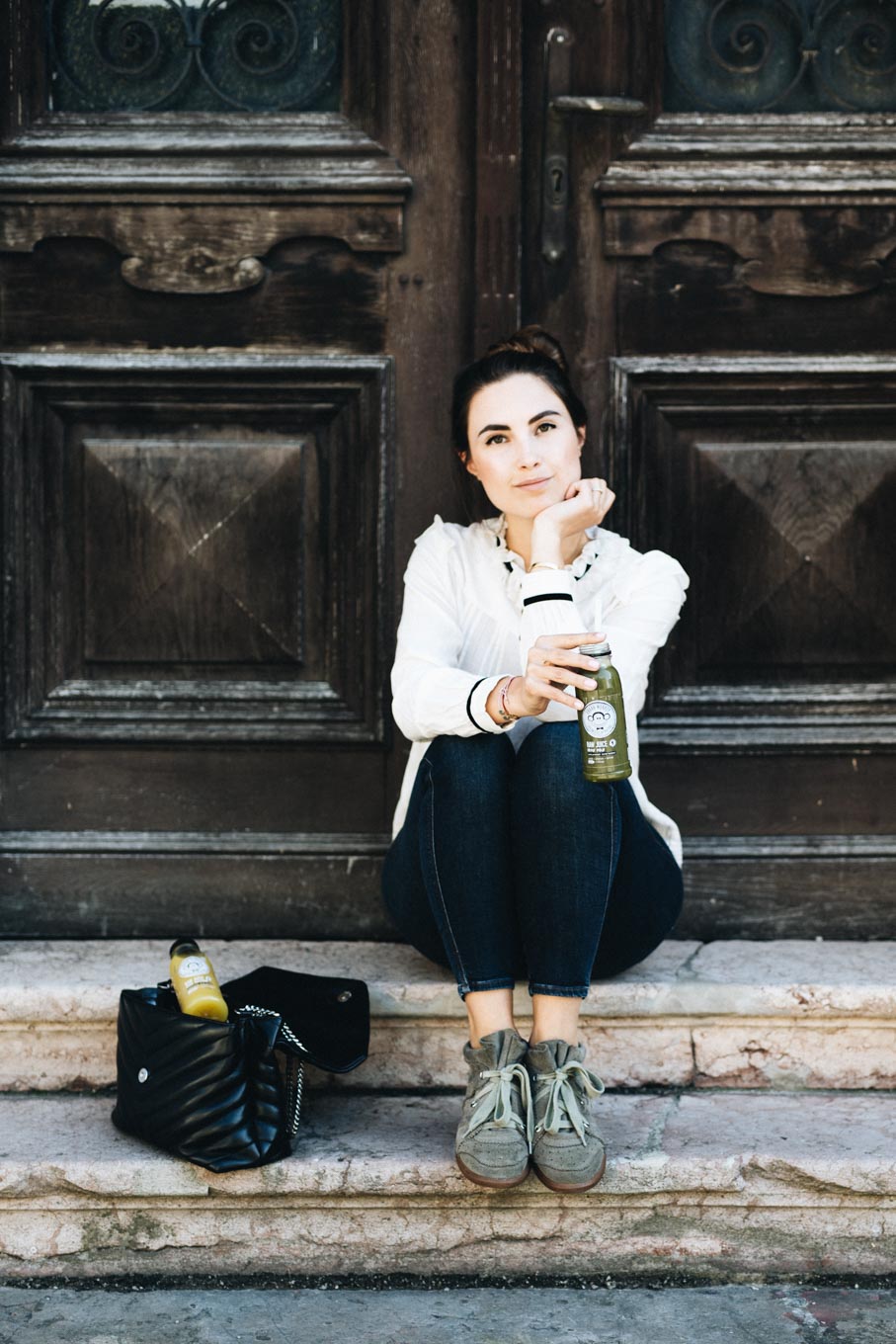 So this was the end of our attempt to do a juice cleanse. I'm however happy we've tried it, and I'm proud we survived at least one day.
Things I've learned during my juice cleanse:
No. 1 – Preparation is everything!
First of all, choose the timing to do your juice cleanse wisely. My biggest mistake probably was that I tried to squeeze in the juice cleanse into my super busy schedule. I've been working a lot the past couple of weeks, hardly resting on the weekends. Plus I've been working out a lot more than I usually do, so my body was stressed anyways. Throwing a juice cleanse at my already stressed organism probably wasn't the smartest decision.
Secondly, allow yourself some time to prepare your body for the cleanse – meaning dedicate 1-2 days for pre-cleanse. During this phase you should:
Drink more water.
We all know drinking lots of water is key to being healthy and a well functioning metabolism. Dehydration is commonly mistaken for hunger, so already prepare your body by hydrating all your cells and eliminating false hunger. It's also advised to drink enough water during your cleanse, so better start early.
Cut back on caffeine.
A juice cleanse as such is not meant for the purpose of weight loss solely. It's supposed to bring your body into a more alkaline state. Since you're not allowed to have coffee during your cleanse, prepare your body by eliminating your caffeine intake the days before. However, if cutting out caffeine is none of your personal goals during the cleanse, you can drink matcha tea as a substitute for coffee and a way to still get a bit of caffeine into your system.
Cut back on animal products & increase your fruit and vegetable intake.
During the two days before your cleanse, aim to eat more fruit and veggies and try to eat a strictly plant-based diet. Cutting out on animal products will help your digestive system getting ready for your cleanse. And by including a few more servings of raw fruits and vegetables to your diet, your body can already get used to the excess intake of greens and fruits during the next days.
No. 2 – Choose the timing for your juice cleanse wisely.
As I mentioned before, I didn't choose the timing for my detox attempt very well. And I think it's the major reason why I failed. I've heard that everyone experiences the symptoms of detoxing differently. Some sail through it without any issues, going to work and hitting the gym. Others, like me, feel very weak and suffer from nausea, headache and can't concentrate. I couldn't even string a sentence together, so you know what I mean.
My tipp is to plan in lots of time for yourself, in order to listen to your body and your needs. This way you can just nap and relax whenever you feel it's necessary. Also cutting back on social engagements will help, since most of them come with lots of temptations in form of food and alcohol.
Also, get yourself a juice cleanse buddy: It helped me a lot that Patrick did the cleanse with me, so he knew how I felt and we could support each other.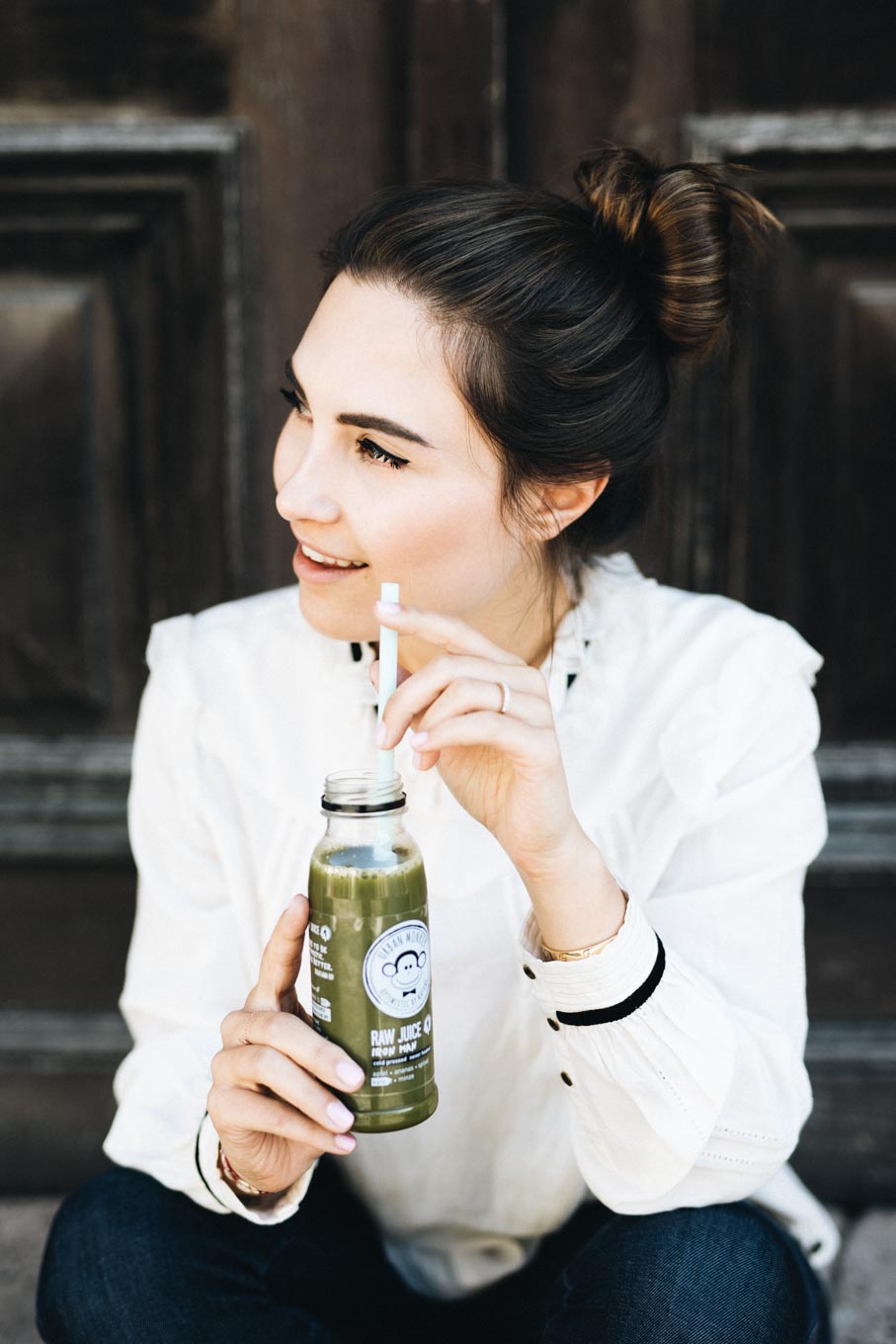 No. 3 – Get yourself some little helpers.
There are a few beneficial things you can do during your juice cleanse in order to make most of it.
Buy a dry skin brush.
By dry brushing your skin you can stimulate the lymph system and you're removing dead skin cells easily.
Book yourself in for some treatments.
Treat yourself to a relaxing massage, or a day at the spa where you can relax and go to the steam bath or sauna. Furthermore, a lymph drainage is highly recommended and beneficial during a cleanse and helps moving along the detoxification process.
Understand the Must-Chew-New-Syndrome.
Yes, this is a thing. Referred to as M.C.N. by experts, this syndrome is experienced by the desire to chew on something – as the name implies. If you're suffering from M.C.N. check-in with yourself if you're really hungry or if you're just craving that chewing sensation. If the answer is the latter, fight it! If you're truly very hungry and you're feeling nauseous, don't beat yourself up. It's better to have a light snack suck as an avocado, a piece of solid fruit, some raw veggies or a handful of nuts, than giving up. You won't undo all the good you're doing to your body by allowing yourself a little snack. Also steamed vegetables, or a light soup made of vegetables are an option if you're craving something warm (just make sure you keep the seasoning on the low).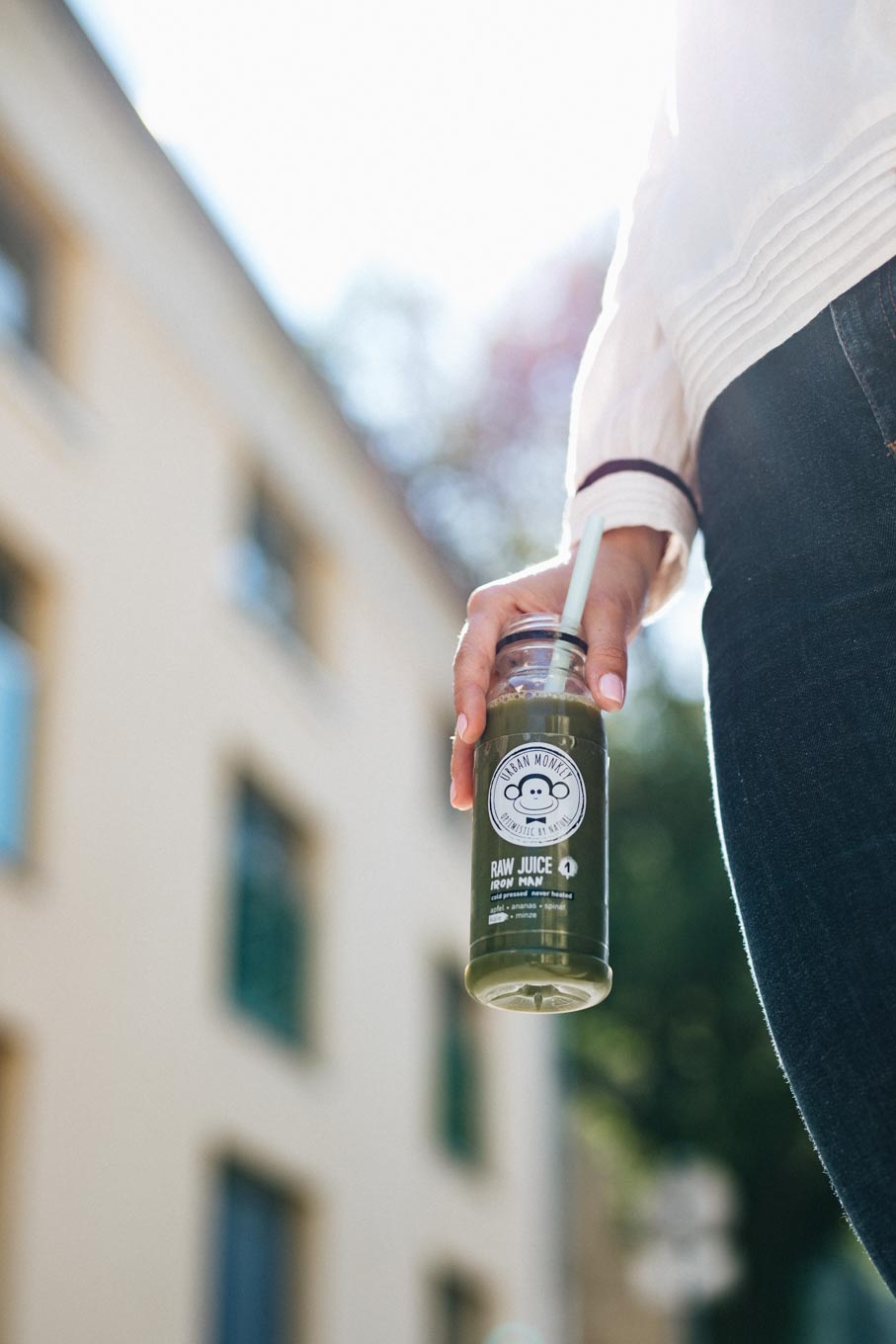 No. 4 – Listen to your body.
I think this should be rule No.1 when it comes to anything you're doing – whether it's sport or any kind of diet. Just listen to your body closely and decide for yourself what is good for you.
Although my juice cleanse was meant to last for two days, I just really did not feel like it anymore after day one. I'm usually not a quitter, but I knew I had to work on a few important things on Sunday, and I just couldn't focus at all. So in order to function properly, I listened to my body and gave in. On Sunday, I had my usual oatmeal for breakfast, one of the juices for lunch, and a vegetable soup for dinner.
My resumé is that juice cleansing is harder than I would have thought. I realized again, how important food is to me, and what an important role food plays in my social life. However, it was a great experience, and I'd definitely like to try it again once it fits better into my schedule – or let's put it that way: Once I can make room for it in my schedule, and have enough time to focus on what I think detoxing should be really about: Giving your body and soul and extensive and healthy time-out.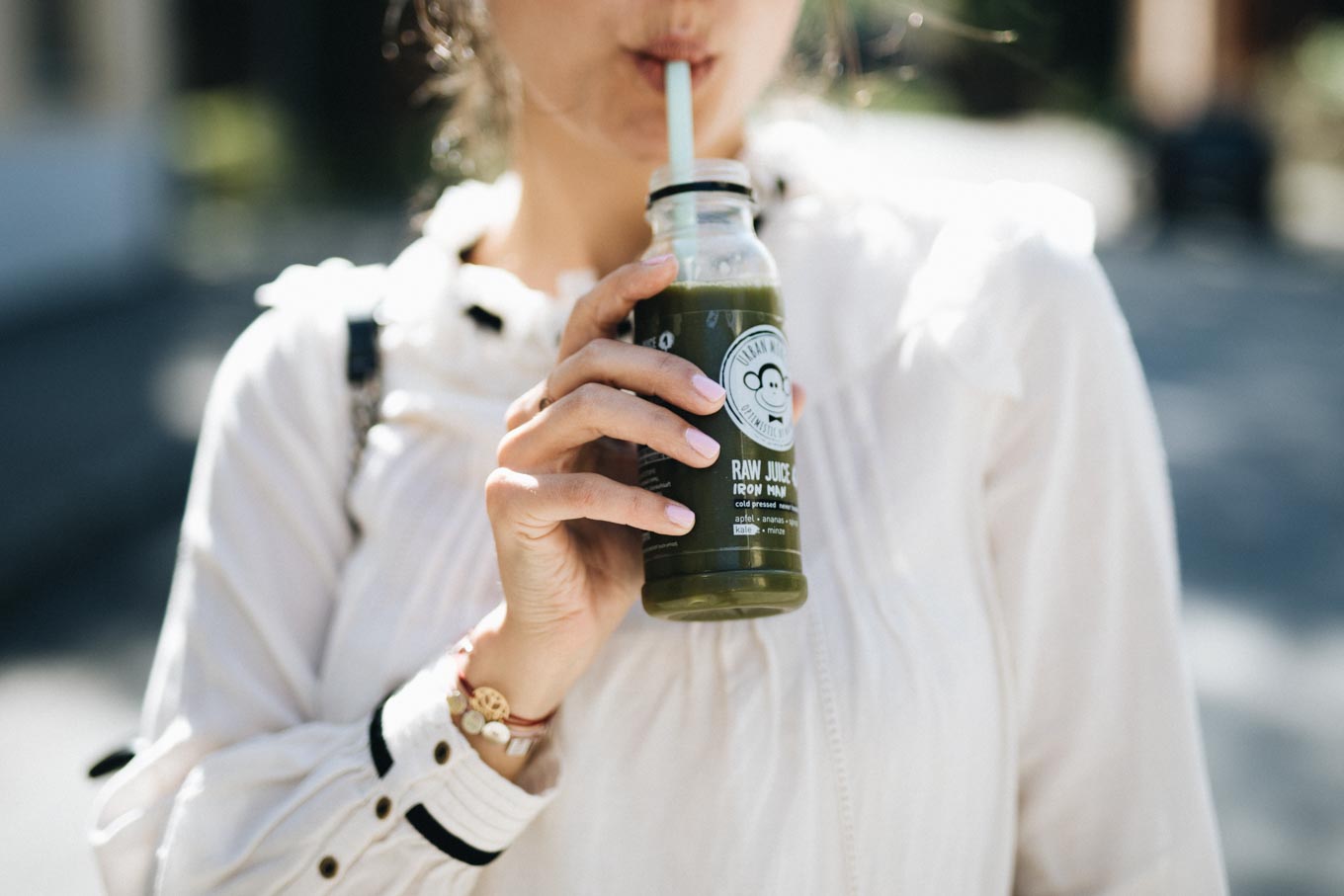 If you got super curious now and would like to try out the Urban Monkey Juice Cleanse yourself, I've got good news for you:
I teamed up with Die Lieferei and you're able to win one of three Detox Boxes!
Here's what you have to do in order to be able to win one of the three boxes:
Leave a comment under this post and tell me why you'd like to try out juice cleansing.
Keep your fingers crossed 😉
The three lucky winners will be announced via email on Sunday, 9th of July. Good luck!
(please note: shipping is only possible within Austria.)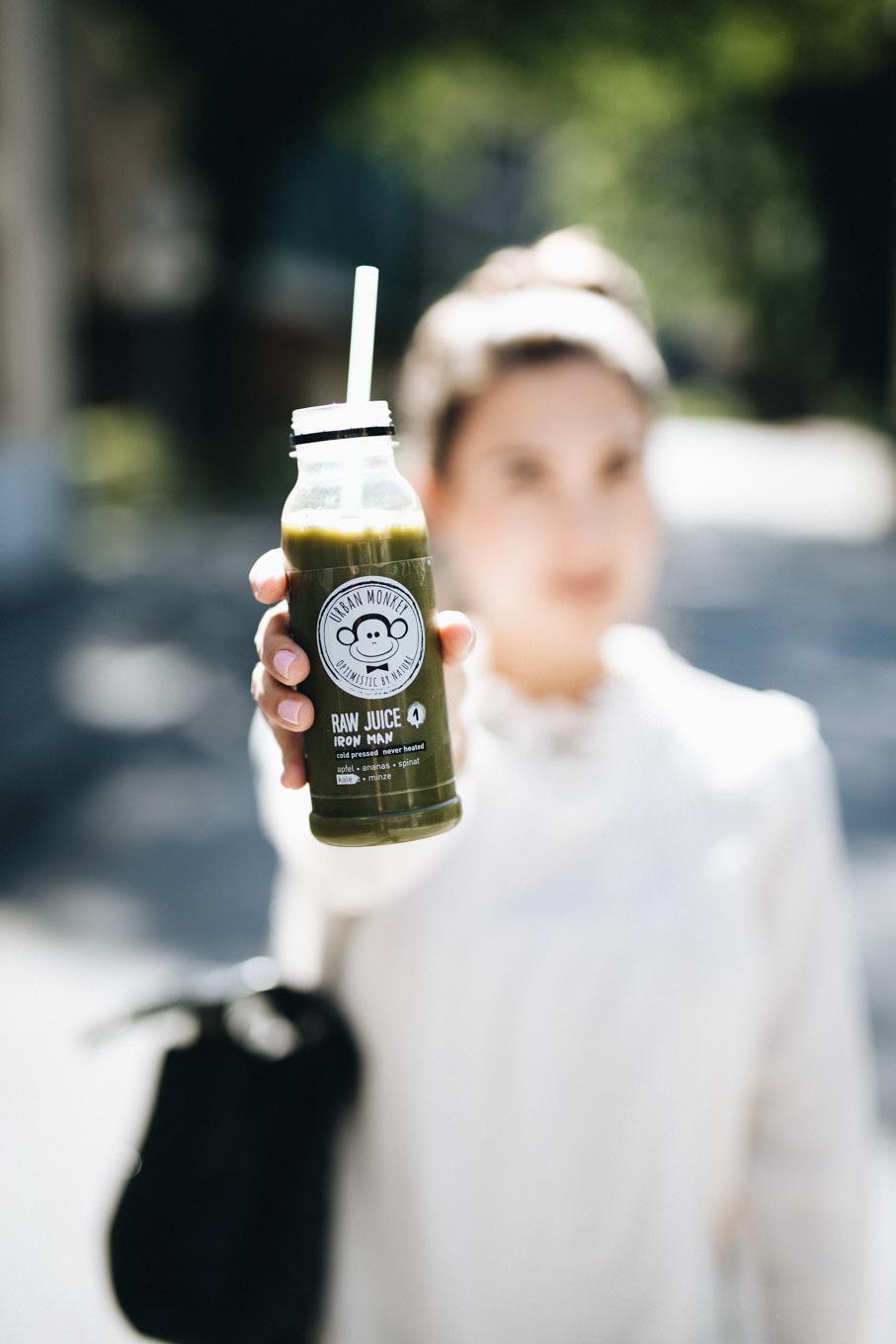 ---
*in collaboration with Urban Monkey / Die Lieferei