As you might have read in this blog post already, Master Lin has given me the opportunity to test their natural cosmetic products. After getting to know the team of Master Lin and all the whole product range at a blogger workshop, I've now been using the products for the past 5 weeks and can finally give you a proper personal review.
It's my first encounter with organic cosmetic products and I was super curious to see how my skin would react to them. First of all, one fact that I find very interesting about the Master Lin range is that all products are suitable for every skin type. They are all based on the same ingredients: pearl and gold. Those two luxurious components (pearls are not vegan btw, in case you're wondering if the products are vegan) are combined with ingredients such as green tea, ginger, goji berry, rose, ginseng, aloe vera and other powerful natural substances.
Gold and pearl are two of the main ingredients of the products because these substances are known to be vitalizing and regenerating for the skin, making sure the skin gets all the essential nutrients it needs. Furthermore, Master Lin products can also be considered aromatherapy products, since they are working with lots of essential oils such as wild rose oil, avocado oil, apricot kernel oil, lavender, sandalwood and eucalyptus. All of the products have a rather strong scent based on the oils they are composed of. I guess you either are the kind of person who loves those smells, or you're not. I think there is hardly someone in-between. However, no matter if you like it or not, scents do have a certain effect on our body, mind and emotions, which can be very beneficial for our overall well-being.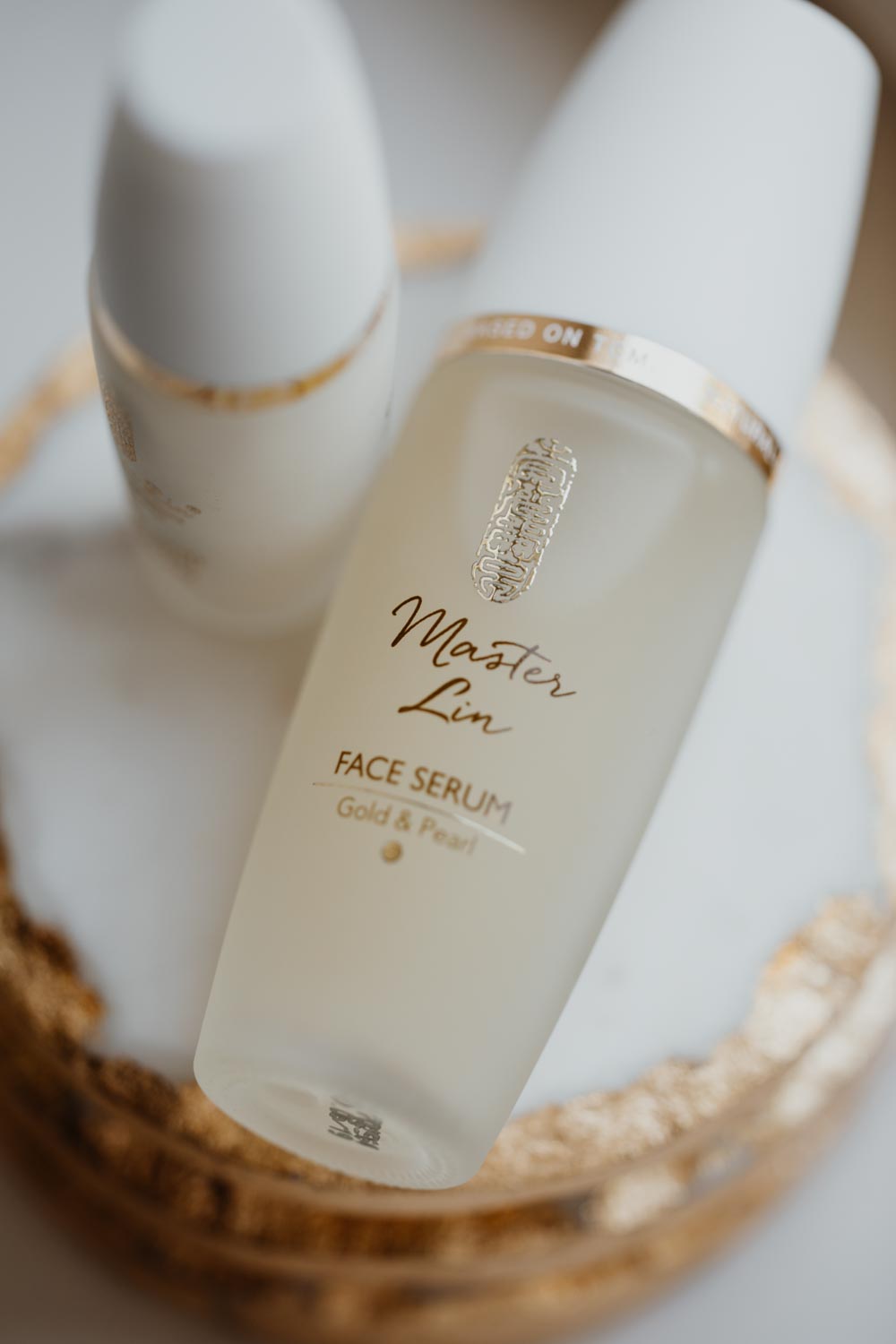 Here's my personal review of some of the Master Lin skin and body care products, which I've been using for the past weeks:
Master Lin Cleansing Foam
What the products claims:
The fluffy white cleansing foam is fine-pored and silky and delivers what it promises: it thoroughly removes stubborn dirt, oiliness and make-up residue in a gentle caring way leaving skin feeling pleasantly fresh and clean.
What I think:
The cleansing foam keeps everything it promises. It's made with green tea, ginger, pearl and tiger grass, which you can clearly recognize by its smell. I especially love the super creamy and soft formula that leaves your skin very refreshed and feeling completely clean. Even full coverage foundation and concealer can be easily removed with it. The skin feels ready for all the upcoming steps.
Master Lin Facial Tonic
What the product claims:
Enjoy this wonderfully strengthening and refreshingly fragrant formula: whether it's as a facial tonic, body splash or hair refresher! The tonic is ideal for everyday use wherever a boost of freshness is required in between!

What I think:
I used the facial tonic as second step in my skin care routine day and night. The smell is rather refreshing, since one of the main components is bergamot which is known to be an antiseptic mood enhancer. Any dirt that's potentially left after using the cleansing foam is definitely gone once the tonic was used.
Master Lin Face Serum
What the product claims:
An ideal gift for tired, stressed and in particular dry skin. The face serum impresses through its lightness and the feeling of freshness. It leaves your skin feeling hydrated and smooth for a long time.

What I think:
It's no big news that I'm a lover of a good face serum. No wonder why this little product has also been one of my favorites throughout the past five weeks. The texture is very silky and absorbed by the skin very quickly. To me, the serum smells like a spa holiday – just like as if you've stepped out of the sauna. After application the skin feels very smooth and even, and I can highly recommend it to anyone who loves a good serum as much as I do.
Master Lin Body & Face Oil
What the product claims:
A powerful composition of precious essential oils and plant extracts.
Has a positive effect on the skin's ability to retain moisture and its elasticity, leaves a smooth, velvet feeling on the skin and envelops the body with a sensual fragrance. Should be used for the face on a regular basis.
What I think:
The body & face oil has been one of the products I've been most curious to try. I've heard lots of good things about this particular product already and could not wait to try it myself. Although I love its texture and the way my skin feels after applying, the quite strong smell of lotus flower, pine needle oil and Damask rose is a bit overwhelming to me, which is why I didn't incorporate the product in my daily routine as much. If you love the smell though, I'm sure this product will be your BFF.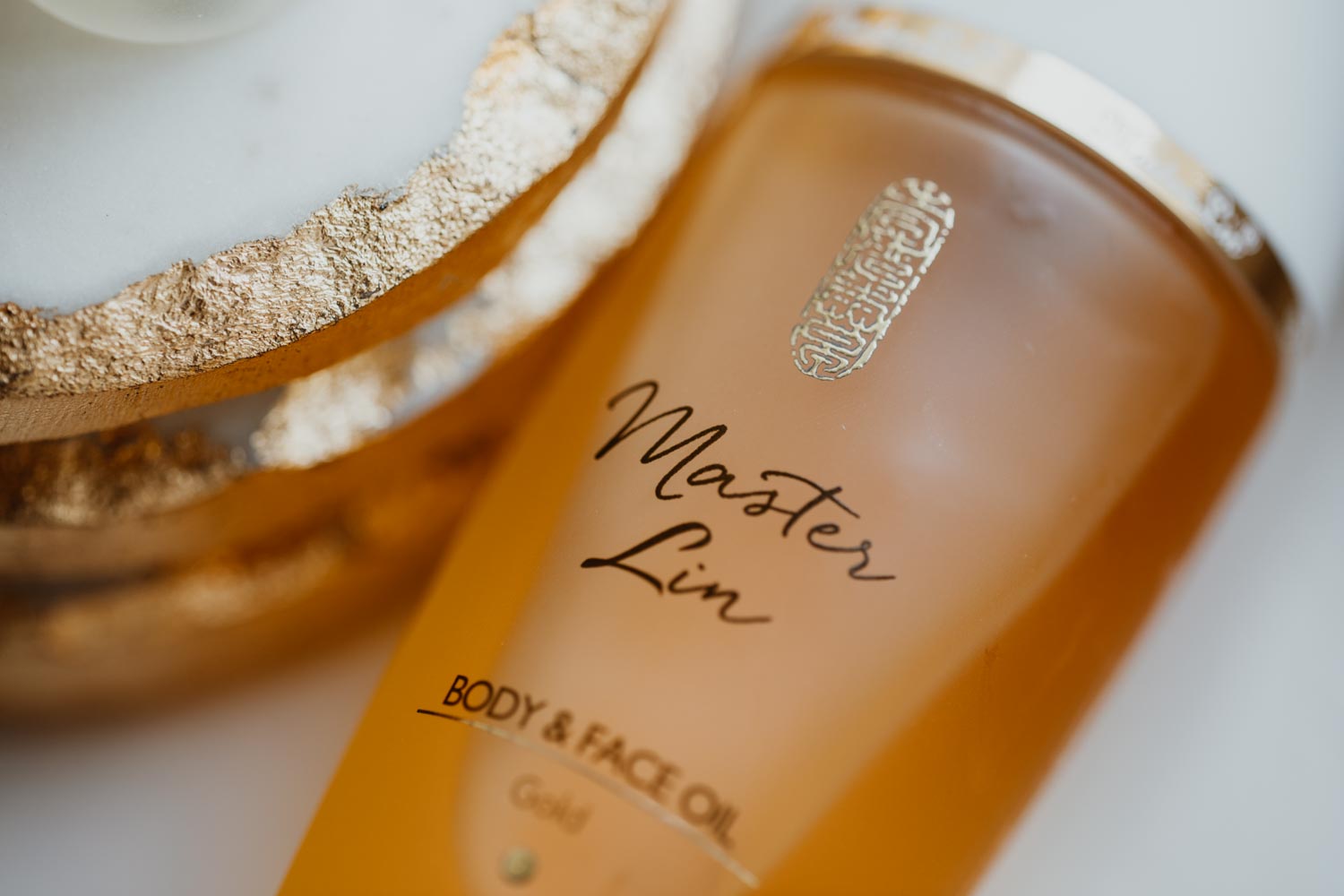 Master Lin Gold & Ginseng Face Cream
What the product claims:
Gently balancing moisturising cream for every day – light texture, pleasant scent.
This simple city cream is still impressive though: The high concentration of active ingredients speaks for itself and is clearly visible after just one use.

What I think:
The face cream is the perfect companion for daily use. It has a rather subtle smell, keeps the skin hydrated all day long and has a rather matte finish.  Also, foundation can be applied very easily on top of the face cream.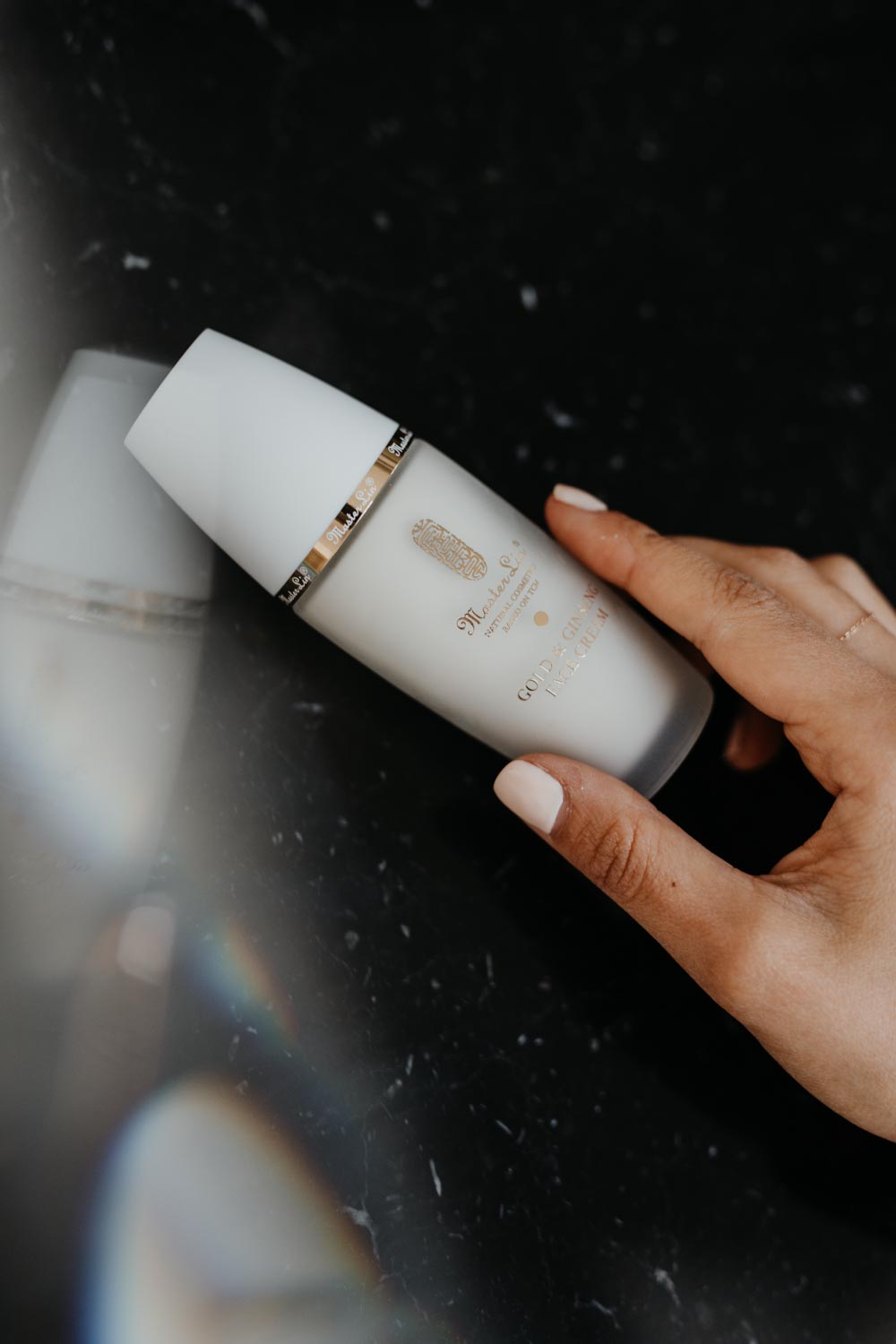 Master Lin Gold & Goji & Ginseng Eye Cream
What the product claims:
The revitalising formula combined with the refreshing, fast absorbing texture makes this eye cream a really nourishing highlight. Select anti-oxidative and hydrating ingredients ensure long-lasting freshness, smoothness and youthfulness around the whole eye area.

What I think:
Just like the face cream, also the eye cream has a rather subtle smell which is quite pleasant. To me, it does feel like the cream is very hydrating for the eyes and also concealer that you put over it stays in place for a long time. At night, I sometimes used a bit more cream around my eyes and let it absorb completely before going to bed as a little extra treatment for puffy eyes.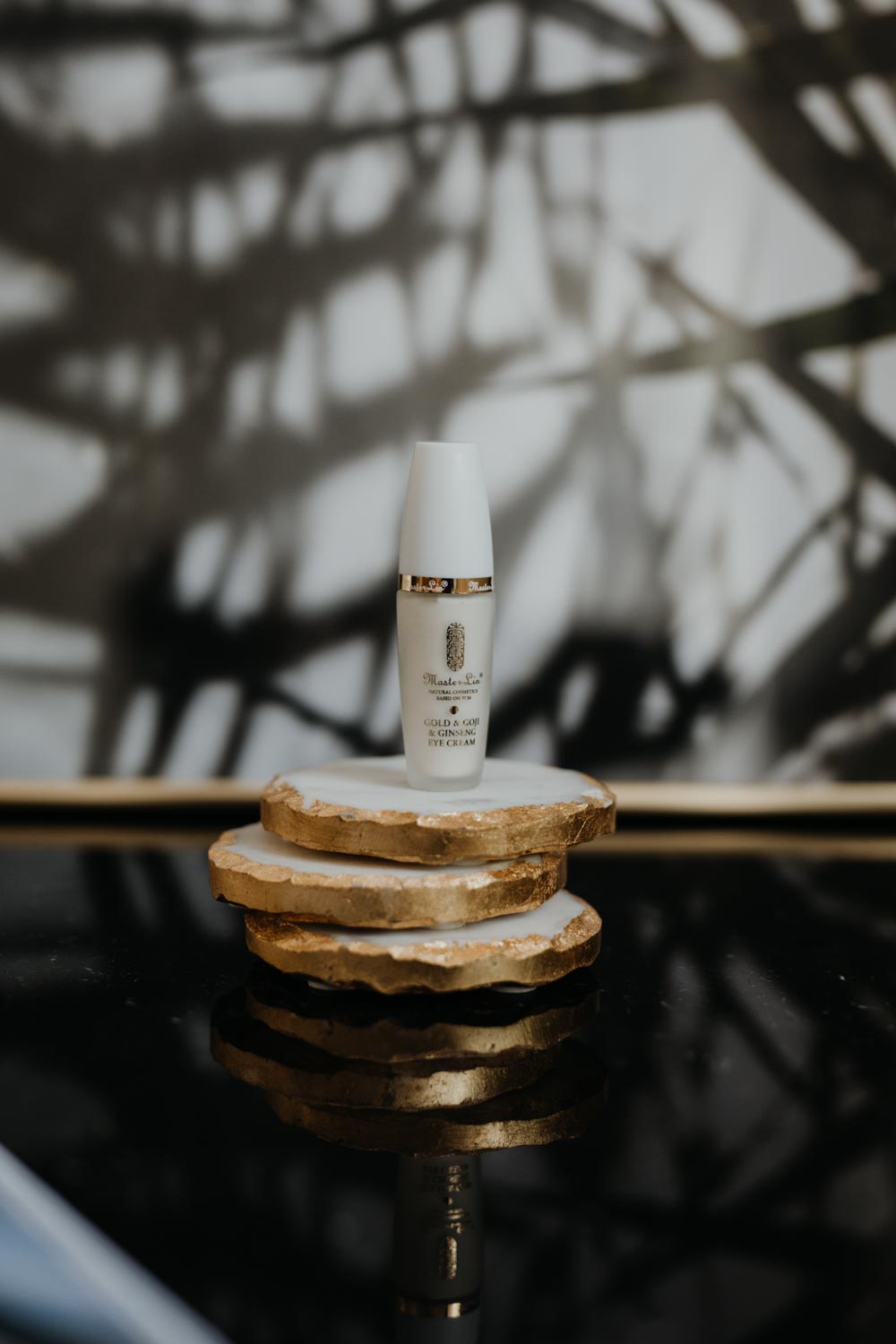 Master Lin Gold Body Lotion
What the product claims:
Shake well and off you go – the refreshing 2-phase body lotion provides an impressively nurturing experience.
It moisturises skin superbly enveloping the body in a subtle fragrance and leaving it looking its very best: smooth and silky.

What I think:
The gold body lotion has definitely been one of my favorite products throughout the past weeks. It's super easy to apply – it even works on wet skin right after showering and it's very refreshing. The smell is a lot lighter and fresher than of the face oil, and I like that it keeps the skin super soft all day long.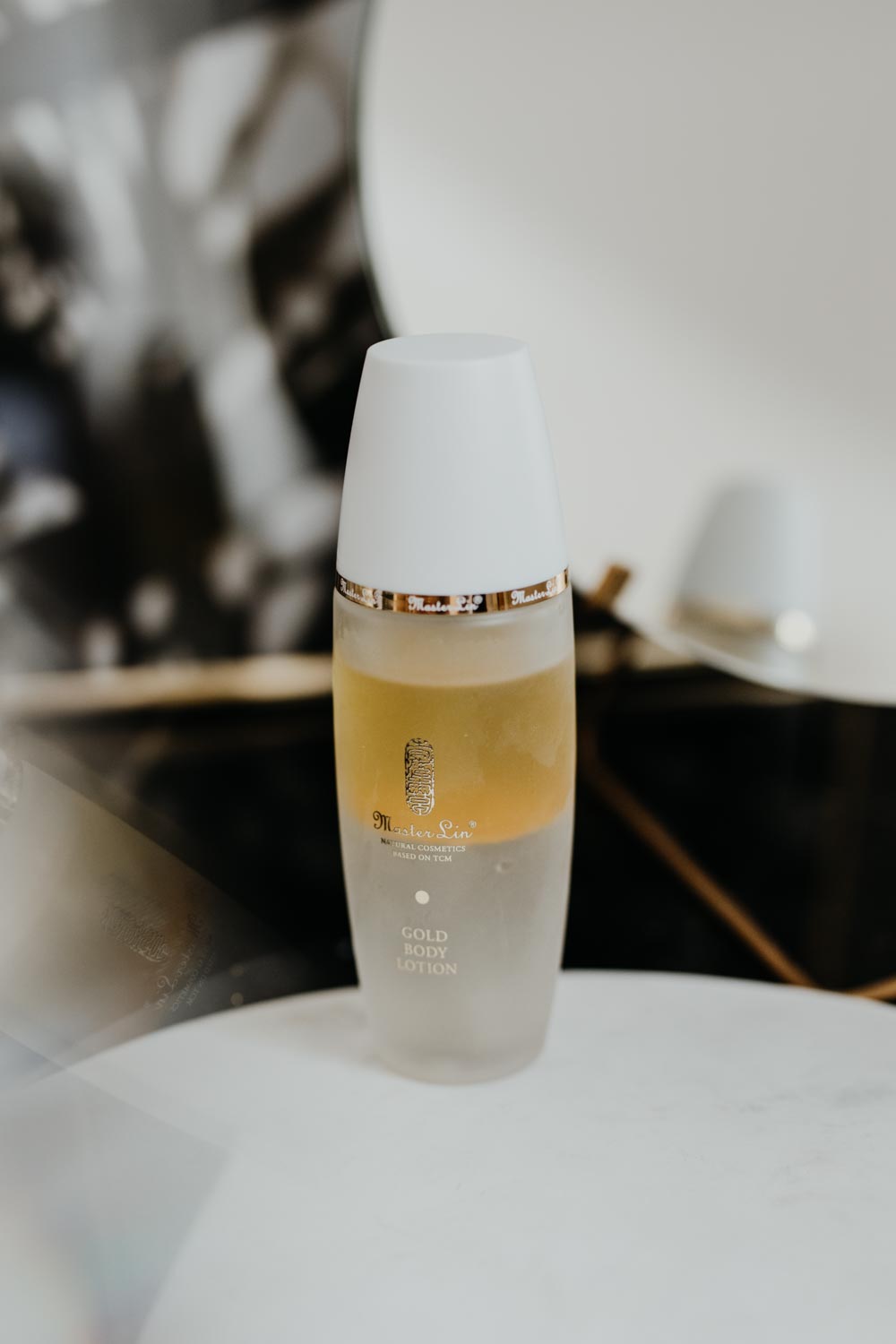 Master Lin Body Massage Brush
The body massage brush is also part of Master Lin's product range, and I was very excited when I got it at the workshop. I've heard about dry brushing and its benefits before, but never really got around trying it. The body massage brush which is consisting of horse hair and bronze wire is supposed to get your blood circulation going and has other great benefits such as shedding dead skin cells (and encouraging cell renewal), it will make skin more smooth and bright, it reduces the appearance of cellulite and helps your skin to absorb nutrients by eliminating clogged pores and so much more… I really got into the routine of dry brushing and can recommend it to all of you ladies out there!
All of this being said, I think it's safe to say that the Master Lin products are of highest quality and definitely worth giving a try. My skin is feeling very well at the moment – it would be a lie to blame this only on my recent skin care routine though. I have been eating very healthy the past few weeks, avoided all diary products, refined sugars and excess salt and savory dishes. I've been drinking at least 3 liters of water each day and have been working out at least 3 times per week. Of course, all of this is also partially responsible for my complexion and that my skin is very happy at the moment. However, think back to biology class at school and answer those questions: What is the largest organ in the body? What is one of the most important elimination organs in the body, playing a large role in daily detoxification? What organ receives a third of all the blood that is circulated in the body? When the blood is full of toxic materials, what organ will reflect this with problems? What organ is the last to receive nutrients in the body, yet the first to shows signs of imbalance or deficiency?
Answer for all: the skin!
That's why it's super important to treat our skin as well as we can, and give it all the nutrients it needs to work properly and be healthy. Choosing organic skin care products filled with the best ingredients possible is definitely a great start. Hence, I can highly recommend that you give it a go yourself and see how the Master Lin products are treating you.
If you'd like to test the Master Lin product range yourself you can easily order them online via the Master Lin web shop. If you're ordering from today until the 9th of May and use the code "MasterLinTesten" you'll get a Master Lin lip balm as a goodie with your order (over 50€). 
---
*advertisement in friendly collaboration with Master Lin