Outfit: My Skin Care Routine With Clinique
I guess most of us women are facing the same problem: We are reading about various products on blogs and in magazines, and curious as we are, we want to try them all. That's exactly what I did… I ended up having three different moisturizers for the day, various over-night face masks, toners, scrubs and cleansers that I used on a regular basis. Thinking that I did my skin a big favor with all these products, I got really frustrated because exactly the opposite was the case: My skin got super sensitive and irritated and I had more blemishes than ever before.
I've received a lot of questions regarding my skin care routine and about my secret to "flawless" skin. Although I did feel very humbled by the fact that my skin appears to be flawless to some of you, I have to make this clear right away: My skin was not always like that. The real secret to having a glowing appearance lies beneath it all: It starts with great skin. So today I'm going to tell you everything about my skin care routine and my experience with the Clinique 3-Step Skin Care System.
Truth is, my skin got so bad that I ended up making an appointment at a dermatologist to see what's wrong. After carefully examining my skin the doctor was able to tell me the result of my irritated skin quite quickly. Diagnosis: Wrong skin care products used too excessively. I was sent home with the advice of reducing my skin care products to the essentials and to have my skin analyzed in order to find out what skin care products are right for my skin type.
Immediately sorting out my bathroom cabinet, Clinique stepped in and offered to analyze my skin and find the right products for me. This was a very lucky coincidence, especially because my personal history with Clinique is dating back to my teenage years, when my Mom first gave me some of her products to try. Long story short: Clinique invited me to an in-depth seminar where I learned everything about the history of Clinique and where also my skin was analyzed and my skin type got defined. Afterwards, I was given the iconic 3-Step Skin Care System that fits the needs of my skin. As I am writing this today, I can honestly say that my skin is the best it's ever been after only 14 days of being fully committed to the simple 3-Step routine.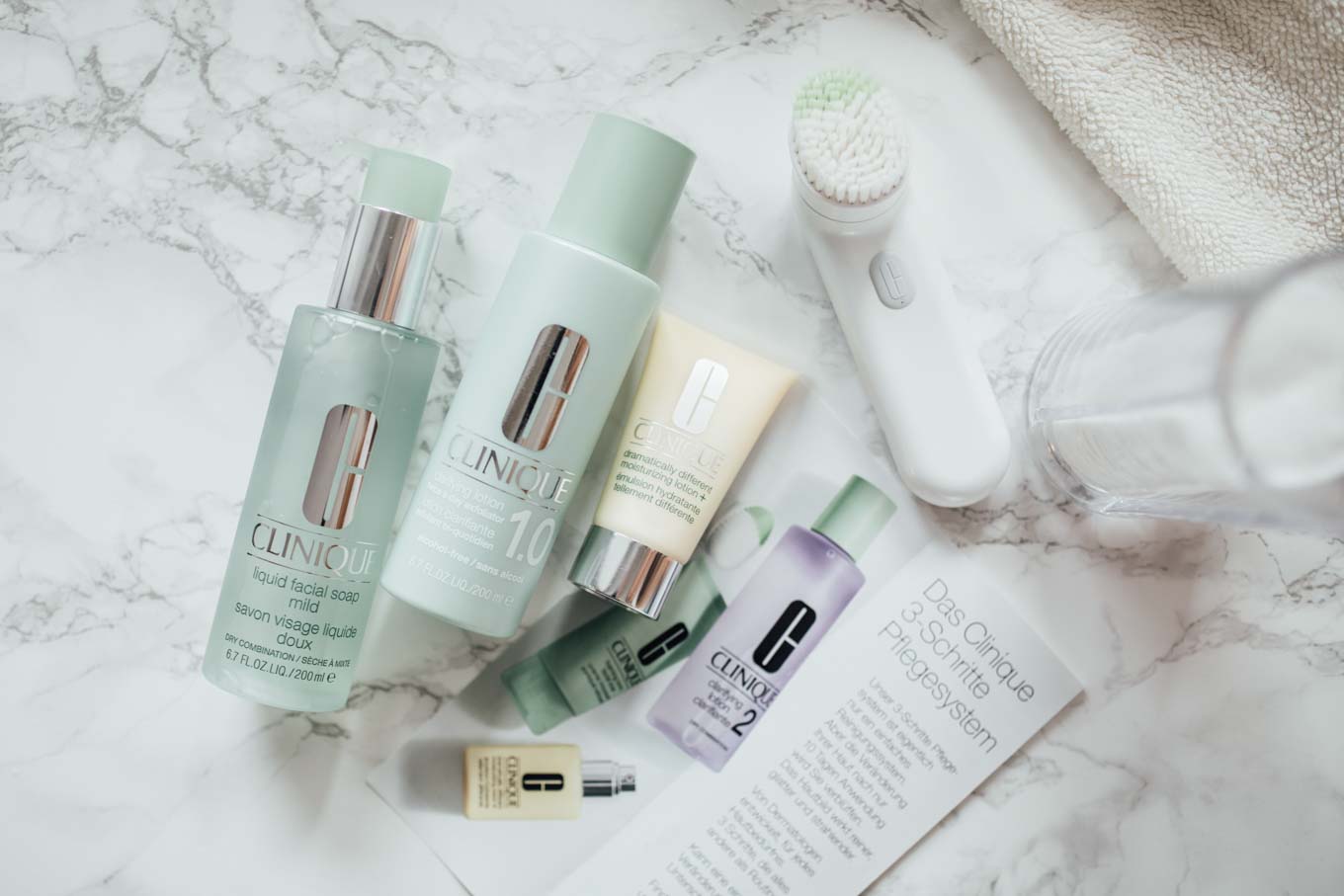 Here's what I learned at the seminar with Clinique — all the secrets of how to have beautiful skin:
Know your skin type:
According to Dr. Norman Orentreich, Clinique's founding dermatologist, there are four different skin types: Very Dry to Dry (Skin Type 1), Dry Combination (Skin Type 2), Combination Oily (Skin Type 3) and Oily (Skin Type 4).
For all my life I had rather dry skin and therefore thought I need to use as much moisturizer as possible. Turned out, I am Skin Type 1 and do have very dry skin, which means my skin does not only need moisturizer on a gel basis, but richer substances to keep it hydrated. Also, the toners I have been using were way too strong for me, which resulted in even drier skin. Once I started using the 3-Step regimen for Skin Type 1, my skin finally was perfectly nourished again and started to feel comfortable.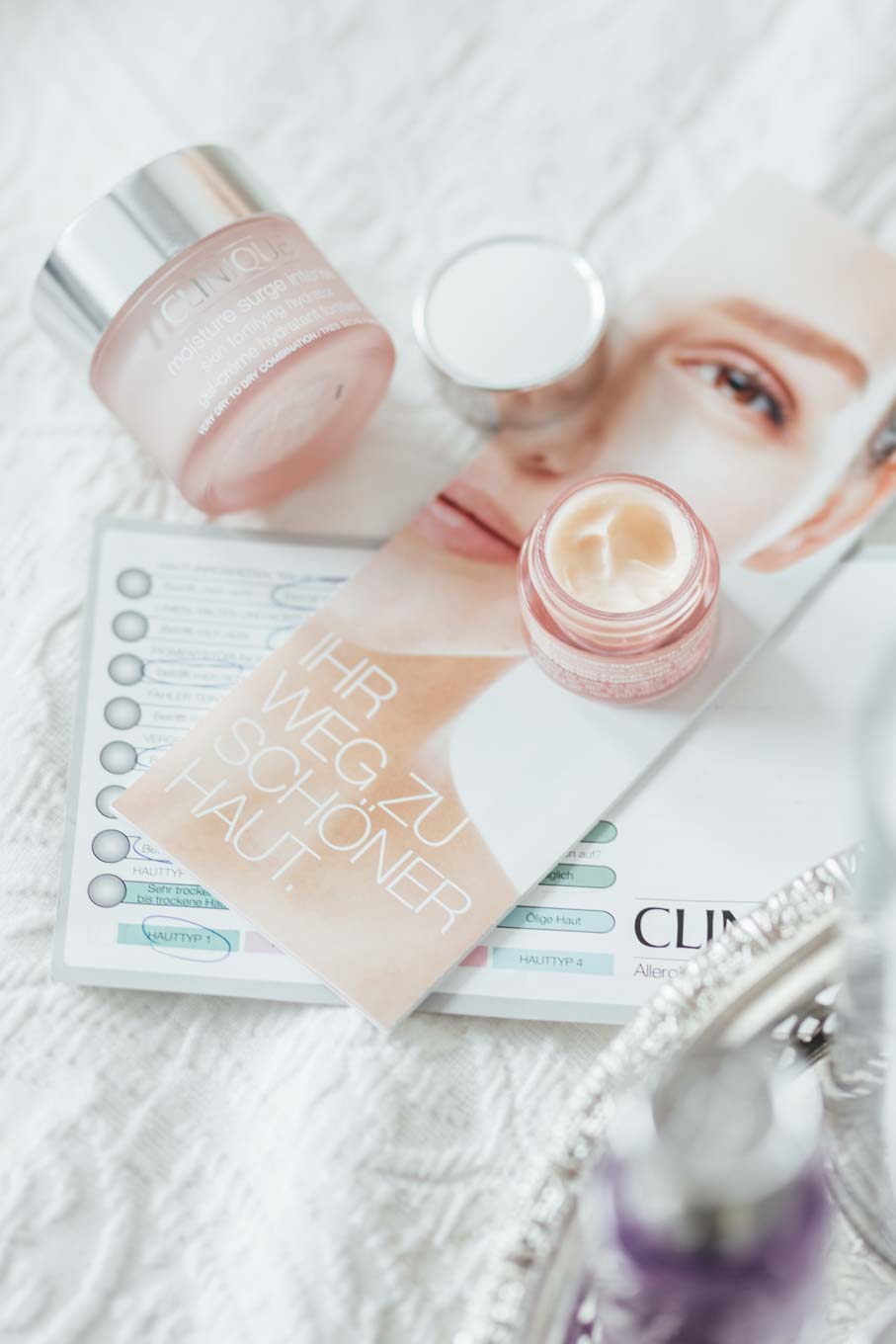 STEP 1 – Great skin starts with cleanliness:
Skin can only absorb all the caring nutrients if it's prepared for it. First of all, this means that removing the make-up is a must. Clinique told me everything about the double cleansing method, which is simply removing your make-up first and then continuing with a gentle face wash. Up until then, I always thought the facial soap would be the product to remove my make-up. I was introduced to the Take The Day Off Cleansing Balm, which is a lightweight make-up remover that transforms from a solid balm into a silky oil upon application. It makes sure your skin is thoroughly clean and paves the way for the 1st step of the 3-Step routine: The Liquid Facial Soap. It's designed to remove dirt and oil, and raises the pH level of your skin. For my skin type, I use the Liquid Facial Soap Extra Mild, which cleans very gently, rinses easily and leaves behind nothing but clean skin. After cleansing, my skin feels so comfortable, I don't even feel the need for moisturizer anymore. Clinique's experts told me that this is the best sign that I'm using the right formula for my needs.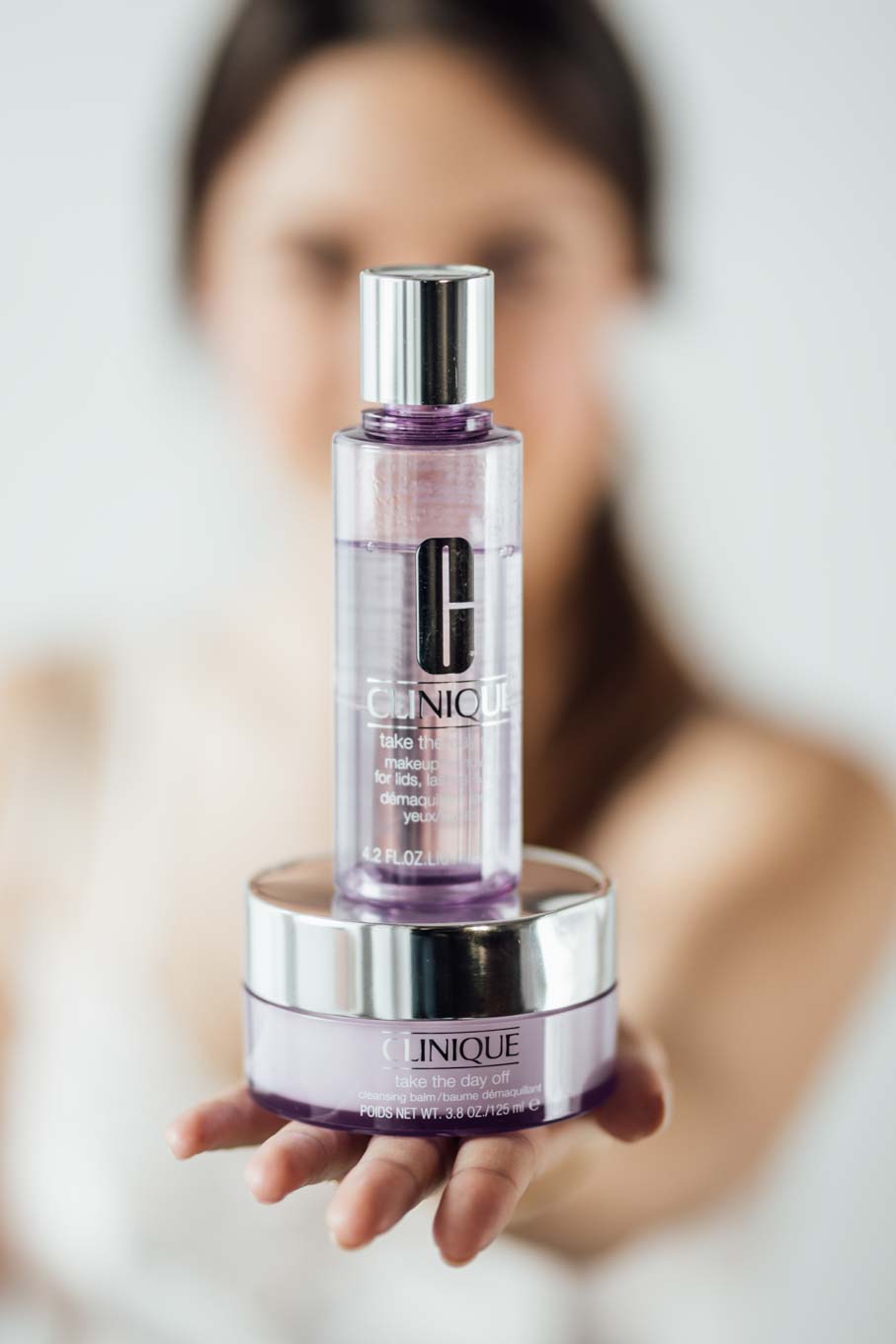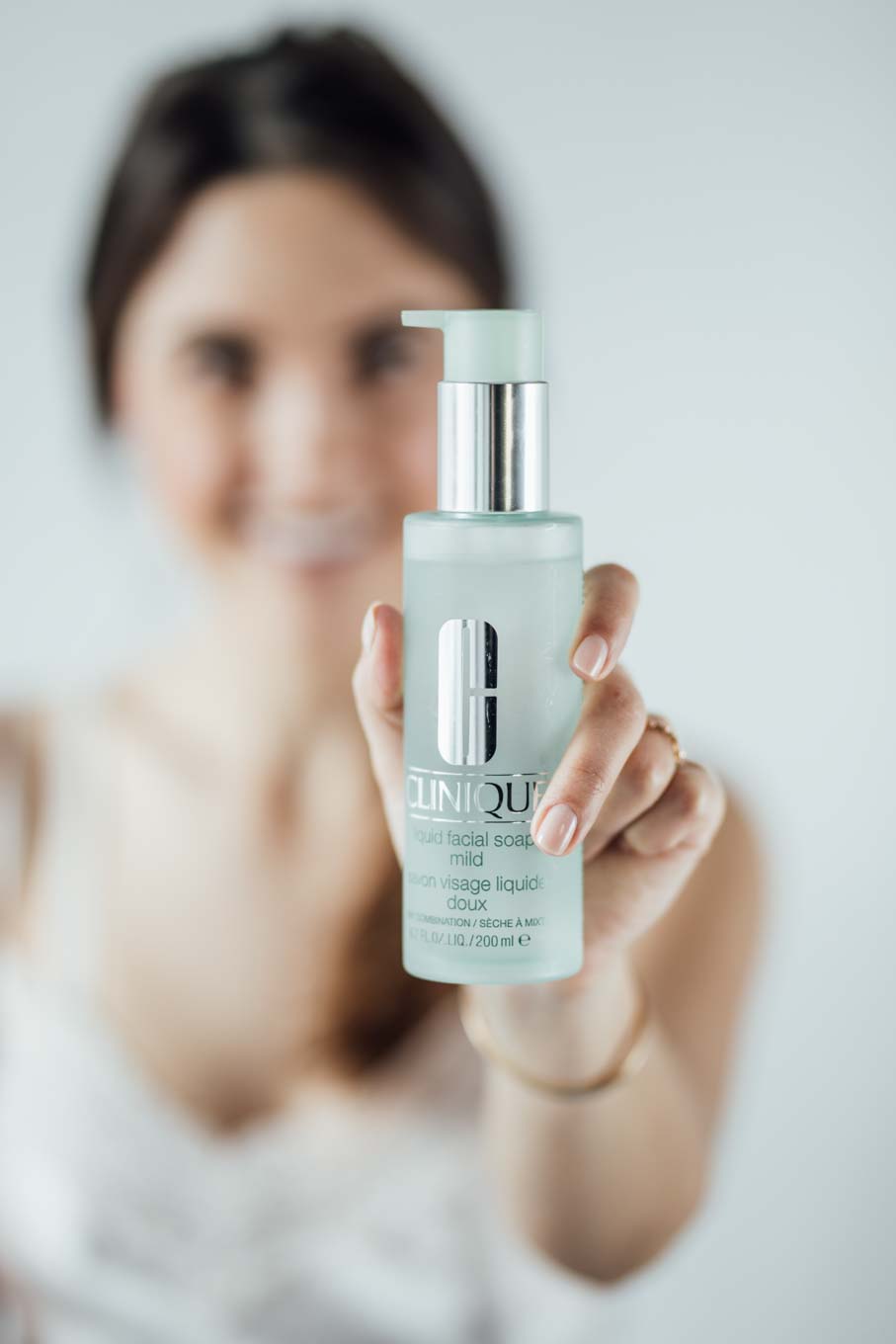 STEP 2 – Gentle, daily exfoliation is the secret to healthy skin:
During the skin seminar I learned that healthy skin naturally renews itself every 28-30 days. As we get older, our skin appreciates a little help keeping up with the pace of skin renewal. And this is the magic of Step-2: Exfoliation. By exfoliating on a regular basis we help to increase cell turnover and reveal newer, better-looking skin.
"Exfoliation is like exercise; it's safer to follow a custom fit, moderate program on a regular basis, than to overdo it randomly," says Clinique guiding dermatologist Dr. David Orentreich. "It's better to exfoliate twice a day using mild or moderate exfoliation than to exfoliate once a week with an extremely harsh process." That's the point of Clinique's Clarifying Lotion, which was created to be used twice a day to gently sweep away dead surface cells that make skin look dull, rough and flaky, keeping blemishes at bay without any irritation or drying. There's a Clarifying Lotion for all four skin types, the difference among them being the strength of the exfoliation.
I've been using the Clarifying Lotion since I was a teenager. However, I didn't know I was using the wrong formula for my skin type. The lotion I was using was way too strong for my sensitive skin, which made my skin even drier as a result. Now I'm using the Clarifying Lotion 1.0, which is an alcohol-free formula that helps to reveal fresher skin. It's the mildest lotion in the range for very senstive skin like mine. Its non-drying leaves the skin radiant and ready for the last of the 3 steps.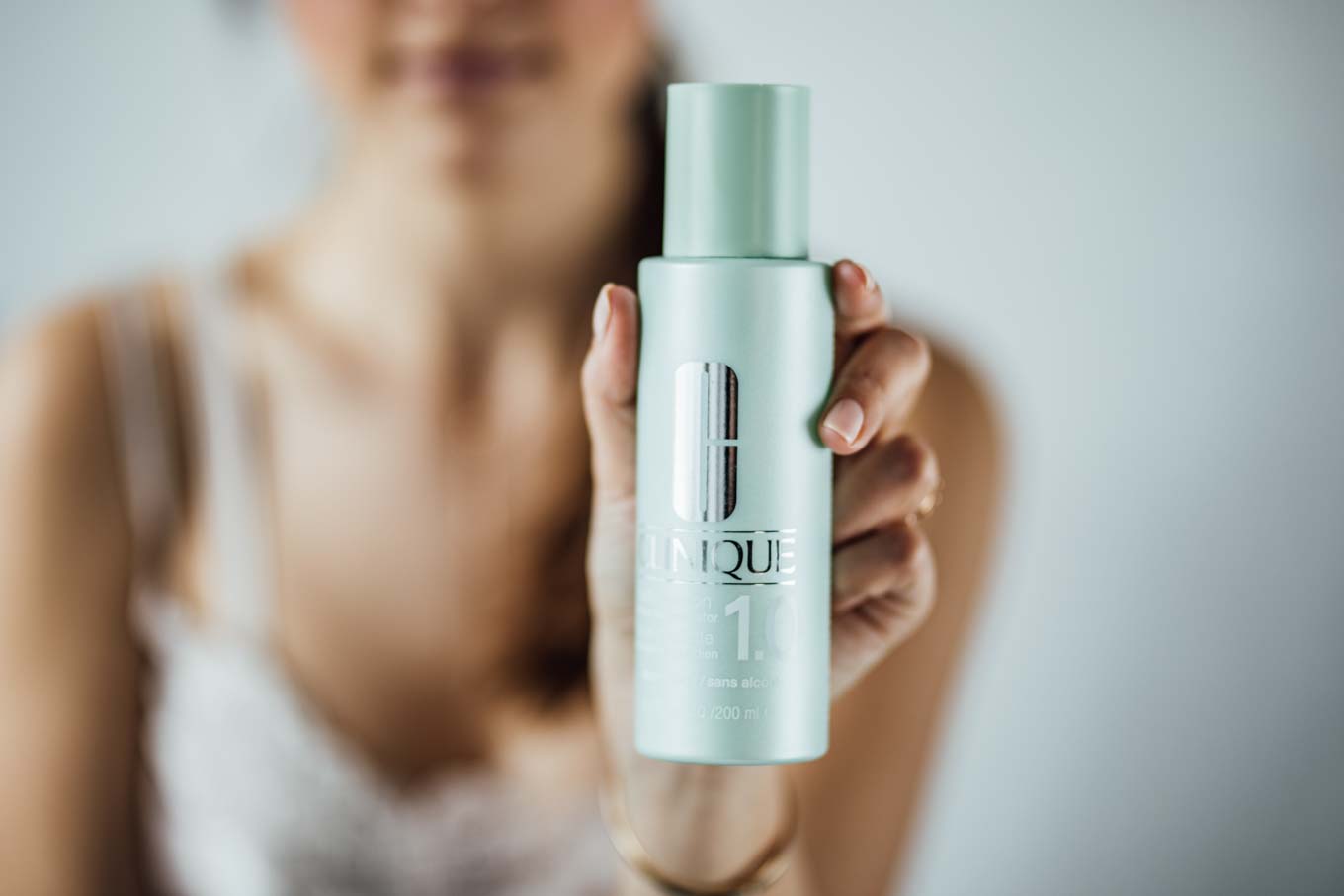 STEP 3 – Moisturize, moisturize, moisturize.
My skin always used to be rather dry, so I guess as a natural instinct I always craved moisturizers. The only problem I had again was my lack of knowledge. I did use various moisturizers, but all of them on a very gel-like basis. During my skin analysis, I found out that the texture of the moisturizers I used were simply not rich enough for my skin.

All of the Dramatically Different Moisturizers restore lost moisture by duplicating the exact oil and water balance that naturally occurs in healthy skin, so you receive the perfect amount of both. It also helps strengthen your skin's moisture barrier for better moisture retention and all around plumpness. For my skin type, I was recommended to use the Dramatically Different Moisturizing Lotion+. Applied after exfoliating the skin, this lotion is absorbed instantly and helps strengthen the skin's own moisture barrier by 54%, so more moisture stays in — it's also the perfect make-up prep step.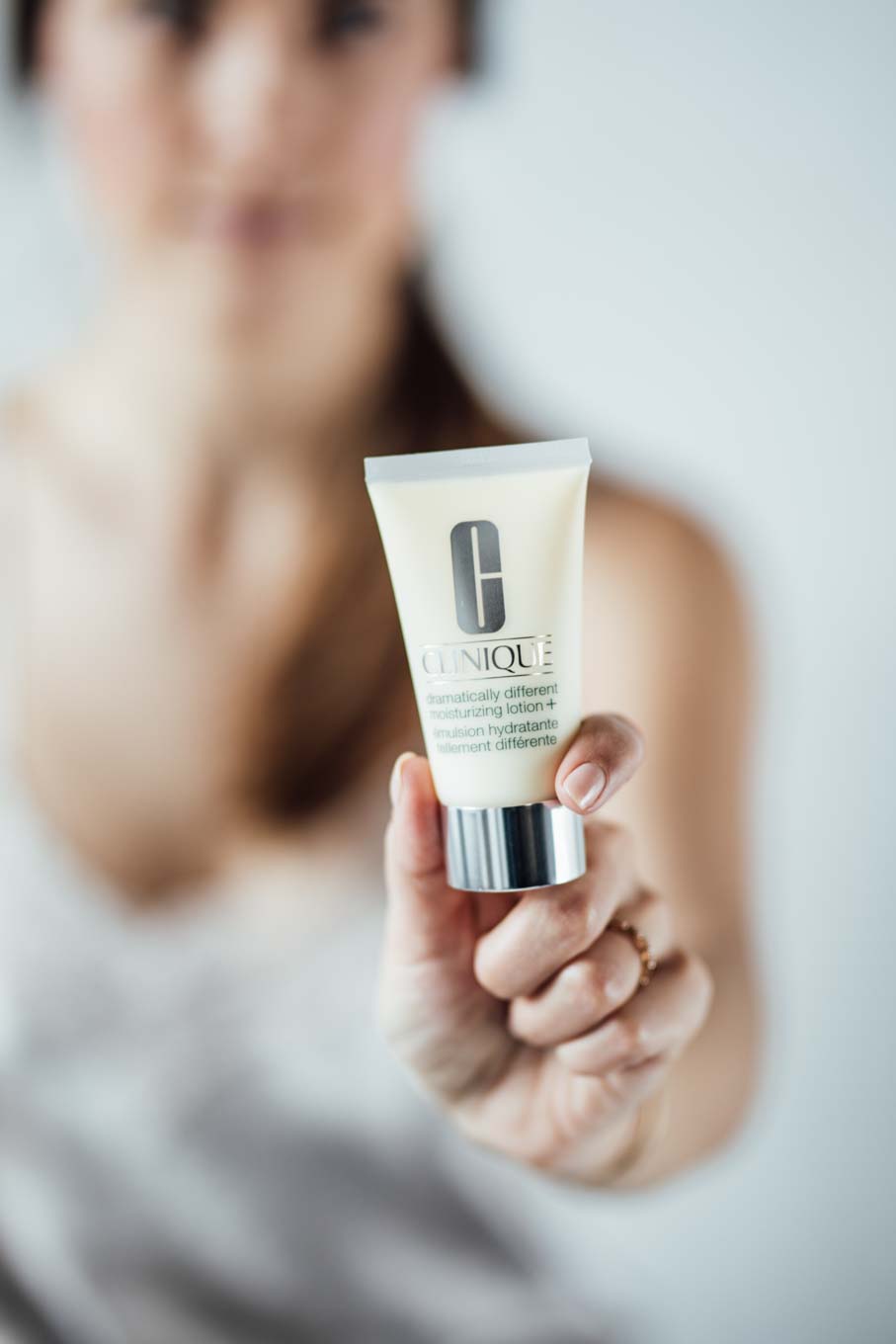 Additional helpers:
Although the skin is optimally cared for after the simple 3-Step routine twice every day, there are a few other little helpers that I'm using and that I can highly recommend to reach your skin's full potential:
The Clinique Sonic System Purifying Cleansing Brush was developed by dermatologists to make the 3-Step Skin Care routine even more effective. The brush is taken for Step 1 to apply the Liquid Facial Soap in circular movements evenly on the face. It only takes 30 seconds – 5 seconds each on the forehead, nose and chin, and 15 seconds on the cheeks. The moisturizer sinks in even better after using the Sonic Cleansing Brush and the skin feels as soft as it ever has. I didn't believe it myself before I tried it, but the difference it makes is tremendous. Hello delicate skin!
Especially in winter, I often feel like my skin needs some extra help staying smooth and plump. Therefore I like using the Moisture Surge Intense Skin Fortifying Hydrator after applying the moisturizer in Step 3. Its rich, oil-free cream-gel plumps the skin for 24-hours and instantly rehydrates it. It is absorbed quickly and gives the face a satin like finish. It is super easy to apply the foundation on top of it, and I love how it makes my skin feel smooth for the whole day.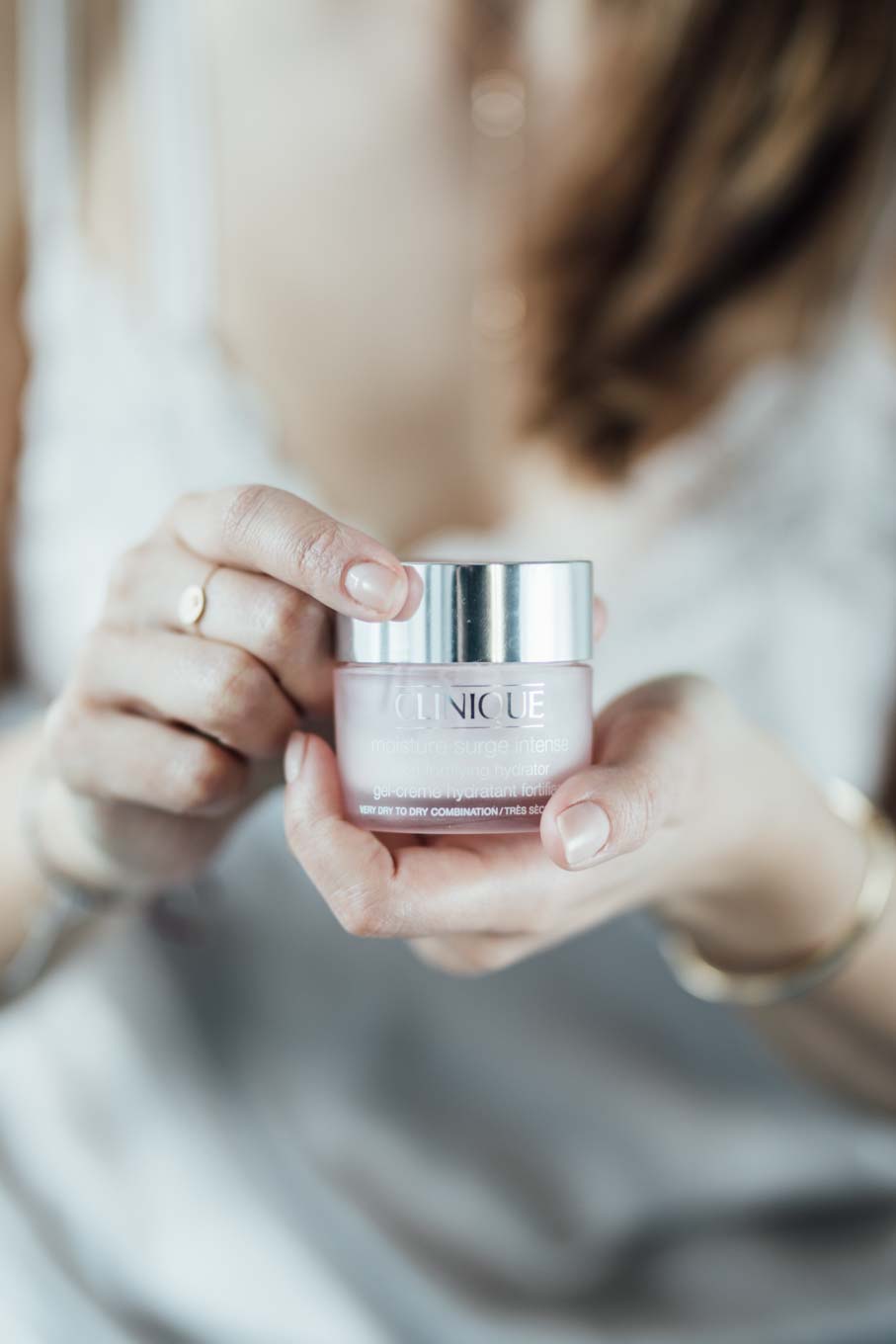 Last, but definitely not least, one of my favorite little cream jars is the All About Eyes cream. It's a lightweight eye cream that diminishes the appearance of puffs and under eye circles in the morning. It also helps to hold eye make-up in place. Additionally, it reduces fine lines around the eyes. Nice side effect, since we're all not getting younger, right?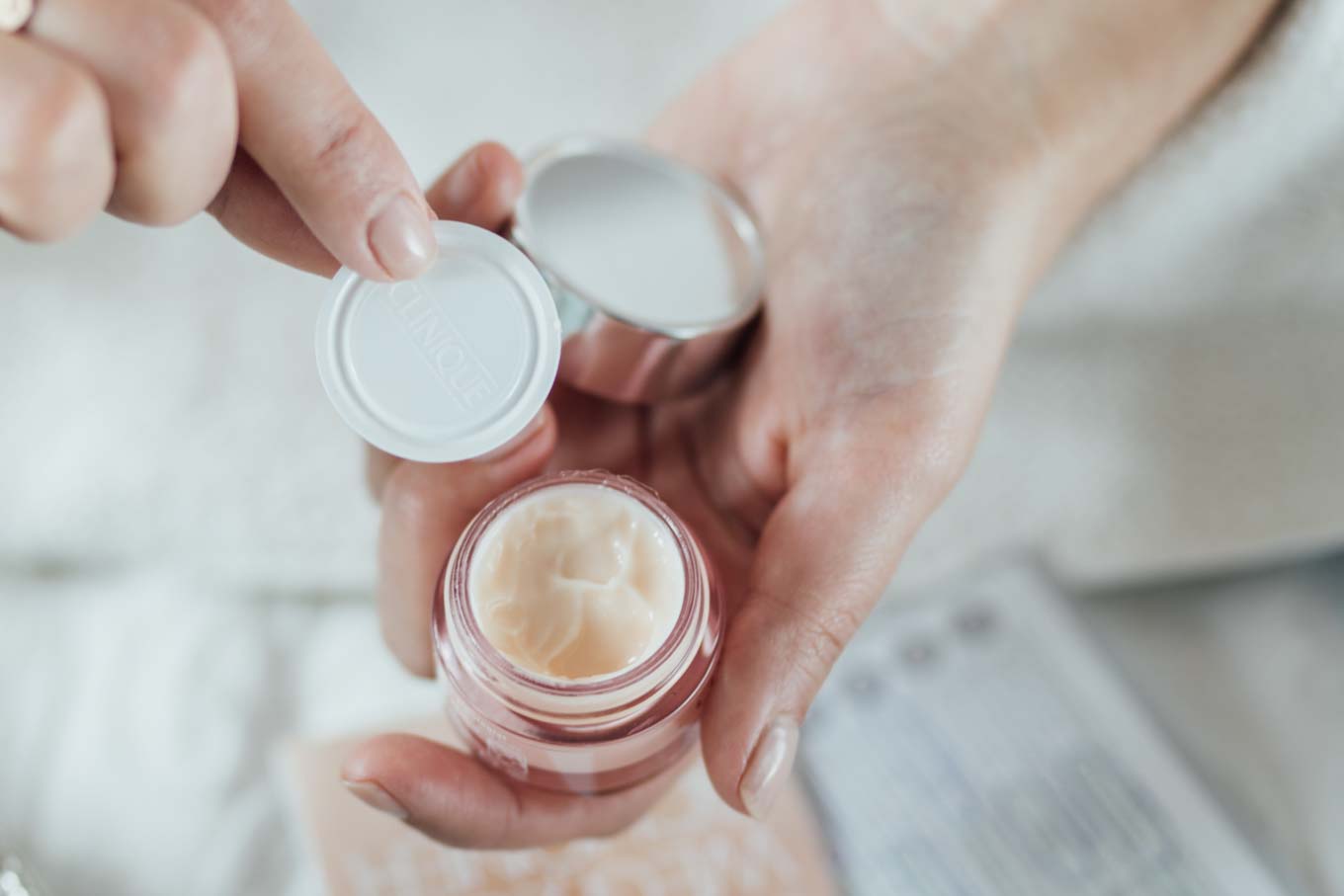 The moment of truth:
As mentioned before, I have been using various skin care products throughout the years already. The skin seminar as well as the two weeks of using Clinique products now, have shown me that I have not only just used the wrong products for my skin type, but also totally used them in a wrong way. I now understand that it's not about the sheer number of products you use, but how they all work together. Each of the steps in the 3-Step Skin Care System is specially formulated to optimize one another—and the best results happen when you use them all together.
I was able to notice a boosted glow in my skin after the first two days of starting 3-Step – now after two weeks other people start noticing it too. All the blemishes I had are starting to disappear, the blackheads on my nose are barely noticeable, my skin looks a lot fresher, feels softer and it just looks healthy. If I wasn't that pale right now, there would basically be no need to even wear a foundation.
Another big advantage of the easy 3-Step routine is the fact that it's only a few products that I need for my daily skin care. Everyone who is on the go a lot can probably relate to what I'm talking about: The tedious act of packing up half of your bathroom when you're going on a weekend trip. Well, that definitely just got a whole lot easier! Clinique offers those special starter kits customized for each skin type. Just saying: It's a life saver when it comes to traveling with carry-on luggage only…
Are you curious to know your skin type and try your own 3-Step skin care customized to your skin's needs? Together with Clinique I'm excited to give away a free skin analysis at a Clinique counter in Salzburg for 3 of my readers. Just let me know in the comment section below, if you'd like to know your skin type and learn everything on how to get glowing skin. The 3 winners will be announced via email on Sunday, 29th of January. Good luck <3
---

*in dermatologically friendly collaboration with Clinique