In-between everything.
I've been MIA on the blog for this whole week and it feels super odd that I haven't been posting anything here. It's not like I don't have anything to show or tell you, quite the contrary: So many things are happening at the same time at the moment, and I feel like I'm constantly caught in-between everything. The time all my friends who got married already have warned me about has finally begun: This week was filled with so many wedding related things that I hardly had time for anything else. Our invitations are finally being printed, envelopes have been ordered, we even got our own personalized monogram wax seals… If anyone would have told me a couple of months ago that I'd be running errands organizing those things, I would have laughed in disbelief. But I tell you… weddings make you do crazy things.
Talking about crazy things:
Yesterday we signed the official documents to get married in September and it literally only takes 15 minutes including the waiting time in the hallway at the civil registry office. It's nothing more that signing a paper that you and your future spouse want to tie the knot and the official decision which last name you want to carry once you're married. And still: This little task got me so emotional yesterday that I almost couldn't pull myself together for the rest of the day. How am I ever gonna survive my own wedding day, I'm wondering? I'm afraid no waterproof mascara will ever be able to survive the amount of happy tears I'm gonna cry on that day.
Between all the wedding planning we've also picked up the search for a new apartment again. We've been looking for a new place since over a year already, but none of the apartment we've found have quite matched our expectations. The term apartment hunting has become a totally new meaning in this city… but we're not giving up our hopes yet that the home of our dreams is still somewhere out there. Just before we've had a viewing of an apartment that comes pretty close to what we're looking for – so let's see (and keep our fingers crossed).
On a fashion related note:
On days that I spend on the go most of the time between business meetings, house viewings, running to the post office and eventually in front of my laptop in the office, my outfit choice is always quite simple. Leather leggings with a silk camisole and a statement blazer, combined with comfortable shoes and a cool bag always does the trick and works for all the appointments on the agenda. Also, can we quickly talk about my new bag baby? If you've been following along for a while, you all probably know how much I was drooling over the Gucci Dionysus bag (but the price tag always kept me from buying it). A couple of weeks ago I found this beautiful bag by Agneel on Instagram and it was love at first sight. I love the box shape, the two separate compartments on the inside and the length of the chain strap. You can wear it short over one shoulder or cross body, and the quality of the leather and hardware is top notch! You'll definitely see me a lot with this bag in the future… For now I'm off to the post office again, because I've just missed the delivery of what I think could be our wedding invitations. Given the amount of times I've been to the post office lately I feel like all of the post office clerks greet me by name already.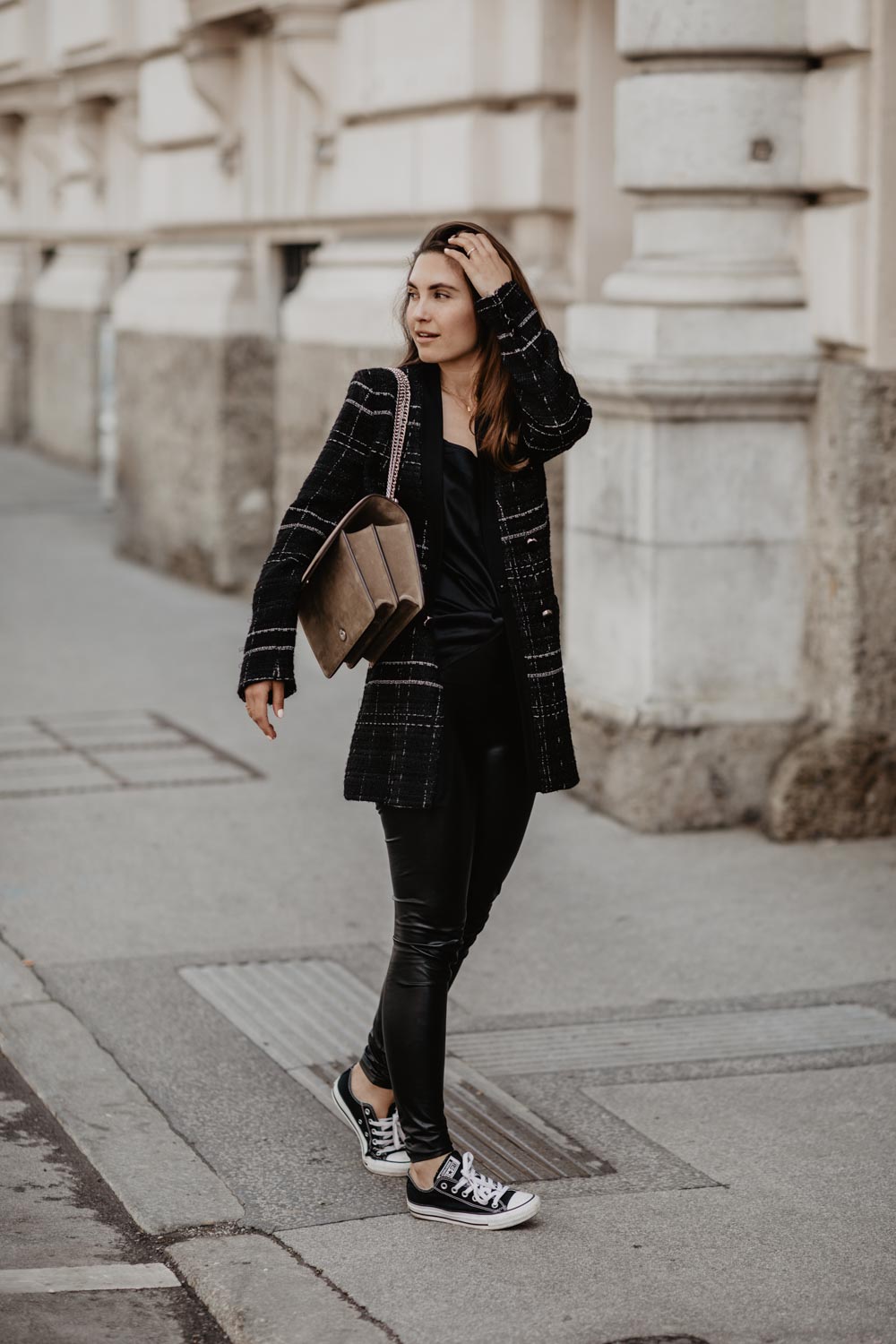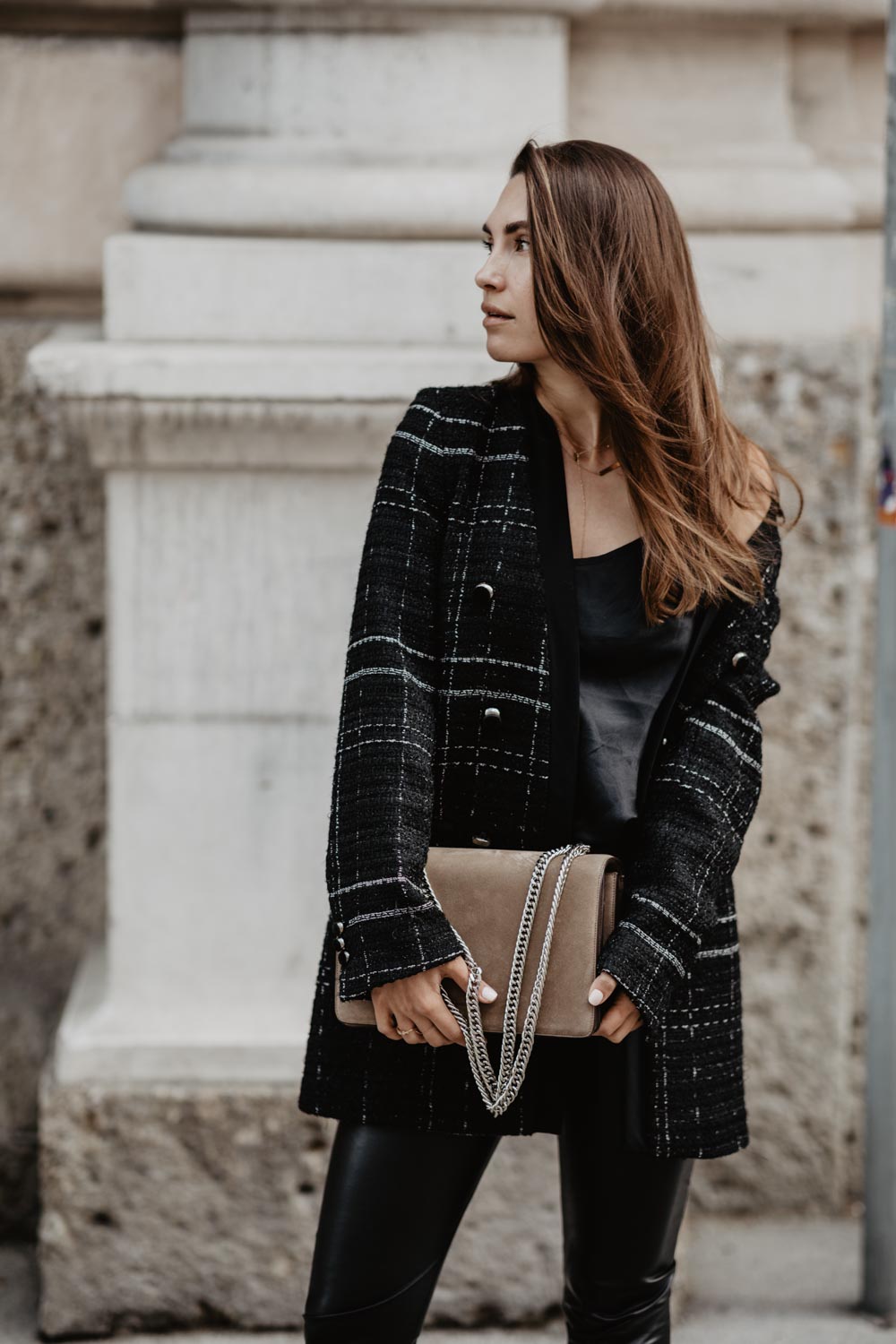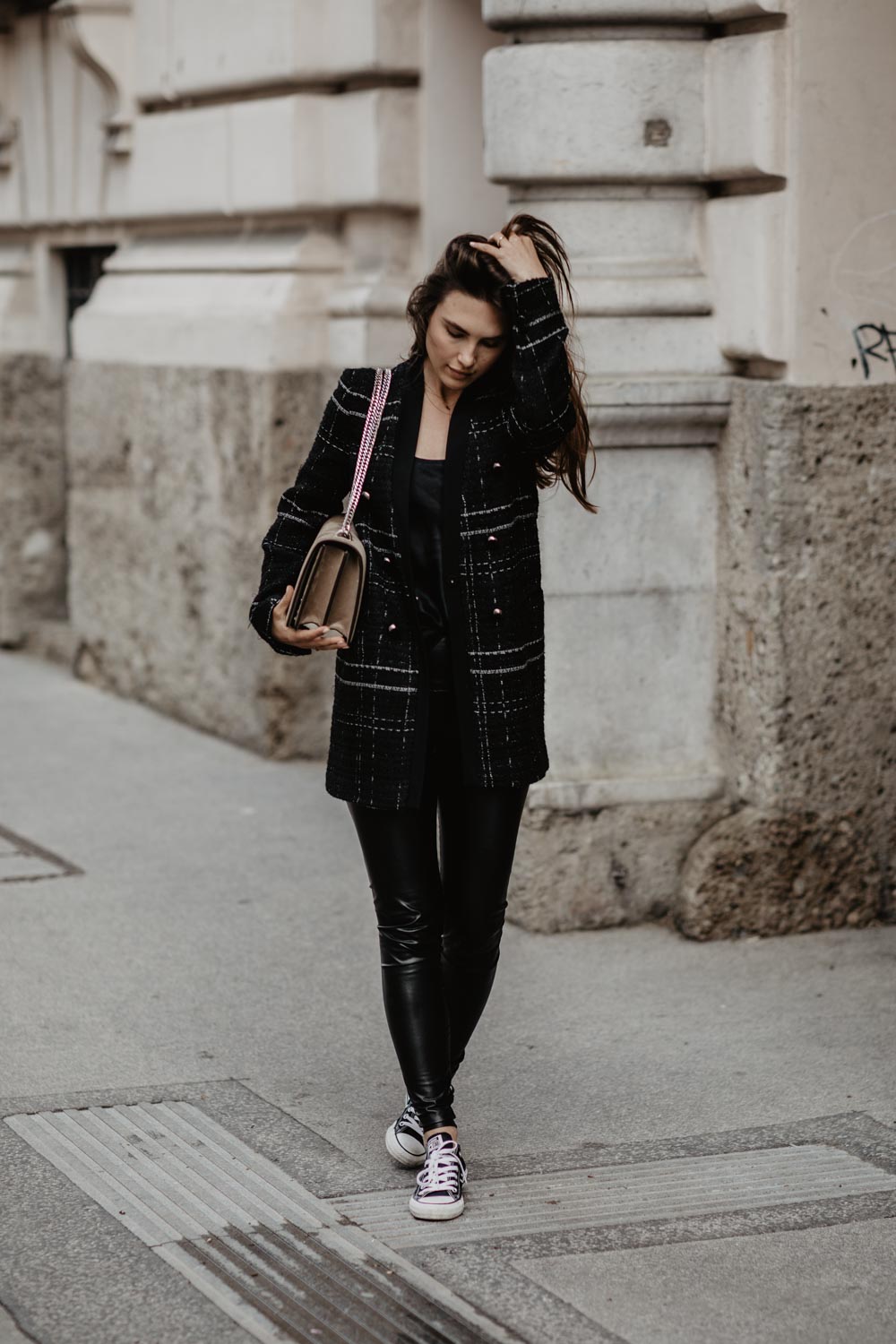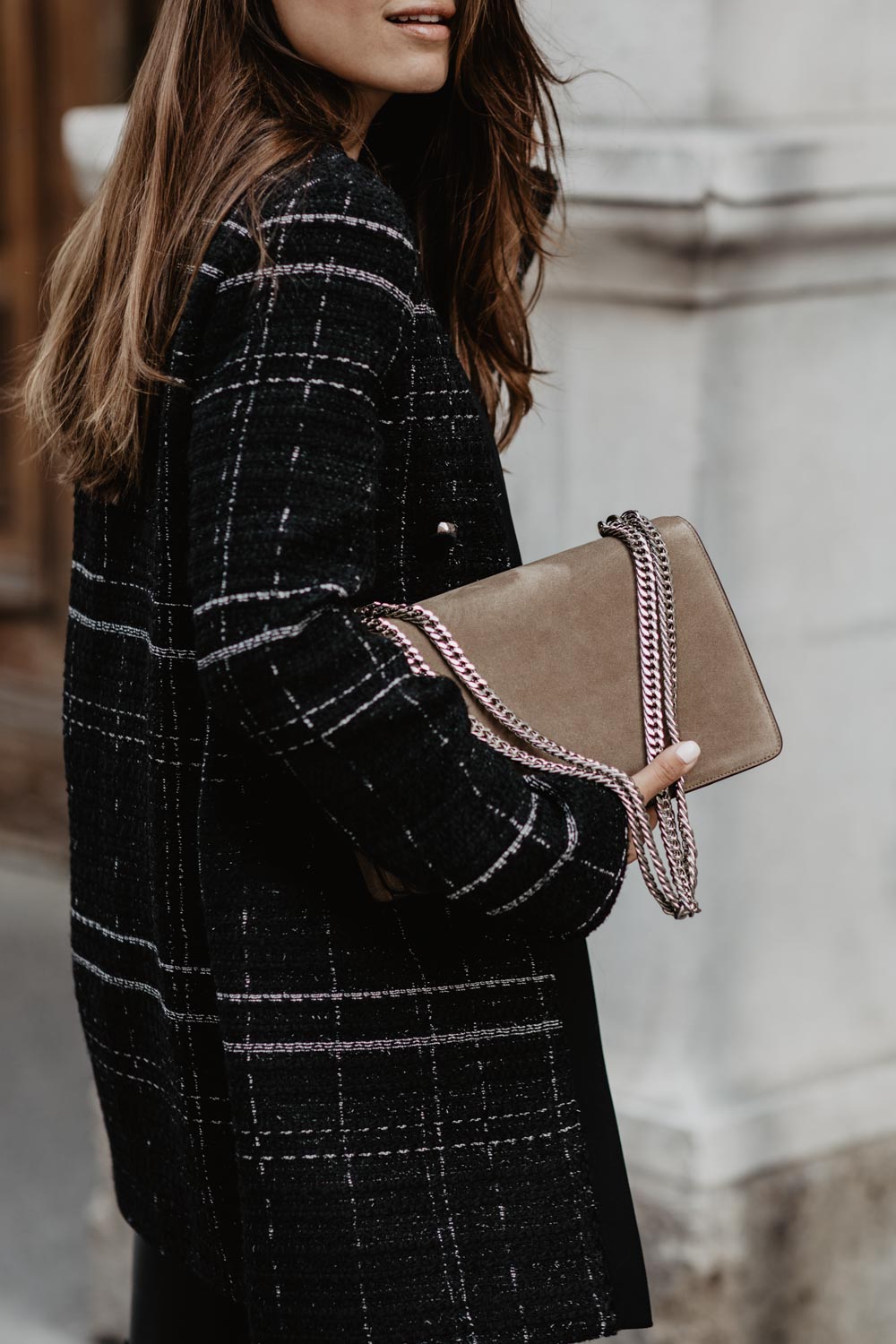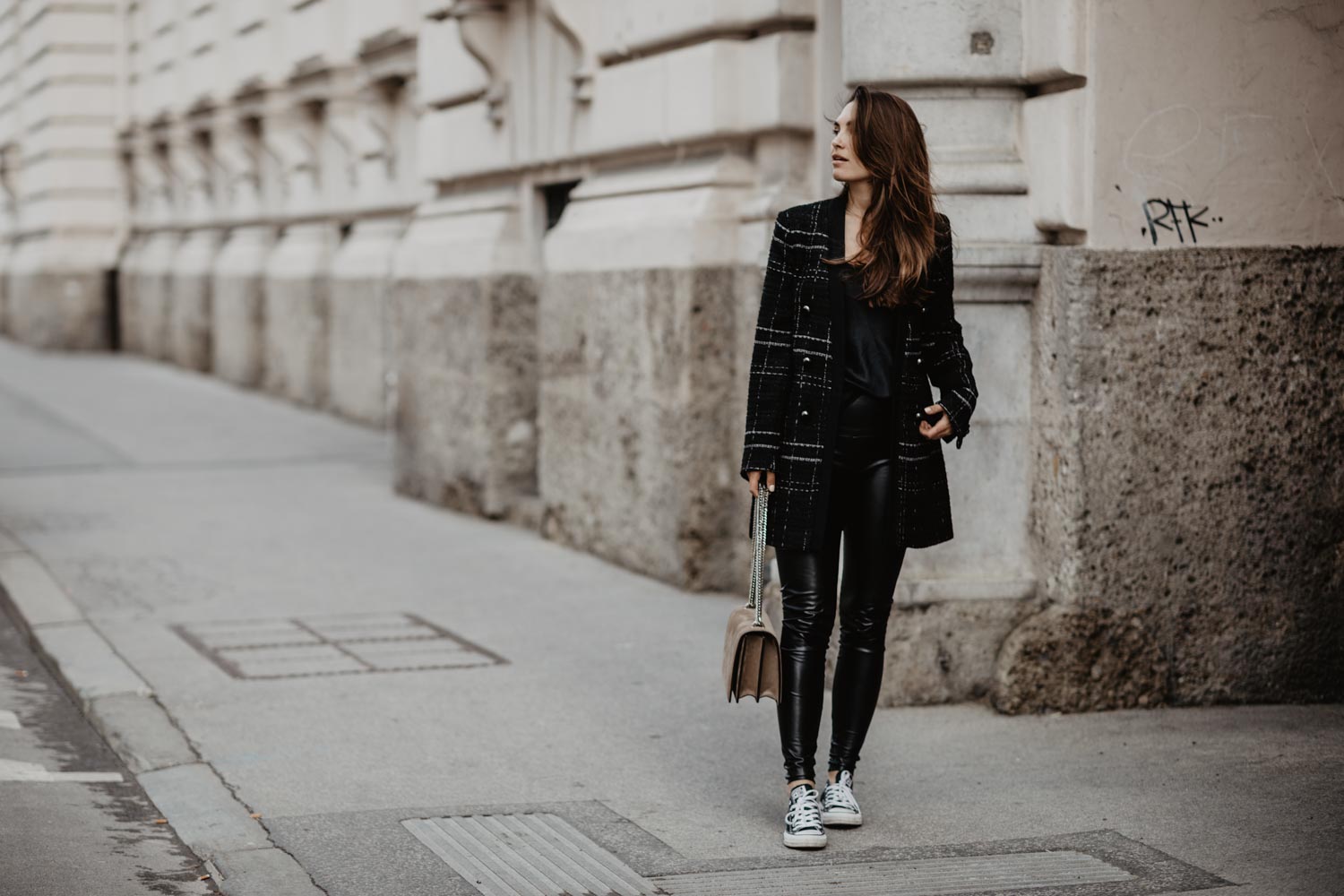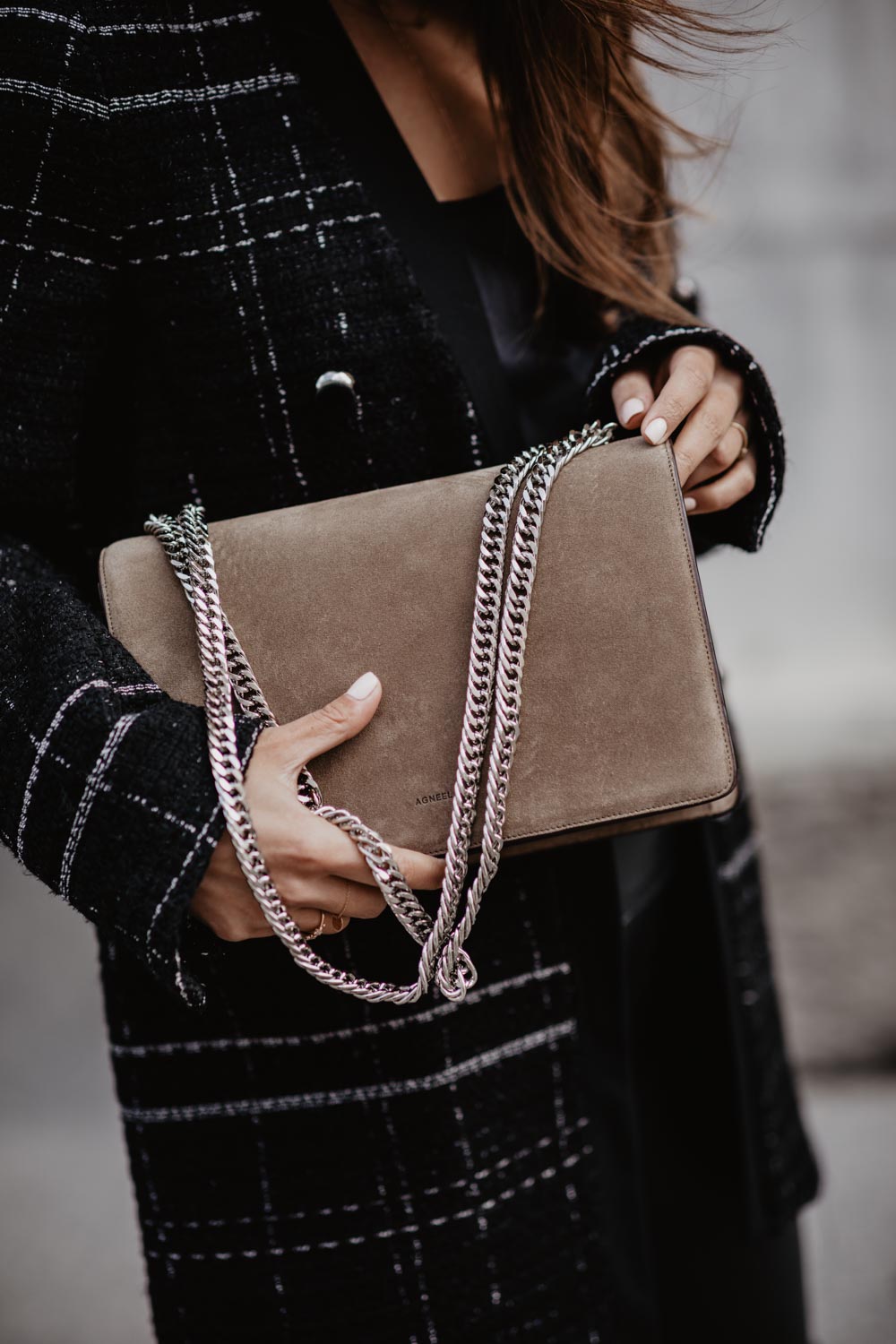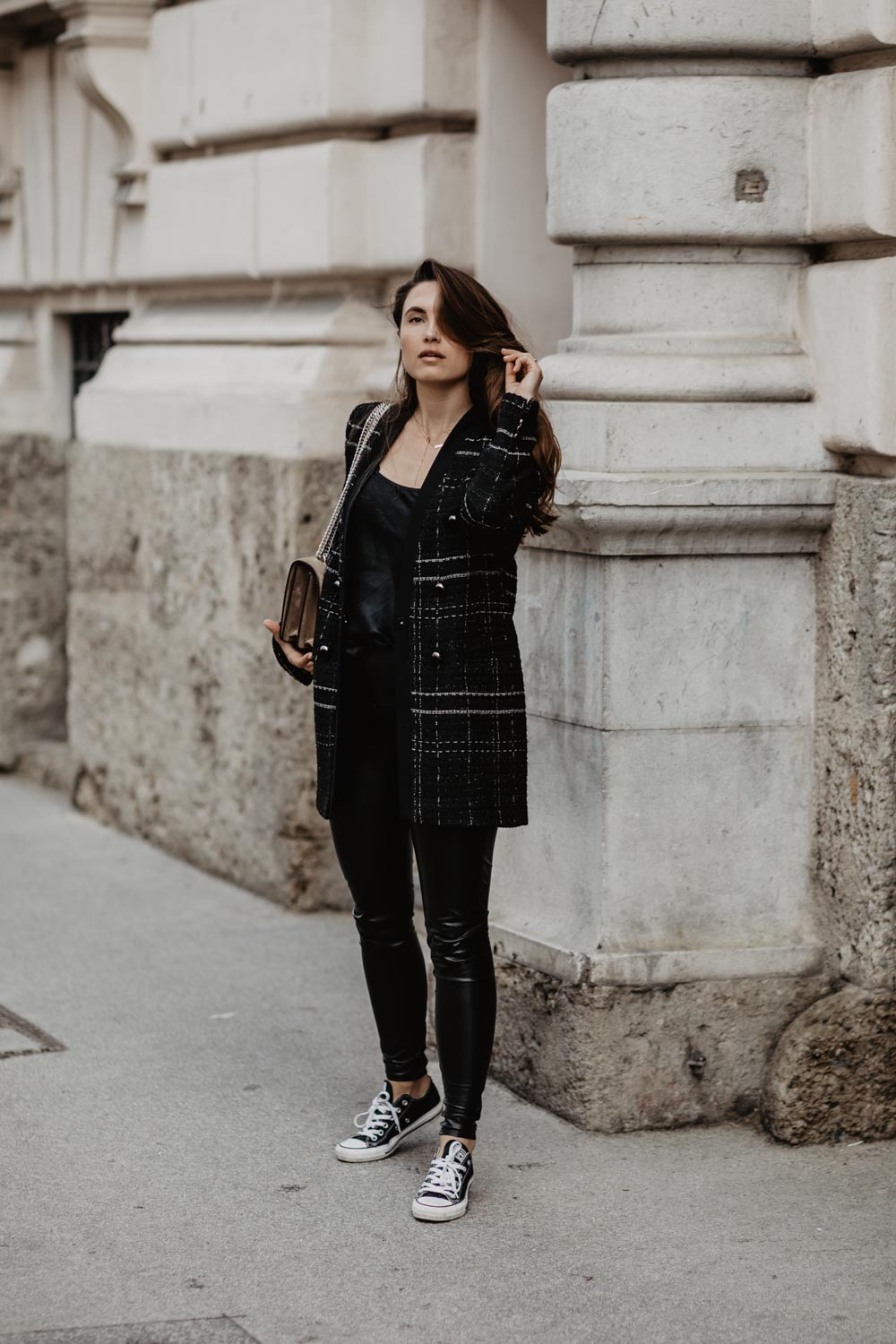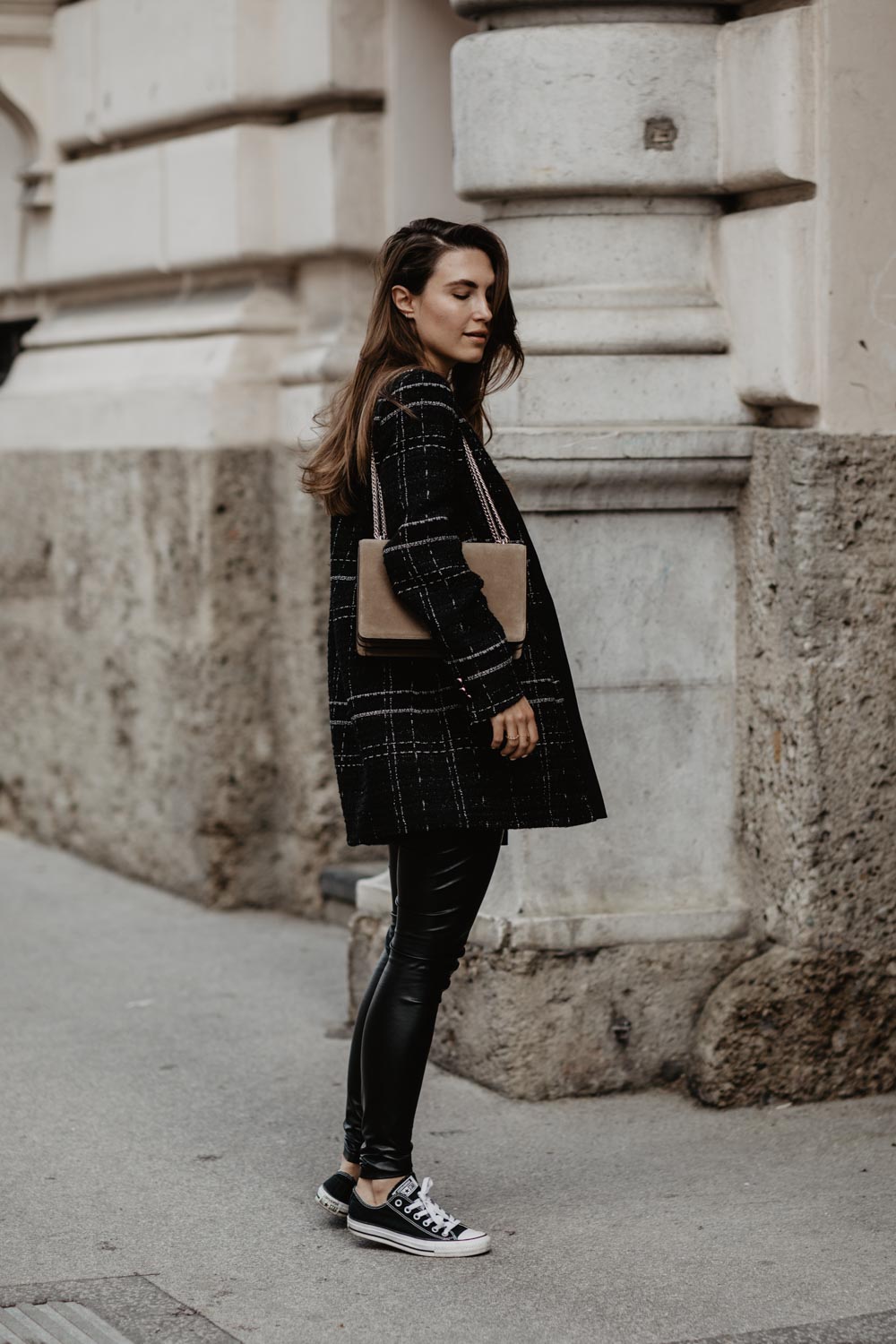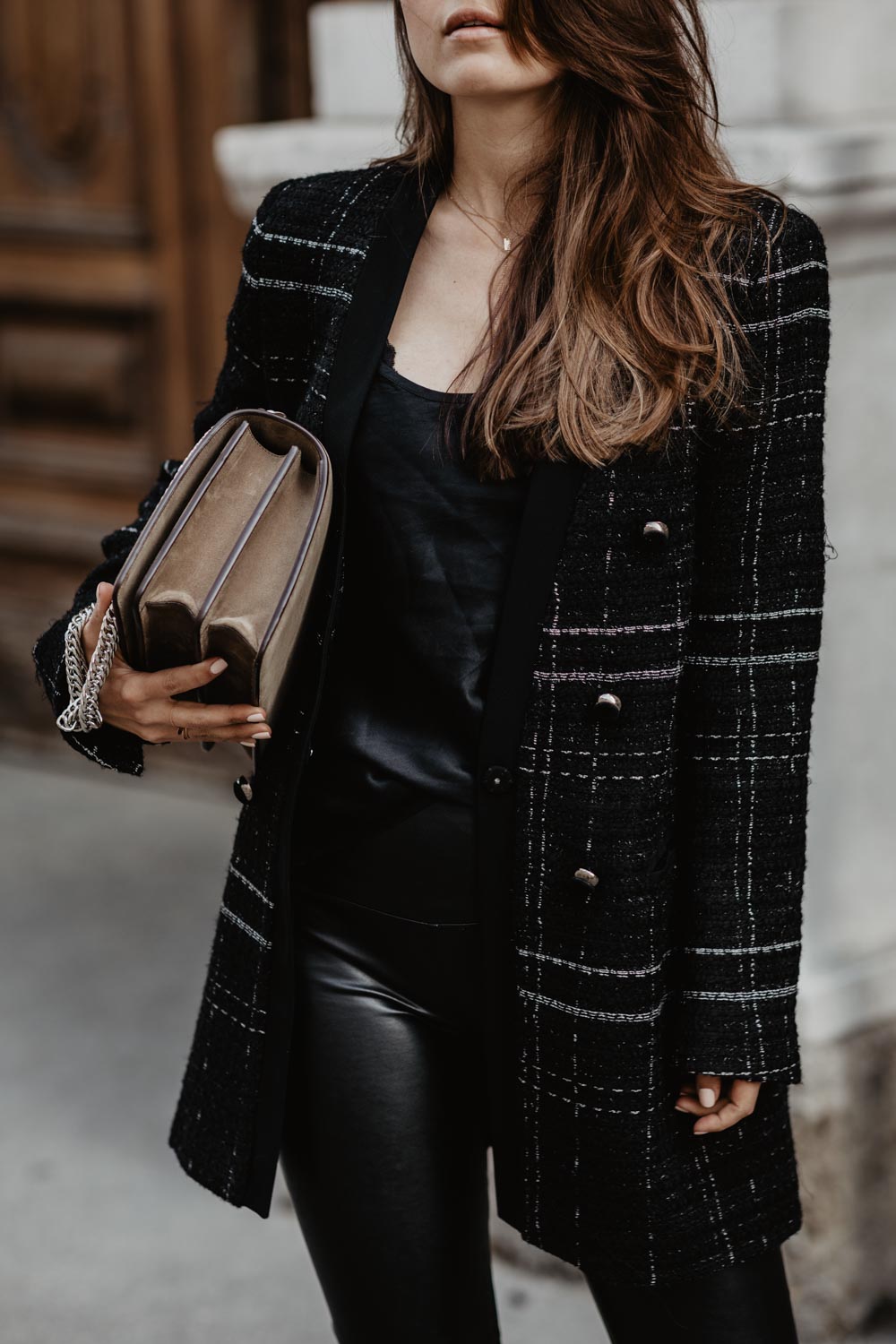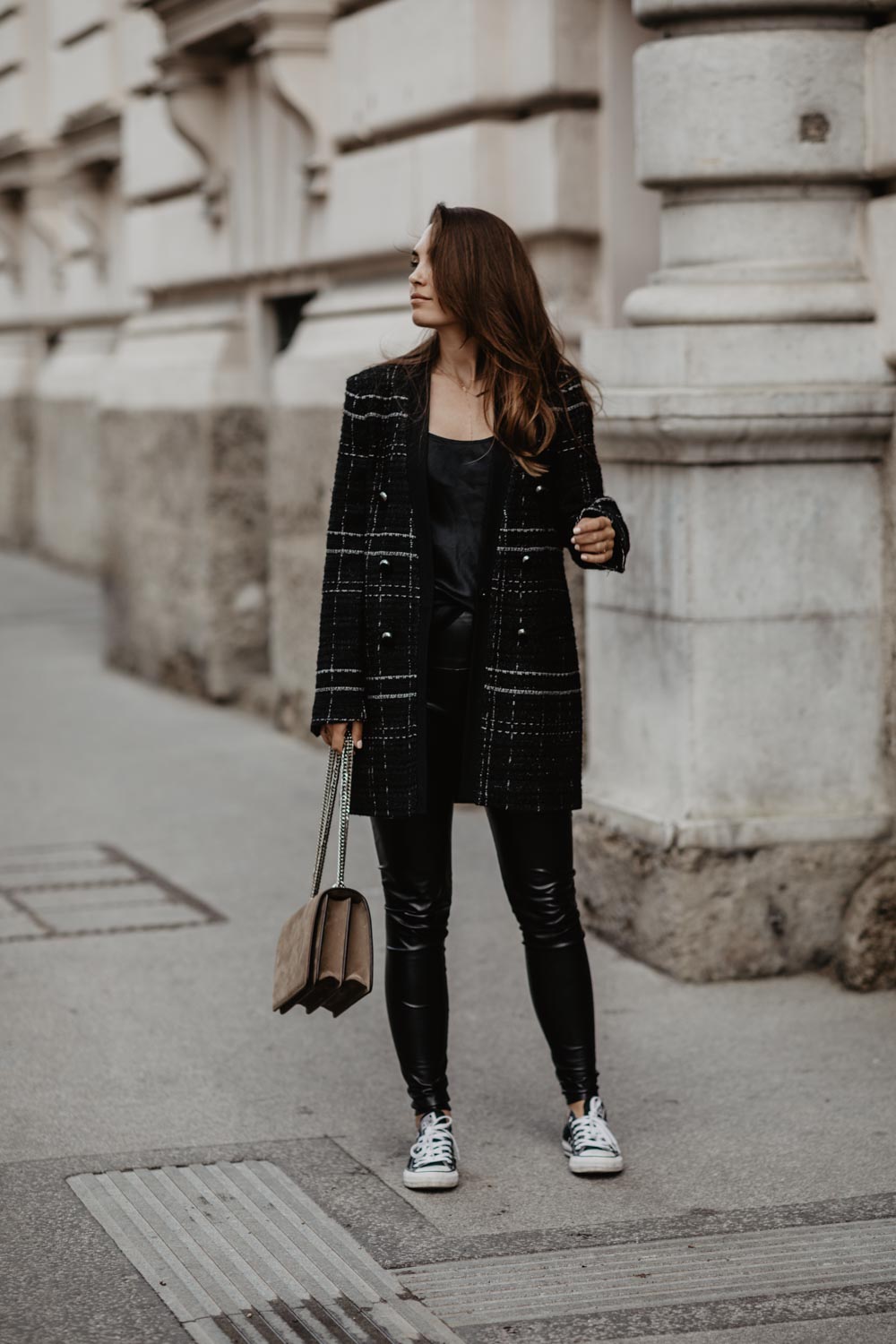 ---
Aritzia faux leather pants (similar here) // Zara blazer (similar here) // Intimissimi silk camisole (similar here)// Converse sneakers // Agneel Sophie bag
Shop the post: