BFF – Best Fries Forever
A very good friend of mine just recently asked me how I come up with my outfits. Although you'd think this is a common question for someone who publicly claims to like fashion, and who regularly writes about what she's wearing, no one ever asked me that question before. So it made me think… How do I actually come up with my outfits?
Alongside various platforms of inspirations like Instagram and Pinterest that I frequently visit, I definitely still love browsing good old magazines. No matter if it's Vogue, Harper's Bazaar or Elle –  just to name a few – I simply love looking at amazing fashion photography. Of course most outfits shown in these magazines are nothing you could wear in real life, but they still inspire me. The way textures, patterns and different pieces of clothing are combined for these shootings are a big source of inspiration for me. Furthermore, there are of course some fellow bloggers and girls who's style I adore and who inspire me on a daily basis… But if I had to name the biggest source of my inspiration no matter for what aspect of life, it definitely is: People in different places.
Meaning, I could sit in a café for hours and watch people pass by… their style, their attitude towards life, and the vibe of the place itself is my biggest source of inspiration. For example: When I'm in Ibiza or Mallorca I get so inspired by the whole boho lifestyle that all I want to wear are white dresses and colorful hippie accessories. Whereas when I was in Stockholm, I had the feeling I have to get oversized straight t-shirts, and boyfriend jeans, and wear them with sneakers and no make up at all. And then again when I was in Australia I had the feeling all I need are jeans shorts, flip flops and hoodies. And to be honest, writing this makes me realize again what I've always loved most about fashion: The way you can express your feelings and attitude by just slipping into different kind of clothes.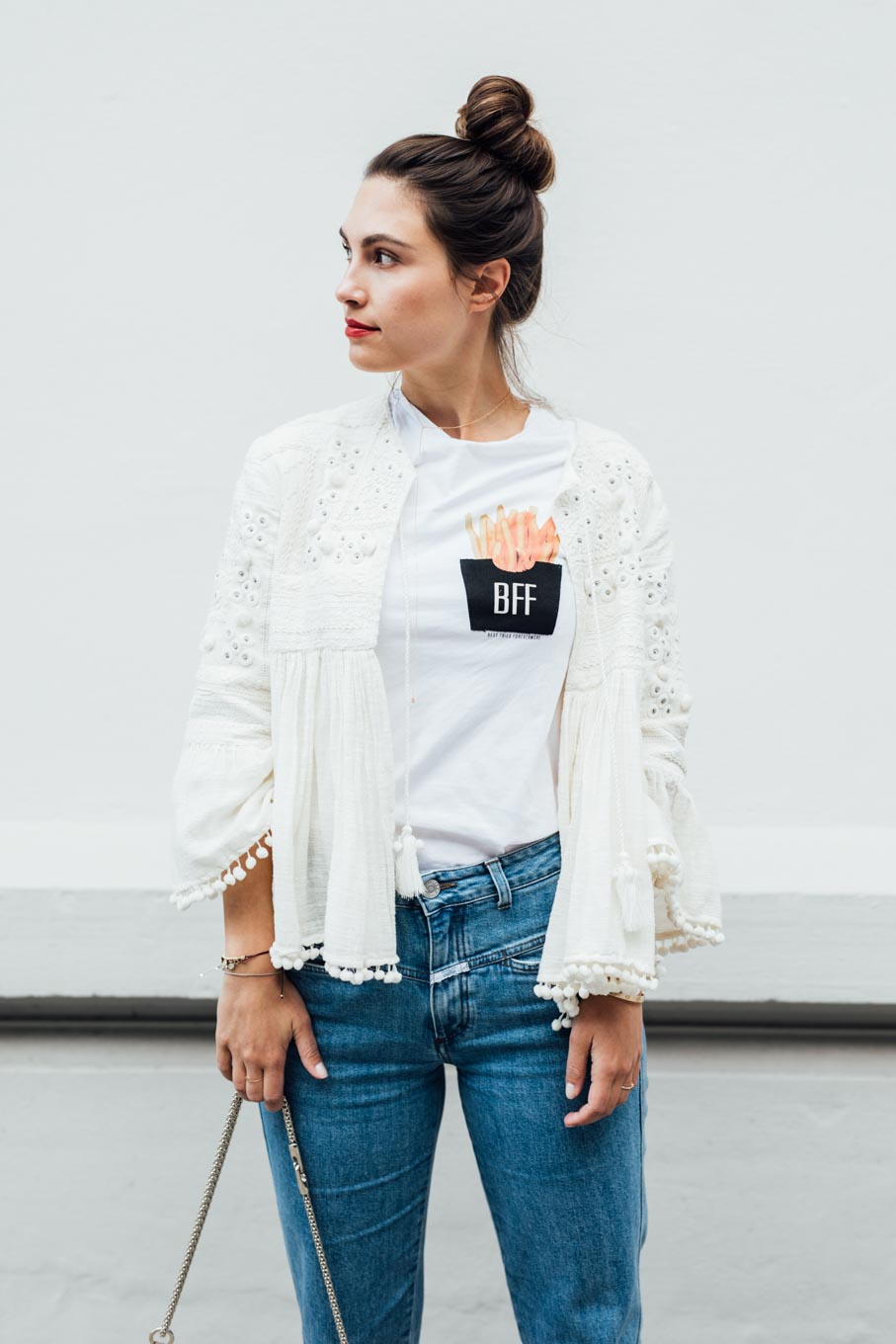 While this sounds all rather deep and meaningful, it's just the theory. In practice, there are also outfits that just "happen". Like this one today. Here's how:
Me checks weather and realizes it does not rain (insert happiness here)
Me decides it's time to wear the new Aquazzura flats bought on sale this January (#smartshopping)
Me puts on favorite jeans (also due to lack of other options, because other jeans were in laundry)
Me grabs cute white lace blouse to wear (because #nobrainer)
Me grabs boho-inspired jacket to complete look
Me goes to kitchen to have breakfast
Me spills coffee on cute white lace blouse
Me goes back to closet to take out another blouse
Me realizes all other cute white blouses are in the laundry basket waiting to be ironed
Me couldn't be bothered to iron in the morning (or any other time of the day, as a matter of fact #obvi)
Me grabs first white t-shirt in closet
Me realizes there are French Fries on t-shirt
Me likes this shirt and decides to wear it
Me puts red lipstick on to pretend everything is under control
Me leaves the house
Me wears outfit that does not really fit together at all
Me feels like back in the golden days of Kindergarten, when none of my outfits ever fit together
The end. #truthbetold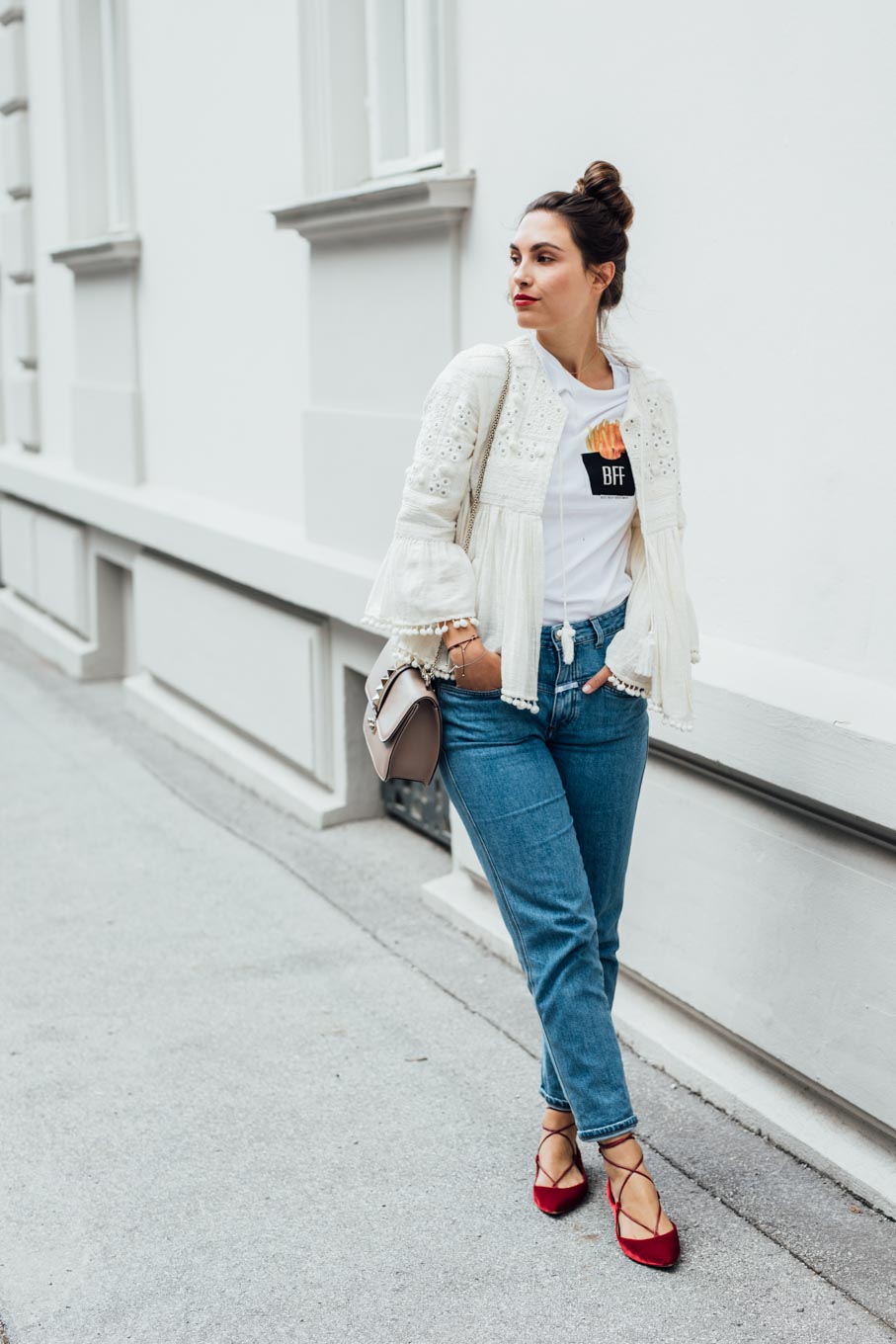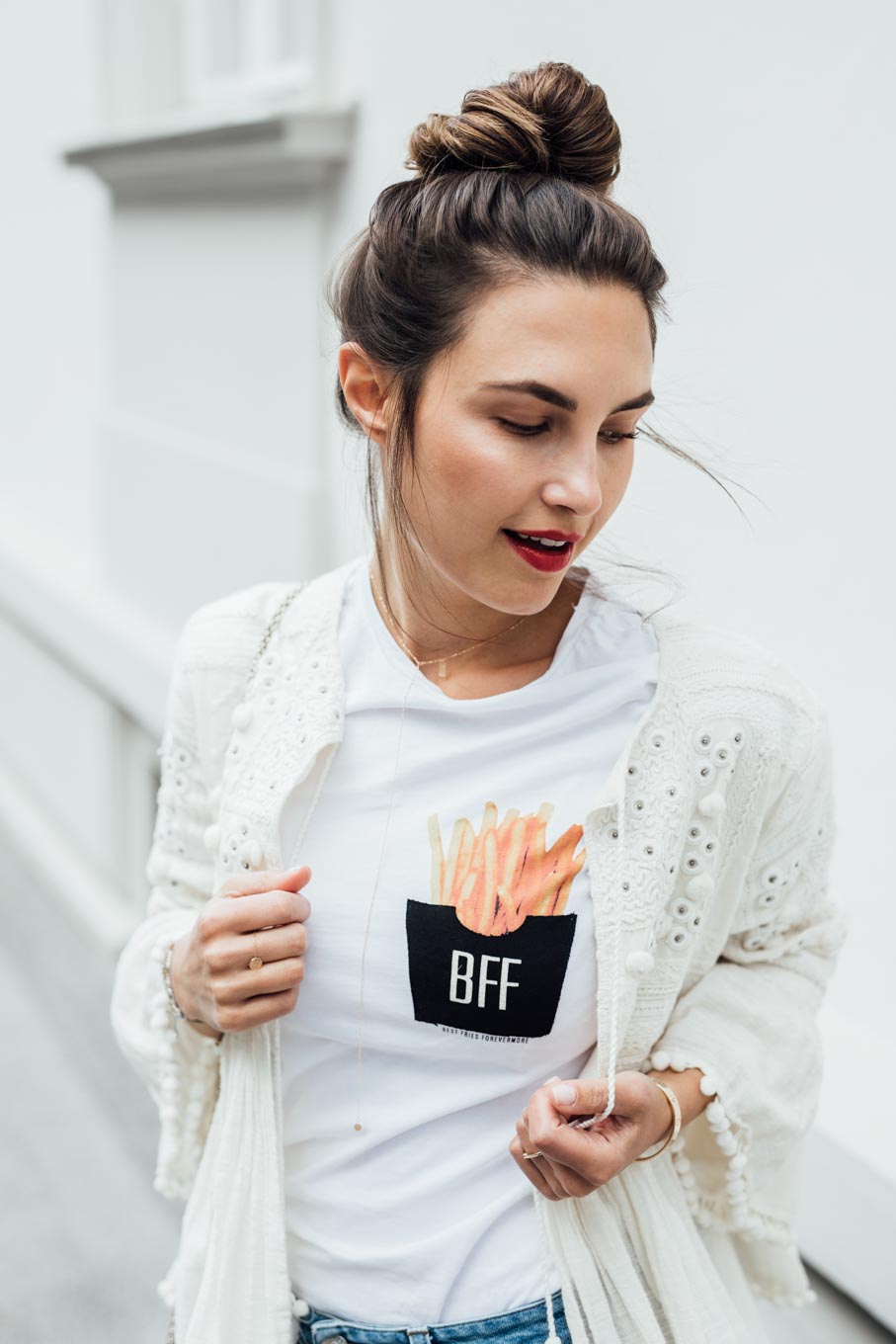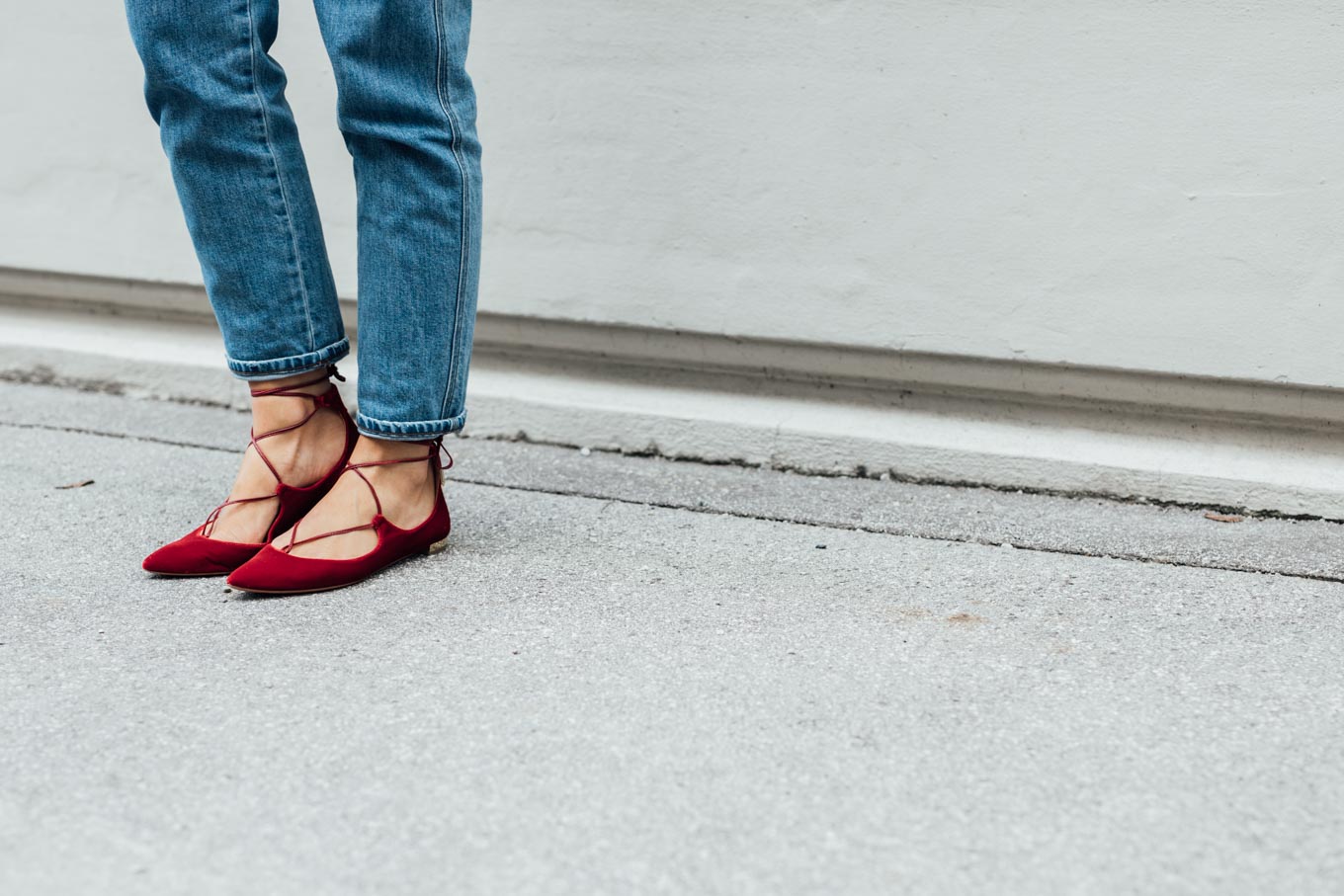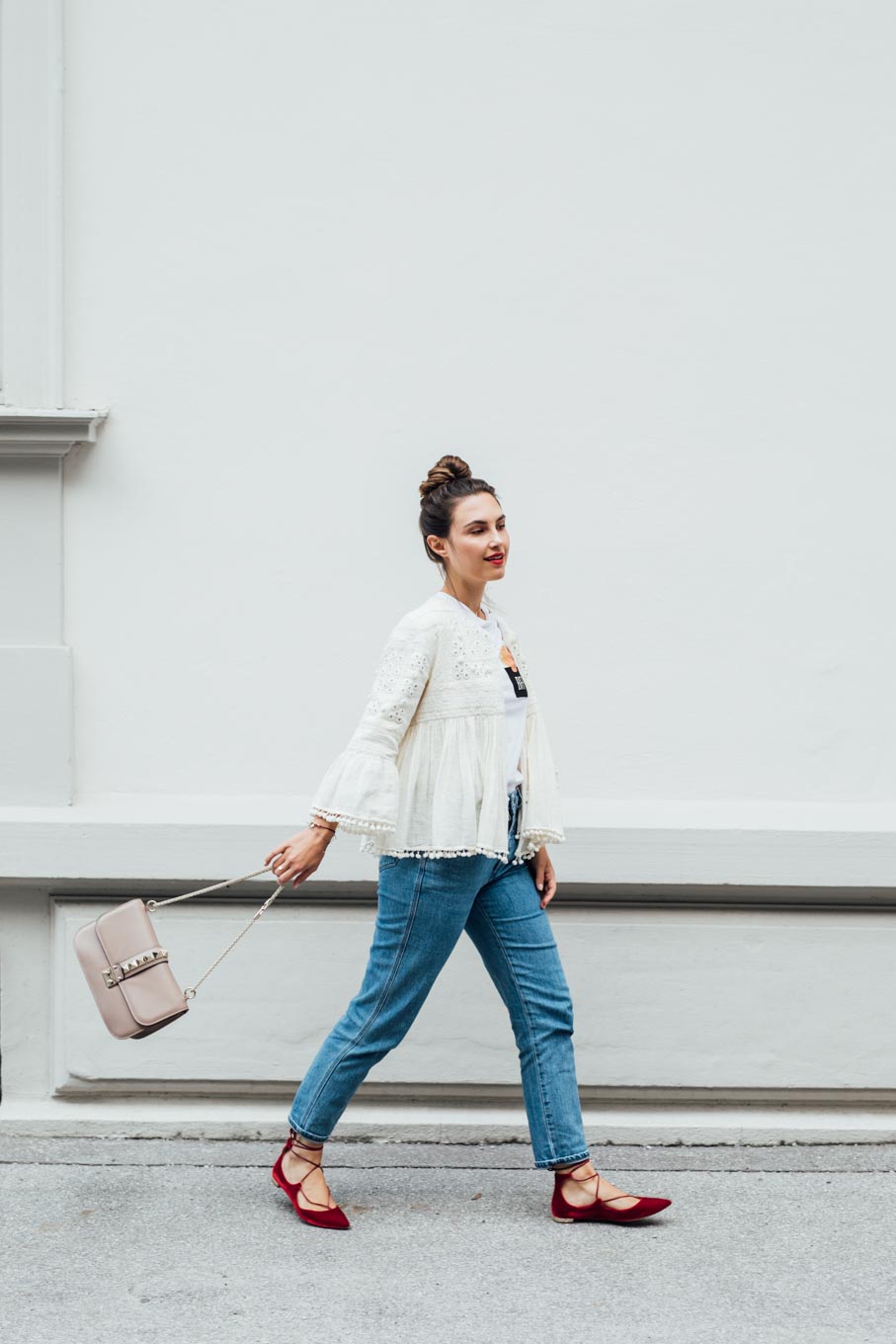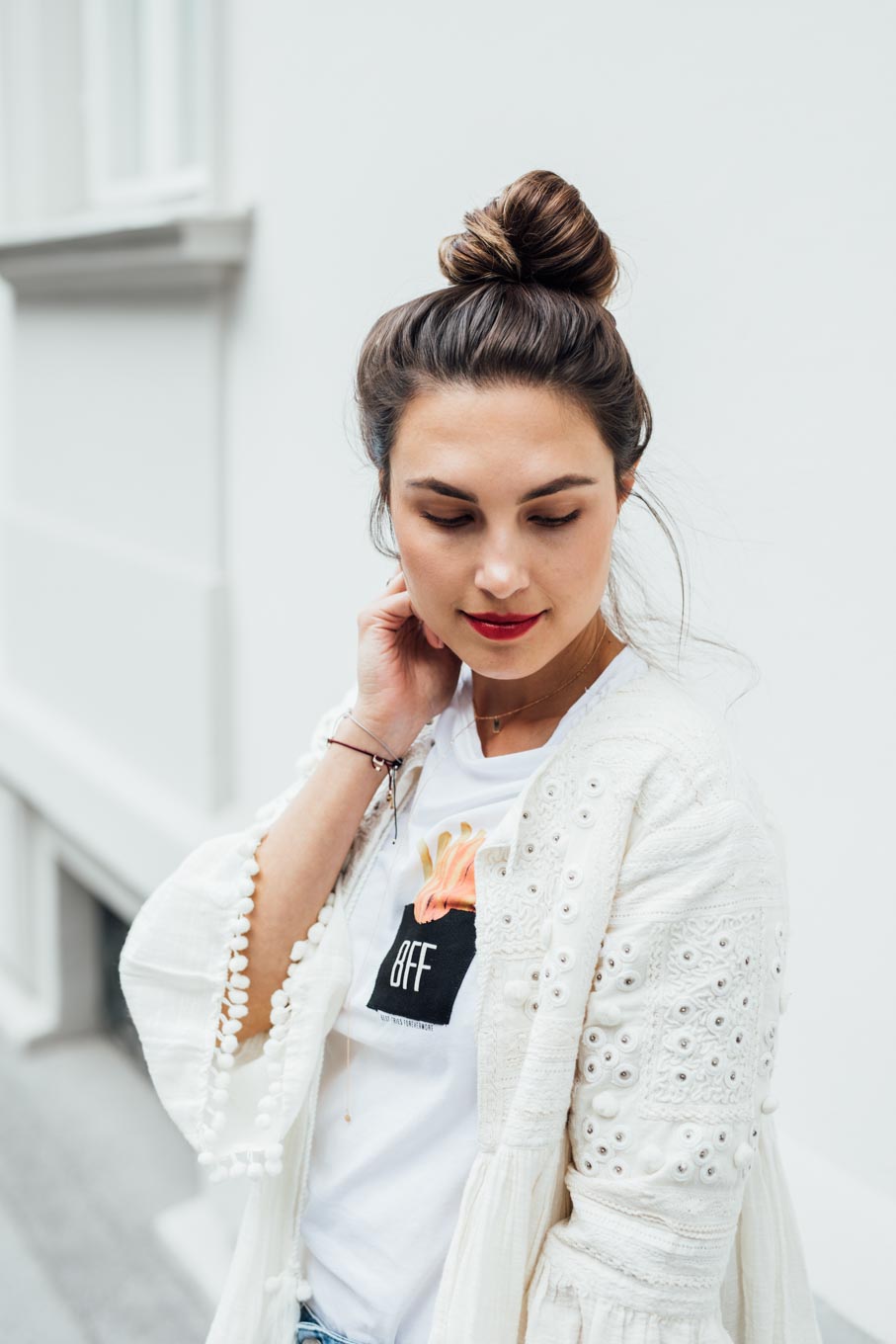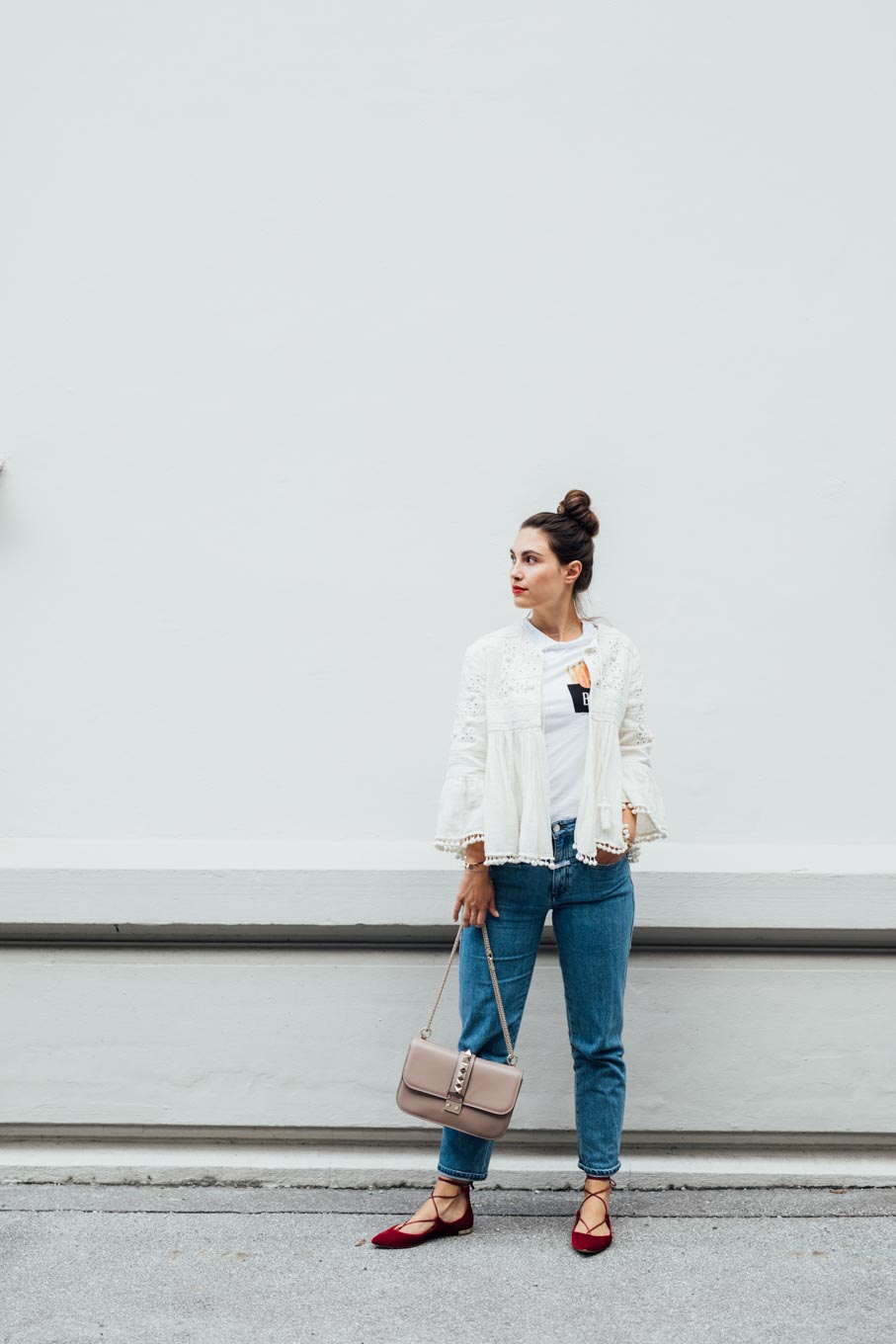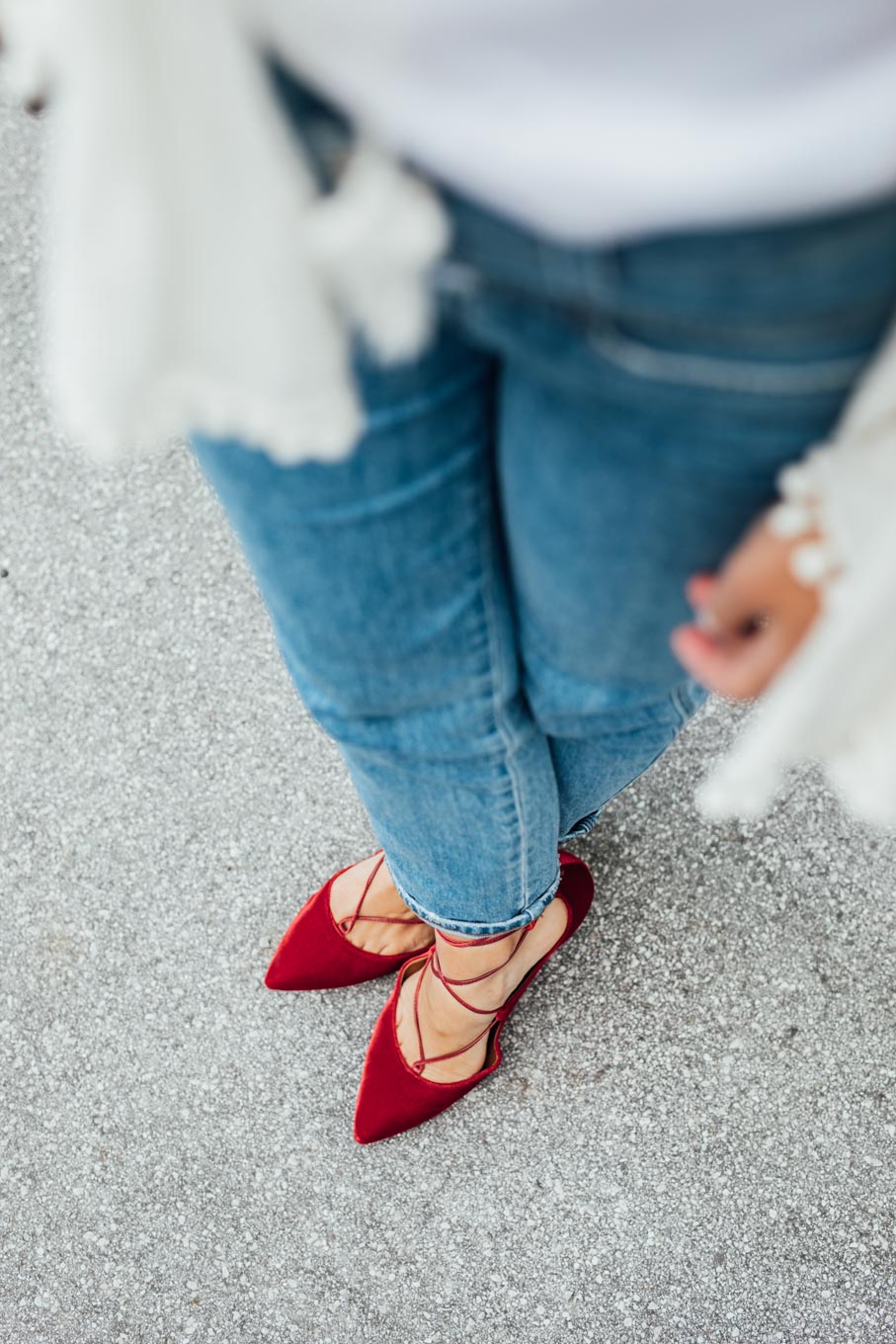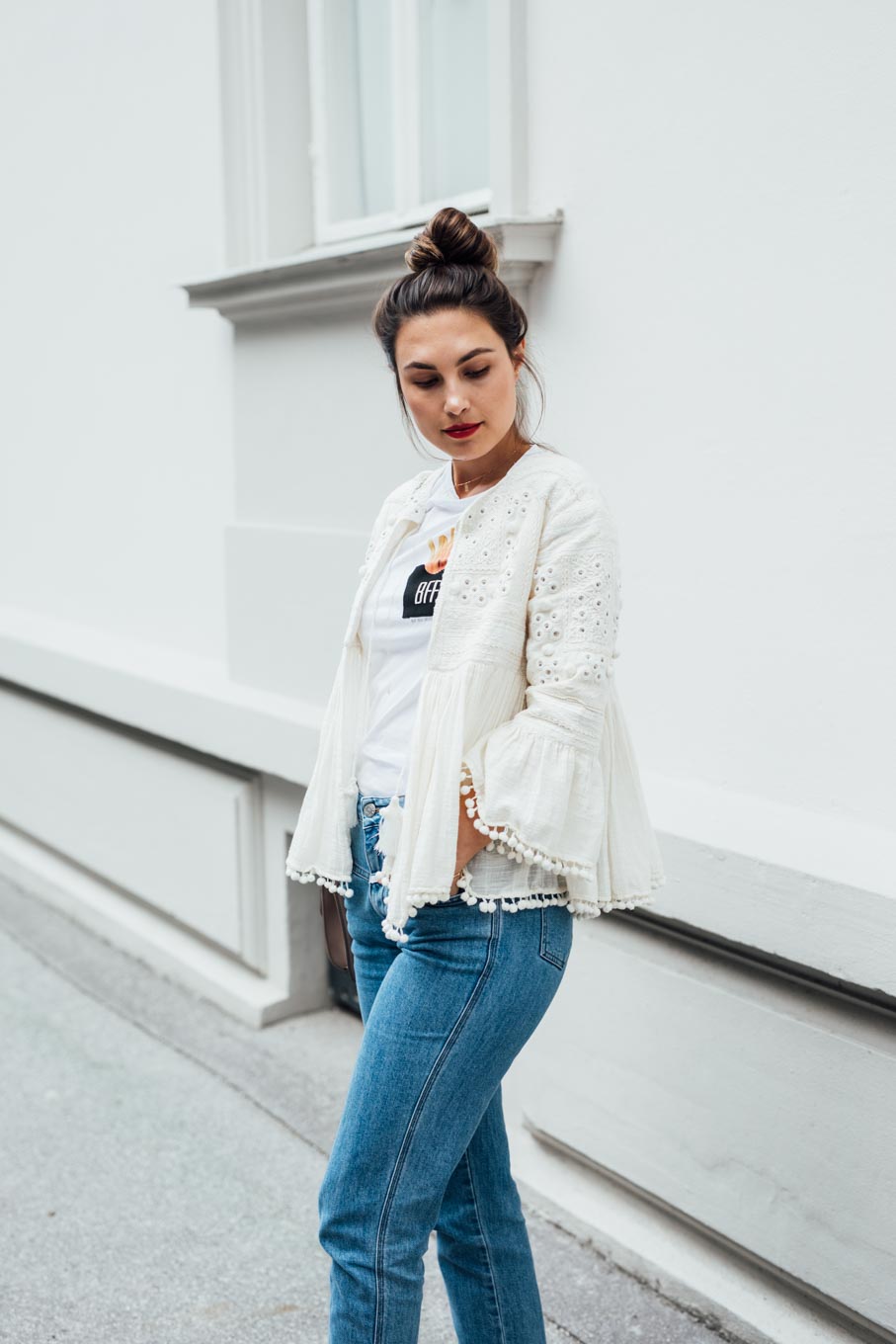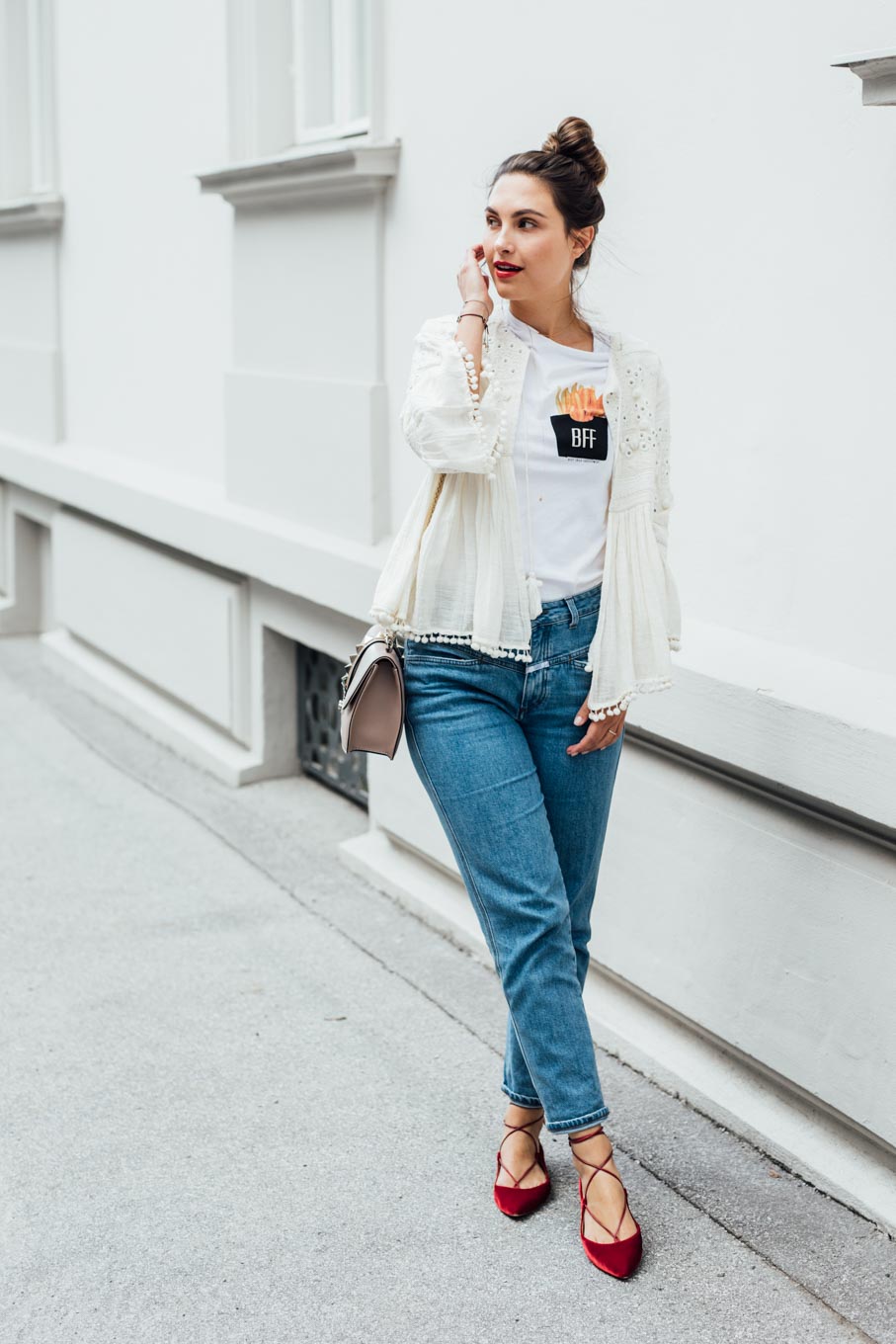 ---
Closed Jeans // Zara boho jacket // Zara shirt (old, but cute one here) // Aquazzura lace up flats // Valentino bag // Bobbi Brown lipstick