Fashionable Business Looks
Having a job that requires me to come up with my own dress code every day means that I get to wear whatever I like, without any restrictions. Most of the times, I would describe it as one of the perks my job comes with. However, there are days when I wish there was a certain dress code to stick to. My daily uniform on days that I spend at the office mainly consists of jeans paired with cozy sweaters and t-shirts, depending on the season. As much as I love a good pair of denim and those easy and effortless looks, there still are occasions on my agenda that require to dress the part nevertheless.
I secretly love any occasion that allows me to dress up a little – even if it is just for a meeting with my accountant or for the kick off meeting with potential new clients. So when Jake*s asked me whether I'd like to style two business looks with pieces from their new collection, I was super excited to do so. Jake*s is known for their high-quality materials and versatile pieces. No matter if it's casual pieces like cashmere sweaters, business looks consisting of classic blazers with an elegant twist, or elegant evening wear: The label shows many different facets and enables fashion-conscious women and men to feel confident creating their individual style.
To me, being dressed for business related occasions does not automatically imply having to wear a black suit paired with a white blouse. There are so many different options to create business-worthy outfits. The most important part is to feel confident and not disguised. And now, let's get down to business, shall we?
Look No. 1: Polka Dot Skirt & Plaid Blazer
One of the major advantages women have when it comes to business looks: We have so many more options than men! Flowy skirts just being one of them. As key-pieces for the first look, I chose a dreamy black polka dot skirt and a plaid blazer. Both of these pieces are not only super cool when put together in one outfit, but are also very versatile on their own. A plaid blazer is a staple piece that shouldn't be missing in any wardrobe – pair it with your favorite jeans and a white t-shirt for a casual look, and you'll always look put together!
Instead of a white blouse I opted for a white turtleneck sweater that gives the outfit a very crisp, yet laid-back look. When I'm on the go for meetings all day I love having my hands free – so I went for a belt bag instead of a big tote, and simply carry my laptop in a sleeve.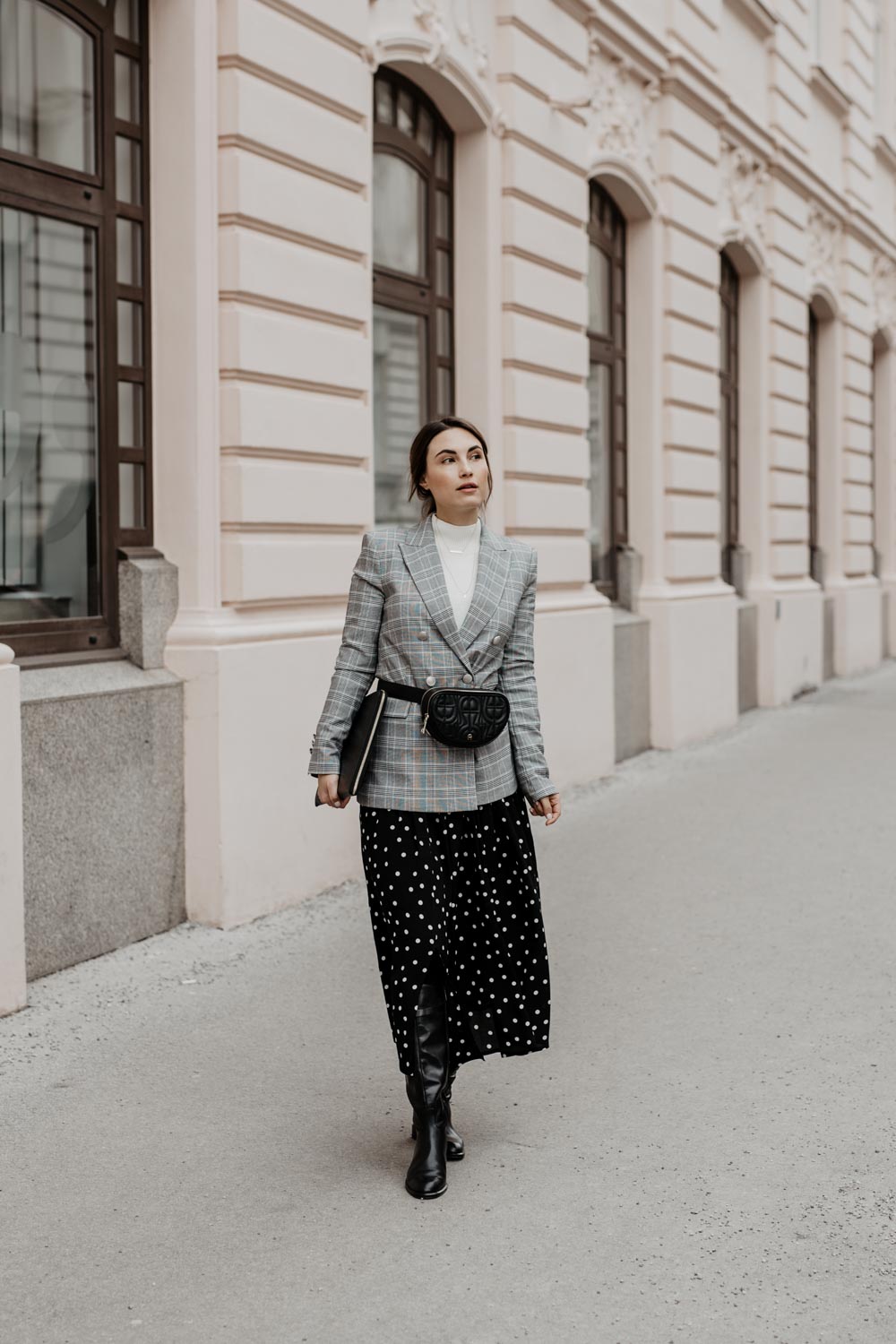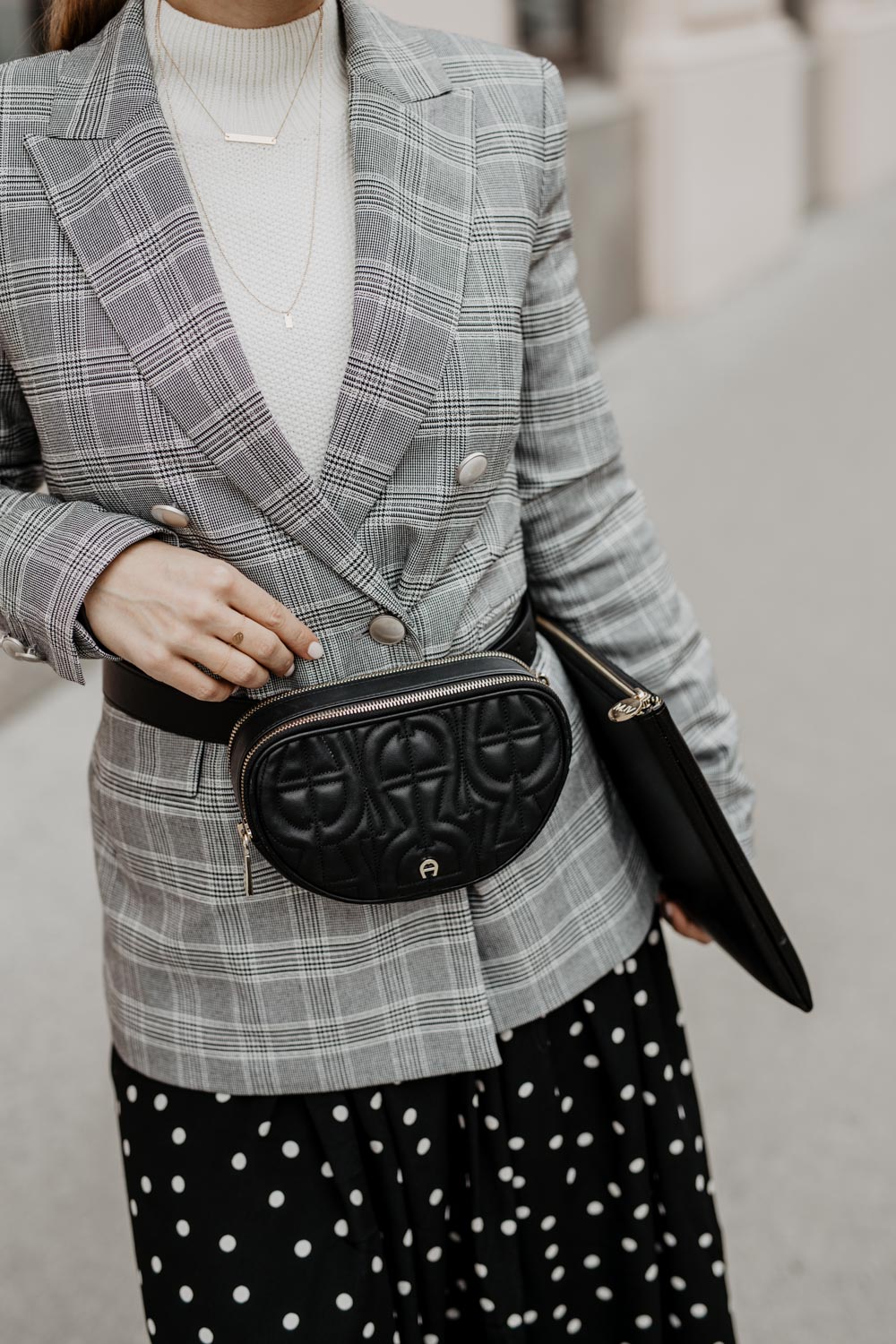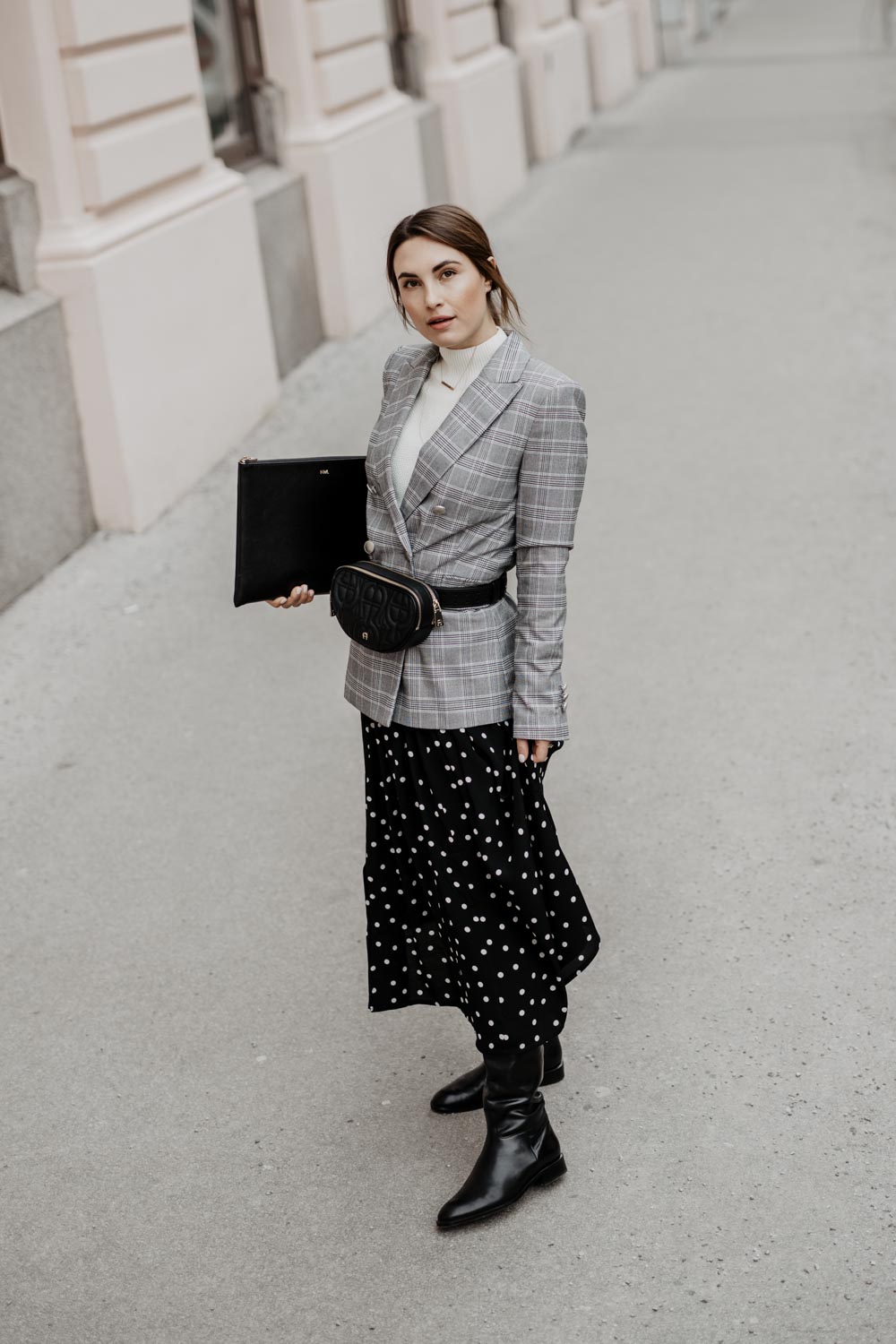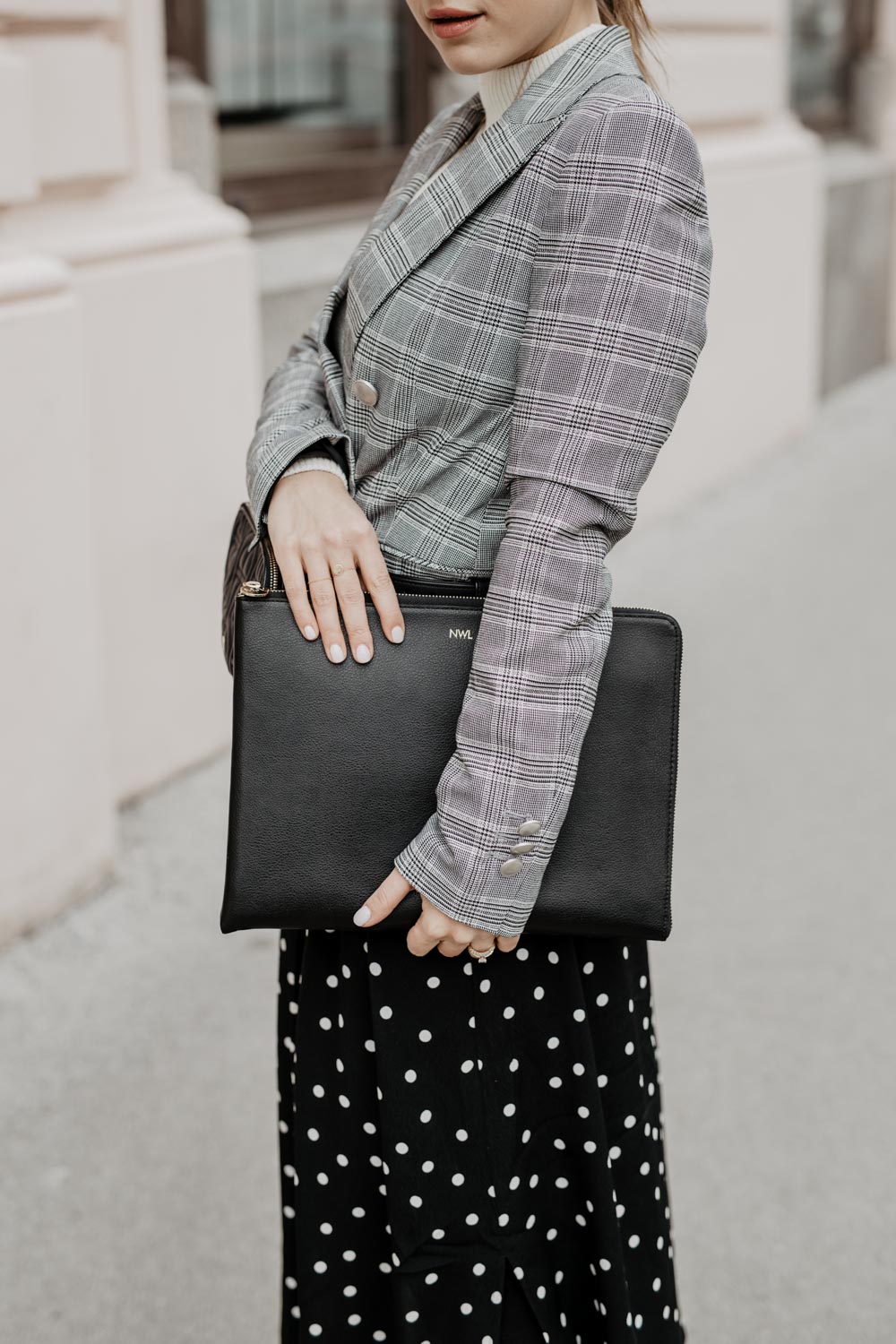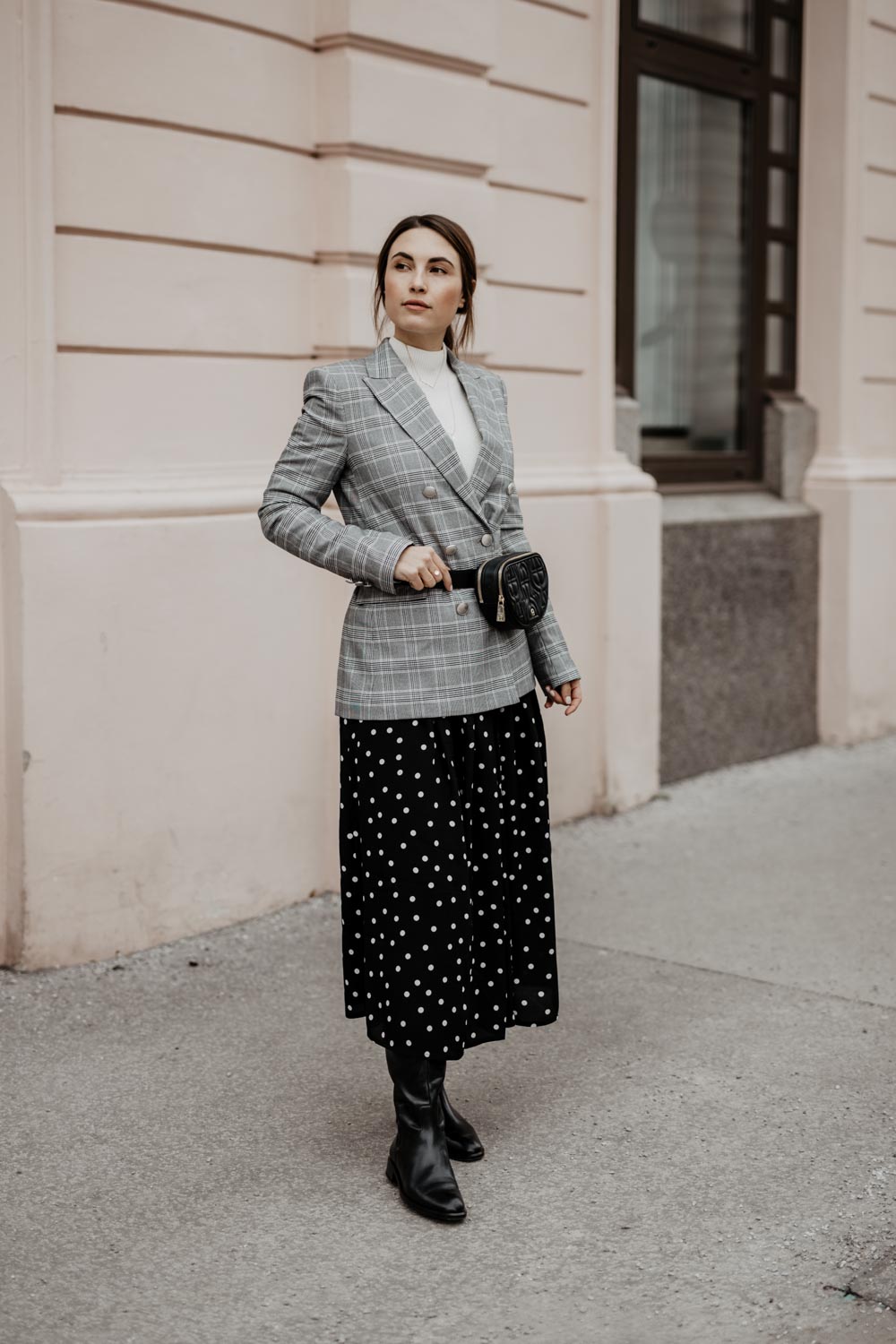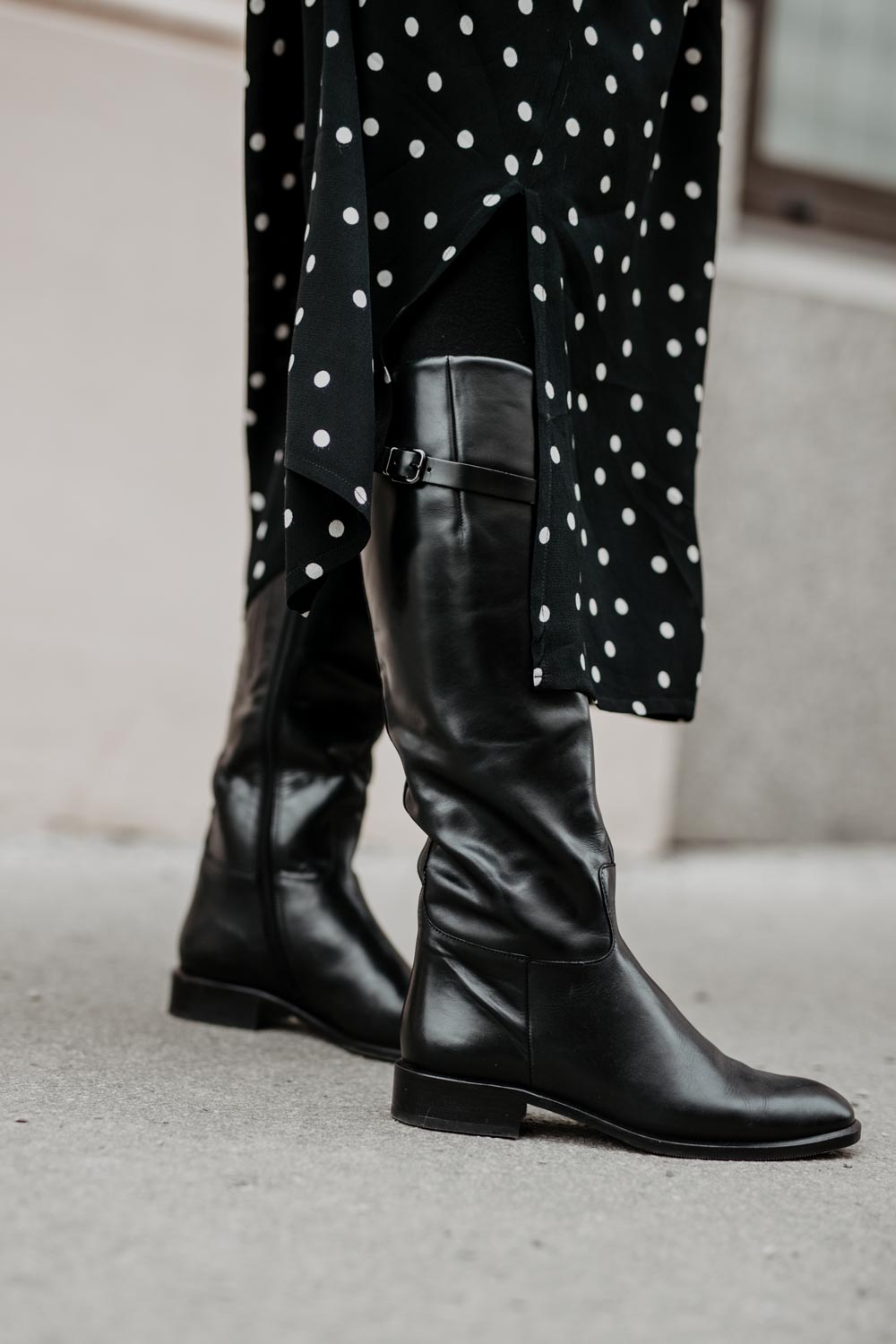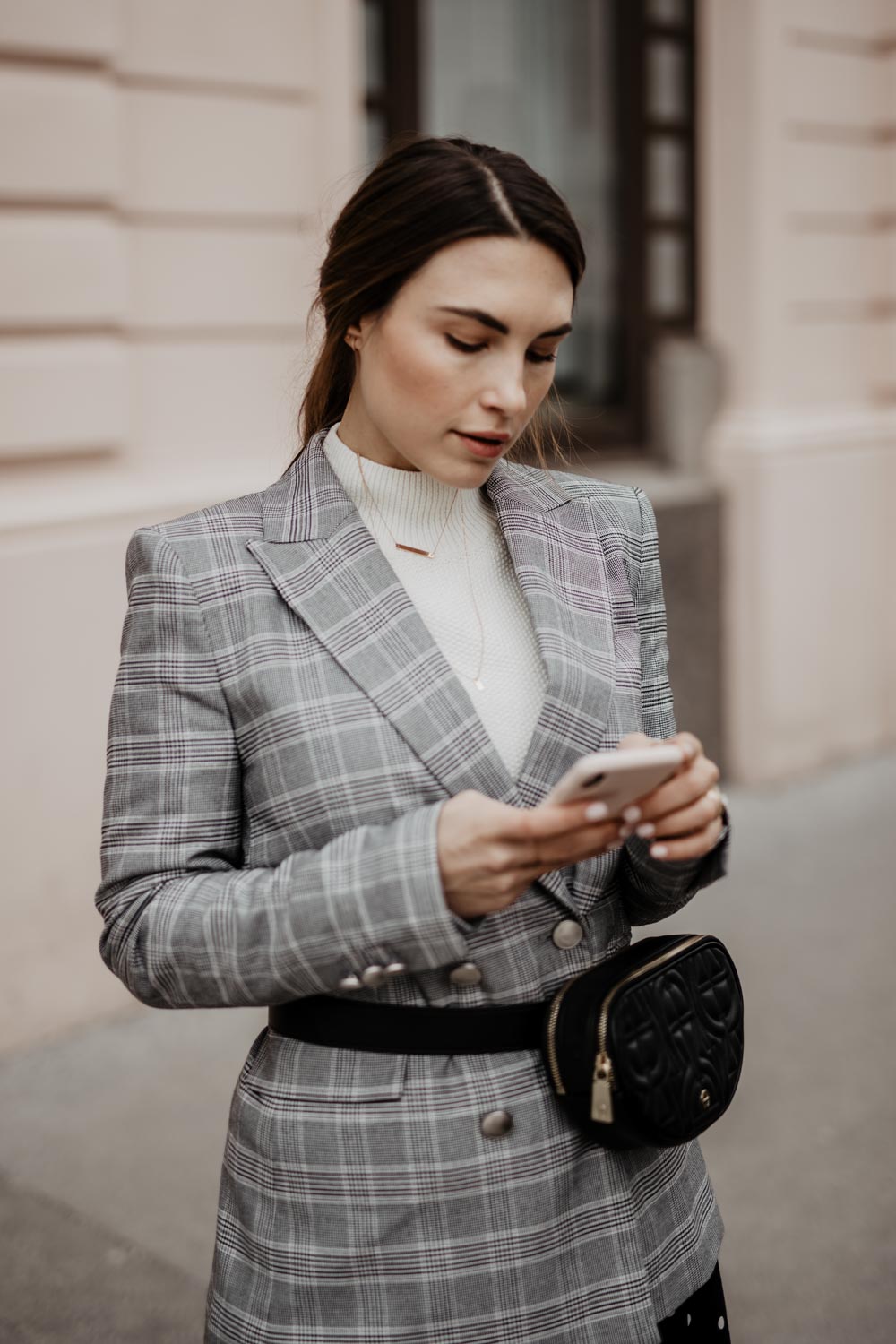 Shop the look:
Jake*s Collection Pullover // Jake*s Collection Blazer // Jake*s Skirt // Aigner belt bag // Majavia Laptop Case // Högl boots
Look No. 2: The Power Suit
For the second look, I wanted to keep it as minimalistic as possible. When I spotted the black suit with white stitching and white buttons, I knew it was the perfect fit. The cropped pants give the suit a modern twist and the white details are a beautiful eye catcher. I decided to style the suit with a black polka dot blouse, simply because I have a big thing for polka dots at the moment, and also because the blouse serves as casual contrast to the rather elegant suit. Another major point I always consider in my outfits, especially my business looks: Shoes. I hate nothing more than uncomfortable shoes – if your feet hurt, your whole day can be ruined immediately. That's why I always make sure the shoes I'm wearing are comfortable enough to be worn at least eight hours straight without any problems. And who said boots aren't business appropriate?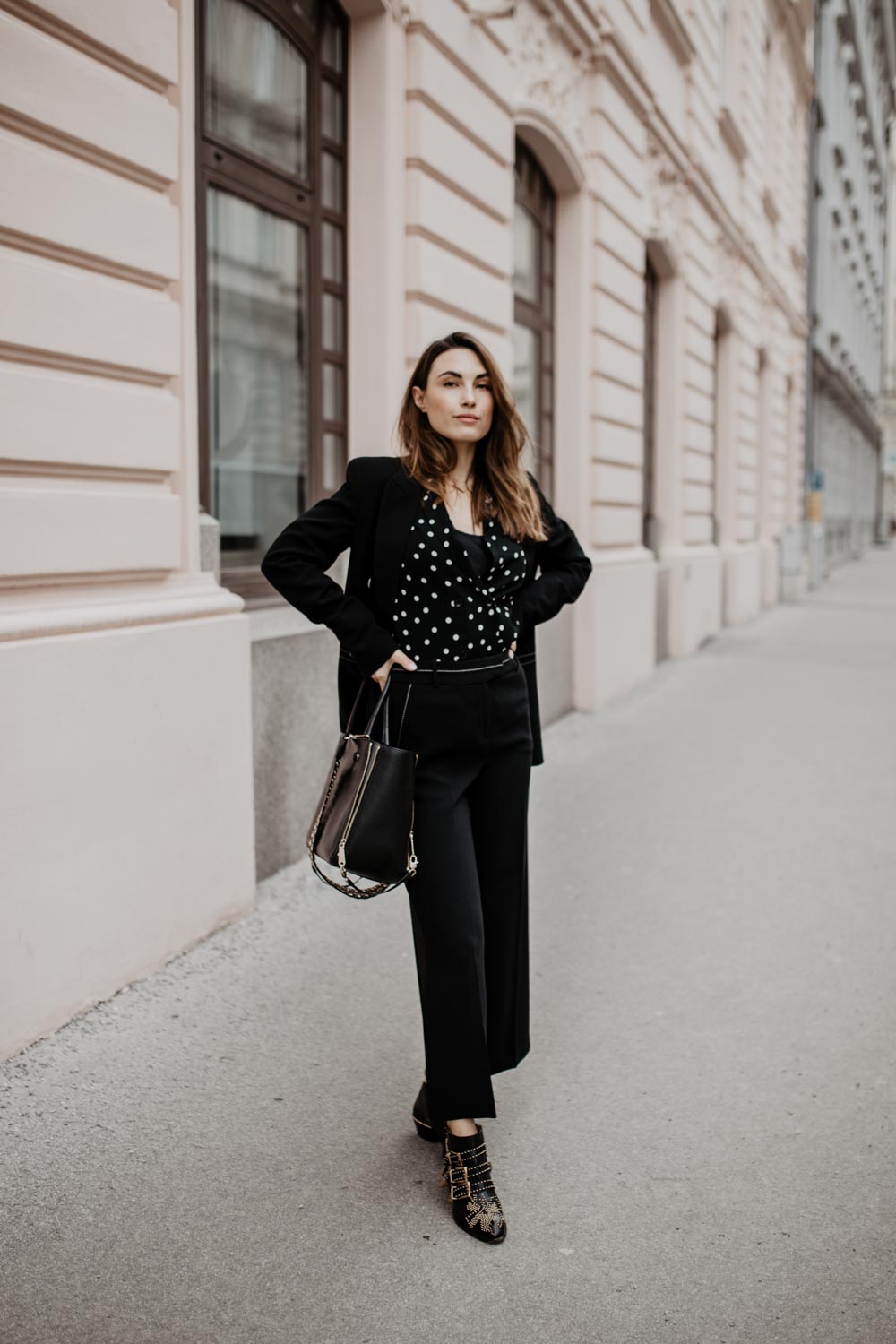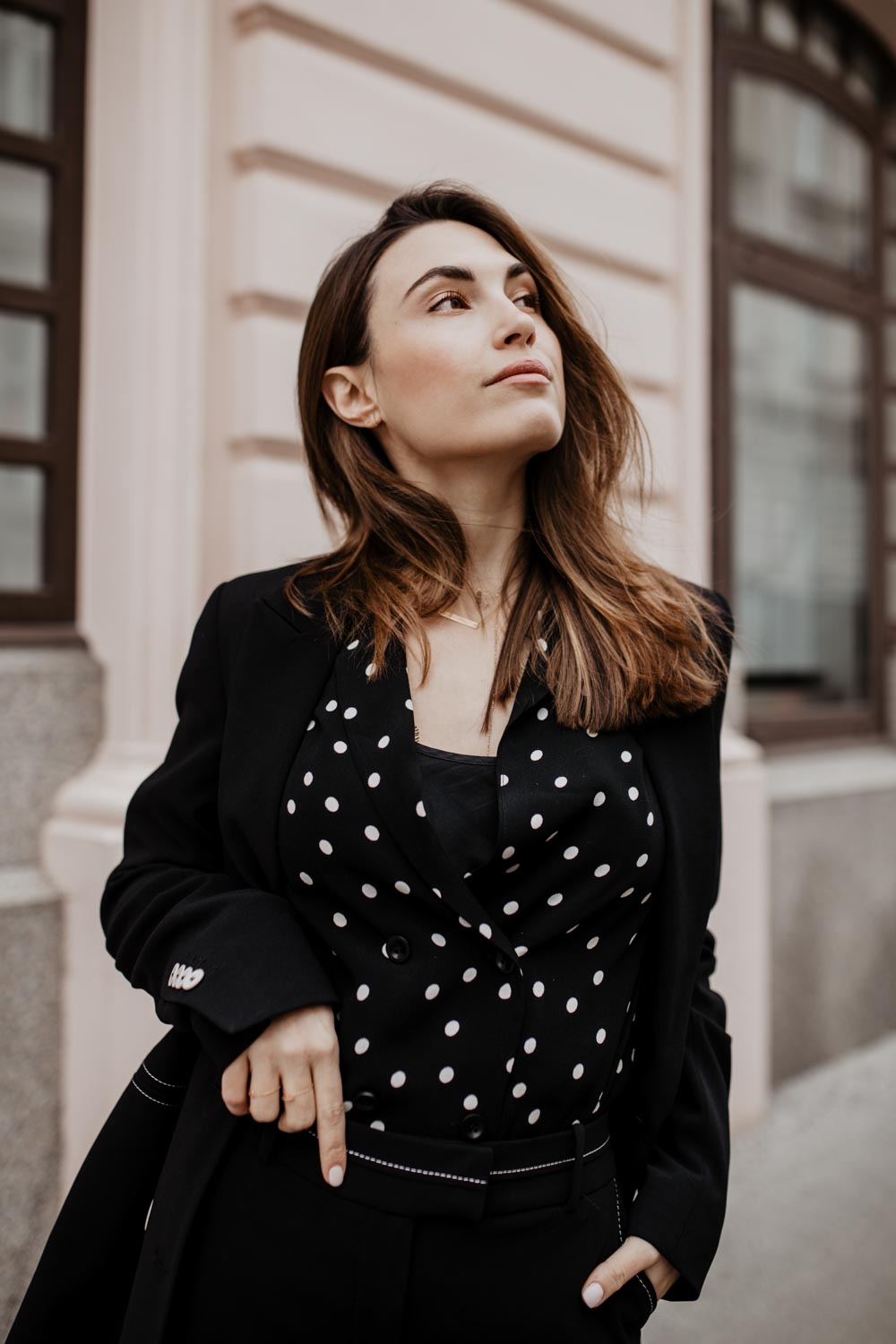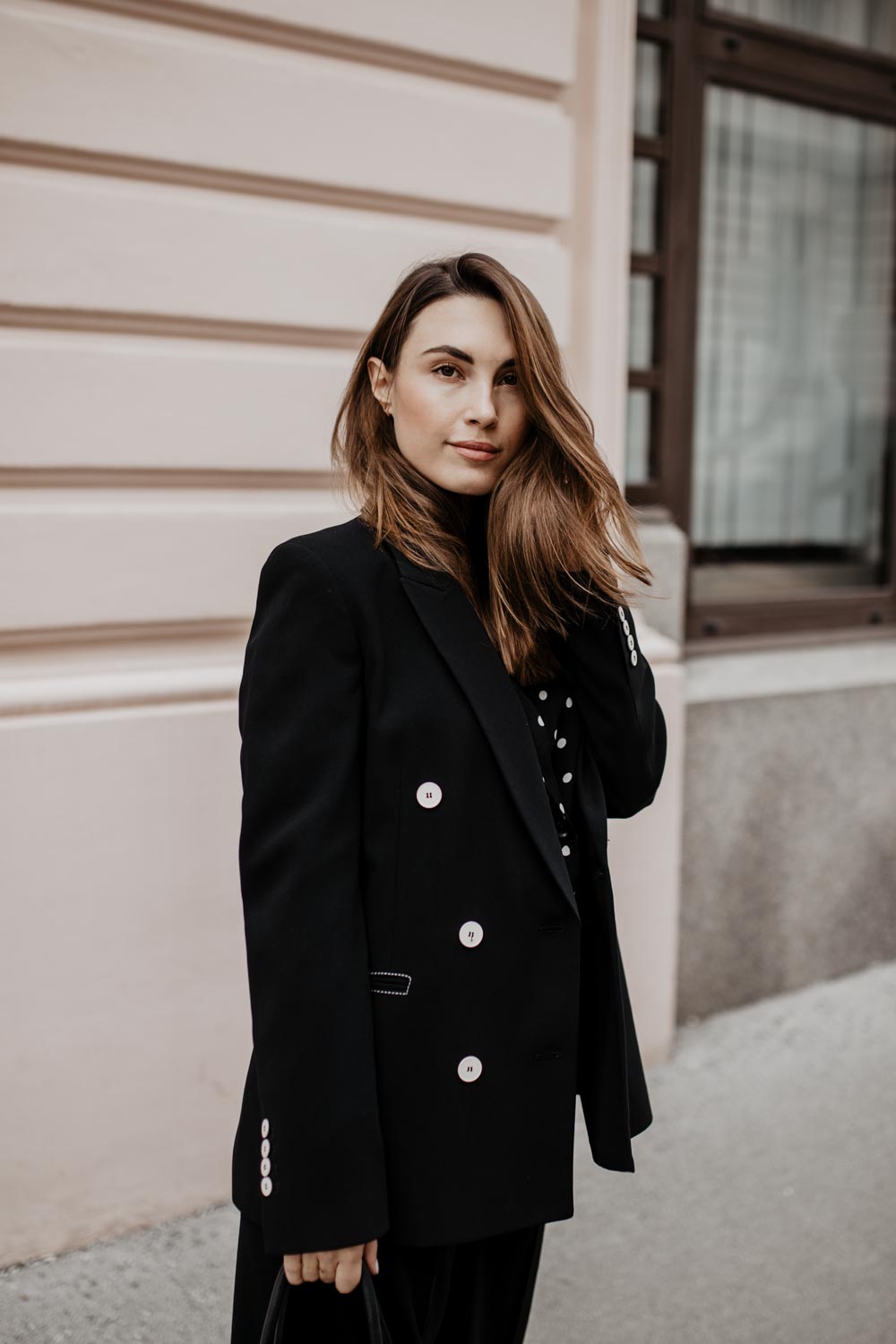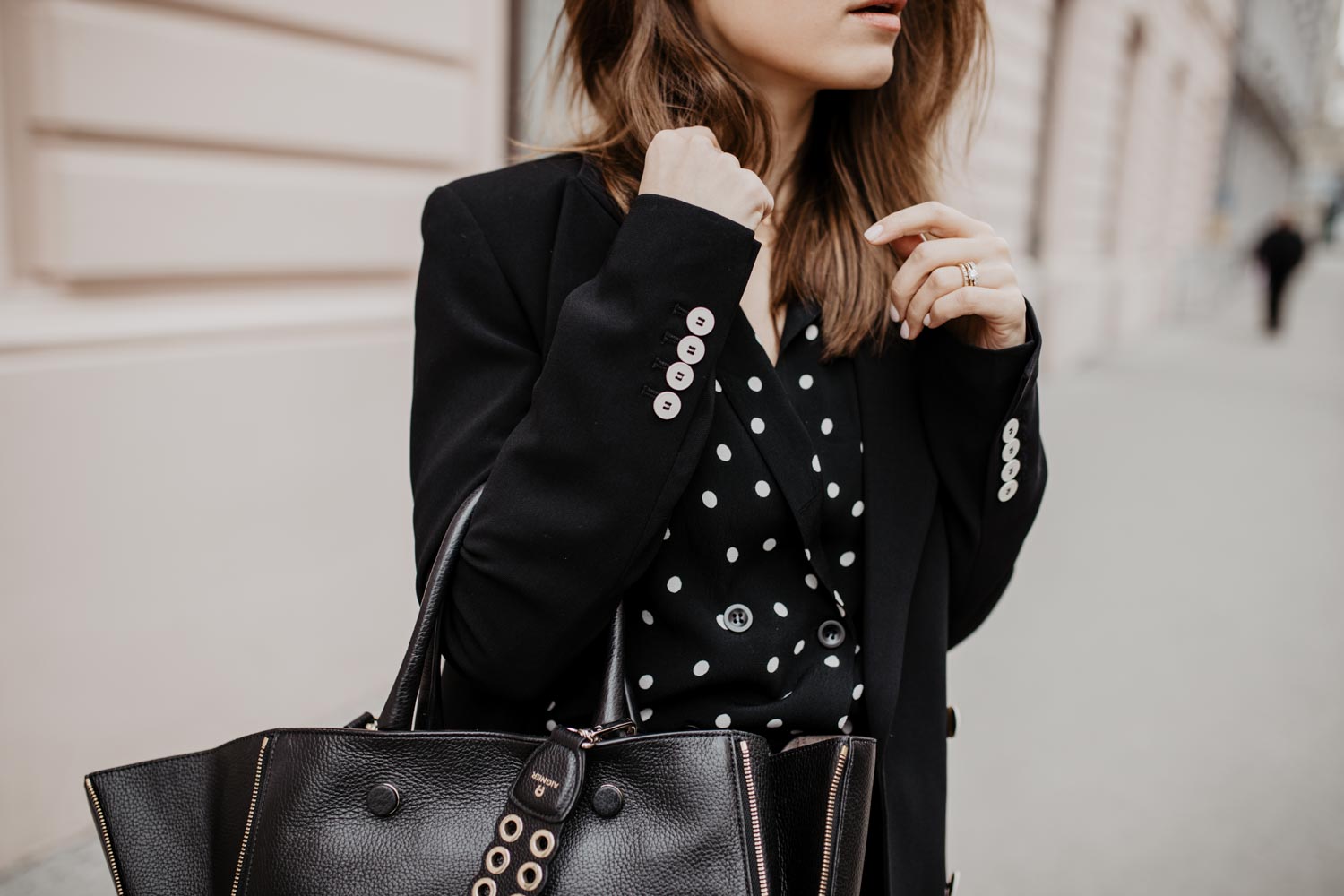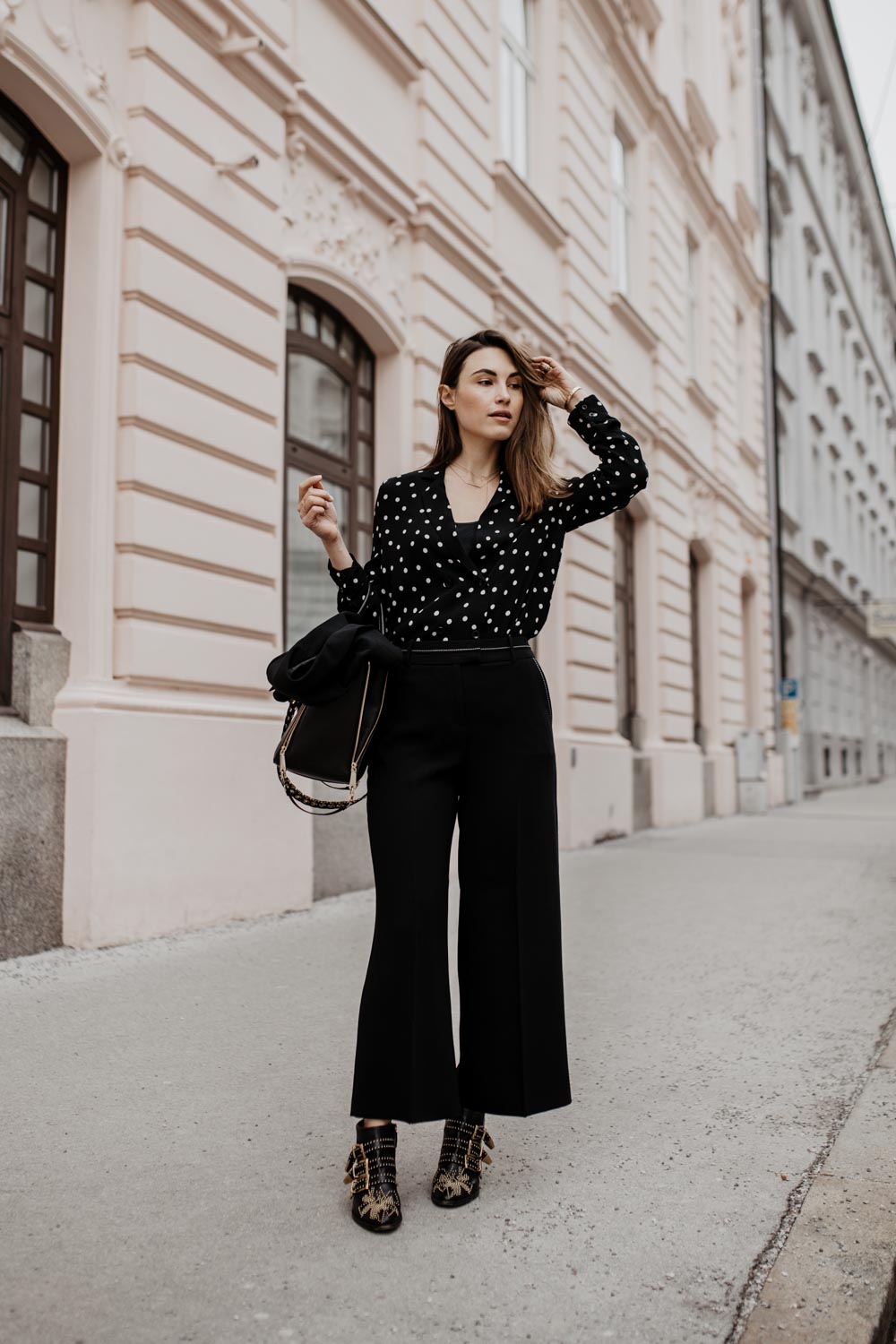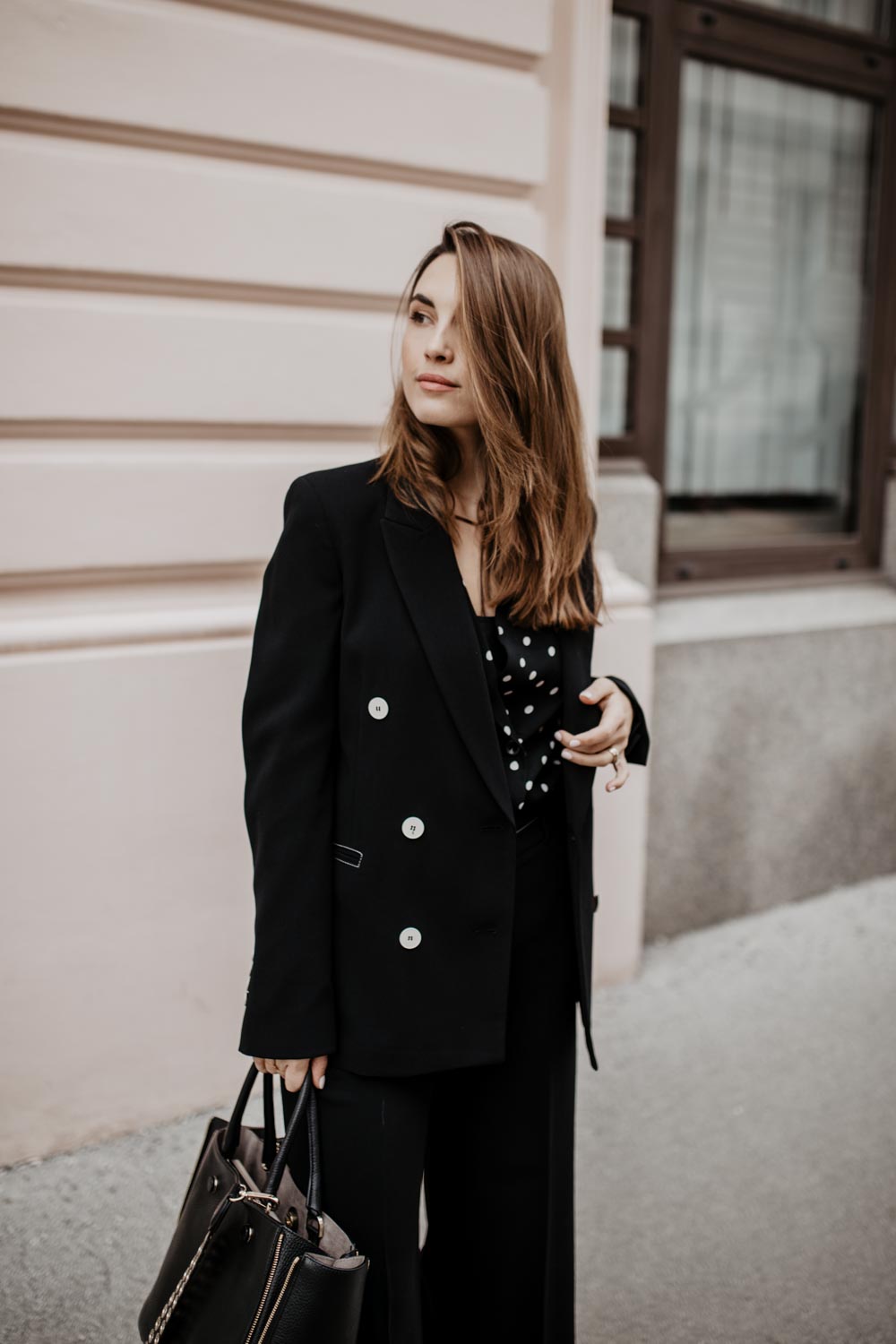 Shop the look:
Jake*s Collection Blazer // Jake*s Collection Pants // Jake*s Blouse // Aigner Bag // Chloé Boots
As mentioned before, business looks don't have to be boring. Think outside the box and add your personal style to the look – the goal is to feel confident and just like the girl boss you already are!
---
*advertisement: in fashionable collaboration with Jake*s