Food For Thought:
The magic happens in your comfort zone.
If you've been reading this blog for a little while now, you probably know I have a thing for quotes and clever words (hard to deny after looking at this Pinterest board with its 3k+ pins). Just recently I stumbled over a graphic again that I've first pinned probably around 4 years ago. It's a little drawing that explains the idea, that all magic in this world only happens out of your comfort zone. Most of you probably know what I'm talking about, right? "Your comfort zone" = a little circle. "Where the magic happens." = a big circle that stands for success and a better life, far away from your comfort zone.
When I first saw this little drawing a few years ago, I thought it was pretty cool and accurate, and to me, it underlined the fact that we should dare to try new things, maybe even things that we are not very comfortable doing.
Now, a few years later, I see things a bit differently. Who says that you have to get out of your comfort zone to be successful? I actually love my comfort zone. In fact, I adore it and everything that has to do with it. Because in my comfort zone I have my family, my friends, my home and everything that I need to be happy. Everything that I love. To me, that's where the real magic happens. Over the past year of self employment I realized that this place of safety – my comfort zone – is the best starting point for me to be more open to try new things and to take risks. Without this solid ground and safe haven provided by my comfort zone, I would have most probably never dared to do all the things I did this past year.
Where is the magic?
I think it's quite ridiculous to think that "magic" only happens when you step outside your comfort zone. To me this seems to be more of an excuse you tell yourself. Like saying: If I had time, I'd learn to play the piano. Or like: Once I have less work to do, I'll join a gym and get fit. You know, those little white lies you tell yourself to keep calm, because you actually know you can't do it all. Just like when people claim you have to get up early if you want to be successful. Says who? If you're a night owl and most productive at night, then so be it.
I'm not saying that I'm not all about pushing yourself, moving forward, thinking big and going for your goals. But is your comfort zone a bad thing? And even more so: Who says you can't do all of the magic things while being in your comfort zone?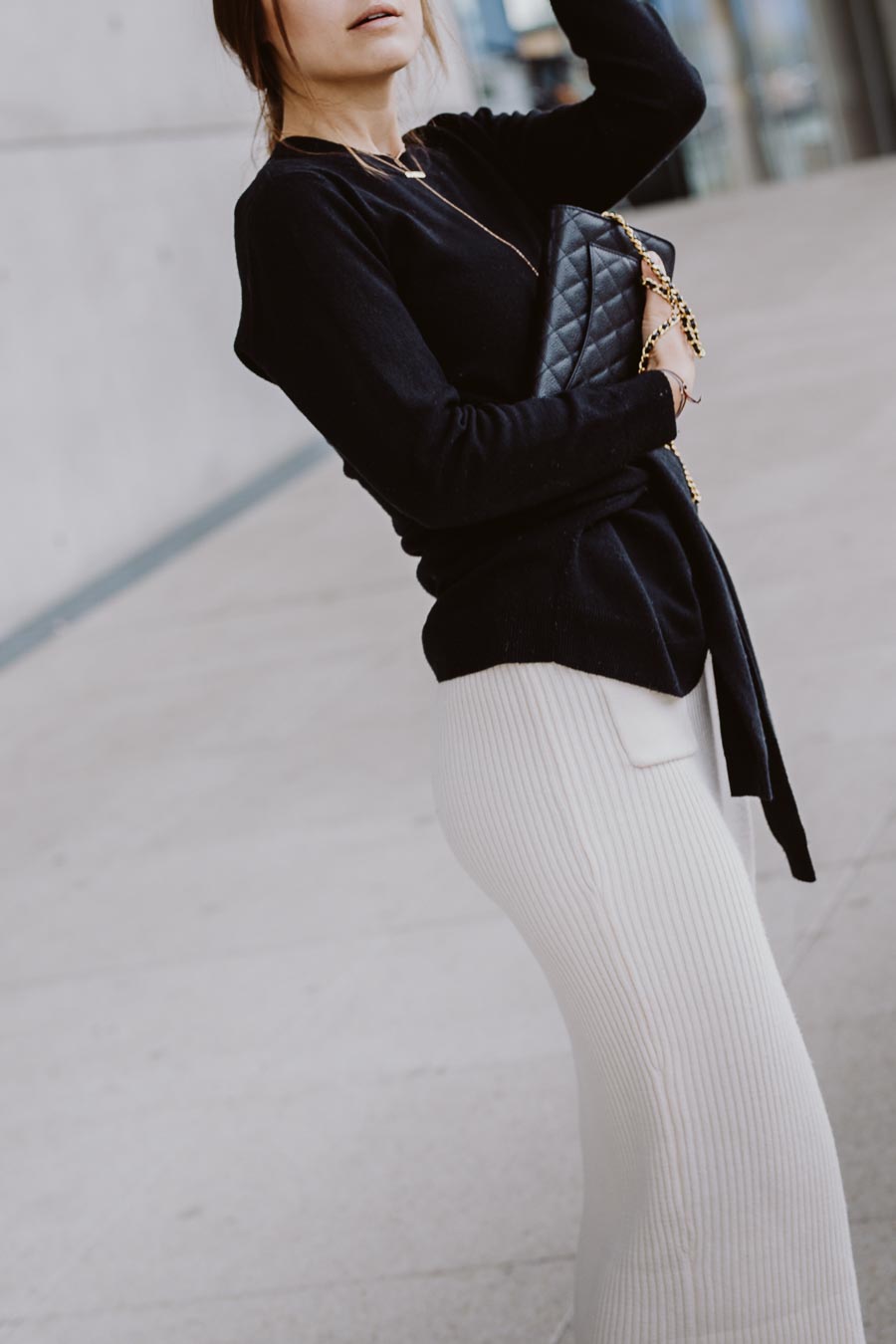 As far as I'm concerned, I'm the best version of myself when I feel comfortable. Because when I feel comfortable, I'm also the most confident version of myself. And when I'm confident, I'm more likely to take risks, dare to try new things, and do things that might seem a little scary at first.
I've learned that I do my best work when I don't have to worry about my finances, when I'm at peace with myself, my partner and my friends, when I like the environment I'm in and when I feel settled and can sleep well at night. This doesn't mean that I like stagnation though – that's actually the worst to me. I love that my life is in motion and that there are unexpected and new things happening all the time – because this is what life is all about. You can't (and shouldn't) plan everything, but having a comfort zone you can rely on when the going gets tough is a pretty nice place to have. It's a sanctuary.
There's no point in pushing yourself so badly that your life becomes uncomfortable.
At the end of the day, we all need comfort. Whether it's in form of our PJs, our favorite dish, some Netflix & chill, or a big hug of a person we love. Comfort is one of our basic needs. Of course we also need growth and we want to move forward, but I think that growth best happens when we're deeply rooted in our comfort zones. Little by little we can extend our comfort zones by trying out new things and be more venturous. It's totally okay if this process takes time – it's called life. And we can take it one step day by day. Even if it's just a baby step. In the end, it's not magic. Just effort and dedication.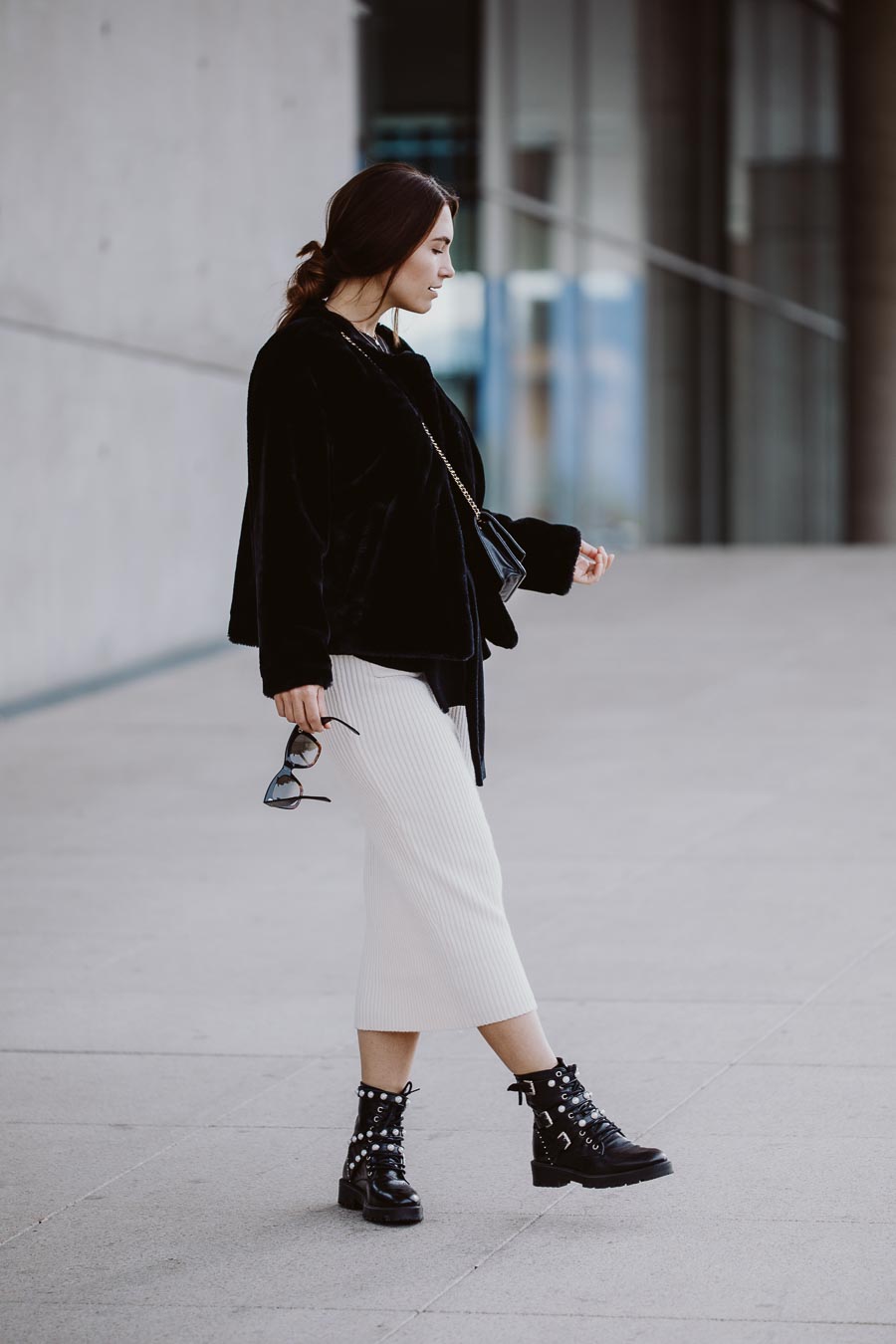 On a more fashion related note:
Up until a few months ago I gave skirts a wide berth. Especially if they were tight and body hugging. Let's just say they were not in my comfort zone at all. That was until I gave in and bought a super tight leather skirt in Sydney this March. I started combining said skirt with my usual go to favorites and realized how easy it works with so many of my things, adding a special twist to my looks.
The wool skirt I'm wearing in this photo is from last year, and although I gave it a try several times already (like here and here), I never really felt super comfortable in it. I took it out a couple of days ago again and wore it for brunch and strolls in the city, and there it was: The comfort of feeling myself, and confident enough to pull off this outfit. You see, some things just take time. Some will work out, some won't. Let's just all make sure we're comfortable doing the things we do: No matter if they are business related, concerning our private life, or superficial things like outfits.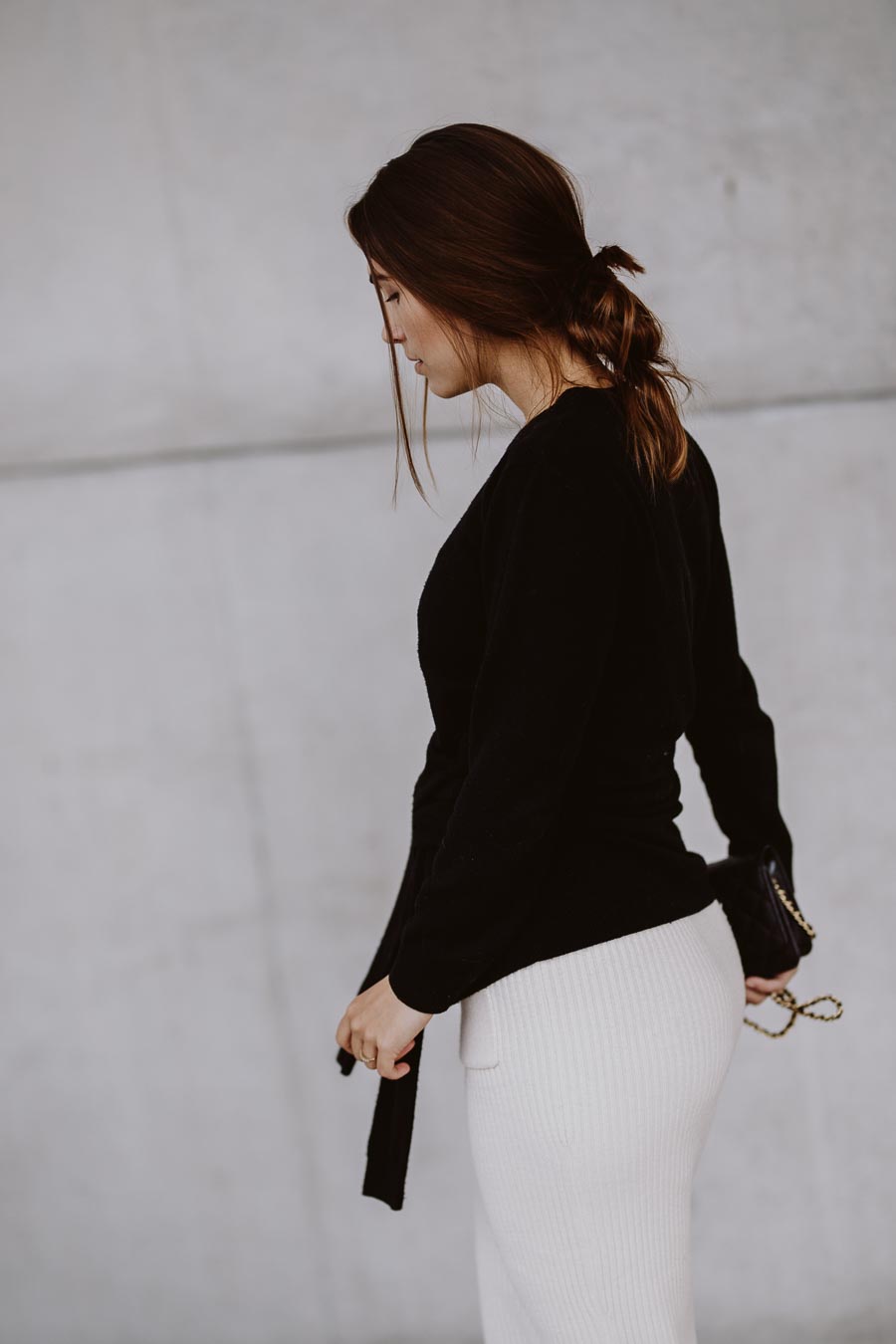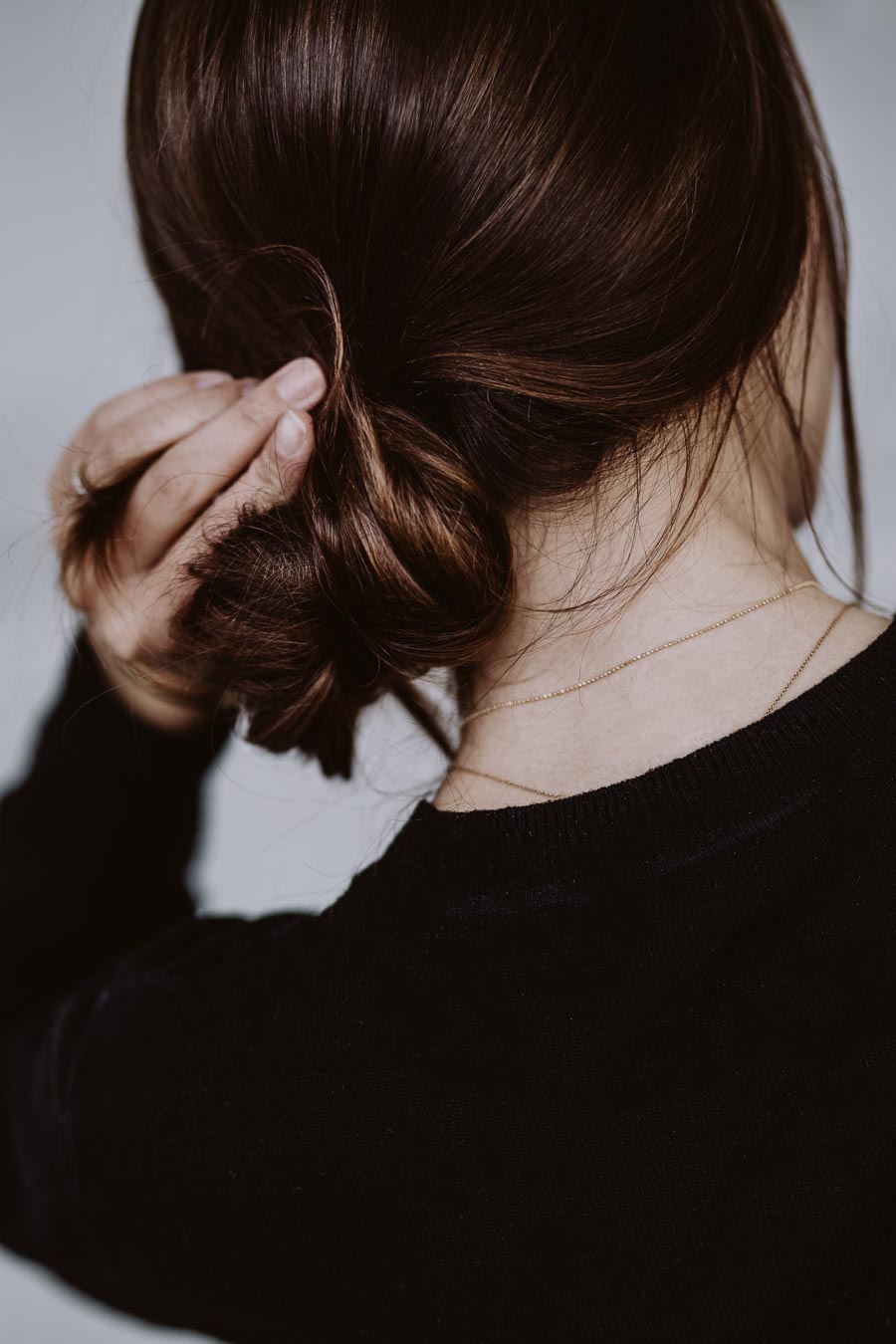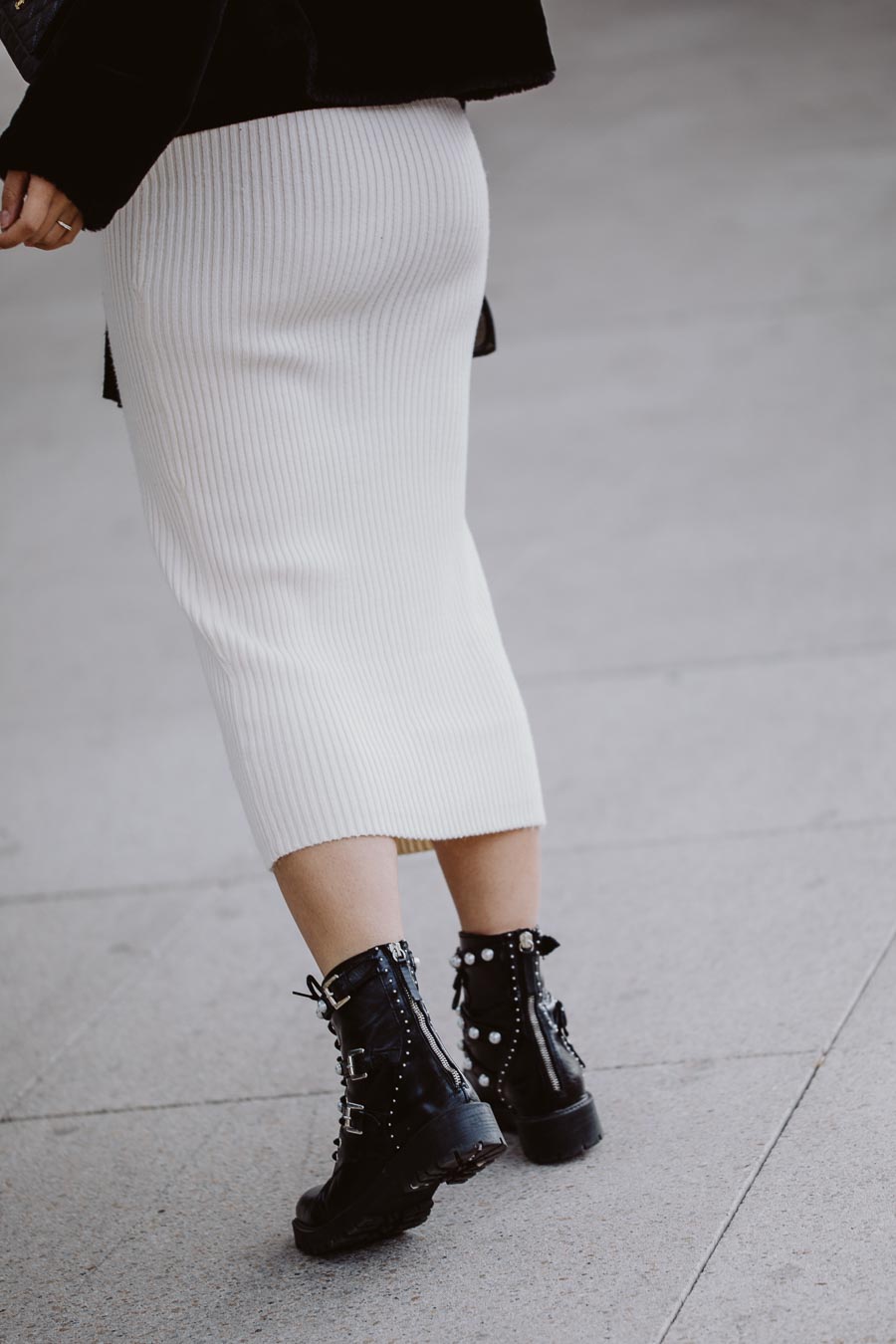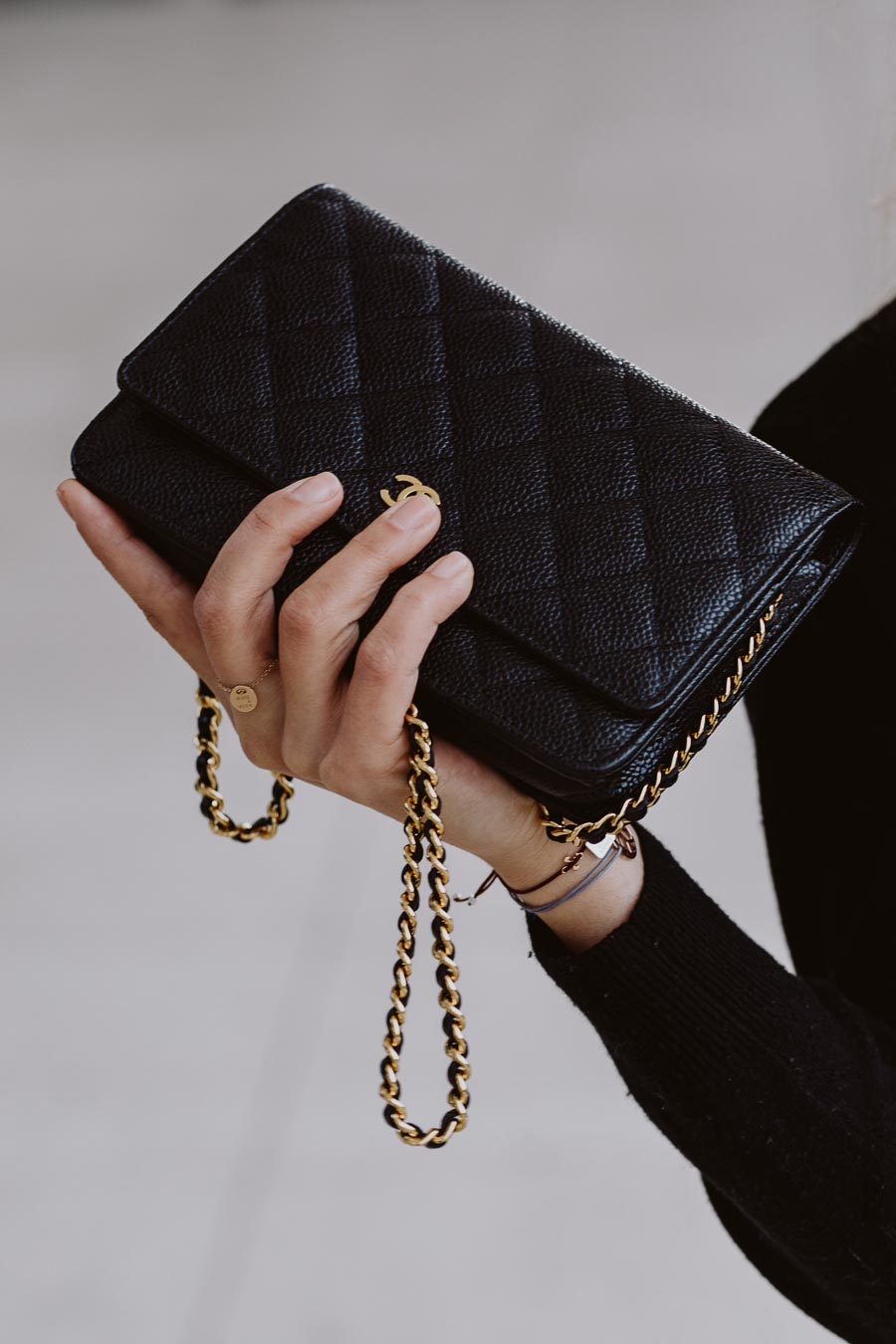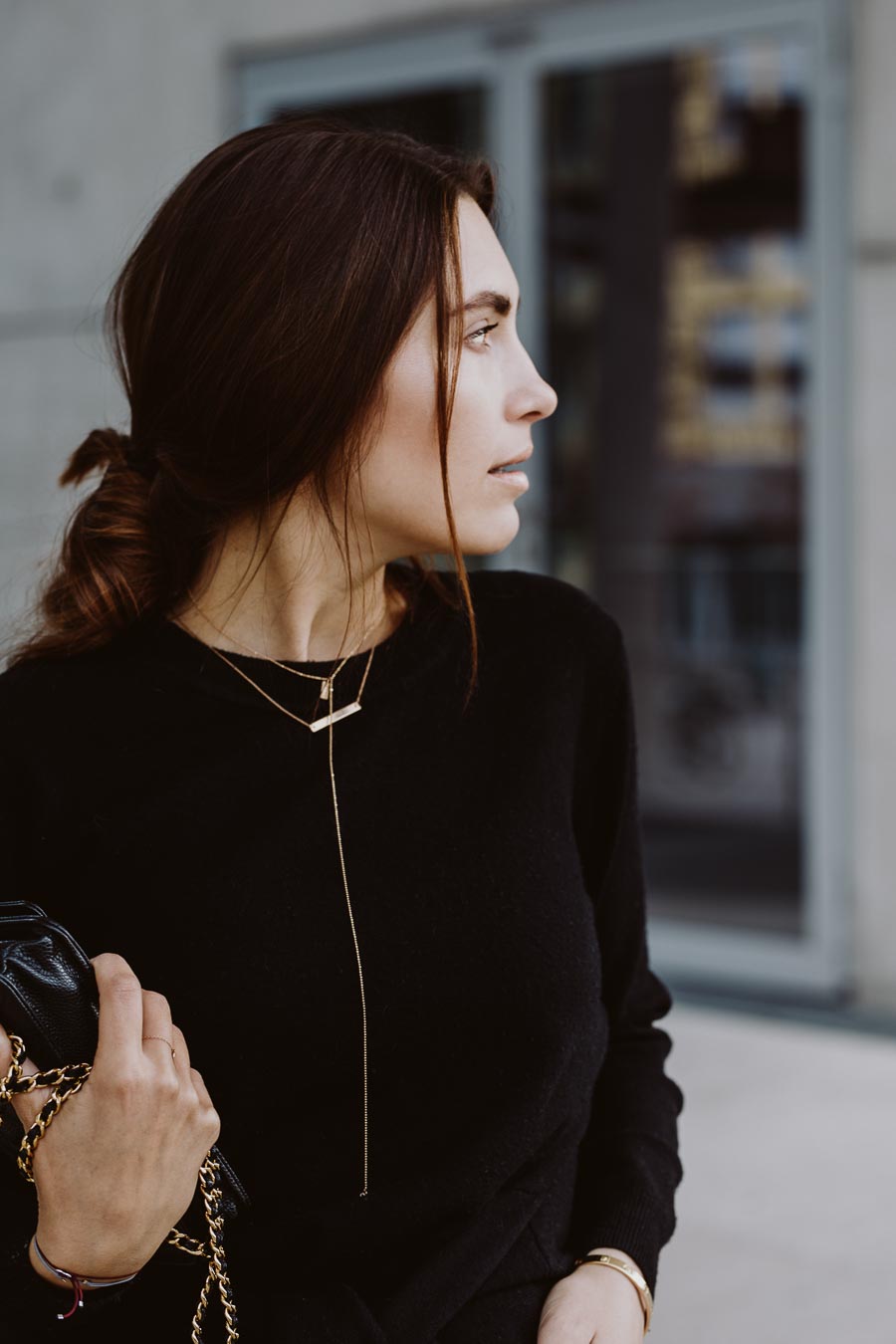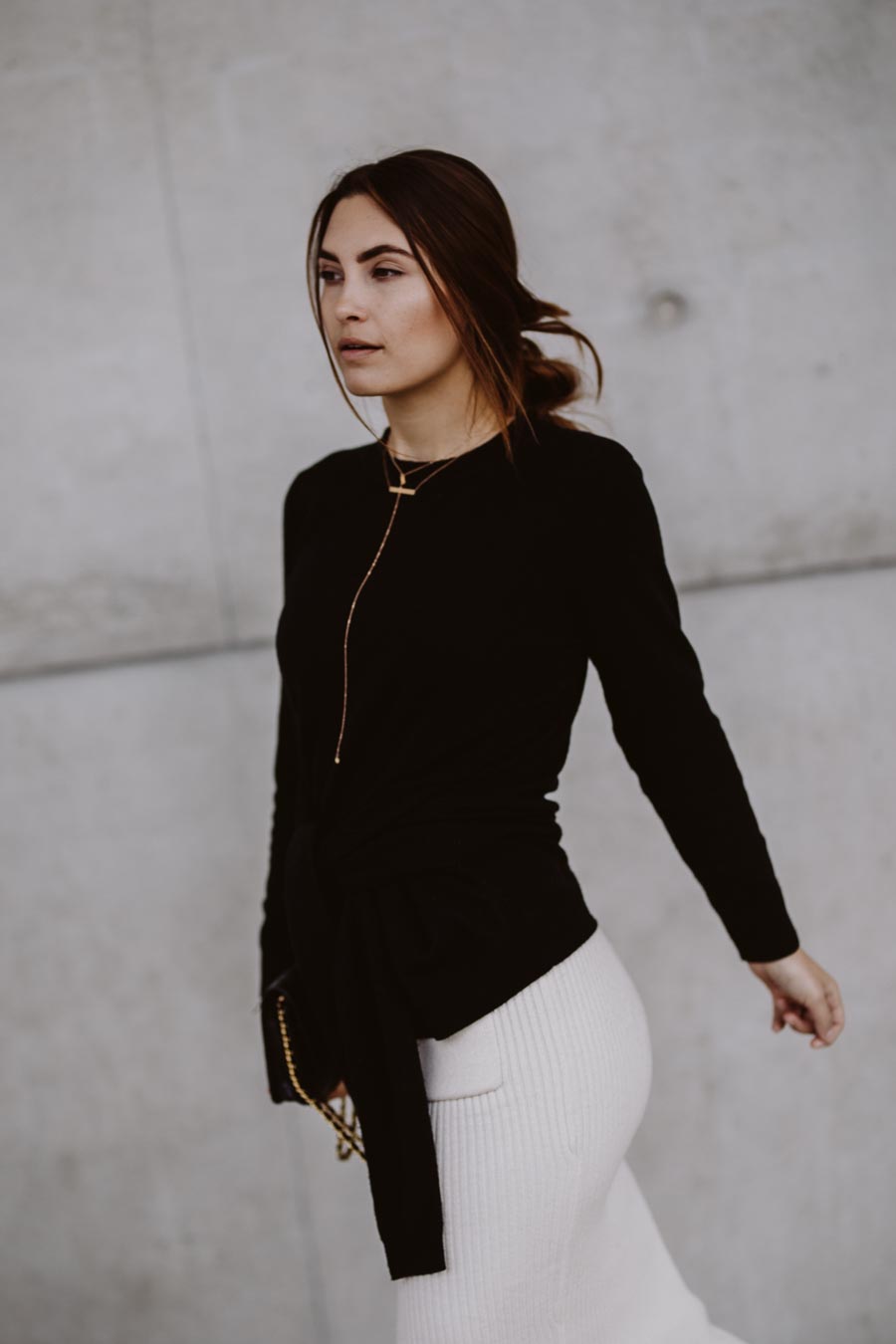 ---
Zara skirt (similar black version here) // Zara boots (similar here) // Sandro Paris sweater (similar here) // Chanel WOC // Céline sunglasses // Anna Inspiring Jewelry necklaces
Shop the post: