Summer time and the living is easy
Every summer has a story, but this one repeats itself each and every year: The pursuit of the perfect little white dress.
There are many white dresses in my closet already, but I just can't walk past a good LWD, so I'm collecting them like others are collecting jeans. They are a staple in my wardrobe and my Mama and me are secretly joking that one day we'll live in a place where we'll need nothing else but white dresses.
I feel like in previous years it has been quite challenging to find affordable and cute little white dress styles. I used to buy mine mainly on holidays in Italy and Spain, but this year it seems like white is very popular again and there are countless amazing options available.
The beautiful thing about a simple white dress is that it's an outfit in itself. It's this one piece you're immediately dressed with, and you don't have to waste any further thoughts on how to pair it. White always looks clean and crisp, and it highlights sun kissed skin even more.
My white dress of desire this year is a simple shirt dress with knotted sleeves and a casual waist band. Simple, but yet so chic. Dressed up with red lips, my Chloé Drew bag and my favorite summer hairstyle it's the perfect outfit for a gloomy summer night. During the day, I love styling it with my basket bag and slides, and rolled up sleeves. It's an allrounder, you see.
The only negative aspect: I'm totally iron-averse, but this dress needs lots of TLC after washing. So I would not recommend to take it on holidays. Except you'd like to embrace the crumpled look.
I've rounded up some of my favorite white dresses found at About You below. There are also more feminine styles, lots of boho dresses and lots of lace – which means: Lots of dresses that will steal your heart instantly.
Here are my favorites: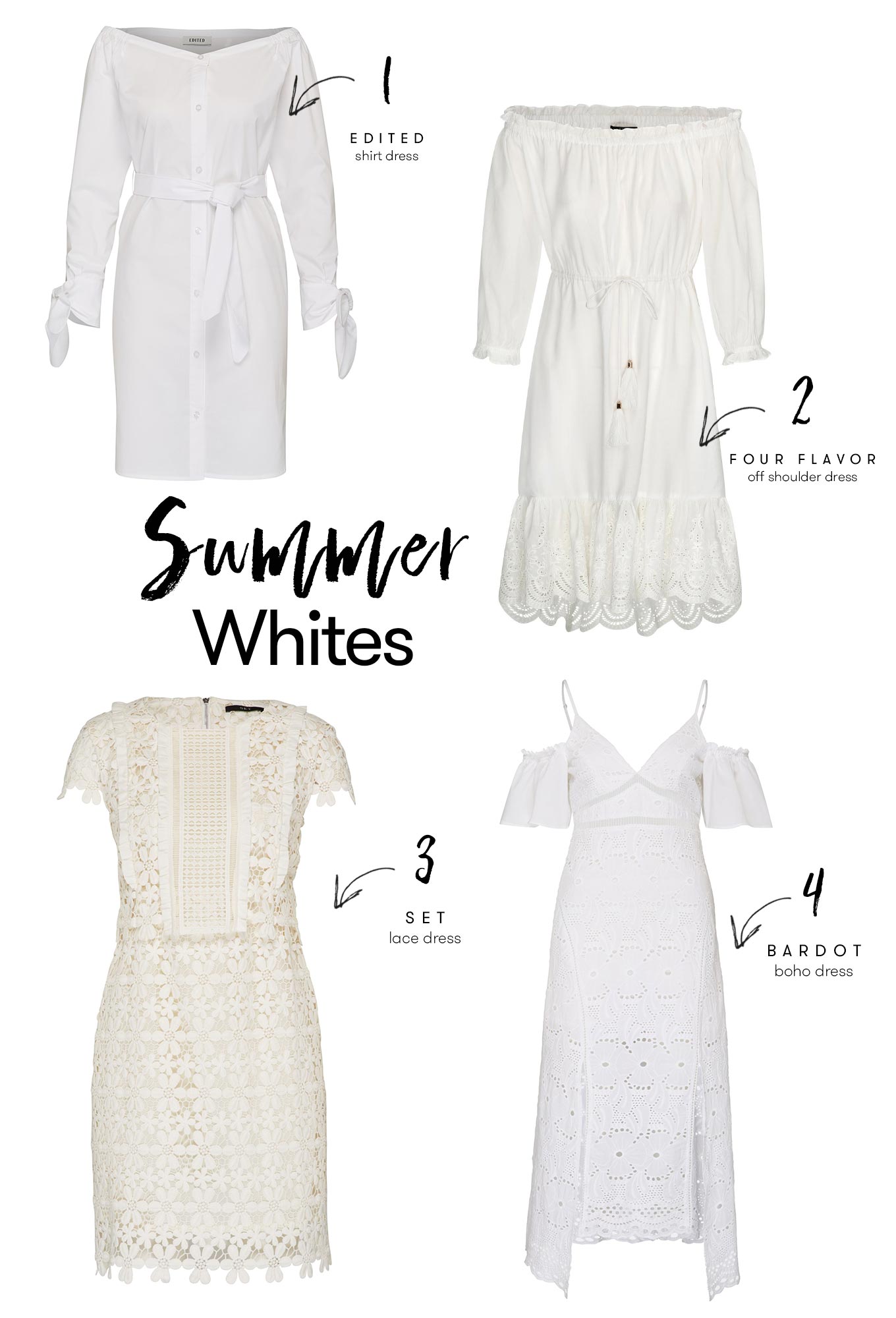 No. 1 – La Minimalista.
No. 2 – The off-shoulder goddess.
No. 3 – La-la-lace, baby!
No. 4 – Bohemian Rhapsody.
---
Edited dress via About You | Steve Madden espadrilles slides via About You | Chloé Drew bag | Essie Ecláir My Love nail polish
*in friendly collaboration with About You