New In:
Say hello to Gabrielle
One of the clothes I love most in summer, which you'll see me wearing a lot, are midi skirts. If you ask me, the feminine silhouette of a midi skirt just has something unbeatable to it. I personally love it when women dare to show their curves in an elegant way – meaning: Putting focus on the silhoutte of their bodies without revealing too much skin.
Every time I throw on a midi,  I immediately feel very lady-like, and most of all put together. Another reason why I find myself gravitating towards midi skirts so much definitely is the fact that they are just so comfortable. No matter if  the skirt is made out of silk, cotton or linen – you have this certain freedom of movement and every time you walk you just feel kind of sexy automatically.
Another reason why I love it so much is because you can easily tone it down by styling it with a simple t-shirt, a crop top, and denim or leather jacket. If you want to make it look a little more fancy, simply pair it with a crisp white shirt that you tie in front, or with a silk camisole. Add strappy heels and a red lip, and you're good to go out.
You will be surprised how much use you can get from a classic midi skirt. It's one of those pieces I always pack when going for a trip, because it gives you so many styling possibilities (and it does not take up much space in your luggage!). I recently just bought two midi skirts (this one, and this one) for this season and have already worn it for many occasions. It's comfortable, perfect to move around in, easy to style down or up and hence the perfect summer piece!
If you're an attentive reader of my my blog, you might have spotted a new bag here. And you're right of course: A new bag moved into my closet last week.
I finally took the plunge and decided to go for the Chanel Gabrielle Hobo bag. I've been looking for a classic black bag that I can wear daily for quite some time now. One that is big enough for my daily essentials for a day at the office, or when commenting to Vienna, but also one that fits to all my outfits and is rather practical. I've been eyeing the Gabrielle bag since it was released a few years ago and it has grown on me so much since. One of my favorite features of the bag definitely is that the straps have mixed colors – which means it fits to literally anything. Let me know if you'd be interested in reading a review of the bag, like I did for my Chanel WOC. I'm happy to tell you more about it, if you like!
My Favorite Midi Skirts for Summer: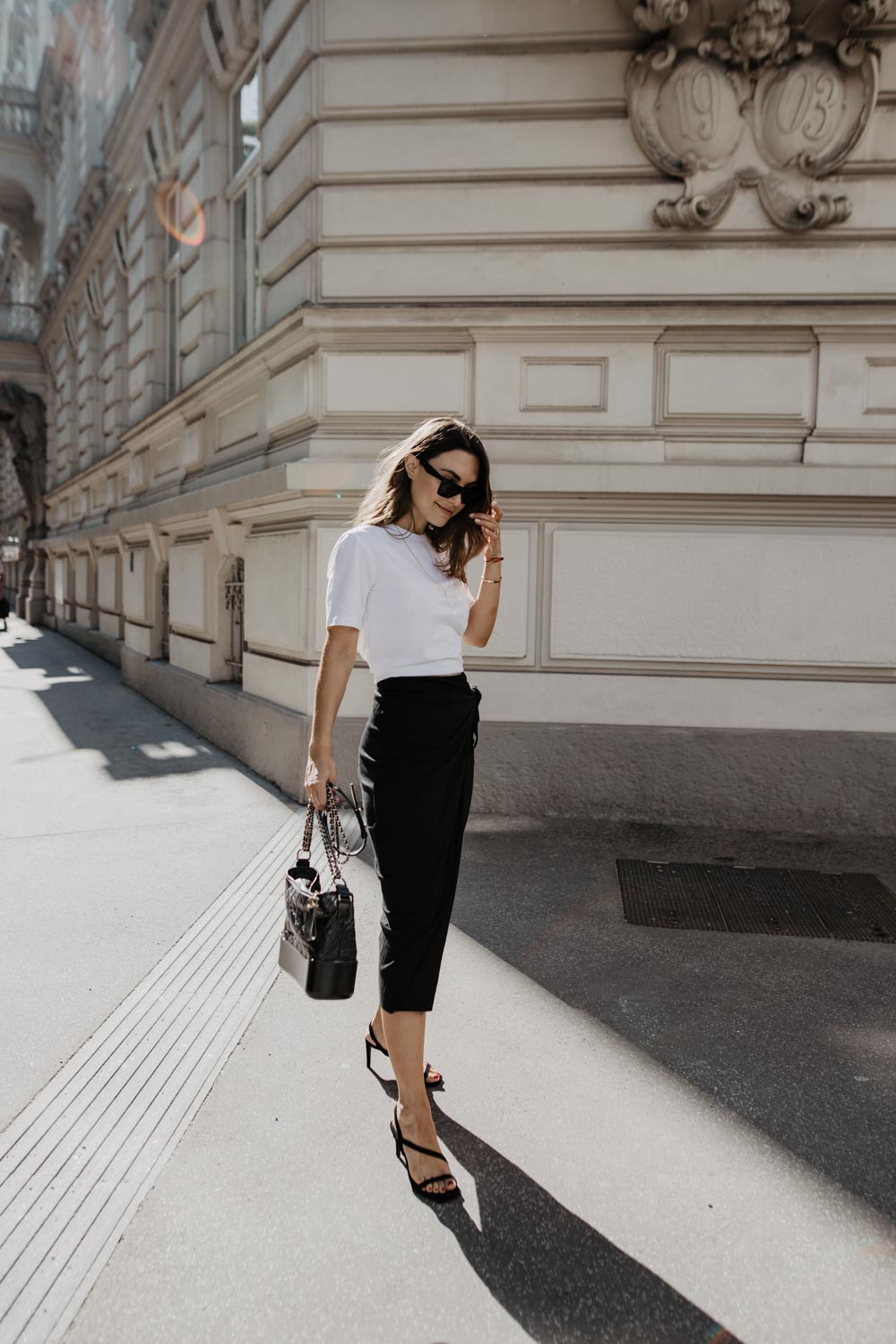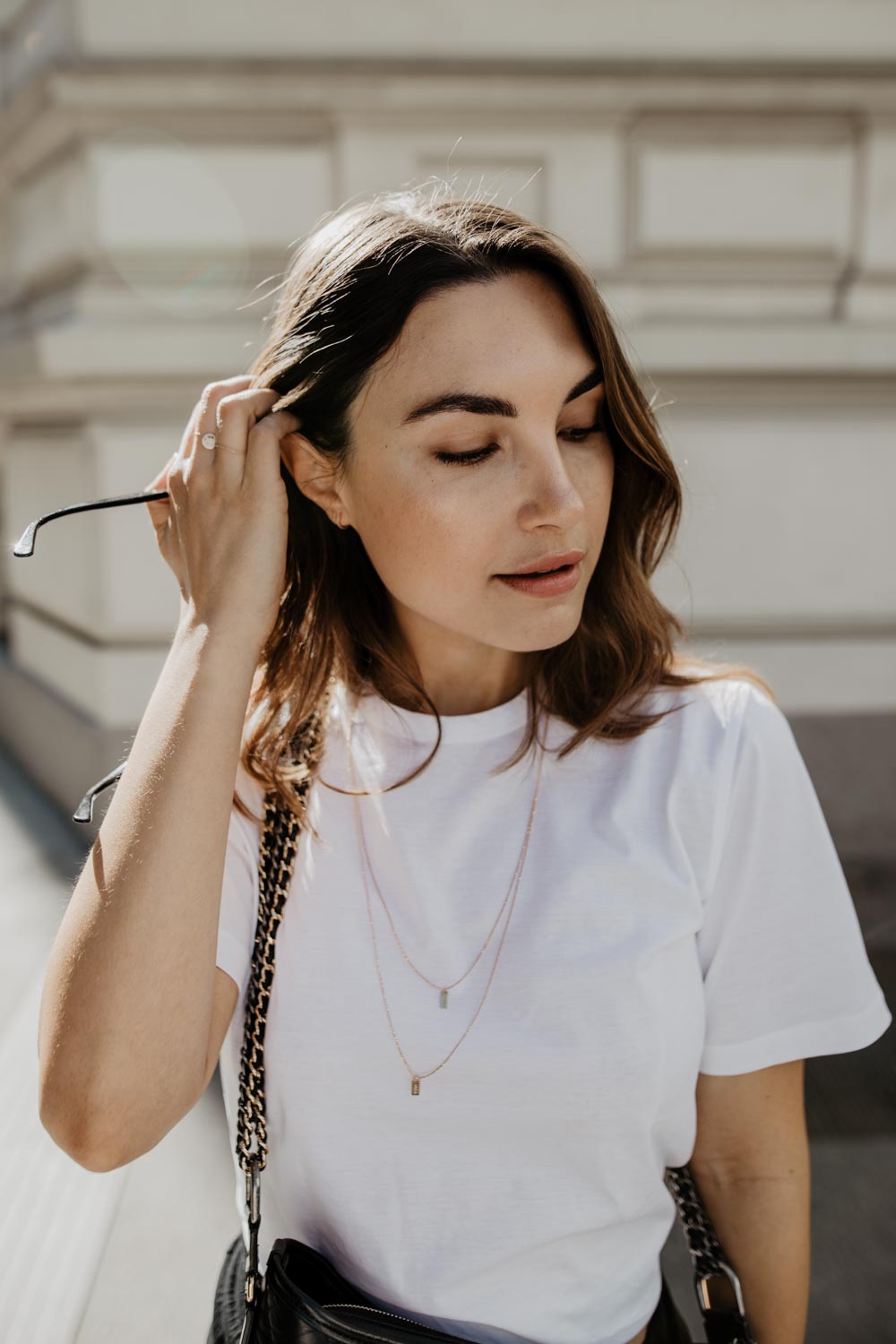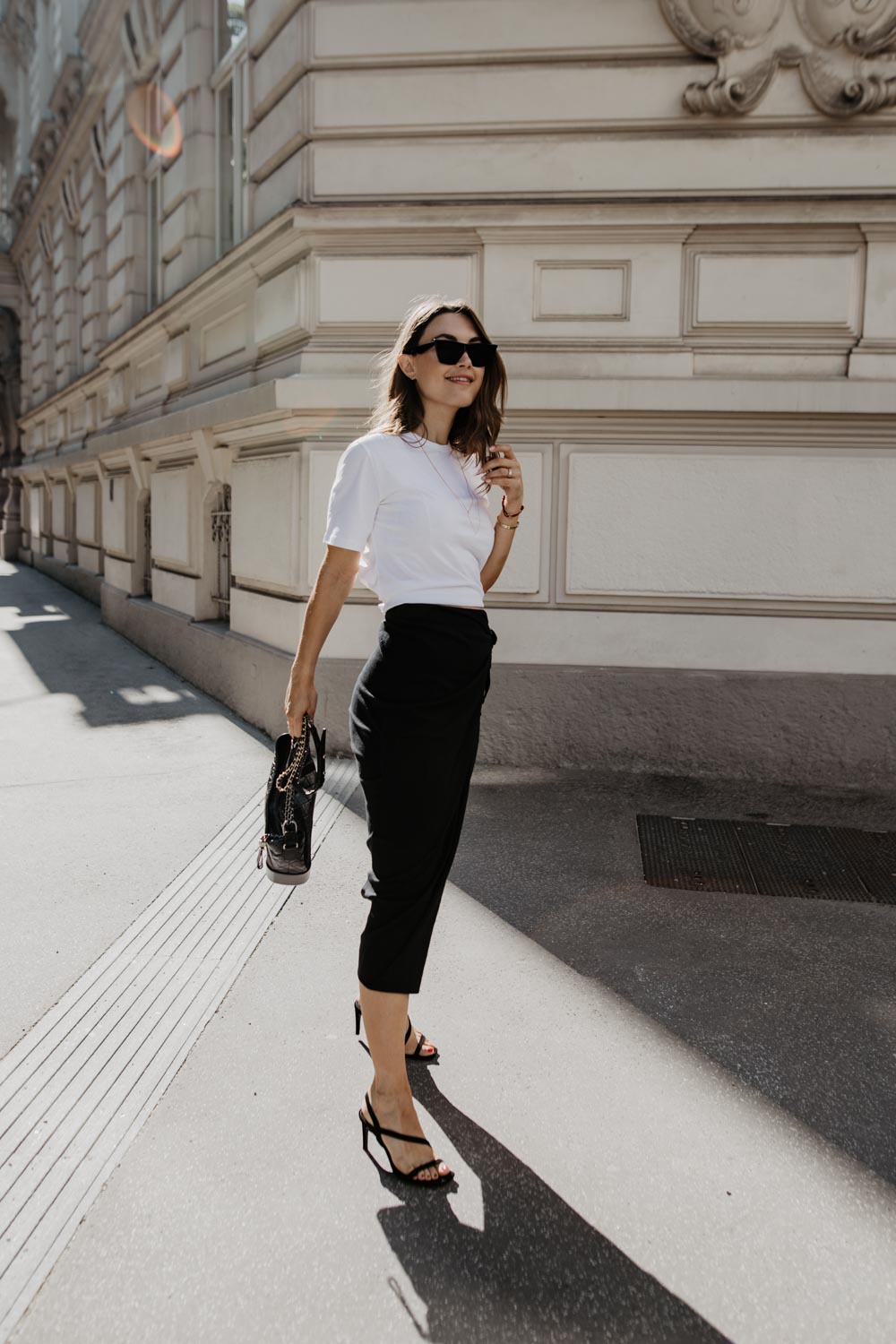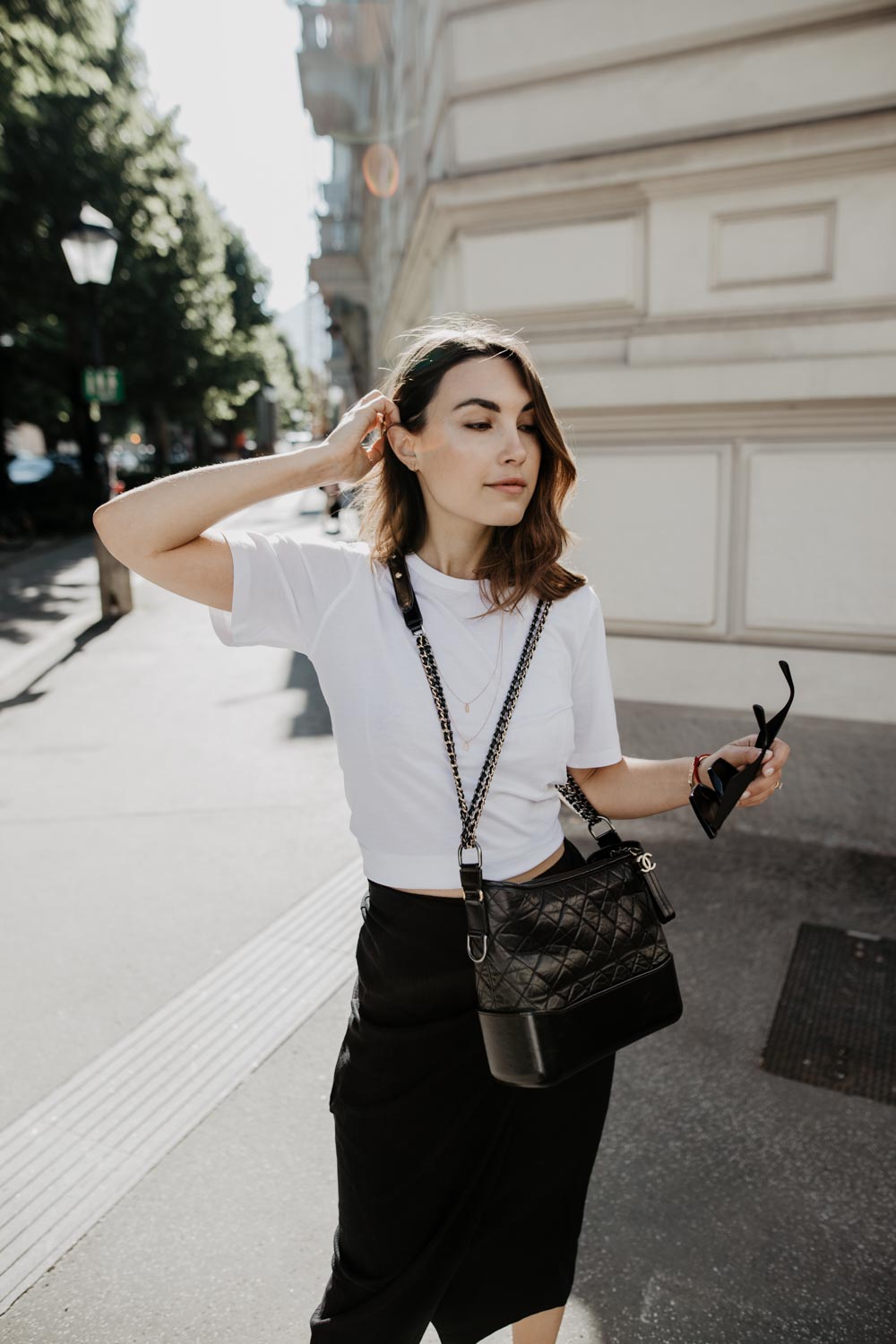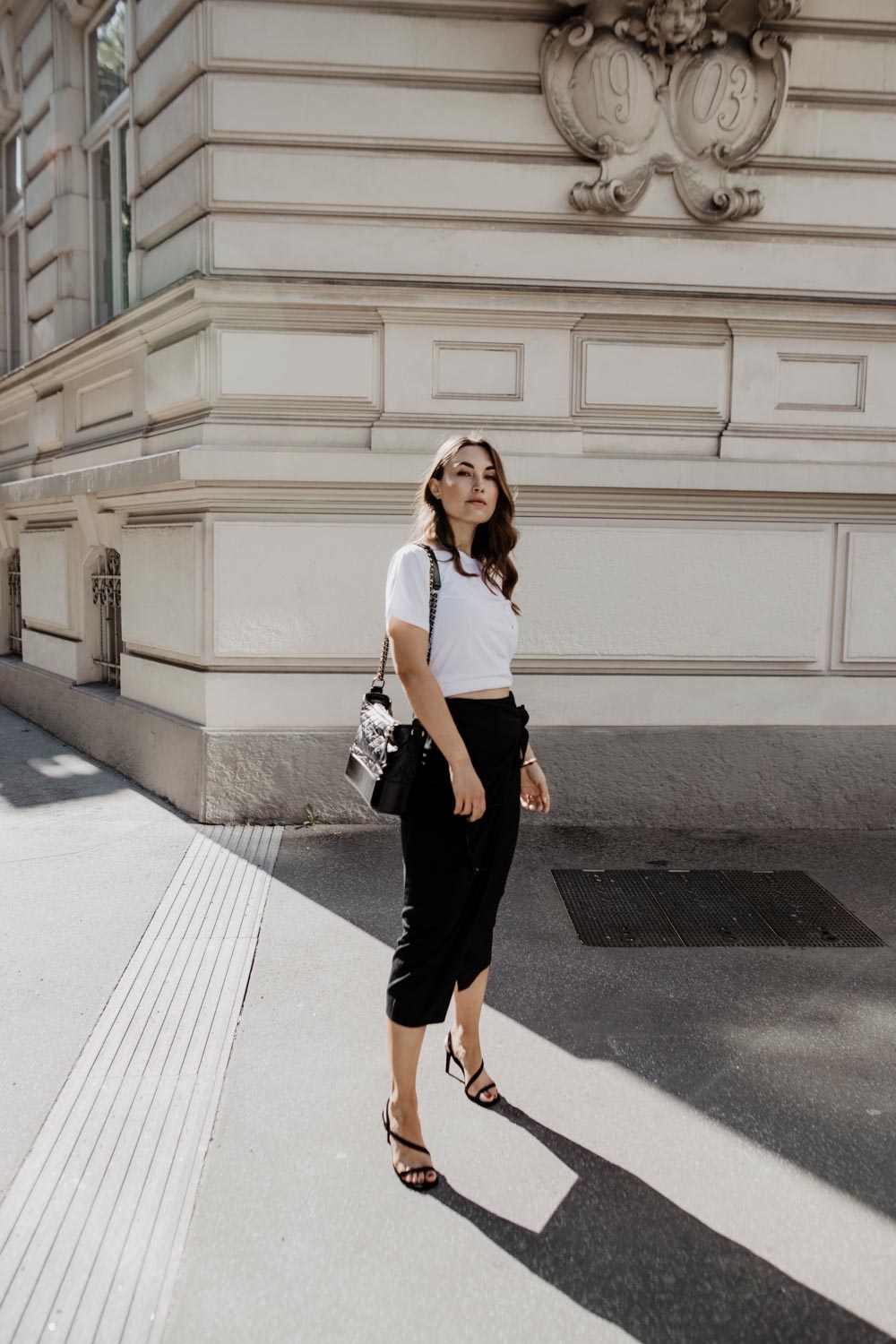 ---
wearing: EDITED skirt // EDITED heels // Ivy & Oak t-shirt // Chanel Gabrielle bag (pre-loved here) // Céline sunglasses // ANNA necklaces
Shop the outfit: