Salzburg Guide: My favorite corners
Some of my most frequently asked questions revolve around Salzburg and what to do here, so I would like to share a list of some of my favorite corners and things to do in the summer in the city.
Summer in Salzburg – exploring my favorite corners in the city with MINI:
Cafés
Yes, you know it. I'm a big coffee junkie, and even more do I love the atmosphere in Cafés. Sitting there, sipping on coffee, holding hands with Patrick as if we're old and grey already, watching people… that's my thing! There are some Cafés in town that I particularly like:
Café Bazar
One of the oldest Cafés in town, Café Bazar offers everything to love about Austria's famous "coffeehouse culture". Marble tables, gold interior details, a huge coffee menu and freshly baked cakes and pastries. It's especially lovely in summer when you can enjoy your coffee on their big terrace directly at the river with a gorgeous view of the city.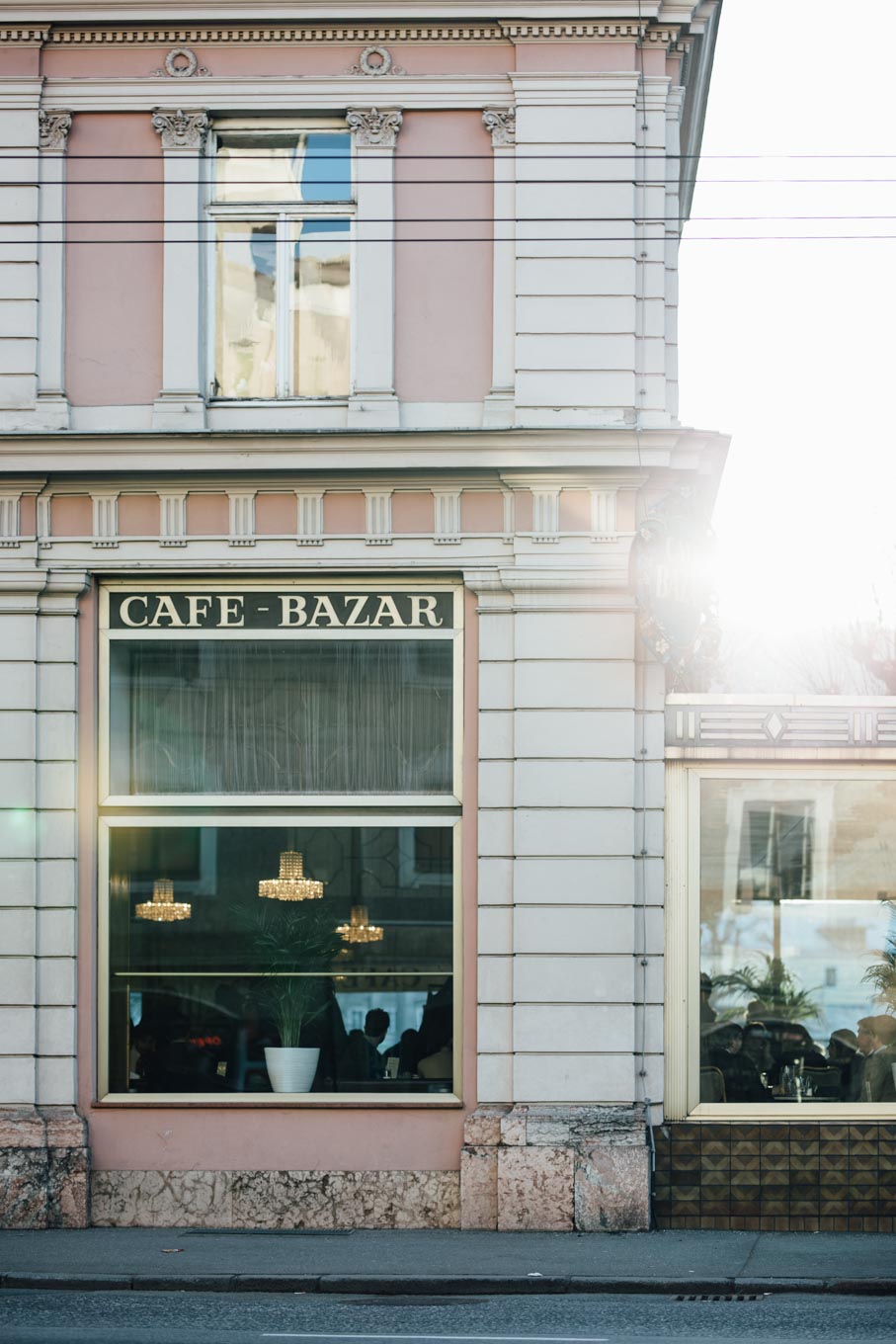 Café Bazar
Schwarzstraße 3
5020 Salzburg
Monday – Saturday: 07:30 – 19:30
Sunday & holidays: 09:00 – 18:00
During festival season daily from 07:30 – midnight
Café Fingerlos
This Café is located right across our office and one of our favorite hangouts when we feel like escaping our desks for a little coffee break in the sun. I love sitting outside and watching all the people passing by. Also, their breakfast menu is fantastic and definitely worth trying!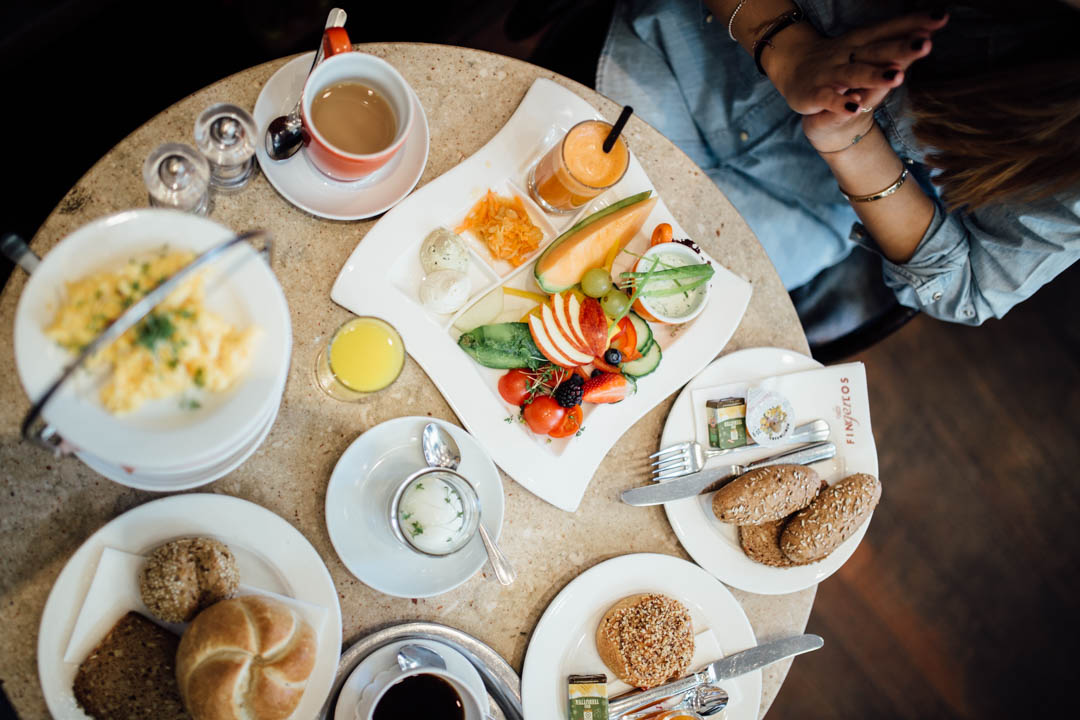 Café Fingerlos
Franz-Josef-Strasse 9
5020 Salzburg
open Tuesday – Sunday: 07:30 – 19:30
M32
If it's your first visit in Salzburg, you should not miss this place: M32 is a Café & Restaurant on top of Mönchsberg (one of the three little mountains surrounding the city) and offers the very best view all over Salzburg. Their terrace is a very popular spot in summer, and also breakfast and lunch is available. You can either take the scenic route up Mönchsberg (it's a beautiful 15 min uphill walk) or if you don't feel like walking there's also an elevator that takes you up and down.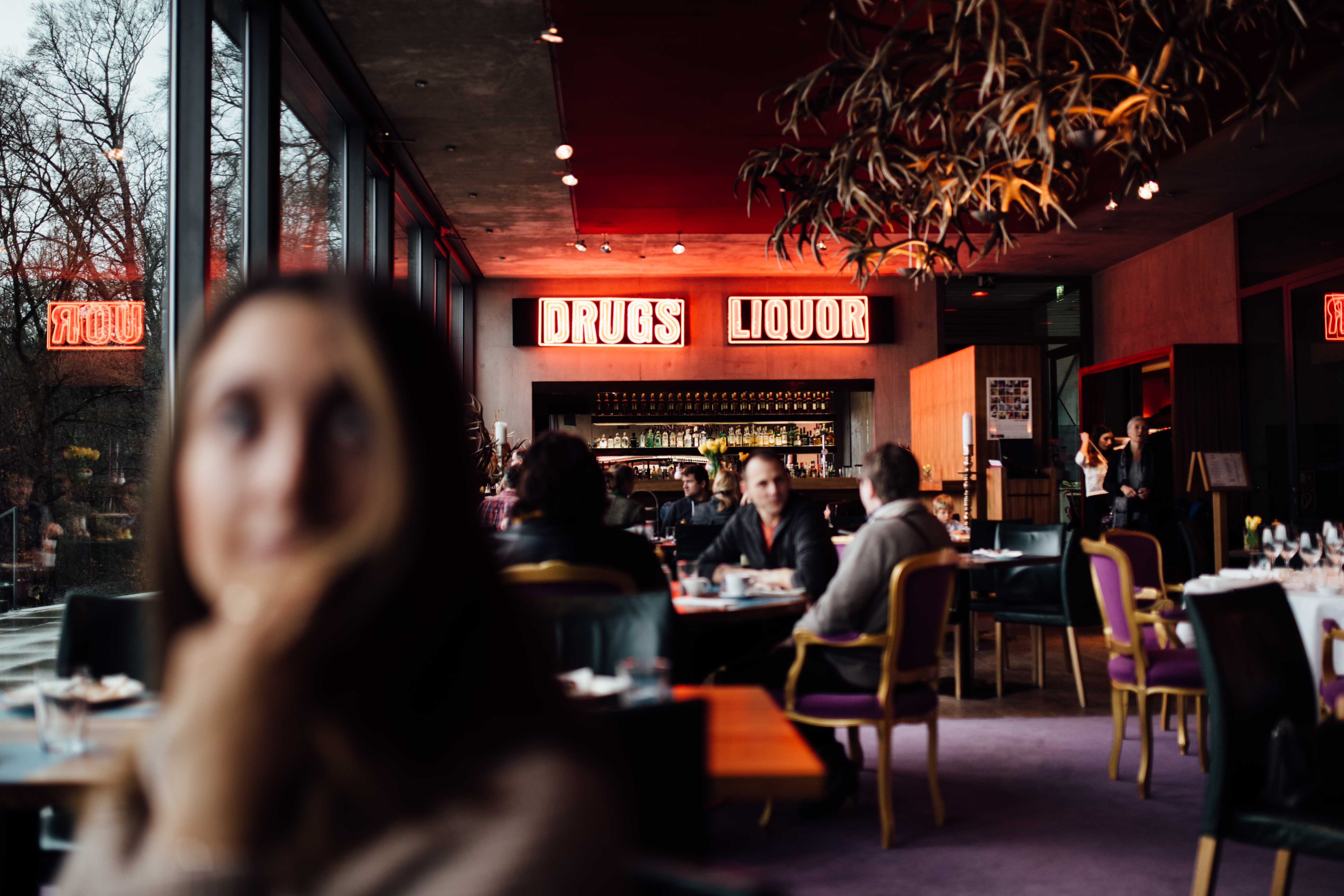 M32
Mönchsberg 32
5020 Salzburg
open Tuesday – Sunday: 09:00 – 01:00
during festival season open daily from 09:00 –  01:00
220° Café Nonntal
Just recently opened, 220° Café Nonntal is one of my favorite sports for brunch, or just for hanging out for hours and meeting friends for coffee. And when I say coffee, I mean REALLY good coffee. Not only does the coffee menu fulfill all wishes, but they are roasting their own coffee as well, which makes it extra special – and delicious. The interior is very dreamy as well: blue velvet meets gold details… need I say more?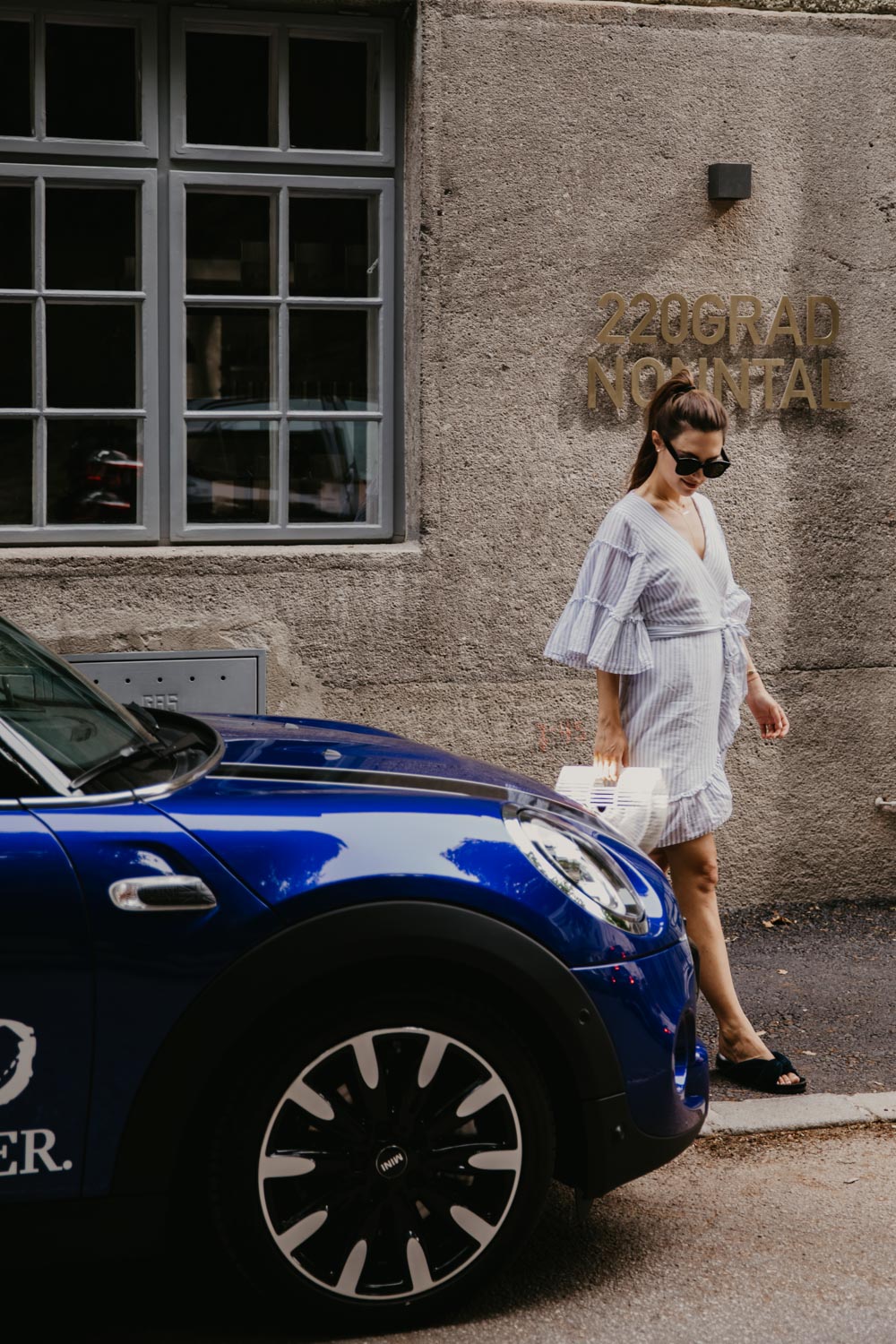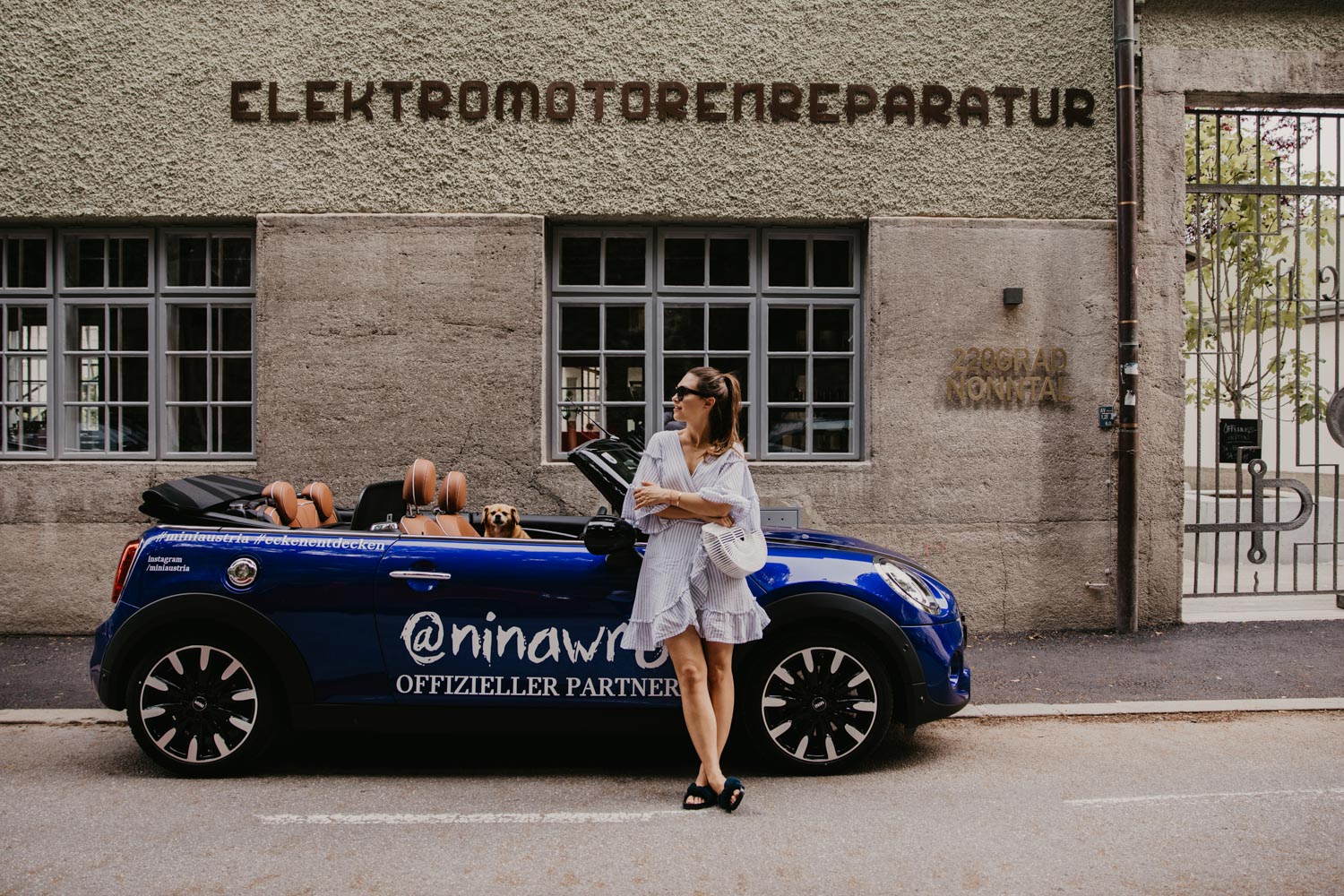 Café 220° Nonntal
Nonntaler Haupstraße 9a
5020 Salzburg
Tuesday – Friday: 09.00 – 19.00
Saturday: 09.00 -18.00
Vis-à-Vis
Another one of my go-to hangouts is Vis-à-Vis – just right across "Blumen Doll", hence the name. Vis-à-Vis is more like a concept store, where you can find treasures such as the most gorgeous coffee table books, interior pieces as well as all kinds of accessories for the home and for yourself. I love browsing the little shop and sitting down for a coffee. It feels like sitting a very lovely decorated living room. In summer it's very nice to sit outside in between orange and lemon trees, and just enjoy the day.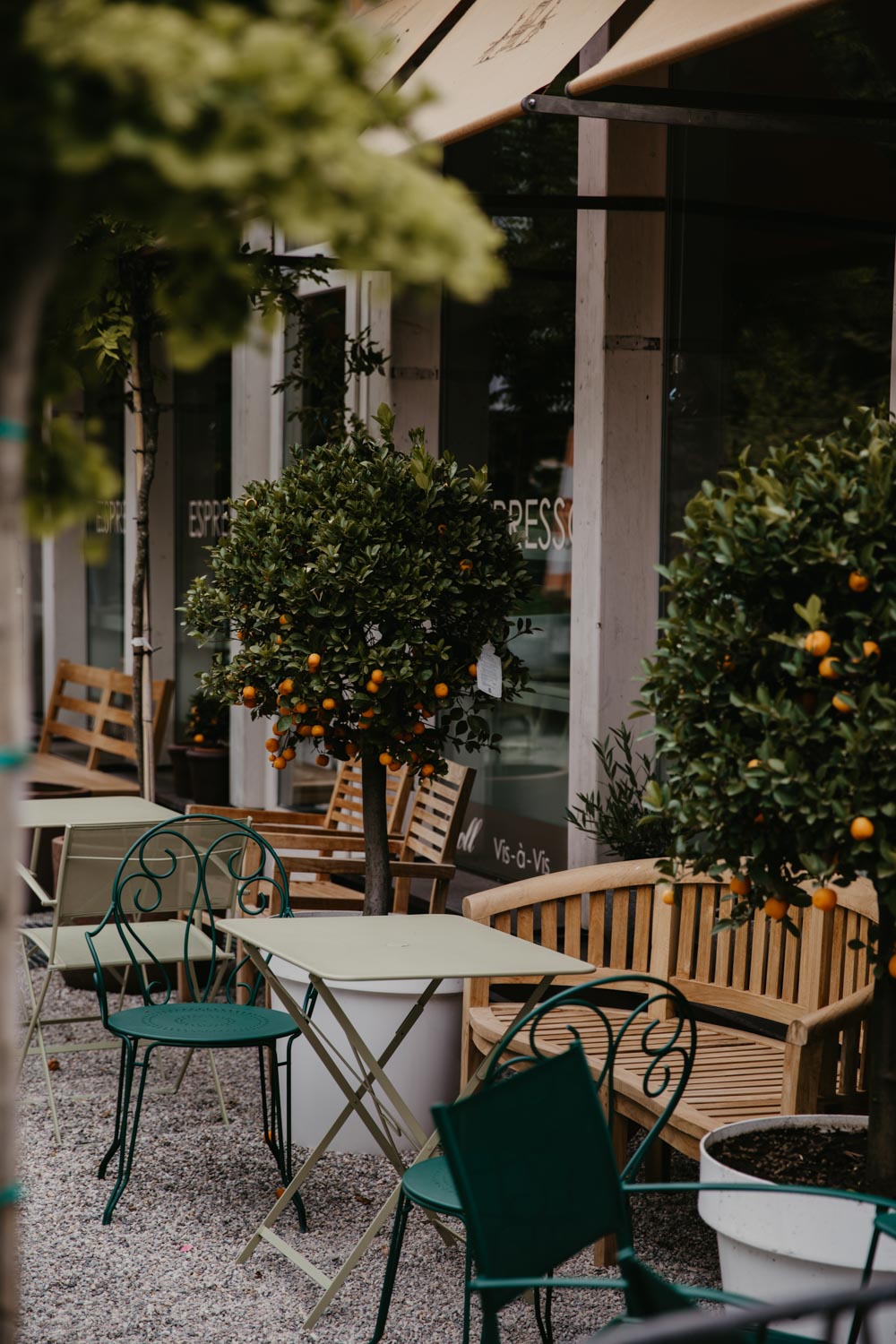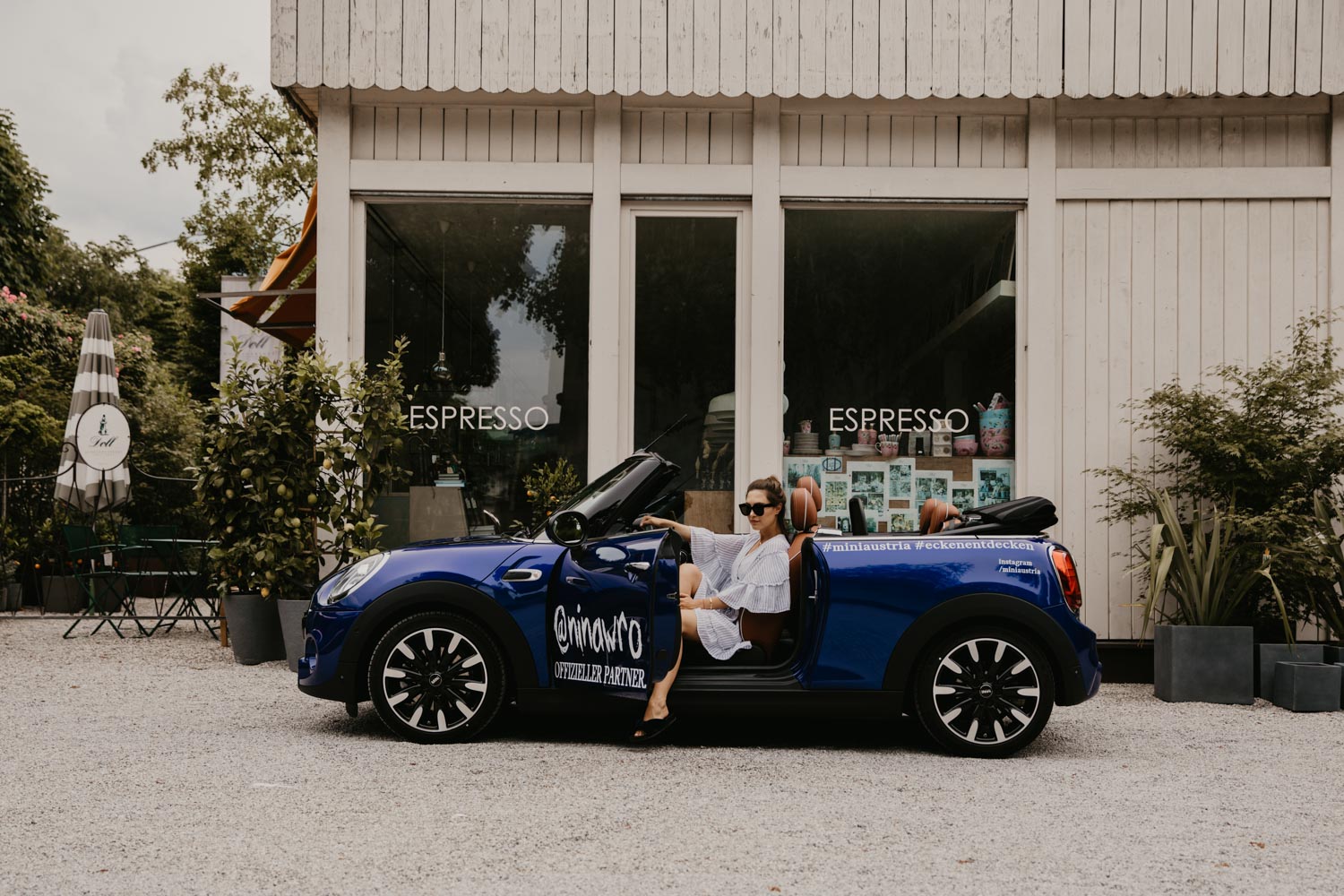 Vis-à-Vis
Nonntaler Hauptstraße 108
5020 Salzburg
Restaurants, Brunch & Drinks
Restaurant Paradoxon
If you've been reading my blog for quite a while, there's hardly any way you have not come across Restaurant Paradoxon yet. By far our most favorite restaurant in the city, Paradoxon is the perfect mix of delicious food in the most relaxing atmosphere. We usually spend all our date nights there, and sometimes just go there for their mesmerizing selection of Gin. You can mix your own G&T at the bar and choose from 100 different kinds of gin and various tonics. The menu will make your foodie-heart beat faster and any design savvy person will immediately feel comfortable there. What I love most about Restaurant Paradoxon is that you don't have to dress all chic and pretty to feel comfortable there – as you would expect to in most fancy restaurants. Their "come-as-you-are" mentality is super welcoming and everyone just feels comfortable there – no matter what.
Insider Tipp: They serve the most amazing brunch on Saturdays! You shouldn't miss out on that.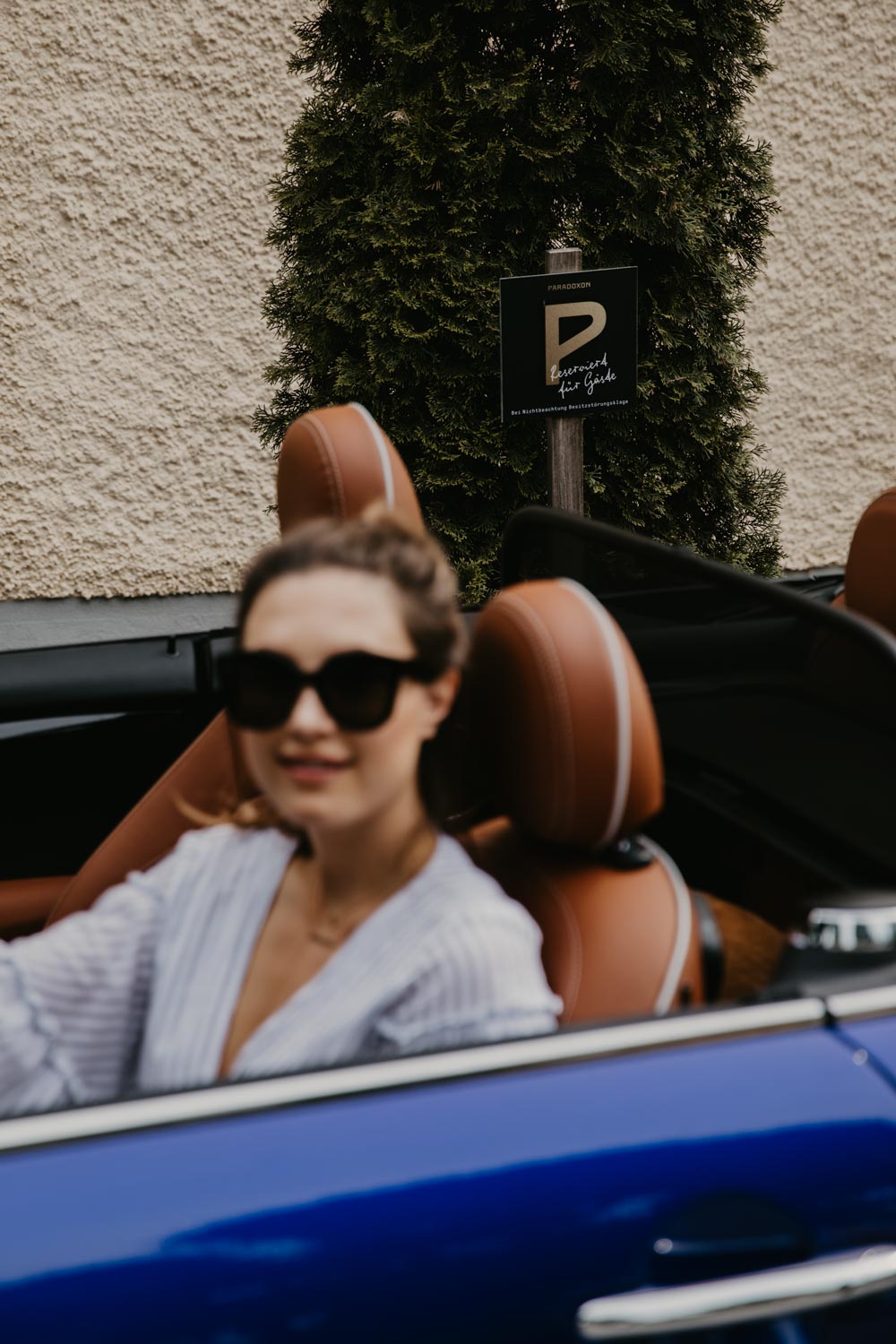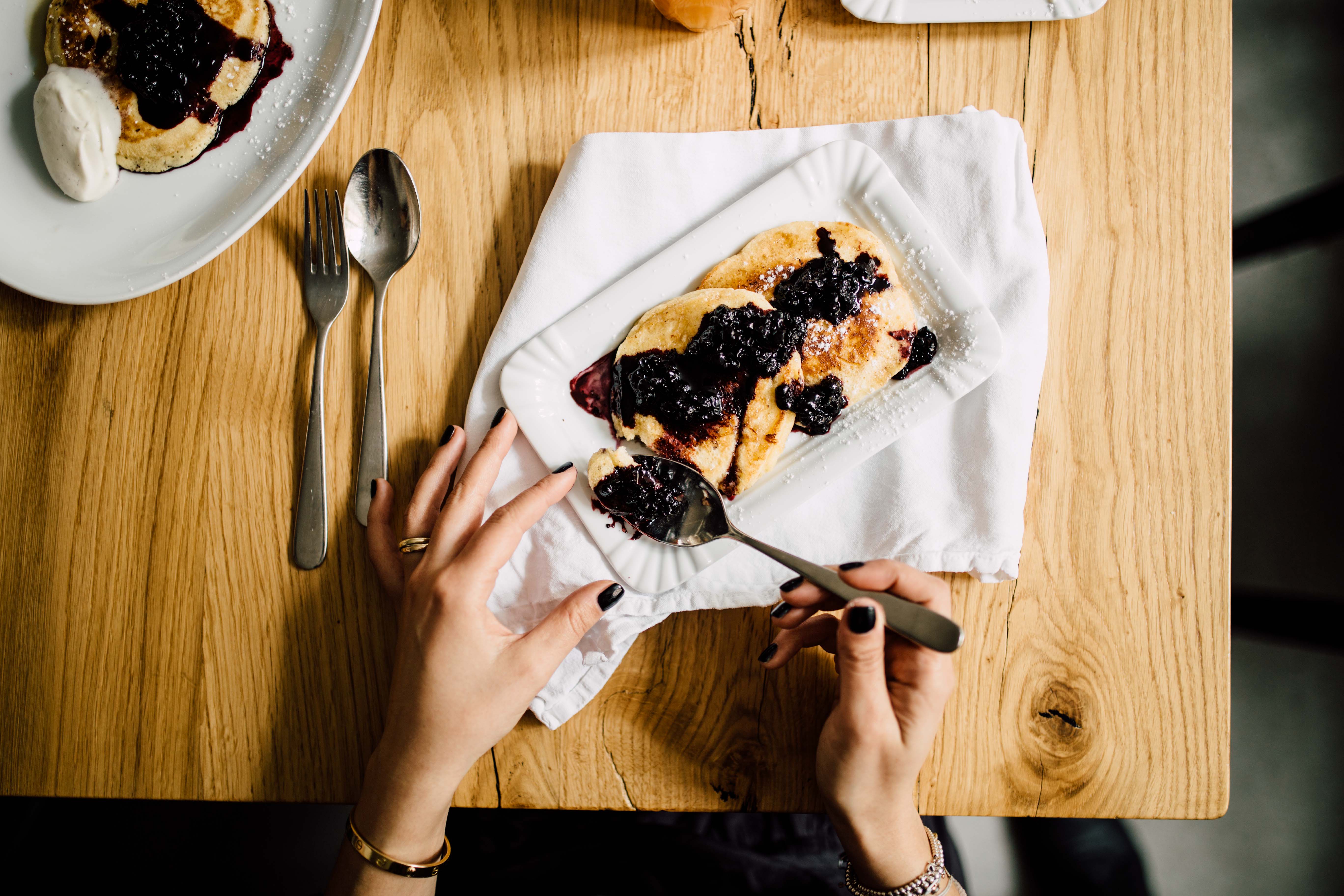 Restaurant Paradoxon
Zugallistraße 7
5020 Salzburg
Tuesday – Saturday:  18:00 – midnight (food is served until 21:30)
Brunch: Saturdays from 10:00 – 14:00
Hangar-7 Outdoor Lounge
Since we don't have a big garden or terrace in our apartment, we're constantly looking for nice outdoor spots to hang out on weekends. Hangar-7 Outdoor Lounge is one of those preferred spots. No matter if just for drinks or also for lunch or dinner, it's a lovely spot to chill while watching the planes taking off at the airport next door.
Hangar-7 Outdoor Lounge
Salzburg Airport
Wilhelm-Spazier-Straße 7A
5020 Salzburg
open daily from 12:00 on (only in good weather)
Carpe Diem Finest Fingerfood
If you feel like watching the hustle and bustle in Getreidegasse (which is the Main Street in Salzburg's old town and also worth seeing if you're here for the first time), a little stop at Carpe Diem is  mandatory. They are known for serving finger food in cones (the Beef Tartar Cone is my favorite!) and if you are looking for a fancy place to have dinner for a special occasion, booking a table here is a good idea. Also, we love sitting on the terrace in summer sipping on iced cold coffees.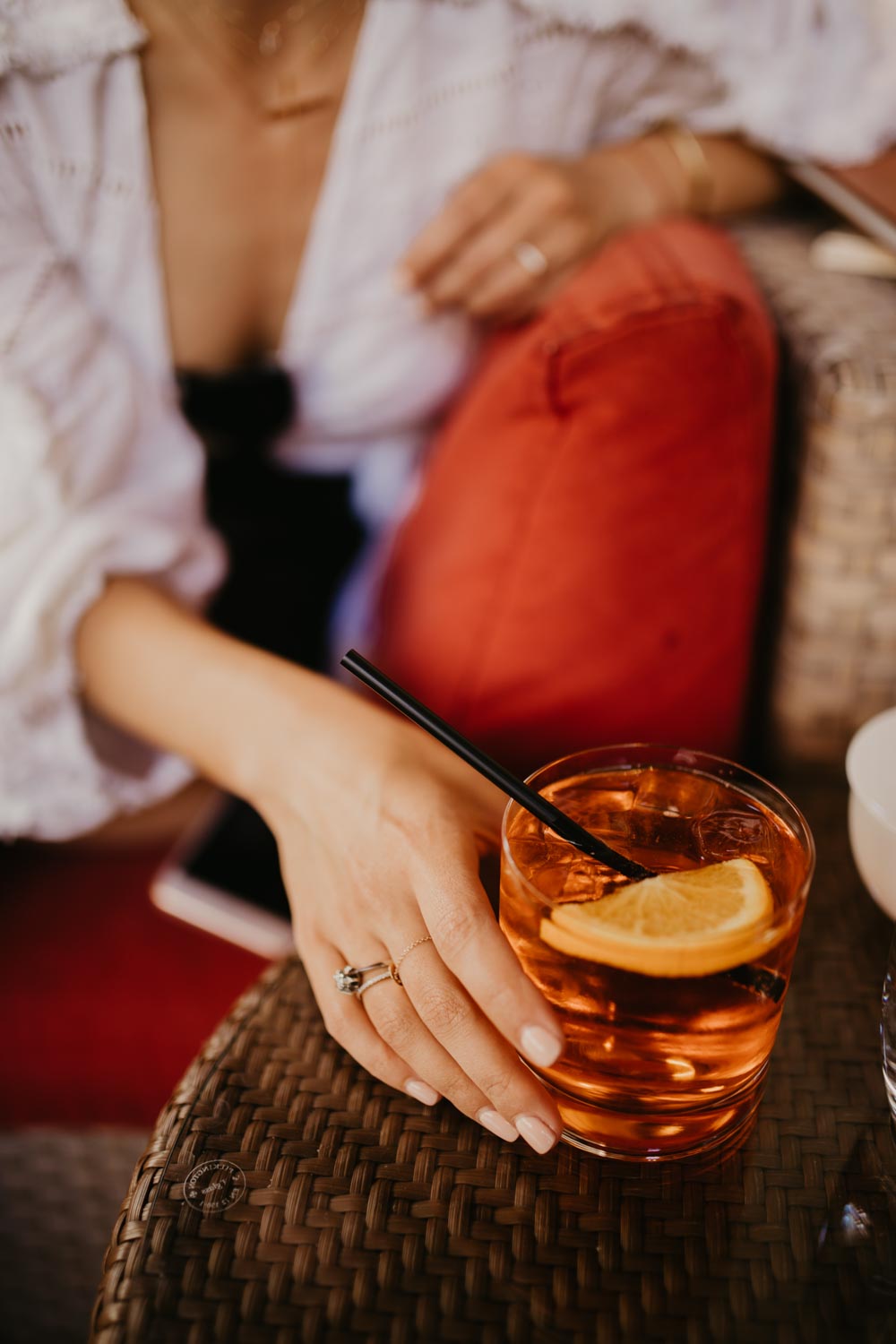 Carpe Diem Finest Fingerfood
Getreidegasse 50
5020 Salzburg
Café, Bar & Lounge: Monday – Sunday: 08:30 – 24:00
Restaurant: Monday – Saturday: 12:00 – 14:00 & 18:30 – 22:00
Terrace at Hotel Stein
An amazing view over all of Salzburg, lounge music and ice cold drinks: That's what you can expect at the rooftop terrace of Hotel Stein. Hotel Stein just re-opened after an extensive renovation and looks better than ever: definitely worth a visit when you're in town (I can also highly recommend you to stay there, if you're looking for a charming hotel in Salzburg).

Hotel Stein
Giselakai 3-5
5020 Salzburg
Sunday – Thursday: 07:00 – 24:00
Friday & Saturday:  07:00 – 02:00
Shops you should not miss
Trachten Forstenlechner
One of the questions I get most often about shopping in Salzburg is where all my pretty Dirndl (like this, that, or that) are from. The answer is quite simple: Trachten Forstenlechner. The selection of Dirndl (and also Lederhosen for the guys) you can find there is amazing – all kinds of colors and fabrics, and you can basically put together your Dirndl just as you like it.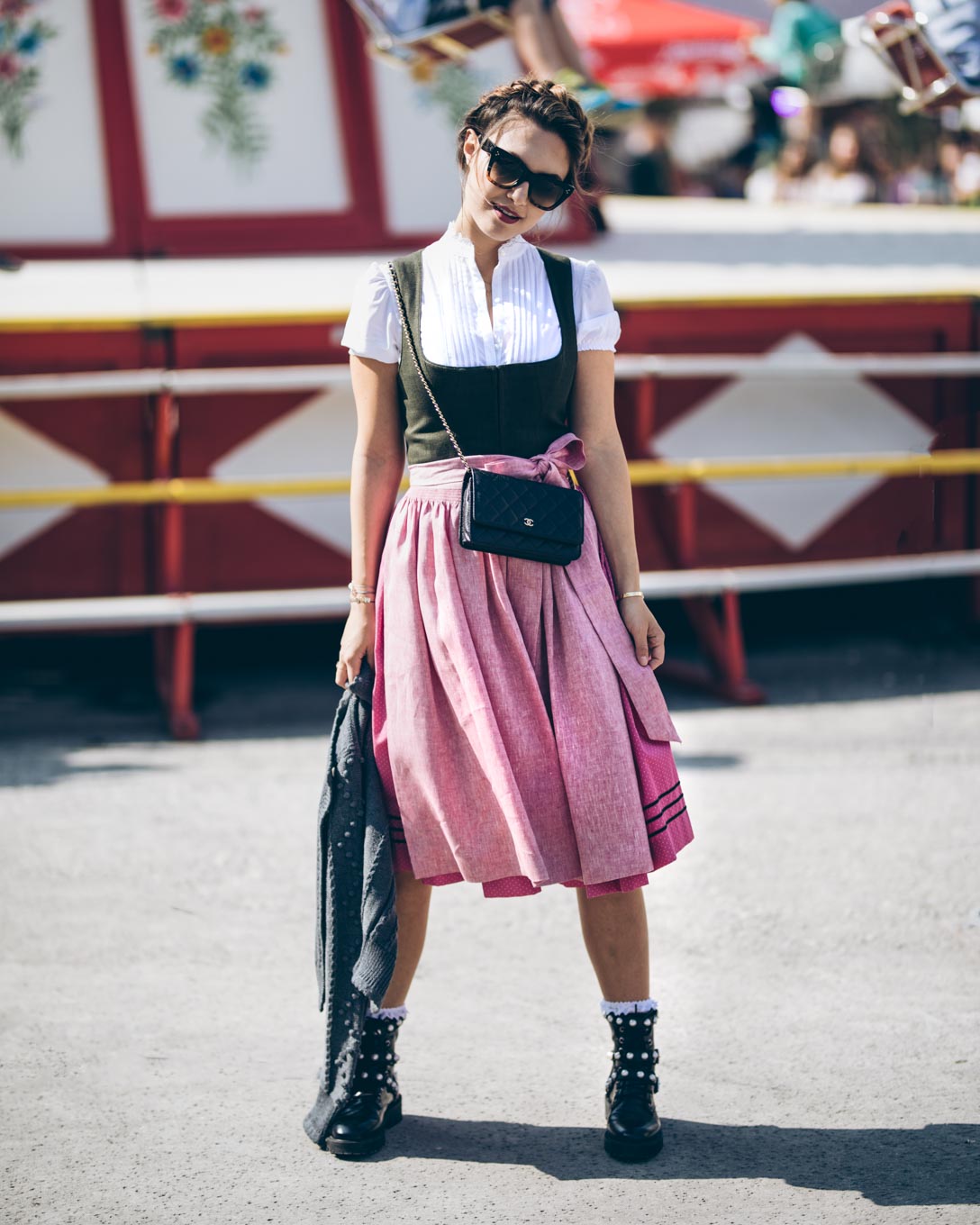 Trachten Forstenlechner
Mozartplatz 4
5020 Salzburg
Monday – Friday: 09:30 – 18:00
Saturday: 09:30 -17:00
Feinerlei Concept Store
Another one of my favorite shops in the city is Feinerlei. No matter if you're looking for something pretty for your home, or if you'd like to get something to bring home to your loved ones – Feinerlei Concept Store has got you covered. I'm pretty sure you won't be able to leave without a little treat!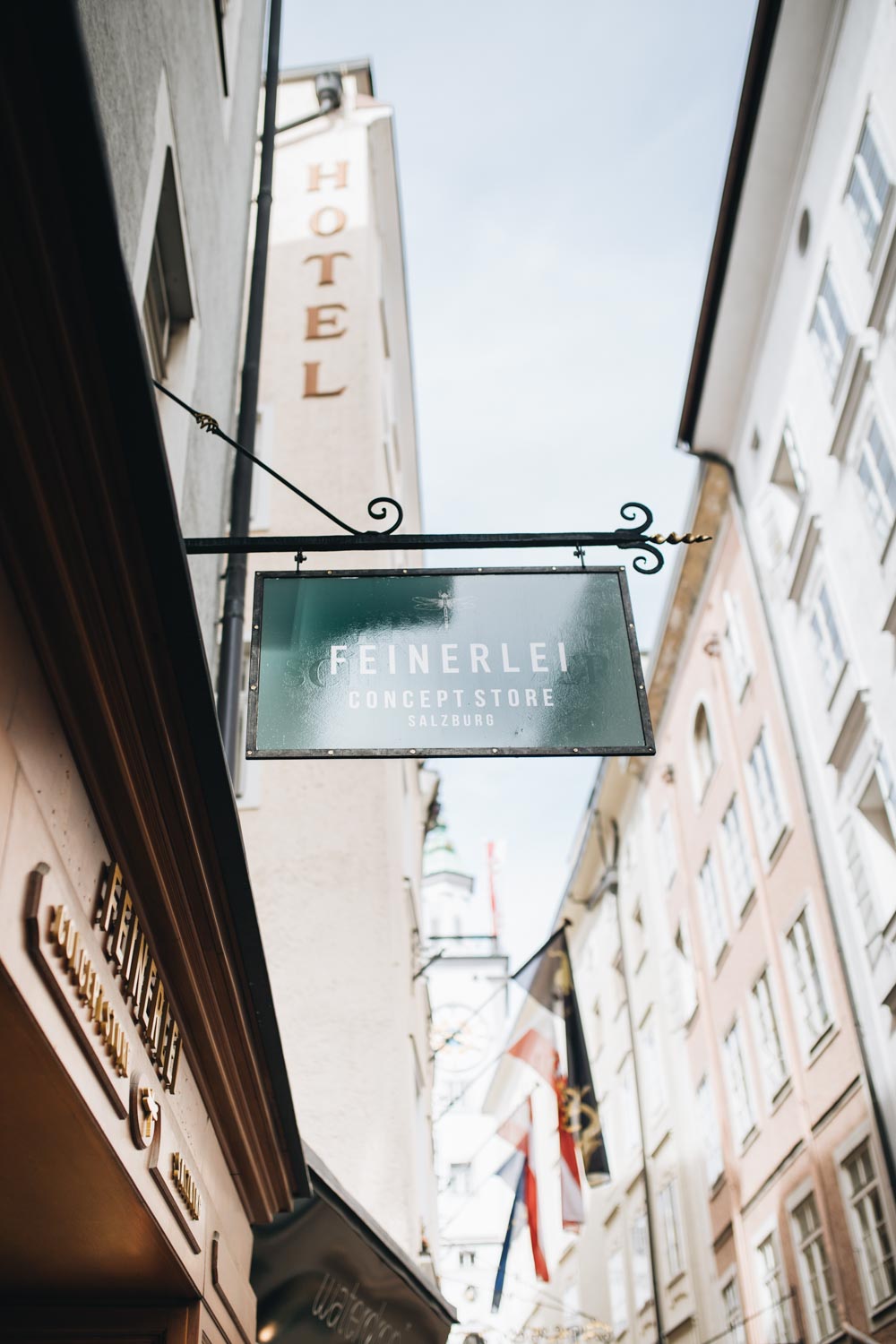 Feinerlei Concept Store
Sigmund-Haffner-Gasse 6
5020 Salzburg
Monday – Friday: 09:30 – 18:30
Saturday: 09:30 -18:00
Favorite corners
Gaisberg
One of our favorite spots to watch the sunset is Gaisberg. It offers the prettiest view over Salzburg, that will make you feel super tiny, and the road up there is pure fun to drive – especially if you get to drive up there with a MINI Cooper S 😉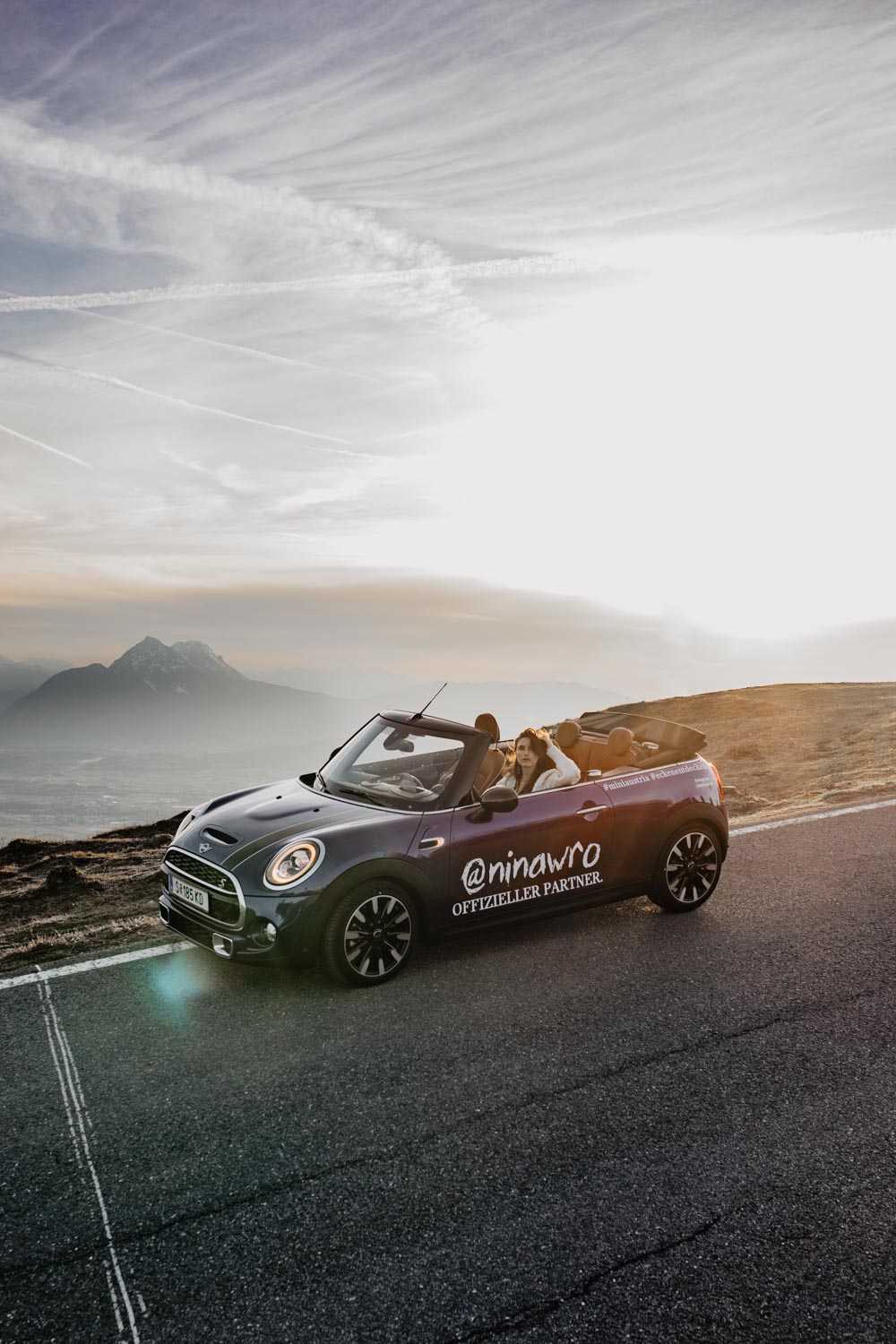 Leopoldskroner Weiher
We love taking Maxi for a walk after a long day at the office to just get our minds off work and talk about the day. One of the places we love most to do so is the little pond in Leopoldskron. You can walk around the pond in about 30 minutes and you'll have the best view of Schloss Leopoldskron, which some of you will probably recognize from "Sound Of Music".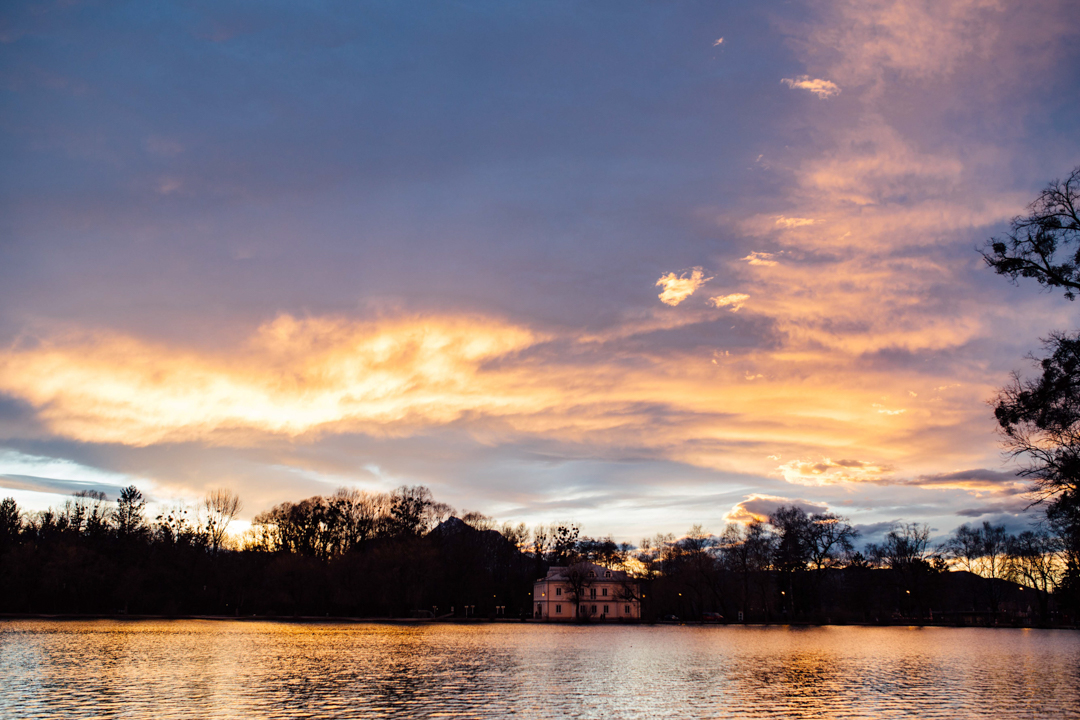 I hope this little guide of my favorite corners in Salzburg will help you plan your trip! In case you have any further questions or are looking for specific tipps, don't hesitate to drop me a line. And if you'd like to explore those corners with the coolest car ever, you can book your personal driving experience with MINI here.
---
*in collaboration with MINI Austria