Outfit: One Dress Two Styles – Self-Portrait Azaelea Dress
When it comes to dresses my closet definitely has some catching up to do. I realized that yet again when we were invited to many weddings this summer and at some point I was just out of outfit options. Especially for weddings it's even harder to find a suitable dress, since the color should not be too light, the dress should not be too short, you should be able to dance in it… the list goes on. While we were not only invited to weddings this summer, but also attended a lot of them as photographers, I had some time to look at all the beautiful ladies and their choice of clothing. One dress that particularly caught my eye many times was the Self-Portrait Azaelea dress. The perfect length, not too revealing and simply stunning: a secret love affair begun! The summer versions of this dress came in blush pink, mint green, baby blue and light yellow, but of course they were sold out EVERYWHERE by the time I started looking for them. When a navy blue and burgundy red version hit the online shops in fall, I immediately jumped on it while I still could. The minute I saw the navy blue Azaelea dress, I lost my heart to it.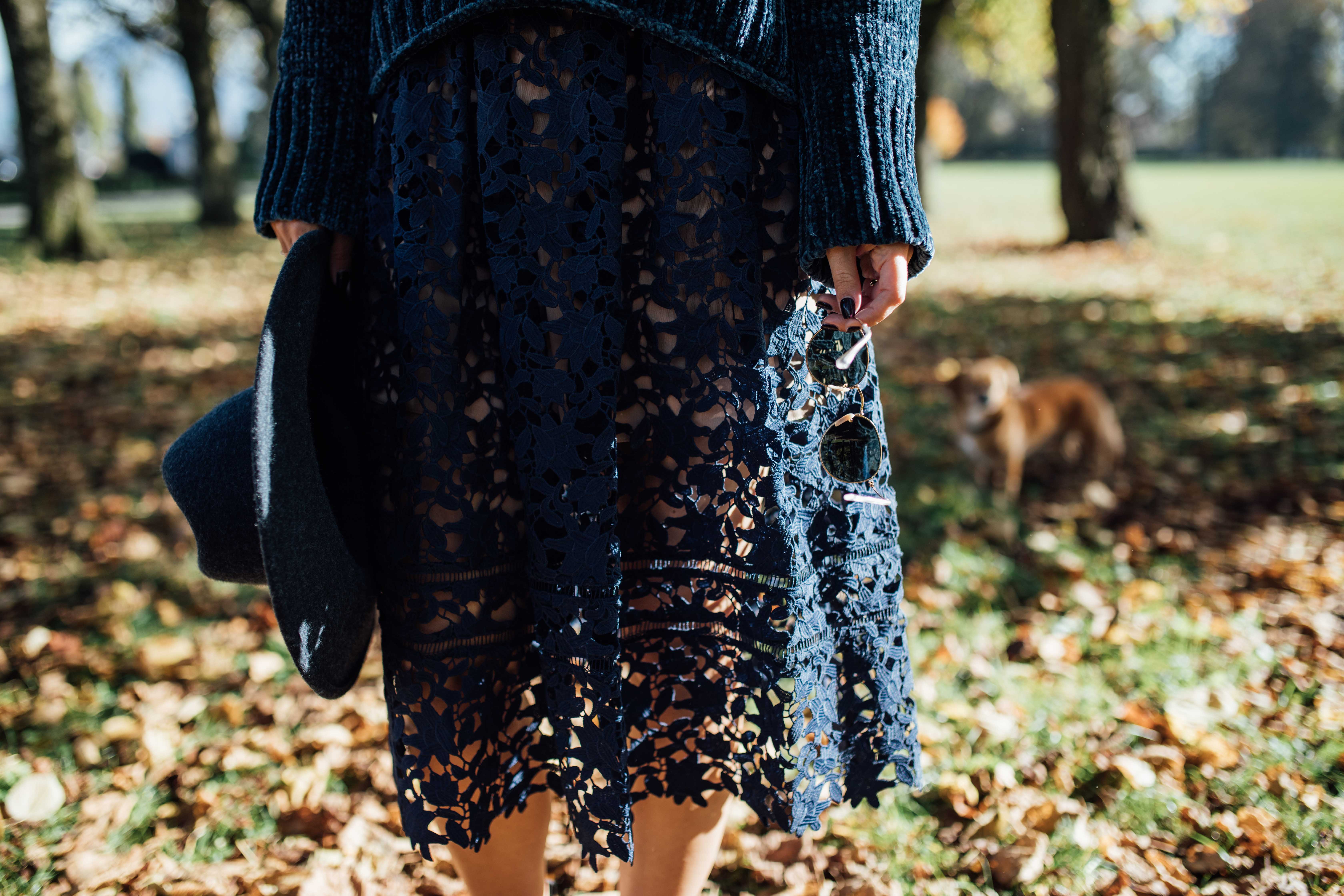 I wore the dress to my birthday dinner in Stockholm for the first time. Sadly, there were no more weddings or any other fancy event in fall when I could have worn it, but I didn't want to just put it into my closet and wait for next year. So I created two outfits with it to wear in fall. One being rather comfortable and the second one being more chic.
DAY OUTFIT
For the day outfit I added my Nike Sneakers, a fluffy velvet sweater and my signature hat. This look works perfectly fine during the day or even for work.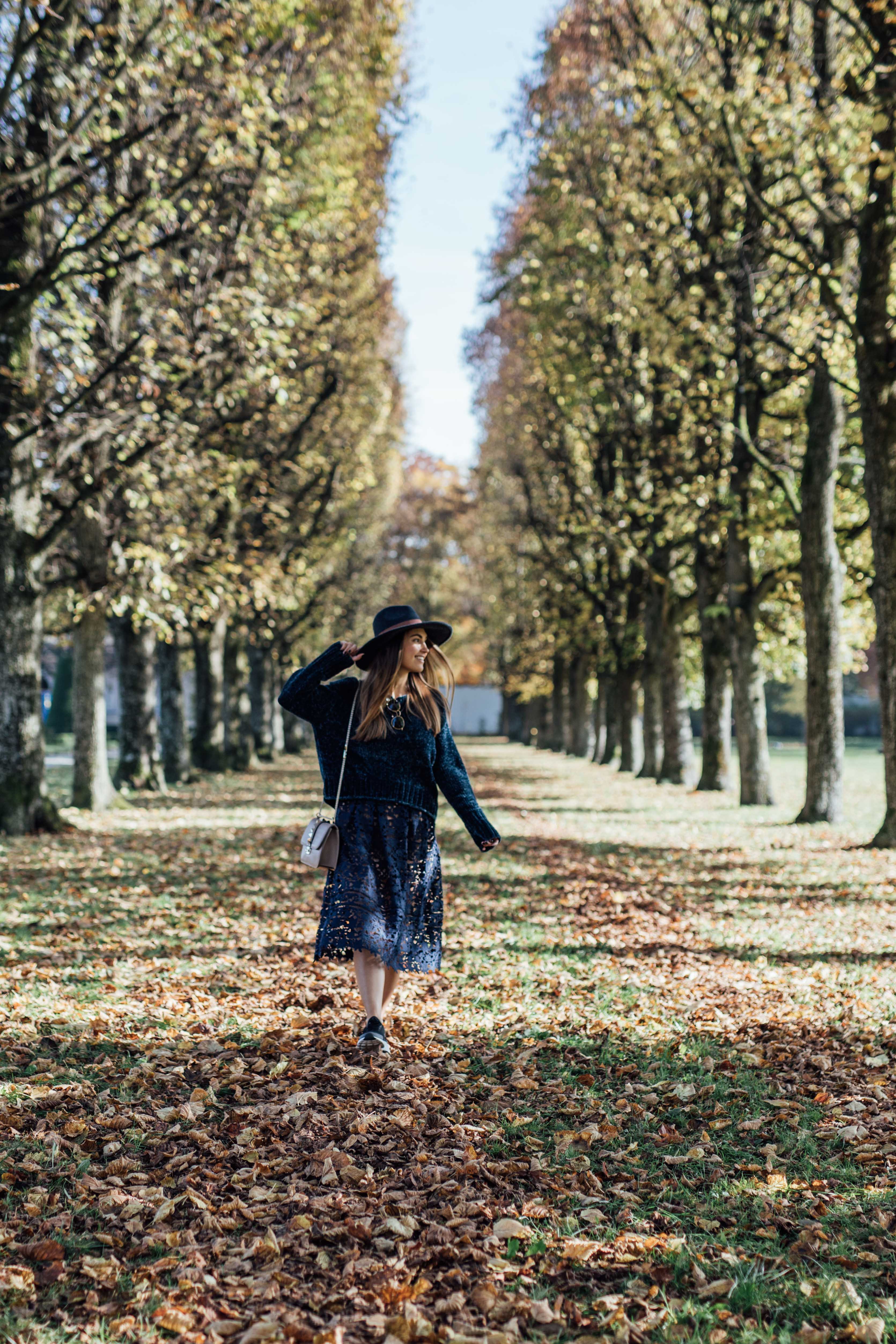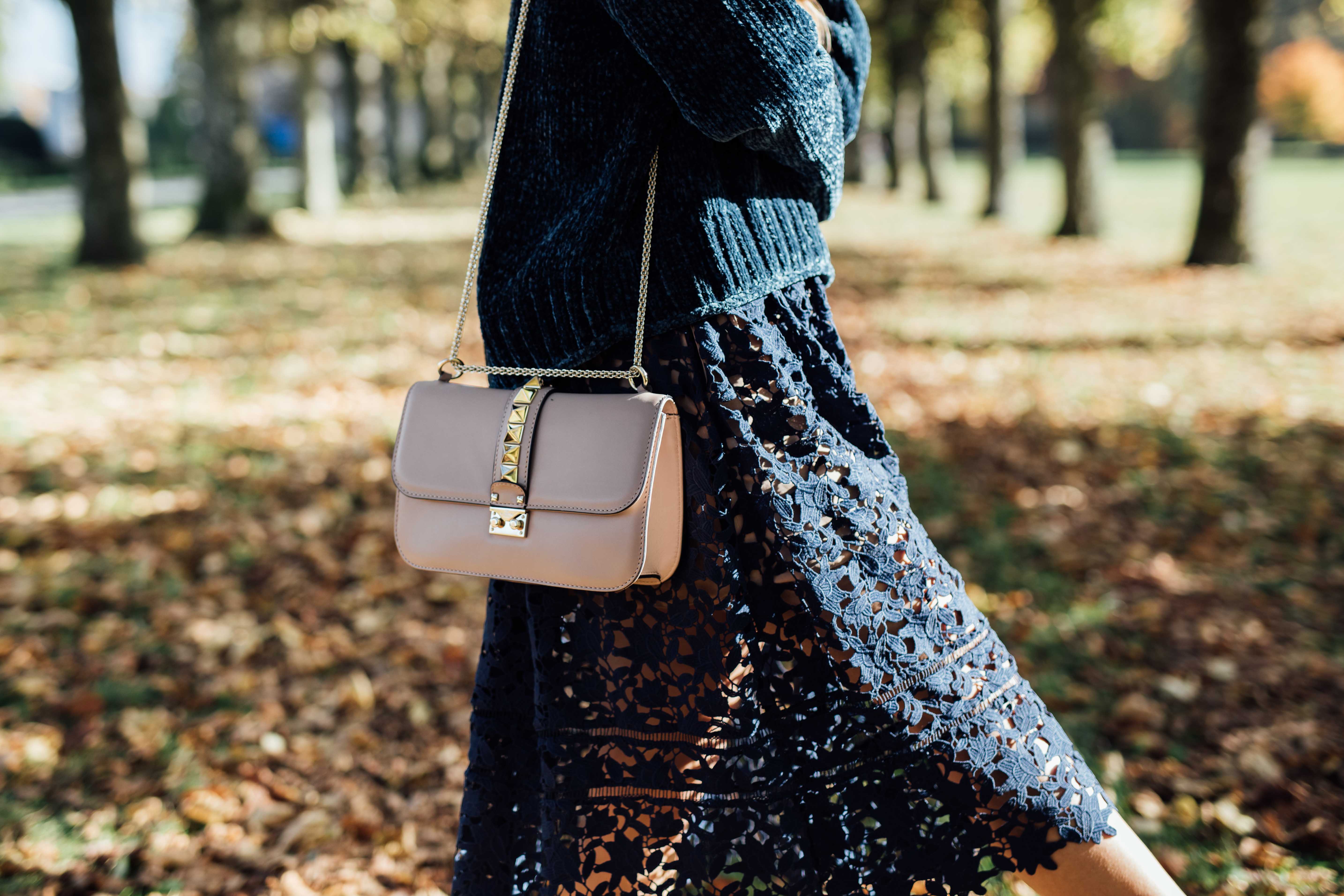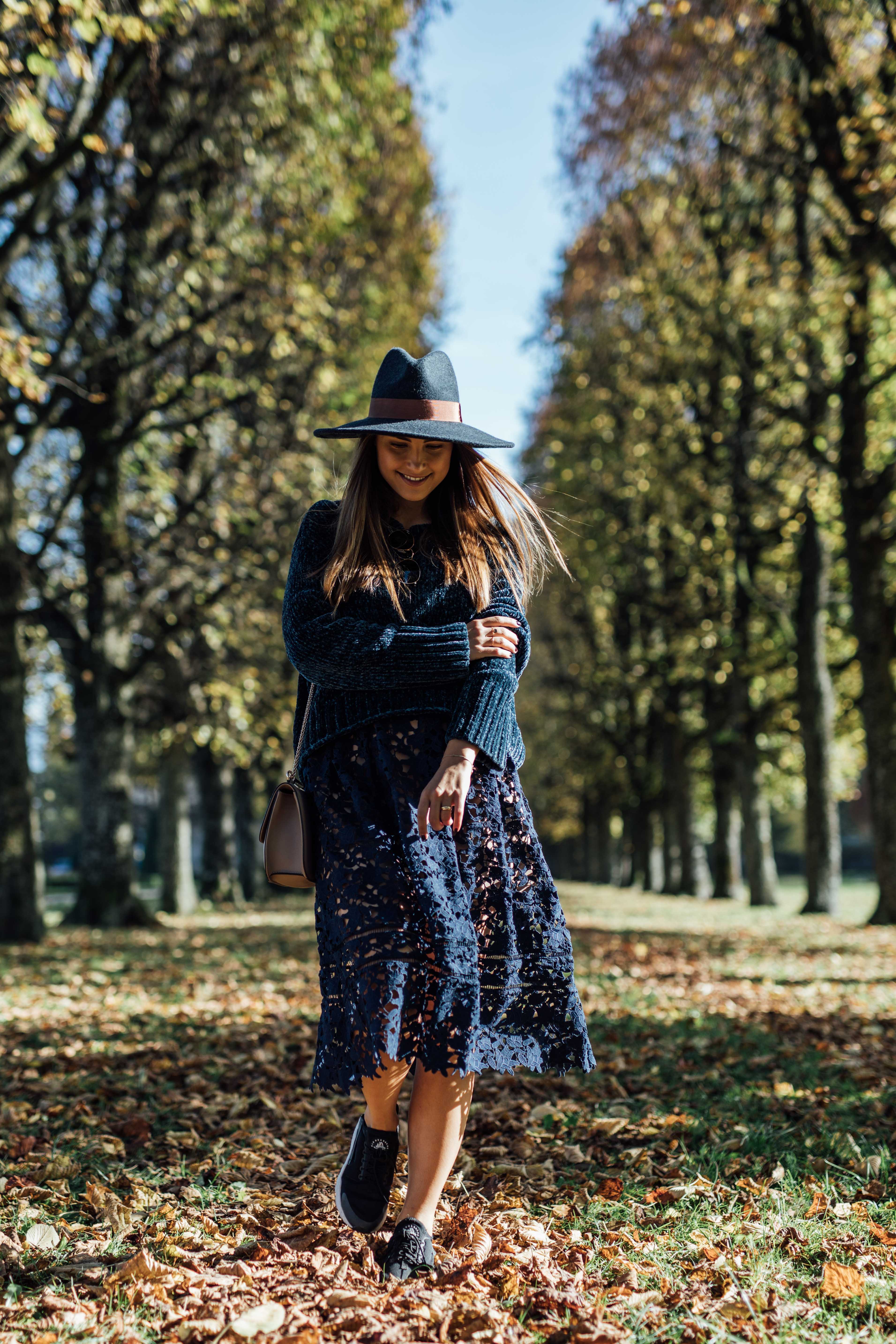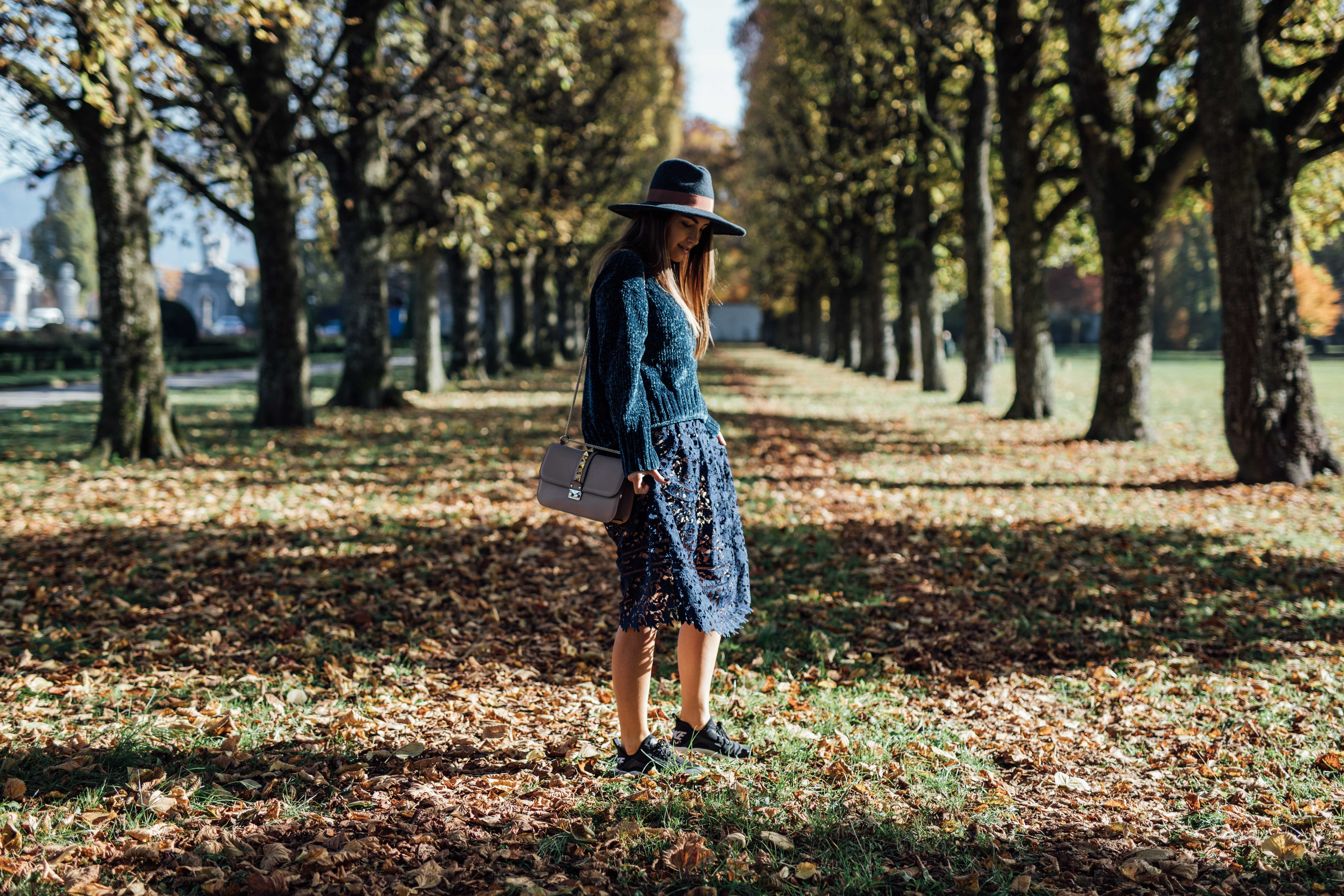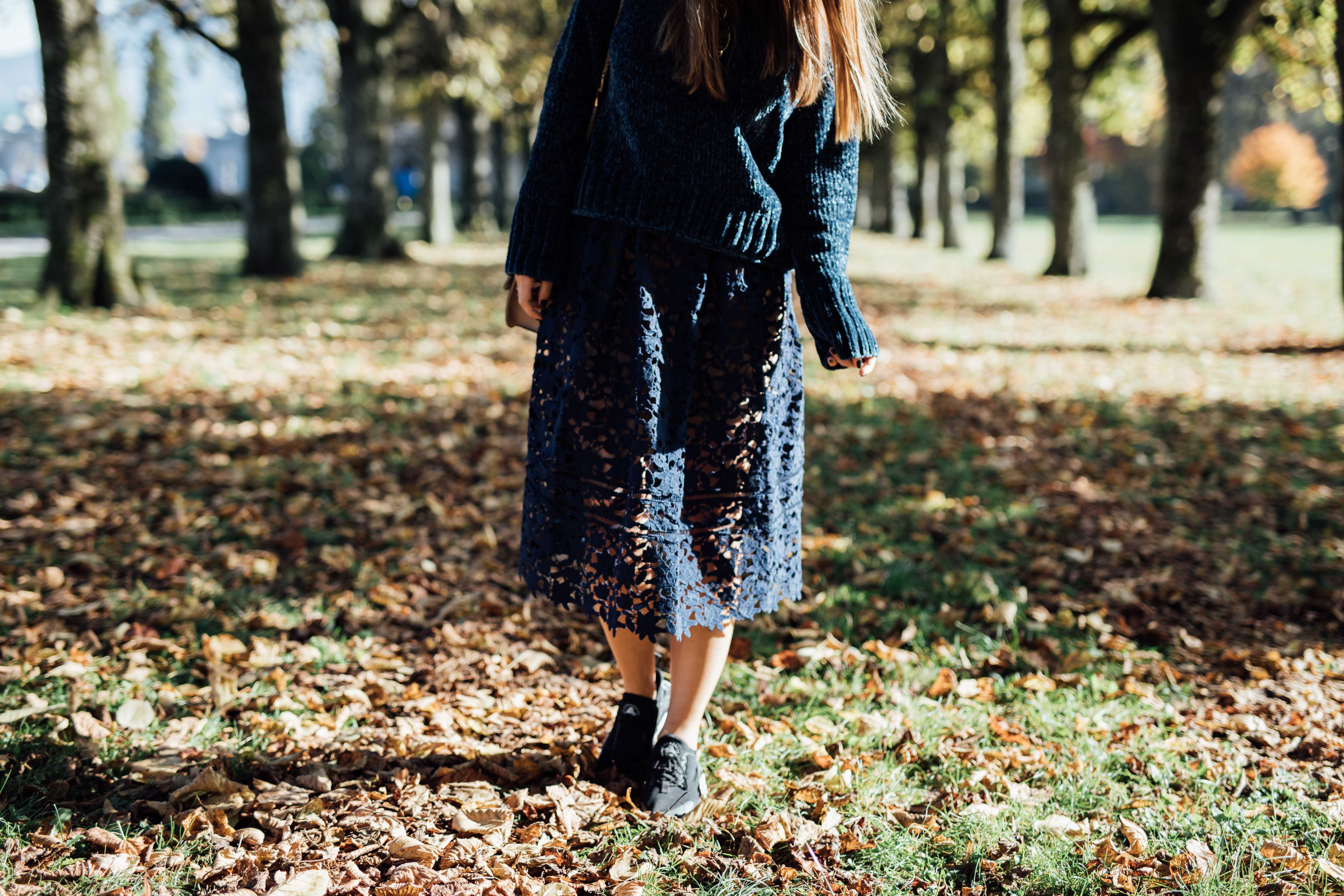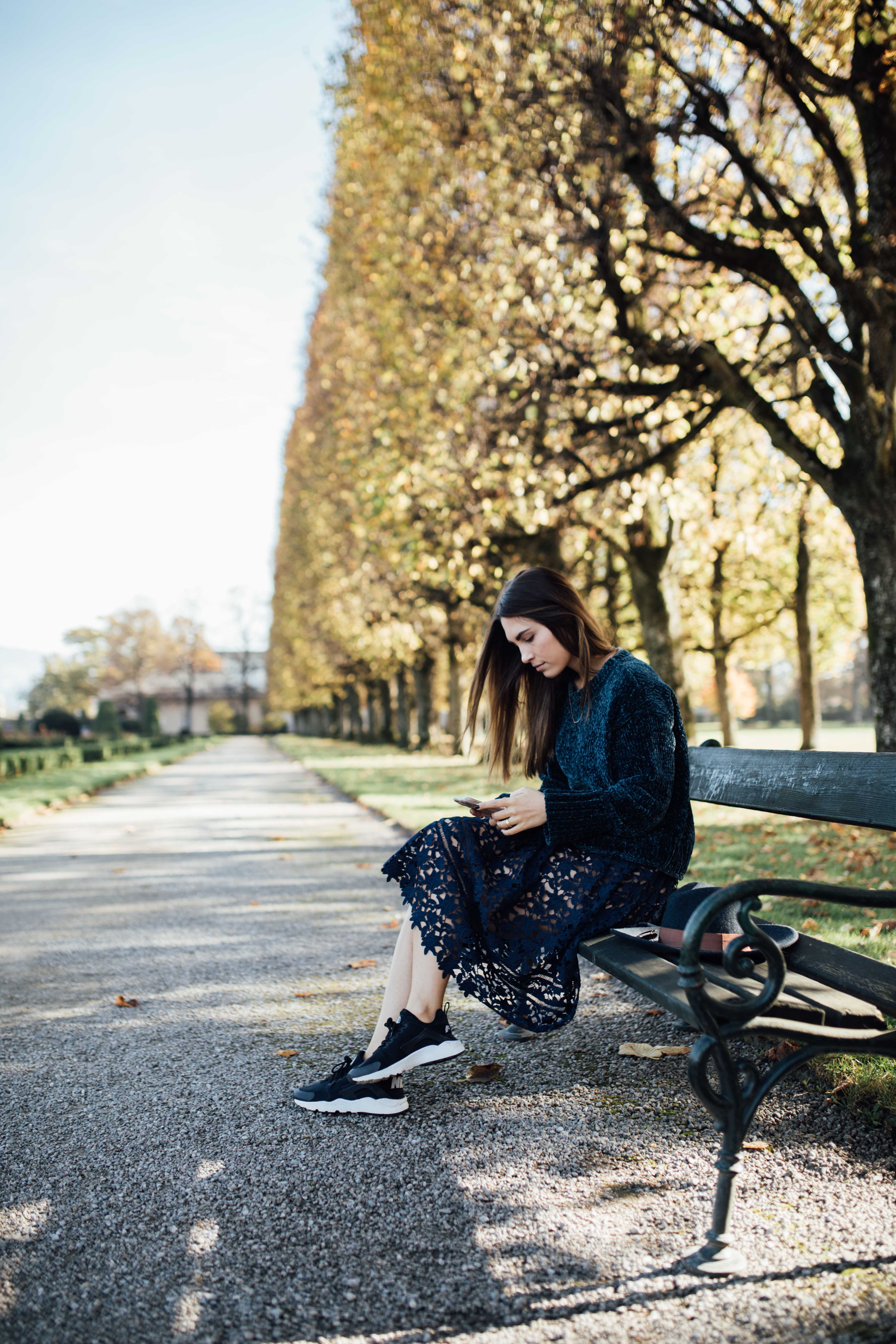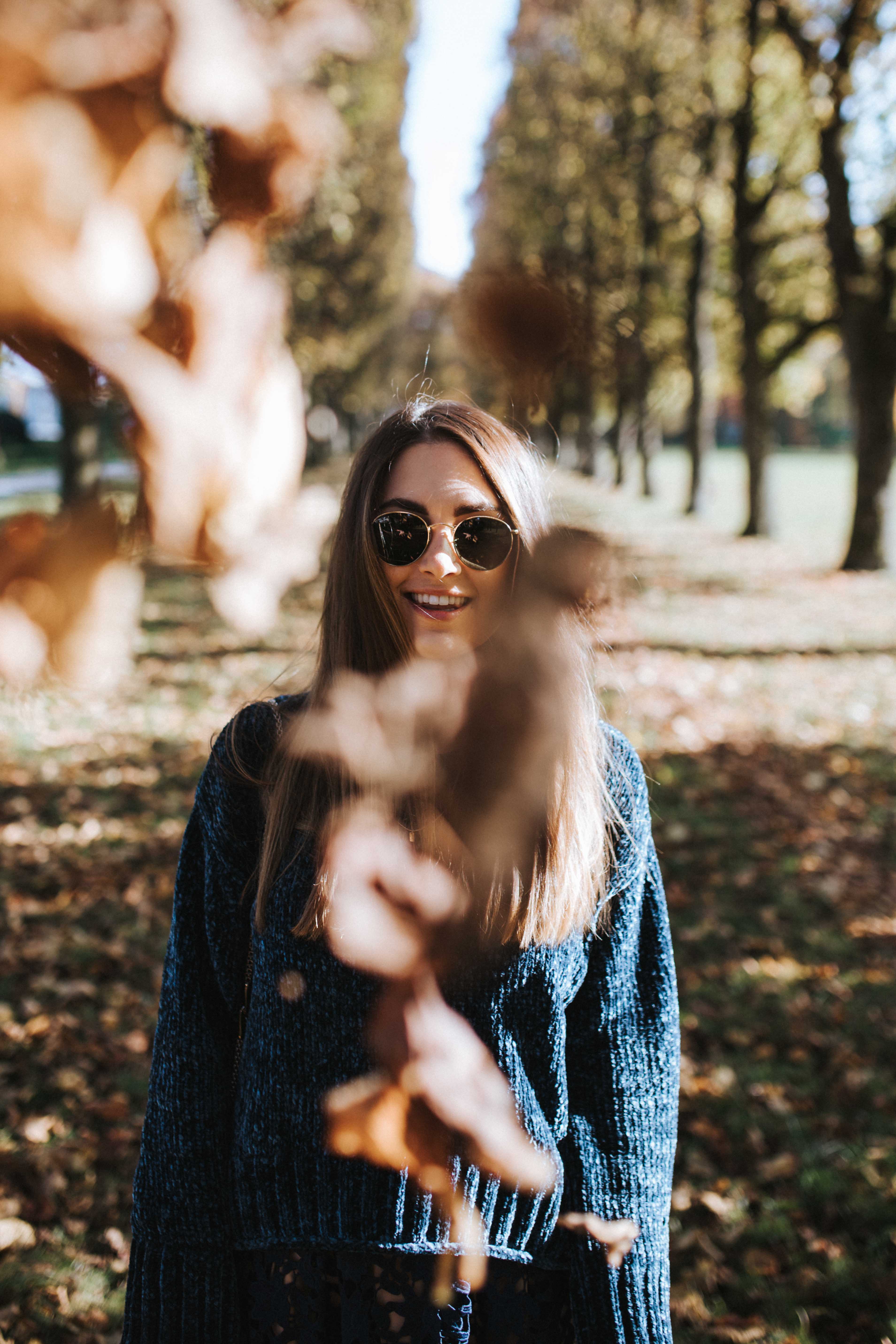 NIGHT OUTFIT
For the second outfit I threw my leather jacket over it to make it look more edgy and less formal. Combined with dark blue velvet boots and a dainty necklace you're ready to go out for dinner or dance the night away.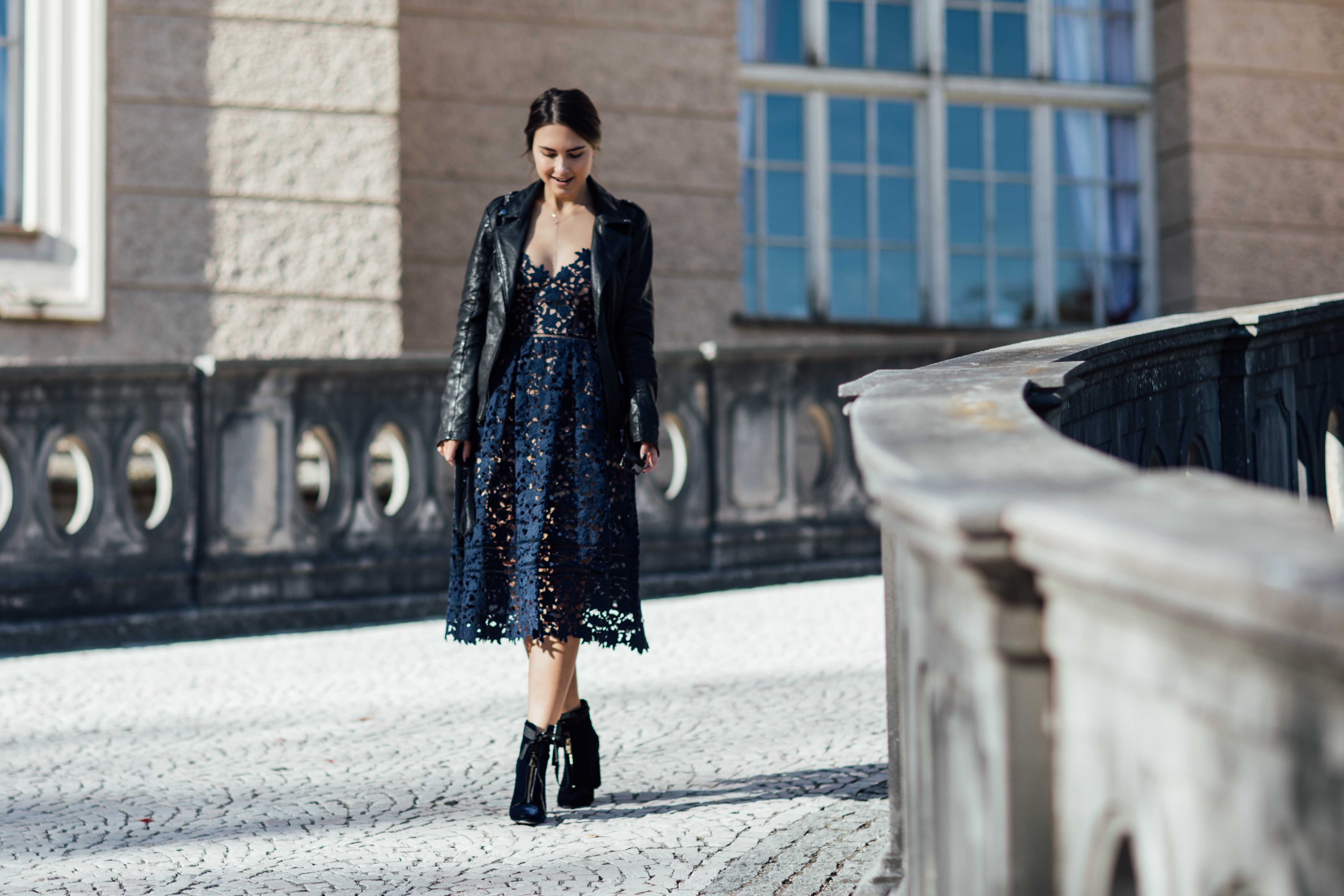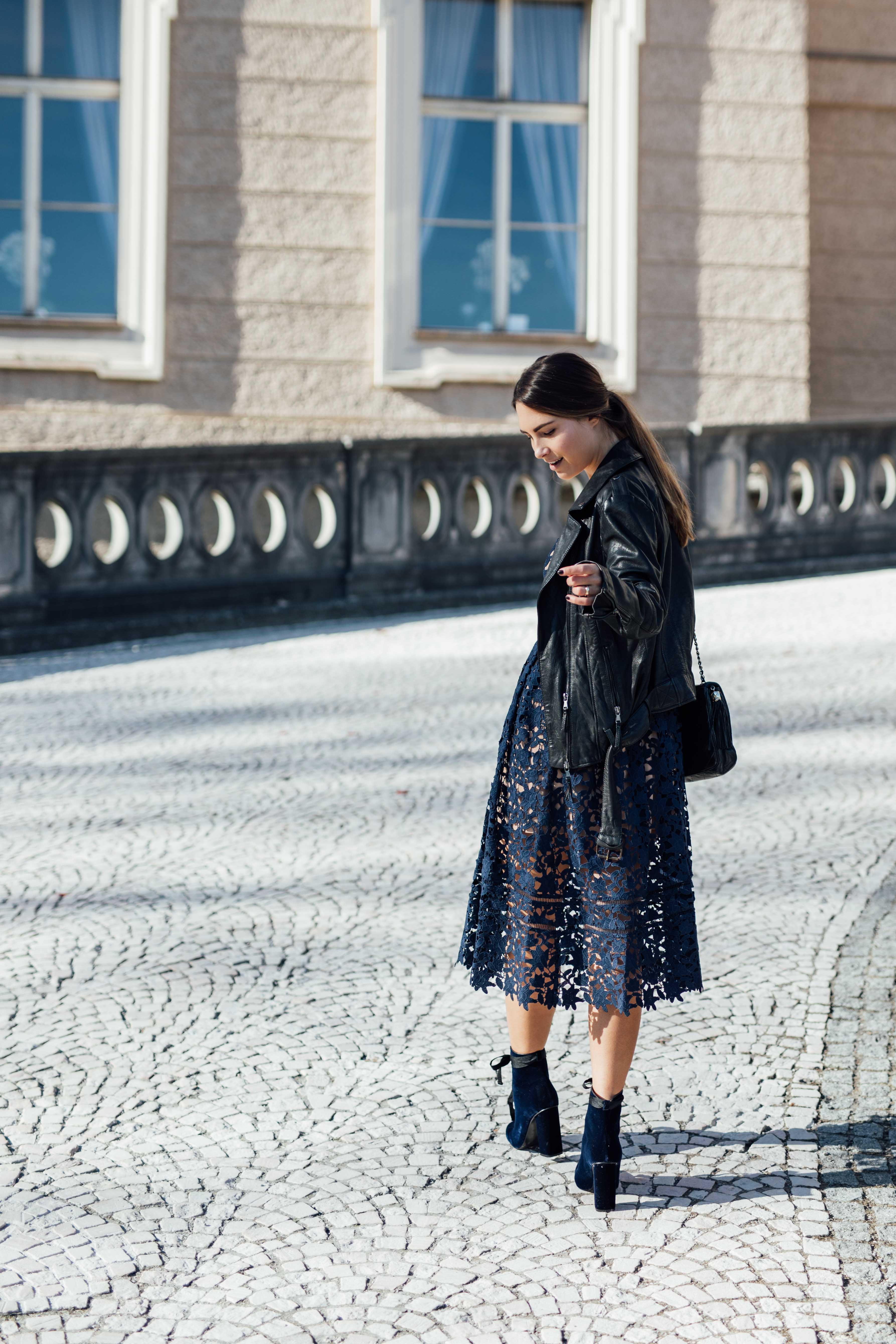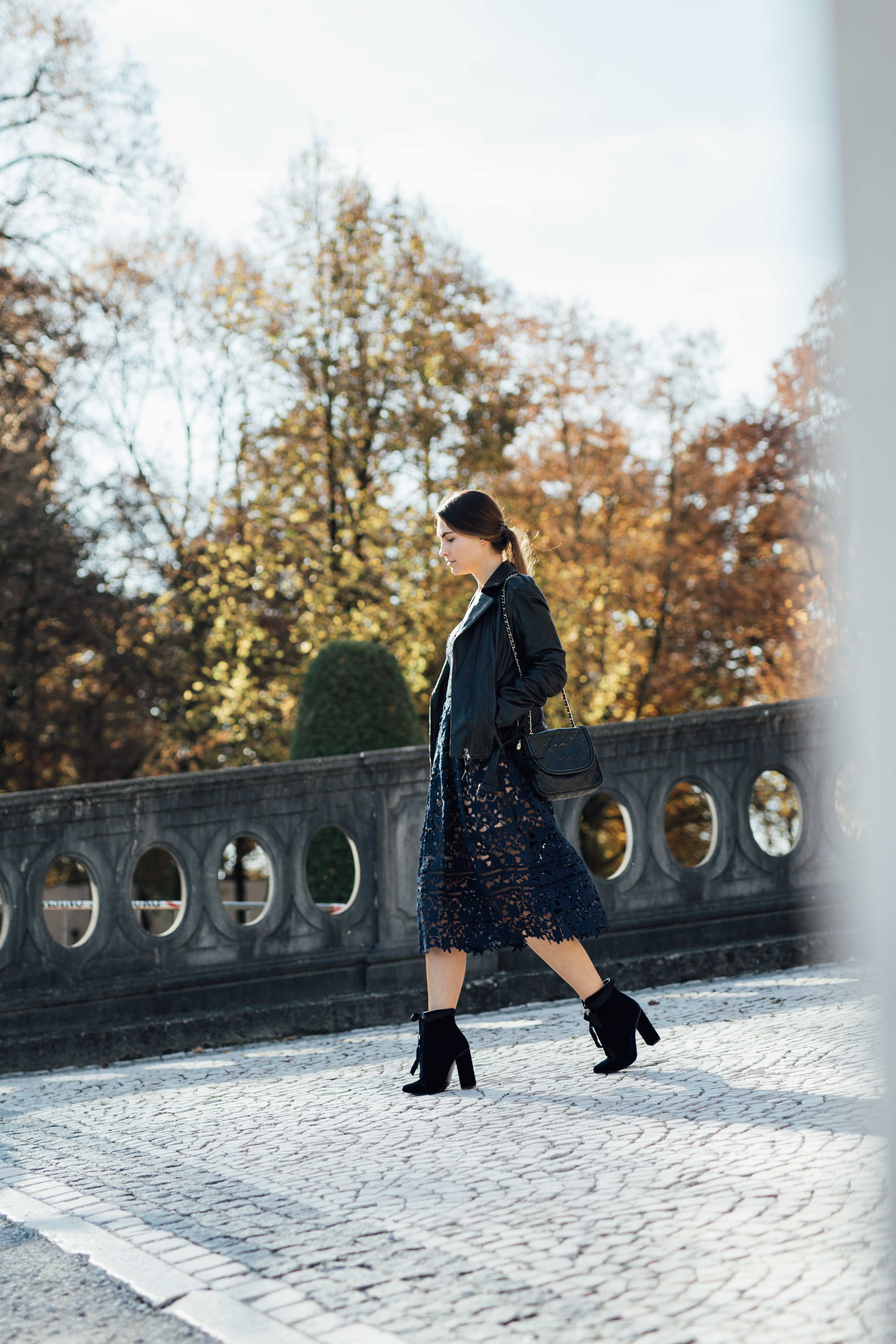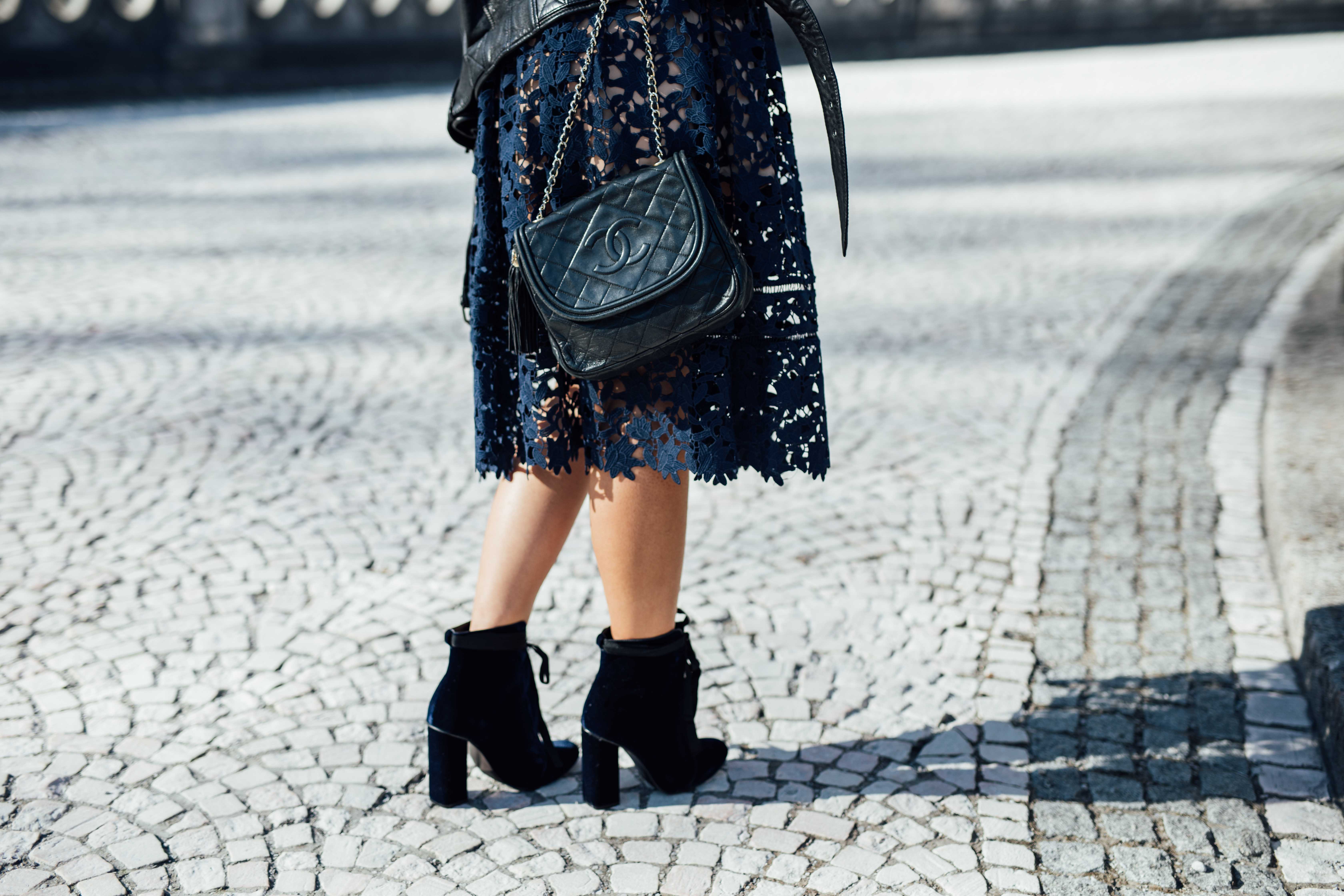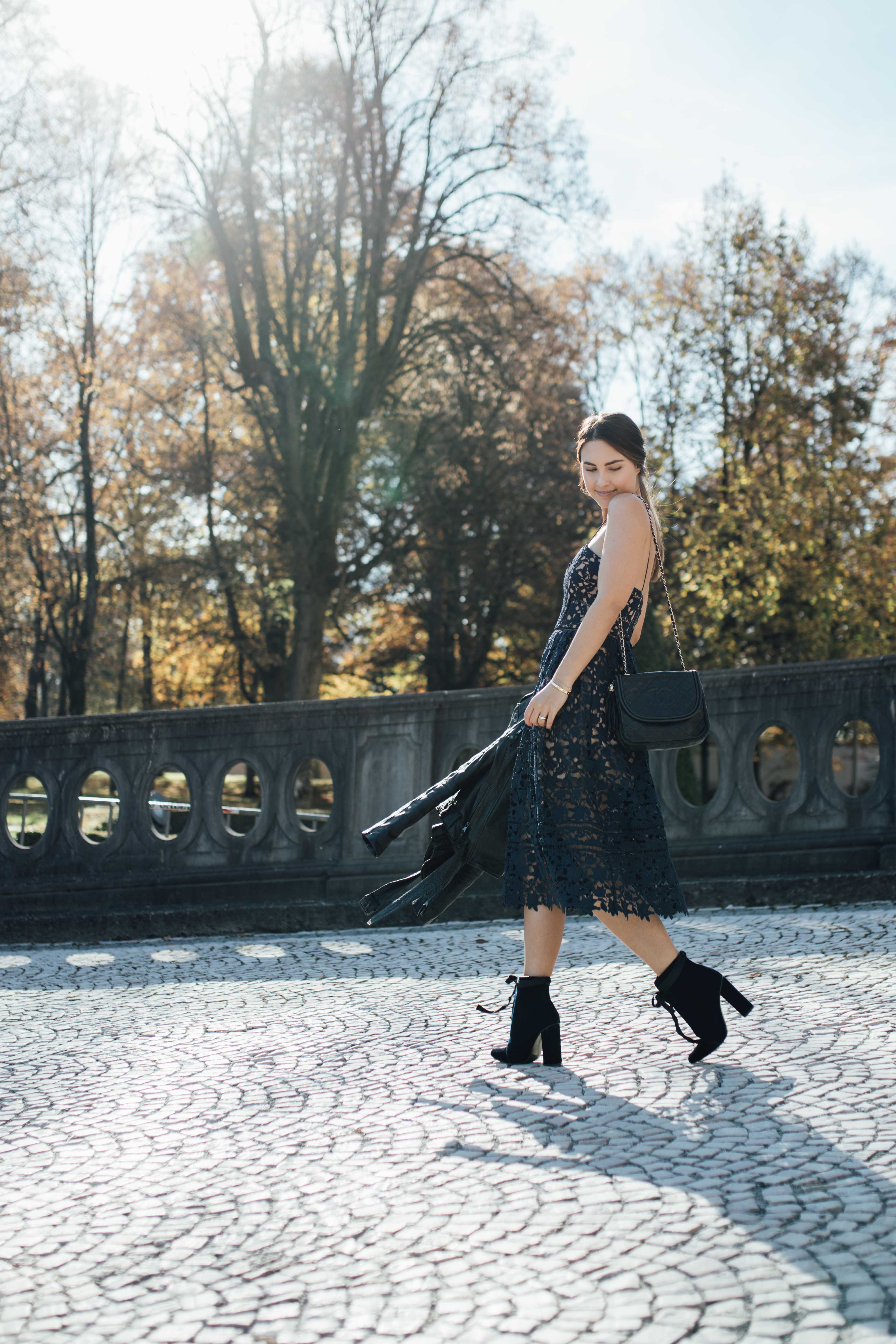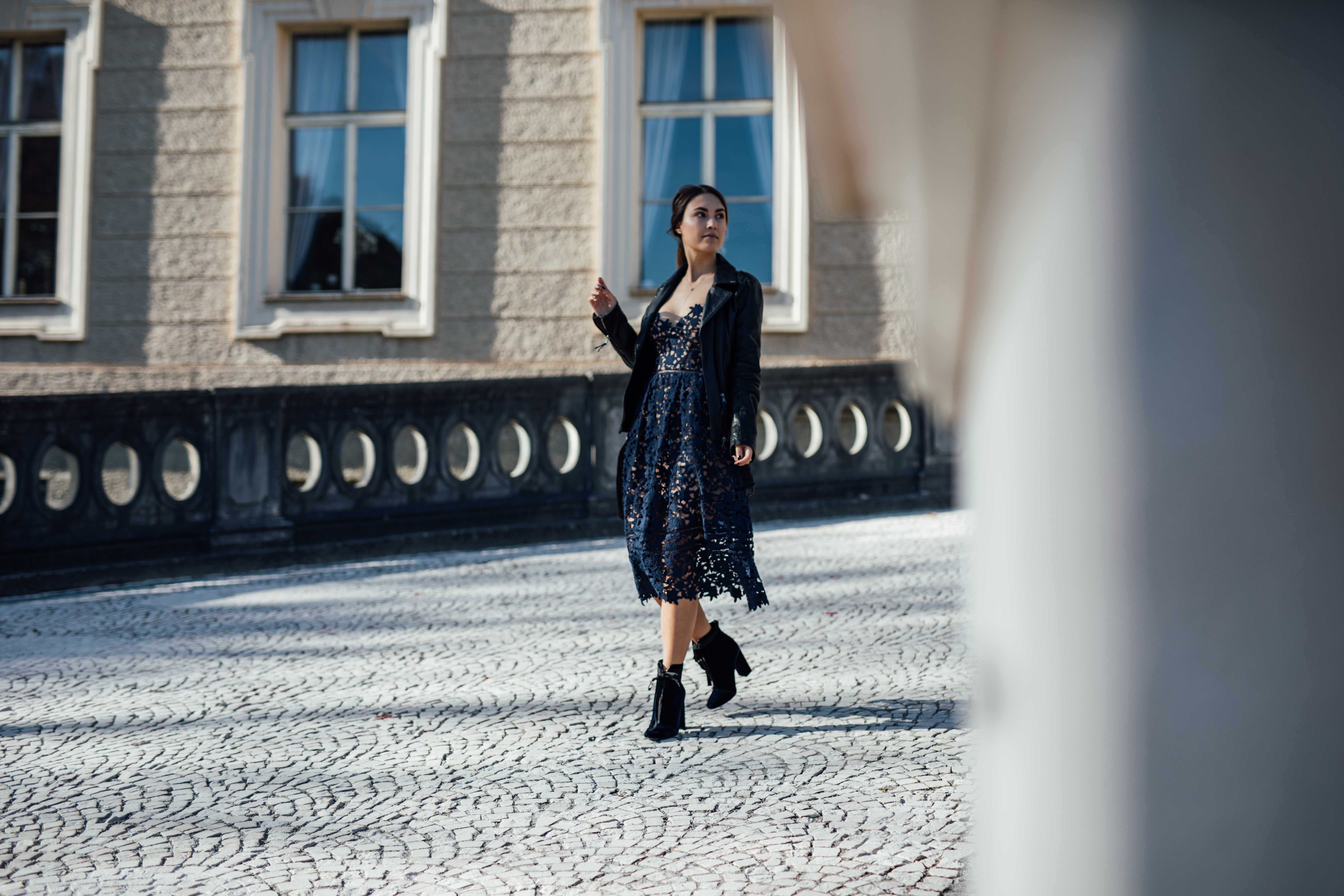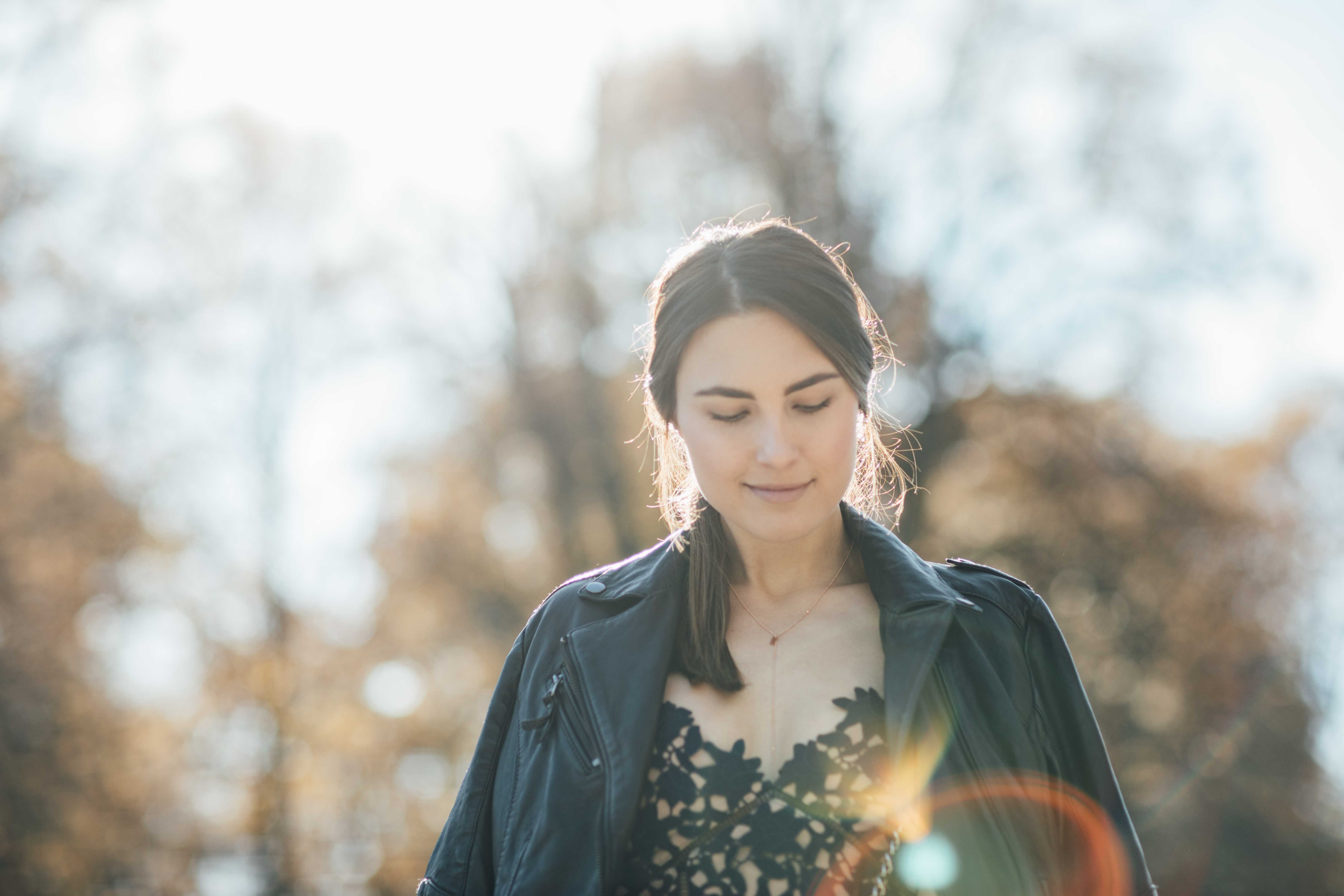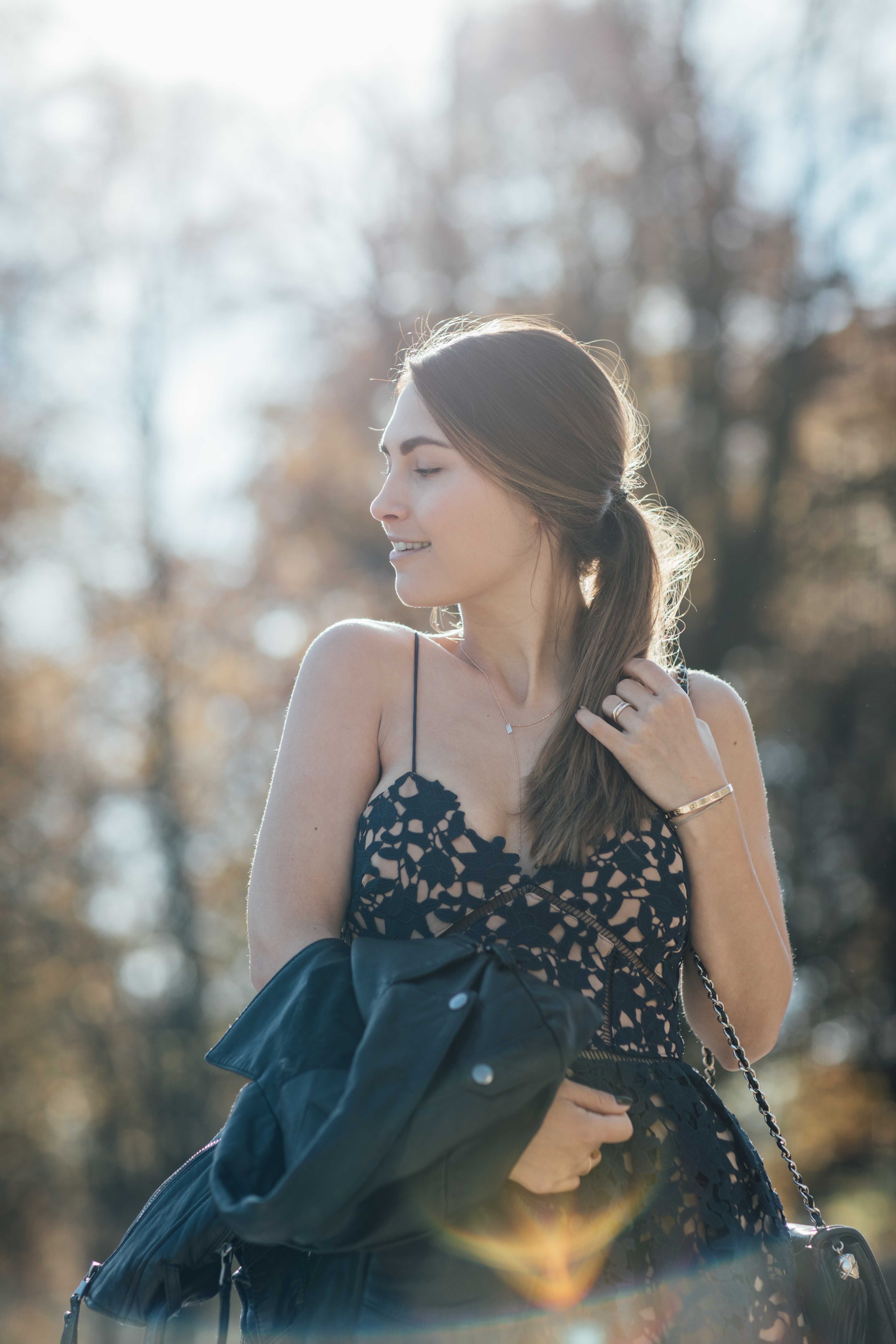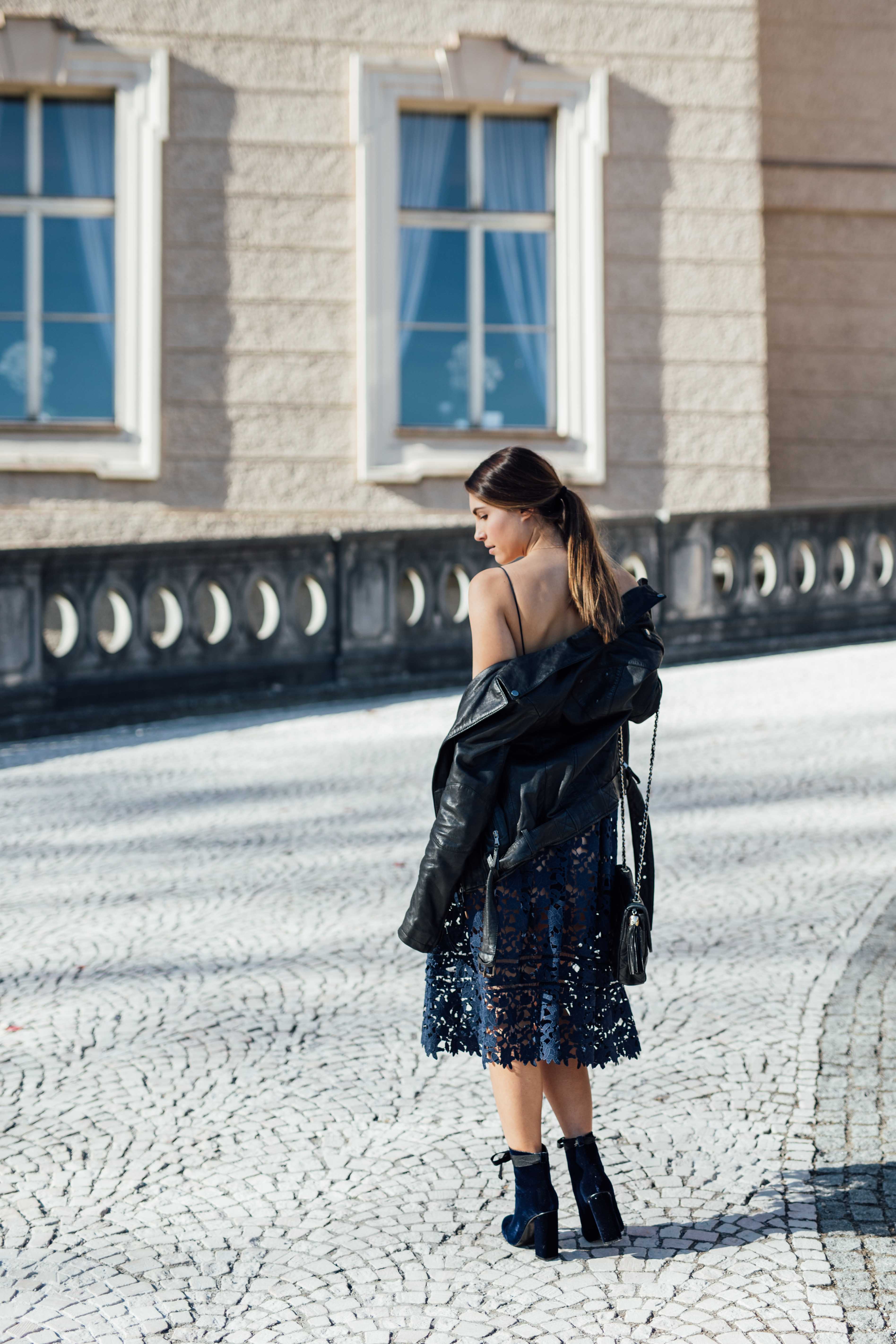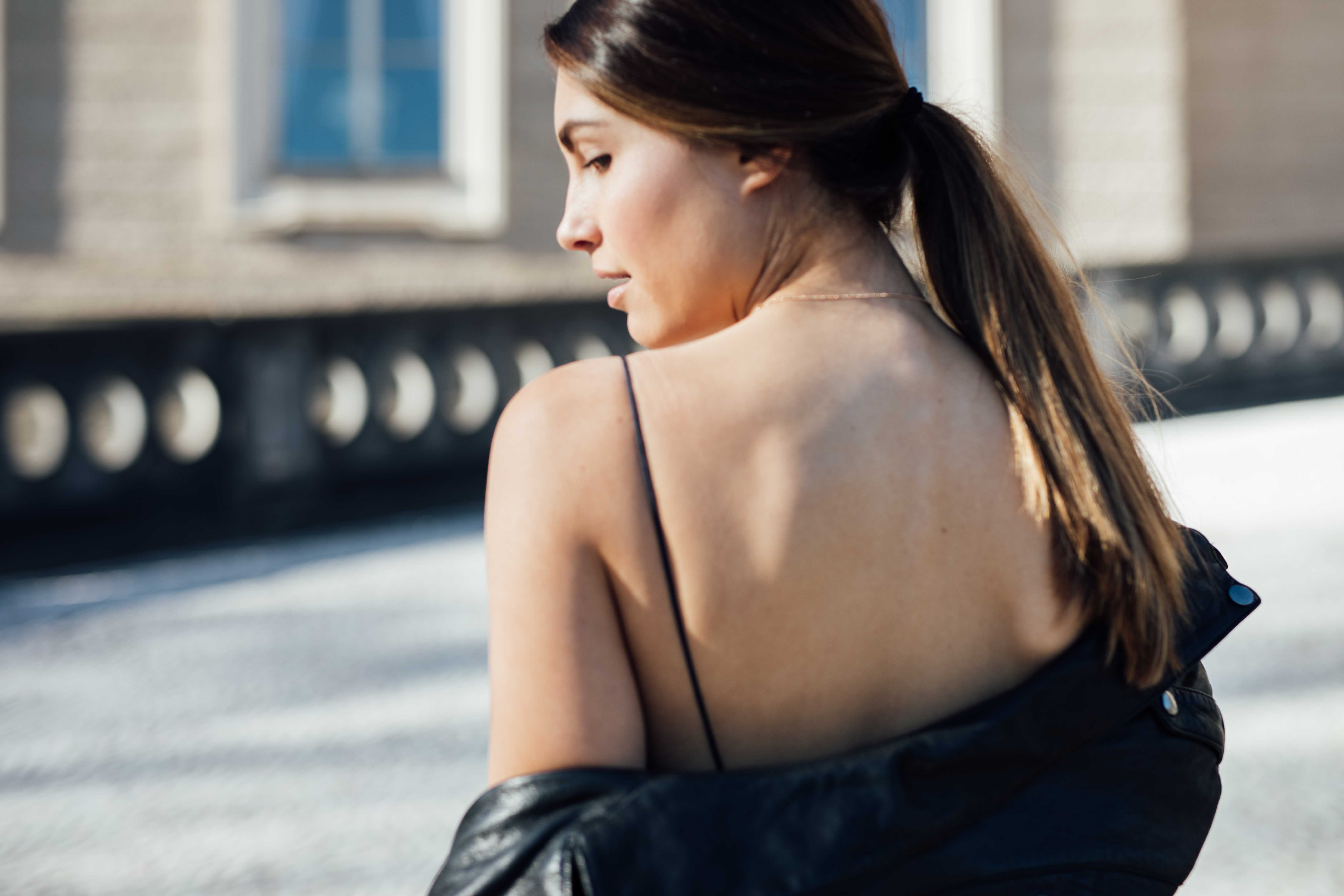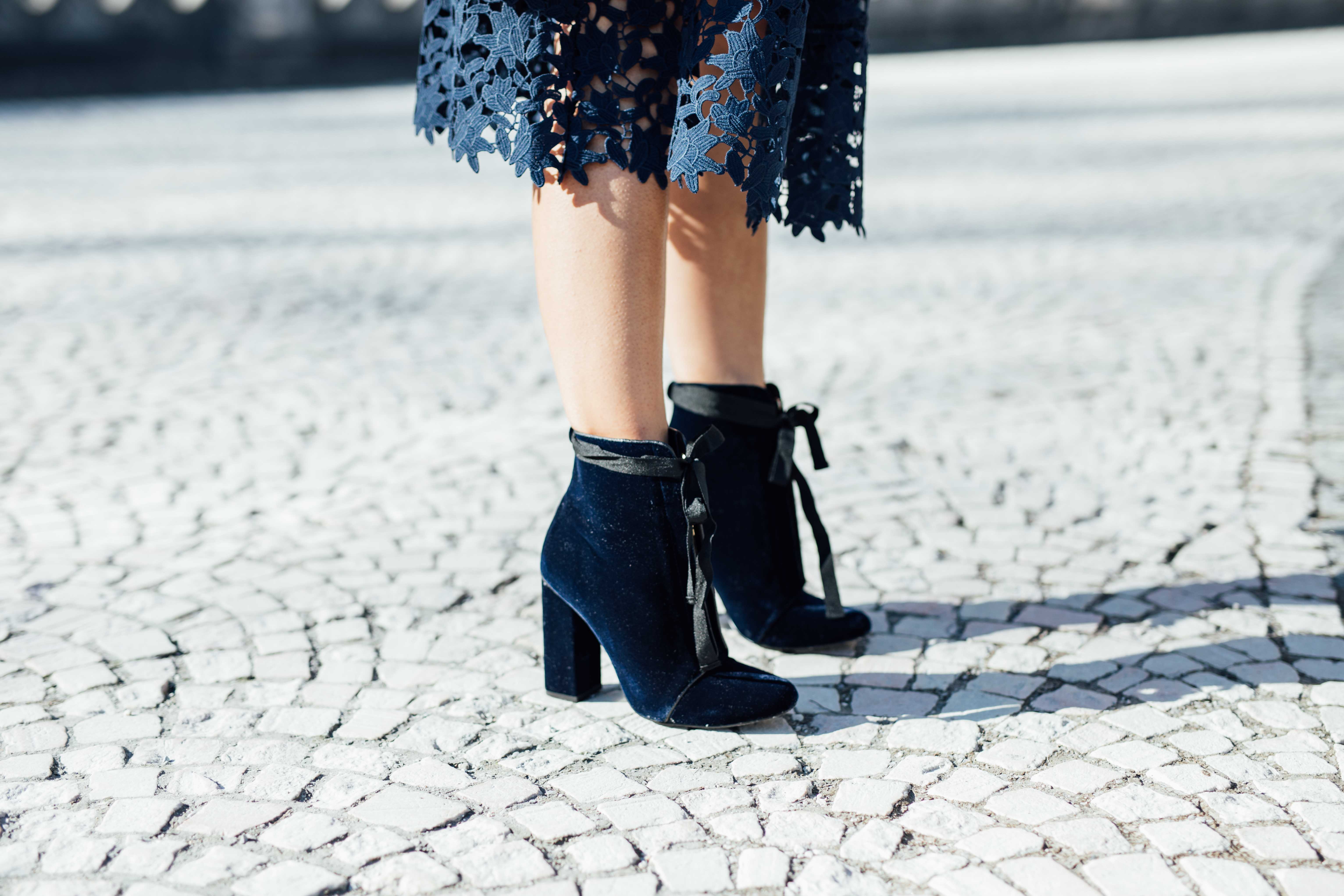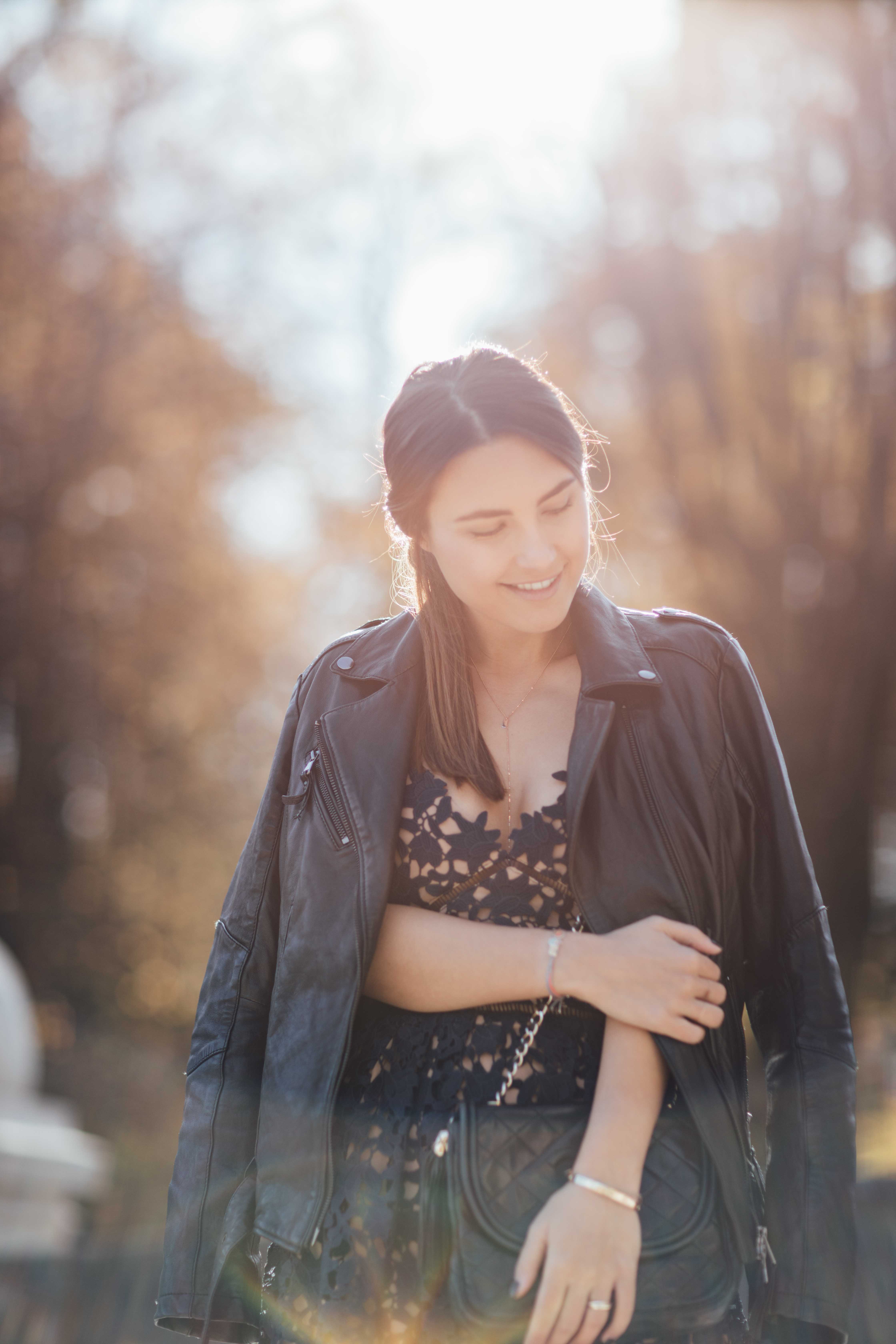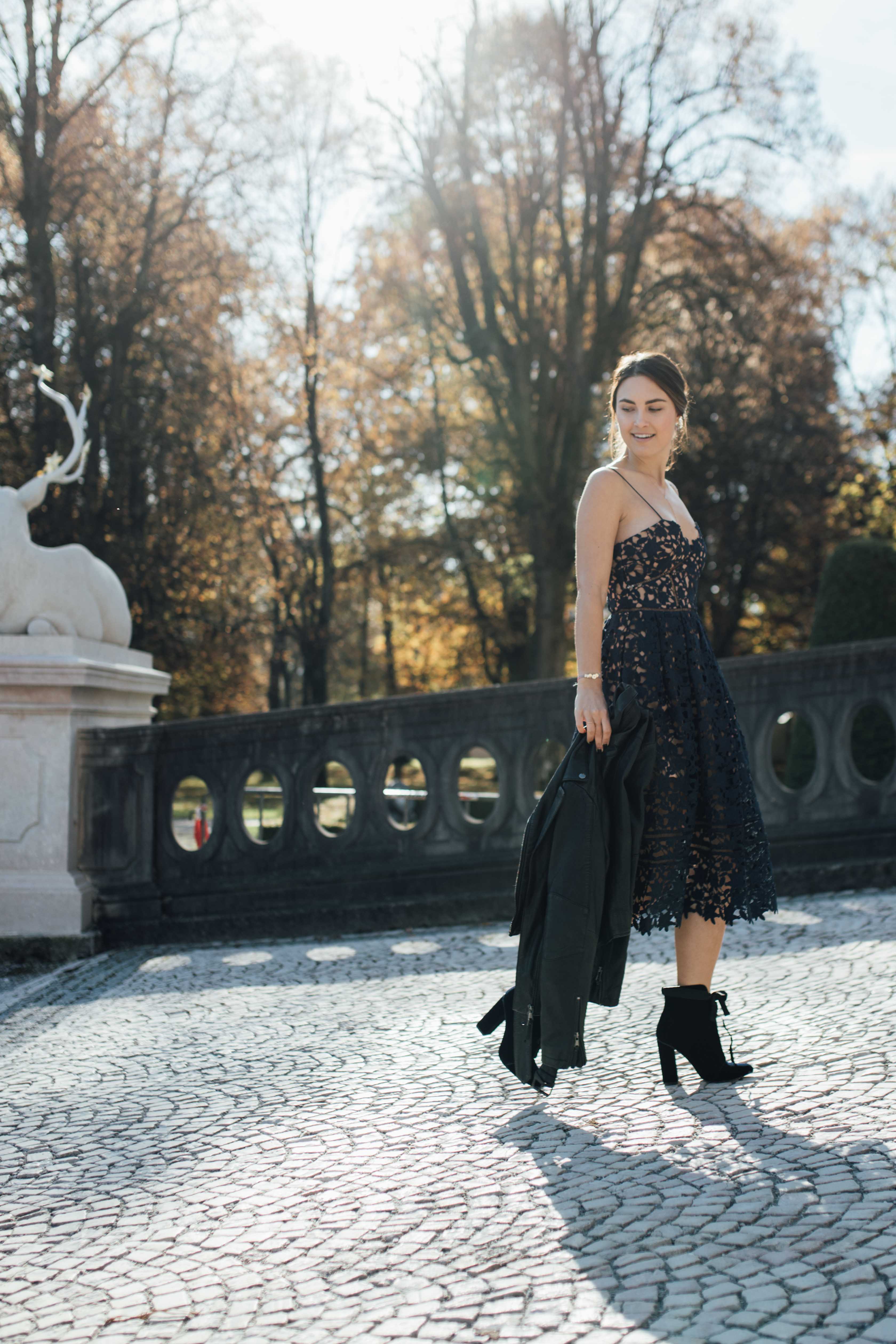 No matter if you're on the hunt for a holiday look or just looking for a pretty and versatile dress, you're safe to find a favorite amongst the Self-Portrait Collection. Some other pieces of the collection I love include this amazing long sleeve mini dress, this cool off-shoulder jumpsuit and this gorgeous midi dress.  I have my eye on this blouse already…  If I could, I would fill my wardrobe with cute lace stuff! I better start sending my wishlist to Santa already…
---
Wearing:
SELF-PORTRAIT – Azaelea dress
BE EDGY – leather jacket
ZARA – velvet sweater and velvet boots
CHANEL – vintage bag
VALENTINO – lock bag
ANNA INSPIRING JEWELLERY – necklace
H&M – hat (old)