Tasty & healthy: Quinoa Rainbow Lunch Bowl
At the beginning of this year I made a promise to myself that I'll take better care of myself, my overall well-being and my health. Meaning: Doing more of the things that make me happy, scheduling Me-Time, plan in time for workouts,  and also be more aware of the food I'm consuming (in case you've missed it, this podcast episode is all about my new nutrition and the rules I'm following at the moment).Up until now I've been doing very well so far and have been very good with scheduling time for workouts, as well as being more active in my kitchen. Meaning: More home cooked meals!
I'm a big fan of cooking and love exploring new recipes and getting creative with various ingredients (I inherited this joy from my Dad who is an ace in the kitchen!), so I thought I'll dedicate a section on my blog to all the recipes I stumble upon that I think deserve to be tried out. Because let's be honest: Don't we all have the same five dishes that we're cooking on repeat? I do! Although there are so many delicious recipes out there… but sometimes I'm just lacking the inspiration and end up cooking the same old dish.
I want to bring more variety into my meal plan and so I thought I'll just share all the recipes I stumble upon and particularly like here with you guys. Today, the delicious Quinoa Rainbow Lunch Bowl is making the start. Eating the colours of the rainbow is something we all know we should do, and with lunch bowls it couldn't be easier! You can prep all of the main components on Sunday evening, or any weeknight, which makes bringing lunch to work so easy and cuts down on time. There are only a few steps to this quick lunch fix, and you can adjust it to your taste buds and liking.

QUINOA RAINBOW LUNCH BOWL
List of ingredients for 1 person:
• 150g cooked quinoa (cook in vegetable broth for more flavour!)
• 30 g/handful of arugula
• 100g roasted sweet potato
• 1/4 yellow bell pepper, sliced
• 100g beets, cubed
• 1/4 avocado, sliced
• 1 tsp buckwheat
• parsley
• 1/2 lemon
• 1/2 tbsp olive oil
• salt + pepper
Now what?
1 Make sure to use a base that will fill you up for a long time. Things like quinoa (which I love), brown or white rice, lentils, or bulgur. This will ensure that the dish is a full lunch versus a salad on the side.
2 Add lots of greens! This can be a heap of arugula, spinach, kale, or any other lettuce in your fridge. I like adding in an extra dose of greens with fresh herbs (parsley is my favourite in this bowl), but if you don't have any on hand don't worry about it!
3 If you have the time, roast at least one vegetable component. This isn't absolutely necessary, but makes the world of a difference when it comes to flavour. With food, a variety of flavours and textures is like adding different colours and textures to your home or outfit. In my case, I love roasted sweet potato, but you could do roasted carrots, beets, or bell peppers…
4 Crunchy veg: The crunchiness that comes from something like a bell pepper, cucumber, or radish makes such a difference and is something I definitely don't want to miss out on in my lunch bowl. At the moment, I'm trying to eat mostly cooked vegetables, but I do prefer a bit of crunchiness, because a variety of textures makes this salad exciting.
5 Healthy fats: Don't be afraid to add fats that are good for you! I love avocado (who doesn't?!), and also added a bit of extra virgin olive oil in the dressing, but you could add nuts that you like, too.
6 Top it all off with a good squeeze of lemon, a fresh crack of salt and pepper, and a sprinkle of seeds (I actually used buckwheat) to amp up the crunch factor, and your lunch bowl is ready in absolutely no time.
Dig in and enjoy!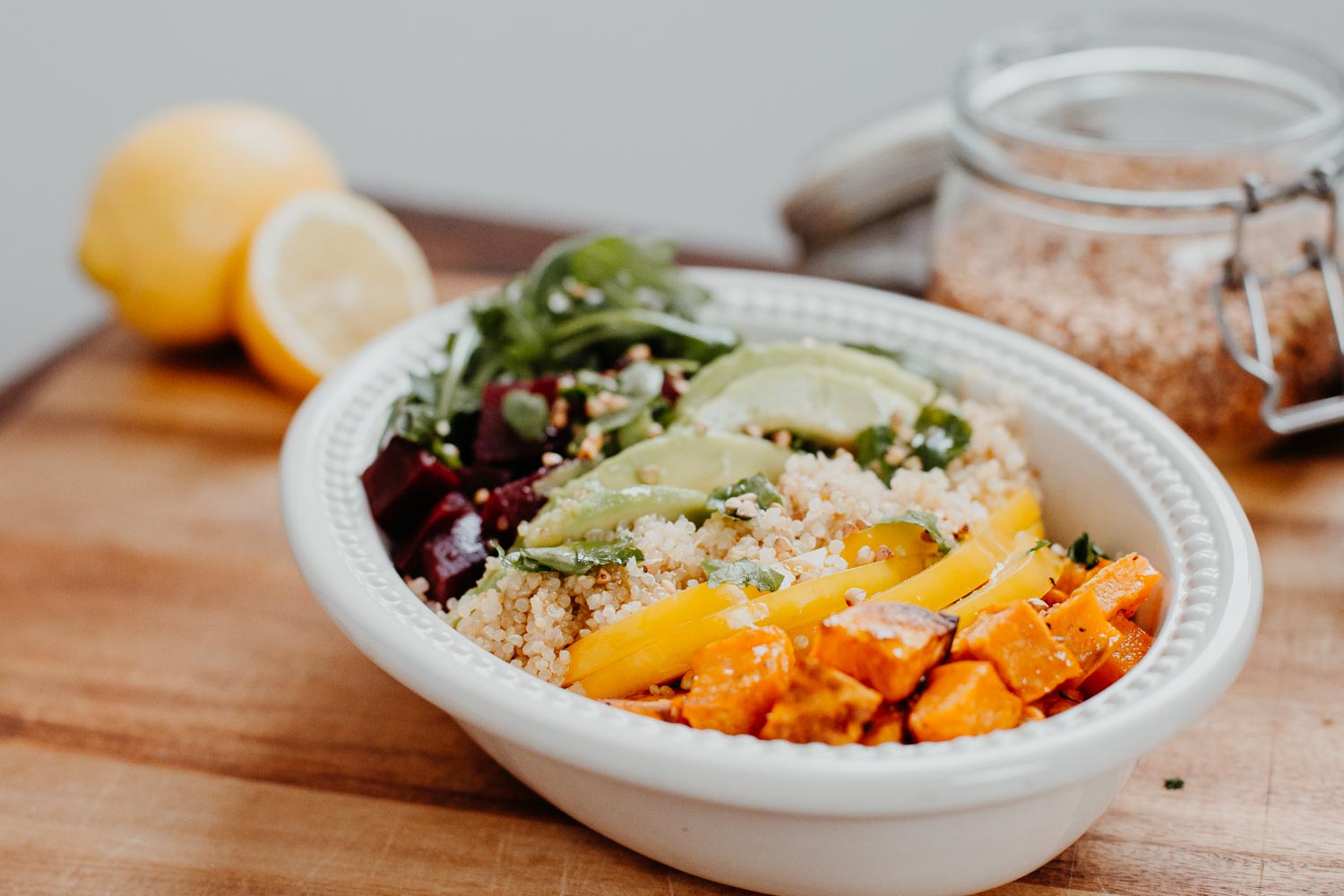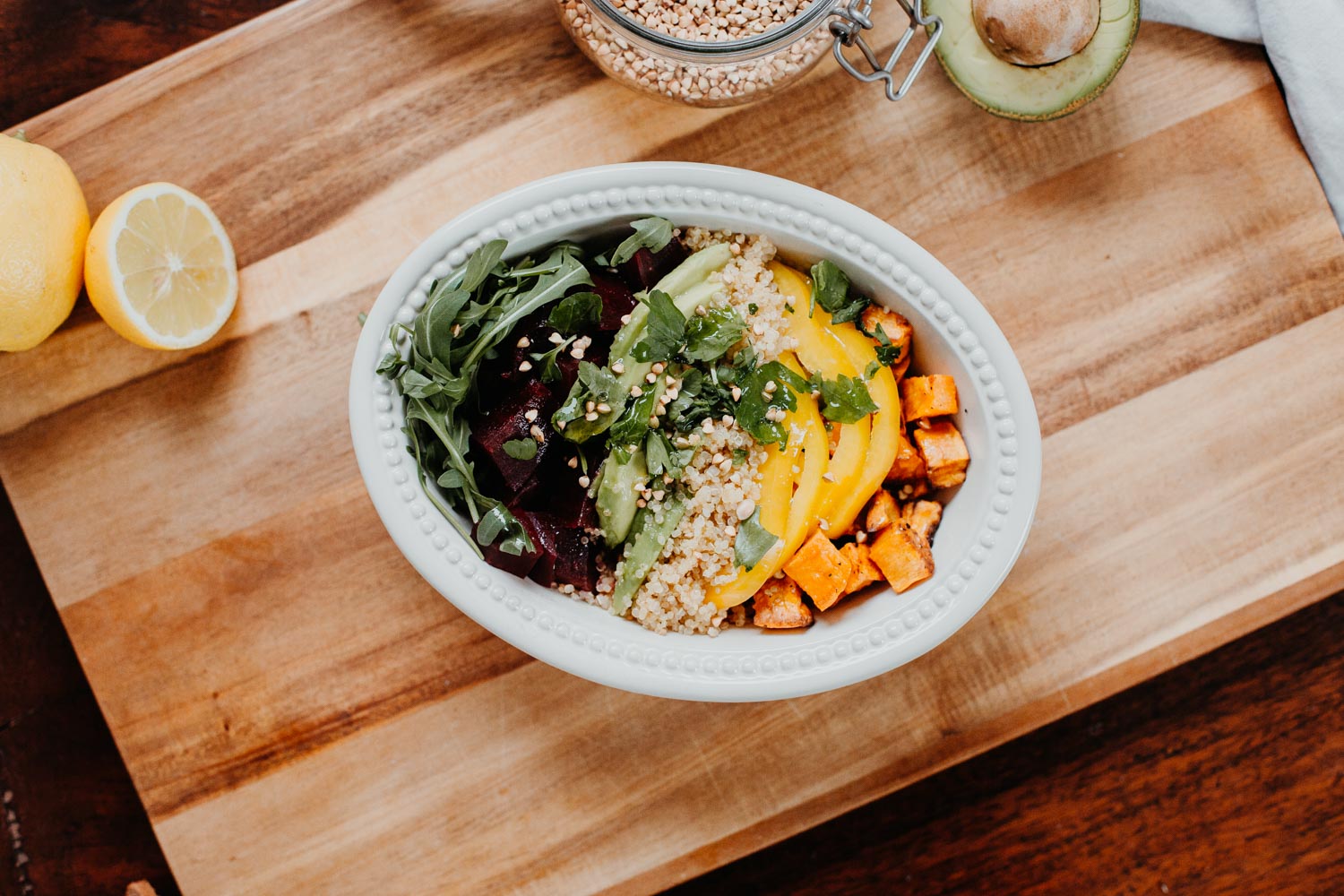 ---
*photos by my talented friend Gabriella Hoell