The skirt that gives me frills
Here it finally is! The post I've been promising you since Monday. I'm usually the type of girl who stands by her promises, but sometimes life just gets in your way and you have to concede. In my case the reason for not being on time with the promised post was a happy one, thankfully. I decided to visit my mom in Carinthia on Monday, because – why not!? As many obligations and tedious tasks self-employment holds, there are a few perks as well. One of them definitely is that I don't have to ask my boss if I can go on holidays and that I can simply take a day off whenever I want. Since it's a bank holiday today, I thought I'm outsmarting everyone else and head towards south on Monday when traffic was no issue. Turns out it was the right decision, according to the traffic news on the radio this morning (big shout out to everyone who's currently in a traffic jam in the car: I hope you're equipped with good music, food & drinks, and you don't have to pee.)
Long story short: Being at my parents place in Carinthia also means I'm forced to do digital detox. Not because my parents don't want me to use my phone or my laptop, but simply because the internet connection there is as if it was 1998. As much as I was annoyed about that fact as a teenager, the more I appreciate now. It's the best place to calm my mind and focus on what really counts: Being present.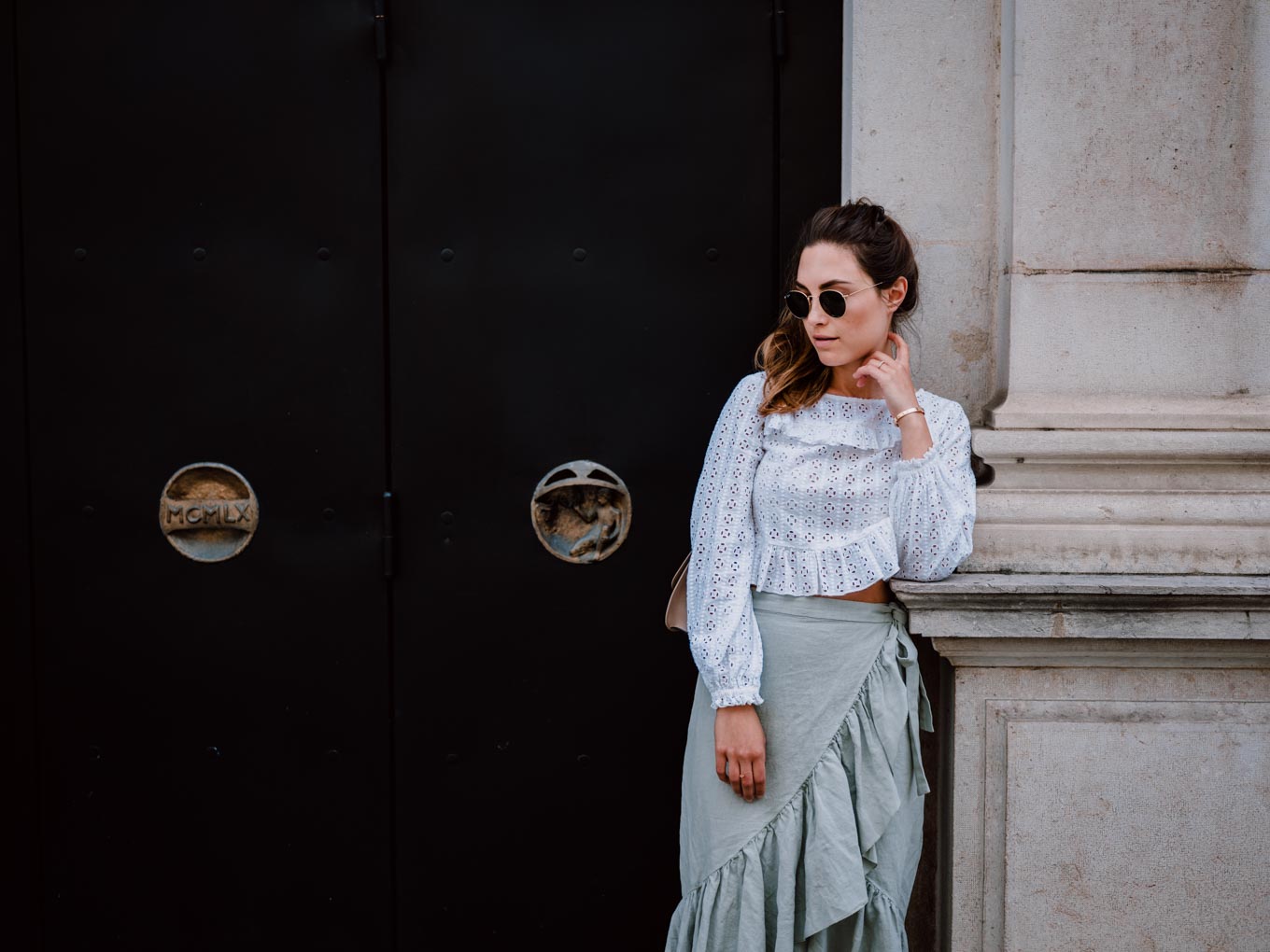 Now back to the skirt: I don't know how many times I've tried to tell myself to do less shopping at Zara. Not because I don't like their clothes – I absolutely do – but just to bring more diversity into my wardrobe and to avoid having the same things as everyone else does. But I still go there – and I love it. Some girlfriends of mine told me they reckon Zara has decreased in quality lately and that they would not shop there anymore because everything is worn out after one season. I can only agree to that partially: Some of the things I've bought at Zara, I've had for years by now, wearing them over and over again. You just have to know what to go for:  Clothes made of cotton and linen are usually always a safe option! When I spotted this skirt in Mallorca two weeks ago, the color and cut of the skirt gave me frills right away, ehm I mean thrills. So this little skirt went home with me as a little souvenir of an awesome girls trip.
Anyways, enjoy your bank holiday everyone. In case you're looking for me, I'll be in the office.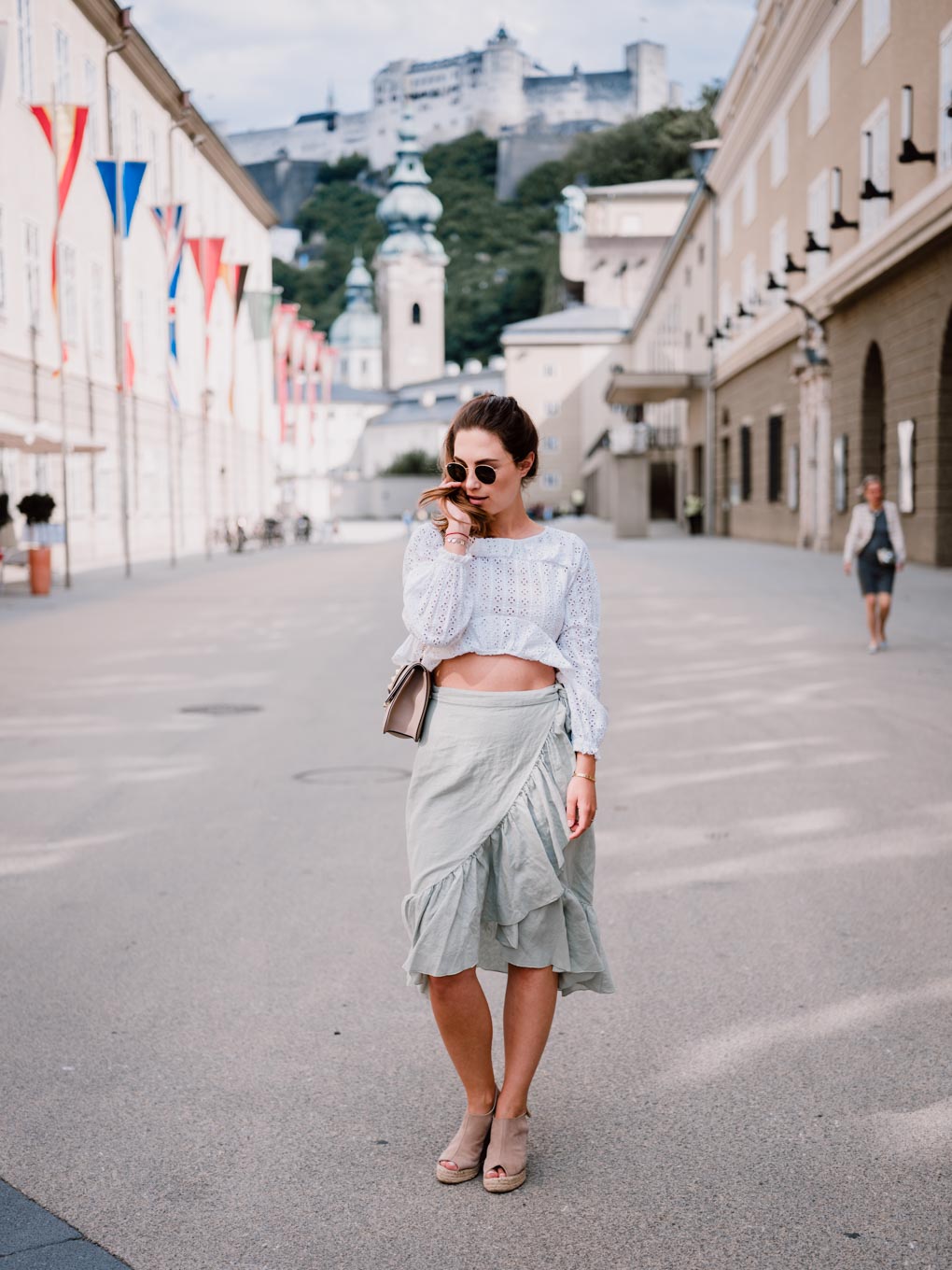 ---
Zara – skirt // Zara – blouse (old)  // Pavement – shoes (last season, similar here) // Ray Ban – sunnies // Valentino – bag 
And because I got so many messages about my shoes:
 I got them last year, so unfortunately they are sold out. I'm a huge fan of wedge heels, because they are super comfortable, yet stylish and they give you a great posture. Plus: Wedge heels are the safest option for all weddings and parties outdoors, because you can easily walk with them on gras, cobblestone or any other tricky ground.
So here is a selection of my favorite wedge heels for you: