Wedding Guide:
Invitations
After I posted a recap of our day last year, several of you wanted to know more about the ins and outs of our wedding, and so after sharing how I prepared my skin and what was important to me make-up wise, here is the next instalment of my mini wedding guide: edition invitations.  (Also, if you're curious about which dress-codes there are and what to wear to a wedding, make sure to check out this blogpost on all things wedding attire!).
---
One of the big-ticket items when it comes to wedding planning are the invitations. Whilst some things can be left until the last minute, others do need to be checked off earlier on. After having settled on the date and location, there are only very few – if any – things you need to have decided on before starting to design your invites.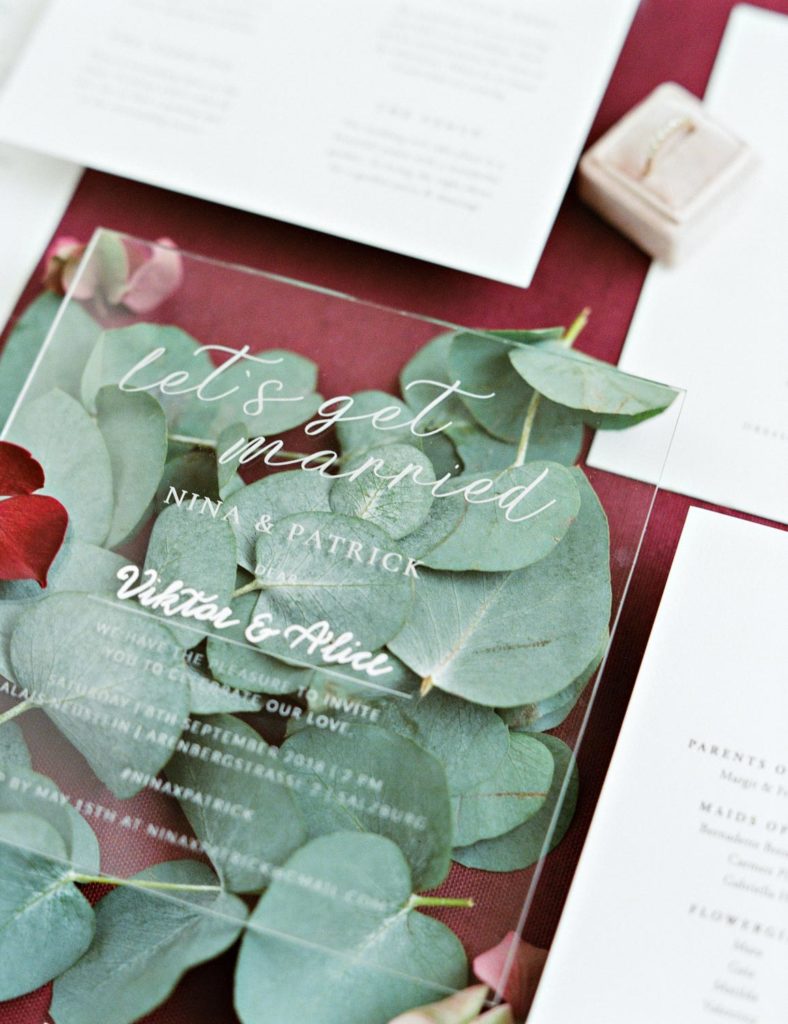 Our wedding invitation
A few years ago you might have been hard-pressed to find an invitation design that would have suited your wedding and style. These days there are hundreds if not thousands of designs to choose from. There were a few things we kept in mind when choosing ours, which was that we wanted it to be timeless, yet still modern and hopefully unique. We were so lucky to work with incredibly talented designers and makers (in all areas of our wedding!), which resulted in an invitation that I still love and am sure will cherish even in 20 years.
We decided on a square lasered acrylic sheet for the main invite, with a set of matching square cards for any additional information. Our invitation was then placed in a semitransparent/frosted envelope, wrapped with a silk ribbon and finished off with a wax seal. Writing it out now seems like we decided on it within a matter of minutes, but – truth be told – it took us longer than expected to find what we were looking for!
Before you start designing your wedding invitations (and, to be honest, to take the pressure off getting them done early enough), you could opt for sending out save-the-dates. These can be sent by post, but to save time and money you could also send them via email. Just make sure to send them about 8-10 months in advance in order to ensure that your guests will still have that date free.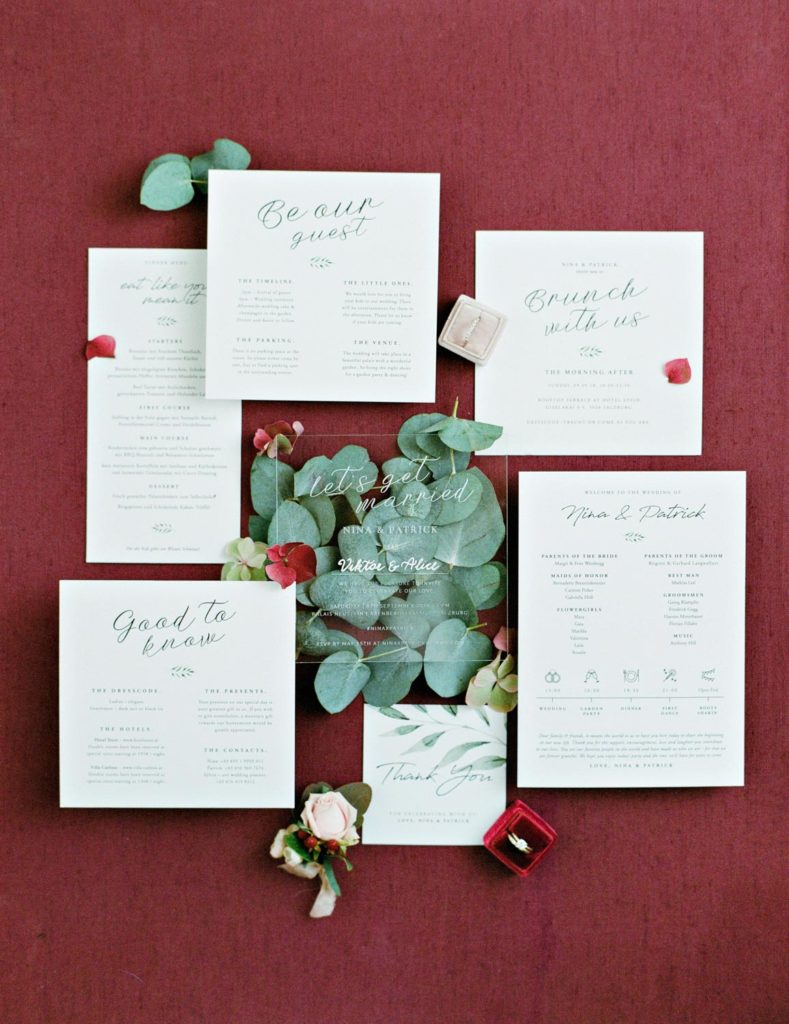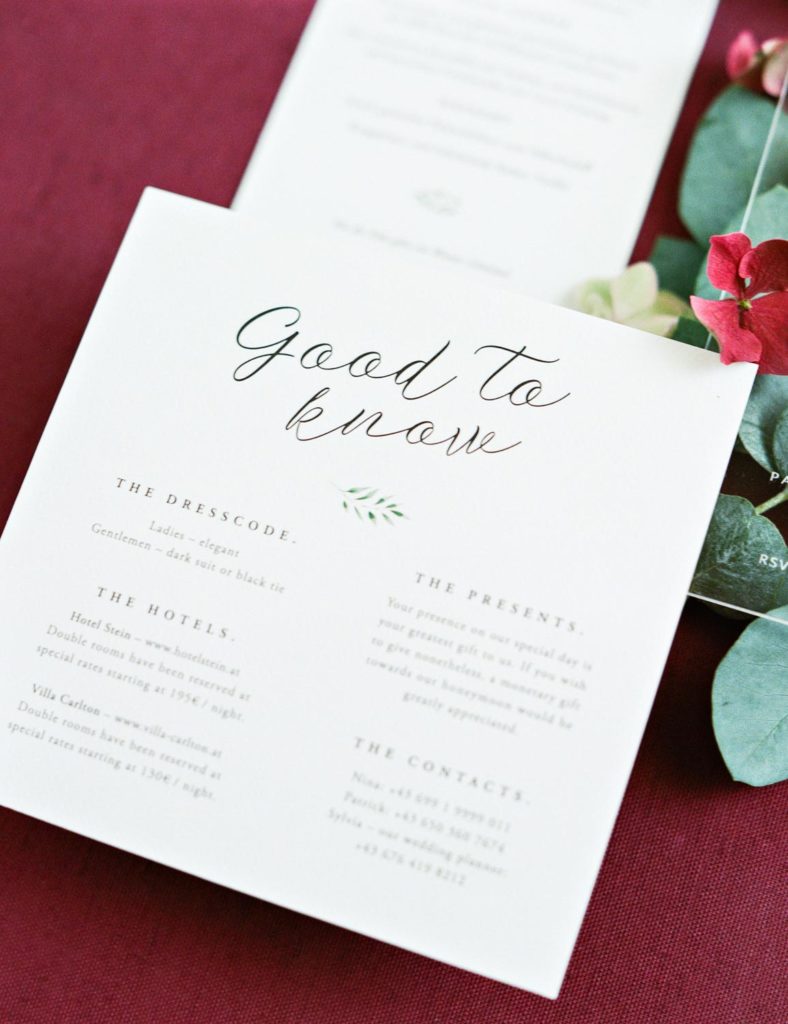 What should you have planned before you start with your wedding invitations?
Most importantly, your date and your location! Those two things not only need to be on your invitation, they also often set the tone for the kind of design you might be looking for. Will it be a summery garden event? You might want to look into something that represents that. Are you going for an urban location? Maybe your invitations will reflect a more modern style. Will you be wed at a castle or manor? You'll possibly be aiming for a more traditional and timeless invite. I think you know where I'm going here! That doesn't mean that you can't go for something modern when your location is traditional. I'm simply saying that often times the location we choose to get married at reflects a lot of our personal style.
In addition to where and when, it also helps if you've got a general idea of the colour scheme you'd like to have at your wedding (if you have one). Not that you have to colour-coordinate your invitation to whatever will be happening at your wedding, but if you do want to have a matching stationery set that will also tie in with the décor at the wedding venue, it's a nice touch.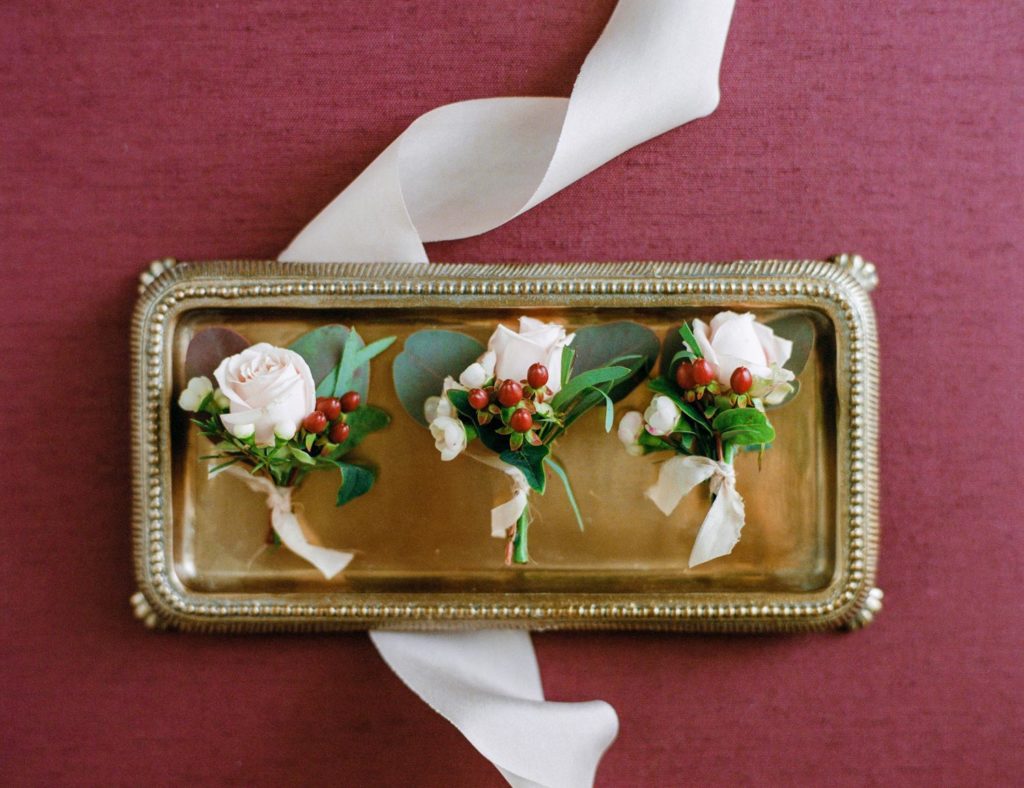 What needs to be on the main invitation card(s)?
Traditionally, the parents of the bride used to pay for a wedding (especially in English-speaking countries) and were therefor considered as the hosts of the event. In that case, a wedding invitation would be worded somewhere along the lines of Mr and Mrs Parents-of-the-bride invite you to the wedding of their daughter X to the person Y, followed by the date and time, and where it would take place. These days, often times both parents contribute to the wedding, or the couple pays for everything themselves. So feel free to word it however you feel, as long as people know that you are marrying the love of your life!
Very generally speaking, guests need to know who, what, and where. This means you should include the following:
Your names
The date
When the ceremony starts
The ceremony location
The reception location (if different from ceremony)
RSVP (if no additional RSVP card is attached)
Additional information you can include on secondary cards:
The dress code
Parking info
Whether or not children are invited
Your wedding website (if you have one)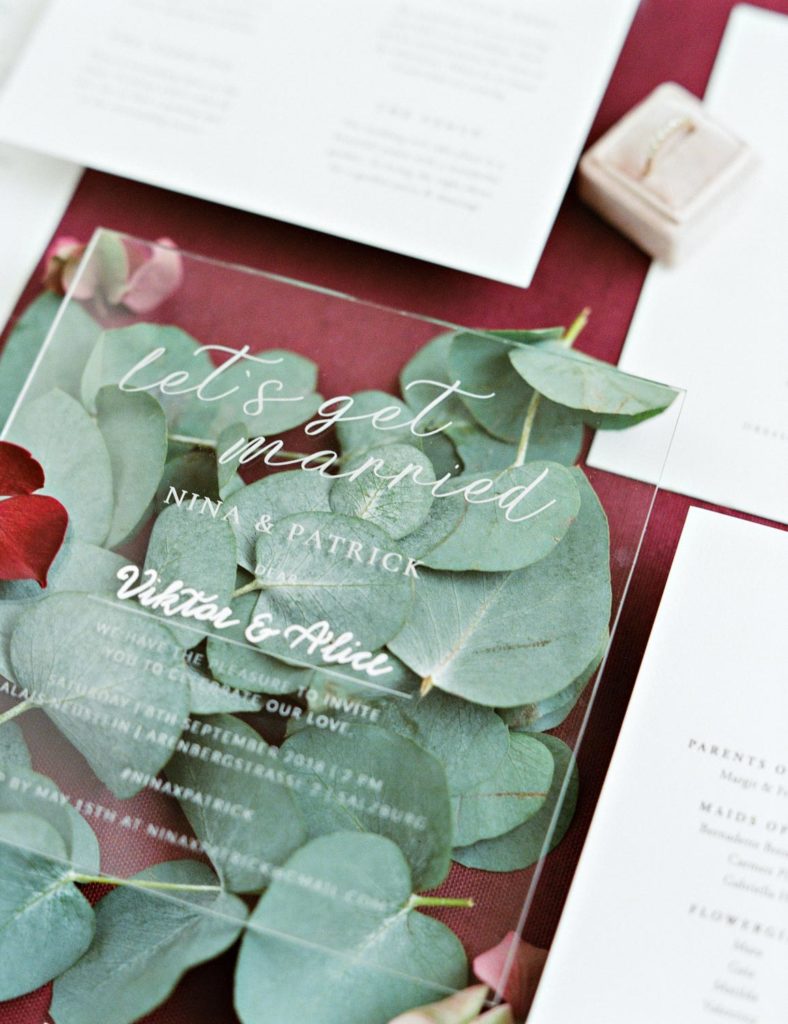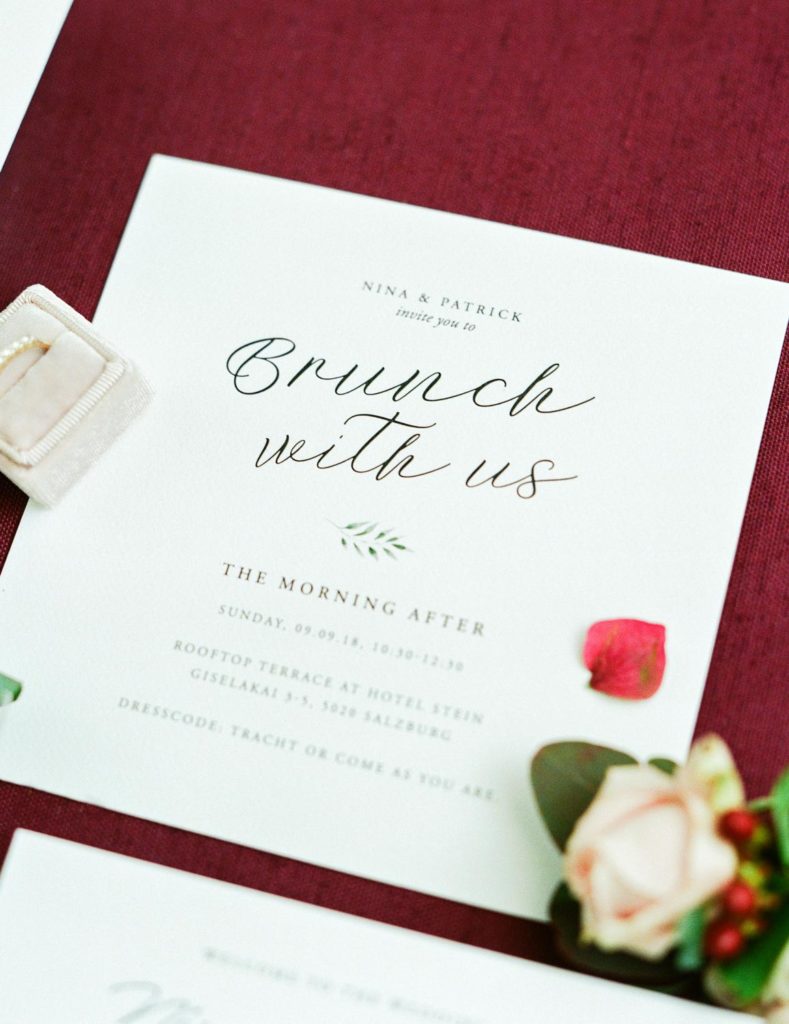 What is typically included in a wedding invitation suite?
This is completely up to you! Whether you just want to send out one card or are designing a whole suite of invitations, including everything from save-the-dates to thank-you notes – as long as people know you're getting married, all will be well.
The wedding invitation:
The main wedding invitation will have all the details needed, but often times these are elaborated further on separate cards. Sometimes the RSVP card will be included, if you want to have the answer returned by post (versus via email, telephone, or website). If you have any additional events to attend, like a rehearsal dinner or an after-wedding brunch, that will also require a separate card (especially if not every single guest is invited to additional events). Some couples even decide to add photos or a print of a beautiful poem.
Additional wedding stationery/papeterie:
If you want the design to be part of the wedding day, now is the time to also order things like menu cards, name cards, table numbers, programs, and even thank-you cards. This won't just cut down on money, it will also save a lot of time as you'll be prepared months in advance and will have one less thing to worry about!
Ps – If you want to look through a few ready-made design options, I've found that the Germany-based brand Cottonbird has beautiful options to choose from, Creative Market provides templates so you can design your invites yourselves (like Kathi did), and sellers like Letteringbygrg on Etsy offer a range of swoon-worthy letterpress designs! Also, I can only highly recommend Die Macherei, who we worked with, for the design and print of your invites.
---
*photos shot on film by Melanie Nedelko