What's in my jewellery box?
I have this thing with jewellery – if I don't wear it, I feel naked. Over the years, I've collected pieces of jewellery that I hardly ever take off. Some of them are expensive, some are very cheap. But no matter their price tag, they all have something in common: They mean a great deal to me. Some of them were gifts from people I love, and some were gifts from me to me – to mark a certain event or milestone in my life.
I wouldn't say my collection of jewellery is very big, but those pieces I have, I love dearly and wear daily. As far as I am concerned, I love to subtly accessorize my looks and think dainty jewellery goes a long way and upgrades any outfit immediately. Over the years I've learned that quality comes before quantity and that it's worth it to invest into a piece of jewellery that will accompany you for the rest of your life. However, I also love wearing statement pieces like big earrings or necklaces that are trendy right now and I don't mind mixing 10 Euro earrings with gold necklaces or real diamonds. Neither do I mind mixing different materials such as yellow gold, pink gold, white gold or silver. Quite the contrary, I think it's the mix that makes it even more interesting and personal.
Chances are very high you'll never catch me without any jewellery. My wedding rings, a golden bracelet that's screwed on my wrist, dainty earrings and golden necklaces are some of the pieces I wear all the time. Since I don't always tag all of my jewellery in my outfit posts, I'd like to dedicate this particular blogpost to my daily jewellery and tell you some of the stories behind the pieces.
Wedding Rings
Obviously, my wedding rings as well as my engagement ring are some of the most meaningful and precious pieces of jewellery I (will ever) own. When Patrick knew he wanted to ask me to marry him after 10 months of dating, he reached out to Katie g. jewellery for a custom made engagement ring for me. Without any hints from me side (since I didnt know anything about his planned proposal) he chose the most wonderful eternity ring with seven diamonds (his lucky number) as engagement ring and I couldn't have picked it any better.
Our wedding rings were also custom made by our dear friend Katie. We decided we wanted to have the same material (champagne gold), but other than that our rings look completely different – just like the two of us. The third ring I'm wearing was a present that Patrick gave me in the morning of our wedding day. It's a hammered gold ring that has smooth edges with three diamonds: Just like life the ring has edges, because life (and marriage) isn't always smooth, but at the end those edges and those highs and lows make it exciting and beautiful. The three diamonds are symbolizing the equal importance of the past, the present and the future.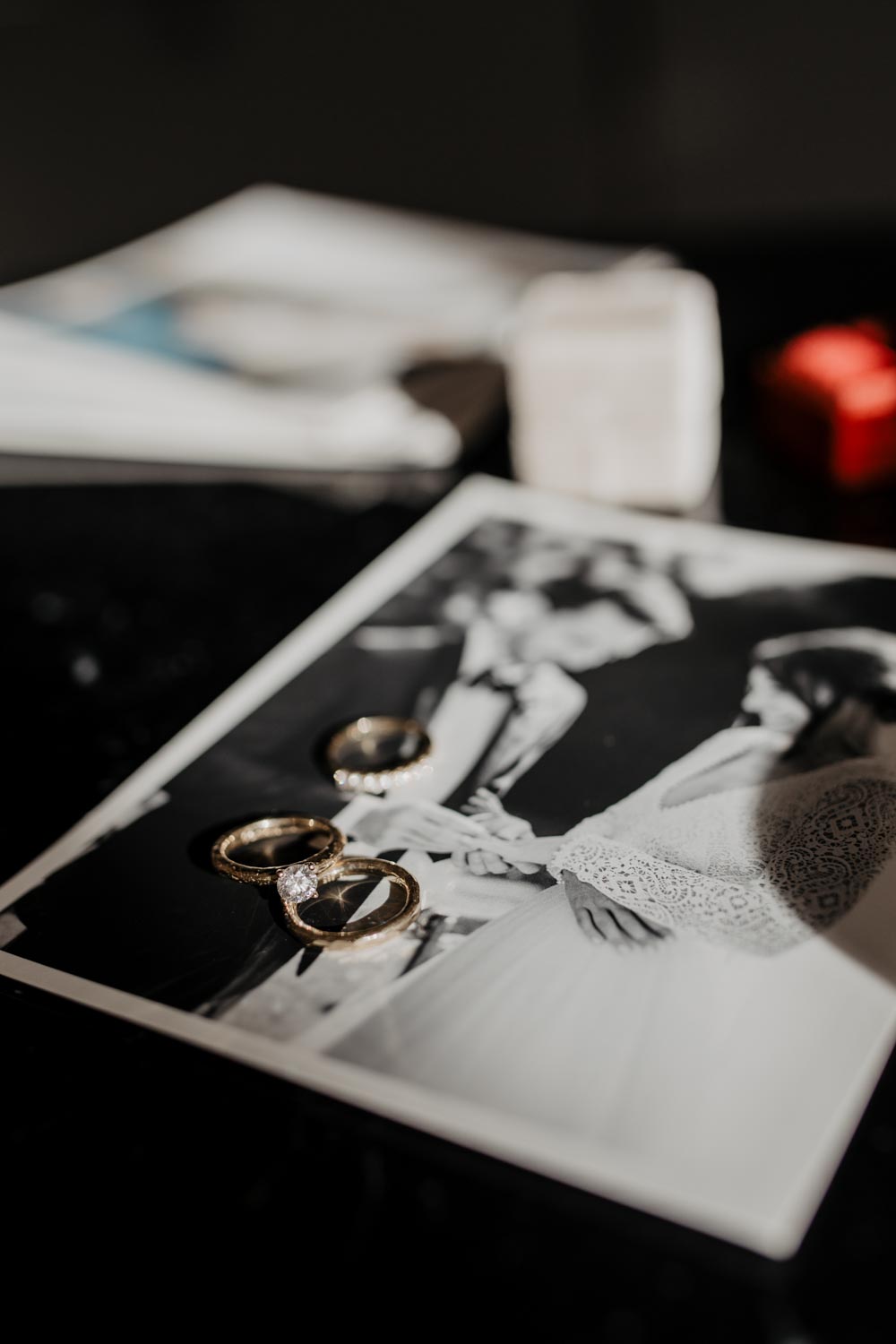 Cartier Love Bracelet
Next to my wedding rings, this bracelet is without a doubt the most meaningful piece of jewellery I have. My Mom received the Cartier Love bracelet for my birth and has had it on her wrist for 23 years without ever taking it off.  There is a very special story connected to the bracelet that I will keep private, but one day my Mom decided it was time to pass it on to me as my personal lucky charm, with the hope it would bring me as much luck and happiness as it did to her. With a very special engraving on the inside, this bracelet has been screwed to my wrist since almost six years without a break and it won't ever leave my wrist until I might decide it's time to pass it on…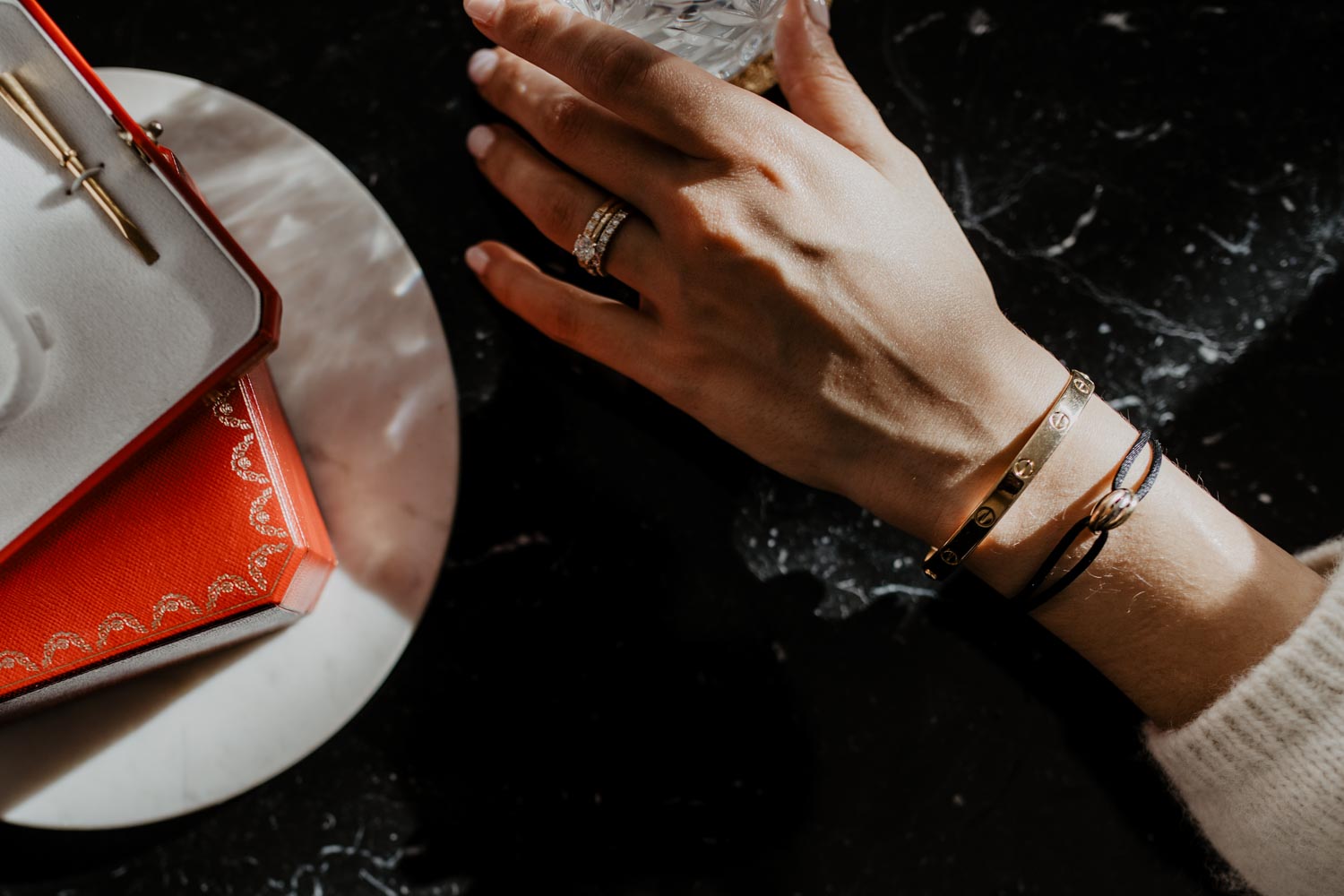 Cartier Trinity Bracelet
For our first Christmas as married couple, Patrick surprised me with the iconic red Cartier box under the Christmas tree that had the trinity bracelet inside, accompanied by a handwritten letter that made me cry like a baby… It's also one of those pieces of jewellery that have a very special meaning to me and it won't leave my wrist soon for that reason.

ANNA Inspiring Jewellery
When I moved to Vienna in 2010 I saw lots of girls wearing dainty colorful bracelets with tiny silver or gold plates that had engravings on them. It didn't take me very long to find out they are from ANNA Inspiring Jewellery. I fell in love with the bracelets (and the rest of the jewellery collection) the minute I saw them and started collecting those bracelets as lucky charms. I have been wearing them since nine long years now and all of the tags mark very special occasions: Some have been gifts from friends, some of them are friendship bracelets – all of them represent wonderful memories.
Almost ten years later it's amazing to see the brand that ANNA has turned into, expanding from one little store in Vienna to all over Europe and even to NYC.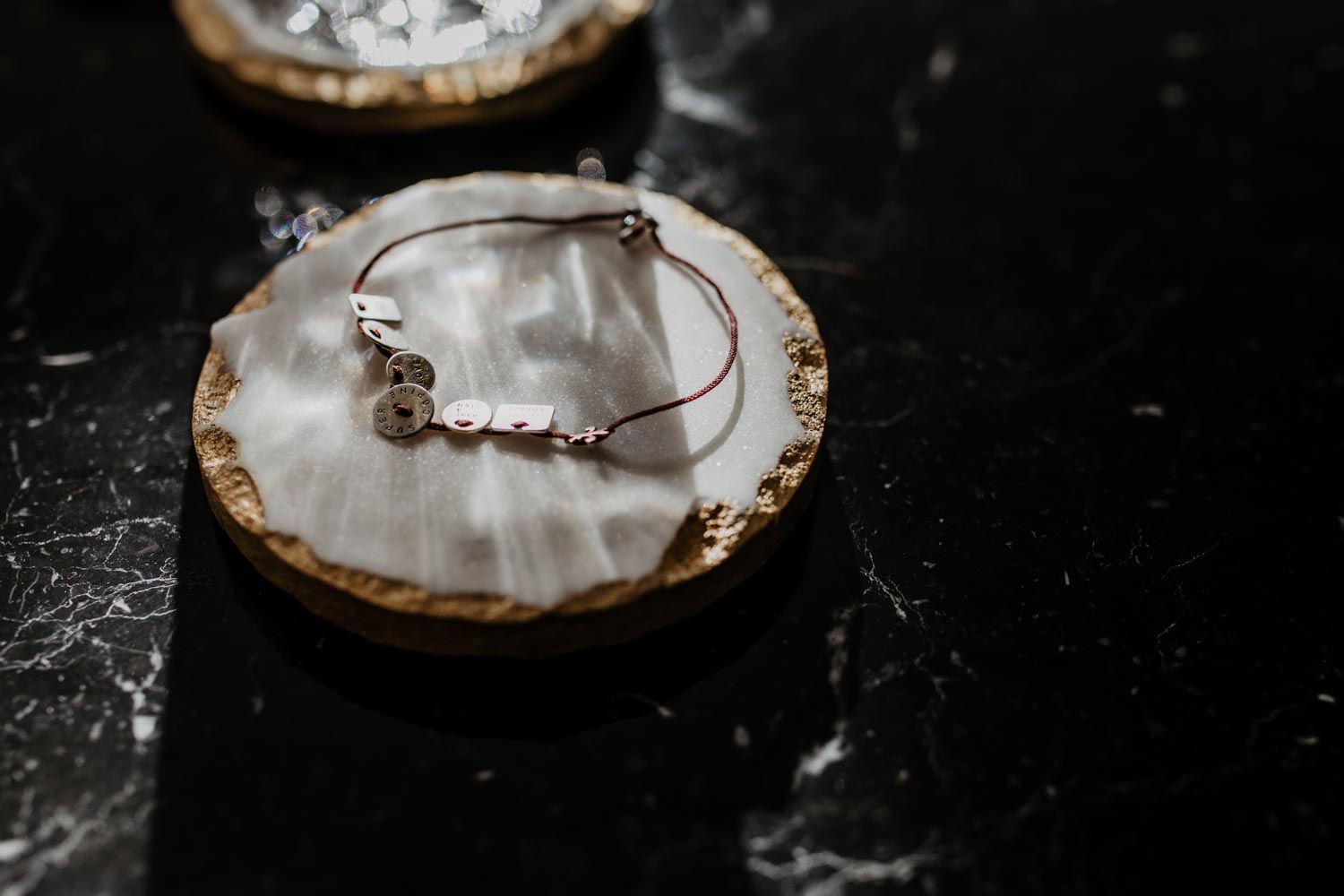 I have had pieces from ANNA on my birthday and Christmas wishlists ever since (and still do!) and I have also been very lucky to collaborate with the brand already. I truly love how dainty and subtle, yet robust the jewellery is. My favorite combination is a stack of three dainty necklaces that I always wear: The Eve necklace (a birthday present from my parents), the engraved necklace (a present from Patrick), and a necklace with a tiny P pendant with diamonds. For our wedding I choose to wear the longer version of the Eve necklace, which can be wrapped around your neck twice, or even in combination with the shorter Eve necklace.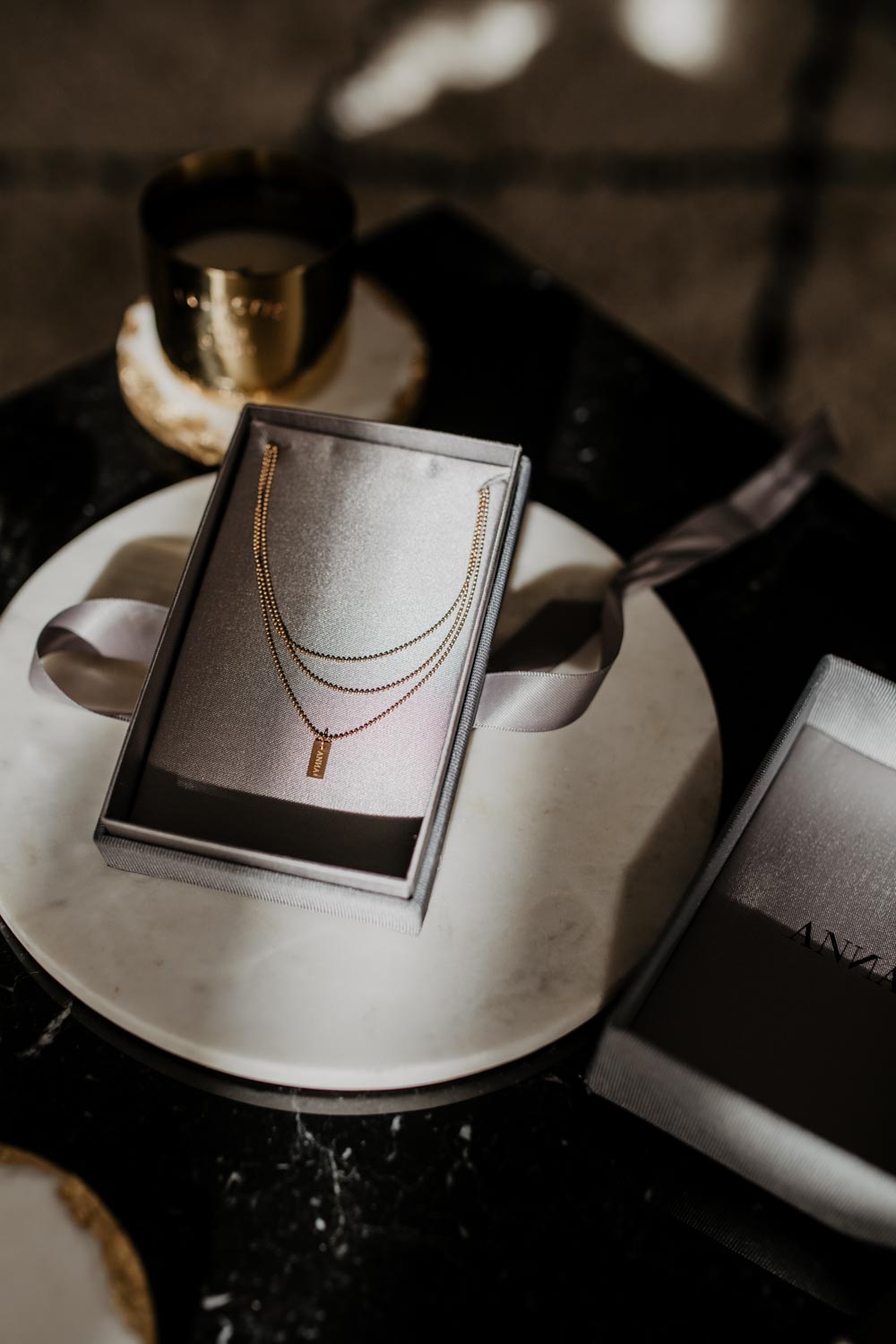 Some more ANNA jewellery I never take off:
The earrings. I have a little assortment of different ear studs (aka ear candy) that I wear all the time. My ears are very sensitive and I had to pierce them several times because they would always get infected. I then realized I had to invest into good quality earrings and decided to get ear studs in 14 k gold. Ever since wearing the ANNA studs, my ears never got irritated again. I love combining different ear studs with each other, such as the star, the X, the half moon or the N with little diamonds. My personal favorites are the Mara Mini Hoops. They fit for any occasion and are super comfortable to wear.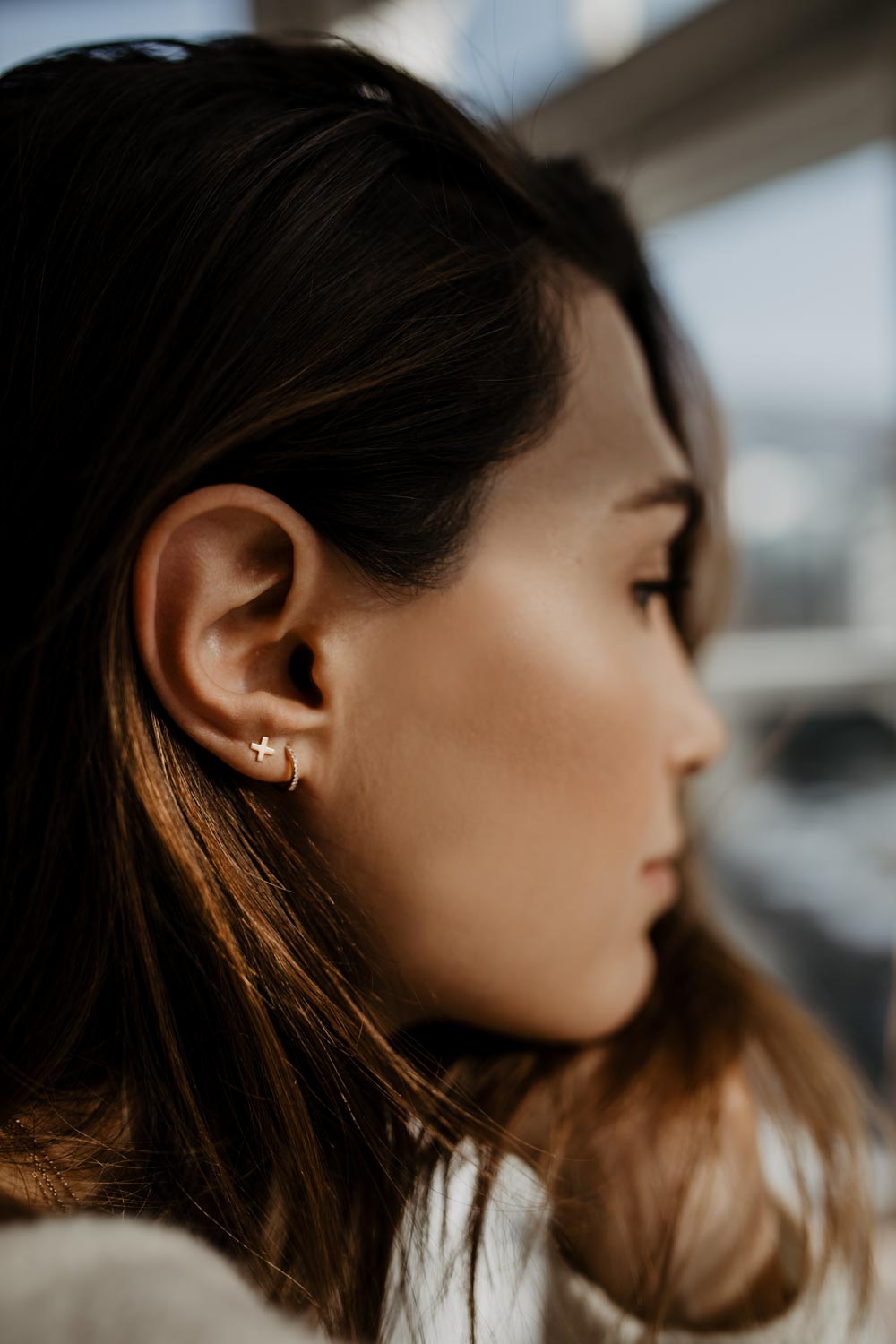 If you have been following me for a while, you probably know I have a thing for dainty gold rings. My obsession started with a chain ring I got myself as a present during a rough time in 2012 which says "make a wish". When I put it on in March seven years ago, I made three wishes and told myself I would only take it off once those three wishes came true. Two of them have already been fulfilled… let's see if no. 3 will come true as well. I'll keep wearing it until then.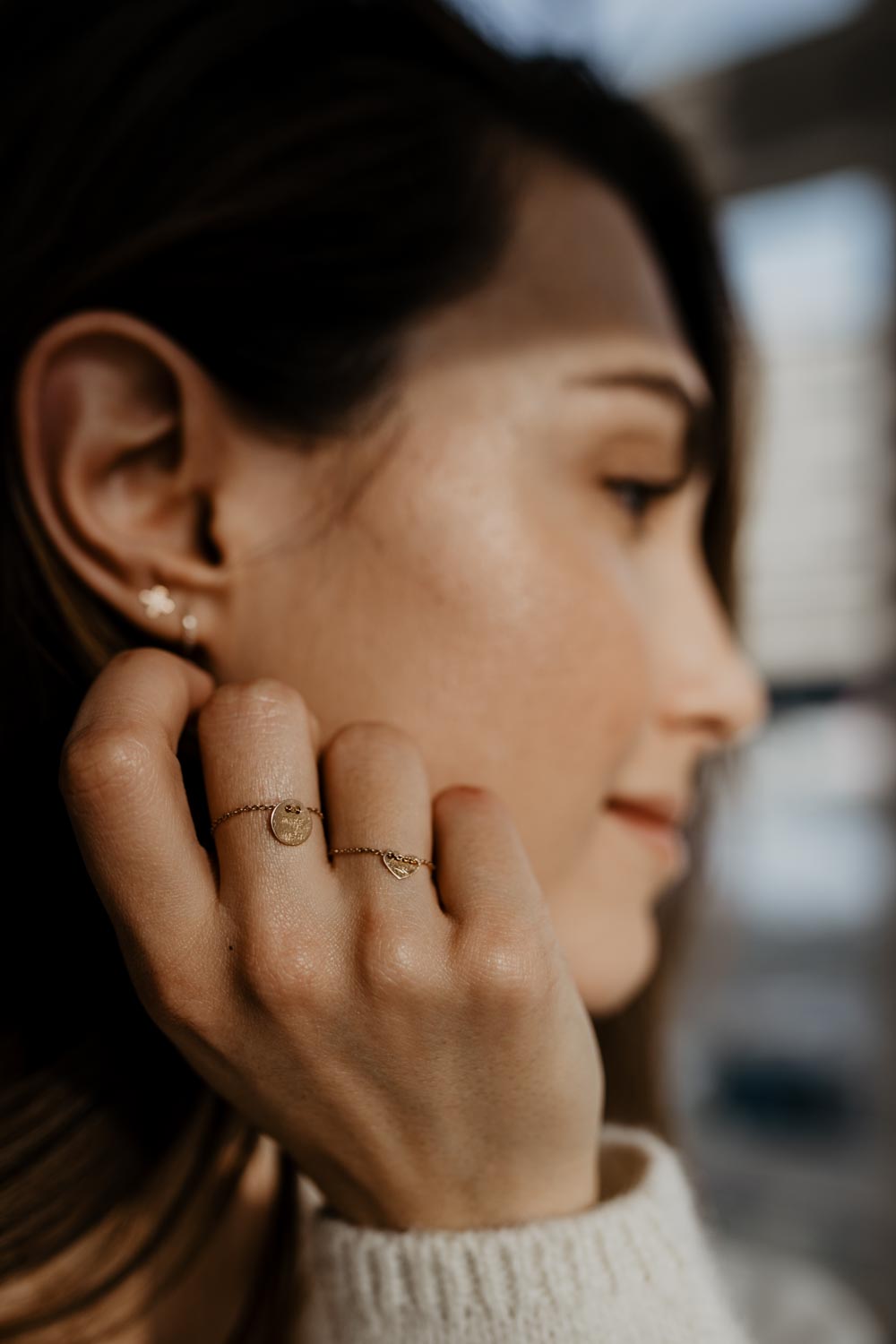 The little chain ring with the heart was a recent birthday present from a very lovely friend, and the other gold rings from ANNA have been collected over the year. I love stacking them and wearing them all at once for the full effect.

To me, jewellery is much more than just some bling. I love collecting jewellery and wear it partially to express my personality, but mostly because I feel deeply connected to the pieces and their meaning and stories.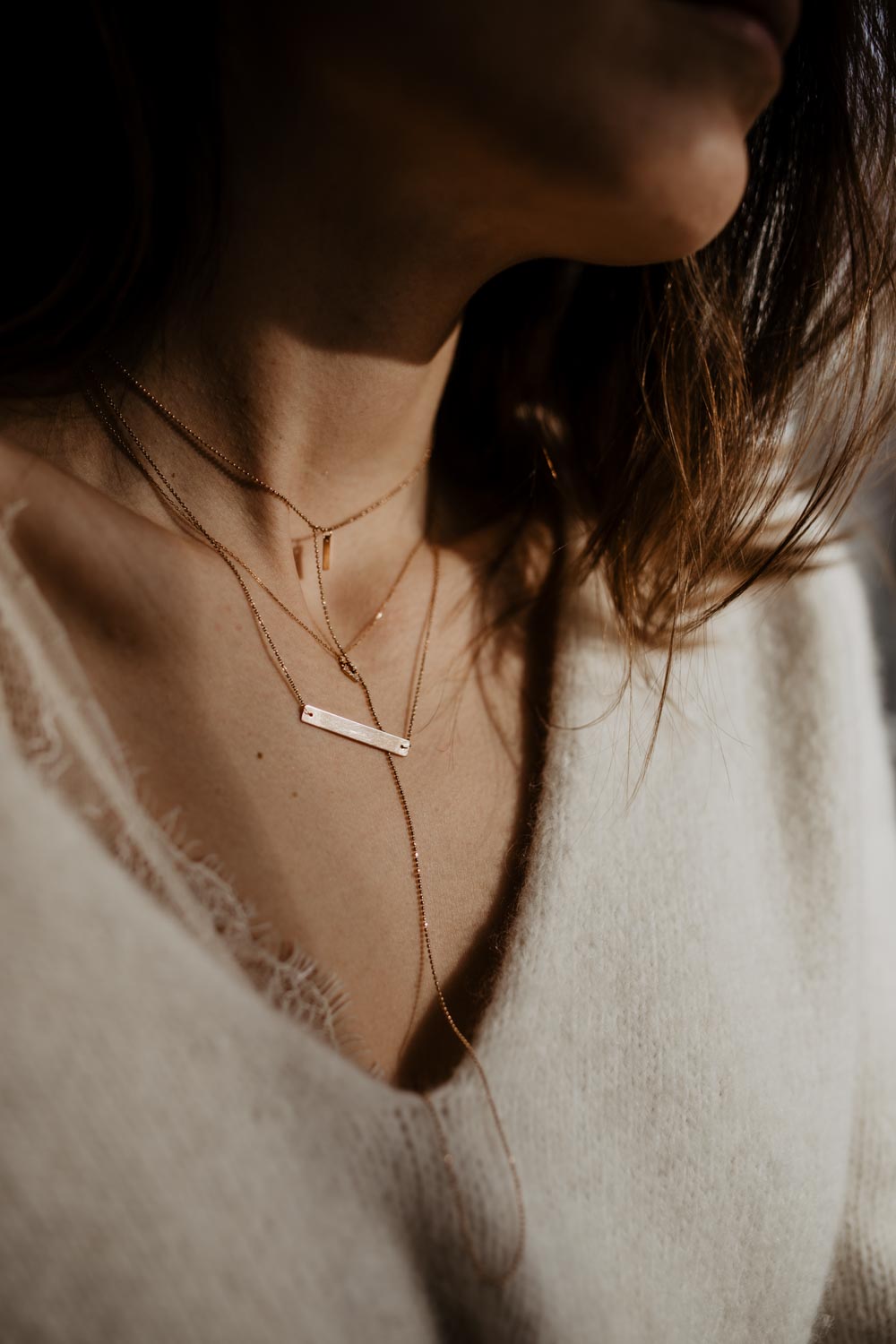 What's your favorite piece of jewellery, and is there anything jewellery related on your wishlist at the moment? I would love to hear the stories of your personal jewellery! xo, Nina