How To Wear: White In Winter.
Winter has always held a special place in my heart. But latest by March I can't stand cold temperatures and grey weather anymore. This whole transition weather phase we're in right now is making me nuts, because I'm just so over head-to-toe black and dark outfits, but it's still too cold to pull out all my Spring and Summer clothes. As a compromise (and to lift my mood) I've been very drawn towards lighter colors lately. When I saw this oversized white coat at the Designer Outlet Roermond where I've been to shoot a campaign (more about that coming soon!), I just couldn't resist and had to take it home with me.
Most of the times I buy a certain piece of clothing, or bags and shoes for that matter, I already have lots of images in my head how I'd like to style them. One of the looks I immediately had in mind for this coat was combining it with ripped light blue denim and a crisp white sweater which I had just recently added to my Spring wardrobe. You can never go wrong with a statement-making white coat and blue jeans, right? Right.
If you ask me, whites work perfectly well in Winter (as well as any other time of the year). However, there are some tricks that make white outfits an eye catcher no matter the season: It's all about layering, textures and combining different shades of white, ecru and off-white.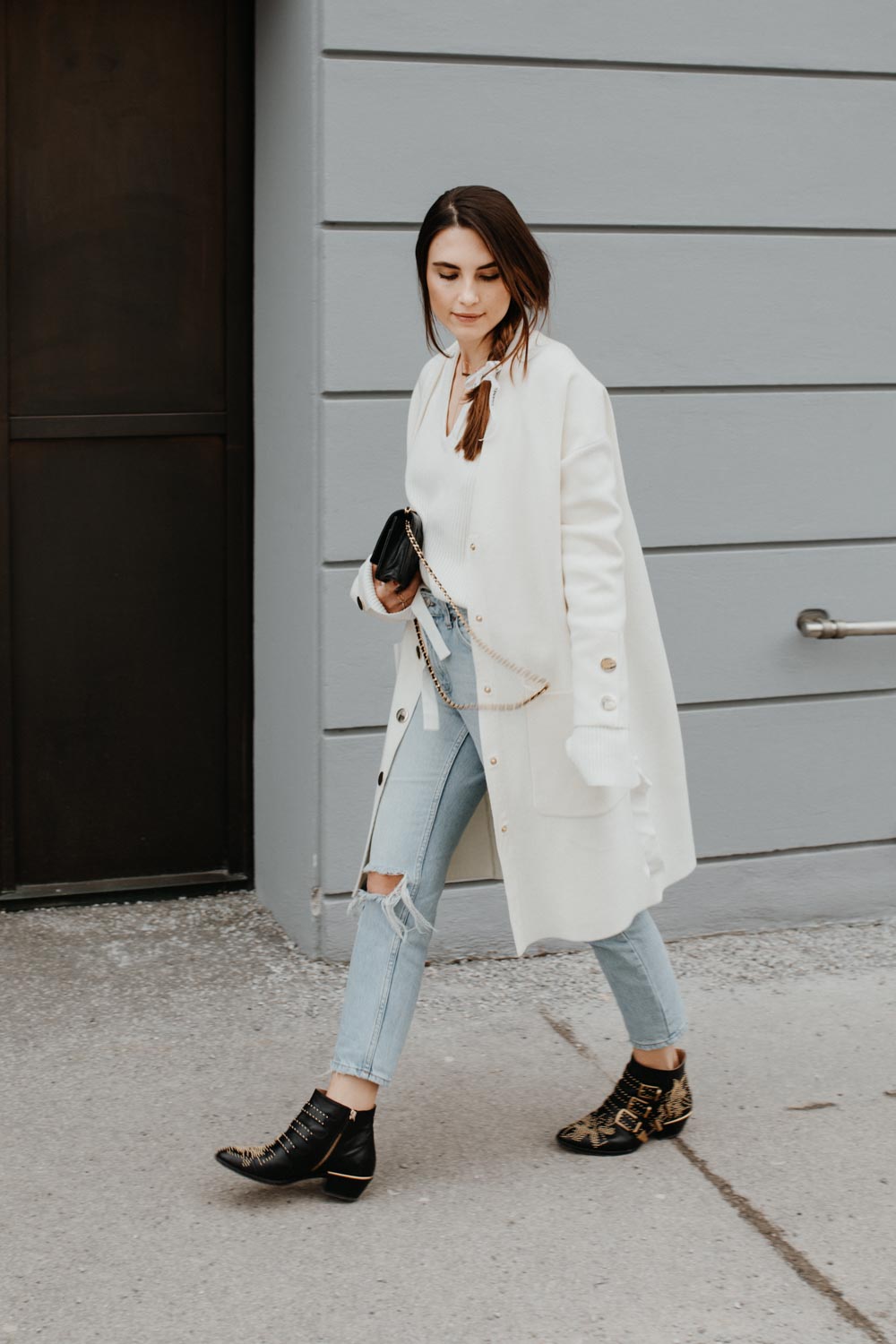 4 tips for your white outfit:
1. Do:
Mix shades of white and cream in different textures and weights.
Don't:
Don't get too match-matchy.
2. Do:
Keep it simple.
Don't:
Over-accessorize. Add a few key pieces like sunglasses, a bag, cool shoes, delicate jewellery… But keep the look clean. Think less is more.
3. Do:
Add dimension. An all-white look gets more interesting by mixing varying shades of white, cream and ecru. Reach for contrasting textures, like heavy or ripped denim and super soft cashmere for a cool and casual look.
Don't:
An all white outfit consisting of pieces made of all the same fabric can look very boring and sterile.
4. Do:
Wear contrasting shoes. Even when going all-out white, stop when you get to your toes. Go bright and bold, or reach for black shoes – and a matching bag.
Don't:
Wear white shoes with a winter white outfit. Ever. The only exception: White sneakers.
What do you think? Do you like wearing white in winter? Would love to hear your thoughts! xo Nina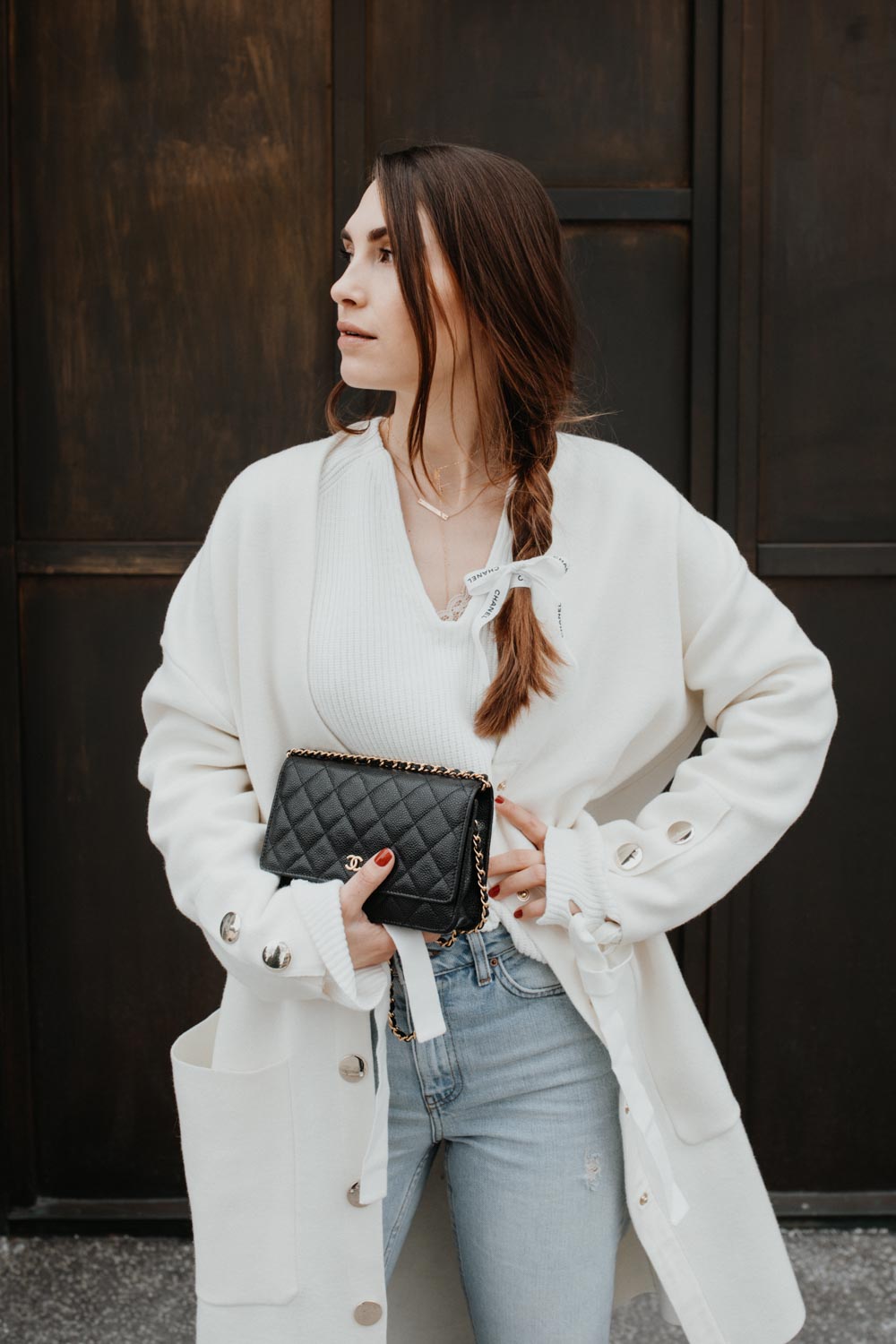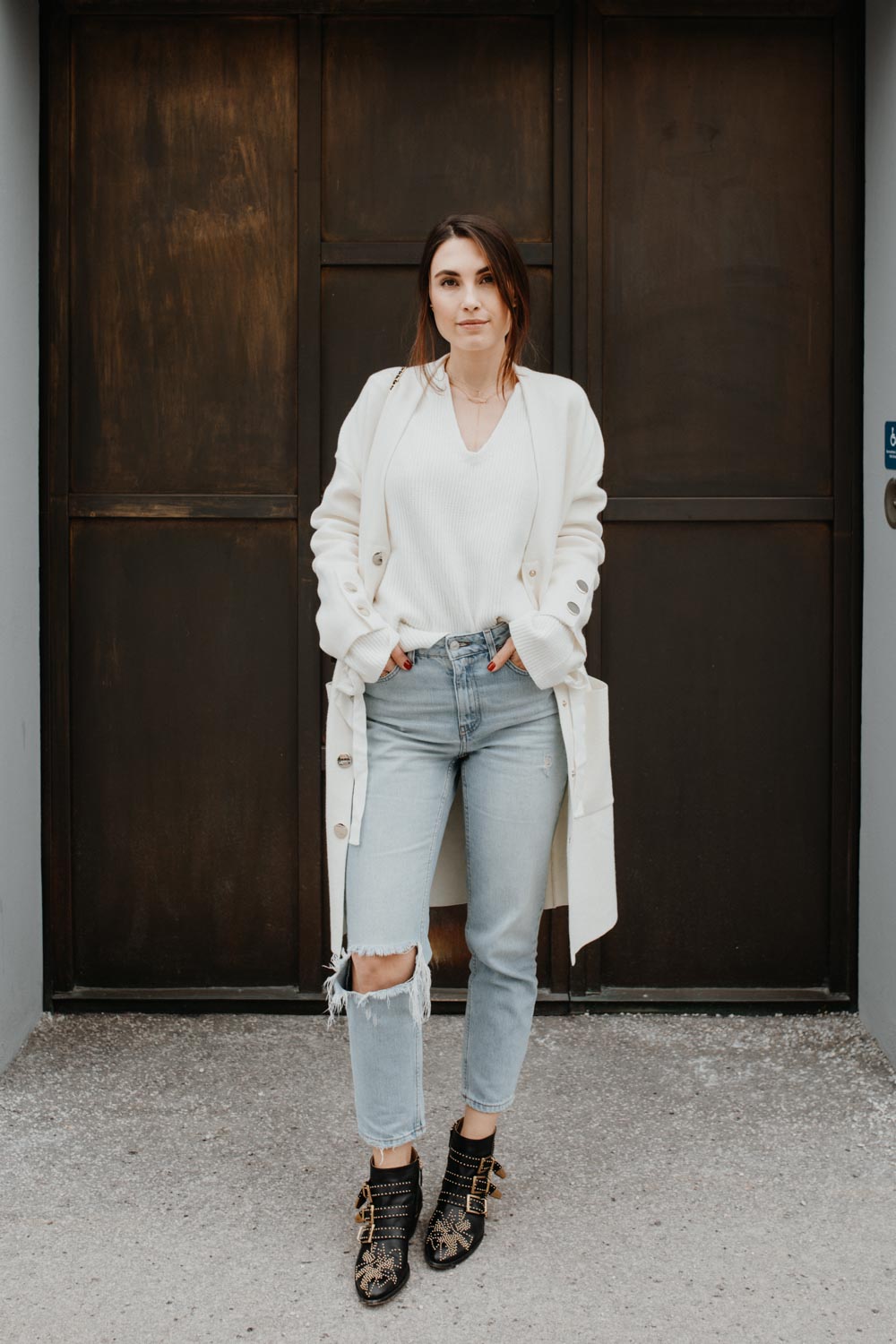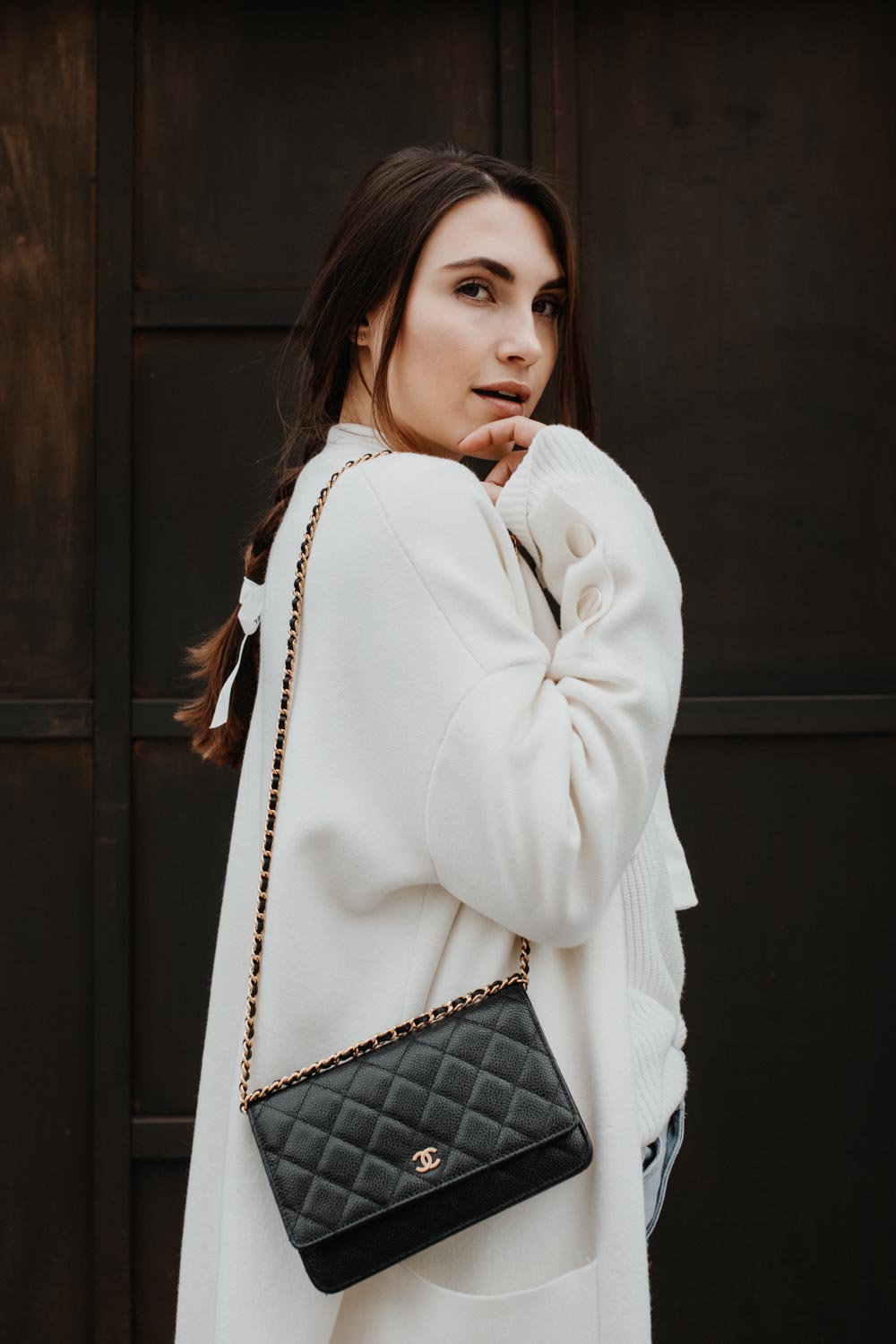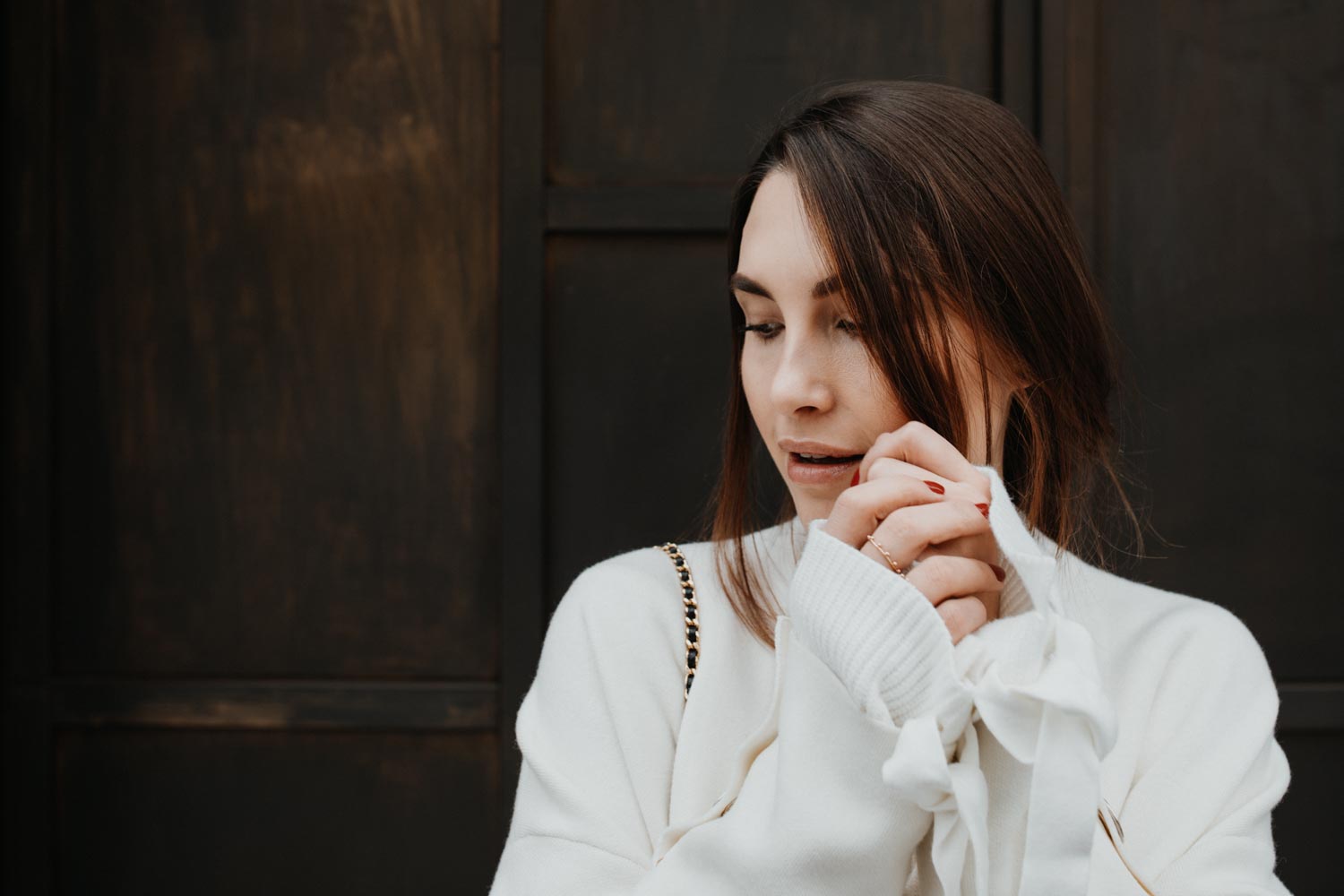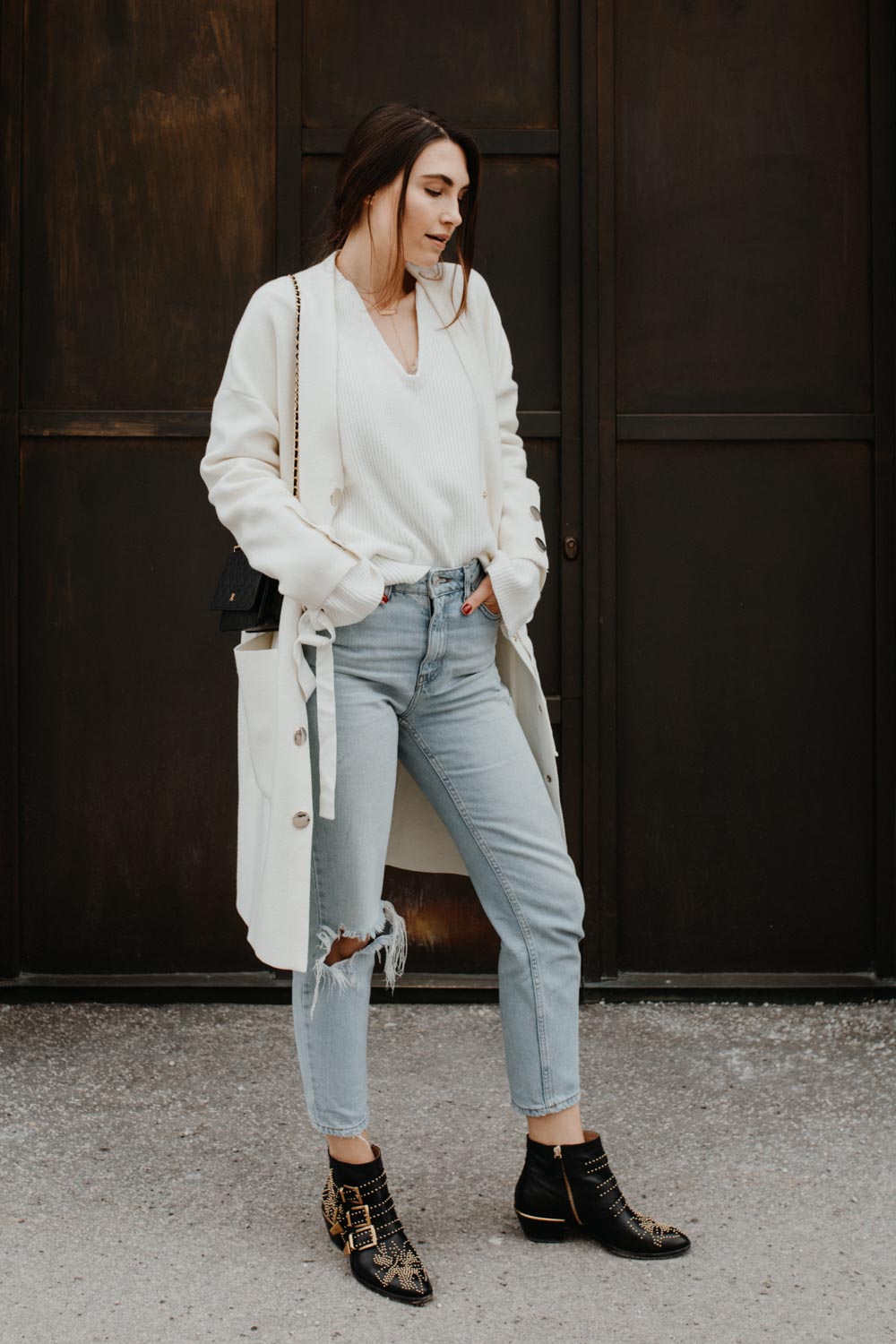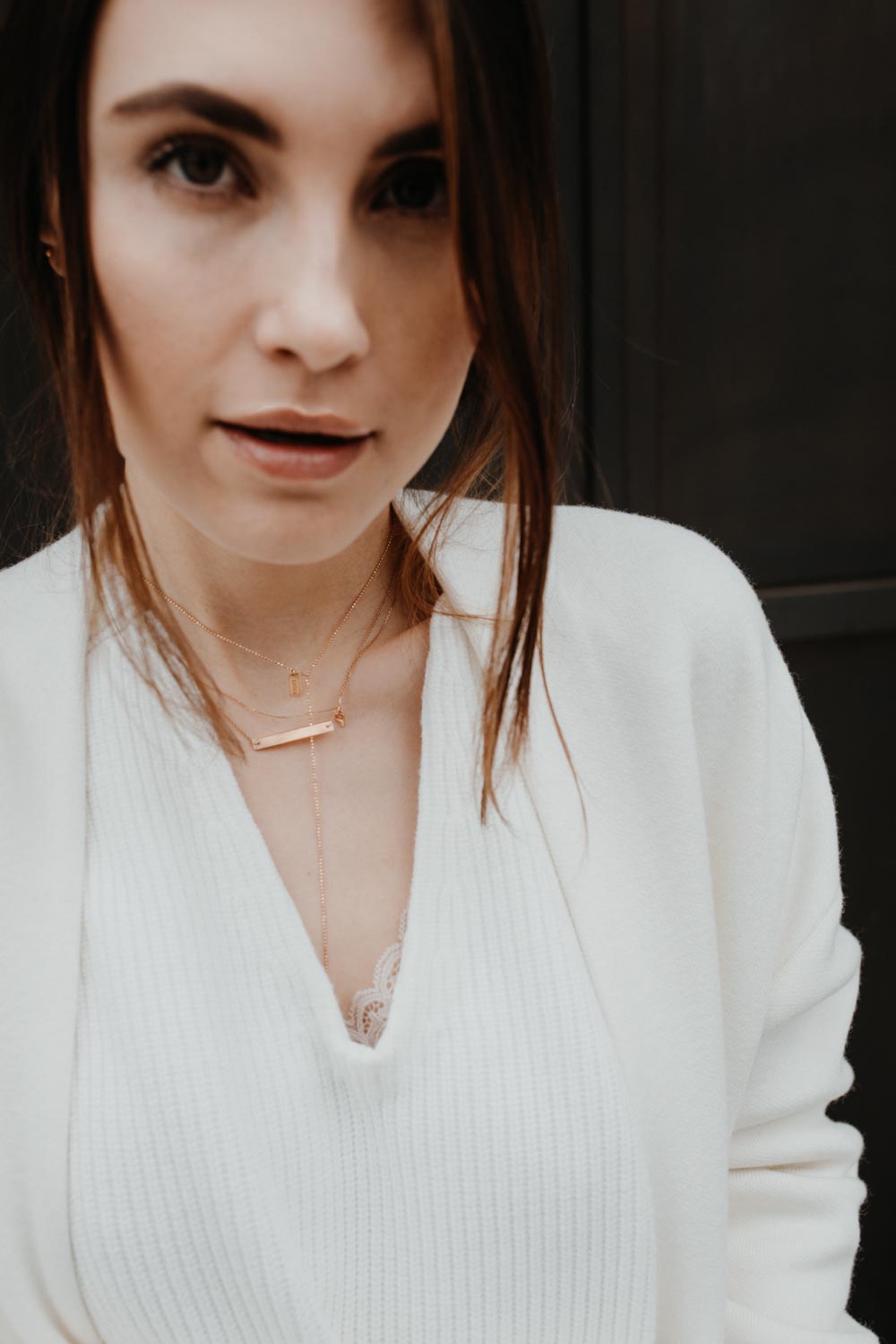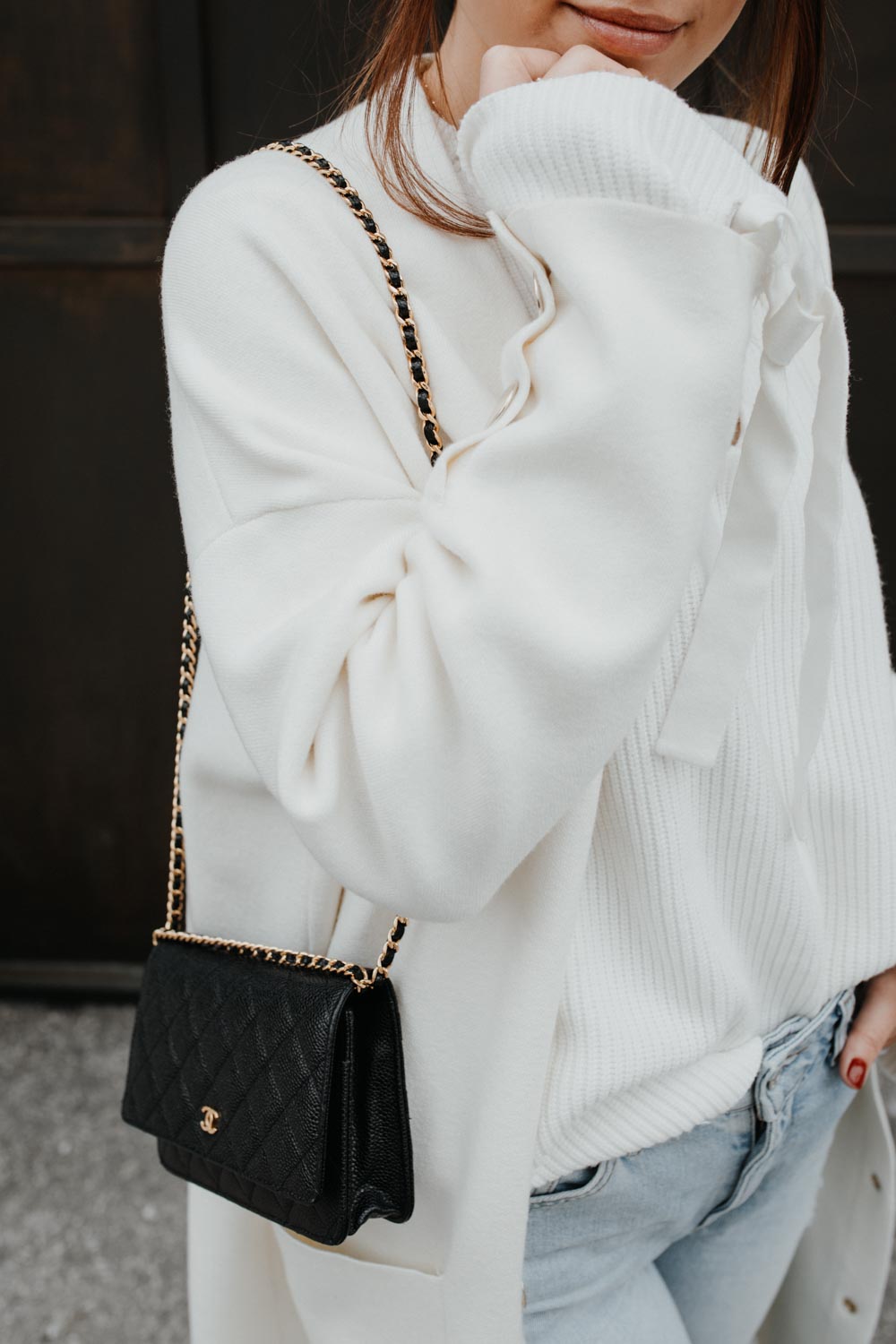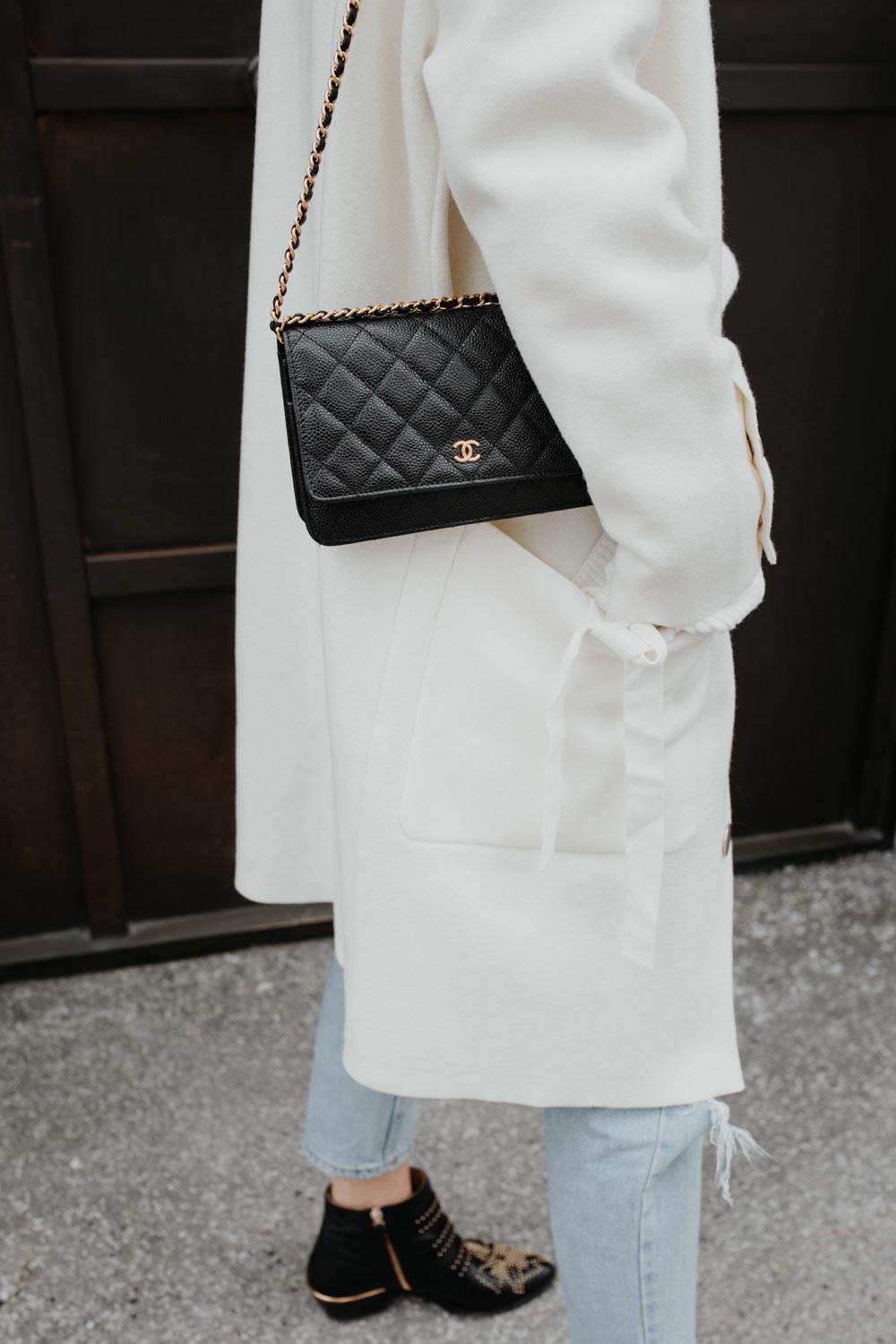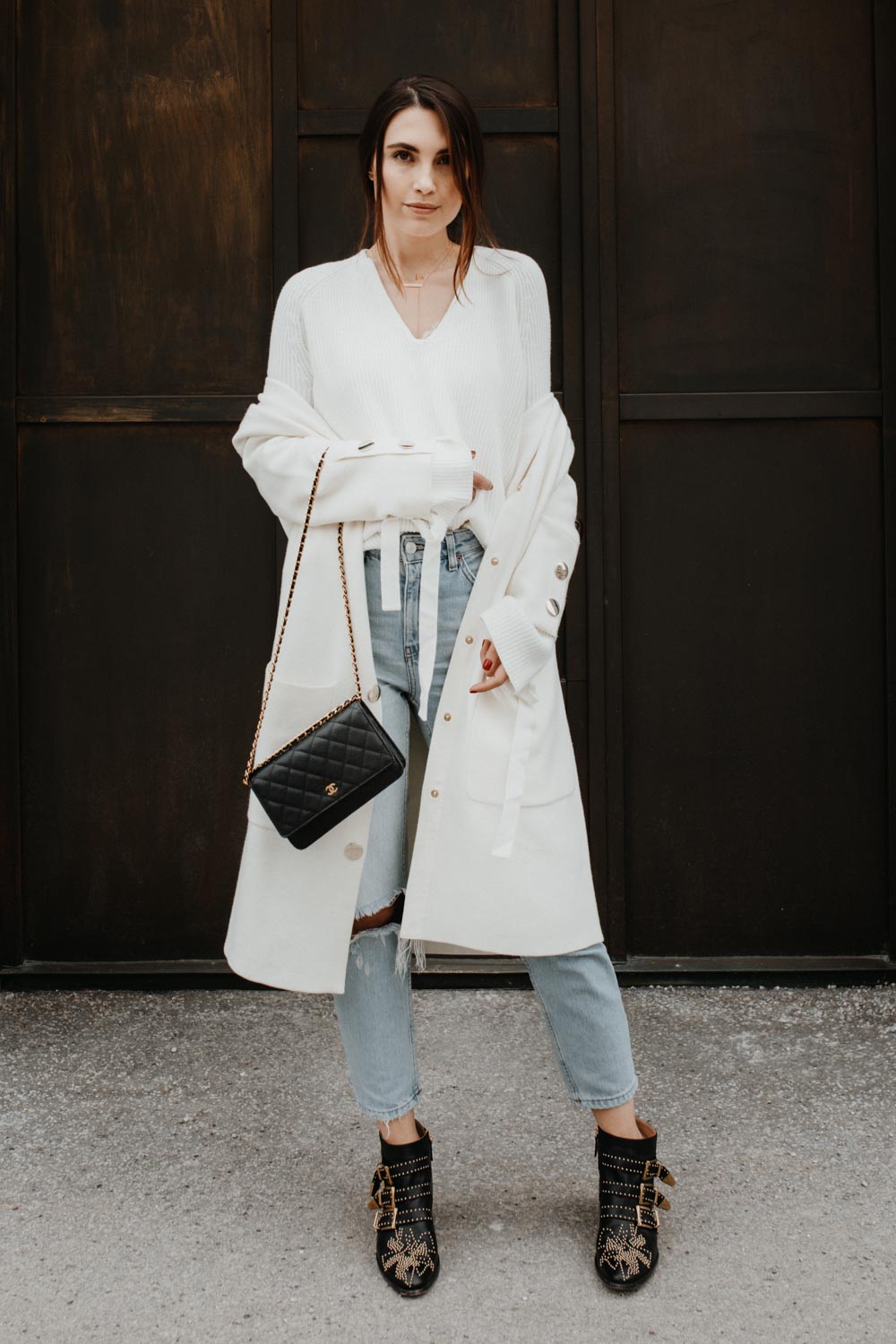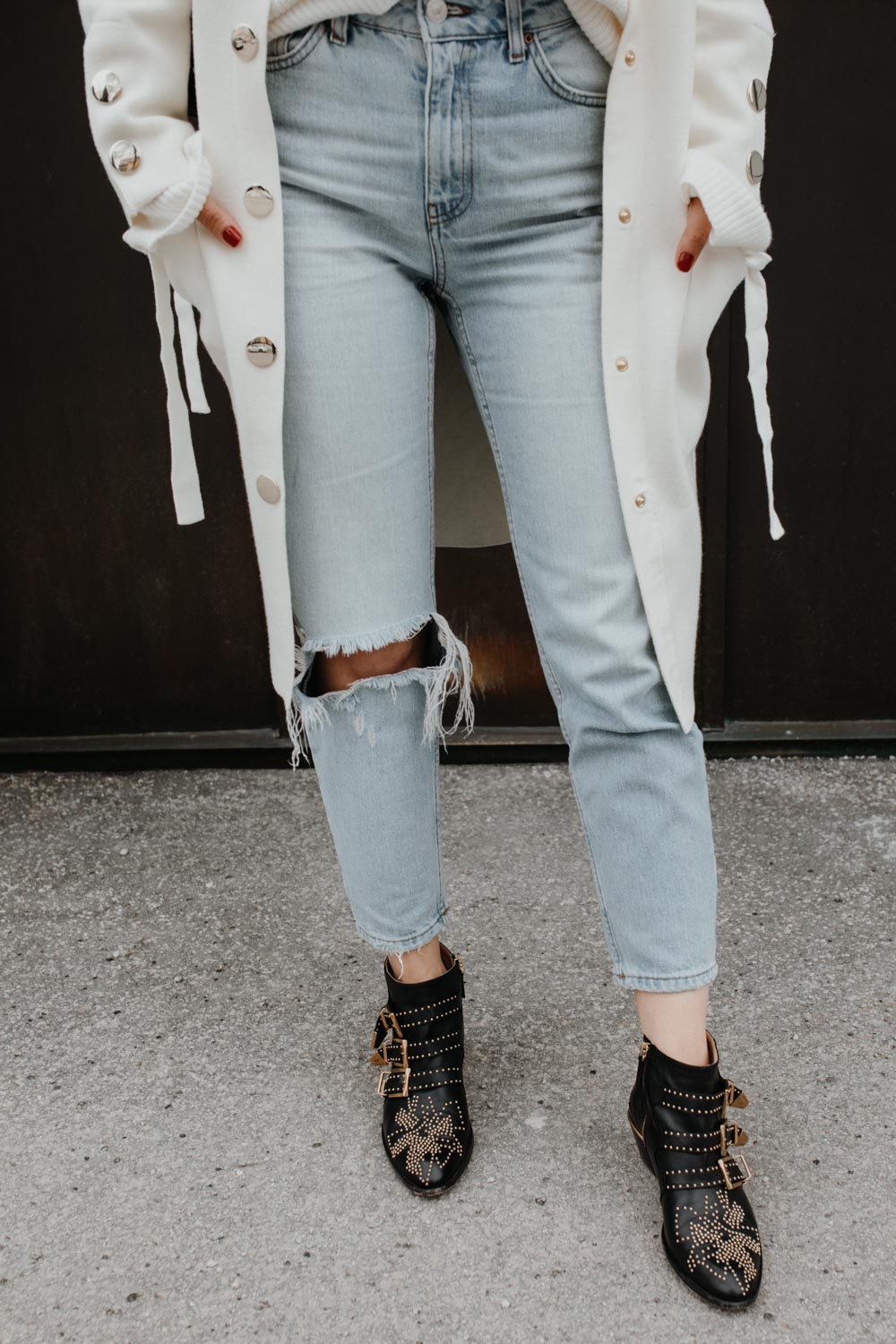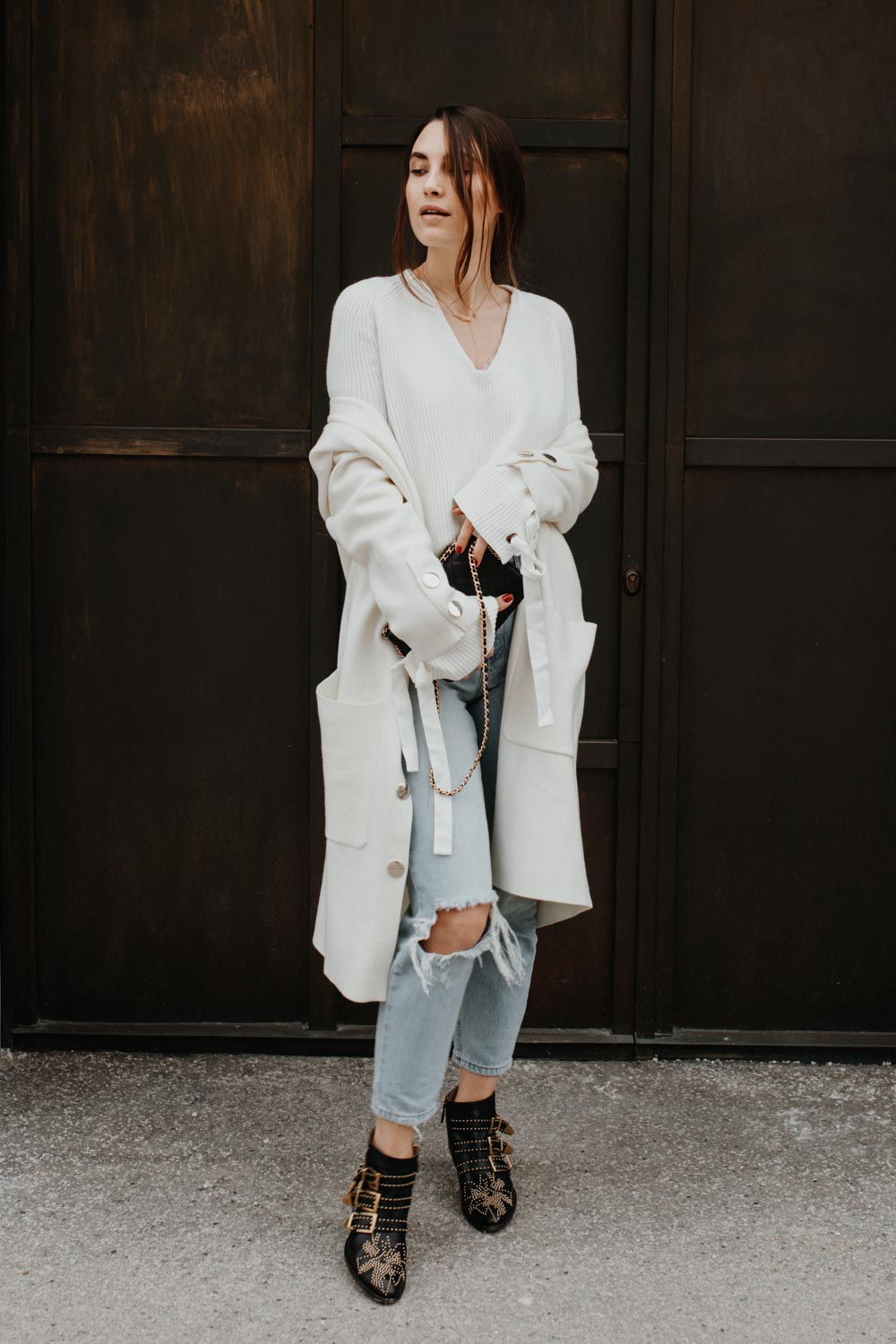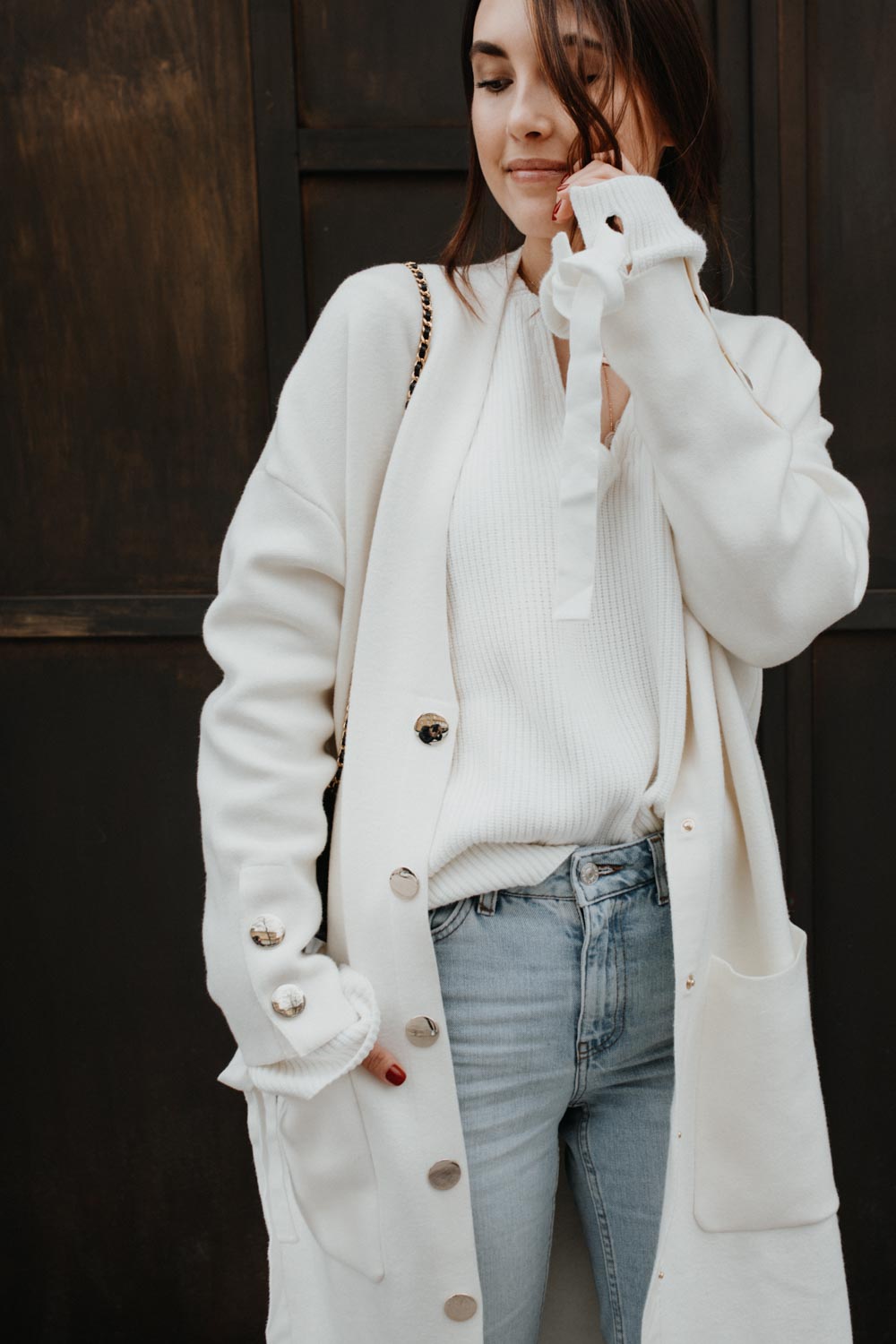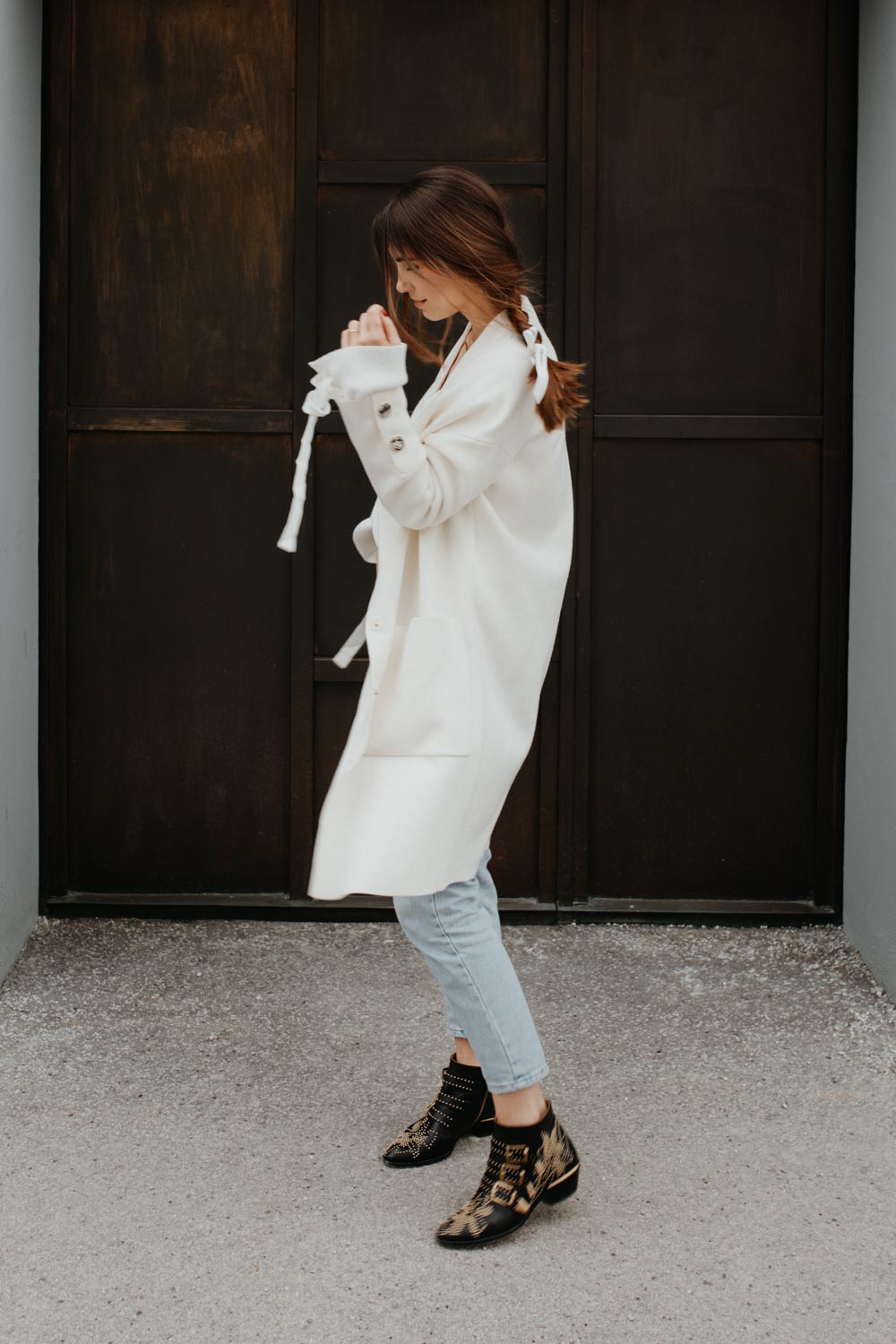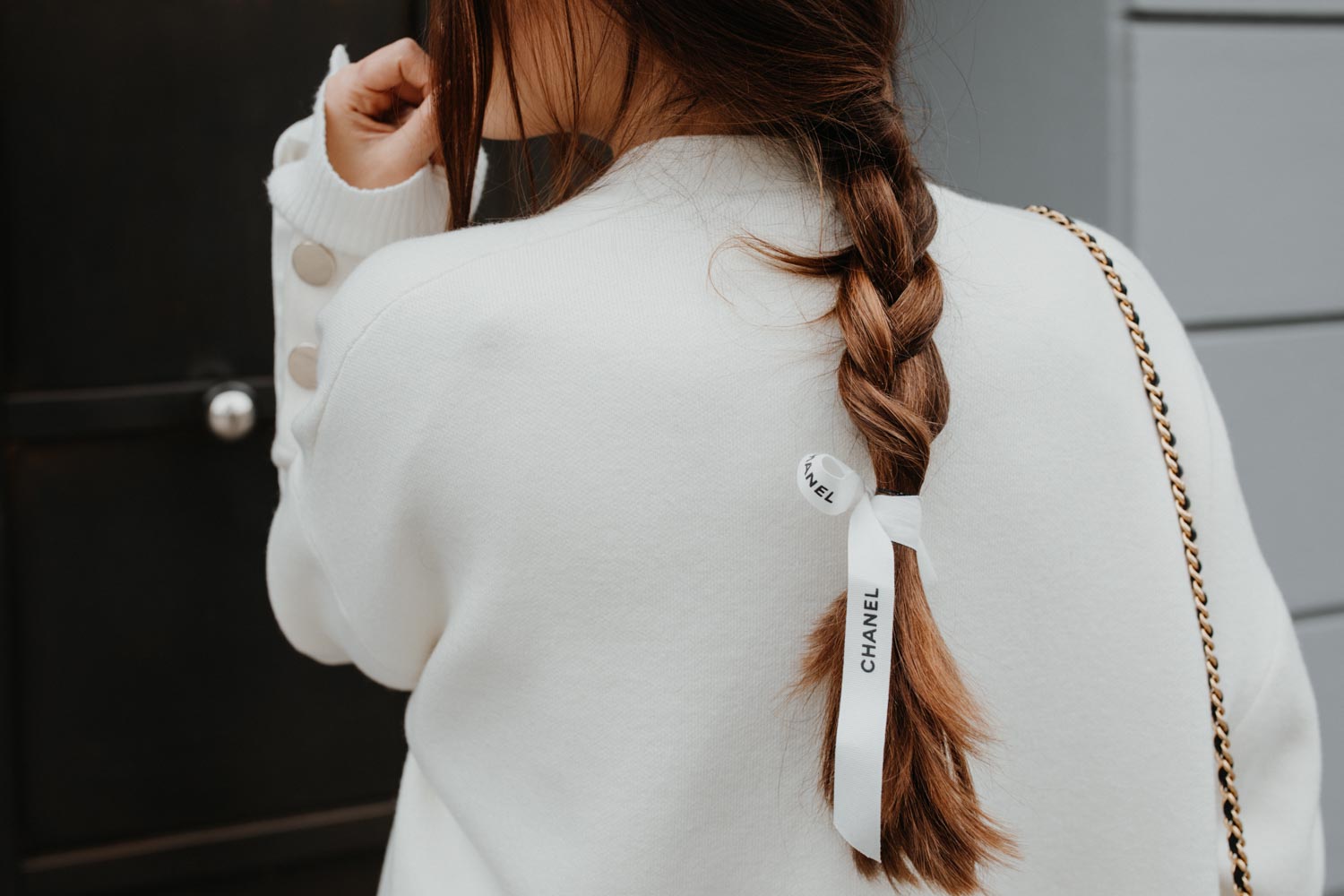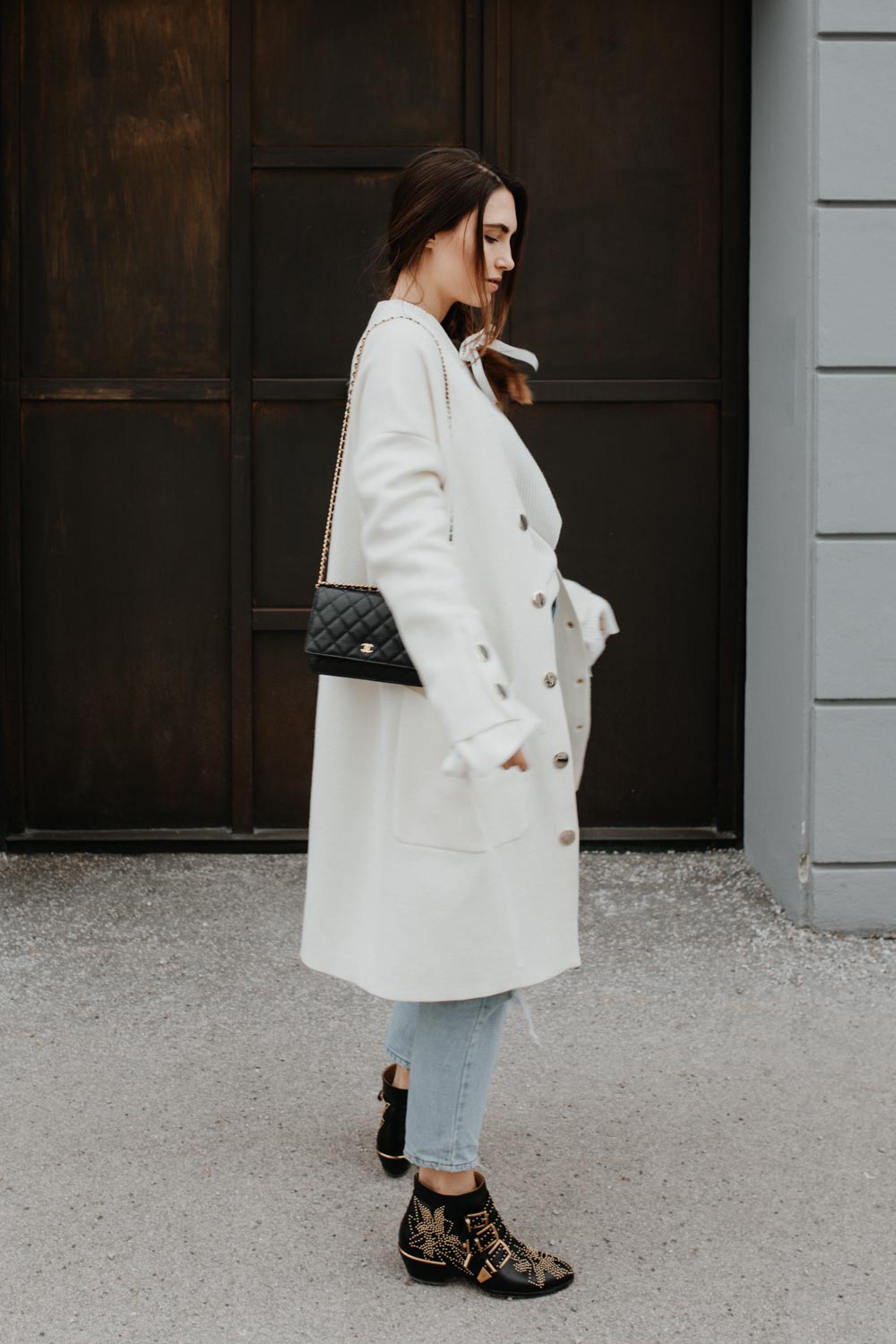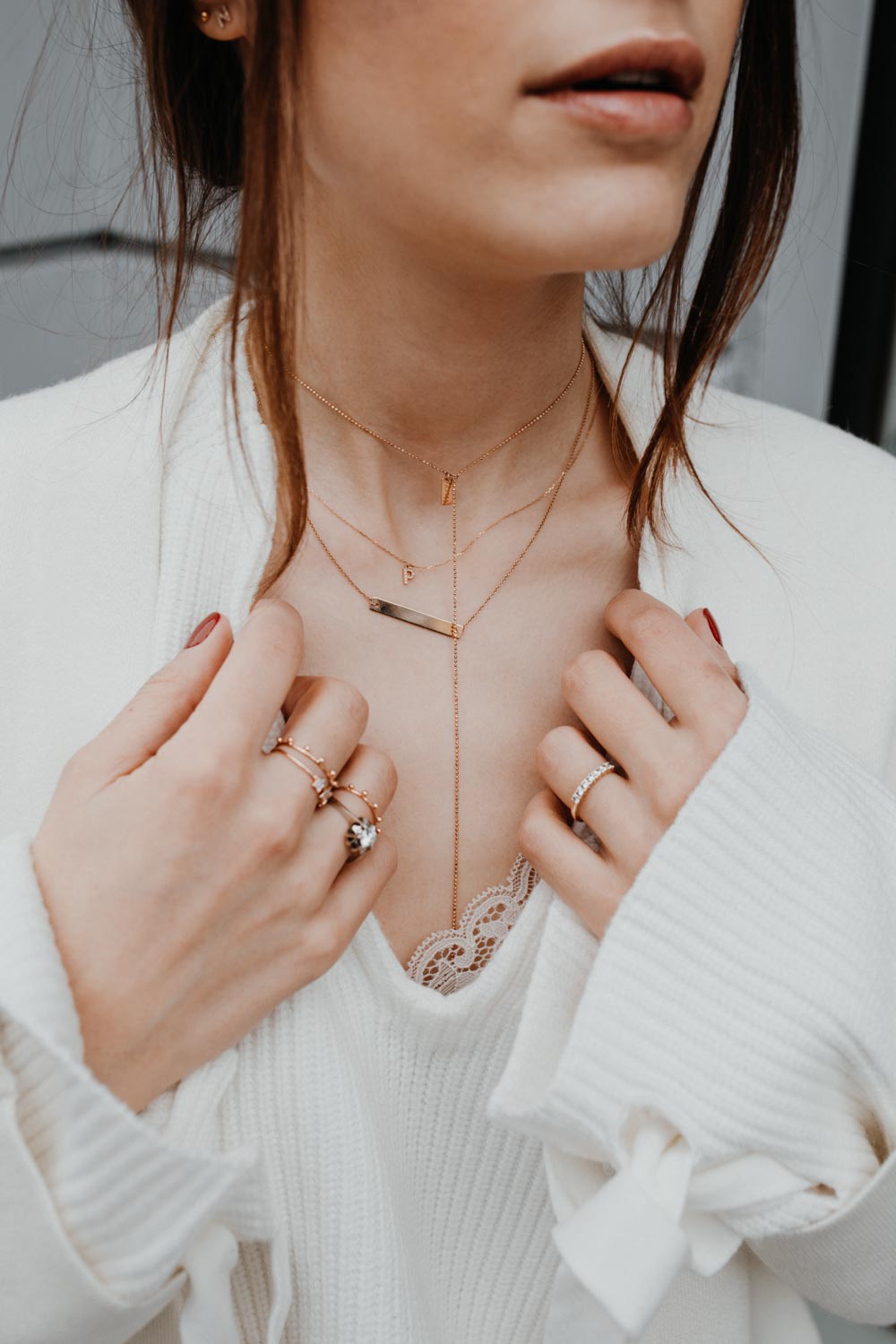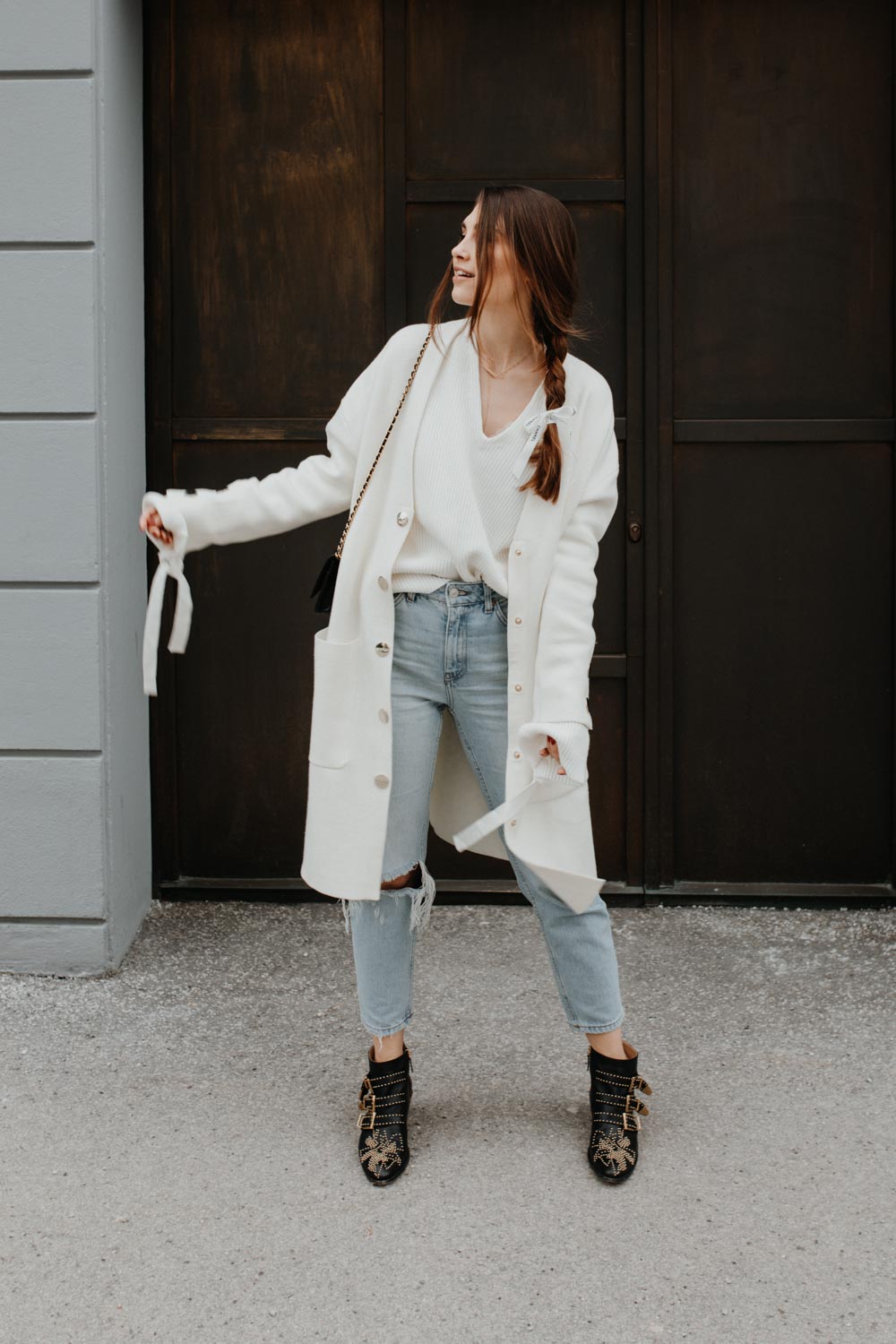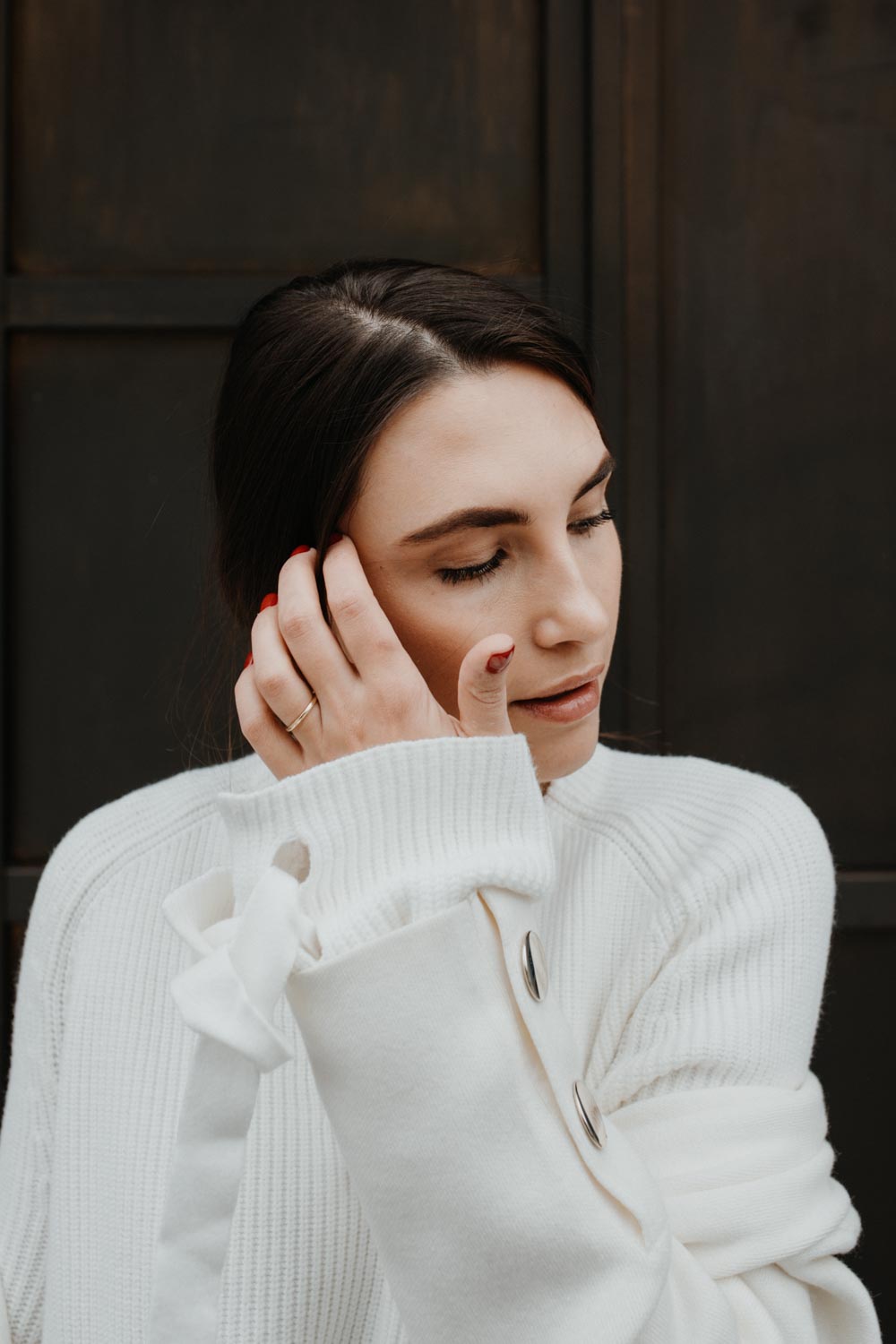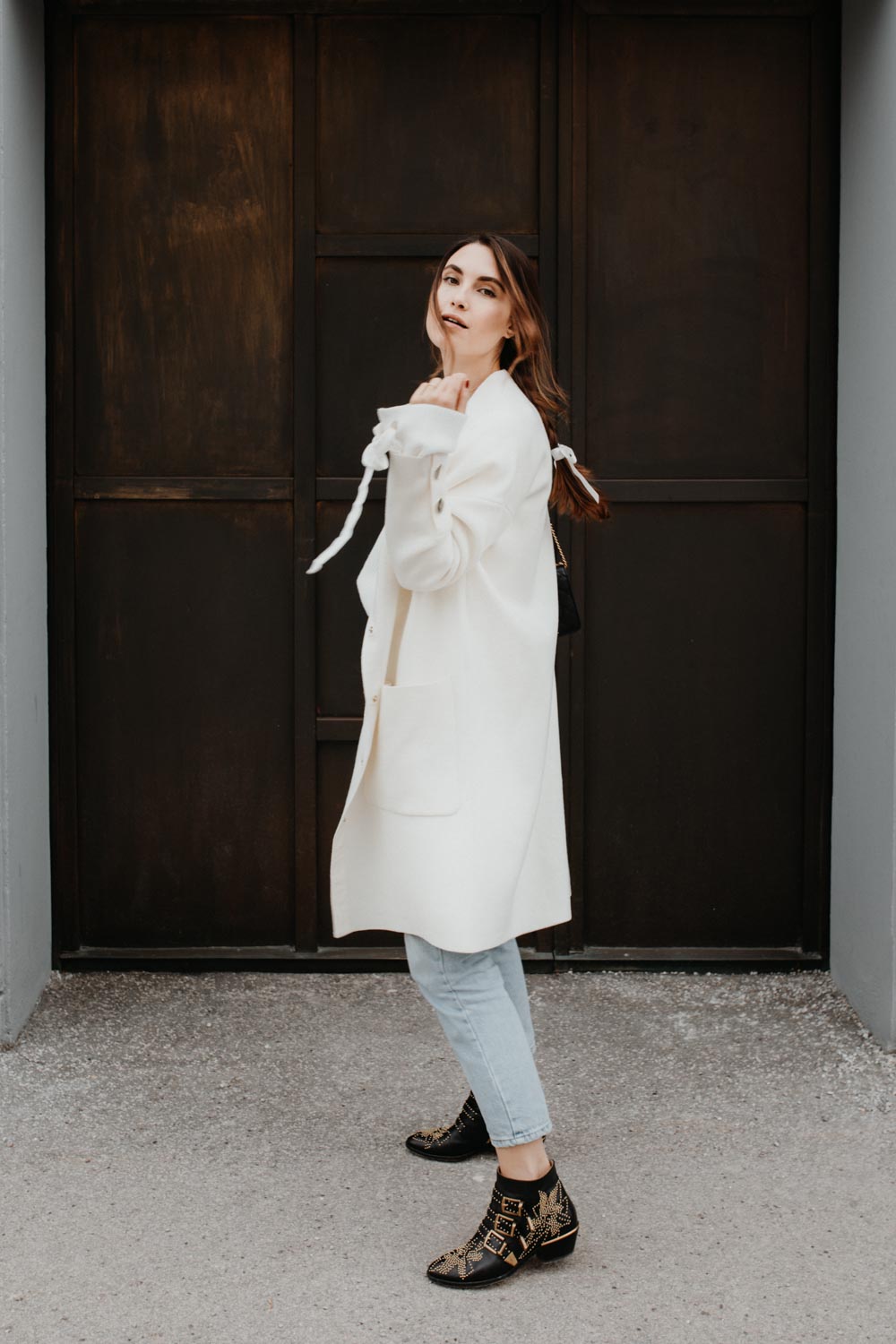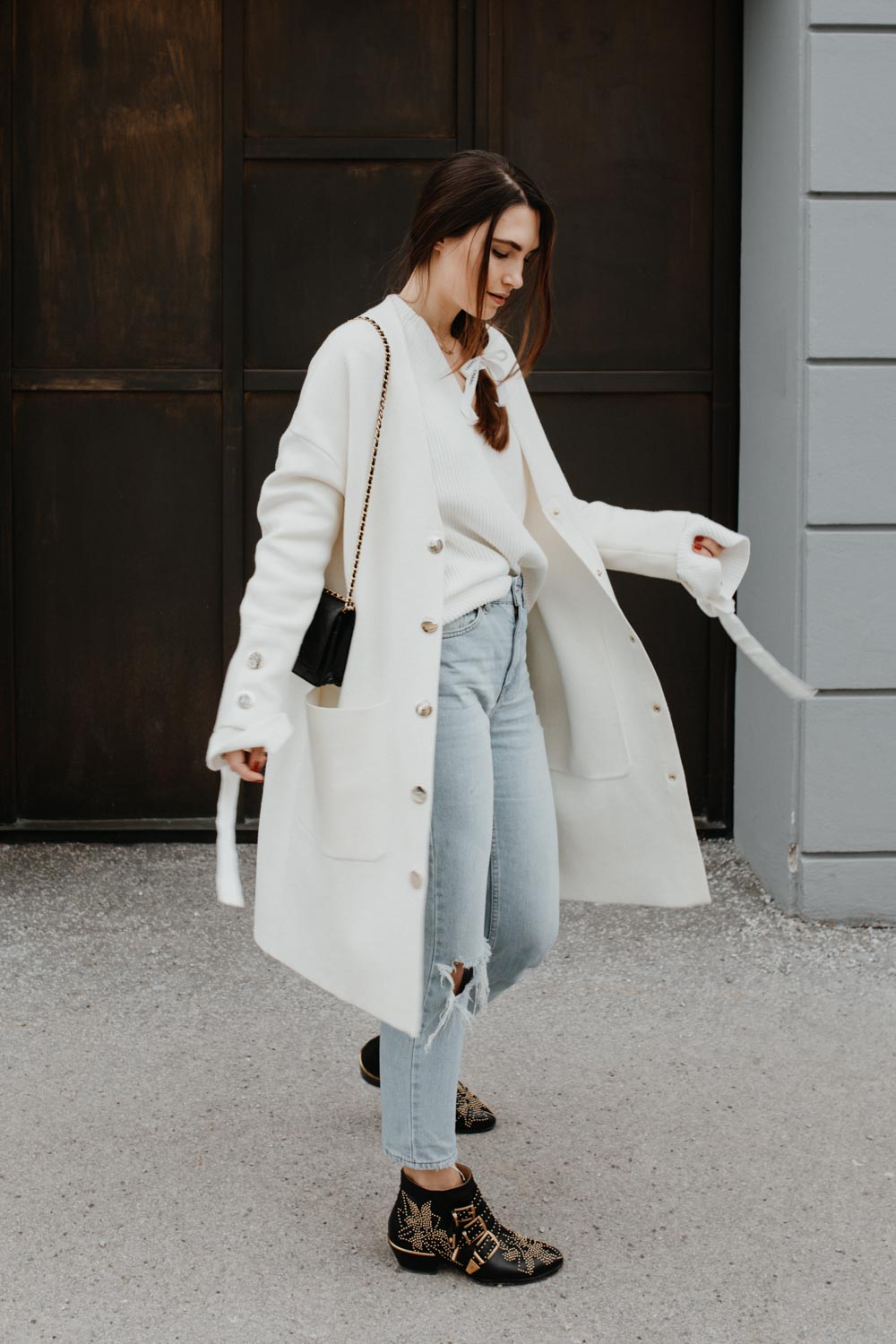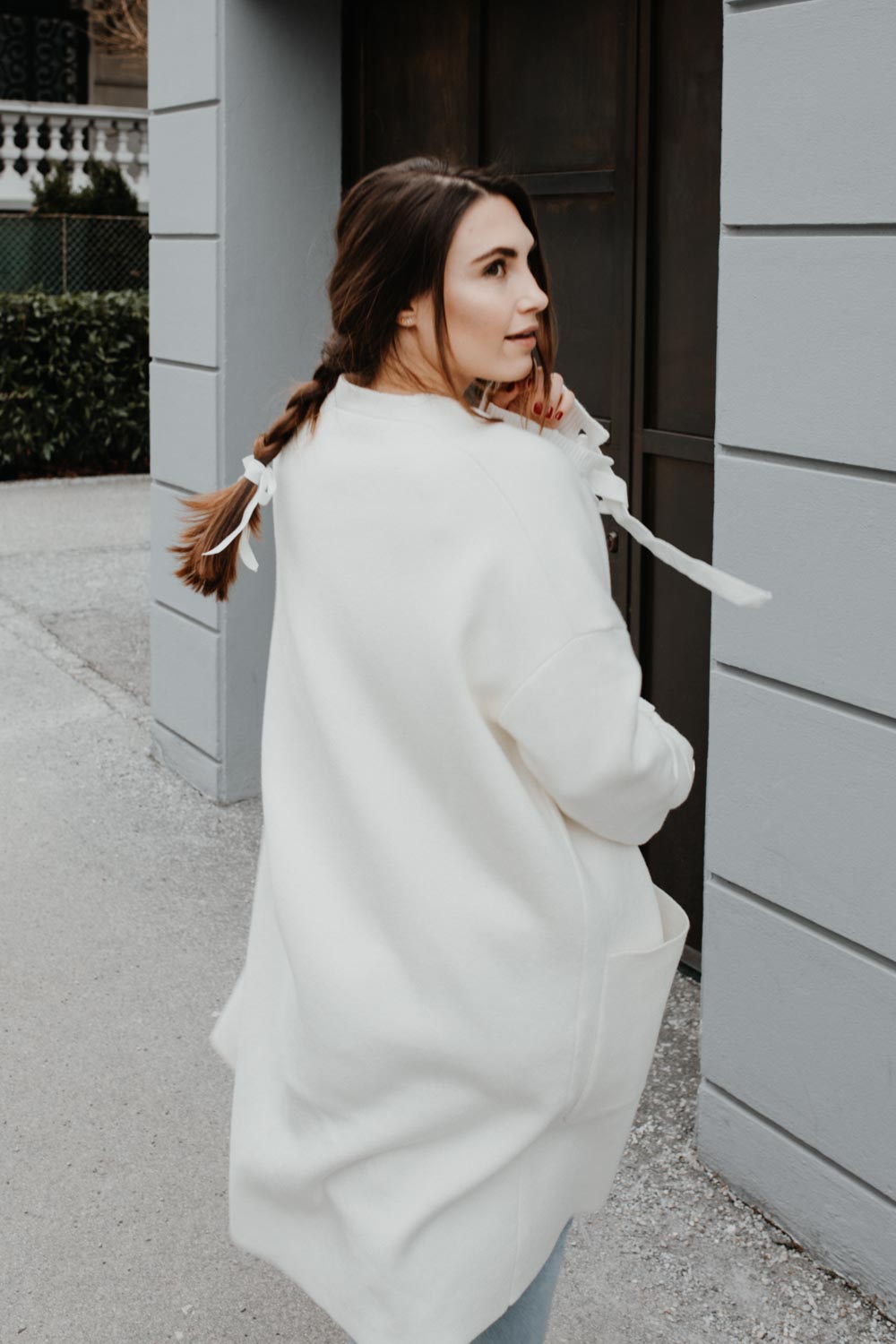 ---
EDITED sweater // MAJE coat (or: similar here) // TOPSHOP jeans // CHLOÉ boots // CHANEL bag // ANNA Jewellery: Eve necklace, "P" necklace, engraved necklace
Shop the look:

*outfit in lovely collaboration with EDITED