Wishlist: Best Of Designer Shoes Sale
It's this time of the year again… summer is just slowly peeking around the corner, and those four bold letters are on display everywhere already: S-A-L-E. It almost seems like we're going from one sale to the other, and there is hardly any timeframe anymore without a sale. I mean, fine with me! I don't mind at all, since most of my favorite and most valuable items in my closet are sale bargains. Especially when it comes to bags and shoes you can get amazing deals, and score something you've been admiring for months for -30% or even more. You just have to know where to look, and what to look for. Here are five little survival strategies that will make your sale shopping game a lot easier:

5 SURVIVAL STRATEGIES FOR SALE PURCHASES
№1
Do not let the price dazzle you! Consider whether you would buy the garment too, if it was not reduced.
№2
Invest in the future! Fill your wardrobe with missing basics and invest in items that are either classics, or will continue to be in fashion the next season as well.
№3
Inspect your bargains carefully for possible deficiencies! Often, sale purchases can not be returned.
№4
Only buy clothes and shoes that really fit! This prevents frustration and doesn't occupy precious space in your wardrobe.
№5
Check your calendar for forthcoming weddings, family celebrations, summer parties or dinner events and look for pieces that will fit to the upcoming events.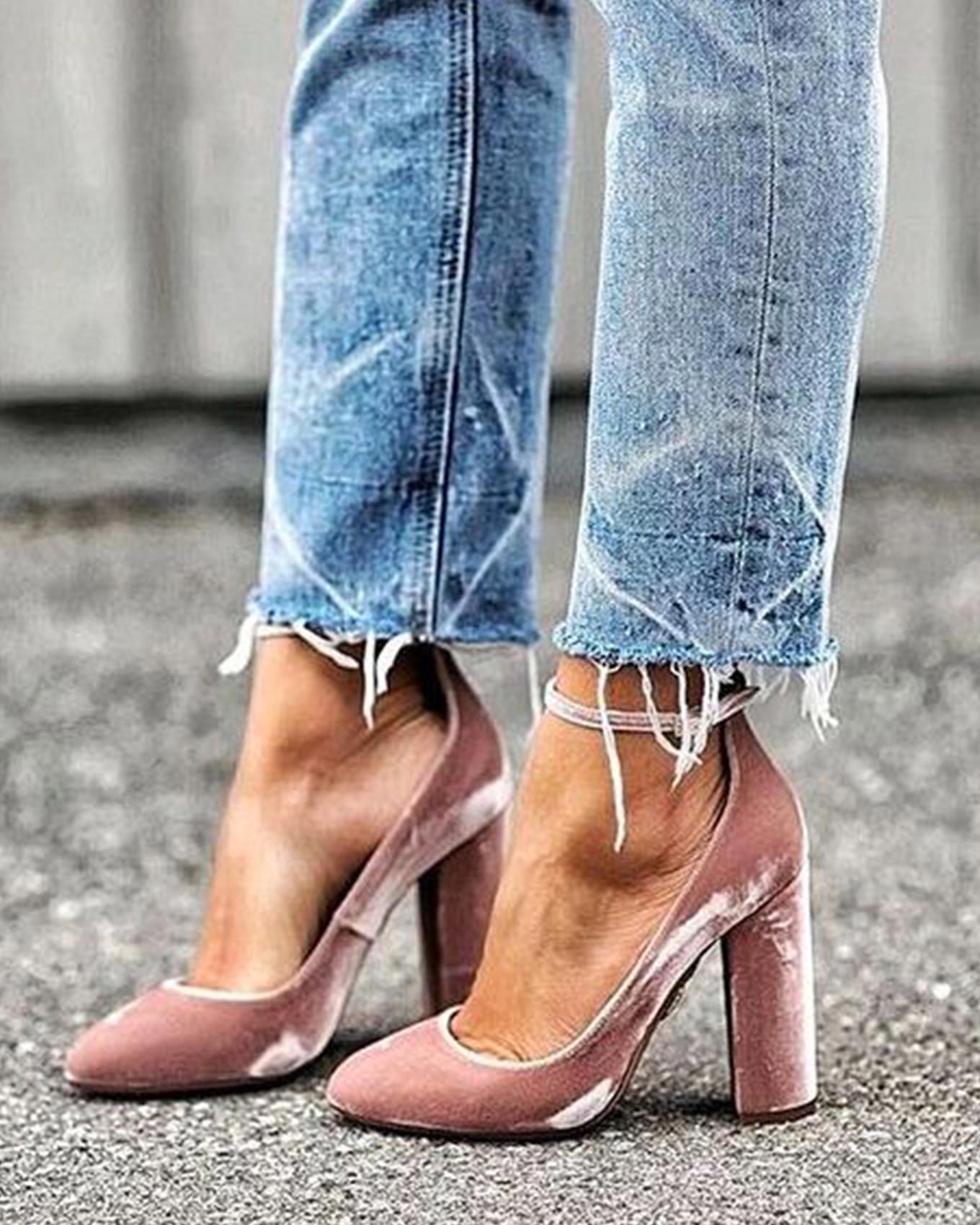 And now let's get down to business, shall we? Over the past years, I got to learn that a beautiful handbag and a great pair of shoes make the outfit. Of course this doesn't mean they have to cost a fortune. Sometimes a bag made of straw and a pair of espadrilles is all you need. But I'm not a fan of Carrie Bradshaw and her love for unconscionable priced shoes for no reason. So I couldn't resist browsing some online shops and picking my favorite designer shoes on sale:
MIU MIU Velvet Ballerinas
Those ballerinas are definitely one of a kind and have been copied by the usual suspects this season. However, as always, there's only one original. The edgy straps and laces give the ballerinas a special touch, and suede will definitely still be a big hit this fall as well.
GIANVITO ROSSI Greta Blush Suede Pumps
If there's an ideal pair of heels you should have in your wardrobe, then the blush suede pumps by Gianvito Rossi probably tick all the boxes: Blush is a color that works with anything. The height of the heel gives you great posture. The little strap and and the thick heel ensure a smooth walk, and the shoes fit equally well to a pair of jeans and an elegant evening outfit. Total winner, if you ask me!
AQUAZZURA Sunshine Suede Flats
Oh Aquazzura! Kathi and Vicky got me hooked on their beautiful Aquazzura shoes last year, which resulted in me buying my first pair of Aquazzura flats on winter sale this year. I got myself a version in red velvet, and although the color is quite bold, it actually works with lots of outfits. This blush version with the cute pompom has stolen my heart right away though, and I'm really tempted to hit the buy button.
AQUAZZURA Wild Thing Heels
And the love story continues… I mean, how cute can a shoe be? Imagine these heels with a silky white summer dress, or mom jeans, or even a Dirndl! Ah, the possibilities are endless. And I've heard from a reliable source that the Wild Thing high heels are even quite comfortable to walk in.
PRADA Espadrilles
If I had to name the perfect shoes for summer, I'd most definitely say – Espadrilles! The flat, rope-soled shoes are dating back to the 13th century and have traditionally been worn by men and women. These shoes have definitely stood the test of time: Ever since well-known brands came up with their versions of Espadrilles, the humble shoes have become acceptable in polite society and are a big hit every summer. No matter if they're flat, if you put them on a wedge or on a lady like heel. These shoes are always caliente and won't go out of style. Ever.
AQUAZZURA Christy Flats
Denim from head to toe. No problem with these flats! This version of the Aquazzura Christy flats is seriously perfect for summer. If I would not have the exact same model in velvet red, I would have ordered them already…
ISABEL MARANT Bobby Sneakers
One of the first designer shoes I invested in were the Bobby Sneakers by Isabel Marant a couple of years ago – and I would do it all over again! The hidden wedge heel is super comfortable to walk on, and easily gives you those extra centimeter everyone is dreaming about. I went for the olive colored version back in the days, but I think these red ones are totally stunning. Pair them with jeans, a striped shirt and red lips, and your outfit is complete. Go bold or go home!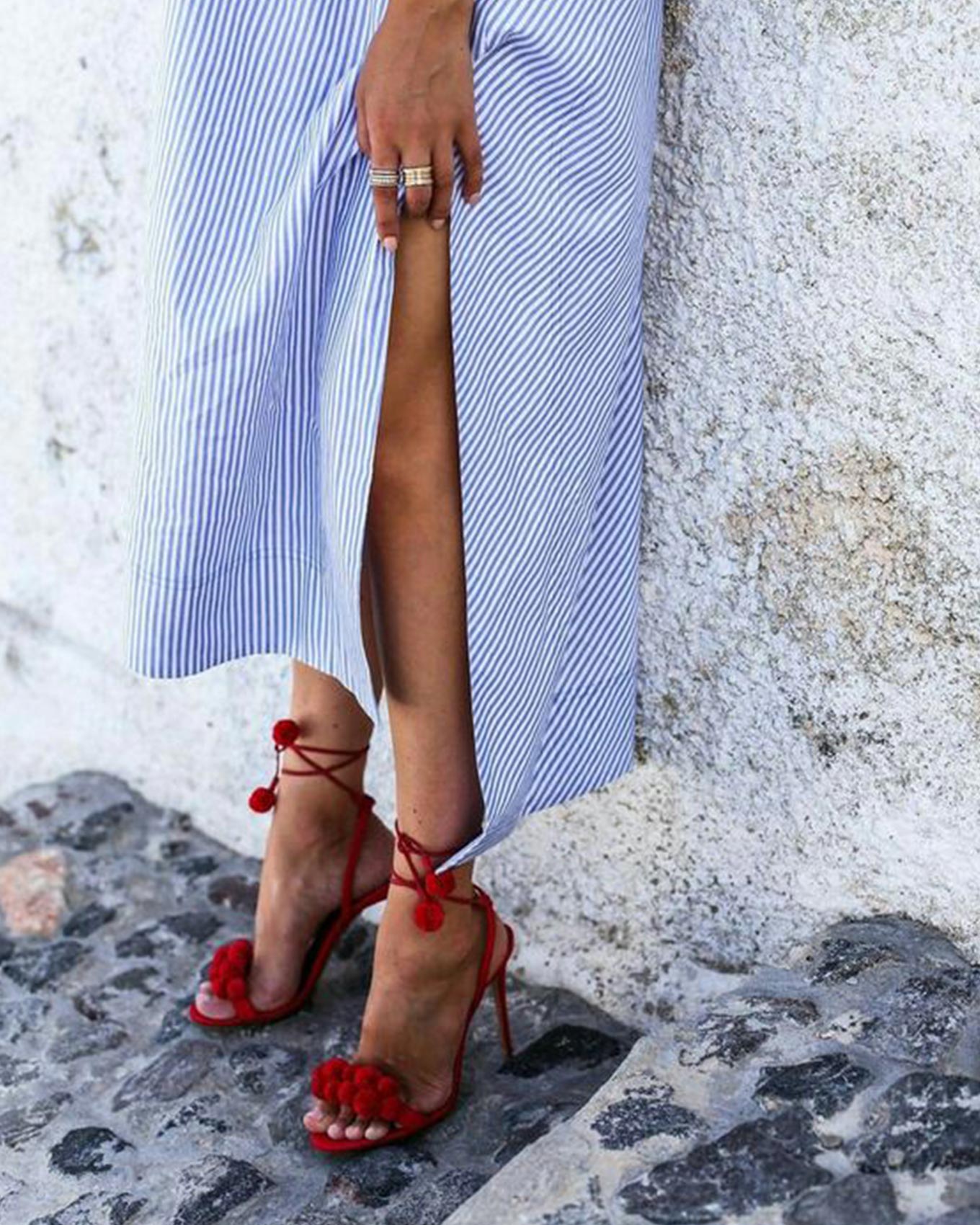 PS: If you're in Salzburg, make sure to check out Denkstein in Getreidegasse – there's a big summer sale going on at the moment with lots of beautiful shoes from Valentino to Gucci and many more.
---
*photos via Pinterest