First signs of summer & why you need a wrap dress this season.
My love for wrap dresses isn't big news. Given the fact that it's been more than 40 years since Diane von Furstenberg first created the wrap dress in 1974, it's safe to say that wrap dresses are not just a trend – they are an iconic item. This season, wrap dresses are on everyone's radar again (rightly so!) and when I spotted this lightly striped version with ruffles from EDITED, I didn't even think twice about putting into in my shopping cart. Paired with my all-time favorite boots it creates the perfect Spring outfit – now the only thing missing is some tan on my legs.
Besides the cute stripes and and ruffles, it's the wrap-around-the-waist detail that I love most about this dress. Just like it's the case with a typical Austrian Dirndl, the bow around your waistline works magic for your body.  Also, the ruffles on the skirt give you a romantic style while the stripes add a modern update. Over the years, the iconic wrap dress became a symbol of femininity, women's empowerment and hence a wardrobe staple. This being said, let me tell you three good reasons why you should get your hands on at least one wrap dress this season: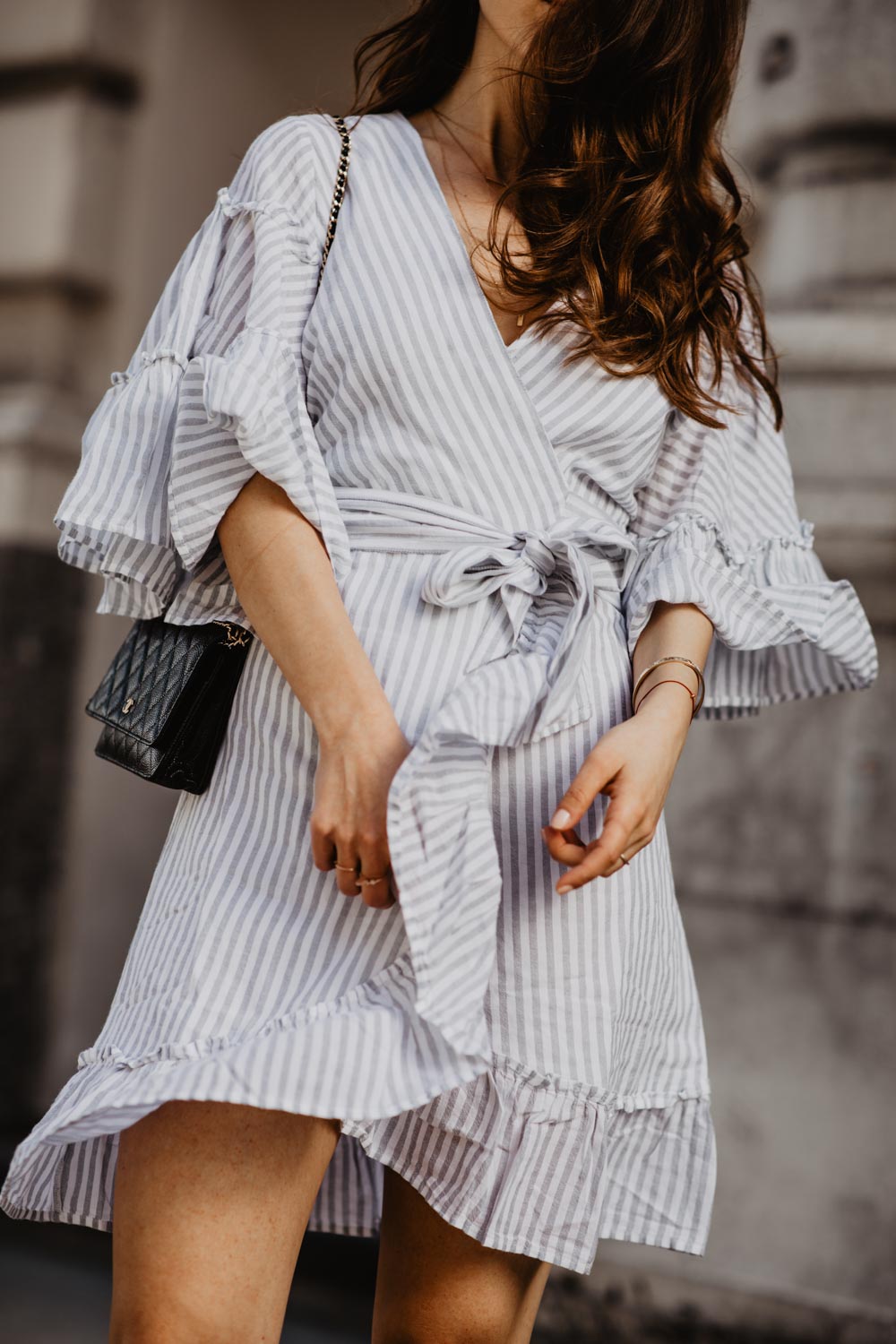 #1 It's magic for every body type.
Just like I mentioned before, I strongly believe that wrap dresses are one of those pieces that are flattering for everyone. There are so many different styles of wrap dresses out there – midi length, maxi lengths, made of silk or satin, with long sleeves or strapless… There's the perfect wrap dress for every girl out there. You'll know what kind of style suits you best when the dress hugs you in all the right places: It gives the illusion of a smaller waist and creates curves on girls who wish to have a more feminine body silhouette. The perfect wrap dress will follow your body and enhance it on just the right places, whereas it will conceal all areas you're not too fond of. Trust me, you'll be surprised about its magic!
#2 No matter the occasion – the wrap dress has got your back.
Day to night, work to cocktails – the wrap dress will carry you through ever kind of occasion. Dress it down with boots and a denim jacket for brunch with friends, or dress it up with heels and a blazer for a night out. Depending on the length of the dress, it will become more formal, or deepening on the material, it will be more casual. I can't wait to wear my EDITED wrap dress as a swim cover-up on the beach with nothing but a bikini underneath (bring it on, summer!). Conclusion: A wrap dress is a timeless wardrobe staple than can styled in many ways for any occasion.
#3 It's here to stay.
Diane von Furstenberg – a true business woman – modeled the very first wrap dress she ever made and marketed with the slogan "Feel like a woman, wear a dress." Her wrap dress was made to give women empowerment and confidence, as the silhouette creates the feminine hour glass figure that we all desire.  The crossover style was inspired by ballerinas' warm-up gear (no wonder why I love it so much!) and turned out to be exactly what women want: To go to work, feel empowered but still feminine. In today's fast moving world of fashion and trends, it's very rare that a style or certain piece stays in style more than one season. But as a piece of clothing that has been around for so many years already, the warp dress is undoubtedly more than just a trend. It's a classic. It's a statement. Just like many other closet staples that every girl should own (like the little black dress, a good pair of jeans, the perfect white T-shirt, a classic trenchcoat…) the wrap dress has become timeless. Of course its style has changed over the years and is adapted to match various occasions, but it has still kept its distinctive features: It's easy to get in and out and it only takes one piece to be fully dressed. Which means, it's a piece of clothing that combines fashion, function and comfort – and let's be honest: Who doesn't love that?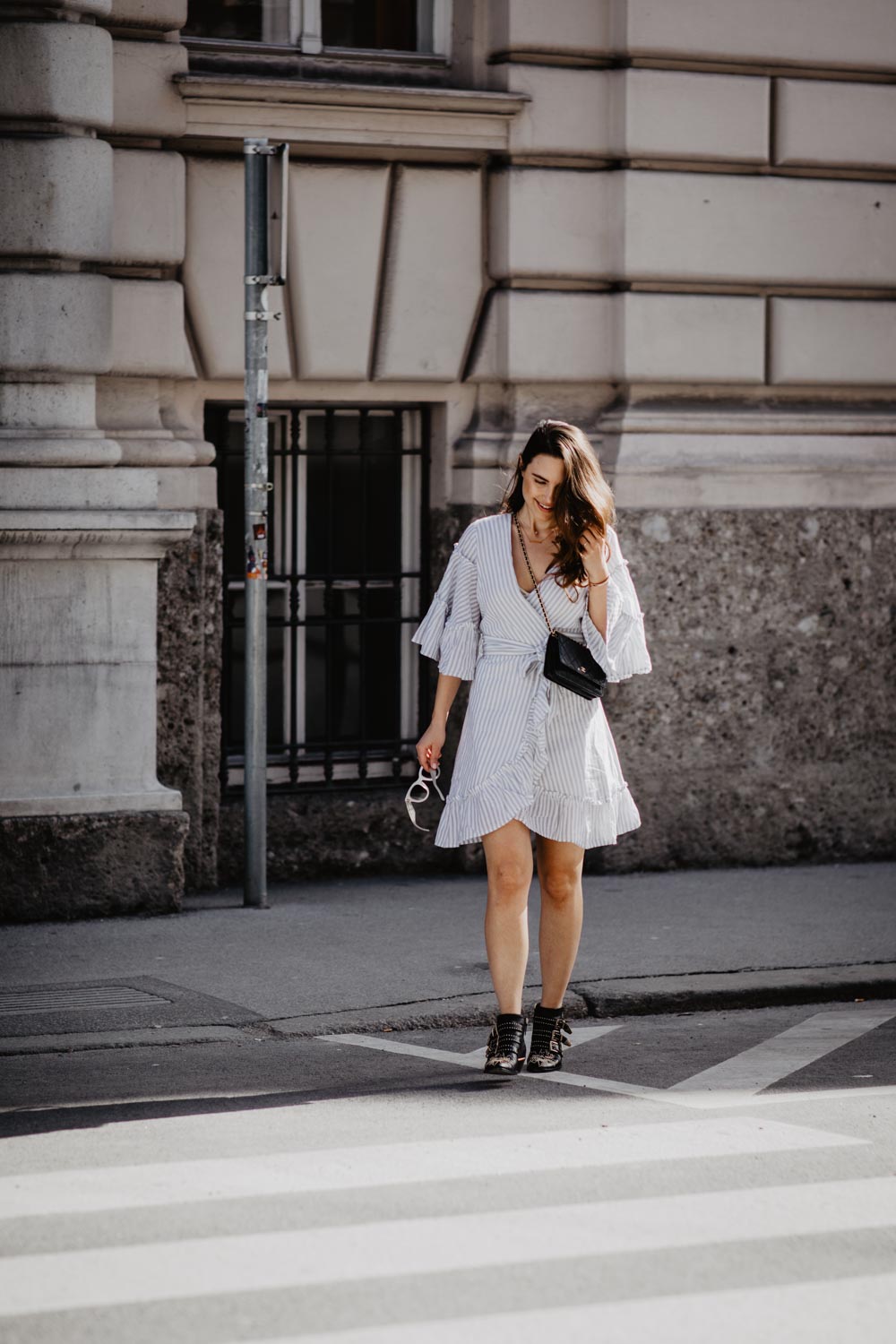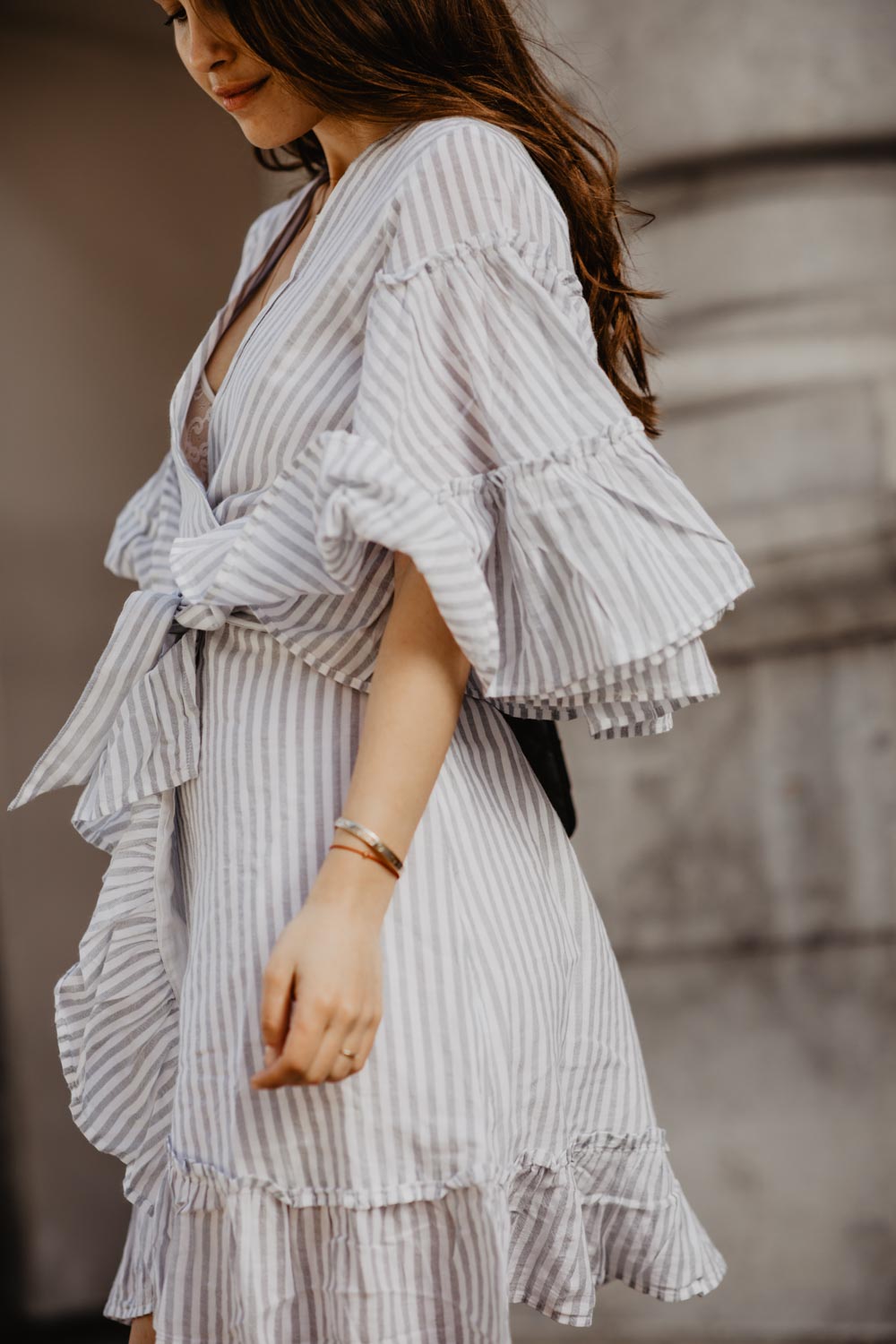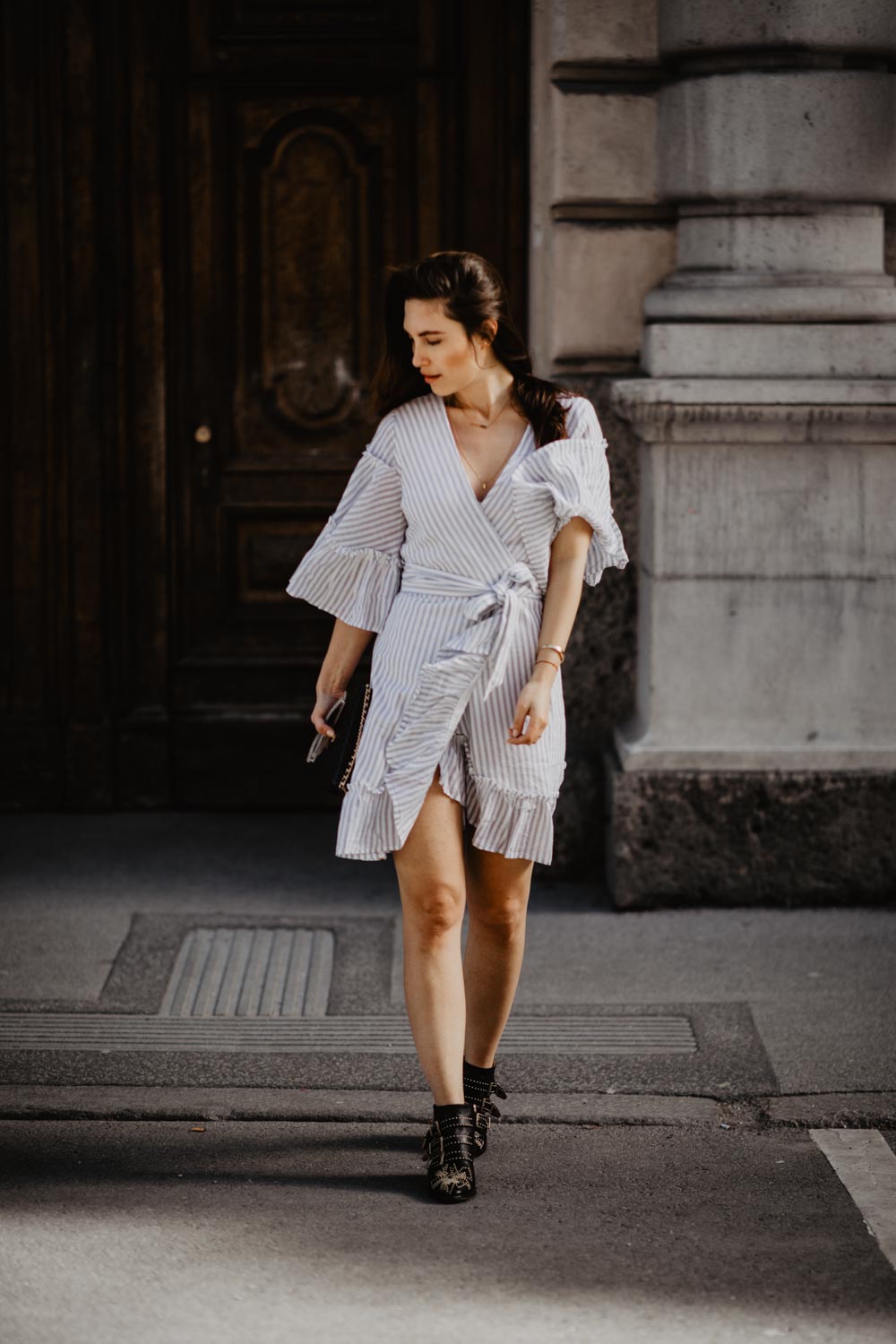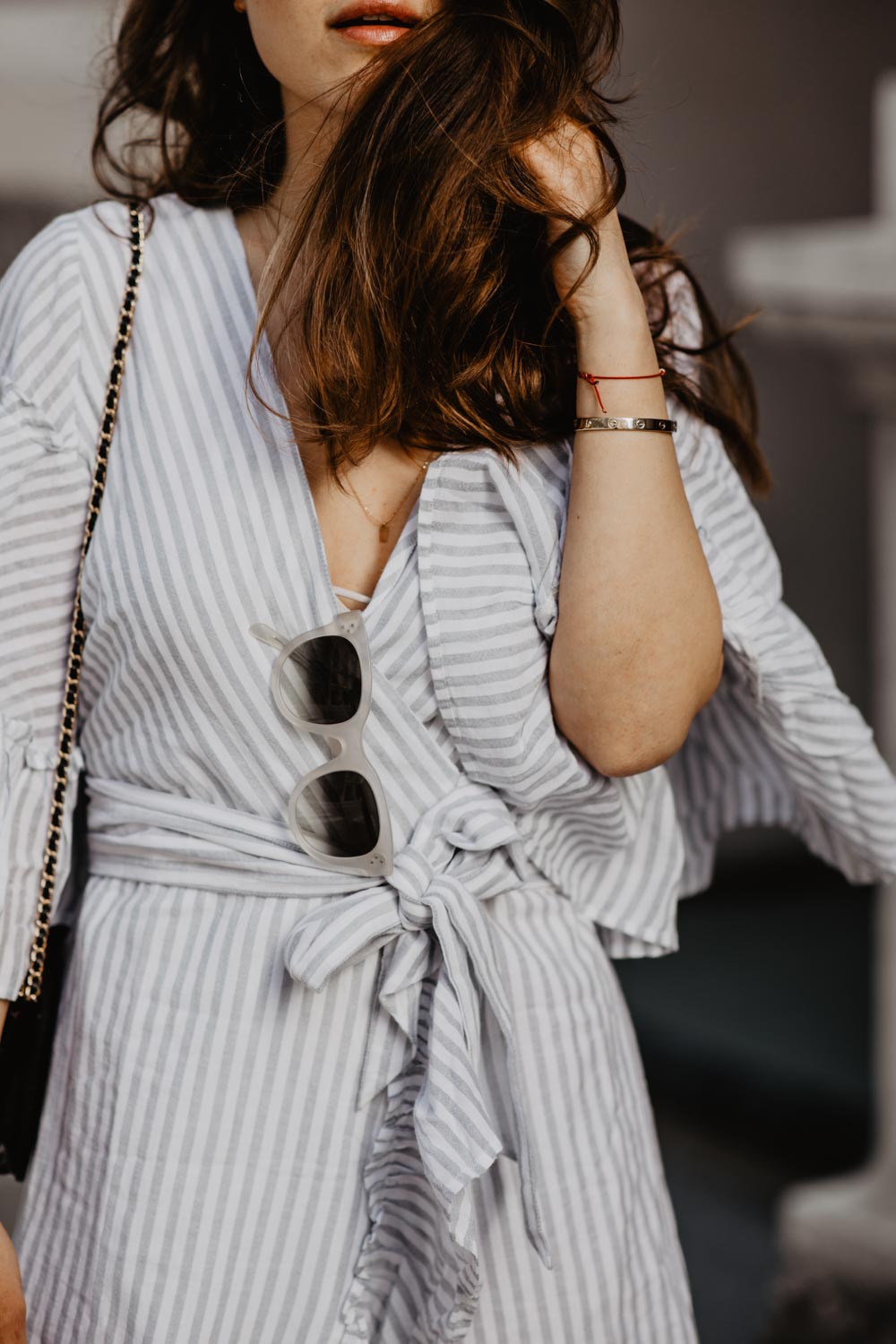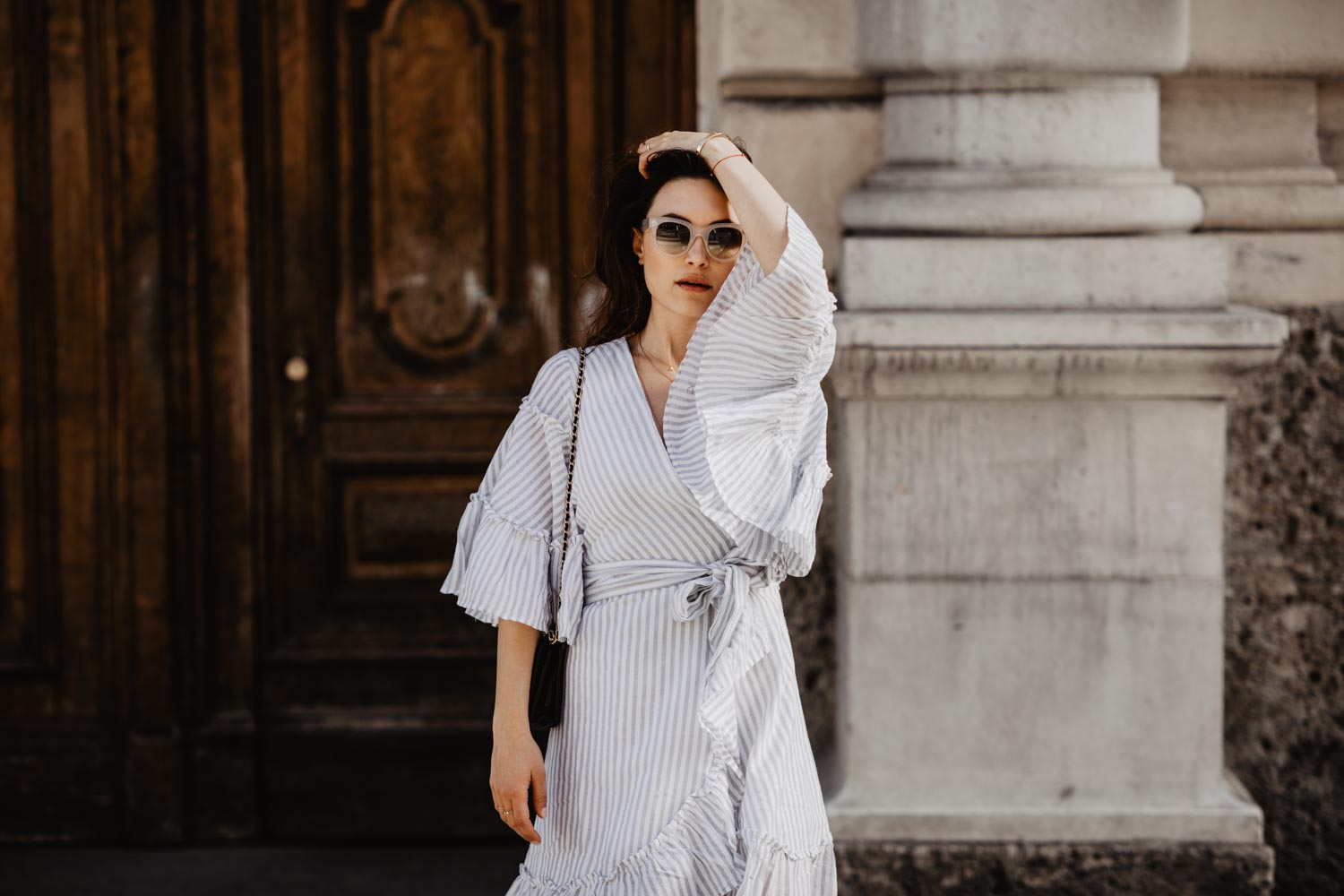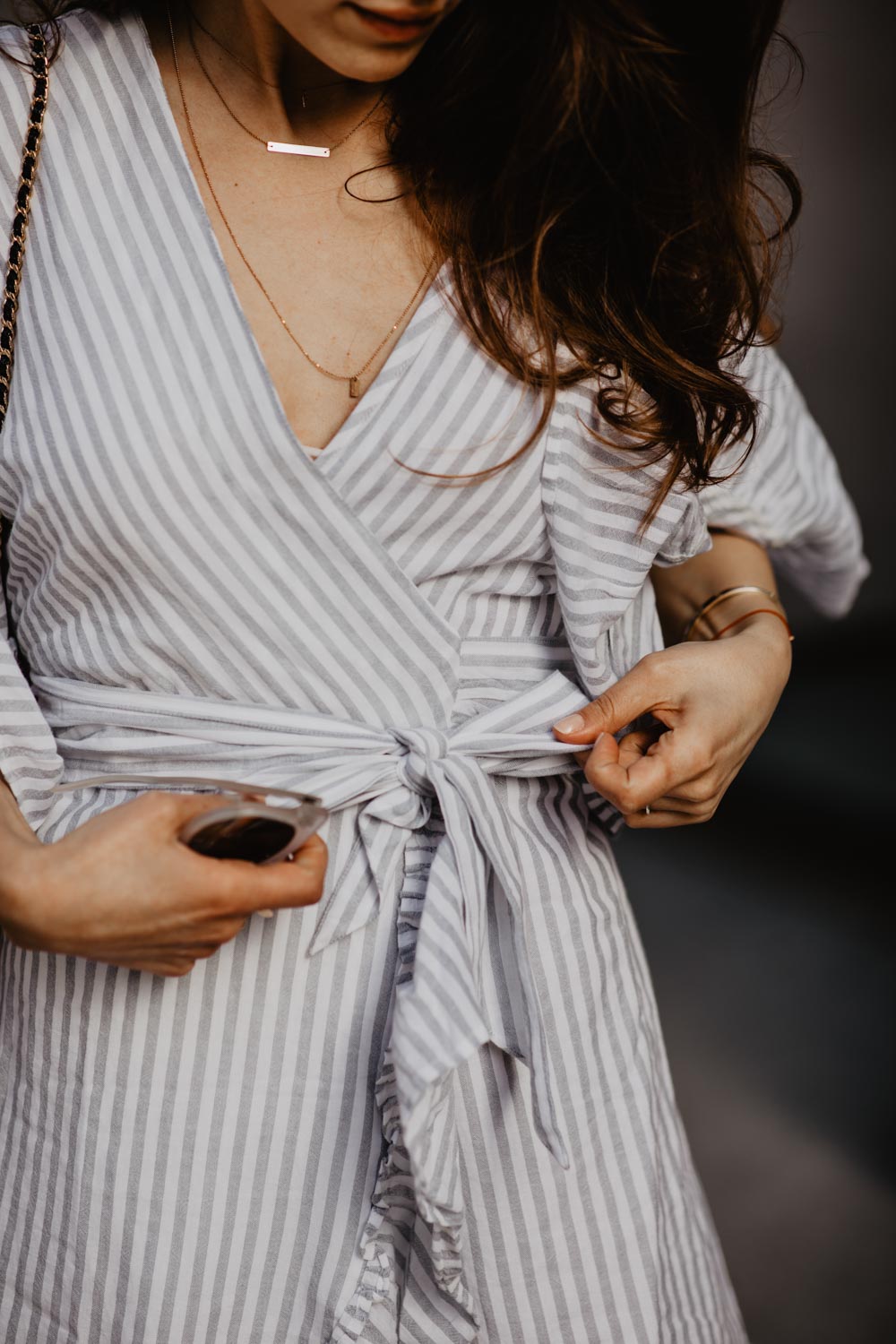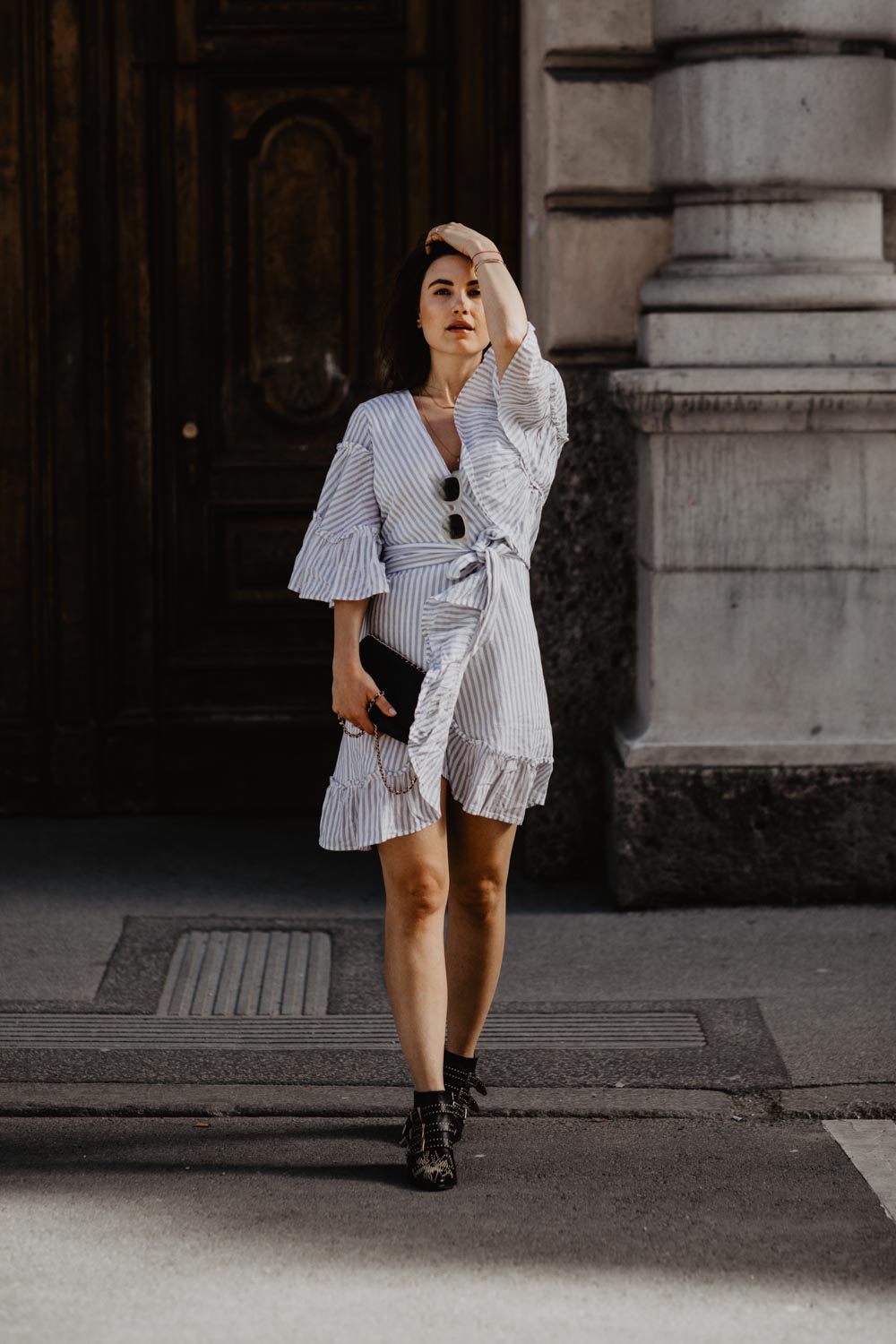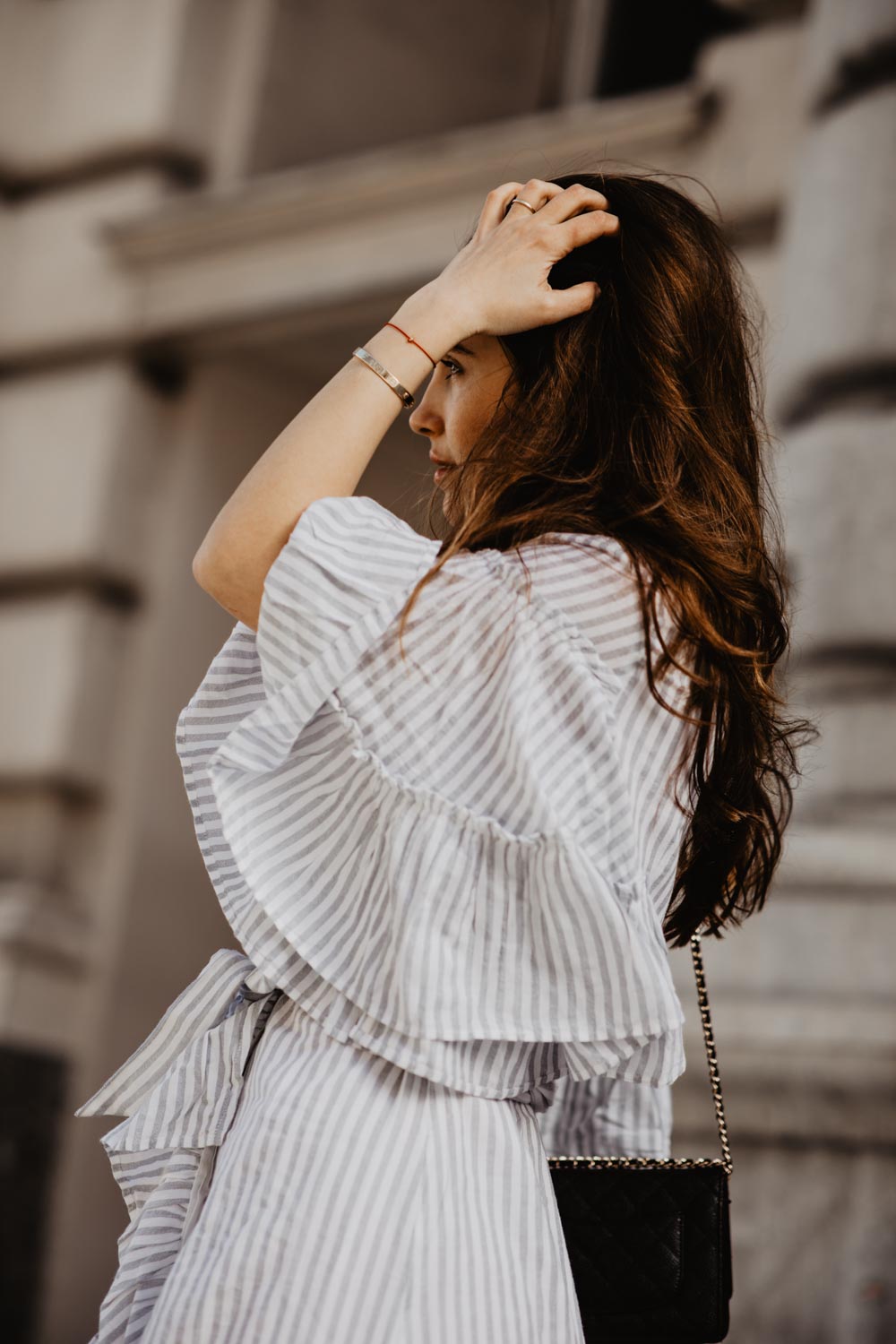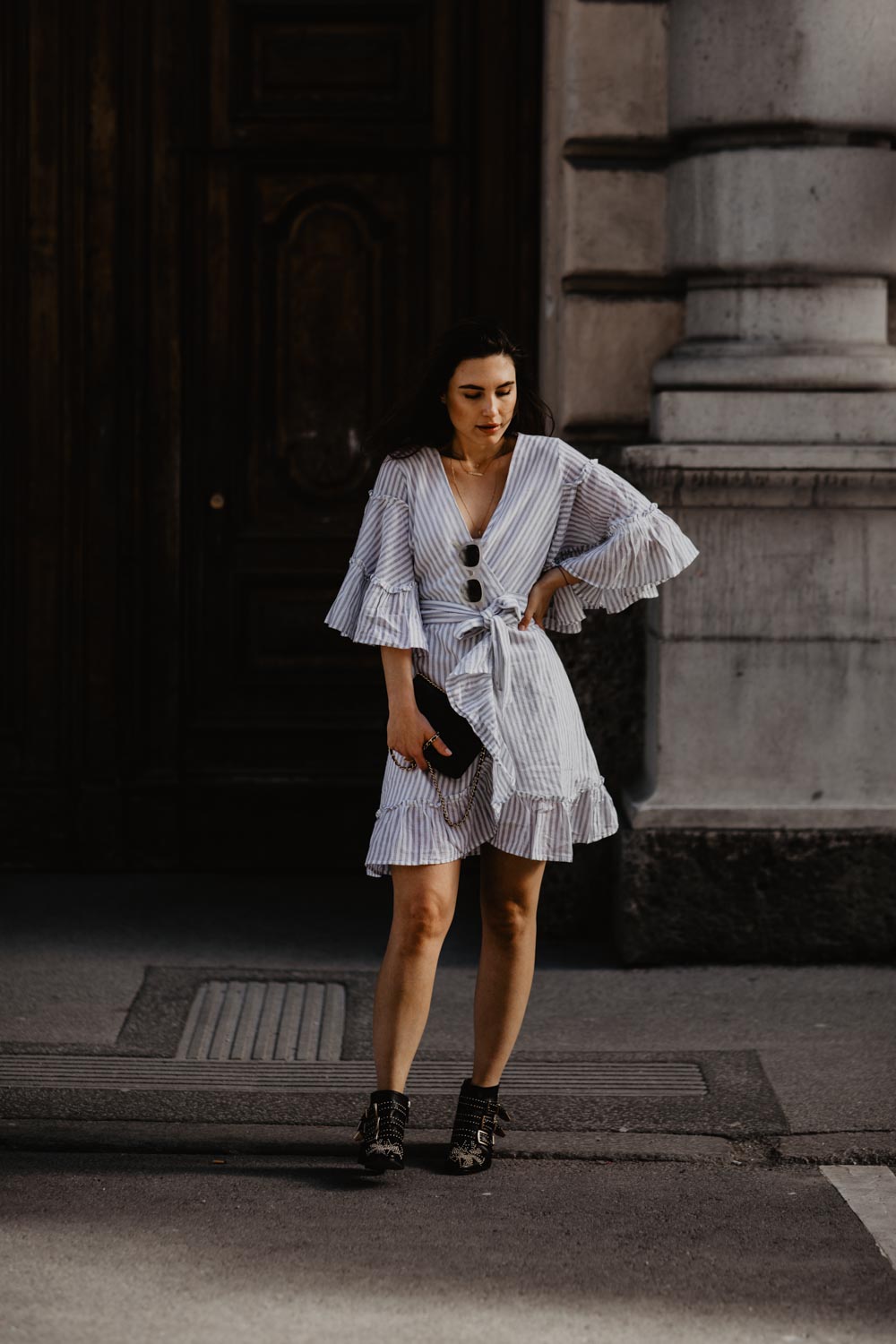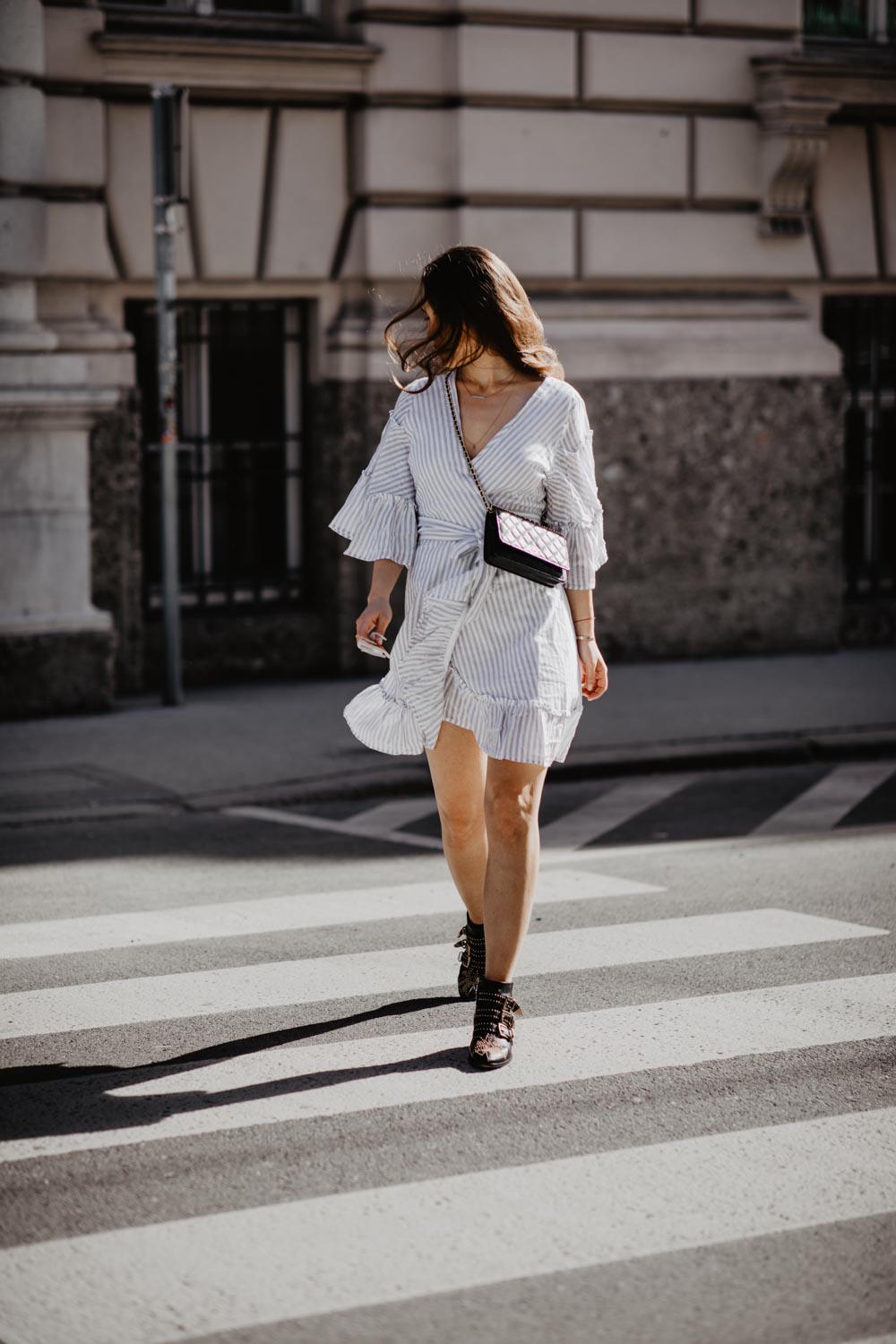 ---
EDITED wrap dress // Chloé Susanna boots // Chanel wallet on chain // Céline sunglasses // ANNA necklaces (long, P, engraved)
Shop the post:

*in friendly collaboration with EDITED