Welcome to our Baby Room
I'm super excited to finally share more details about our baby room! If you follow me on Instagram you might have seen some glimpses already. Designing and decorating the nursery was one of the baby preparations I was most looking forward to. First of all, I love everything that has to do with interior, but mostly putting this room together made the whole baby thing SO real.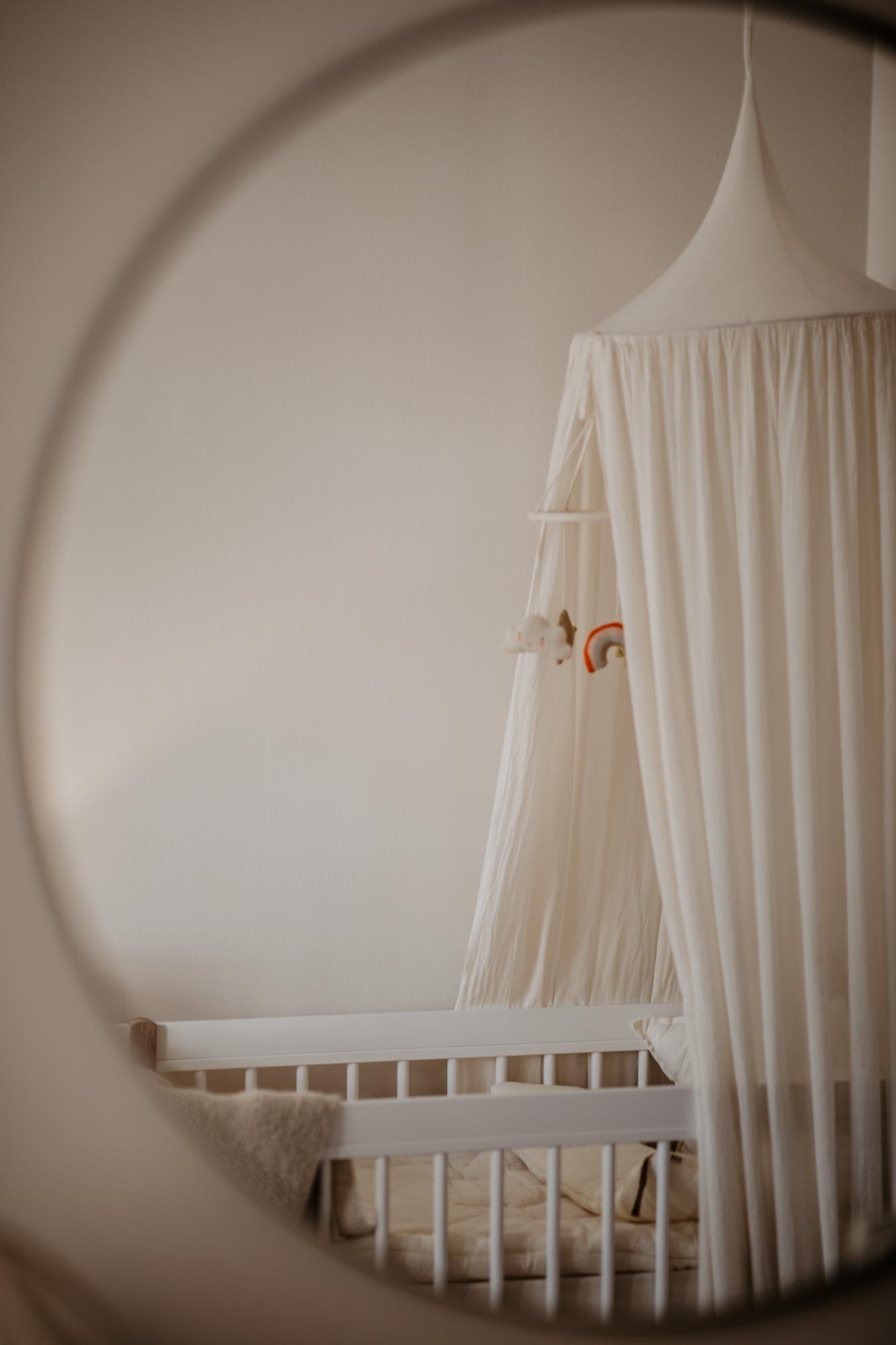 Luckily, we had a spare room in our apartment that was partially home office, partially guest room and partially just the room where we hid anything we wanted to have out of our way. Patrick lovingly called this room our "chamber of secrets". When we moved into this apartment 2 years ago, we already hoped we could turn it into a baby room one day…
Before I even started planning the baby room, I knew I wanted it to be a place of calm and comfort. I've envisioned a neutral color scheme and natural products such as linens, cotton, washed woods and organic tones that could transition from baby to baby. For the first year, your baby won't really care about the nursery at all and of course also does not really need a room. All they need is you to be close. So my thought was to create a room that Patrick and I feel super comfortable in, which (I hope) will ultimately reflect on our baby. I really wanted this space to be able to evolve over time, without giving it too much of a color scheme or theme direction. That's also why we chose a very neutral, yet warm color to go on the walls, which I think gives the room some extra coziness. The wall color is by Farrow & Ball and is called "Dimity", in case you're interested.
Every detail in our baby room is special or holds meaning in some way. Being a mom has always been my ultimate dream in life – so creating a safe, warm haven for my baby has brought me so much joy.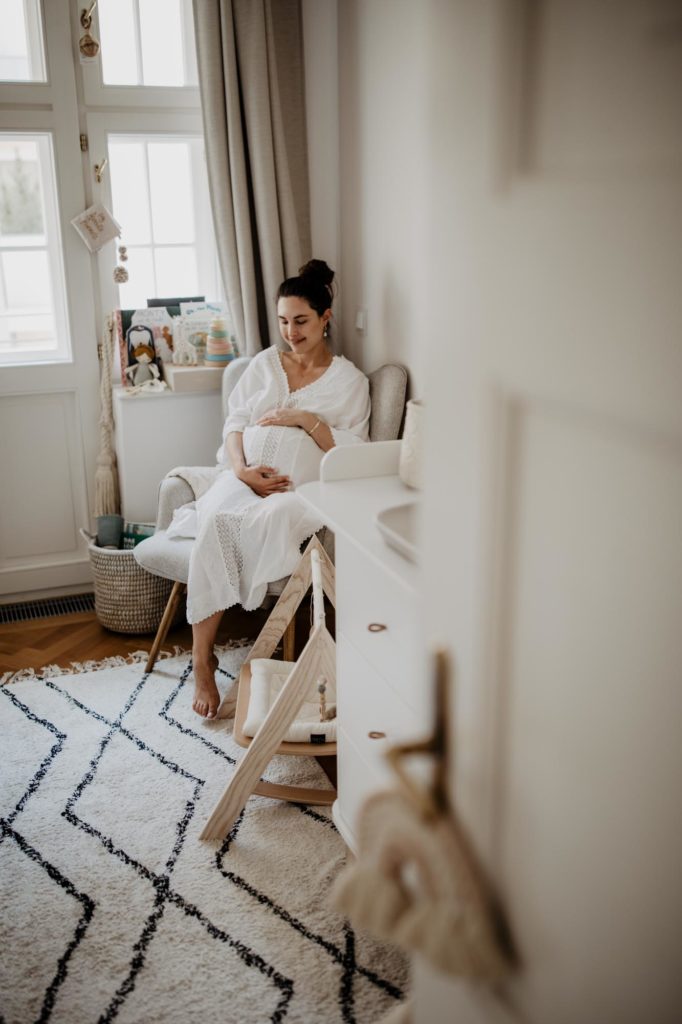 Crib & Changing Table
Since the room is rather small, I knew we had to focus on the essentials. Two things we really wanted to have in the room is a big dresser that has lots of storage and also works as a changing station, and a crib. First of all, I started doing lots of research about baby furniture. A good place to start which I think gives you a great overview about beautiful options is Smallable. It's a family concept store that carries many different brands, which all speak to my design-savvy heart. There's also a birth guide, which you can either look at online or get a hard copy of. We had the little booklet at home and both started browsing and pinning things we particularly loved. Be warned though: You'll basically want everything that's in it!
Choosing the right baby furniture for your personal needs can be a tough choice, but there was one particular brand that spoke to us right away. We feel in love with Oliver Furniture, a danish company that created wooden furniture for the modern family the minute we saw their products and got to know their philosophy. For us, safety, quality and longevity of the pieces was most important. Oliver Furniture unites all of them. Their furniture is made from high quality wood, has a contemporary style that lasts for generations and is designed to grow with the child. We decided on the Wood Mini+ crib that has the option to convert into a bed that will fit children up until they are 9 years old, and also on the matching Wood dresser with six drawers, that is now our changing table but will later on be used as a normal dresser. When building up the furniture you can tell how well it is made. The whole room still smells of fresh wood and I love how the light birch elements of the two pieces play well with the the rest of the nursery color scheme.
If you're from Austria and would like to get to know Oliver Furniture better, I can highly recommend you to visit Herr & Frau Klein in Vienna or Dornbirn. They have a beautiful showroom featuring Oliver Furniture and can tell you everything about the brand.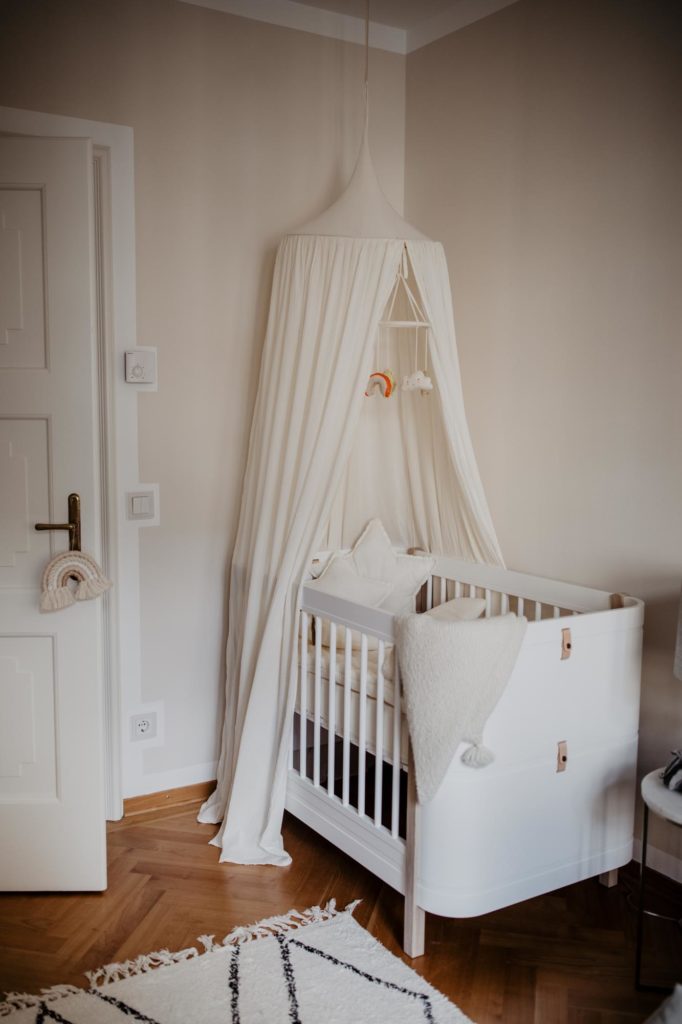 The dresser is basically our only storage for baby things in the room for now. The first two drawers are mainly reserved for all products we need to have at hand for changing diapers and co., and the other drawers are for clothes. I like the fact that I don't have to step away from the changing table to get baby ready, and everything is located in one spot. I organized the drawers with the help of drawer boxes. I call it "the Marie Kondo approach for baby clothes".
Diapers, swaddles and other baby accessories are organized in soft baskets I got at H&M home, and the center pieces on the dresser is the changing mat from Leander, which was recommended to me by so many mamas, because it's super easy to wipe and clean in case of nappy-changing accidents.
Bits & Pieces of Furniture
One of my favorite pieces in the baby room is the wing chair. I've always imagined a cosy chair in the room where I can nurse and we can read books to our little one. We found this super comfortable and beautiful chair at Westwing, where we source a lot of things for our home. Also the big round mirror over the dresser, the marble side table, the table lamp and the rug are from Westwing. I selected pieces that could evolve with our needs over time. For example, if the chair isn't needed in the nursery anymore, I'm more than happy to use it in our living room. For the base of the room, I wanted to have furniture and accessories that could also be used as our kid gets older (or also used by us).

Daybed for Mom & Dad
One of the pieces of advice I've heard very often from our friends who are parents already, is to have an extra bed in the nursery if you have the space for it. I've been told it's one of those essentials pieces of early babyhood that you'll be thankful for as a parent, when your baby is not sleeping through the night yet. One of my friends told me her husband moved to the daybed in the nursery to catch some extra zzz's in the early evening hours when their baby got fuzzy… I obviously can't say anything about my experience yet, but since we had the pull-out sofa we used for our guests in the room already, we decided to keep it there for the time being. It's the Multy Sofa from Ligne Roset, that you can transform into a comfortable double bed. I'll be able to tell you if we used it in a couple of weeks… But a cosy corner to relax, read, feed or simply watch baby surely never is a bad idea, I guess.
Accessoires
Once we had the crib and dresser, and all other bigger pieces of furniture figured out, I started a little mood board to get a better feeling for decorations and accessories I wanted to have in the room, and then everything suddenly started to take shape.
One of my favorite accessories in the baby room is the bed canopy. I think it makes the room so much more cosy and ties the whole look perfectly together. The bed canopy, as well as the bedding, the star pillows and the white sleeping bag (for winter) is from Numero 74, I brand I fell in love with long before I even got pregnant. It's a Spanish brand based in Ibiza, that makes the most beautiful handcrafted pieces for nurseries and kids' rooms. I love the laidback style and natural materials they are using – exactly what I wanted for our nursery. I sourced all those pieces at Smallable.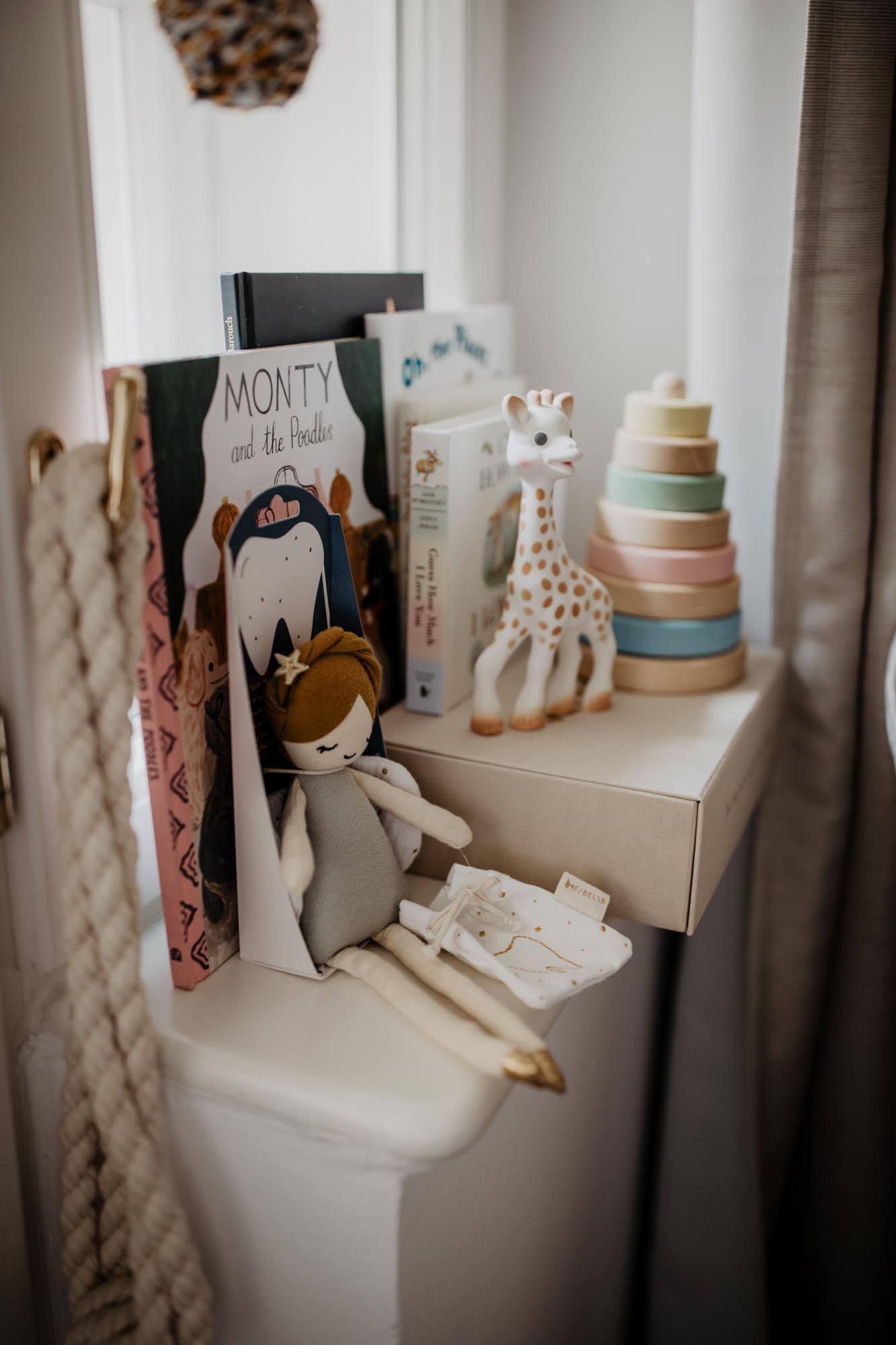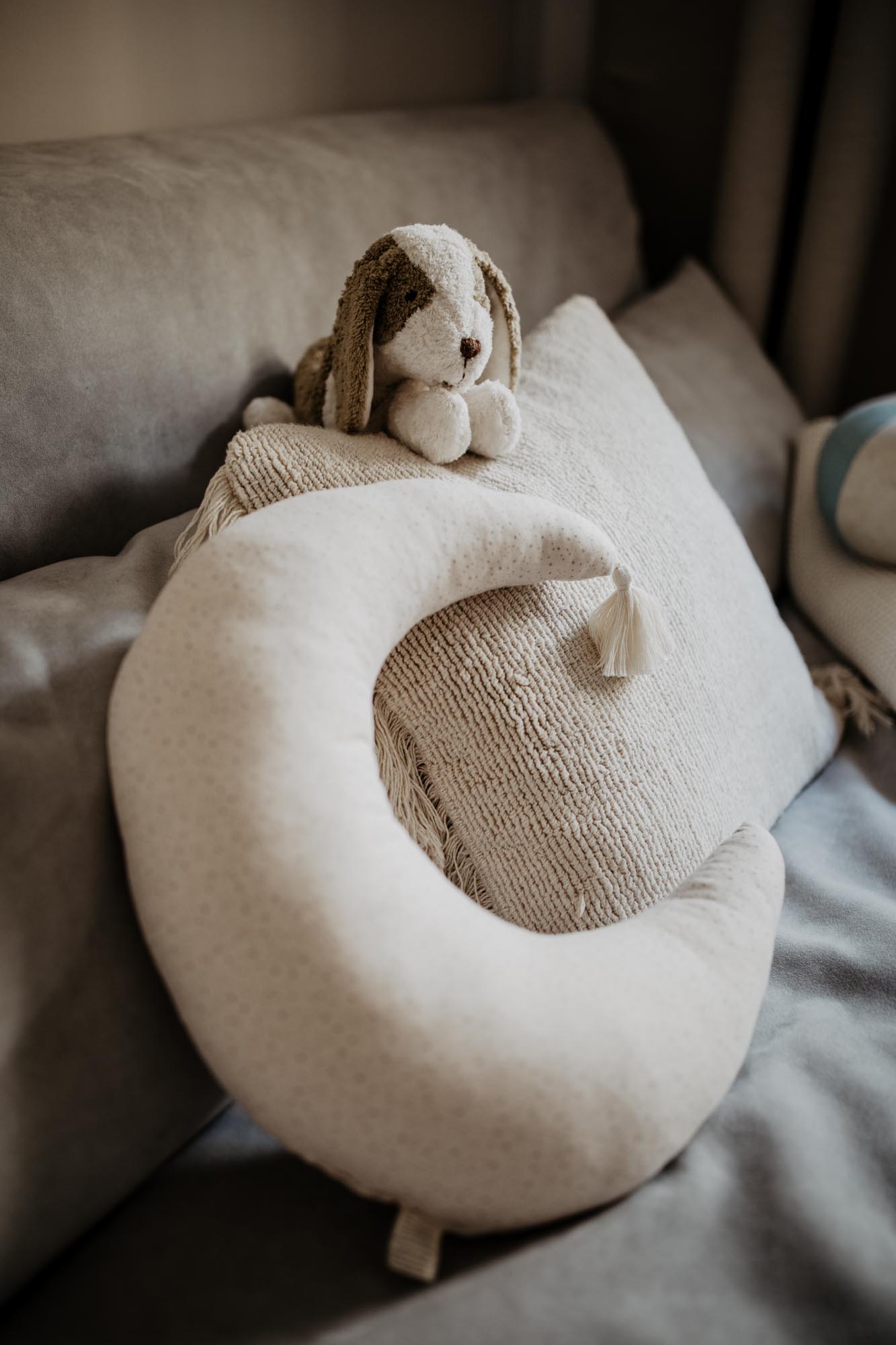 Decoration & Art
As for decoration & art, we kept the room super clean. Except for the two little mirrors, I wanted the toys and stuffed animals to be little touches of color. Since we don't have any wardrobe for baby clothes except for the dresser, I still wanted a space to hang some of the adorable baby clothes. The Muuto wall knobs are perfect for that matter! We're still thinking of adding a little shelf on which we can place some books and toys, and we would also like to hang some photographs on the walls. But all of this has time.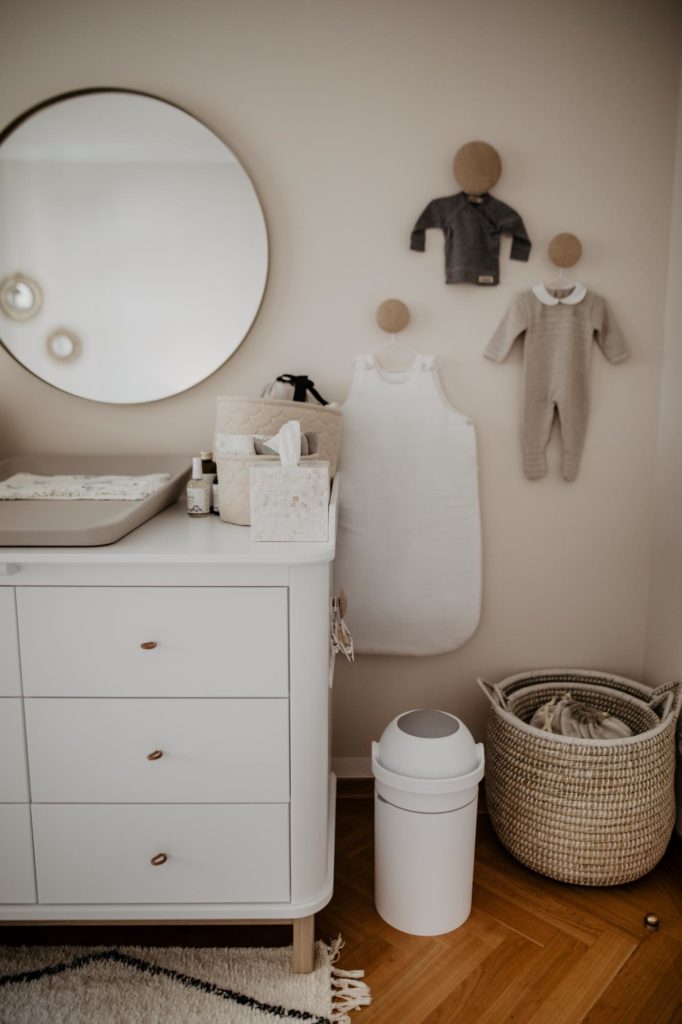 Overall, I think this room will always be evolving as our baby continues to grow. I'm very much looking forward to rearranging the furniture and add pieces as time goes on.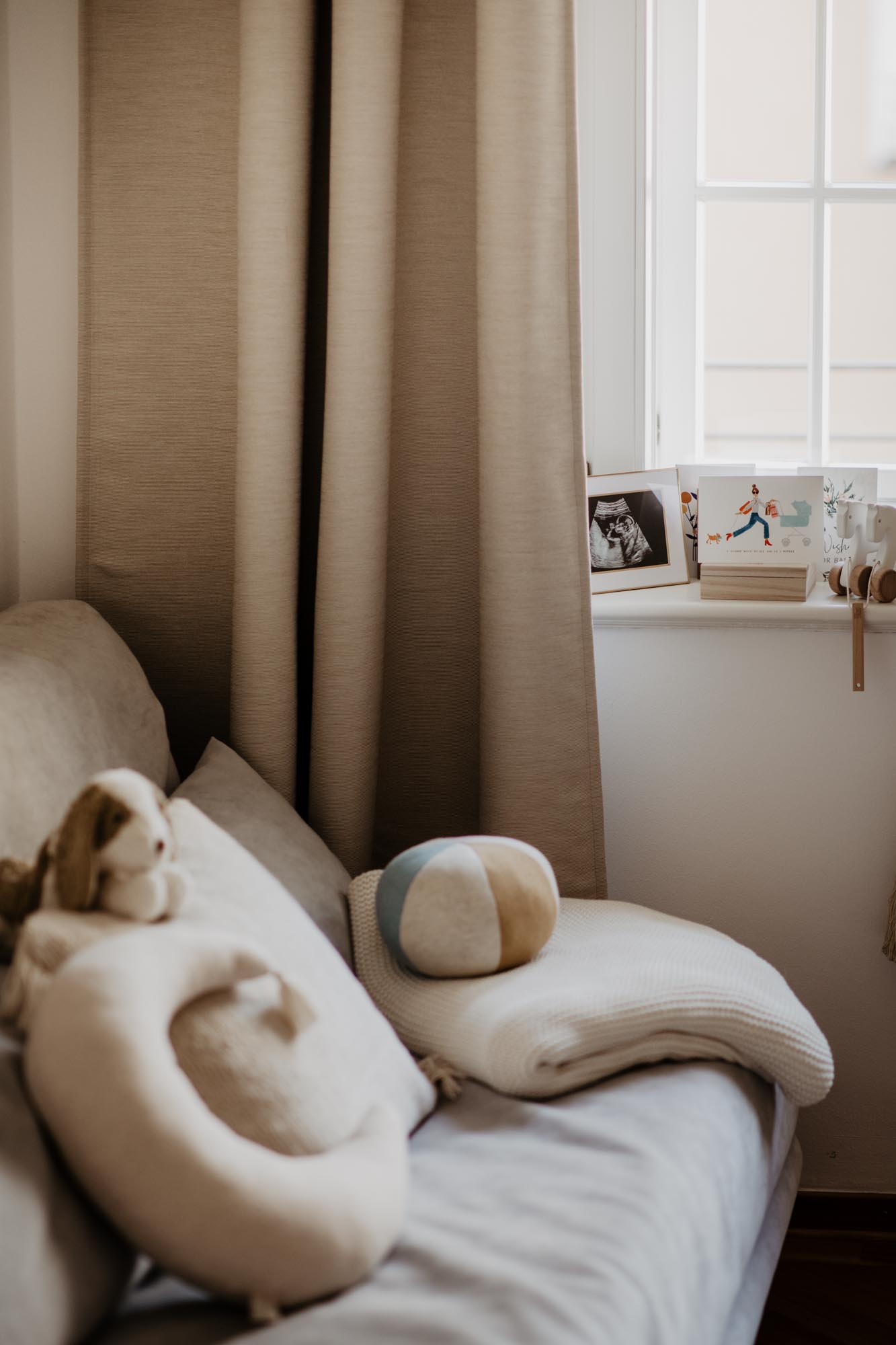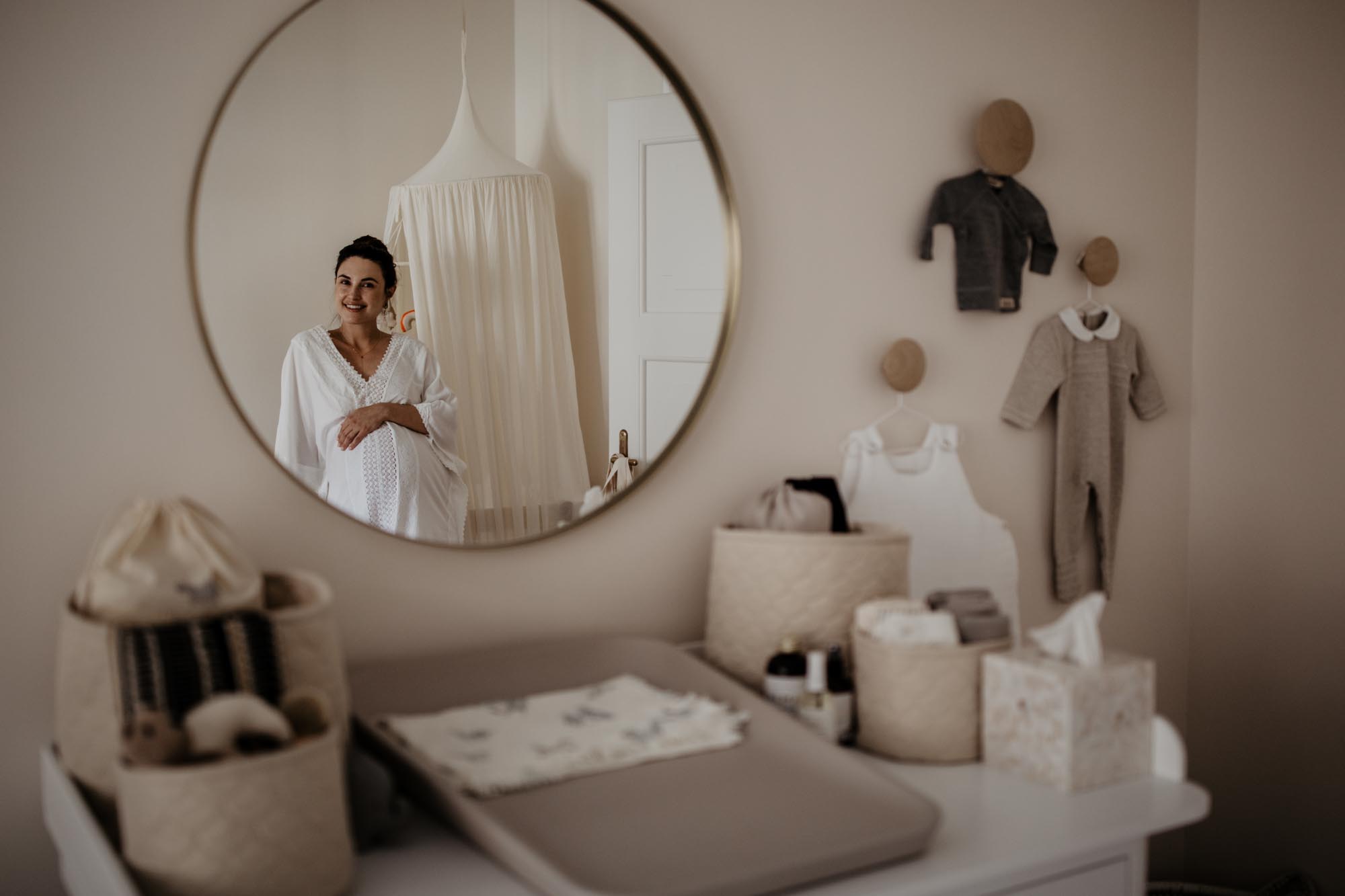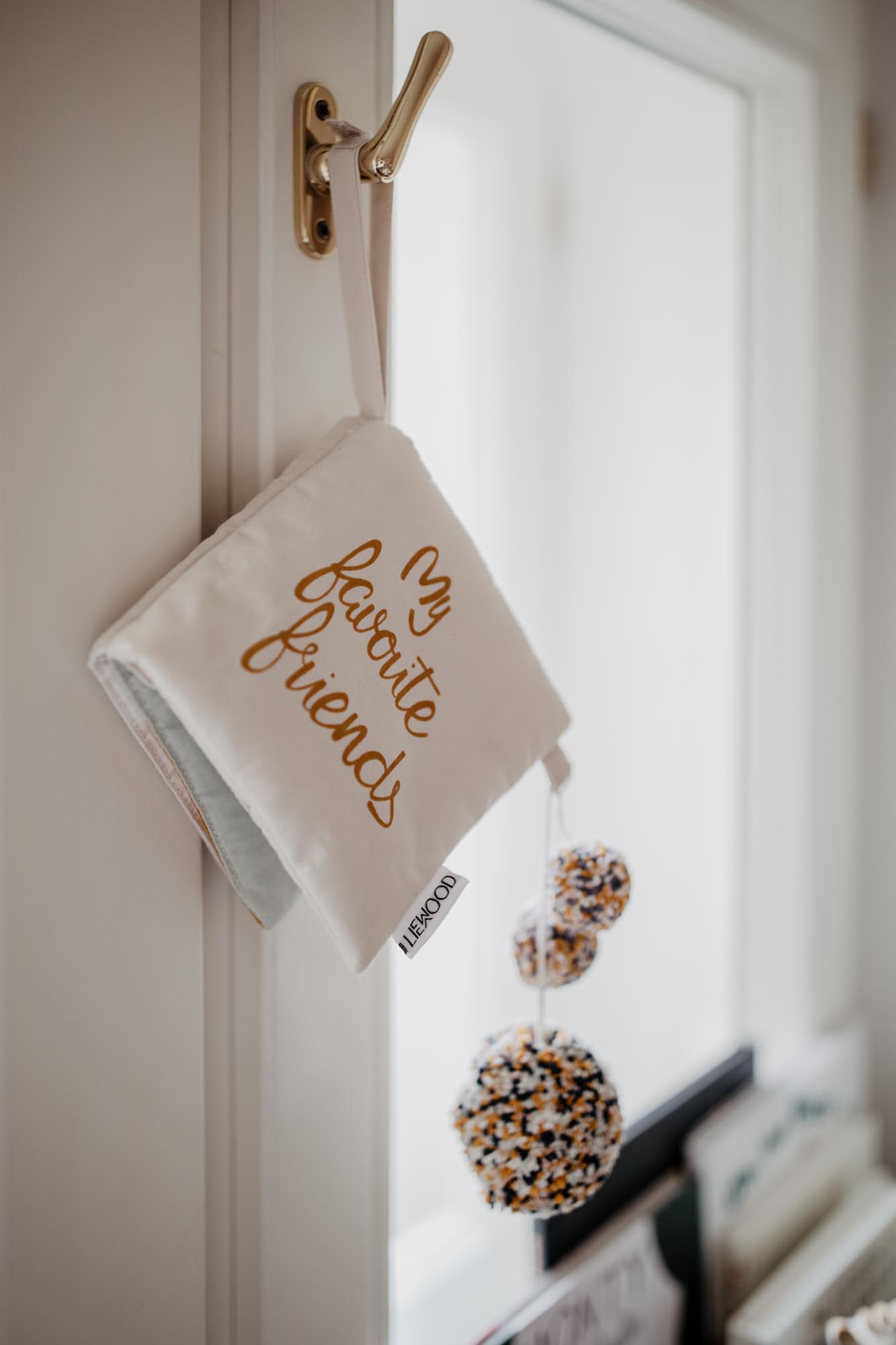 For more baby product inspiration, make sure to check out my baby boutique and baby clothing shop, that I'm constantly updating whenever I stumble upon something I like!