Travel Diary:
Season's Greetings from London
Ever since I can remember, I've wanted to experience Christmas Season in London. Lucky enough my wish came true the first weekend of December, because one of my best friends currently lives in London. No better reason to be hopping on a plane for some quality time with one of my main squeezes.
By now, I've been to London for some five times already (excluding the time my family lived there when I was a baby. I don't remember anything, so I guess it does not really count), so I've done most of the touristy things already. I wouldn't mind doing some of the classic tourist things again (and again, and again), but this time the focus was simply on spending a lovely girls' weekend in best company. Since November and December have been super busy months, I really needed a bit of distance to the job and even left my big camera at home to make sure I'll be able to relax and unwind. So this is a premiere for me: The first blogpost with iPhone photos only! To be honest, I'm very impressed by the quality of the photos, and was yet again reminded of what Patrick always keeps telling me: "The best camera is the one you've got with you when you need it." Meaning, no matter which camera you have, just use what you have and make the best out of it to catch the moment and make a lasting memory.
London is one of those cities that knows very well how to do Christmas. You can find Christmas decoration, Christmas trees and festive lights everywhere in London around Christmas time. It seems like every street and square is decorated with spectacular Christmas lights, and everyone makes such an effort! Especially the Mayfair and Soho area with Oxford Street, Regent Street and Carnaby Street are out of this world when it comes to decoration. We're already very spoiled with Vienna's Christmas lights, but London takes it to a whole new level. London does not just hang some Christmas lights in the streets. London does Christmas angels, giant bows, all kinds of Christmas baubles and ornaments. And it's not just the city that's making an effort to get you into the mood.
All the shops, restaurants and department stores seem to turn into Christmas workshops, having specialists working there who decorate their windows and displays. Even more so, the shops are decorated with the most sparkling and affluent Christmas decoration, making every store a Christmas paradise. Sales people behind the counter and the bar wear Christmas costumes. Restaurants and Cafés adapt their menus, offering Christmas themed meals and drinks. Sometimes the food even looks like Christmas decoration! It's hard to describe if you haven't seen it, but I guess you get the point. London = Christmas central.
My friend Bernie asked me what I'd like to do during my time in London. All I said was: Spending a weekend like the locals would. Said and done!
Here a few (not so touristy) things to do in London during Christmas time:
Have brunch at the Ivy Chelsea Garden:
My friends know me very well. And they know I have a thing for beautiful interior and decoration. When making a reservation at the Ivy Chelsea Garden, Bernie knew exactly I'd freak out a little. Not only is the food amazing, but also the atmosphere in the restaurant is just so beautiful. If I'd live in London, you'd most probably find me there every other Sunday. Side note: People were queuing in front of the restaurant to take a photo with the beautiful decoration (legitimately, because it's drop dead gorgeous).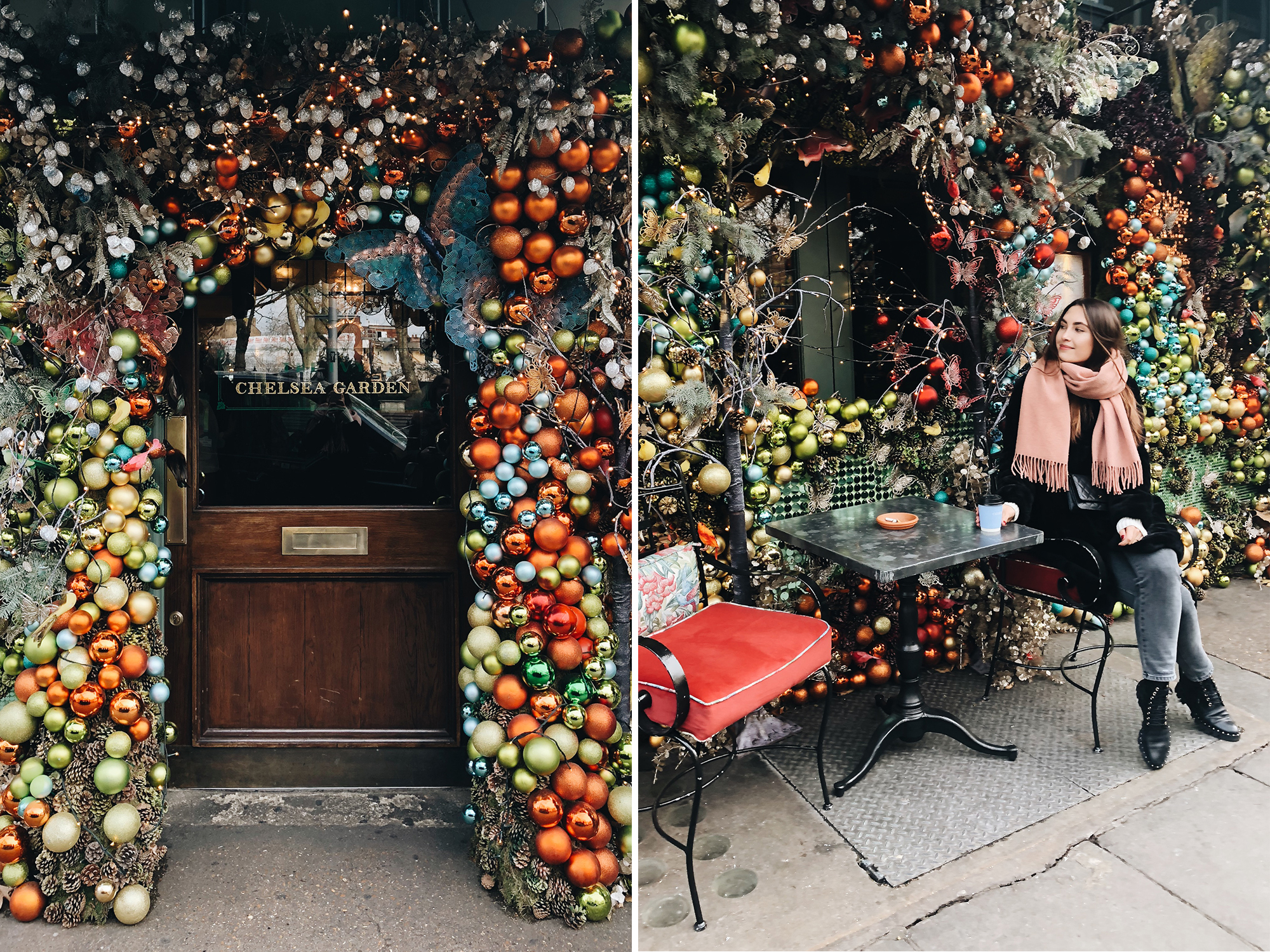 You'll not only find most of the shops there (most beautiful Anthropologie store ever!), but you'll also see where the locals meet for tea or brunch on the weekend. Filled with young Mom's pushing their strollers and walking their dogs, I felt like in my zone. Also, the little side streets are where the most beautiful houses are at. Especially the area around Duke Of York Square is very nice. We had a quick lunch at Poco, which offers a heated terrace. Perfect to fuel up on some soup while talking and people watching. Side note: If you want to do some shopping, this area is also a lot less crowded than all the well known shopping streets.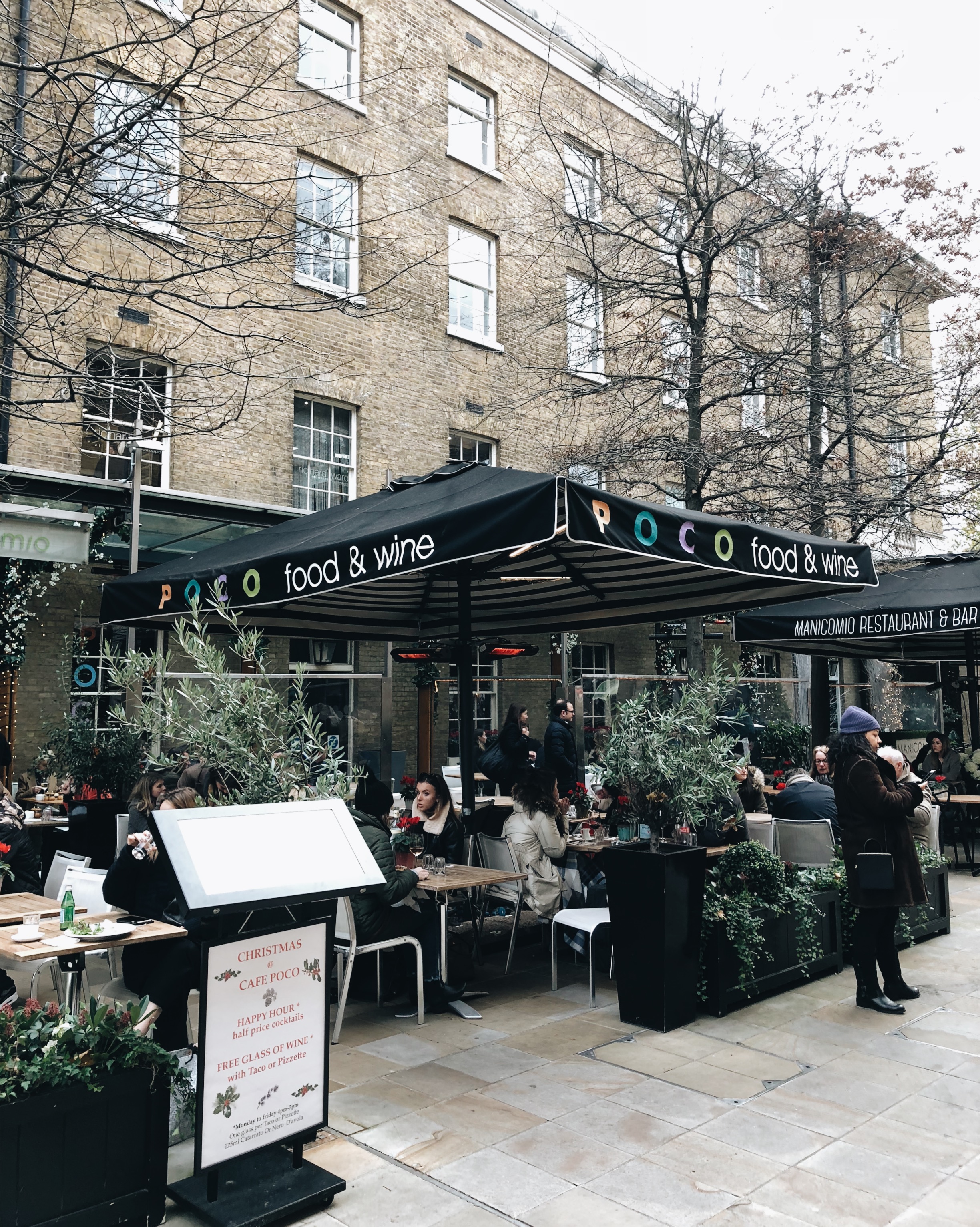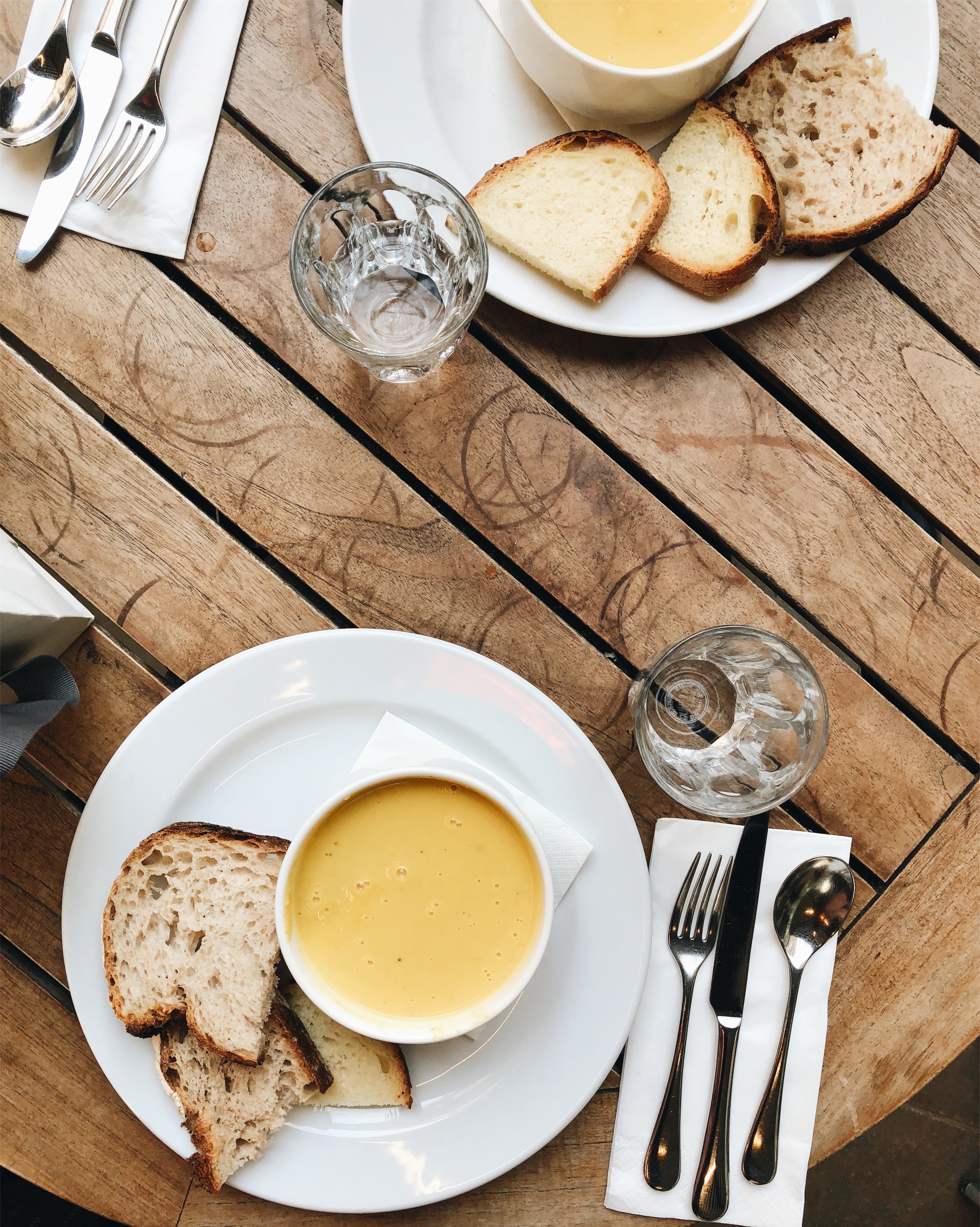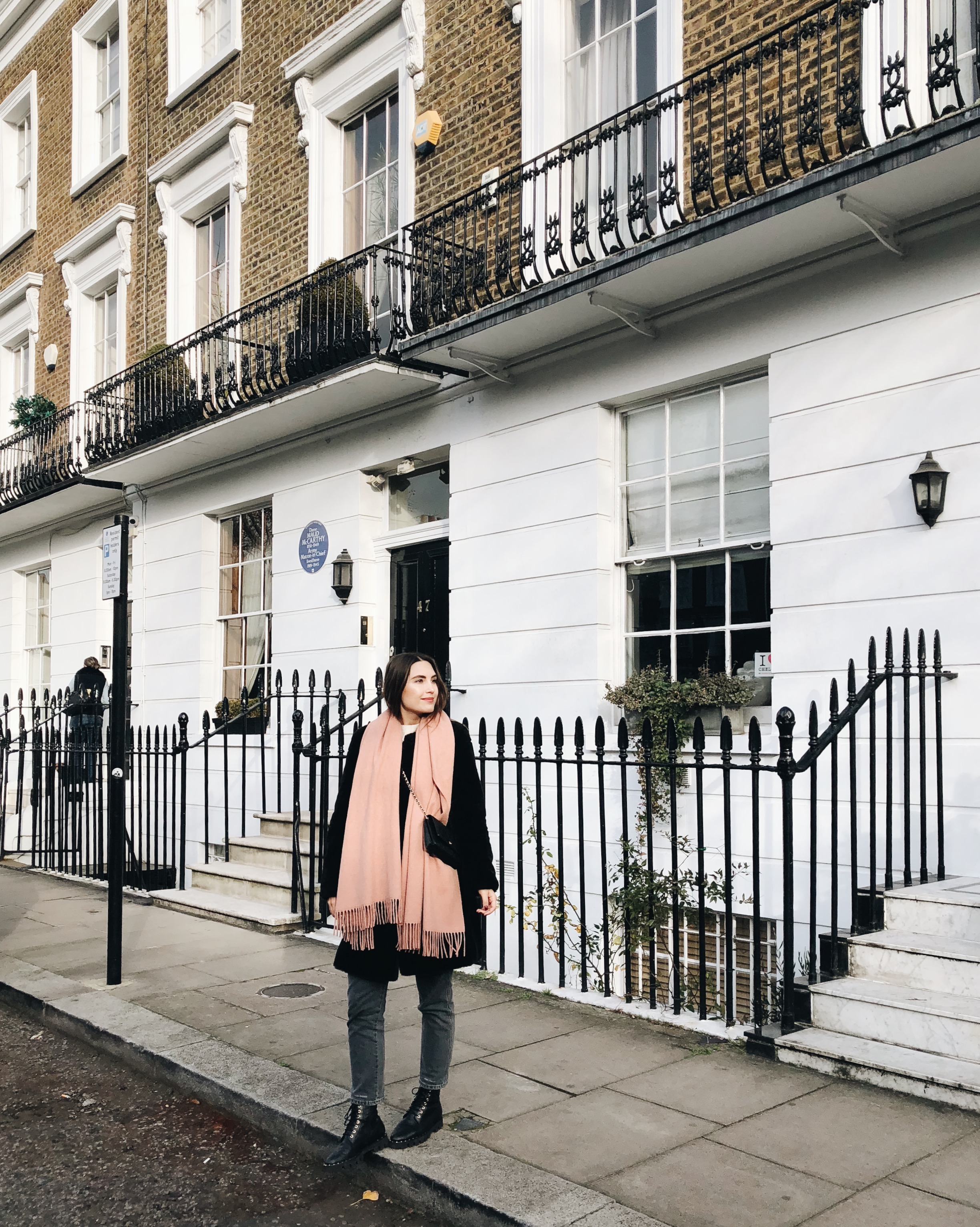 Stop at Wellington Square and admire the beautiful houses:
If I'd live in London (and money was no object) this is where I'd want to live. It's a little square right at King's Road, but it seems like you enter another world. All those photos you always see on Instagram with the white houses, black fence, black and white flooring and beautiful decorations: It's real. And it's happening at Wellington Square. I was standing there in awe (and I'd like to congratulate the people living in house No. 5 for having the most beautiful door wreath.)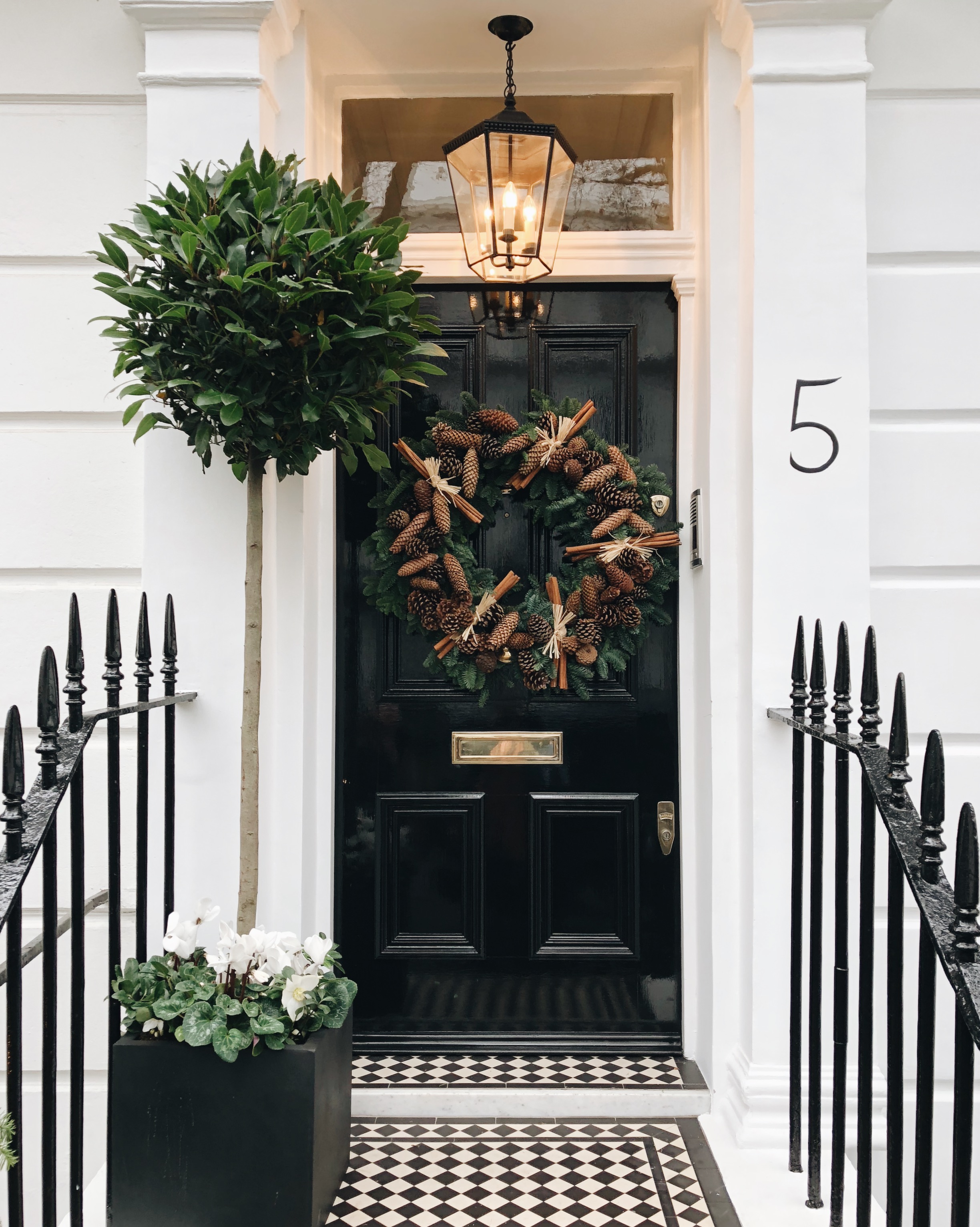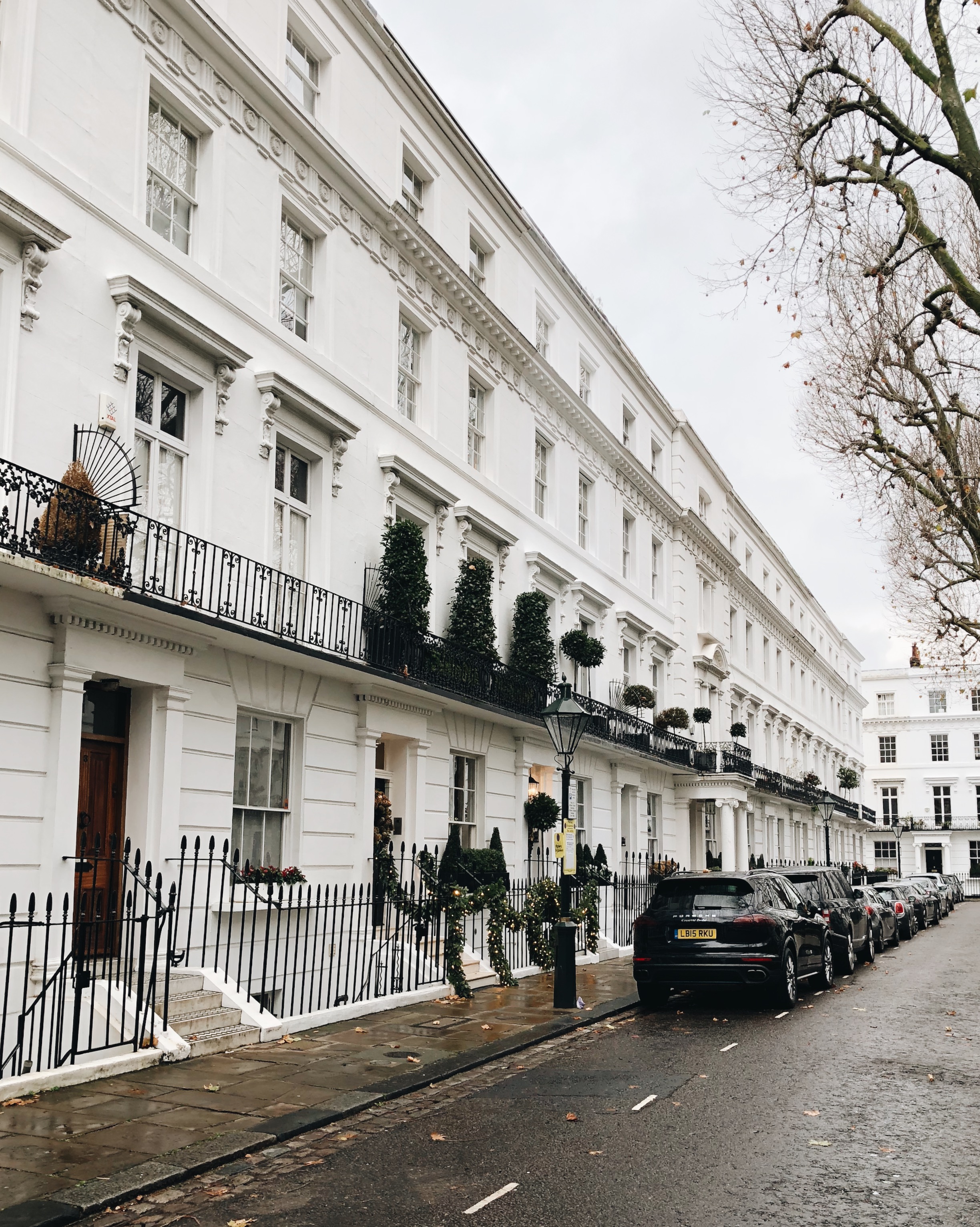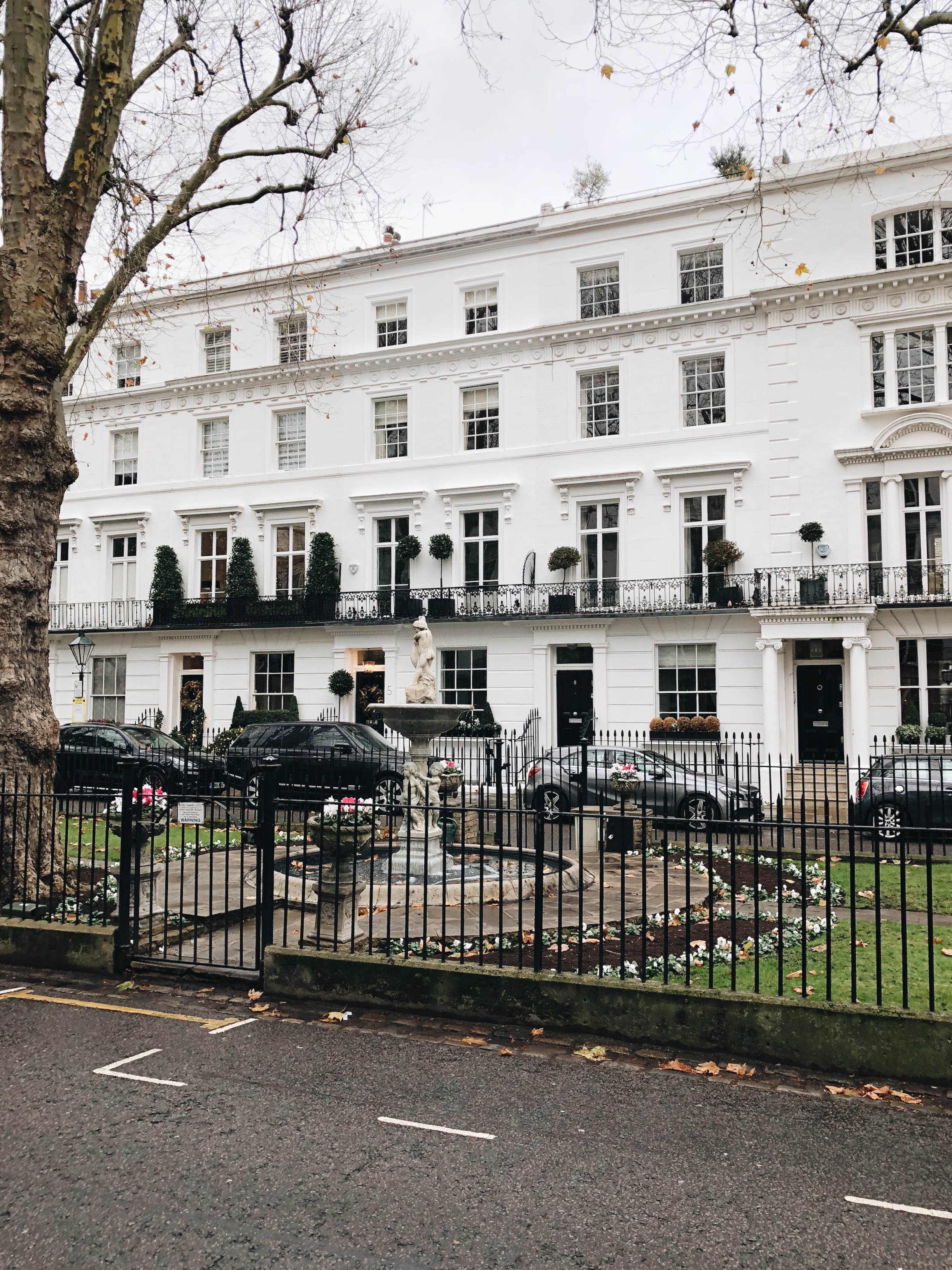 Grab a juice or coffee to go at Raw Press:
If you're looking for a place to get your juice or coffee fix, plus maybe some healthy snack – look no further, Raw Press has you covered. They offer all kinds of snacks, but also healthy salads and lunch bowls. We grabbed a coffee to go and made our way to…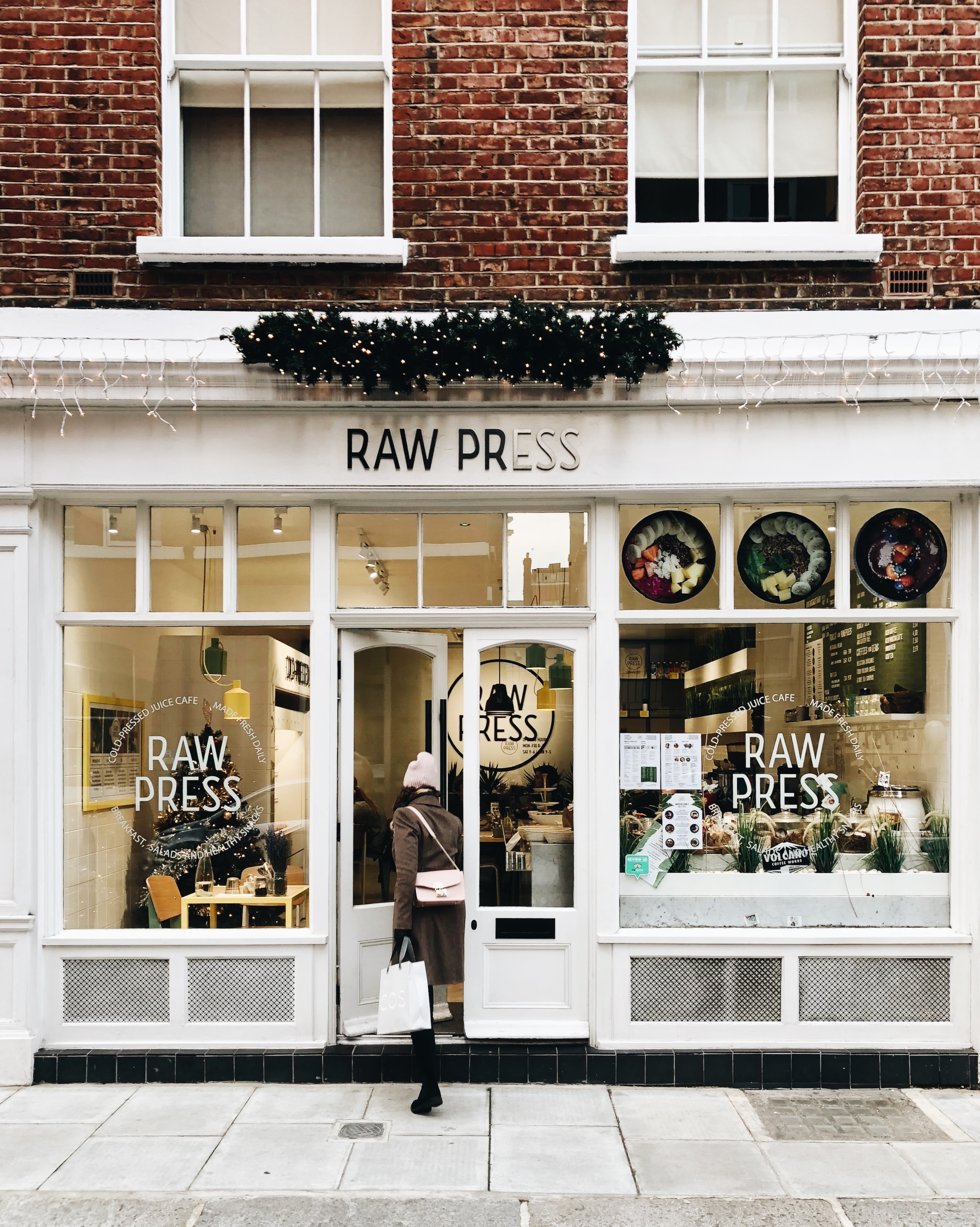 Do some window shopping in Sloane Street:
Cartier, Chloé, Chanel, Tod's, Tiffany, Valentino, Louis Vuttion, Jo Malone – you name it. All of them are united at Sloane Street, having the most gorgeous window displays that will make you stop. And drool. Side note: If you walk down Sloane Street until the end, you'll get to Hyde Park right away, in case you're down for a walk in the park after the exhausting (window) shopping. If you turn right and follow Hans Road, you'll end up at Harrod's, where we went next…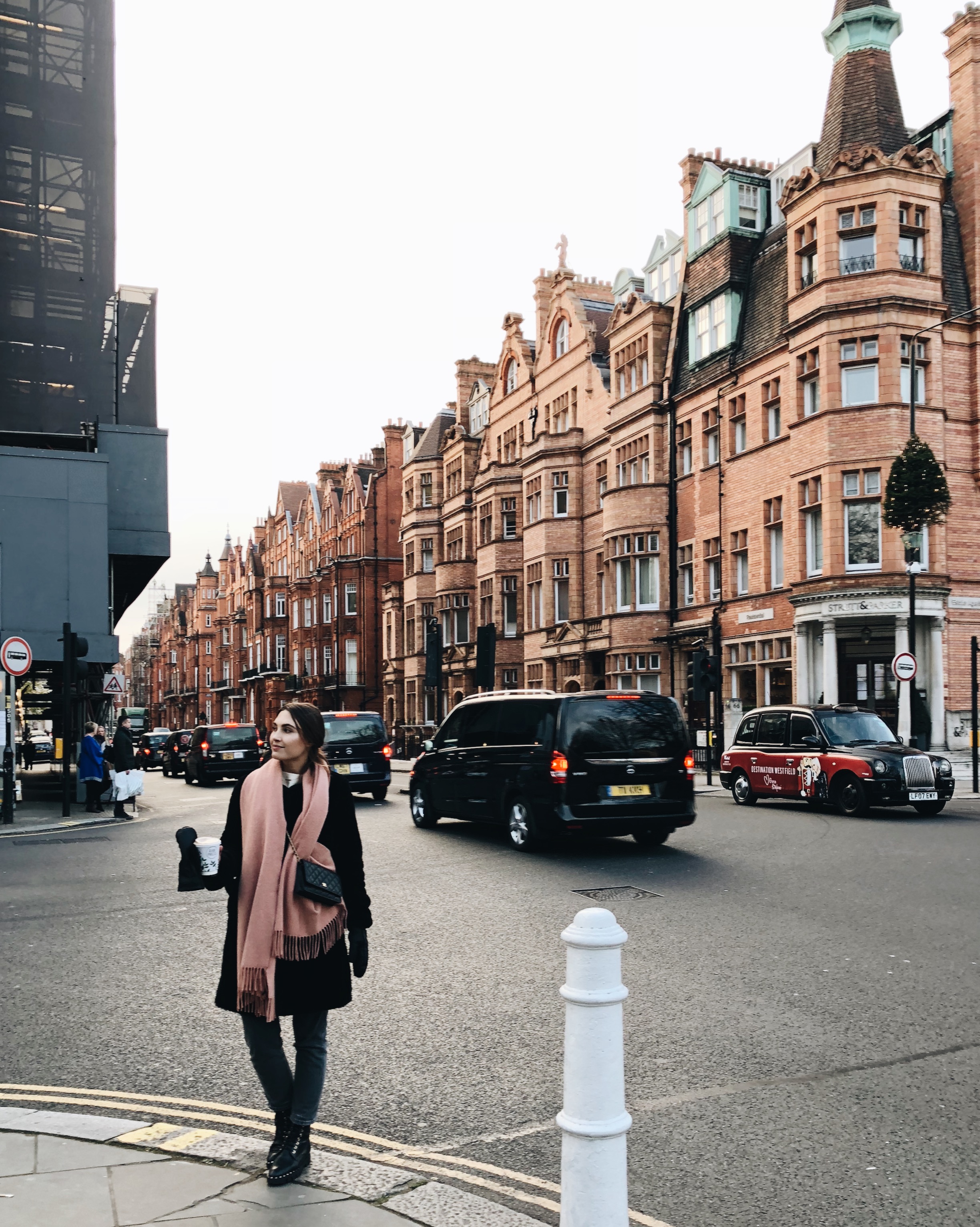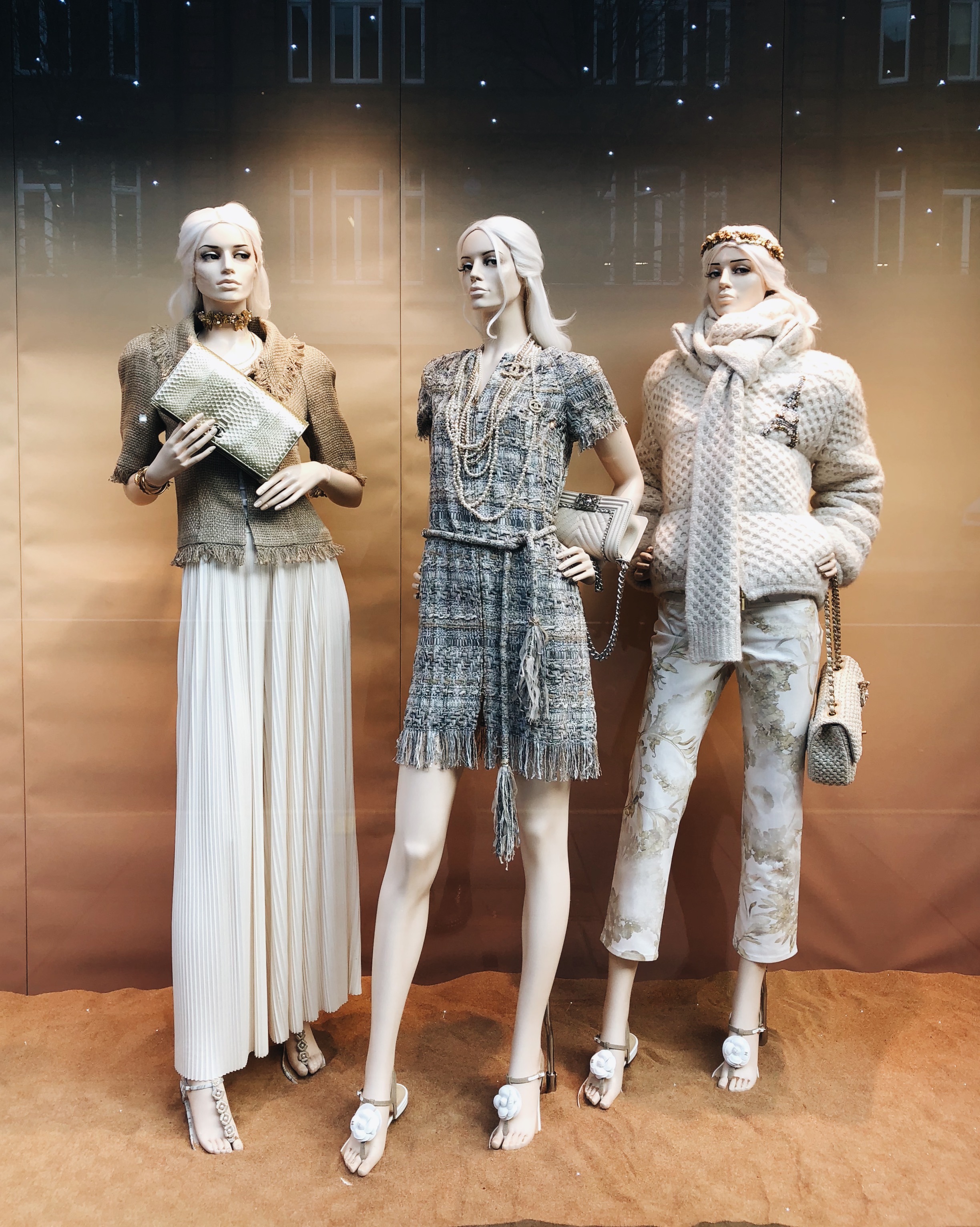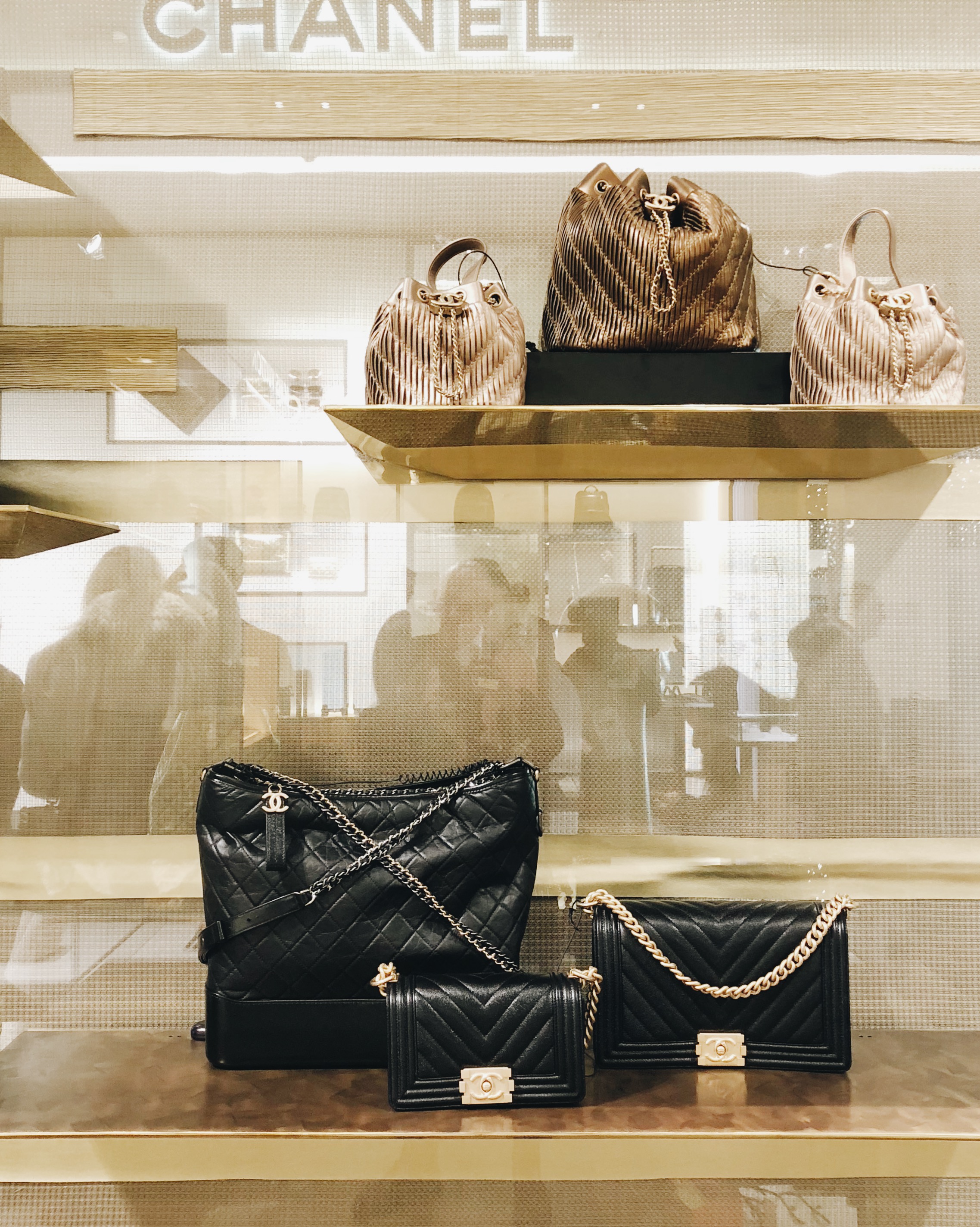 Harrod's is synonymous with luxury, excellence and service. I think there is nothing you can't buy at Harrod's, and I'll never forget how my Mom always tells me she always loved to go to Harrod's on rainy days when she lived in London (London has lots of rainy days), just to browse the department store and incredible food hall. To me a visit in London is not complete without a little browse through Harrod's. Unfortunately, apparently everyone thinks so, which is why it was beyond packed when we went there. We didn't make it any further than the Ground Floor, but it was worth it.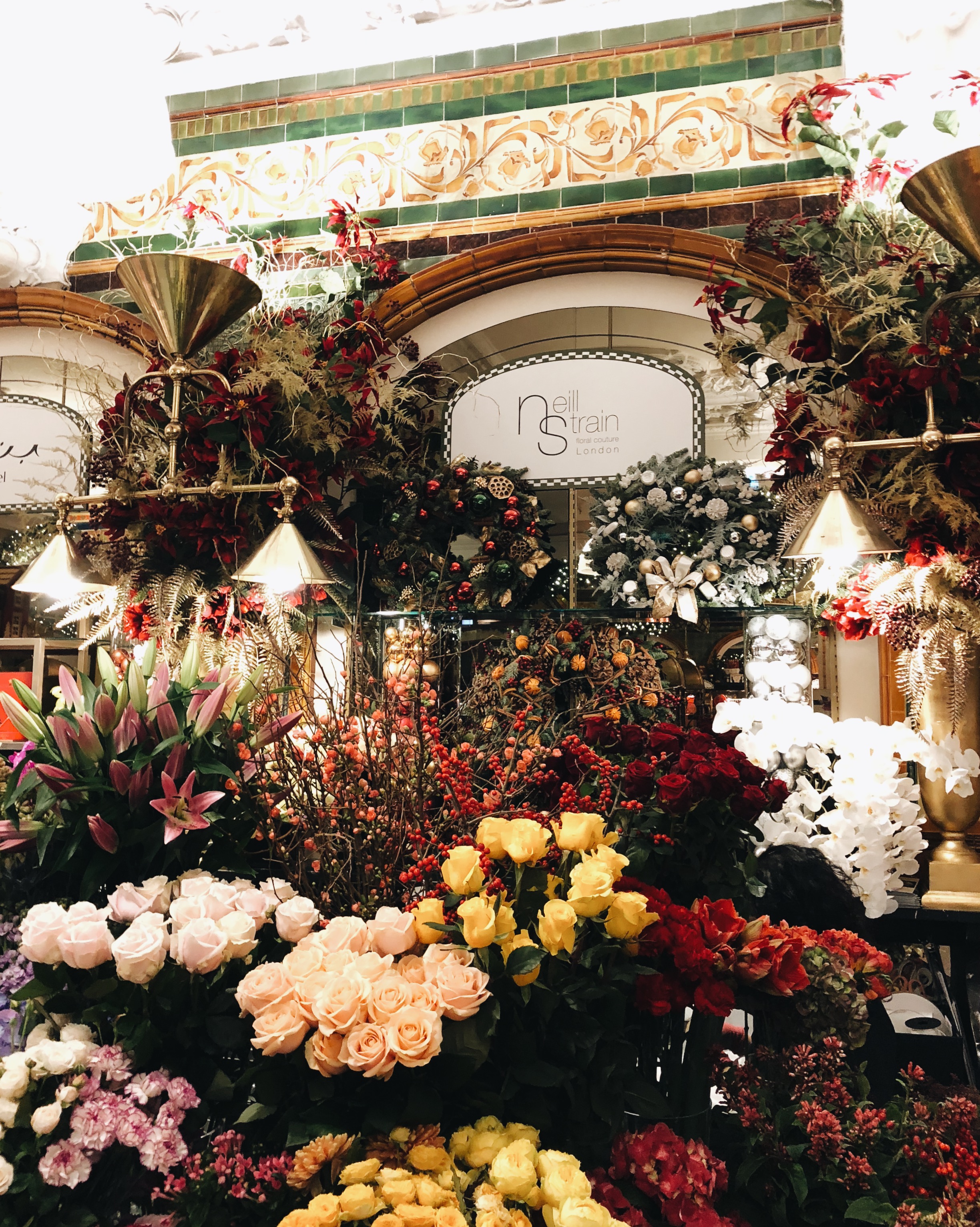 Visit Oxford Street, Regent Street and Carnaby Street:
If you're in London during Christmas time, you cannot NOT visit Oxford Street, Regent Street and Carnaby Street. Those streets seriously know how to do Christmas lights. The giant angles and ornaments I was talking about before? You'll find them right here. Side note: Make sure you go there when it's already dark to get the full view of the beautiful Christmas lights.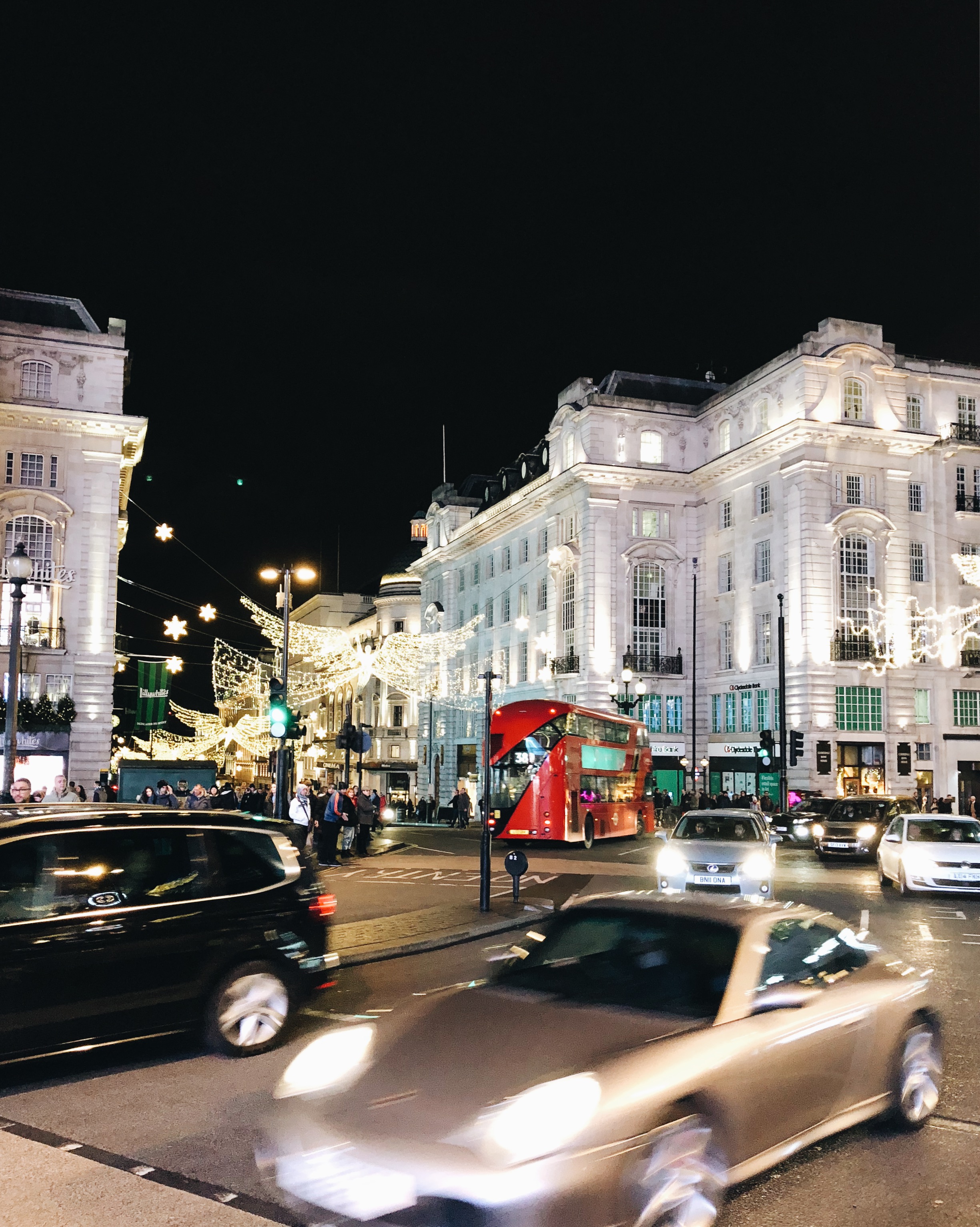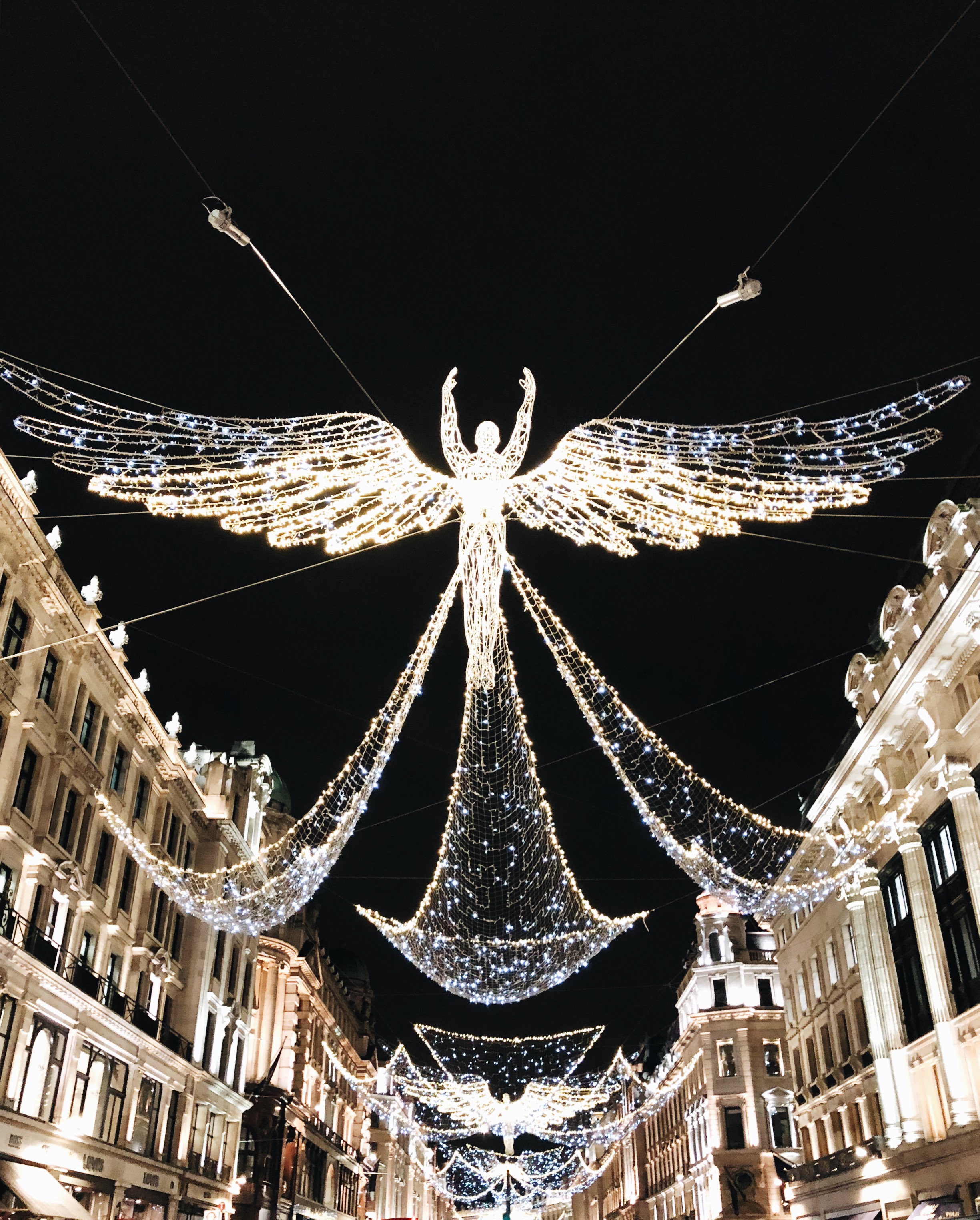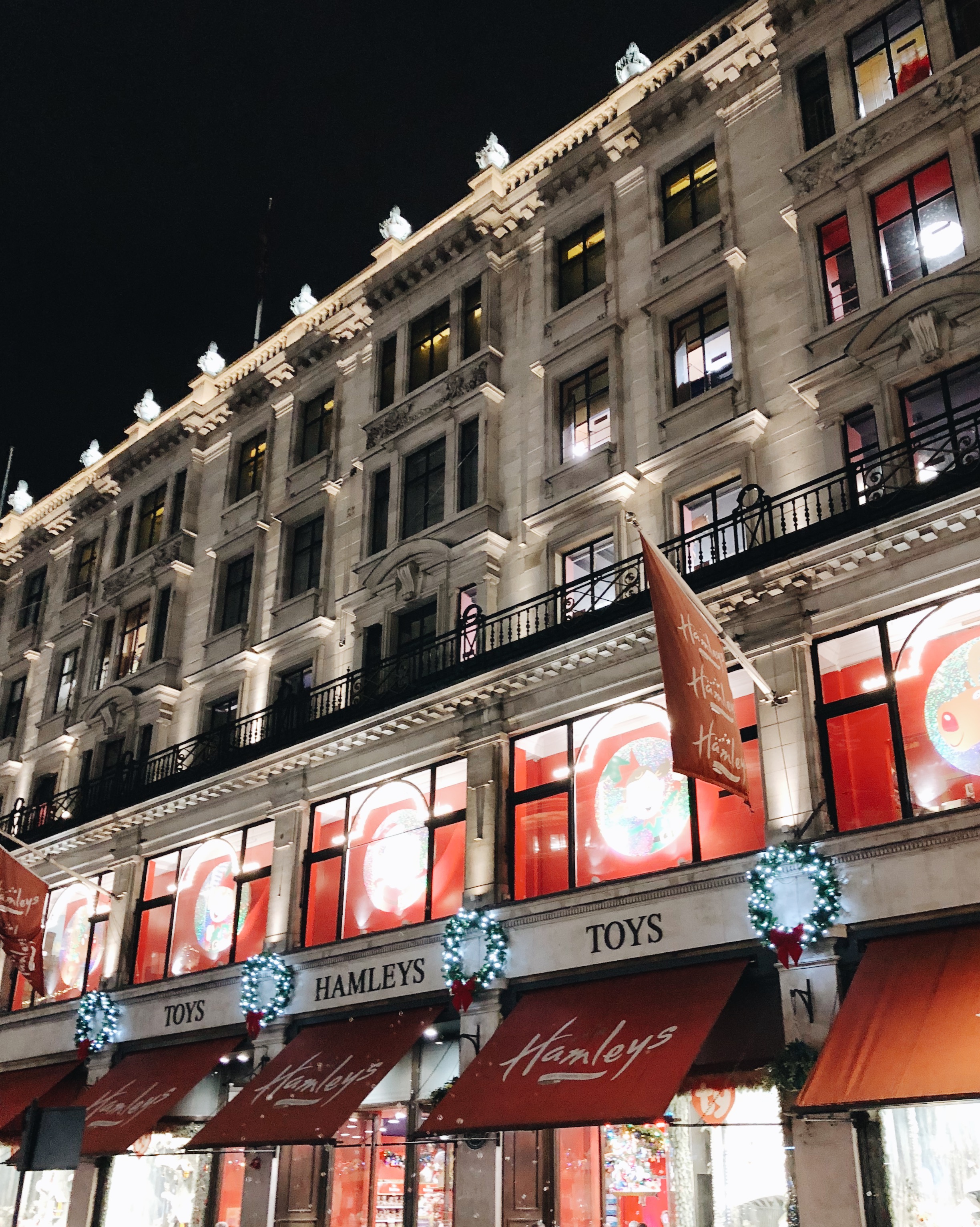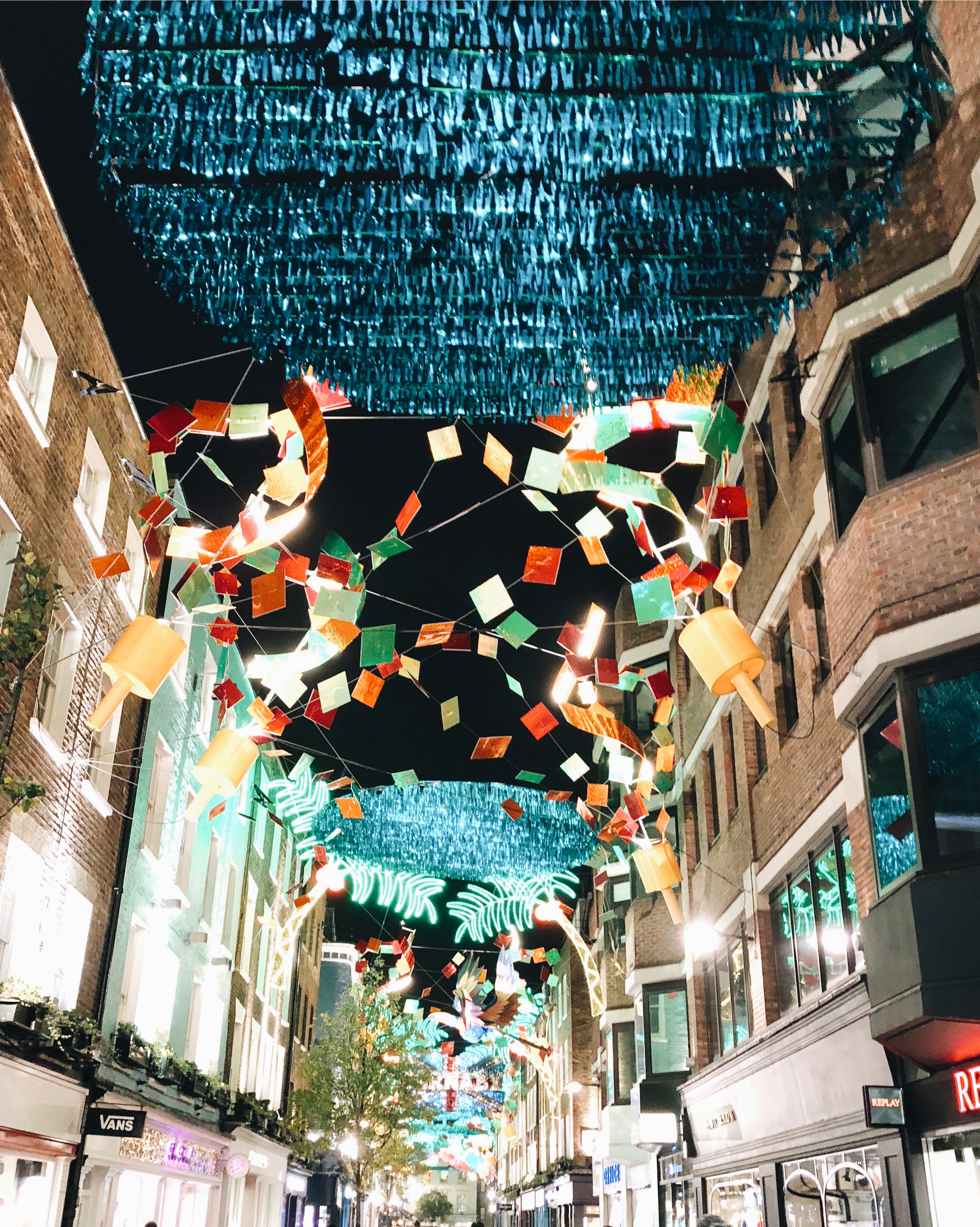 Enjoy some Afternoon Tea at Papillon:
Afternoon Tea is a very common ritual in the UK, which basically consists of tea and various snacks in the afternoon – as the name implies. But all of this usually in a very posh setting. As we weren't really hungry, we only opted for some tea without snacks at Papillon, although the little sandwiches and crêpes served next to us looked very tempting. If you want to experience a traditional Afternoon Tea ceremony, I found an article by the Telegraph, which rates the 10 best places for Afternoon Tea. I would have loved to try out some of the places recommended, but we didn't have enough time unfortunately. It's on my list for next time.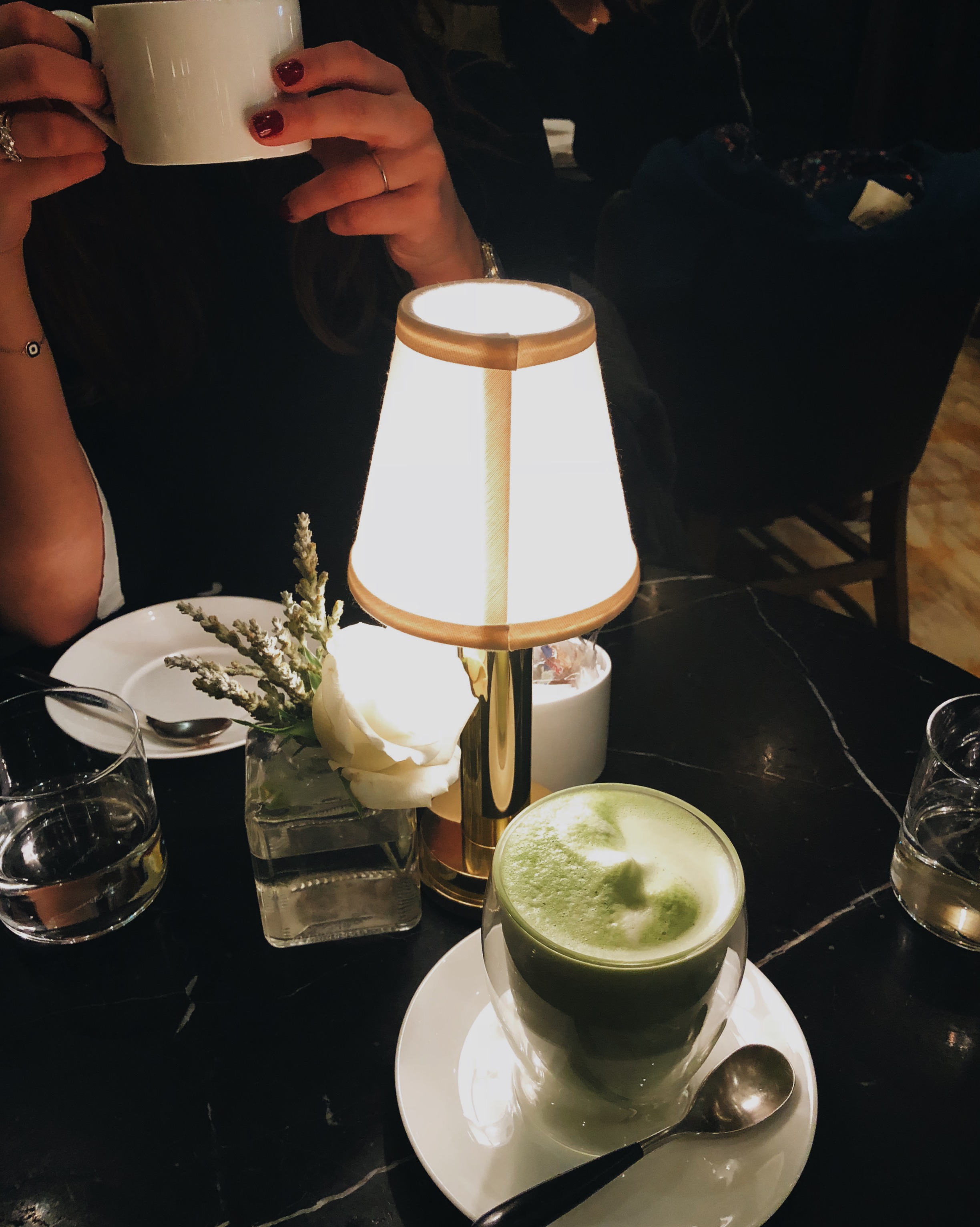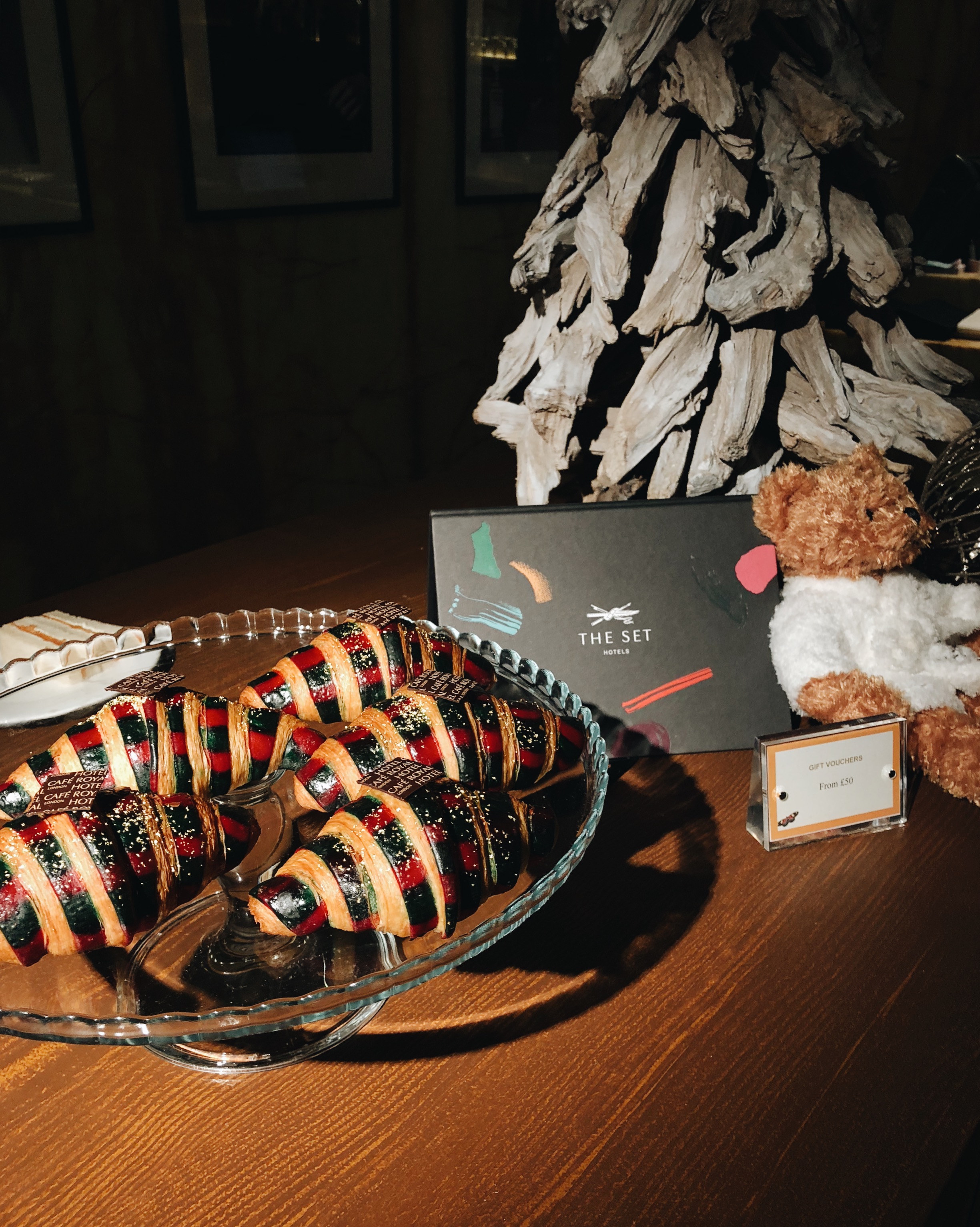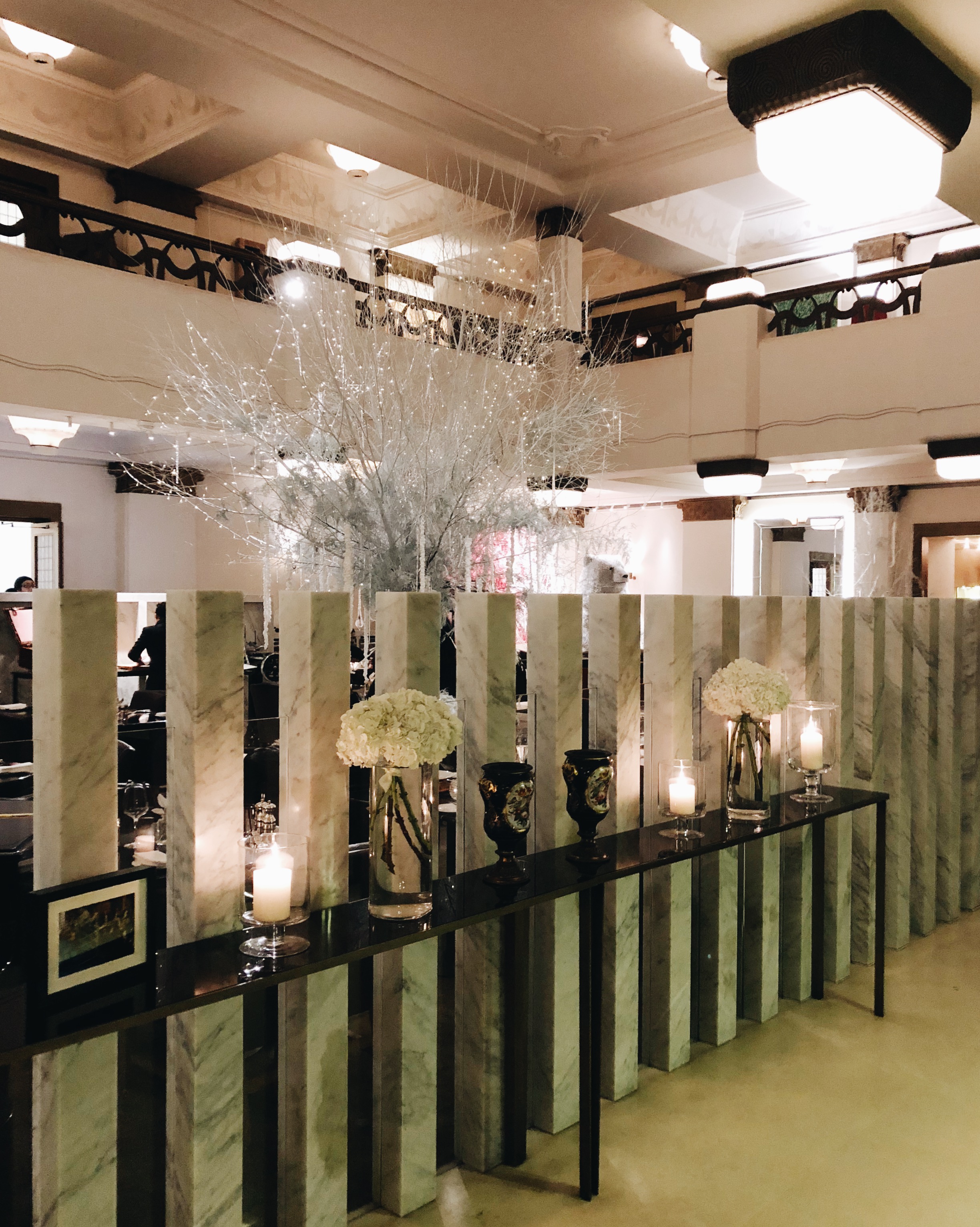 Have a drink at the Botanist and feel like a local:
A lovely glass of rosé after a day of strolling through the city, sitting at the bar and watching the bustling Londoners getting together. It's blissful.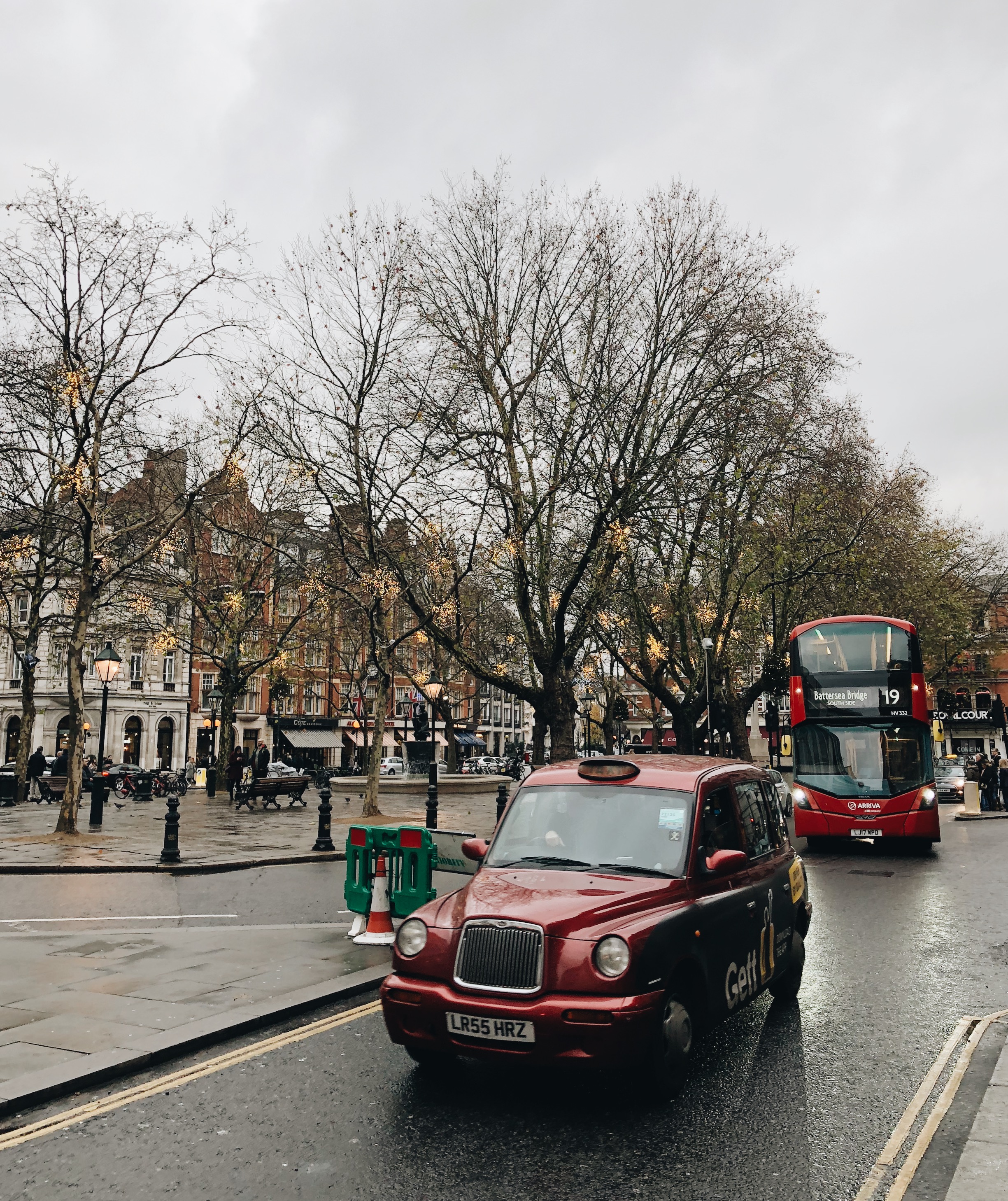 Reserve a table at Park Chinois for dinner:
And enjoy the most amazing dinner + show! Behind the intriguing red doors is the expansive world of Park Chinois. An entertainment restaurant that pays homage to the opulence and decadence of 1930s Shanghai, with exquisite regional Chinese food and a contemporary in-house theatre company hosting nights of exceptional live entertainment and mischievous fun, all within the heart of London's Mayfair. Side note: I can highly recommend the dumplings with a side of Sancerre Rosé.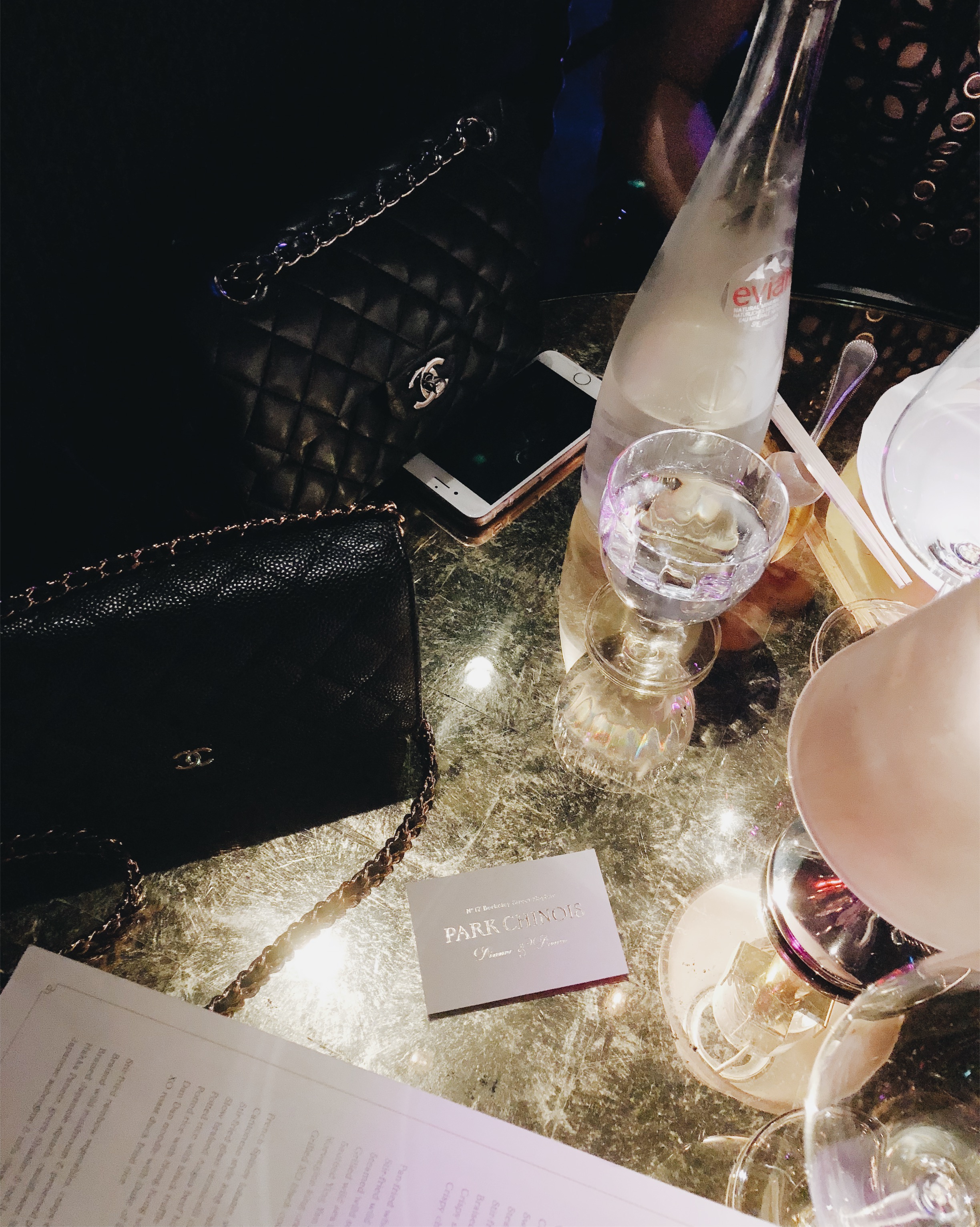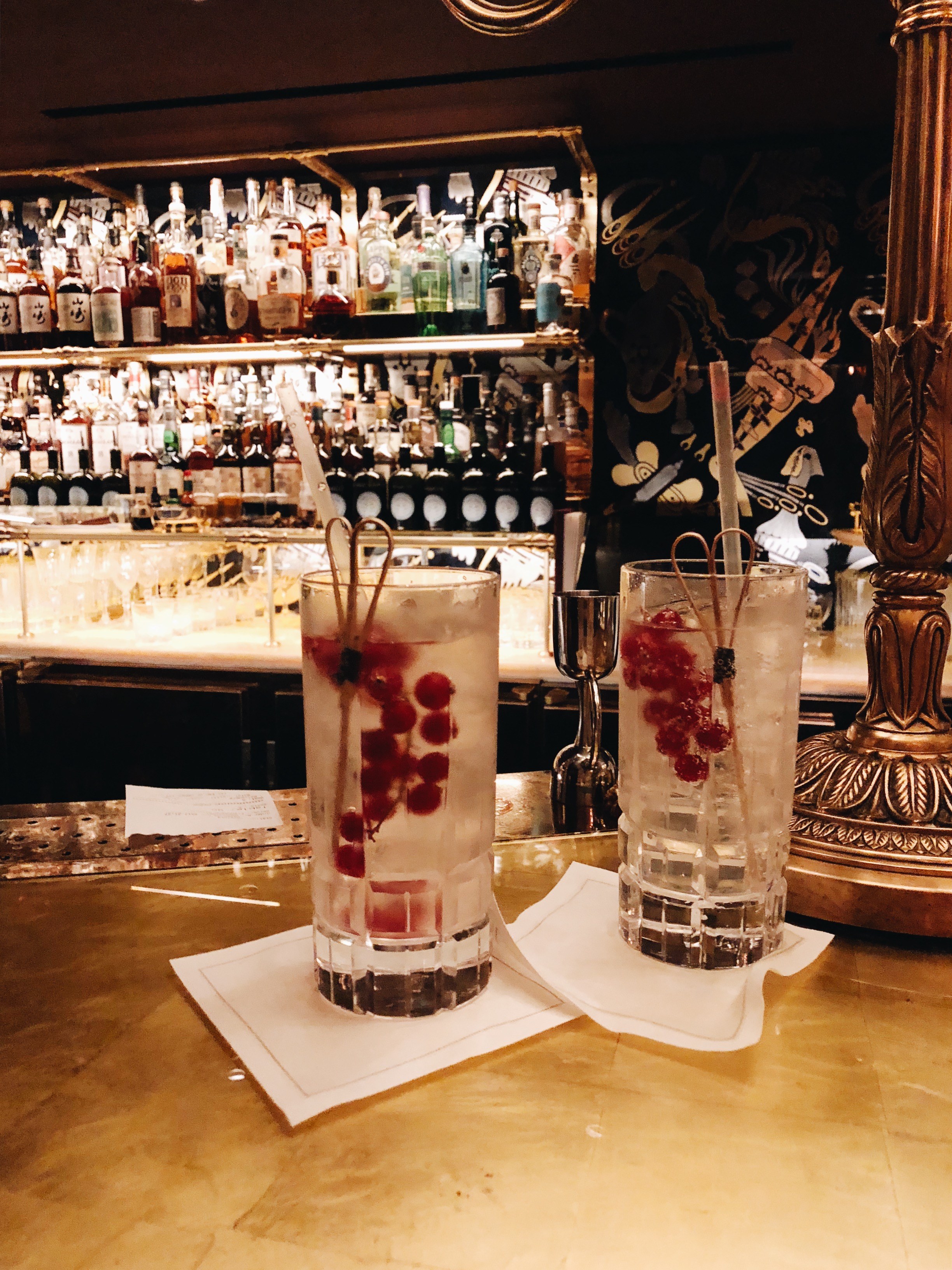 If you have another night, go to The Blue Bird for dinner:
When we first walked by The Blue Bird restaurant, I immediately stopped to look at the giant Nutcrackers standing in front of the restaurant. We decided to go there for dinner on my last night in London, and it was the perfect choice. The restaurant was very beautifully decorated and the food was amazing – a perfect Sunday night treat. There was not much going on that night, but apparently this place (which also serves lunch, and has a super beautiful bar) turns into a hotspot for afterwork drinks, too.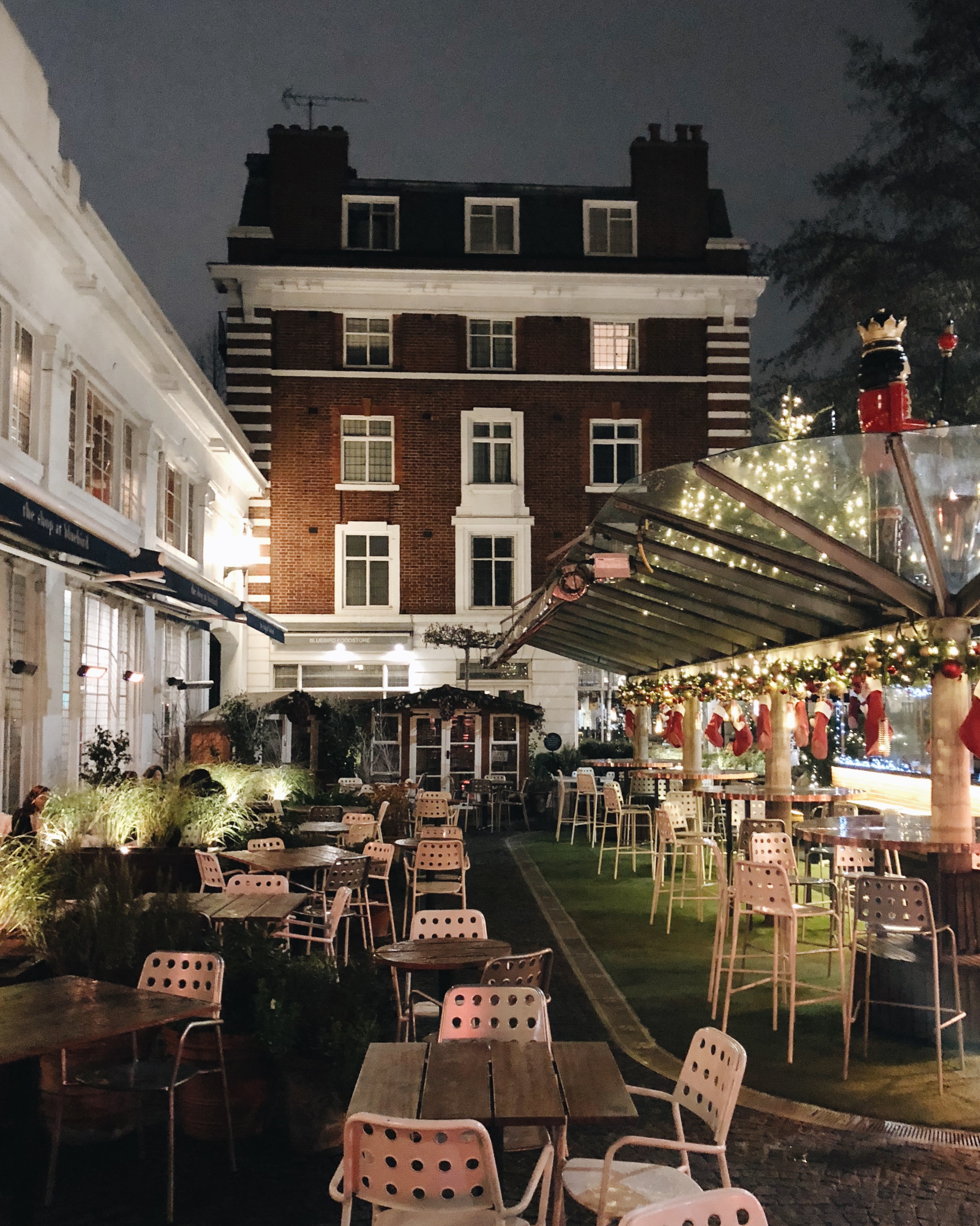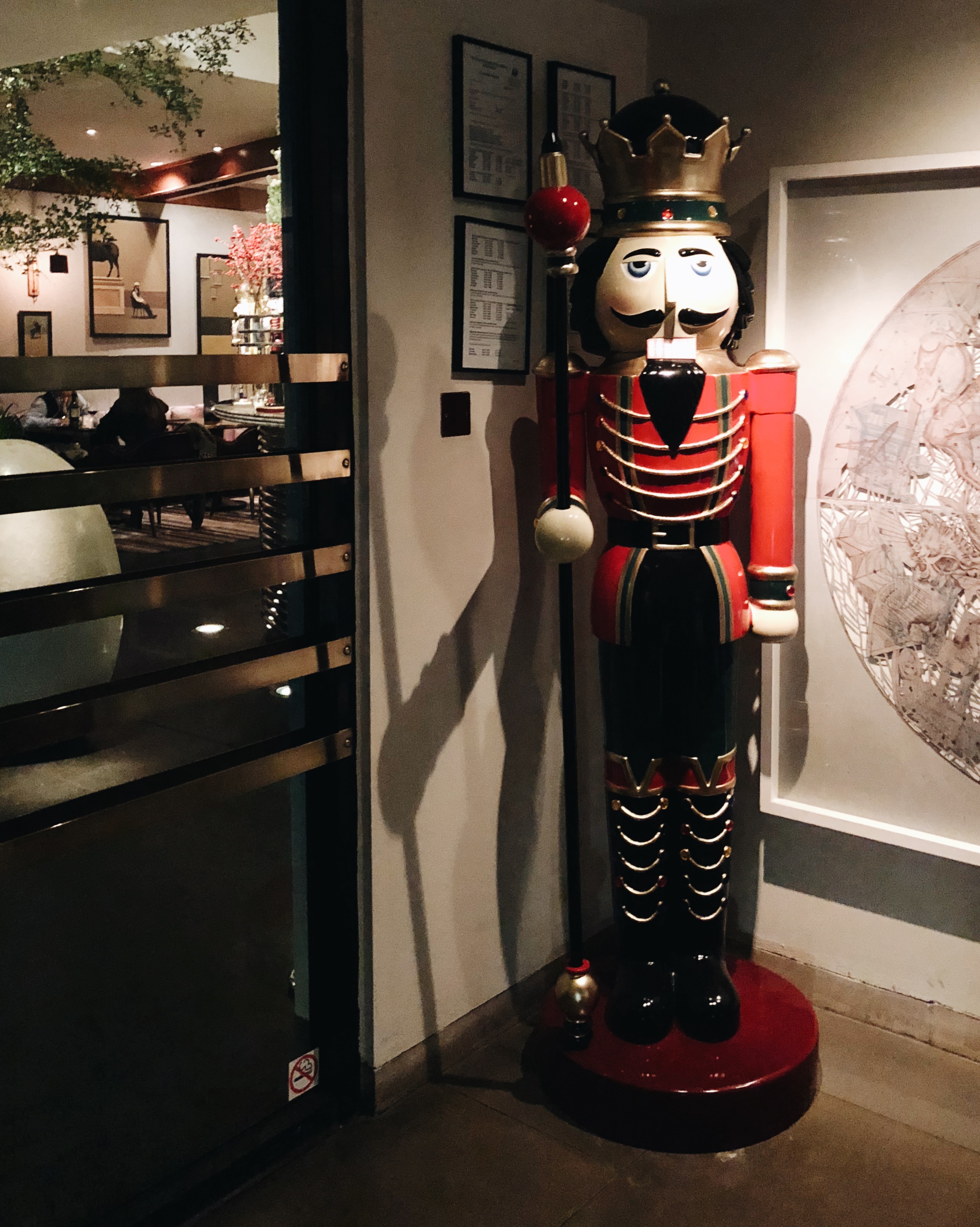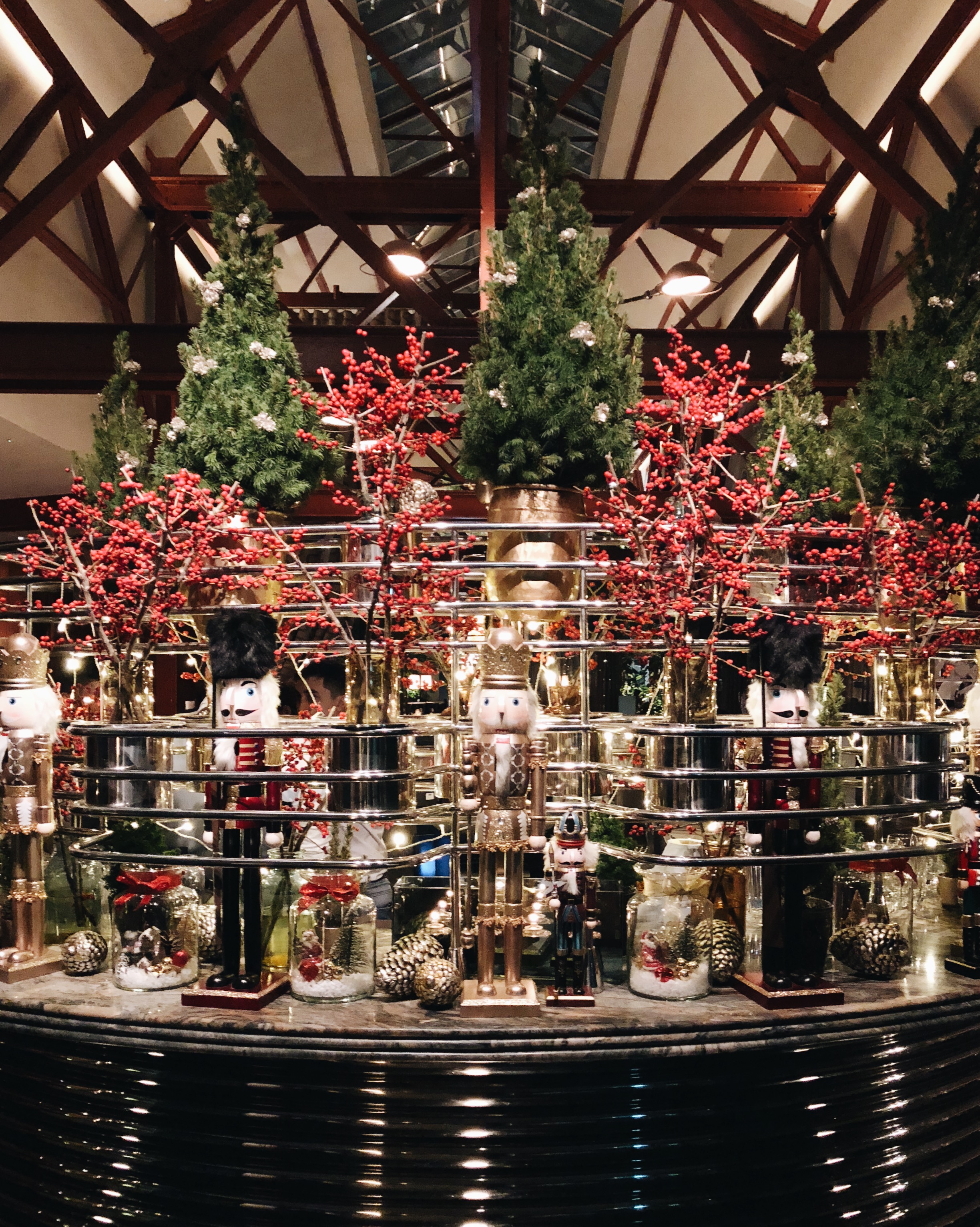 As a matter of fact, I really think everyone should have been to London in December once in their lifetime when all the Christmas magic is going on. If you ever get the chance, book that ticket and take that flight. It will be worth it! Promised.
---
*special thanks to my babe Bernie for organizing the best  Christmas weekend in London for me. love you lots. x