Travel Diary: Singapore
After coming back to Austria from our 3,5 week journey to Asia and Australia, going through thousands of impressions and pictures I am happy to start you off with the first of four travel diaries. Our trip went like this: Singapore – Melbourne – Cairns (Great Barrier Reef) – Sydney.
Starting off the whole trip with 4 days in Singpore was a total blast. This city is truly unique. If I had to describe it with only a few words, this would be the list:
All about food, clean and green, luxurious. But before we get back to the start, here is a short video as an intro.
GETTING TO SINGAPORE
We traveled from the Munich Airport with Emirates in the new A380 to Dubai. It was my first time on this fantastic airplane and it was quite the revelation. Traveling on the A380 is amazing. Wide seats, great entertainment and even good food. And we were lucky because we had 3 seats for ourselves. I already explained our travel hack on Instagram, but here it is again: Always book the window and the aisle seat and leave out the middle one. If the plane is not full, chances are high that the seat in the middle will remain free and you have more comfort stretching out. And in case it is fully booked, just kindly ask the person who is booked for the middle seat,  if they would want to sit either on the window or aisle seat. Usually no one refuses that offer.
The first stopover was in Dubai for roughly 3 hours and then continuing on to Singapore over night, landing at Changi Airport at 15:00 in the afternoon.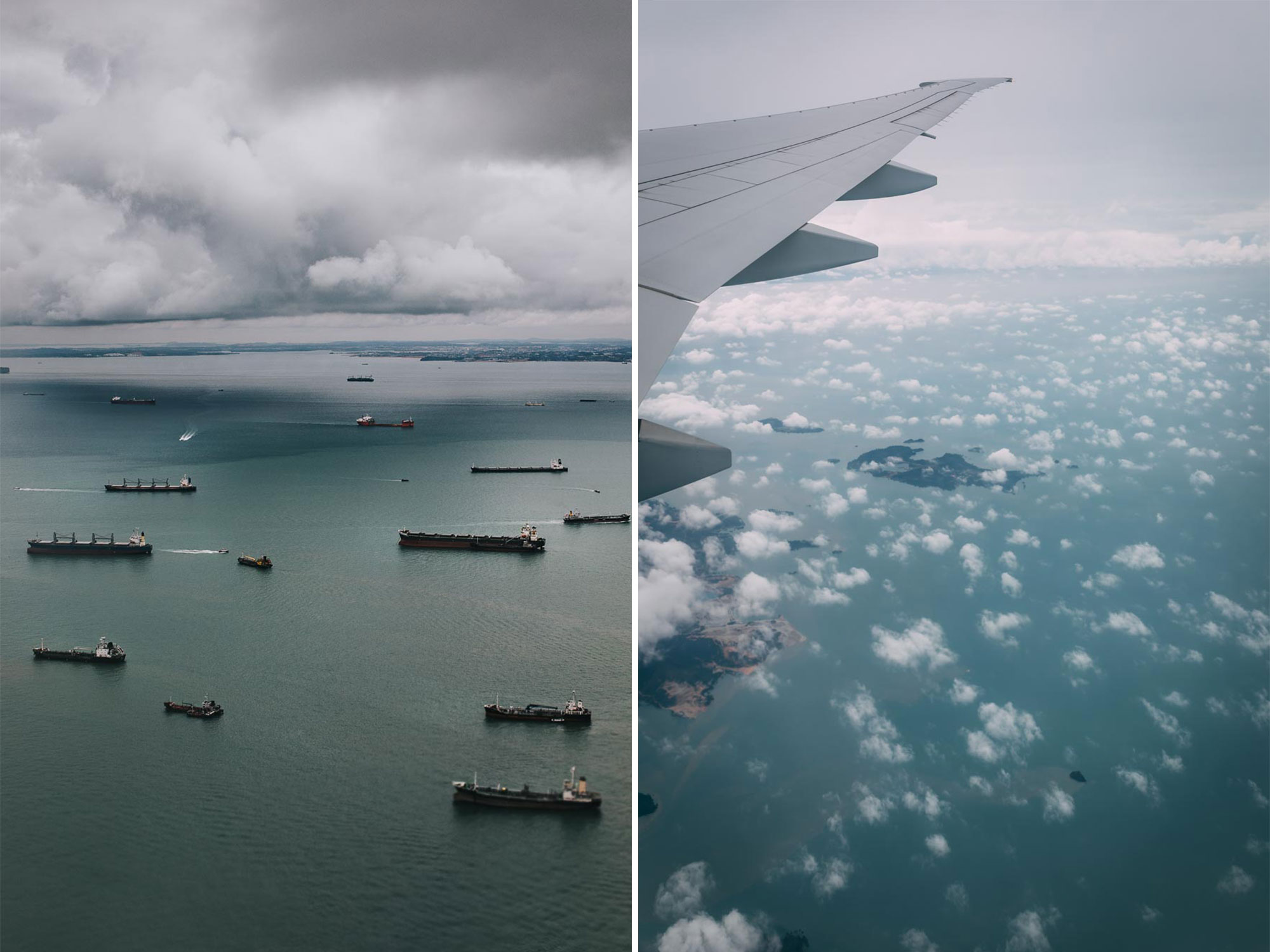 ARRIVAL
Patrick's cousin lives in Singapore with his wife and their two kids (quite the exciting life story, but that would be a bit too much for this post) so we had the chance to stay with them and getting the full behind-the-scenes local insights. We were thrilled to see some stuff you wouldn't see as a normal tourist.
THE CITY
Singapore has 5.6 million inhabitants from many different cultures. There are 4 main languages spoken: English, Tamil, Mandarin and Malay. The mix of cultures and heritages make Singapore a true melting pot in the middle of Asia. And that is what I loved most about it! It is super structured, very clean (the urban myth about the chewing gum rule is not quite accurate but close enough) and chilled. Singapore is also called the garden city, and once you've been there and you've seen how many parks, trees and flowers there are, you totally get why. Patrick's cousin told us that Singapore actually attempts to be a garden with a city, and not a city with a garden. Which means, the government is constantly working on making the city even greener.
Furthermore, the whole city is just about food – and truly some of the best food I have ever had. Everyone knows Singapore because of the MBS (Marina Bay Sands Hotel) and the famous Singapore Sling cocktail,  but there is so much more to this city. If you ever have the possibility to stop over there, make sure it is at least for two full days.
WEATHER
As Patrick's cousin told us, the temperature is at around 28°C all year round and during the month of January to March, there is Monsoon season. And it's humid AF. But ice cold everywhere inside – stores and malls cool down the temperature to 18 degrees, so make sure you always have a jacket with you.
GETTING AROUND
When arriving, a taxi ride brings you to the city center for about 25 Sing dollars.
Singapore has a fantastic metro called MRT. You can get a prepaid cards and travel for just a few cents from the one side of the town to the other – and it's super fast. If you don't want to take the metro, taxis are a good and not too expensive alternative. On city trips we usually always make sure to walk most of the time, because it gives you the opportunity to discover everything in the best way. In Singapore we found it surprisingly easy to walk the areas without being too exhausted – but make sure you always have a bottle of water (or coconut water!) with you – you'll need it.
STUFF TO SEE
It is really easy to have a great time in Singapore, and there are so many different streets and corners to be discovered. Here are some of our picks of what we did and can recommend:
MARINA BAY SANDS (or MBS as the locals call it) & GARDENS BY THE BAY
The 8.200.000.000 $ MBS complex (yes, 8 Billion dollars) is one-of-a-kind. I think almost everyone knows MBS because of its amazing pool on the top of the hotel. And you should definitely go there and take at least 1 day to see everything. Starting off, if you want to get into the pool, you have to be a hotel guest. We initially wanted to stay there for at least one night to get the pool experience, but then decided not to do it as one room was about 600$ for a night when we checked (but it's still on my bucket list). However, there is an amazing platform exactly on top of MBS that gives you a great overview of the Bay Area, and the view is just the same as from the pool. But MBS is so much more than that, the hotel is just a small part of it. The complex hosts 10 restaurants, a casino, an event space and probably one of the prettiest and most expensive shopping malls I have ever been too – just one word: WOW.
Attached to MBS is Gardens by the Bay, a well trimmed area of (well of course) gardens and exhibitions you can walk through. There's even an artificial waterfall – I think you get the idea of how impressive this area is.
ORCHARD ROAD
Probably the most beautiful road in Singapore – if it had a sister, then it would be New York's 5th avenue. You can find one fancy store after the other, and there's a gorgeous mall as well – the ION Mall. I couldn't believe my eyes when we went in there – it's out of this world.
CHIJMES
A conglomerate of amazing restaurants around a church. Something like Covent Garden in London – such great food, again!
AMOY STREES & ANN SIANG HILL
There is a lovely guide for this street by the online magazine Timeout. Be sure to check it out. Ann Siang Hill is a wonderful street with loads of bars that fill up at night.
CHINA TOWN
Apart from the very touristy shops that can be found in Chinatown, you can eat truly amazing Chinese food there. Just make sure you don't get something with Sichuan Pepper, it will make your tongue numb. And be aware of Durian – also called "King of fruits" but more precisely "stinky fruit". They are all around the markets and spread their odor everywhere – you will know it when you smell it.
STREET FOOD HAWKERS: TANJONG PAGAR & MAXWELL
That's where you can find true street food in Singapore. The little food stalls called hawker have a wonderful variety of all different culinary specialities from Asia. We went to Issan Thai Food, and I had a whole fresh green coconut and the most amazing mango I have ever eaten. Another thing to try is sugar cane juice: They take sugar cane and put it through a press, the sugar cane juice drips out and is served with ice. It tastes fantastic!
Further down the road in the direction of Maxwell hawker center, there is a gerat Tempura place called Kaisuke. And then there is Maxwell where everyone goes for Tian Tian Chicken Rice.

SINGAPORE ZOO & NIGHT SAFARI
If you want to see some great animals and spare some time, either go to the Zoo and/or the Night Safari. We loved it but you have to account around 4 hours to go there, see it and get back to the city center.
ROOF TOP BARS
Singapore is filled with great rooftop bars. We explored two:
1 Altitude – it is the highest building in Singapore and you have a great view down to MBS when the daily laser show starts at 21:00
Aura restaurant – located in the National Gallery of Singapore. This one was definitely our favorite (even if it is not that high up) as it is super relaxed and has a very calming atmosphere. There are also not as many tourists as at 1 Altitude, because it's a place locals would go to after work for a drink. All in all it's just a bit more classy and stylish than 1 Altitude. It also has a great restaurant attached, in case you didn't have enough food yet…
HOTELS TO SEE (AND STAY AT IF YOU LIKE)
Of course you have to check out the famous Raffles Hotel where the Singapore Sling was invented. You can walk through the hotel even if you're not a guest there, and you can go to the bar and try the infamous cocktail. The second hotels with a long history and tradition is the Fullerton Hotel on the opposite side of MBS. I love the architecture of both hotels – they have something so mysterious and classy, that just makes me want to sit there for hours and drink cocktails and watch people.
MORE FOOD
As mentioned, Singapore is all about amazing food, so you almost can't go wrong whereever you stop. Make sure you get in lots of Ramen, Chilli Crab and make sure to get some Din Tai Fung (even if it is a restaurant chain, we loved it). If you're into tea, you should also have a so called "High Tea" in one of the TWG Tea Houses in town. The drinking of tea not only became a social event for the upper classes, it altered the time and manner in which they took tea. High Tea became the bridge between meals because many wouldn't eat their evening meal until maybe 8pm. As such, High Tea became a 'mini meal' in itself. In Singapore it seems to be just an elegant excuse to enjoy a cup of tea and some pastries or savory snacks in a very elegant setting.
Summing it up, Singpore is one hell of a great city and well worth spending at least two nights when you are there for a stopover to Thailand or Australia. We would definitely go there again on our next stopover.
In case you have any specific questions about our trip or about Singapore in general, I'm happy to answer them all in the comment section. Feel free to ask! ♥
---