It's a Wrap:
Dyson Airwrap Beach Waves Tutorial
A hair styling tool that promises to replace your entire kit of hot tools with one device that uses jets of air to blow dry, curl/wave, and straighten all in one? I know, it sounds almost too good to be true. That's why I didn't believe it until I actually tried Airwrap myself.
Ever since I got the Dyson Supersonic for my birthday, I stepped up my hair game drastically. My hair has never looked any healthier. It also has never looked that voluminous and bouncy ever. So of course I was very intrigued when I heard the Dyson family has another wonder tool when it comes to hairstyling…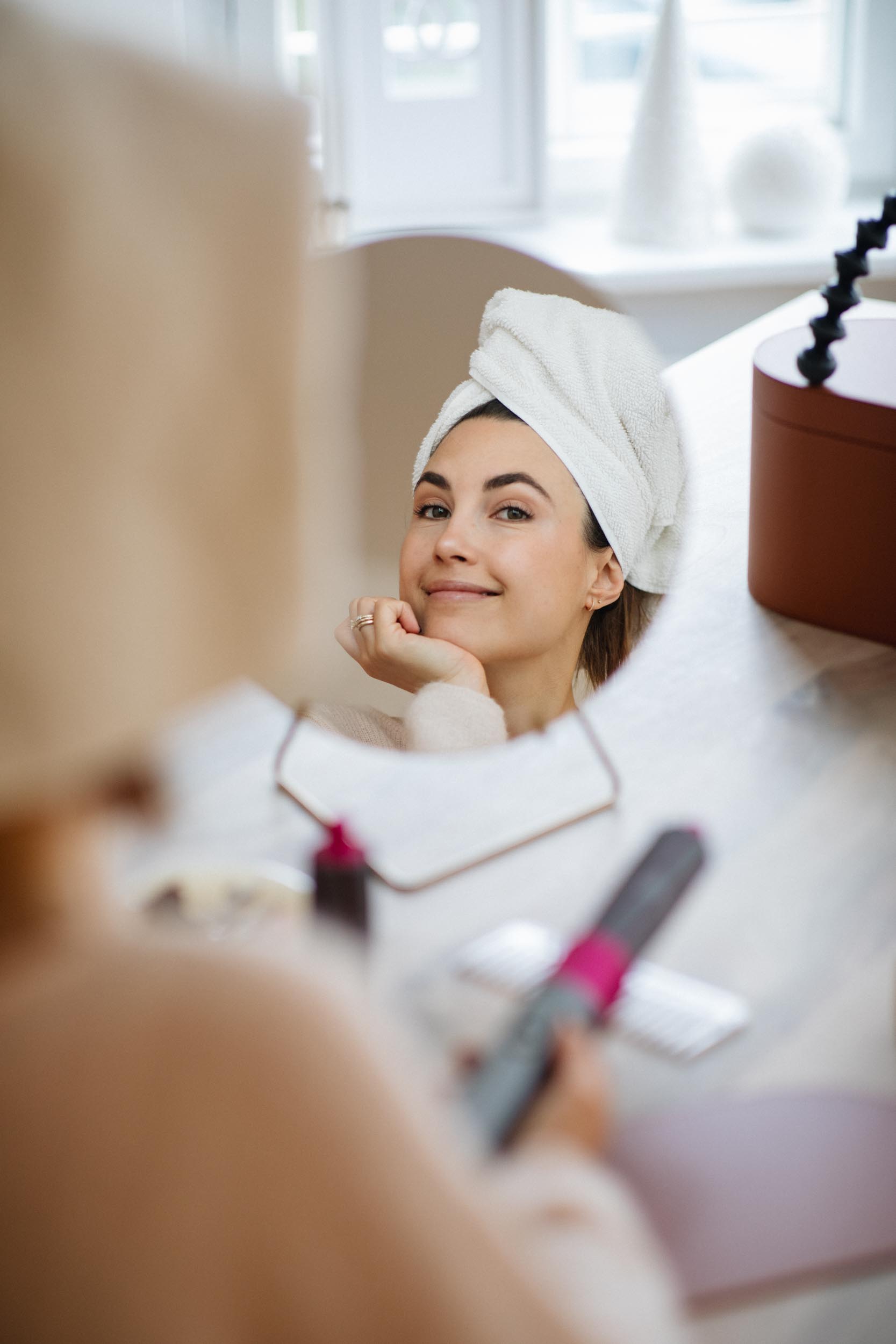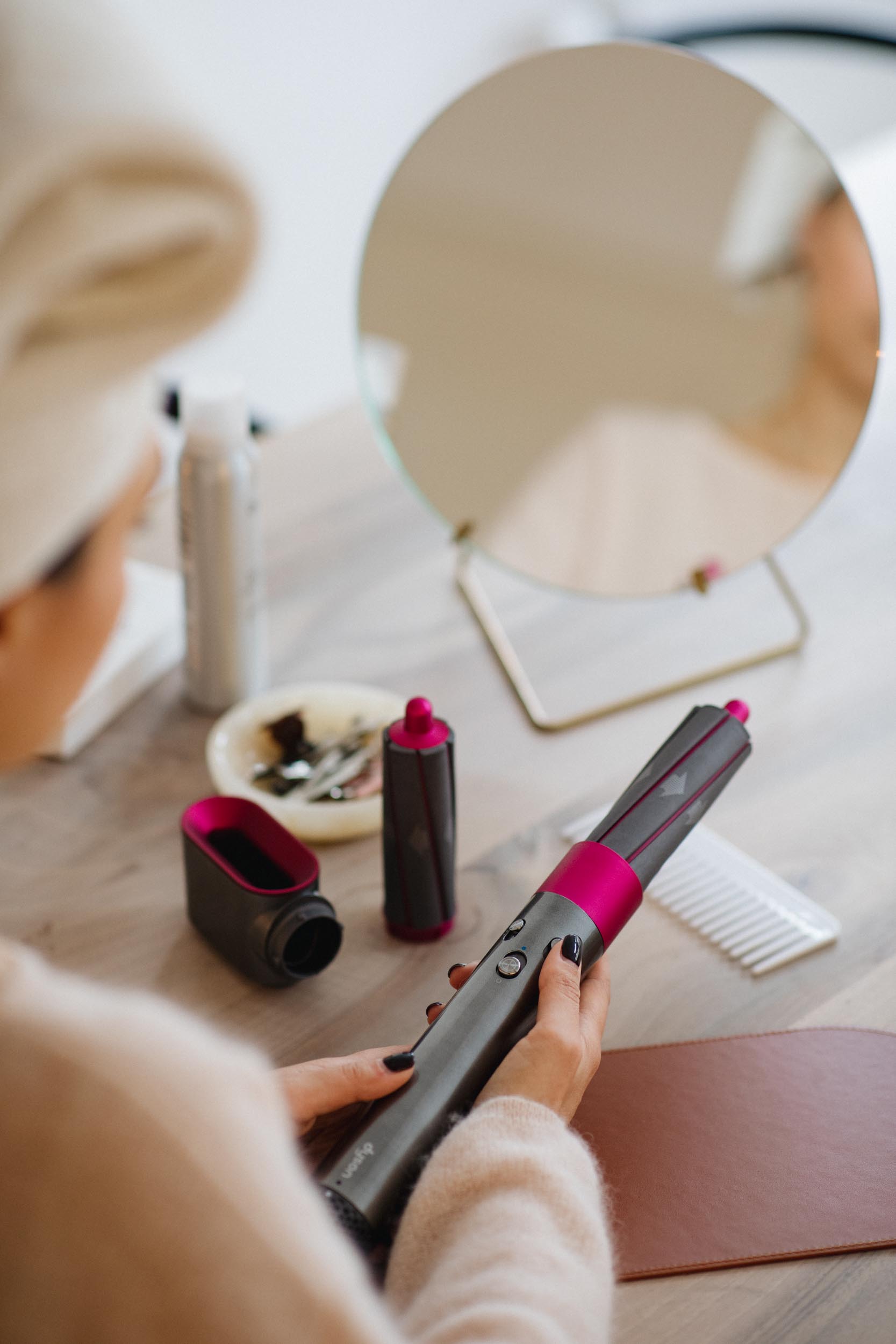 Why is the Dyson Airwrap so special?
It styles hair when it's still wet! This is the biggest advantage for me. I am usually too lazy to dry my hair completely and THEN use my curling iron to get that wavy look. It's just too much of a time-consuming process for me in the morning… The Airwrap, however, is meant to be used on damp hair and dries it at the same time as it sets a chosen style.
It's a lot less damaging than traditional hot tools. The Airwrap is equipped with two heat settings and one cooling setting. Some hot tools work with extreme heat to style your hair. However, extreme heat can not only fry the ends of your hair, but it can also change the dye finish of it (if you have colored hair). The Airwrap on the other hand doesn't rely on heat to primarily make the hair curl or straight, but rather on the strength of high-speed air flow. This means you can style your hair without having to worry as much about damage.
It's a 6-in-1. The Airwrap consists of a wand base and a selection of different head attachments, including a dryer (like a mini version of the Supersonic), two paddle brushes, one round brush, and two widths of curling barrels. That's six tools in one, so you could basically replace your entire hair kit.
I asked my community on Instagram which hairstyle they'd like me to do a tutorial for using the Airwrap, and the majority voted for "Beach Waves". This is definitely one of the hairstyles I love most and I was very curious if the Airwrap would be able to deliver what it promises.
I'm very happy with the outcome! But see for yourself…
Beach Waves Tutorial
Dyson Airwrap Pro Tips
Don't use the Airwrap on too-wet hair. If you've just washed your hair, you should towel-dry and then rough-dry your hair (with the drying attachment of the Airwrap) before using the tool for a desired hairstyle. Using it on too-wet hair means it will take longer for curls to set and your roots could still be a bit damp.
Don't use it on too-dry hair. When I waited too long and my hair air dried too much, I had to re-wet it to get the results I wanted. The tool relies on streams of air simultaneously drying your hair to set a style, not heat, so you can't use it on totally dry hair. If you already have dry hair and want to use it, however, spritzing water on it will work just fine.
Use smaller sections of hair. Whenever I tried to use any more than 2-3cm hair sections, the drying mechanism wouldn't work as evenly or it would be too much hair to wrap around the barrel at once. To avoid having to go over the same section again, just make sure you use smaller sections of hair.
Of course, buying a wonder tool that costs almost 500€ is something only you can determine whether it fits in your budget. Personally, I think the Dyson Airwrap is an amazing tool for everyone who styles their hair regularly, likes more than one hairstyle, wants to save time, and wants to protect their hair from damage. Apart from the fact that the Airwrap creates amazing hairstyles, it also makes the hair extremely shiny, smooth and voluminous. I seriously can't stop touching my hair after styling it with the Airwrap, that's how silky smooth it is!
Considering that the Airwrap covers six tools in one, it could very well be worth the investment, especially when you know a high-quality curling iron alone can go for 150€+, so price-wise, it evens out. And it would make a fabulous Christmas gift, wouldn't it?!