How To Wear: Polka Dots
How is it already Friday again? And how has there been no new blogpost since last Thursday?
The first question baffles me every week, for the latter I have an answer: I have been so (read: SOOO) tired this week, that barely managed to do the most necessary tasks on my to do list. I usually despise ending my work on Friday with a mile long to do list that has accumulated over the week, but today, I just can't do anything against it, except for hoping next week I'll be on top of it again.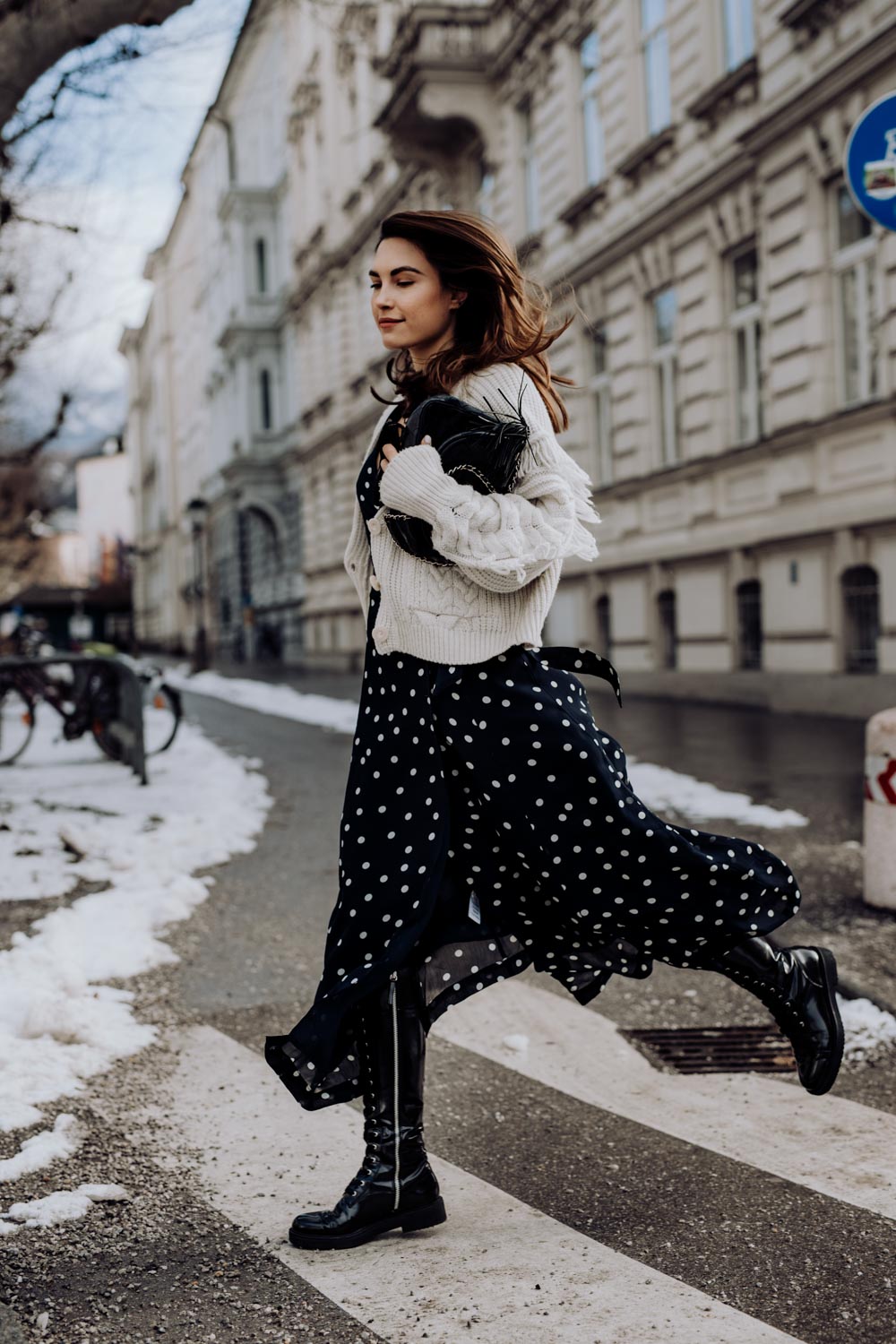 To Do List 1 : 0 Nina
Funny enough, I've had a doctor's appointment this week and had my body checked thoroughly for any missing nutrients and the like. Turned out, the energy and nutrient reserves of my body are alarmingly low, so I started taking supplements again and hope my body will find its balance again soon. Micronutrients and the important role they play for our well-being is a topic that has interested me very much lately, and I'll share more about it with you soon. Since I told you a little bit about my nutrition and difficulties I was facing over a year ago in this podcast episode, many of you have reached out to me and shared their personal stories with me. You seem to be very interested in this topic as well, hence I'll be happy to talk more about it soon!
On a fashion-related note:
This outfit has been majorly inspired by Midge Maisel. If you don't know who this is, you have obviously not watched The Marvelous Mrs. Maisel yet. If that's the case, I highly advise you to do so asap! It's one of the best shows I've seen in a long time and I just couldn't stop watching it. The series stars Rachel Brosnahan as the eponymous Miriam "Midge" Maisel, a housewife in 1958 New York City who discovers she has a knack for stand-up comedy – and I'm obsessed with her! She's witty, she's funny, and she totally influenced my craving for polka dots, daring red lipstick and wearing a matching hat with every outfit. If you have a thing for the fifties like I do, you'll be swooning over this show for sure.
Short story long: I stumbled over this gorgeous Ganni polka dot dress while looking for something completely different on The Outnet, and it immediately spoke to me. Two days later it arrived at my doorstep and of course I couldn't wait to wear it until Spring finally decides to show up. So I got out my cashmere tights, slipped on a silk top underneath and threw a warm cardigan on top, et voilà: The dress is winter temperatures approved!
Also, I finally gave baker boy hats another go, and – behold – they are growing on me! This beautiful dark blue version with dainty golden details is available via We Are Flowergirls, by the way. Just in case you're looking for one with that certain something (and a little sparkle).
Although my to do list is nagging me, I will call it a week now, pour myself another coffee to go and off I go to visit one of my best friends in Munich this afternoon, who has a special evening planned for me (which I'm totally excited about!).
I hope your to-do list is coming to an end this Friday afternoon and you get to go enjoy your weekend soon, too! Make it a good one!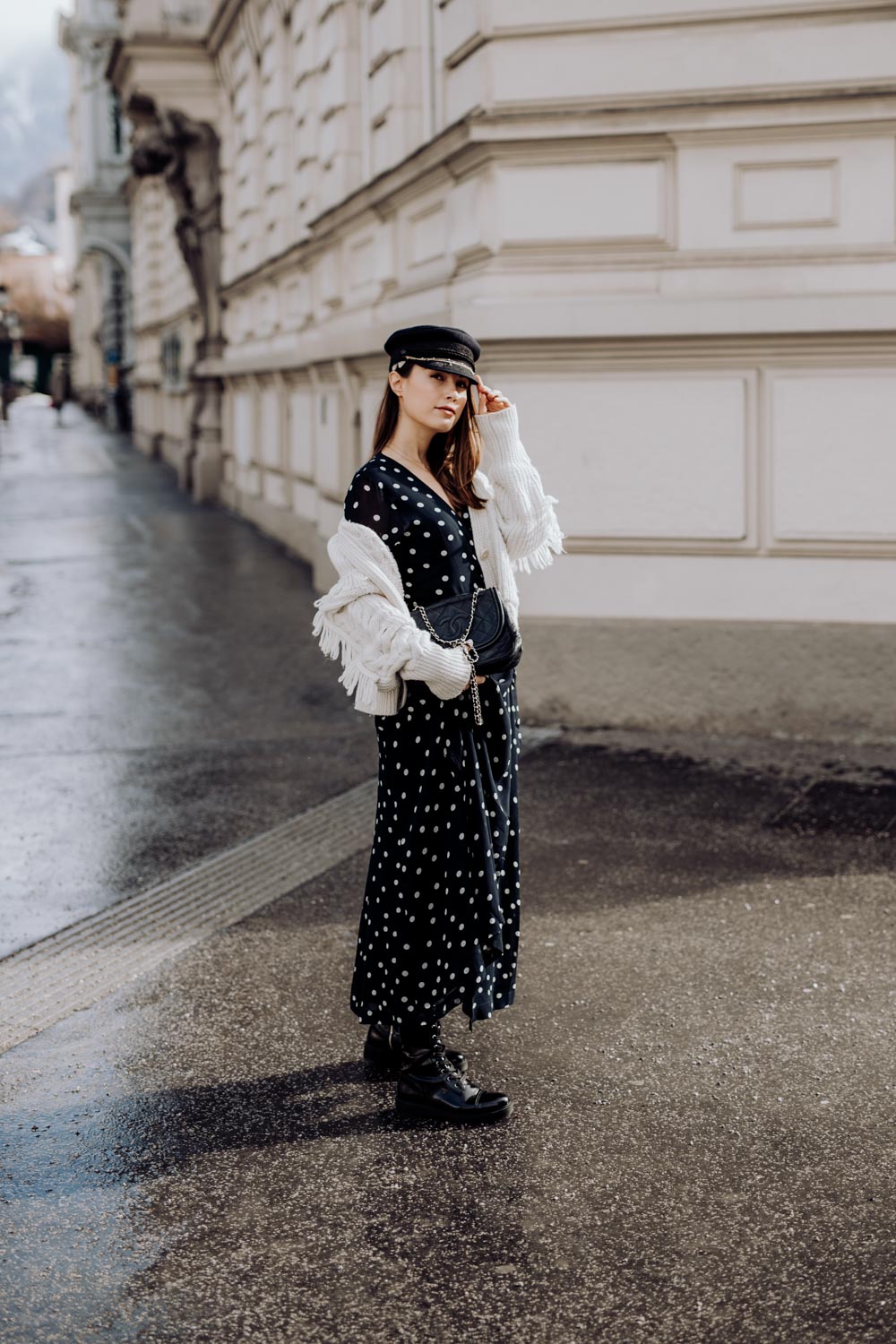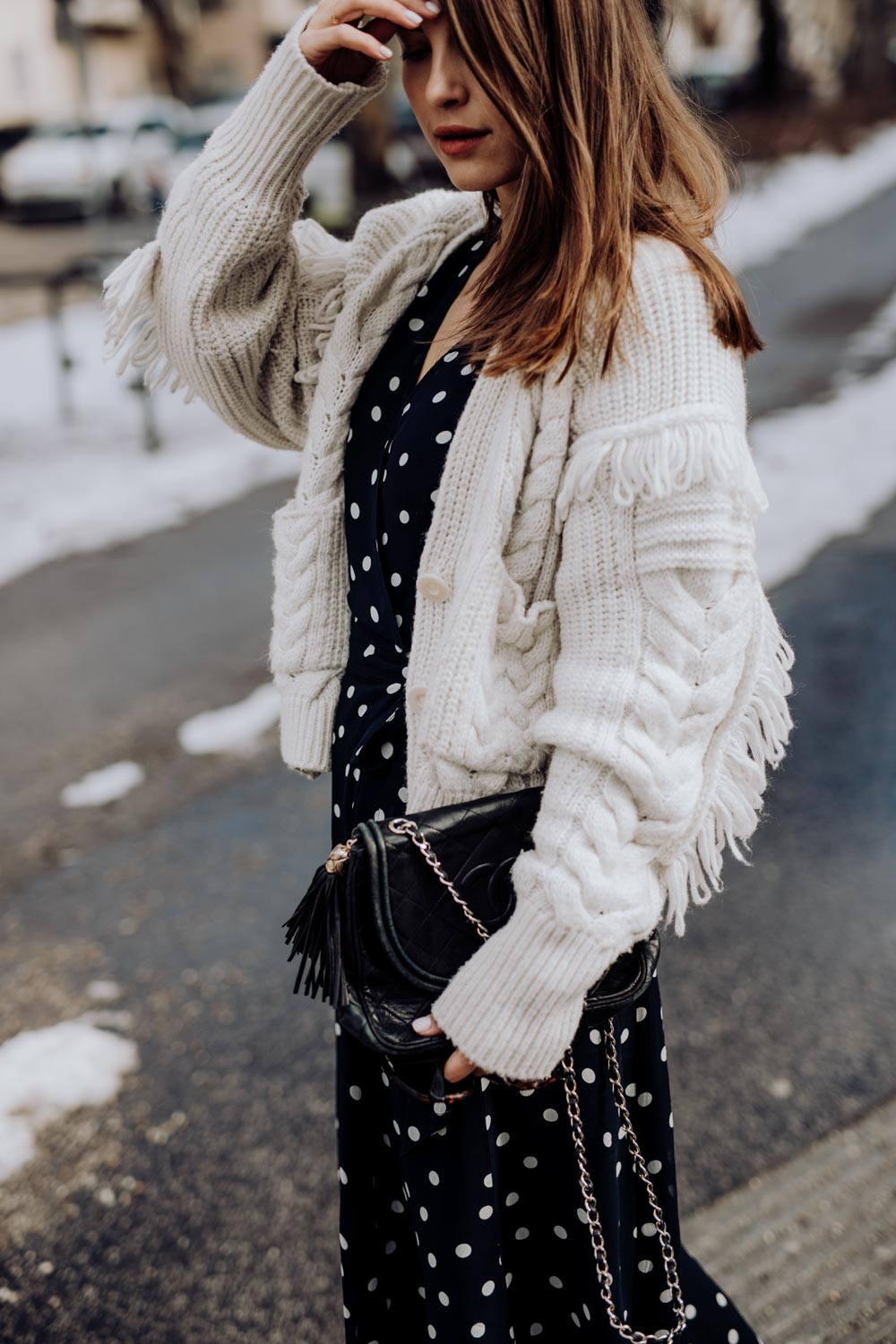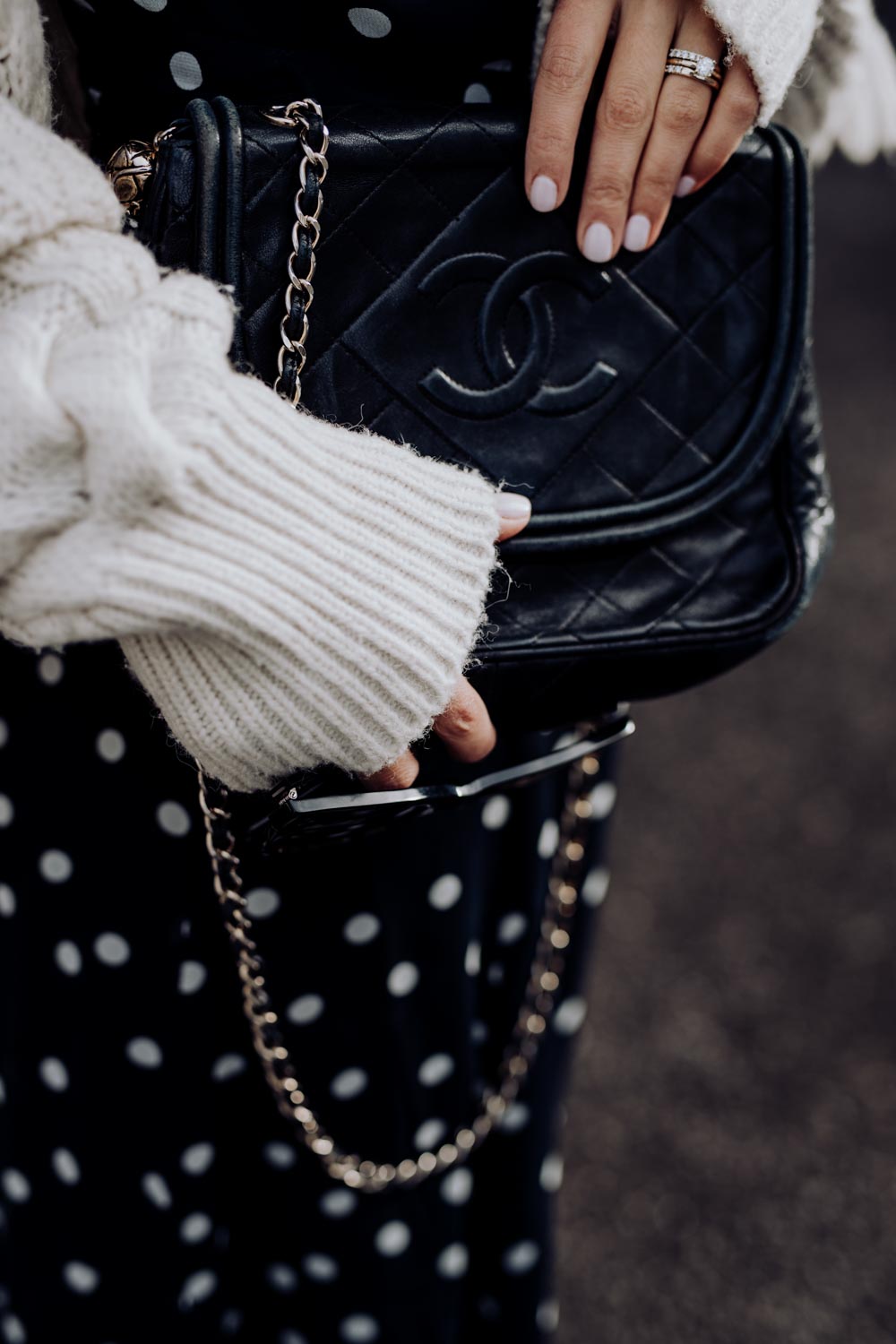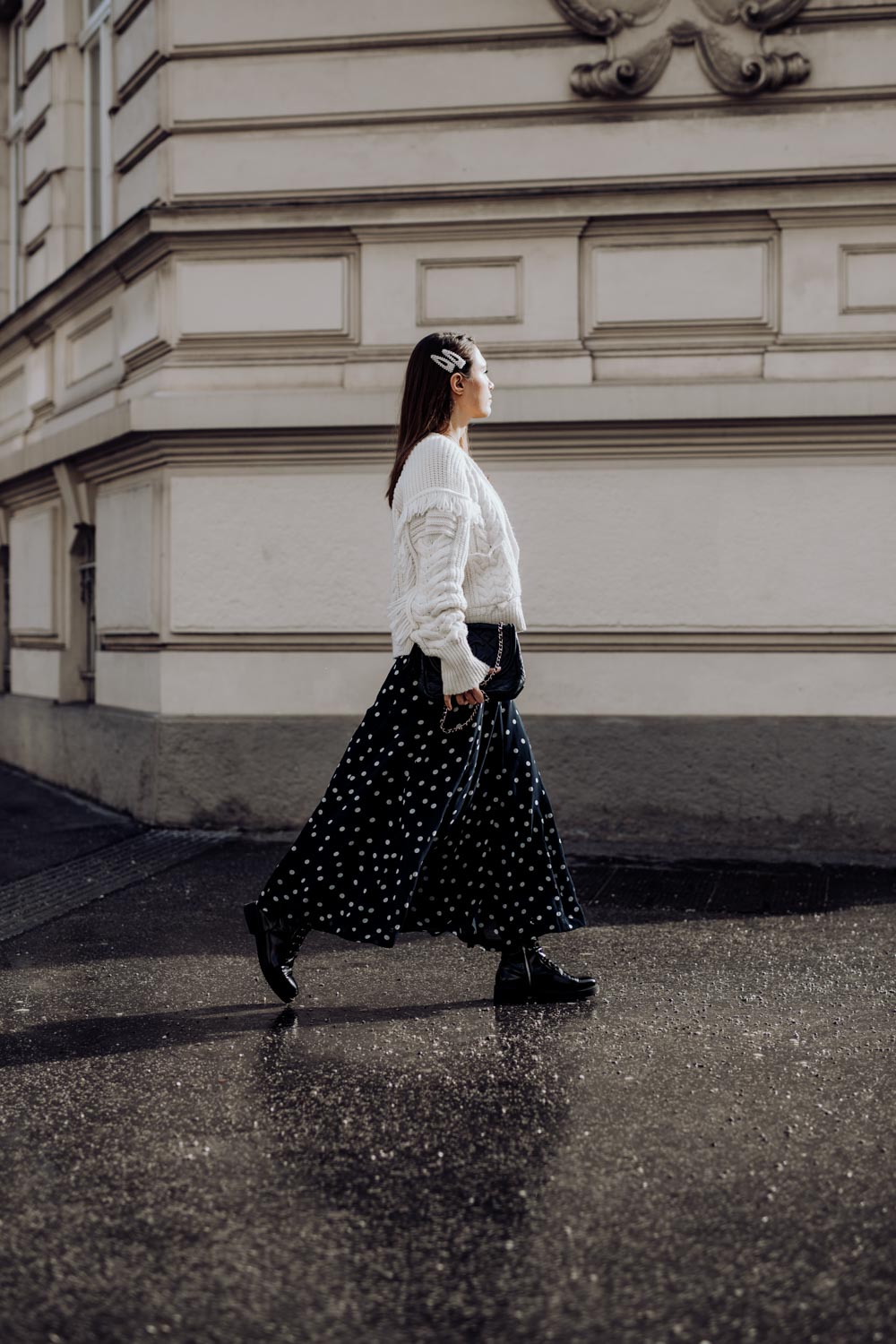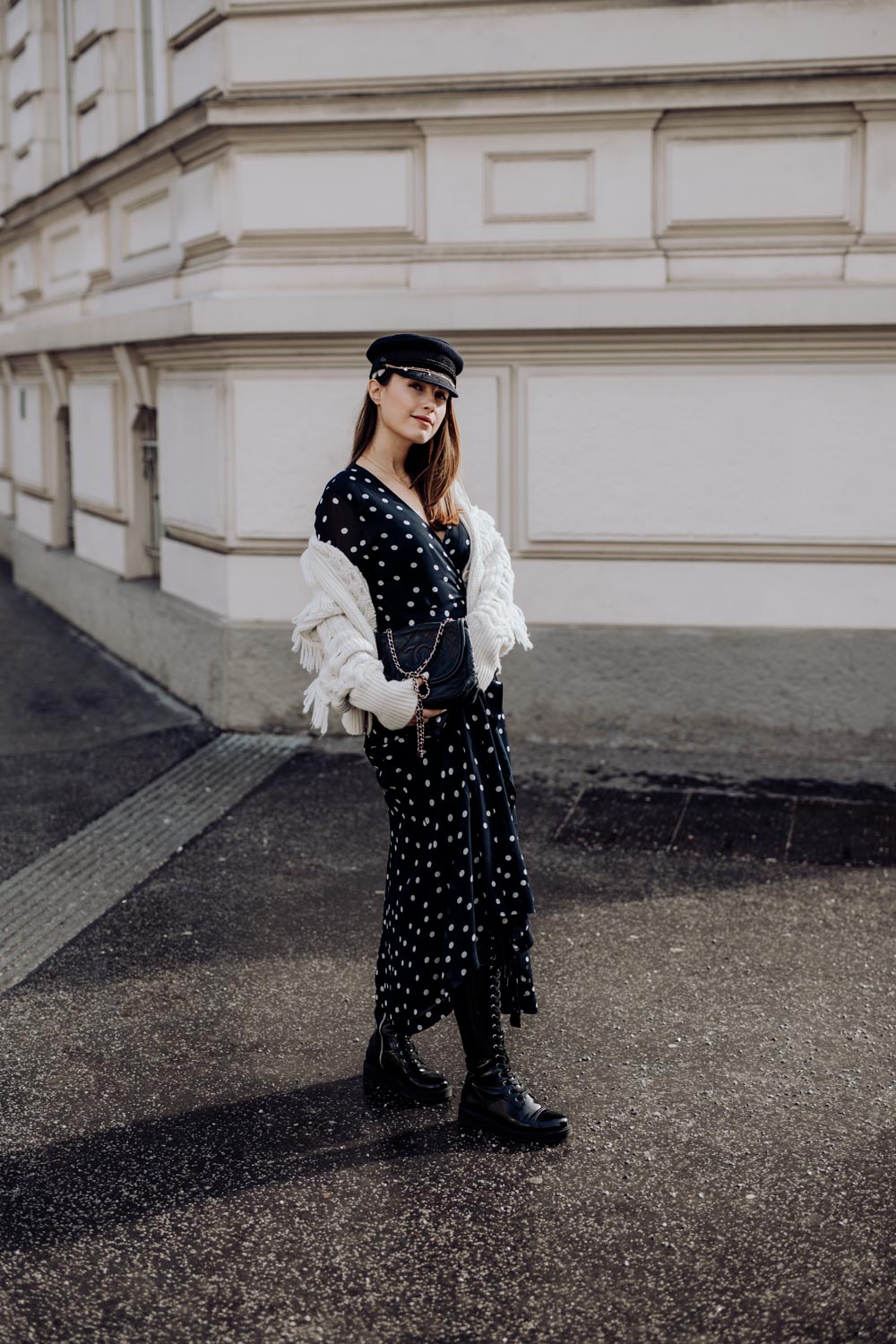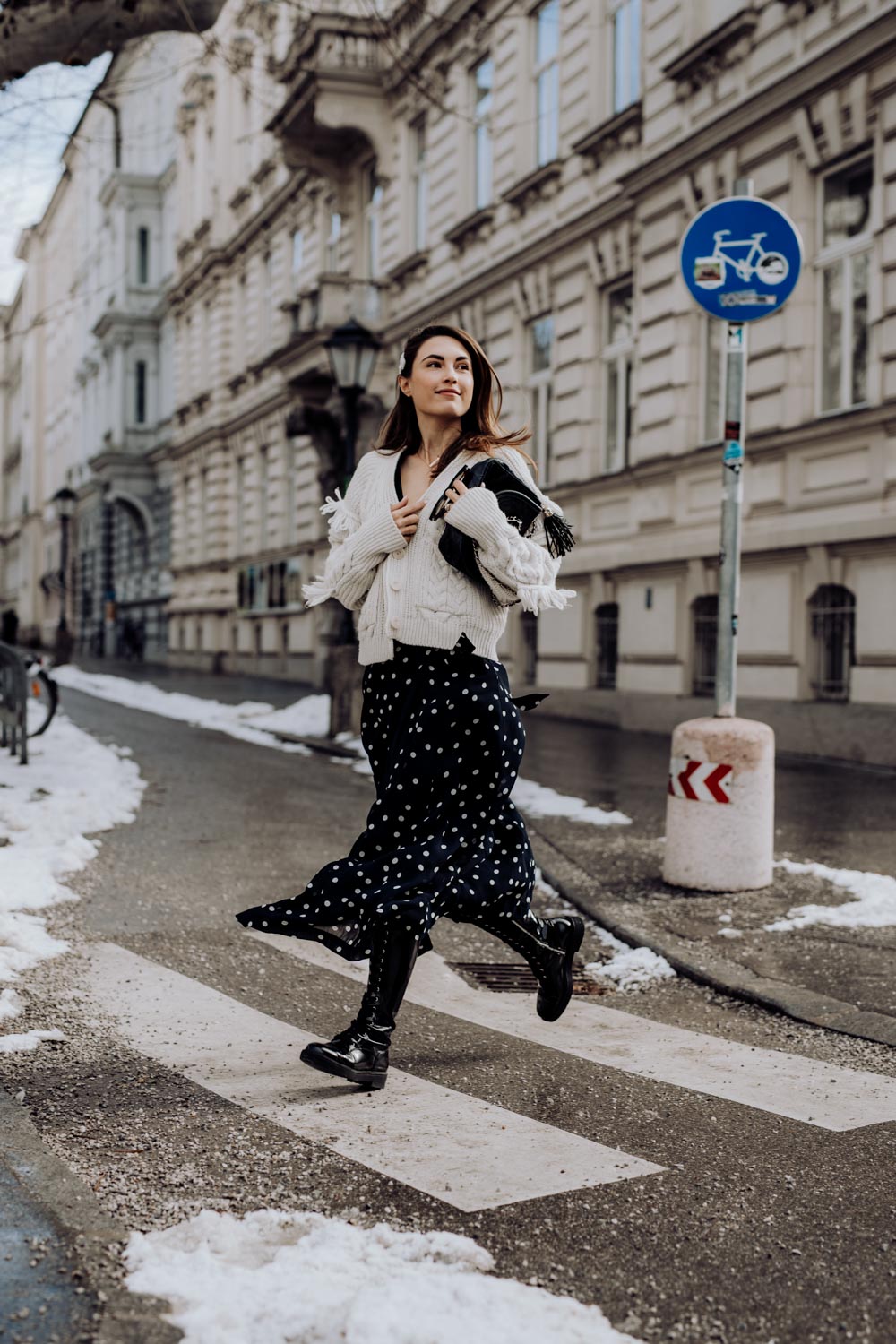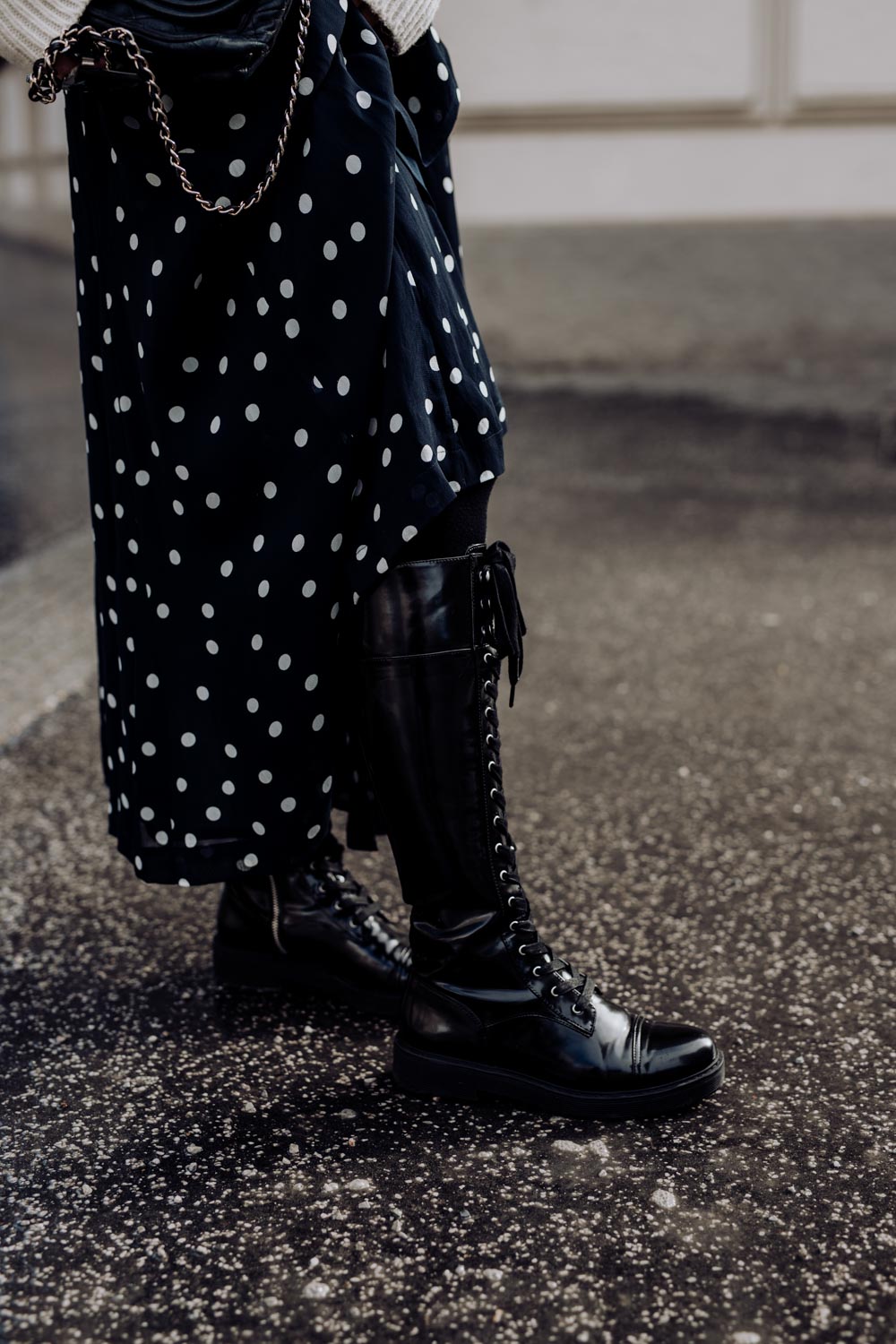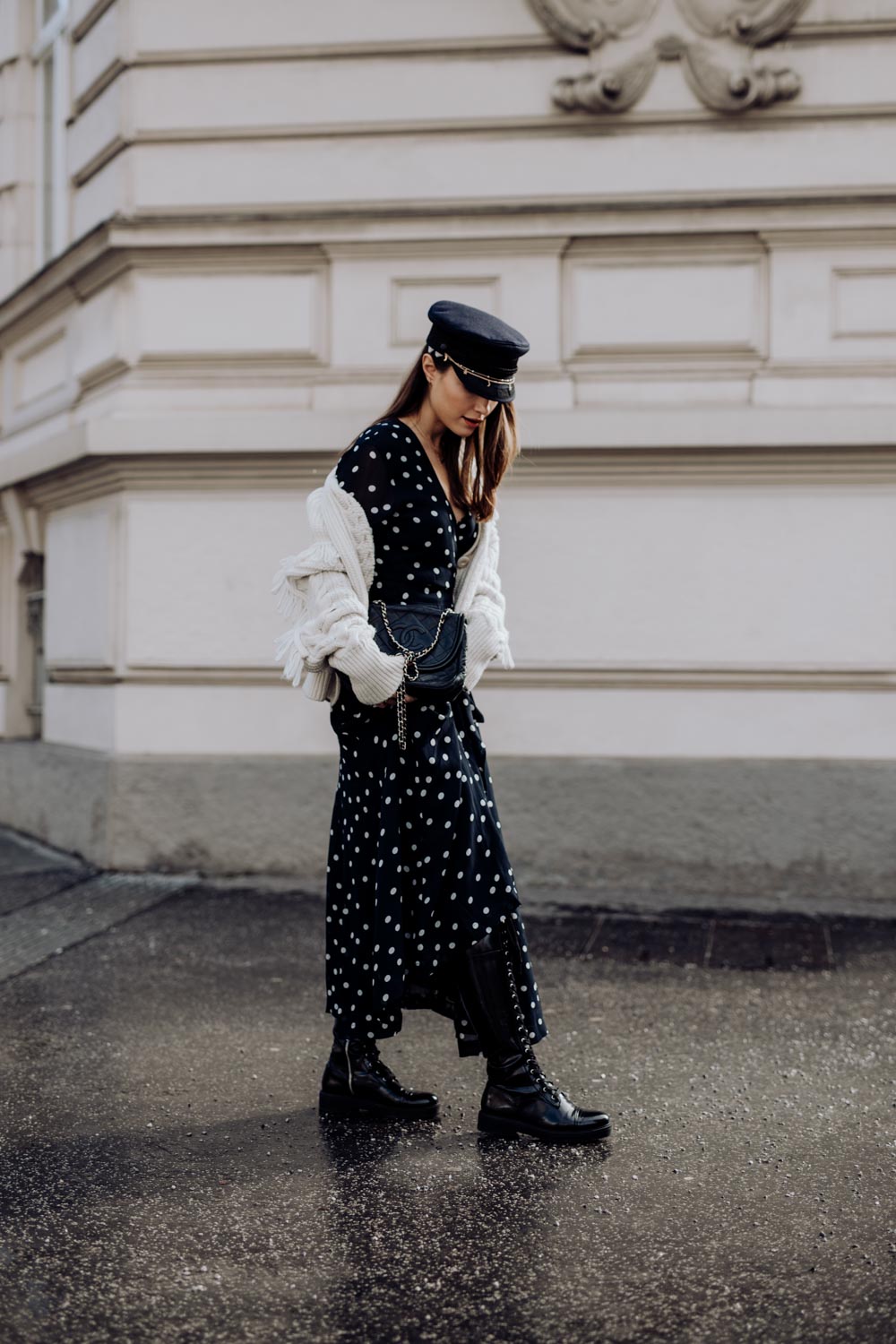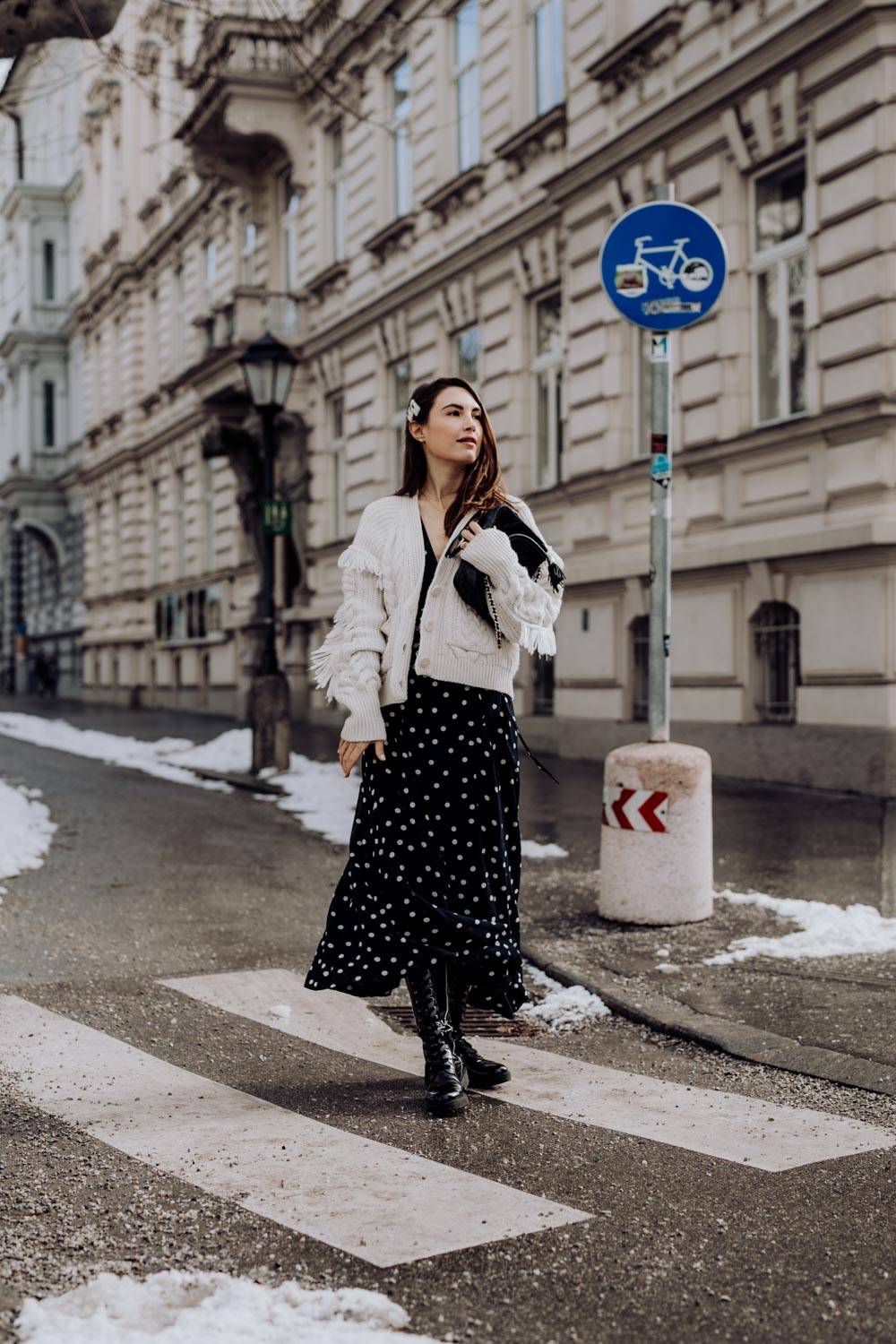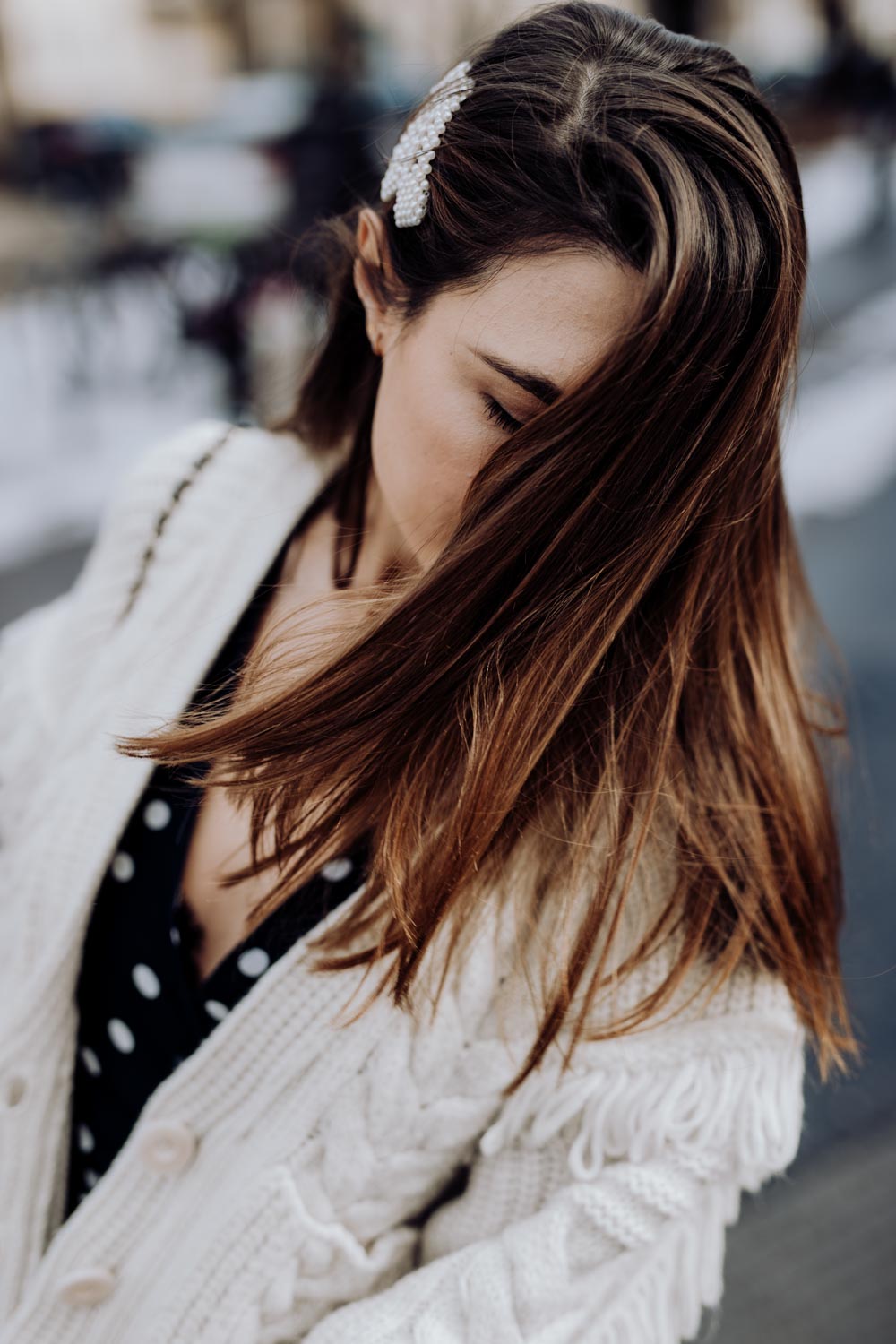 ---
Ganni Polka Dot Dress (very similar here) // Edited Cardigan (old, similar style here) // Zara Boots (old, similar style here) // Chanel Vintage bag (similar here) // Pearly Hair Clips // Baker Boy Hat (similar here)
Shop The Post:

Selection of Chanel Vintage Bag I love: